A couple of years ago, Praxis Musical Instruments signed a worldwide contract with Hanser Music Group to own the B.C. Rich brand. And perhaps you've never heard of B.C. Rich, but I can assure you that you've seen one at least once in your life. And it caught your eyes.
Hanser has owned B.C. Rich since 2001, whereas Praxis has made and sold Sterling by Music Man bass guitars since 2005. However, Praxis's job with B.C. Rich is quite autonomous, which means they are free to introduce their own designs and stamp the B.C. Rich logo on the headstock.
Naturally, then, Praxis introduced a new and unique line of B.C. Rich guitars and basses back in 2016. Additionally, they opened B.C. Rich Custom Shop in the USA.
The Warlock is part of their 2016 unique lineup, a guitar that looks so mean you could only play it with a true metal amp.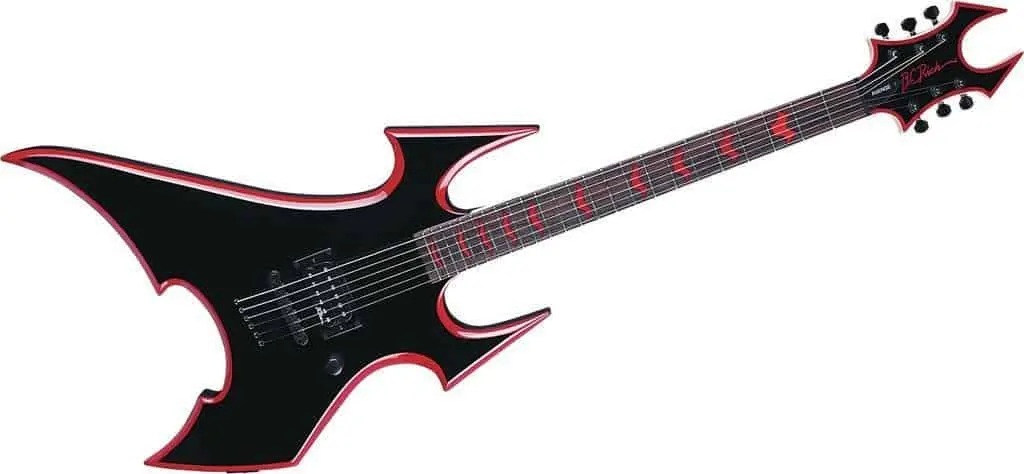 B.C. Rich guitar is known as ultimate metal guitars.
About the Warlock guitar
Have you ever seen one of hose rock legend guitars and thought…"wow"?
Well, the B.C. Rich Warlock is one of such guitars. It's also way more than what it offers on your first look. It's so much more than just brutal looks.
Before the '80s metal crazy train, B.B. Rich was a boutique guitar manufacturer making unique guitars for many musical genres. And because it was a boutique brand, they used unique guitar shapes, nothing like the industry standards (either a Strat or a Les Paul shape).
As hard rock and heavy metal was becoming the era's mainstream music, metal icons began taking the unusual B.C. Rich guitars as their main gear.
That made the company focus its efforts on the metal market. Soon, their guitars were the go-to choice to play metal, either on a budget or on a professional level.
Famous luthier Bernie Rico designed the Warlock guitar back in 1969. He thought it was too ugly for production, but some influential guitarists became interested in the guitar nonetheless.
Then, commercial mass production of the Warlock guitar began in 1981. There have been many versions since them, which include 7-string editions.
Anyhow…let's see where the B.C. Rich Warlock series of metal guitars stands these days, where buying a good budget electric guitar is so easy with brands like Jackson, Ibanez, Squier, Dean, and Epiphone.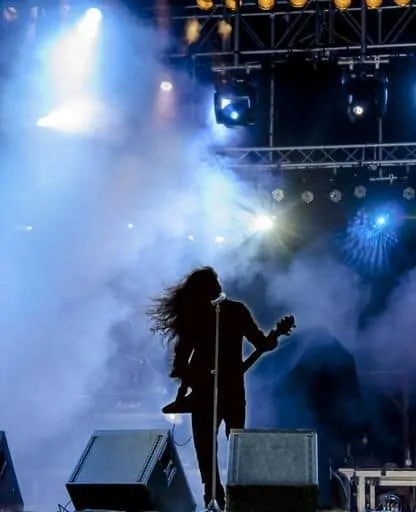 Famous artists using B.C. Rich guitars include Slayer's Kerry King on his own signature Warlock, as well as bands like Sepultura, Poison, Dio, Kiss, Slipknot, W.A.S.P., Static X, and Mötley Crüe.
B.C. Rich Mk5 Warlock Review & B.C. Rich Warlock Extreme Review
The Warlock electric guitar is made for heavy metal. In particular, there're 6 models, which differ in price, electronics, built, and hardware.
We're mostly taking a look at the B.C. Rich Mk5 Warlock, which is the mid-level model. It sits below the MK11, the MK9, and the MK7 in terms of quality and built. It also rises above the entry-level MK3 and the stripped-down MK1 models.
Beginner guitar players, as well as metal enthusiasts, will find the honestly-priced MK5 Warlock electric guitar just right in terms of quality per value.
Foreword: We're also reviewing the newer model, the Warlock Extreme, along the way. You're going to find more detail about it down below. That's because  I don't know which guitar you'll find on Amazon.
Overview
B.C. Rich is popularly known as the company that builds weird looking guitars. The Warlock is by far their most popular choice, and it's also so a beloved go-to budget choice for guitar beginners and heavy metal fans.
The wicked Mk5 Warlock has an impressive selection of tonewoods plus a couple of humbucker pickups for a sledgehammer sound.
Here's the most expensive guitar of the series:
Let's see…
Built quality
The Mk5 Warlock is an all-black guitar with a classy, elegant appearance that makes a radical contrast with the points and curves of its body shape.
Warlock's body shape has been controversial since before it even came out. B.C. Rich wanted to create a whole new guitar to compete against the industry standards, which is exactly what they did.
However, I have to note that jagged contours were popular back in the '70s as Gibson was growing the popularity of its rock-oriented guitars (like the Flying V and the Explorer).
Overall, we're looking at a fine selection of tonewoods on a carefully put-together metal guitar.
Body & neck
The unique body of the MK5 Warlock guitar is made with fine tonewoods.
His guitar has mahogany on the body with German carving around the body's top edges. It has a set-in mahogany neck with a sharp-free rosewood fretboard. The fretboard packs no dots, no inlays, which is something B.C. Rich chose to increase the sophisticated aesthetics of the guitar.
The rosewood carries 24 jumbo frets on a 25.5'' long-scale. Lastly, the neck's radius is 13.75'', and it sports a slim shallow C-shaped profile.
Needless to say, a set-in neck is an impressive feature at this price range. With so many things going on, there's nothing setting the Mk5 apart from guitars costing twice as much.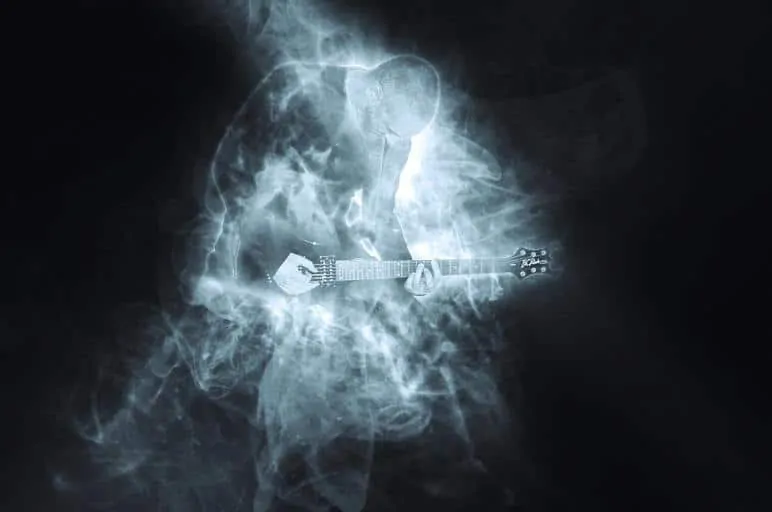 A set-in neck is a construction method that joins the neck and the body via a dovetail joint and some sort of adhesive. It's a feature used on Gibson guitars that's near impossible to repair, but it produces warmer and fuller sound.
Now, although the Mk5 Warlock has a set-in neck, its heel is seamlessly contoured to the body's shape to provide the same kind of playability and feel as premium neck-through-body design.
This guitar is not a throwback on the classic Warlock design, though. Instead, this is a quite bold refinement of its original aesthetics to meet the demands of today's metal players and metal pedals.
Finish
All B.B: Rich Warlock metal guitars come with gloss or semi-gloss finish.
Moreover, you can get these models in various colors, which depends on the level. The Mk11, Mk9, and Mk7 ship with semi-transparent paints that enhance the looks of its fine woods. These guitars also have a gloss black finish plus a white binding across its entire top, headstock, and fingerboard.
The Mk5 Warlock has a black paint job plus the gloss finish, whereas the cheaper models have semi-gloss across their bodies, neck, and headstock.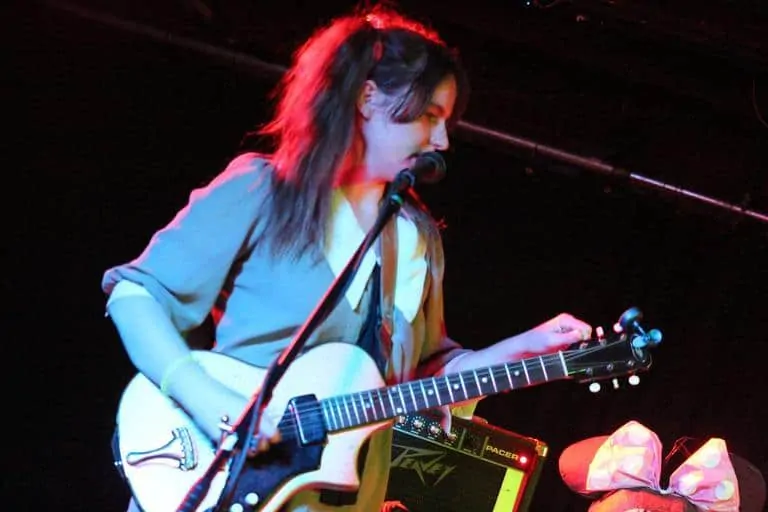 The various versions of the Warlock guitar differ in tonewoods, humbuckers, and hardware.
Sound quality
What really sets apart the Mk5 Warlock guitar is its refined, crips, and high output tone. The combination between its duo of humbuckers, vintage electronic circuits, a fine selection of woods, and set-in neck creates an output that's neither too hot nor too weak. It's just right.
Electronics
Electronics-wise, the Warlock ships with two B.C. Rich-made humbuckers. These are passive bobbins designed for metal and other heavy music genres.
Additionally, it has two individual volume knobs plus two individual tone knobs. Between these options, there's a 3-way pickup selector switch. It gives the guitar a standard amount of versatility, but nothing too outside of its comfort zone. Mostly, you'd be able to travel to blues, classic rock, and back.
Now, the cheaper models ship with a single volume knob plus a single tone knob. Then, the pricier models ship with two volume knobs, a master tone knob, and a 3-way selector switch.
In particular, the Mk11 also gets a push-pull coil tap pickup to turn the dual-coils into a noiseless single-coil.
The pickups are also different on the pricier models. For example, the Mk11 has 2 DiMarzio Super Distortion dual-coils, whereas the Mk5 has B.C. Rich BDSM dual-coils. Although this name is quite the sexy nuance, it's actually for "Broad Dynamic, Sonically Matched…"
Lastly, the lower models pack a couple of DMT Design Zebra BKWH humbuckers.
Keep in mind the Warlock's electronics circuits are modeled after the 1958 Les Paul, which ensures the quality of the signal, noise-free operation, and plenty of durability for the humbuckers.

The DiMarzio Super Distortion was Kurt Cobain's pickup of choice for his signature custom Fender Jaguar guitar.
Sound
The Mk5 Warlock sounds as fierce as it looks. But don't get fooled by its appearance: although the Warlock looks like a metalhead's dream, the sound is quite refined and special.
For one, it provides an aggressive attack whilst keeping an upper midrange snarl. Secondly, the low-end sounds are tight and refined, which is why this guitar is able to keep up with the heaviest and most saturated metal distortions. This combo is able to maintain a clear and well-articulated sound.
Lastly, the treble sparkles and shines on clean without sounding brittle or thin. That also means the Mk5 Warlock is able to play shiny and defined solos for the instrumental sections.
That said, the performance on clean channels is indeed better than your average metal guitar because it packs some additional sustain and brightness.
The result is, most certainly, great for pure burning metal. The tone is rich, fat, with plenty of bite, and the amazing response to extreme gains, distortions, and overdrives. In particular, the Warlock series guitars deliver heavy notes that fade out slowly.
<iframe width="900″ height="506″ src="https://www.youtube.com/embed/JcTXLXhZSLc" frameborder="0″ allow="accelerometer; autoplay; encrypted-media; gyroscope; picture-in-picture" allowfullscreen></iframe>
So, while its looks might say "Dance Macabre," the Mk5 has enough versatility to play music genres where dual-humbucker guitars are welcomed.
Keep in mind the budget models of the Warlock series still sound similar to this one, although the Mk1 does lose definition and doesn't feature attractive clean sounds.
Now, the pricier models only improve on this, but because the construction quality of the Mk5 is so good, you could simply choose to buy a new set of metal humbuckers to upgrade this ax.
Overall, the sound this guitar achieves on distortion or on an amp's distortion channel is hot and gritty. It's perfect for death metal, heavy metal, thrash, black, hardcore, goth, and similar genres.
Now, are you looking for an amplifier you can use with this guitar to get the type of performance the looks of the warlock suggest? Check our prior guide on the best guitar amps for metal!.

A good metal amp should have plenty of headroom to handle high-gain situations.
Feel quality 
Let's continue our review of the B.C. Rich Warlock Metal Guitar by discussing how it actually feels when you play it.
An important part of checking its playability is taking a look of its hardware, though, so let's start there…
Hardware
The hardware of the Mk5 is also quite impressive, although going to the cheaper models of the Warlock series can surely disappoint you.
First, we've got a Tune-O-Maty-style bridge at one end of the body. It also has a stop-bar tailpiece. This is a configuration used by all Gibson guitars and some Epiphone guitars. It gives sound plenty of balance, stability, and sustain. It also keeps the intonation precise.
On the other side, there's a set of traditional non-locking die-cast tuners with metal buttons plus a metal jack plate. These are quite okay and stage-ready, but it would be great to swap these pieces for better ones.
All of the hardware is chrome-plated. Even the humbuckers have in-house chrome-plated covers.
Lastly, I have to add the control knobs are knurled dome buttons, which are also there to increase the menacing looks of this guitar.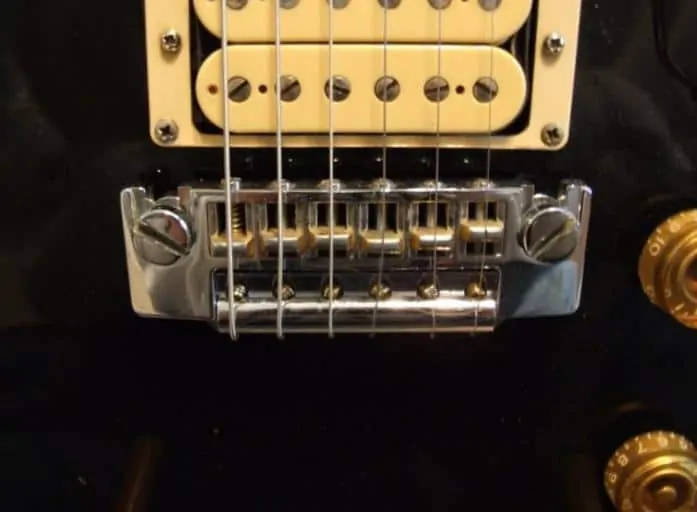 A guitar's bridge may increase intonation, playability, and sound.
Playability
The body shape of the Warlock is undoubtedly radical and weird, but it's not something made out of nothing. It's not a random design.
Instead, B.C. Rich makes ergonomic guitars. That's why the Warlock feels well-balanced, light, and comfortable. You can play this standing up and rest your arms on the upper cutaway. Plus, nothing pokes you when you stand.
You can also play this sitting and rest the guitar on the lower cutaway, or you can rest this ax against an amplifier because of its curves.
Its neck is very fast and it feels satin-smooth, which means you can travel up and down effortlessly. Because of its 13.75'' radius and jumbo frets, you'd be able to play solos and metal riffs easily.
Likewise, the smooth heel is also very comfortable as it provides easy access all the way to the 24th fret.
However, because of those very same reasons, you would have to stretch your hands further and press the strings firmer to play chords. This is not a rhythm guitar!
In other words, this is a guitar made for lead guitar players in particulars. That's because it has a fast-playing fingerboard with jumbo frets and a flat radius that makes complex scales and bendings easy. Chords? Not so much, but that's something you can overcome with some experience.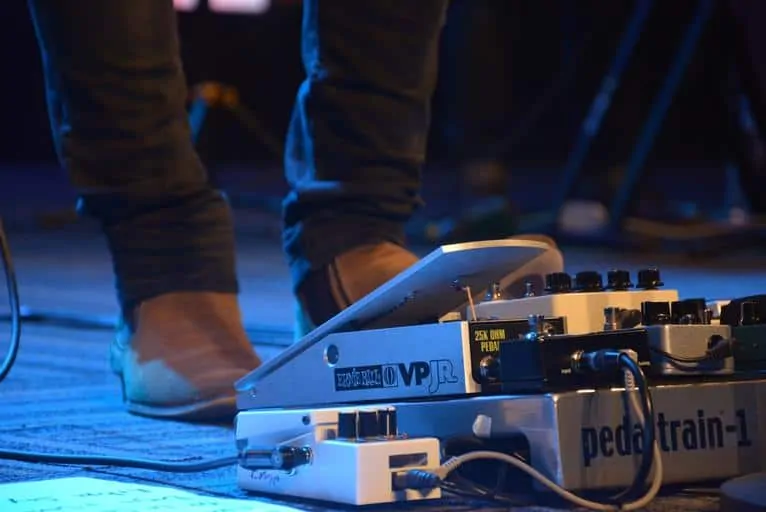 A good metal guitar can play alongside any distortion pedal.
BC Rich Warlock Specs
Design: double-cutaway B.C. Rich 2016's solid-body Warlock body
Tonewoods: mahogany body, mahogany neck, rosewood fret
Neck construction: set-in neck
Scale: 25.5'' (long-scale)
Fingerboard: 24 jumbo frets
Radius: 13.75''
Pickup configuration: B.C. Rich BDSM Bridge Humbucker & B.C. Rich BDSM Neck Humbucker.
Controls: 2 individual volume knobs, 2 individual tone knobs & 3-way selector switch
Tuners: open-gear die-cast tuners
Bridge: B.C. Rich custom Tune-O-Matic bridge & stop bar tail-piece
Downside & set up
Excluding the higher-end Mk11 Warlock, this guitar is very niche-oriented. Although it packs some decent versatility, its sound is designed to play full-in metalhead music.
If you're looking for a metal guitar that sports some extra versatility, maybe you'd need to check other options. Beginner Guitar HQ already reviewed the Schecter Omen 6, as well as the Ibanez GRX5, and we concluded both those guitars are amongst the best budget metal guitars you can buy. Additionally, those two models sport some extra versatility.
The quality also varies alongside the different models of the series. Like most guitar makers, B.C. Rich outsources most of its production to East-Asian factories, which means the setup is often imperfect.
Regarding the Mk5, there's a couple of things you could do to improve this guitar by tenfold.
First, you could change the tuners for a mean-looking quality set. Here's my option:
Next up, we could change the strings, as the stock strings on the guitar are not as good. Here's my option, light Ernie Ball strings.
Sale
More importantly, what you can do to really step up the game of the Mk5 Warlock metal guitar is swapping its stock bobbins for top value metal pickups.
If you're looking for darkness, you can go for the Seymour Duncan AHB-3 humbuckers, which were designed by Slipknot's guitar player Mick Thomson
Better yet, for this guitar to look like '80s-craze heavy metal, then maybe we should pick something that sounds the part, don't you think? That's why I'm choosing the EMG Zack Wylde signature passive humbucker set for this guitar.
Your local luthier can install all of these changes if you're interested.
Alternative: B.C. Rich Warlock Mk11 Extreme
Now, the Warlock guitars are hard to find outside of Europe, but I have an alternative, the B.C. Rich Warlock Mk11 Extreme.
B.C. Rich celebrated its 50th Anniversary in 2019, and they celebrated by adding some special mods on their 2019 and 2020 guitars, as well as the latest electronics.
The Extreme version has the best hardware money can offer with its pair of ceramic Fishman Fluence Modern Humbuckers and a Floyd Rose bridge & tremolo setup.
It also packs a neck-through neck construction plus a new "Shredzilla" deep cut on the upper frets for the highest possible access to the upper frets.
This guitar is made of mahogany plus a 5-piece Sherdzilla Ultra Slim Maple/Wenge neck.
Everything else stays the same as the Mk11, which includes the push-pull "kill switch" to turn the humbucker into a single-coil. Ths switch is on each volume knob.
It has another upgrade, though, which is a "Multi-Voice" pull switch to swap between different guitar voices.
This guitar ships with a bundle that includes a gig bag, a guitar stand, a cable, a tuner, a strap, and a set of picks.
Everything about this guitar is at the edge of the metal guitar tech, design, aesthetics, and sound.
In summary
Should you buy B.C. Rich Warlock?
The iconic metal design of the B.C. Rich Warlock is something every metalhead can love, and I'm indeed a metalhead.
On top of that, its tone is as wild, hot, and gritty as you'd expect it to be. Couple that with a fast neck, a light body, and a comfortable shape and you've got a sound that belongs at the forefront of metal.
It's also quite nice the various options this guitars pack. You can go for the affordable models if you're looking to pick a secondary guitar or if you're on a budget.
And if money is not a problem, the Warlock Extreme is an outstanding metal guitar made for modern shredders.
But the best thing about Warlock is its original shape. It doesn't follow the footsteps of any other The B.C. Rich Warlock is its own thing, so it deserves a spot on the metal guitars segment. The Warlock guitar specs can meet the high demands of the most advanced metal players.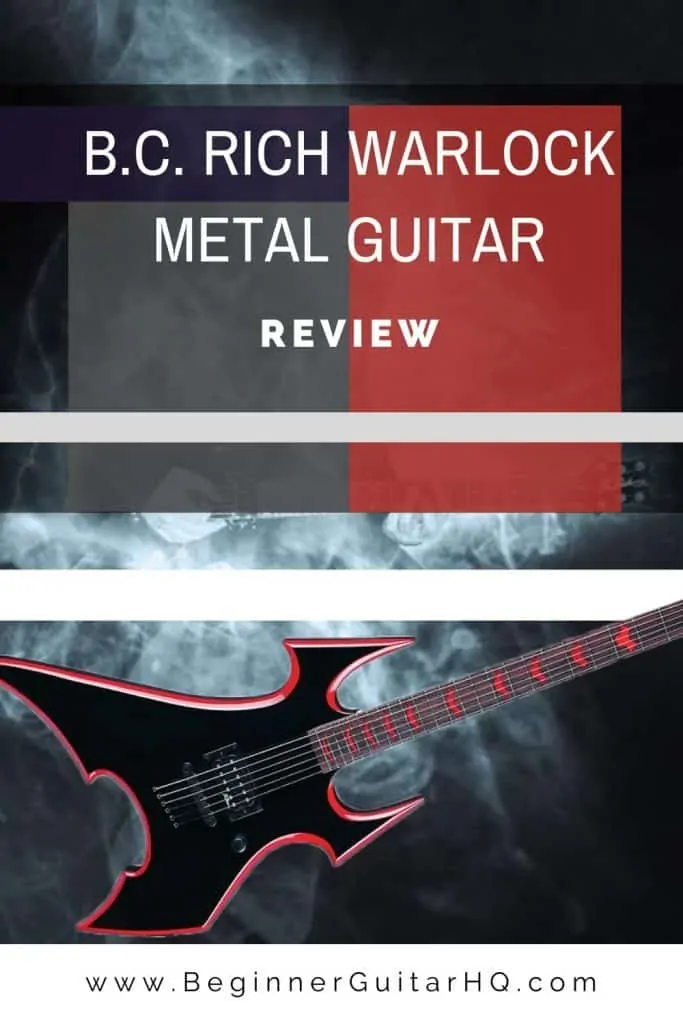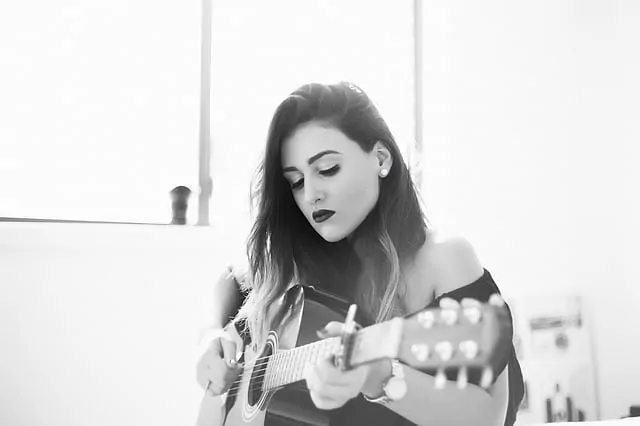 Jen is a guitarist and singer-songwriter who spends much of her time on the road and has lived in 13 cities across 4 continents. She picked up her first guitar at the age of 6 and learned to play by ear shortly after. She received her formal music education at the Berklee College of Music, and currently plays for a few bands in her free time. She has an uncanny ability to improvise creative melodies and harmonies. Her early influences include blues, jazz and rock.