Can a huge solid-state amplifier be any good? Moreover, can a fairly-priced Fender guitar amplifier be, at least, decent? That's what we're going to find out on our Fender Champion 100 review.
The Fender Champion 100 is known as a great pick for people looking for a cheap, versatile, and reliable amplifier.
It's a modeling amplifier, which means it's a solid-state model with special circuitry that imitates classic-sounding tube amplifiers.
It also comes with various settings, features, effects, and a fair amount of power.
I'd say the Fender Champion 100 presents a great offer to beginner guitar players. However, once I checked on the Equipboard page, I realized some reputable musicians have also used the Fender Champion 100 on live presentations. Particularly, IV of Spades' guitar player uses the amp as part of its main gear.
That probably means there's more than meets the eye regarding the Champion guitar amplifier.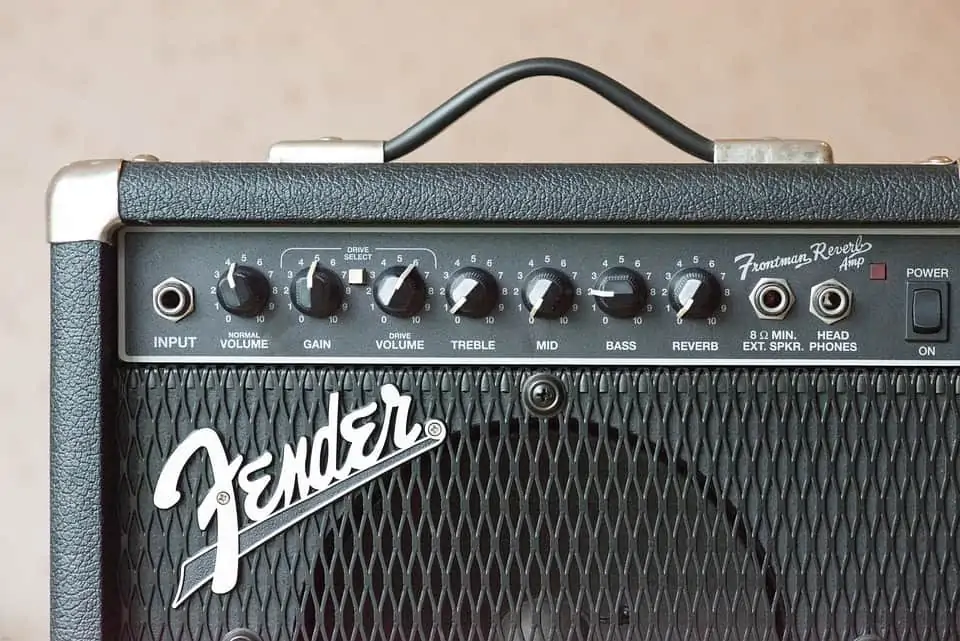 Fender sells amplifiers at various price ranges. That means entry-level models, budget, mid-priced, and high-tier offers.
If you're unsure about what a tubular amplifier is, here's a guide on the differences between solid-state and valve tube guitar amplifiers.
Fender Champion 100 – 100 Watts guitar amplifier review
I don't need to say Fender is a top music gear manufacturer. It has been so for generations and, in fact, Fender amplifiers came before their guitars and basses.
Leo Fender himself began creating guitar amplifiers back in 1946, and the brand continues to improve its models until day. Nowadays, they offer some of the best top-tier tubular guitar amplifiers. However, their solid-state models aren't as good or advanced as, say, Roland, or Boss models.
Still, since the very beginning, they've been producing some of the most popular guitar amps you can buy right now, especially in the budget segments.
That said, the Fender Champion brings 100 watts of power to become the flagship model of their Champion series. The 20 watts model is an entry-level option with limited features, but, climbing the price ladder, you can get the stage-ready 100 watts powerhouse.
Overview
The Fender Champion 100 is a straightforward solid-state modeling model with two channels, an auxiliary input for backing tracks, and an XLR output for mute playing through headphones.
More importantly, the modeling features bring various classic and modern amp "voices," as well as chorus, reverb, delay, and vibrato.
Lastly, the dual-channel configuration includes clean and voice selection plus an optional footswitch for easier stage performance.
Also, I note the amplifier includes Fender's 5-year limited warranty.
Built quality
The Fender Champion comes with a plastic black body plus the classic silver grille cloth at the front. Behind the grille, there're 2 x 12'' custom speakers, which is more than enough for most live presentations at a reasonable price tag.
It's not a very portable amplifier, but that's to expect from a 100-watts model. It weighs 50.6 pounds (23kg), and it has a handle at the top, but no wheels.
Also, it has nickel braces at the edges to further protect the amplifier from scratches.
Channels and features
The Fender Champion 199 packs to channels. The first one is clean, which follows the sound of the old Fender Blackface clean. The second channel features 16 amp voices going from crazy distortions to slight overdrives.
These voices include both old and modern U.K and U.S sounding amplifiers. More importantly, it packs classic Fender amp sounds as well as modern solutions for those looking for a metal sound.
Furthermore, it packs 16 effects available for both channels. These include chorus, delay, tremolo, vibrato, and more.
These effects are versatile, good-sounding, and offer plenty of tonal coloring, textures, layers, and atmosphere.
Also, it helps that the amp comes with an effects loop output to further enhance your options.
Control layout and options
As a dual-channel amplifier, the Fender Champion 100 has two separate control layouts, one for each channel, without a master section.
The clean portion features volume, treble, bass, FX level, and FX selector knobs. All of these options are easy to understand and, moreover, the FX selector knob has the effects written on the amplifier's body to guide the user.
On the right side of the panel, you'll find the voice-selector channel. It has gain, volume, treble, mid, bass, FX level, FX selector, and voice selector switch. Naturally, you'd have to select a voice to enjoy either an overdrive or a distortion, and then use the gain knob to set the level of the clipping effect.
Also, each FX selector knob features a tab button for modulation effects. So, for example, you can select the tempo of a delay by pressing the button on a timed matter, like if you were playing the clicks on a metronome.
Lastly, there's a channel selector button in the middle, so that means there's a single guitar input instead of dedicated inputs for each channel.
The guitar input is at the left of the amp. Right by its side, you'll find the footswitch input as well. However, the 2-channel input is not included with the package, so you'd have to buy it separately to easily transition from one channel to the next.
This footswitch has a button to swap between channels, and another one to turn the effect on and off.
Still, with so many options on each channel, I wouldn't count on changing the setting on the fly, in the middle of a song. Instead, you'd have to choose and memorize the exact settings you like for each channel, and then maybe change the knobs in between songs.
You can also change from the clean to the voice channel as you transition from verses to chorus, from chorus to medleys, or similar. Alternatively, you could use guitar pedals and use a single channel instead.
If you don't have distortion or overdrive pedals, then you'd want to use the amp's voice channels for the clipping effects. Guitar distortion sources may come from fuzz, distortion, or overdrive pedals.
Still, feel free to experiment with pedal effects plus the amp voices. Intermediate and experienced players will need less investment to find the particular sounds they want.
However, beginners might feel more overwhelmed by the number of options the amp delivers. Then again, the number of options means extra fun for someone who's learning how to play guitar, and, what's more, it delivers plenty of sounds and tones without using any additional pedals.
<iframe width="900″ height="506″ src="https://www.youtube.com/embed/-r6F4oUJf80″ title="YouTube video player" frameborder="0″ allow="accelerometer; autoplay; clipboard-write; encrypted-media; gyroscope; picture-in-picture" allowfullscreen></iframe>
Sound quality
As for sound, the results of all of this power come out surprisingly well. Every voice is usable, fun, and unique in its matter. Mixing and matching voices and effects, plus the options of a 3-band EQ also deliver a vast amount of tonal options to search for your own sounds.
The amplifier also sounds eerily classic when it goes to tubular sounds, but it can't deliver the same quality when it tries to handle high octane music. That means it's a great amplifier for slight and medium overdrives, but not so much for metal.
Then, the clean channel is melodious, warm, and deep. However, it lacks the note-to-note definition other guitar amplifiers can carry.
Nevertheless, the Champion 100 is versatile and good enough for the studio, the stage, and practice. However, I wouldn't use this heavy monster for practice alone.
The effects also offer plenty of quality. They can be better than budget and simple pedals, and live to the standards of mid-level pedals. That's pretty good in its own regard. What it lacks in this department is the ability to save and recall presets to make your life easier.
Other amps in its category stand above the Fender Champion 100 for their preset options, like for example the famous Boss Katana.
However, there's an upside I haven't discussed. Because each channel has its own FX knob, each channel can connect to a separate effect at the same time. That means you can play on clean with a flanger and then switch to the voice channel, where a delay is doing its job.
Another important feature in the sound department is the headphone output. It emulates the exact sound the amplifier is making so you can hear yourself back as you play during silent practice sessions.
Lastly, the presence of a 3-band EQ allows you to better set the specific sounds you're looking for in your music genres.
<iframe width="900″ height="506″ src="https://www.youtube.com/embed/ytLT_cb1F9o" title="YouTube video player" frameborder="0″ allow="accelerometer; autoplay; clipboard-write; encrypted-media; gyroscope; picture-in-picture" allowfullscreen></iframe>
In Summary
Overall, the Fender Champion 100 offers versatility, a quality sound, and plenty of power at a fair sound. It won't make you sound like the most wonderful guitar player but, if you're a beginner or an intermediate musician, the Champion will outperform most amplifiers at its price range.
So, is it a good investment? It sure is. And you grow with it for years until bigger stages call for more expensive gear.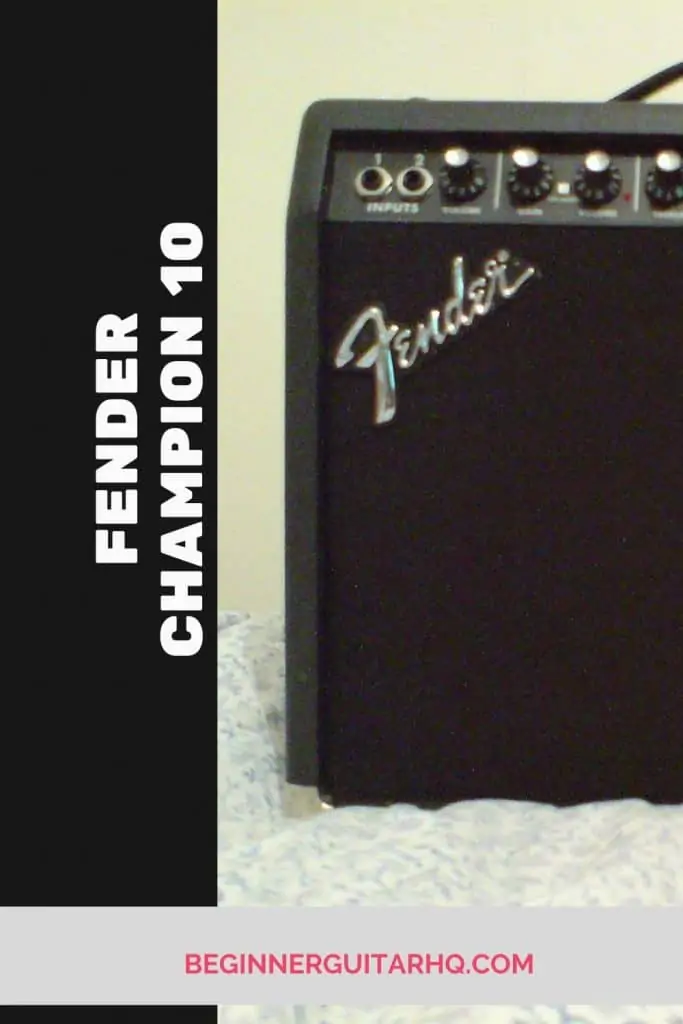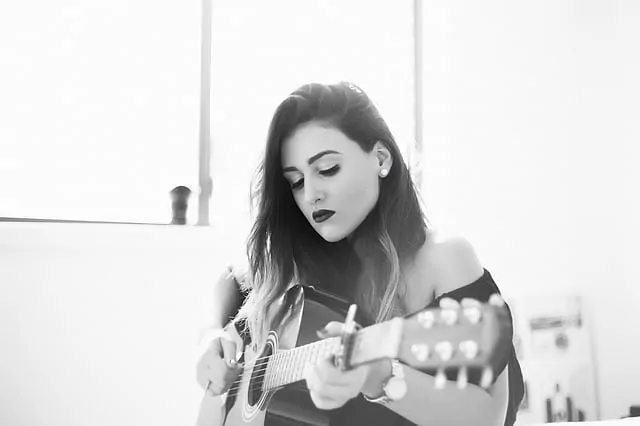 Jen is a guitarist and singer-songwriter who spends much of her time on the road and has lived in 13 cities across 4 continents. She picked up her first guitar at the age of 6 and learned to play by ear shortly after. She received her formal music education at the Berklee College of Music, and currently plays for a few bands in her free time. She has an uncanny ability to improvise creative melodies and harmonies. Her early influences include blues, jazz and rock.