Looking for the best metal amps? You're in good company. Nowadays, I've come to the conclusion that the amp and the guitar player himself (or herself) are more important than the actual guitar.
Why? Because of two reasons: first of all, budget guitars are becoming better and better as digital and electronic technologies advance. See, back in the day, quality guitars needed a lot of by-hand craftmanship. However, the machines (mostly 3D printers) make the same pieces for every guitar.
Secondly, skilled hands can make any guitar work.
You cannot play metal with any guitar, though. You need a powerful piece that's strong on the low-end frequency. You need a guitar that can handle distortion and overdrives and have enough headroom for you to blow some heads.
Similarly (and more importantly), you cannot play metal with any amp – you need the best metal amps if you want to sound good. And that's exactly what I'm here to teach you.
I already covered the best solid-state amps and the best tube-amps for electric guitars on previous guides. Go check that out if you need some extra info on what to look for on electric guitar amps.
My list will feature reviews for the top 10 best guitar amps for metal. It's all going to be pretty straightforward.

The best metal amps for metal feature high-gain channels.
How I Picked the Best Metal Amps
The following are the loudest, meanest, heavier amps for playing metal on electric guitar. I listed 5 tube amps and 5 solid-state amps, so there're alternatives for everyone in our list of the best metal amps. Here's some extra info about solid-state vs. tube amps.
Personally, I believe solid-state amps, with their all-digital technologies, are almost as good as vintage tube amps. And like all things, digital technologies will surpass their analog counterparts.
The best amps for metal are usually designed for lower tunnels and extreme high gain settings, thus they require fewer pedals for the overdrive, which in turn gives the player even more headroom and more space on their pedalboard for additional effects.
I'm sharing the best-reviewed amps on the main online musical stores out there, which includes Amazon, Sweetwater, and Musician's Friend. More so, I'm adding my personal views and recommendations on the list.
There're plenty of options for metalheads out there and my round-up suits all budgets. I tend to go for uncompromising mid-level choices, amps that have everything you could ever need at understandable prices and without cutting corners.
We have dependable amps, affordable alternatives, and top-notch workhorses with all of the options you'll ever need from brands like Marshall, PRS, Orange, Peavey, Fender…
Lastly, when talking about the best metal amps, we're essentially talking about one big thing: distortion. If you're looking to play those meaty, heavy tones, a distortion channel that retains clarity and tightness with a smoot fuzz is what you want.
That's a big ask and something that's hard to pin down simply by looking at the specs of the amp. Hence, I made this investigation for you, and each of these items delivers rich distorted tones with enough resonance to handle any kind of metal you try: from seven-strings djent to classic Led Zeppelin to Metallica's modern riff, all the way back to Queens of the Stoneage stoner fun.
Now let's talk a bit about "effects loops":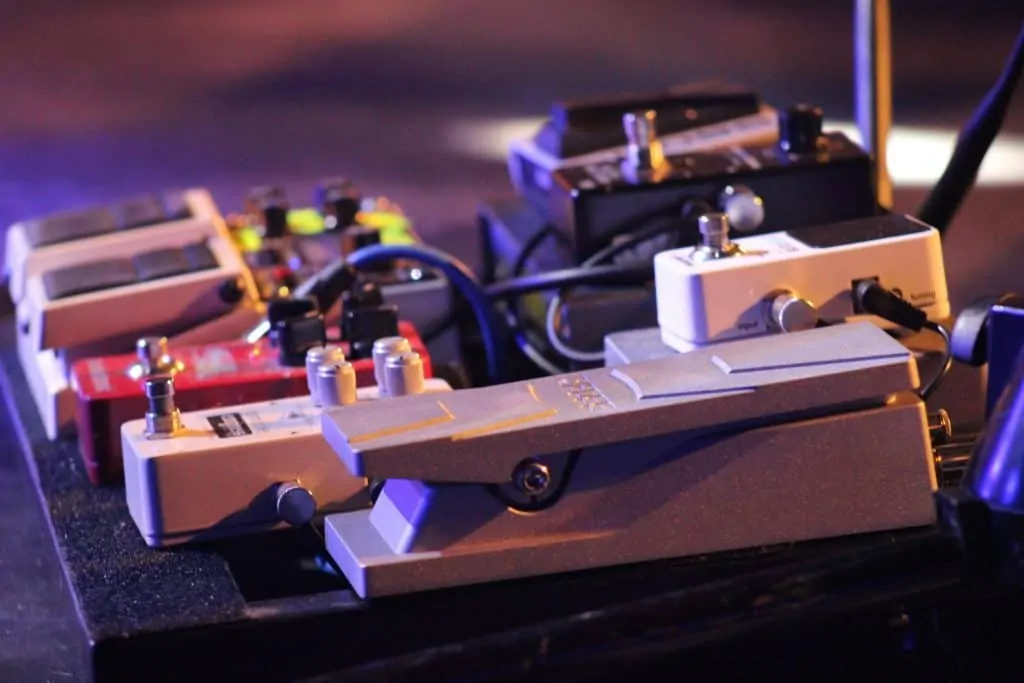 Amps' effects loops allow you to better customize the order of your guitar pedals and best amps for metal.
About effect loops
The effects loop connection is usually on the rear panel of an amp. This input/output allows you to place effects between the guitar's pre-amp section, which is where it gets the tone; and the power tubes section of the amp, which is where it amplifies the tone.
Here's a video tutorial:
QUICK NOTE: by headroom, I mean how much you can push your amp's high gain and volume before you lose the quality of the sound.
Best Metal Amps Buying advice
Chief on your priorities when choosing the best amps for metal should be the budget, which is why I'm listing amps with different price ranges.
As for any amp, you have to take into consideration how and where will you be using the amp. If your home is your main stage, you wouldn't want to invest in a 100-watts amp.
Going for the right amount of watts you need can always save you some money. Also, remember wattage power comes with a price, as well as a weight and advanced features. Here are some guidelines among the various best amps for metal:
Home practice amp: 5 watts – 20 watts.
Band rehearsal amp: 20 watts – 50 watts.
Small gig amp (60 people max): 40 watts -80 watts.
Medium gig amp (200 people max): 100 watts – 200 watts.
Now, tube amps are typically louder than solid-state amps. You could even calculate tube amps are twice as loud as solid-state amps.
For bigger gigs, you would need a PA system. It means you can microphone your small amp and send this signal to bigger speakers.
More so, this advice is only if you don't have a PA, because it's always better to microphone lower-wattage quality amp than being very, very loud with a bigger amp without any microphone.
Furthermore, keep in mind opting for lower wattage best amps allows you to drive the valves or the digital engine further, which means you will hear how it can truly modify and amplify your sound, rather than just being loud.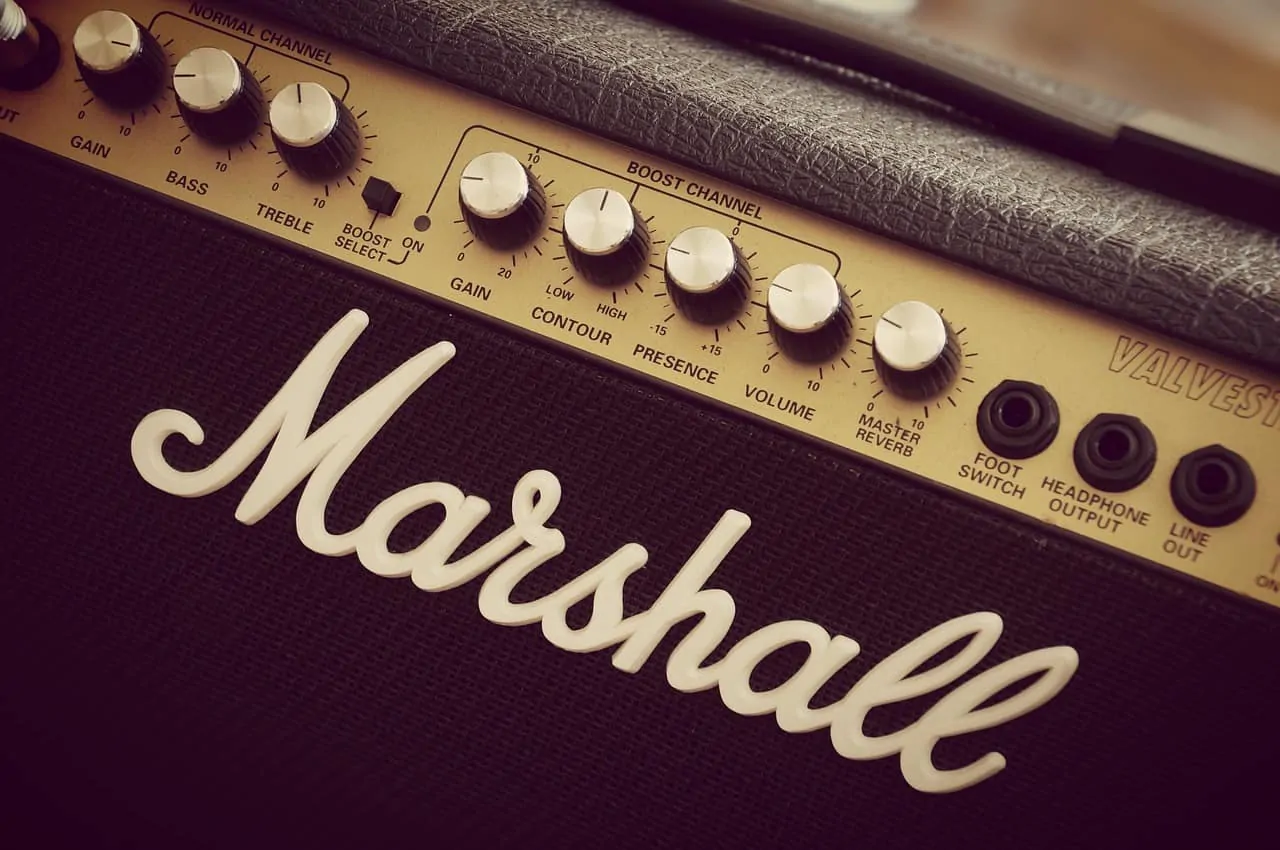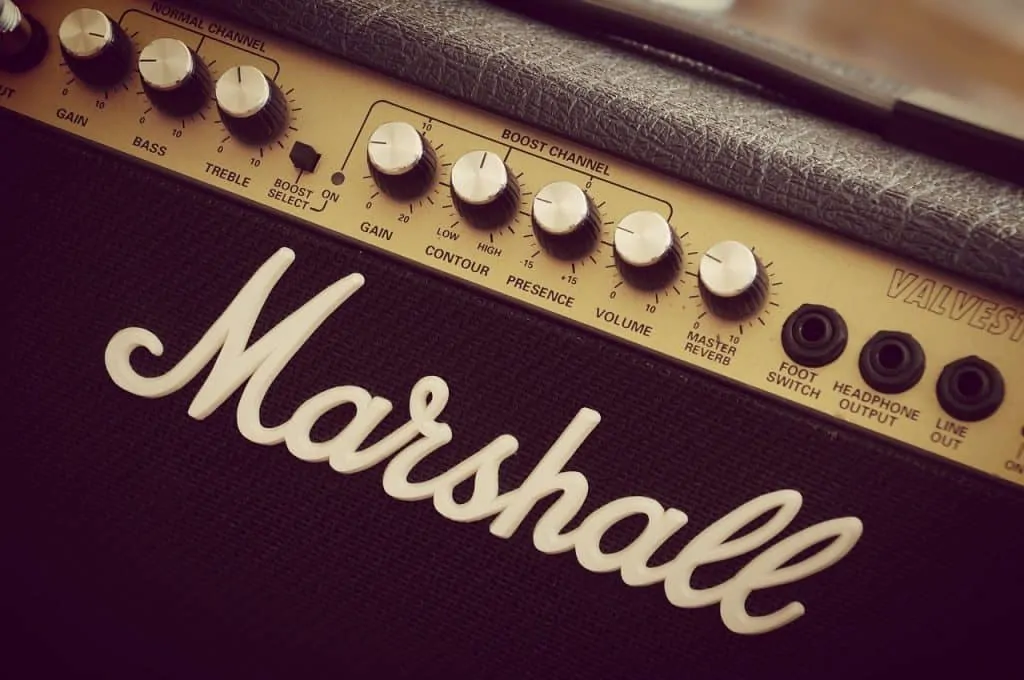 Tubular amps, also known as vacuum tube amps or valve amps, are known for their vintage, classy rock sound, and ranka mong the best metal amps.
About vacuum tubes
Next, you must consider the kind of high gain you're after.
Tubular amps use the vacuum inside their tubes to deliver the final output. These pre-amp valves play a big role, then:
EL34 and EL84 tubes are generally creamier and sound like old British boxes. These valves are good for low-gain rhythm guitars or low-gain solo/instrumental parts. There's metal with soft distortions right now, for example, bands like Ghost and Mastodon handle it pretty well.
6L6 valves sound clean, crunchy and punchy, like a Fender Stratocaster guitar. You can achieve high gains with these valves, good for stoner rock, blues, and other acid and fiery genres.
EVH 515 valves give the highest amount of precision and vintage Van Halen metallic thunder. It can go to Gojira levels of madness all the way to Van Halen rock & roll. However, its crunch and clean sounds are somehow disposable.
V30 tubes are made for distortions and have a lot of headroom. Plus, they offer pristine distorted tones.
12A7X7 tubes provide high-gain with an ultra-low noise feature. They have the most detail and precision and are considered as the overall better tubes.
Solid-state amps are different, though, because every brand makes its digital circuits differently. More so, you can get modeling amps that imitate or simulate the sound of valve amps digitally; or you can get hybrid amps, which have valves as their pre-amp and digital circuits on the output.
Ease of use
I also have to add a quick foreword about ease of use. Usually, money buys you features and quality tones. Sometimes it doesn't have as many features as others, but delivers a tone you might like better.
Either way, it's all a matter of personal choice. How easy do you want your amp to be? As the more features and effects it has it's going to become more complicated to use and customize, especially when you add pedals and your guitar's onboard knobs into the mix.
I tend to go for simpler alternatives rather than going for an amp with many effects and presets. Then, I choose my guitar pedals carefully to build the sound I desire. Sometimes, less is more. However, as I said, it's all about personal taste when choosing the best amps for metal.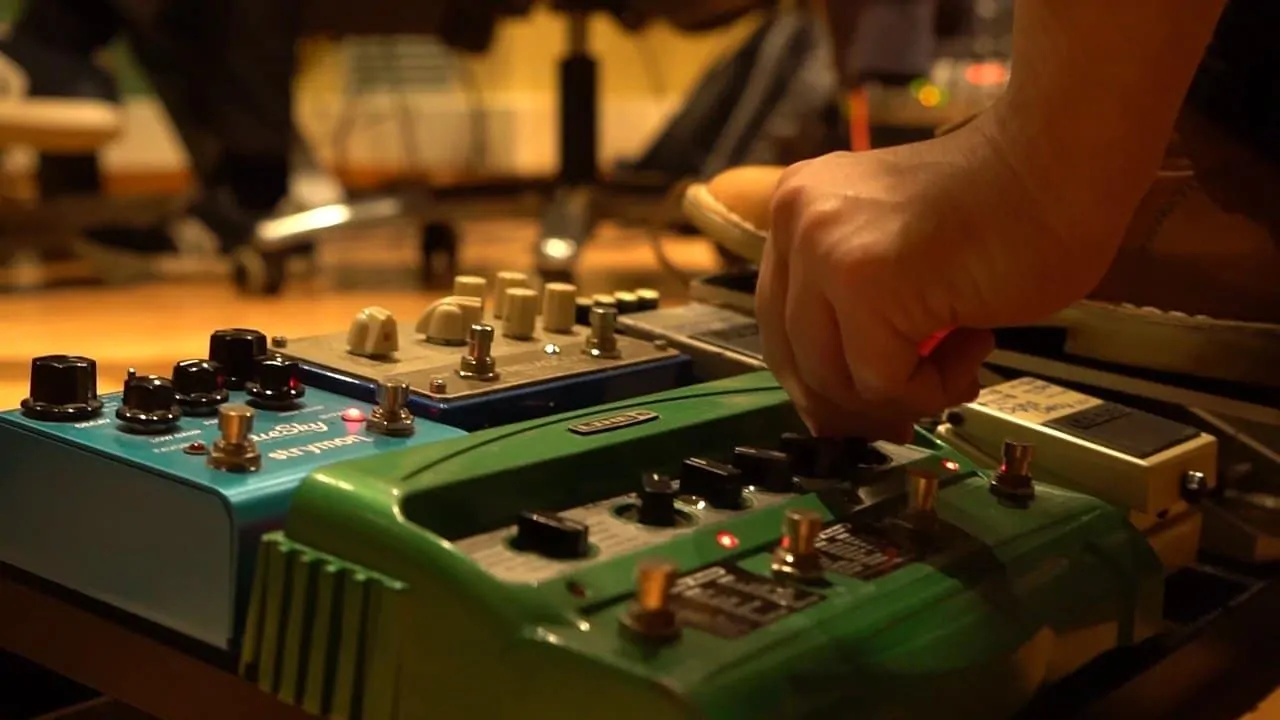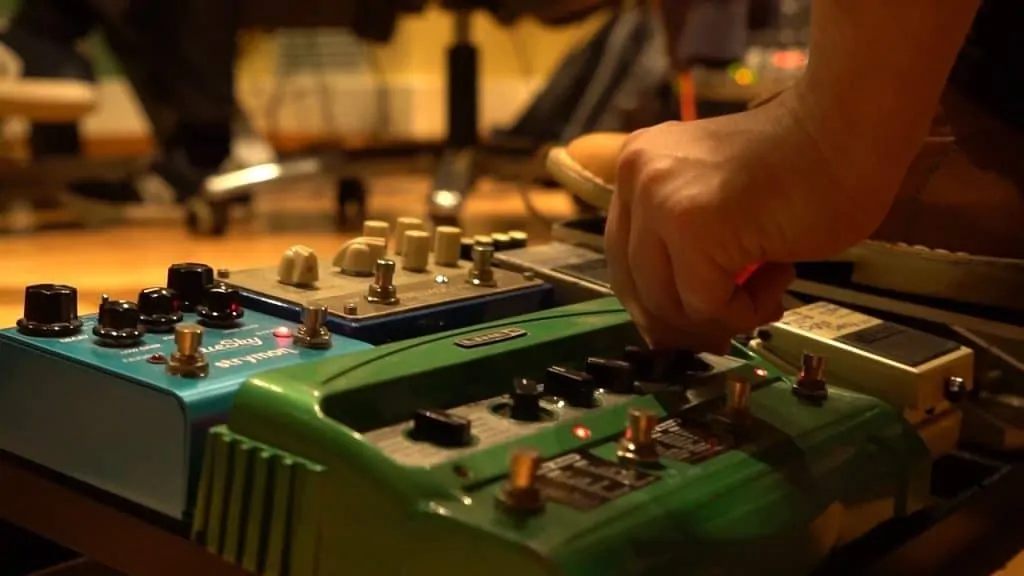 How many pedals do you have on your pedalboard? How many more can you fit or afford? That can help you make a desition on the number of features and effects you want on your guitar amp.
Other Key Terms Related to the Best Metal Amps
I'm going to mention the terms "combo", "head," "stack", and "cabinet" a lot on the list. If you don't know about this and didn't check the other guides, here's a quick explanation:
A cabinet is a chassis that hols the speakers. Cabinets have no knobs and no options no modify the sound.
A head is the upper part of the amp, where you can see the knobs. Heads have very small speakers as their purpose is to modify the sound, rather than amplifying.
A stack is a combination of two or more cabinets with a single head.
A combo is the most standard option: it brings the head and the cabinet in a single unit.
You can also mix any head with any cabinet, although not always you'll get a nice combination. Keep in mind the heads and cabinets I listed below can all match.
Although that's always the more professional option (carefully building your sound with an amp head plus an amp cabinet), you can also go for combo amps if you intend to go for a cheaper, easier alternative.
I'm highlighting various amp heads, so here's a video tutorial that might help you if you've never used or seen an amp head before:
Marshall JCM800 2203X tube head guitar amp
The tone of the Marshall JC series practically defined the sound of rock. For instance, Marshall created the first 50 and 100-watts guitar amplifiers ever, so they are masters of the practice and can certainly create the best metal amps.
See, this is a world-famous head amp that's earned its reputation since the late '70s and early '80s. Its main stage is worldwide stadiums. In fact, when people talk about the Marshall tone, they are probably talking about this model.
Some of the artists using the JCM800 2203 series include Slash, James Hetfield, John Frusciante, Steve Vai, Zakk Wilde, Dave Mustaine, Jerry Cantrell, Mike McCready,…is that enough? If not, here's a list of over 100 amazing guitar players rocking on the JC tube head. Most of which are either hard rock or heavy metal players.
Features
The JCM800 2203X is a reissue of the vintage 2203 model. And it's way better. For example, it ships with four different vintage Celestion speakers.
This is a high-grade (the highest-grade there is), expensive, and simple tube amp head with just one channel and 100 watts of power. Still, it gives you more than everything you need to pour classic crunchy bluesy tones and travel to the screaming power tubes of metal guitar leads. And beyond.
The JCM800 has a series of effect loops with true bypass operation, which is ideal for gig musicians with lots of pedals. It ensures none of your pedals introduce noise into the amplifier. Plus, it preserves the original tone of the guitar.
It's a straightforward, expensive rig that ensures you get your best tone once you plug your favorite guitar into this all-tube, 100-watt guitar head.
Settings are pretty simple. It has 2 voice switches, a true bypass effects loop, and a USB output. For controls, it has a 3-band EQ plus master volume, master high gain, and master tone.
If you have the budget to get a JCM800, consider yourself lucky. It's simply the best guitar amp for rock and heavy metal genres there is. It's wild, it's fiery, it's unruly, and it has a lot of cranks.
This is the favorite choice of professional rockers and definitely ranks among the best metal amps.
PRS MT 15 Mart Tremonti tube head guitar amp
Mark Tremonti is Alter Bridge's lead guitarist. He came out from Creed, which is a band that amassed Nickelback levels of hate. Still, he's now become a legendary guitar player, probably heir of Slash's hard rock and metal throne.
Looking for the best metal amps at a mid-range price? Simply put, the PRS MT 15 Mark Tremonti head is the best hard rock and heavy metal amplifier at a mid-level price point. And beyond.
Best Amps Features
This is a tube amp packing 2 6L6 valves on the inside and weighing 17.9 pounds. It only has 15W of power tubes (switchable down to 7W). Don't get fooled by this small box, though, because for this price, it's obviously not just a practice amp.
See, this gives you incredible high-gain tones and an incredible amount of headroom. It has two channels (a distortion channel and a clean channel).
So this is a two-channel "lunchbox" that's portable, light, and allows you to get amazing tones directly to the mixer. However, I recommend this piece as your studio amp.
The MT 15 amp features five gain stages before the Master for its full distortion. These stages offer a variety of styles other than metal.
Then, the lead channel (distortion) offers thick tones and has controls for high gain, treble, middle, bass, and master.
Next, the clean channel is bright and has volume, treble, middle, and bass control knobs. Additionally, it has a push/pull boost on the treble knob that offers an old-school crunch.
Other features include an effects loop you can tweak on the back panel, where you can also push the half-power switch.
Overall, the PRS Mark Tremonti 15/7 watt-tube amps have high-gain detail, crystal cleans, and plenty of flexibility. Tremonti himself uses this amp for Alterbridge. He has become a supreme guitar player with advanced metal techniques, face-melting riffs, and delicate clean tones during his acoustic guitar playing.
Tremonti is a longtime PRS user, so he asked the brand for help to design his signature amplifier. As a result, we got this compact workhorse that delivers crafted modern metal and hard rock tones.
For people with a mid-level budget looking for a top-quality amp, this lunchbox head delivers distortions curated by an industry legend.
Peavey Invective .120 tube head guitar amp
Prior to this model, the Peavey 6505 (originally named 5150 before Eddie Van Halen left the company) was the herald of metal. Now, today's player can enjoy an even better model: the refined Peavey Invective 120, a multi-layered distortion head packing a trio of channels, each one with its own post-level controls and boosts.
The gear was designed by Misha Mansoor, one of the most influential progressive rock guitar players and producers of the last decade (Periphery, Animals As Leaders, Veil of Maya, Volumes).
Best Amps Features
This signature model, one of the best metal amps, has one Celestion Creamback H 12'' speaker offering plenty of tonal and performance possibilities for metal and rock genres.
Its power amp section contains 6L6 tubes giving 120 watts of output, as the name suggests. So don't be fooled by its small size.
The result is a high-gain amplifier that delivers pristine cleans because of the no-compromise high-gain technologies it got from the Peavey 6505 series. Then, this new feature adds new levels of versatility with their three channels: clean, crunch, and lead.
Six 12AX7A tubes power-up the clean and crunch/lead channels among the three channels. More so, it has six gain stages for the crunch/lead channel, plus a phase inverter and loop driver functions.
Each channel has a long list of controls for you to tweak your desired tone. Plus, there's an included footswitch you can use to quickly swap from one tone to the next. You can go from the most extreme high-gain metal sounds all the way down to classic rock tones and deep clean jazz tones.
See, the included footswitch has nine presets. Furthermore, you have two remote switchable effects loops, a half-power switch, and auxiliary power jacks for extra effect pedals on the rear panel.
On the front panel, you have even more controls, which include master resonance, master presence, master volume, and a 3-band EQ for the three channels.
The limit is not on those buttons, though. Each channel has its own Pre Gain and Post Gain knobs, plus an on/off switch and drive and tone knobs.
Another feature is the noise gate on the front panel for the lead and crunch channels. It gives a noise-free decay and enhanced playing response for your percussive rythm patterns and riffs.
On the rear panel, you have a half-power switch, a speaker output impedance switch, and 2 ¼'' parallel speaker output jacks in case you want to create a stereo mix or audio with this head. There's also an MSDI (Microphone Simulated Direct Interface) section that has a balanced XLR output you can use to connect the head directly to a mixing console or an audio interface.
Lastly, the head has blue lights on every switch indicating the state of the amp.
This is the top of the line among the best metal amps. If you combine this with any of the cabinets I'm sharing below, you're ready for the most professional settings you can imagine.
In fact, the controls I listed fell short to everything this high-end amp head offers.
As for the tones, expect refined, detailed rock and metal tones with high-gain harmonic overtones, percussive attack, and a tight decay.
The noise gate is essential for playing heavy metal genres because it keeps hum at bay. In fact, it's both perfect for recording and live performances because of its noise gate.
Overall, this amp can push high-gain distortions to extreme levels, and it will never turn your sound into a mess. Instead, it will always deliver pristine, crunchy tones. It truly satisfies the needs of modern metal guitar players.
Hughes & Kettner GrandMeister Deluxe 40
This is a serious, professional, high-grade tool capable of handling anything a guitar player throws at it.
The GrandMeister Deluxe 40 is very special as it's a hybrid tube amp for electric guitars. It means it has digital control and effects on the preamp section, and tubes on the output section. More specifically, it has four EL84 tubes plus three 12AX7 tubes.
And as for power, it's a 40 watts head you can tone down to 18, 5, 1, and even 0 watts for a truly silent recording.
Best Amps Features
This amp head has a mesmerizing amount of features starting out at its Perspex control panel with nine knobs and a four-way voice rotary switch.
So, aside from the amp's master volume, everything you see in there is MIDI-powered. MIDI controls the built-in five-step attenuator, voice boosting, series effect loops, and the built-in digital effects. Furthermore, you can edit and store your own presets on the GrandMeister.
The amp has two American-styled lead channels with massive amounts of gain, which are perfect for drop-tuned metal. More so, it's gain tones are beautifully sculpted and it can squeal, scream, cry, and snarl on demand.
One of its best features is its built-in noise gate, which does a very nice job eliminating the hiss you get from higher-gain settings. It can sound equally good with both single-coil and humbucker pickups. Remember single-coils are usually noisier than their humbucker counterparts (Understanding guitar pickups).
The GrandMeiser has four channels:
Clean,
Crunch,
Lead,
Ultra.
All of these channels enjoy what I think is the best feature of this tube head amp, the Deluxe Tone Technology, a new way of understanding gain that's able to create more headroom in clean and crunch voices. More so, there's less "gain gap" between the clean channel and the other channels.
These four channels are very balanced, with smooth trebles, warm mids, and powerful lows. Furthermore, these channels can all add digital effects like reverb, delay, phaser, flanger, tremolo, and chorus.
The built-in characters, although usable, lack a bit of character. That's definitely the downside of this head amp.
The Ultra channel has the highest attack and response and is made for the heaviest, dirtiest, meanest metal subgenres.
Lastly, we can find a Red Box recording output on the rear panel. It has balanced and unbalanced connections. There's also a new iPad and iPhone app you can use to create, edit and store preset through the wireless MIDI adaptor.
The TubeMeister 40 is a jack-of-all-trades that excels at heavy metal genres. Simply put, all of its features work efficiently to the point that its shortcomings aren't really that important.
So, whatever you play live, practice at home or record at a small home studio, the GrandMeister is an amazing choice.
In fact, this is my favorite amp for the home studio. Plus, it just looks amazing. It looks like it came from the future of the best metal amps.
Disclosure: you may find at Amazon the TubeMeister model, which is the prior version of the GrandMeister.
Orange Brent Hinds Terror Signature Tube Head
It's time to share a more budget-friendly amp head, and let's be honest: the Brent Hind Terror is made for heavy metal.
Mastodon guitarist Brent Hinds sculpted the iconic sounds of metal. He's a true tone geek, so you know his collaboration with Orange is sure to yield great results.
Best Amps for Metal Features
As it was designed y one of metal's most iconic guitar players, the tones these 15 watts lunchbox offers are high-quality grade.
Orange tends to build their amps similarly: what they lack in overall features, they deliver in crunchy, crispy sounds.
Still, let's talk about what this head has. It has three 12AX7 preamp valves plus 1 12AT7 preamp valve (which is really similar).
The head has two channels: clean and Orange Dirty. The dirty channel has a 3 stage gain structure: it offers a brighter low end and fattens up as you dial in the gain.
As this head doesn't have inner speakers, you would need an extra cabinet to make it work for your gigs, rehearsals and home studio. Essentially, what this does is tweak and modify the sound of your guitar before it goes to the cabinet, and it gives you that mix between classic rock and modern metal Mastodon has become known for.
The best use for the Brend Hinds Terror is the studio, though. The clean channel produces glistening tones, whereas cranking the volume up brings forward a darker tone that still preservers the British crunch Orange has become known for.
The dirty channel is very gain friendly. It has gain, master volume, and a 3-band EQ.
Conclusion
The Brent Hinds Terror is the result of years of work between Mastodon's guitar player and Orange. It's an all-ale amp with two switchable channels that offer warm sounds at lower levels and fat sound at higher gain levels, something metal players would really like.
Overall, it means this is a warm amp that retains the thickness of the bottom end sounds. But when you need your metal riffs to explode, this head valve amp really takes it home with its fat, crunchy, practically handmade metal tones.
Plus, it ships withs Brend Hinds' signature, and if you're a Mastodon fan, what's not to like about that?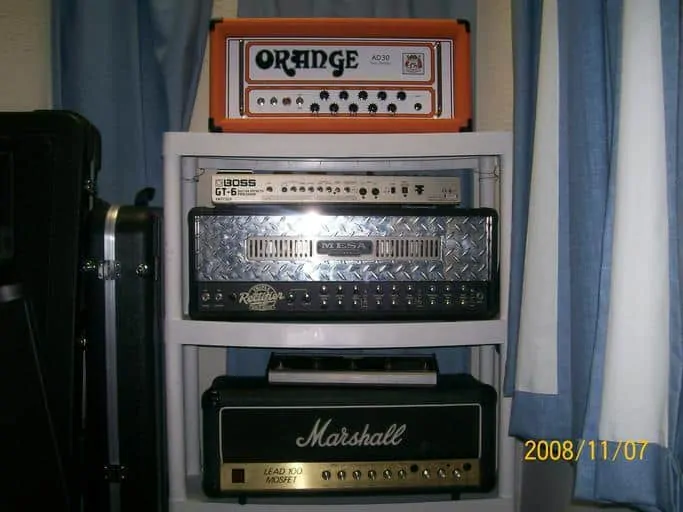 Head amps give you top-quality guitar sounds but are costly and require some experience to use.
The perfect amp cabinets for metal
Before we go on, let's do a quick review on the best amp cabinets for the best metal amps. I always recommend using the same brand of cabinets and heads when you're building your own stack.
Either way, whatever your pick is, you won't go wrong.
If you're wondering which cabinets to use with these two amp heads, the Peavey 112 is a perfect choice.
The 112-6 is a top-quality cabinet that can ensure you get the greatest tones from your amp head. It's made of premium Polywood and features one premium 12'' Celestion Greenback 20 speaker, which is amongst the best speakers of the market.
This is a 20 watts solid-state cabinet that features a great look, a great tone, and an even better value.
The Peavey 112-C has a similar construction to the 112-6. However, it carries a premium Celestion Vintage 30 speaker that offers a vintage tone. This is also a 20-watts amp.
Furthermore, you can open the back of the cabinet for an open back configuration that gives you a creamier sound.
This is a beast capable of putting out 160 watts of power. It's a quality solid-state cabinet with excellent Celestine speakers that are able to accurately reproduce whatever you put into it. In other words, it won't change the tone you get out of your guitar or out of your amp head.
Not exactly a "metal choice" but I couldn't finish a best metal amps list without featuring Vox gear.
If you've ever tried, seen or heard Vox amps, you know how these pieces add a British tone to your amp head. If you have an American style amp, you'll get a nice combination of tone.
The Vox V212C is a classic 50-watt amp cabinet. And seriously, there's nothing like a Vox cabinet.
Hughes & Kettner TubeMeister 212
This is a 180-watts tube amp cabinet from one of the best metal amps manufacturers out there.
This is a closed-back cabinet, which is very particular in 2×12 rock cabinets. The vented holes give the sound a touch guitarists love.
This is a solid and vintage cabinet with two Celestion Vintage 30 speakers. Although it's vintage-made, it can handle modern medal with its warm tubes and amazing high-gain response. Keep in mind it has V30 tubes.
I'm closing this small list with an Orange cabinet because Orange is the ever-present guitar amp brand.
The PPC212 is a 120-watts gear. It's the go-to cabinet for heavy metal and punk musicians. It's a solid-state cabinet that pairs two Celestion Vintage 30 speakers which pair well with high-gain.
It also has an open back cabinet that still retains the traditional tight response of closed-back cabinets, which means you get the best of both worlds.
If you need some extra info about open and closed-back cabinets, check this section.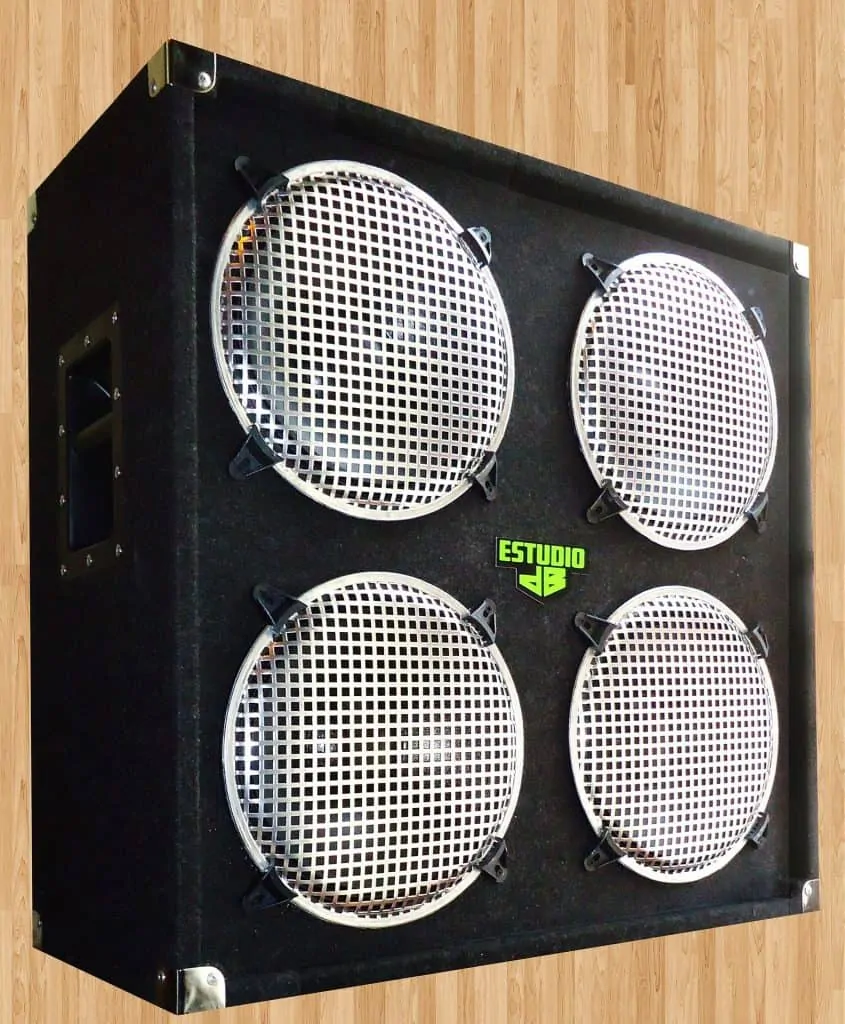 Remember pairing up cabinets and heads of the same brand it's a sure way to ensure superb results with your best metal amps.
Boss Katana-100 modeling combo guitar amp
The Boss Katana is a digital modeling combo with custom Boss 12'' speakers. Its output is 100W, but you can switch it down to 50", 10W, and 05.W.
If you're wondering why you would want such a low wattage, it's because a lowe wattage could translate the distorted tones of your guitar better than a louder wattage. Also, s you can use this as at home for you to get used to all of its features.
Boss's Tube Logic solid-state/DSP technology is the secret behind this very versatile amp. It can play metal happily, but it can also play almost any genre you throw at the amp. For such an incredible price, this is a hard combo amp to mix.
Features
What I love about this amp is its five onboard voices:
Acoustic,
Clean,
Crunch,
Lead,
Brown.
Bown is a very special voice as it provides tight, high-gain tones for your leads and solos.
Furthermore, you can store new sounds in one of the eight tone-setting memories, and there's a stunning array of effects to play with. You have more modulations, reverbs, delays, and a chorus you could ask for.
In fact, there're 55 different effects to choose from when you link the included Boss Tone Studio application. Besides, you already have 15 different effect types onboard.
The Boss Tone Studio software ships with the Katana and its available for Mac and Windows computers. It allows you to create new sounds, effects and presets you can later store in the amp.
You also get access to Boss Tone Central which is a library offering additional content for Boss products.
See, Boss is an effects legend, and thanks to the experience of its parent company Roland, the Boss Katana-100 has organic, valve-like tones with its modeling technology.
As for connections, the Katana 100 has an effects loop, aux in, line out, and speaker-emulated phones/recording out.
Lastly, it has a USB recording connection plus a connection to an optional foot controller that can run two expression pedals to toggle the amp's effects and presets.
Conclusion
In summary, you get five different amp models, 15 onboard effects up to 55 (and you can use up to 3 effects at the same time), variable output power control, an effects loop, a built-in tilt stand, and a USB recording out. All of that shipping with a mid-level price point.
Then, the Katana-100 gives you so many options regarding effects and so much control, it can actually lower your need to use additional guitar pedals. And that's good because of your budget, because of ease of use, and because of portability reasons.
It's an electric guitar amplifier that excels at home playing and recording studios as it will give you the most versatility and quality effects to modify your sound until you get the tone of your dreams. More so, it can also slice through any performance with its unique and efficient design.
Orange Crush CR120C solid-state combo guitar amp
The Orage Crush series has worldwide fame as top-quality guitar amps that are both beginner-friendly and budget-friendly.
I choose this Orange Crush CR120C as one of the best amps for metal because it offers a nice solid-state crunch. Plus, because of its 120 watts of power, you get a lot of output for a mid-level price point.
Features
It's a 120W solid-state amp with two channels: "Orange Dirty" and clean. The sound is handled by custom 2×12'' speakers named "Voice of the World."
This is a rather simple amp. For effect, you only have a digital reverb.
On the clean channel, you have volume, bass, and treble knobs. Overall, the clean channel gives you a lush and rich sound.
The best feature of the amp is the coveted Orange Dirty channel, which is made for heavy metal and hard rock. If you're looking for a gritty, angry distortion, then you're going to love how this channel makes your guitar sound. In particular, because you can crank the full 120 watts of power into full-gain and feel how your guitar becomes mean and loud without losing any quality.
So that means the price of the amp is because of the Orange Dirty clean rather than the number of features it has. See for yourself if that's something you'd like on the demo video below:
The dirty channel uses an advanced Orange circuit that offers four stages of gain, a 3-band EQ, and a wide pallet of over-driven and distorted tones.
I think the Orange CR120 combo is one of the best metal amps because it sells for mid-level prices with no compromises. Although it does not offer as many effects as the other alternatives on the lists, it has a highly regarded distortion channel that gives you endless headroom and plenty of tonal versatility.
It's an easy to operate amp with an onboard digital reverb that allows you to expand your sound. Plus, the knobs are highly responsive, and the EQ does an amazing job tweaking your sound.
Overall, it's a great amp for metal players.
Fender Mustang GT 200 modeling combo guitar amp
What can you do if you're a fan of multiple Metal genes? Take a look at modeling amps, because they offer the most tonal versatility with all of their effects and presets.
The Fender Mustang GT 200 combo guitar amplifier is a mid-level beast with an absurd level of features and enough power to juice your metallic dreams.
Features
Let's start by something this amp has that the others on the list don't (other than the coveted Fender brand stamped on the front). Its WIFI-enabled, which means you can introduce new presets, effects and updates into the amp with your Android or iOS device via the Fender TONE app.
That's not something you should overlook as, see, this is the world's first-ever WIFI-enabled amp.
Furthermore, it has a BlueTooth streaming feature that also gives you the ability to control the amp from your mobile device.
Then, you have 21 classic amp models and 47 effects right out of the box, which makes the Mustang GT one of the best heavy metal amps.
Its wide amount of sonic options come in a highly portable amp that boasts 200 watts of power. On the inside, it has two 12'' Custom Celestion speakers that give you enough power for any stage.
The classic amps it has include a range of metal tones built-in the "Basic Metal 2000." These simulations offer modern metal, high-gain sounds. Then, the "Basic British 80s" amp provides the quintessential '80s British metal tones (like Saxon and Iron Maden).
As for controls, the front panel and midrange and reverb controls, as well as gain, volume, treble, bass, and master. It also sports a ⅛' headphone out plus a 1/800 aux in ib the front panel.
On the rear, it has a balanced stereo XLR line outputs so you can send the signal to a mixer.
The amp also ships with an optional MGT-4 footswitch unit that can hold up to four footswitches. You can use this unit to control the presets, the effects, and the looper settings.
Whenever your style, genre, or needs, the Fender Mustang GT handles it all. So this is not only an amp for metal: it's an amp for rock, from light rock to the heaviest thrash metal you can summon.
This is a great work from Fender. It combines essential, classic amps and effect models with more adventurous and obscure selections (like a '57 Bandmaster or a '60s Silvertone). The included presets are very well programmed and designed, and if you want more, you have a wide array of presets available via the Fender Tone app and thanks to the Mustang GT worldwide users.
Lastly, the Fender Tone app is a great performing partner as you can make direct changes to the amp with your mobile devices.
Blackstar ID: Core Stereo solid-state combo guitar amp
The Blackstar ID: Core Stereo is a medium, 40 watts amp that's perfect for rehearsal and home playing and sells for a budget price.
Features
This amp combines high power with a bast amount of voice control options. As a result, it provides ardent, fussy tones for metal fans.
What makes this amp so special is it creates a true stereo mix, unlike the other amps of the list. Plus, it does this with great tonal versatility and 12 different stereo effects.
The ID Core offers high power, stereo output through 6 channels you can choose from:
Clean Warm,
Clean Bright,
Crunch,
Super Crunch,
Overdrive 1,
Overdrive 2.
It gives you enough versatility to create classic sounds, metal, doom, black metal, thrash, heavy metal, and everything in between.
Another great feature is the Blackstar's patented ISF control you can use to sculpt the tone of your dreams.
Furthermore, with the on-board effects it has like modulation, delay, and reverb, it offers new dynamics for your guitar playing.
Conclusion
Overall, this is a powerful, portable amp designed for modern metal players. Its stereo output and the 6 channels you can choose from are extremely satisfying at gigs.
What's best you can get a 200 watts version of this amp, which will be more than enough for any situation.
Lastly, thanks to the ISF control feature, you'll be able to sculpt the exact sounds you want.
Marshall DSL40CR 40W tube combo guitar amp
Let's close this list with a mid-level, straightforward amp from Marshall that represents a modern reinvention of some of their most classical series.
This is portable (although 50 pounds heavy) and powerful amp for metal players looking to play around a progressive rock, classic rock, and other fiery styles.
It's a compact valve amp ideal for home studio owners, home practice, rehearsals, and playing live with the help of a PA system.
I choose this as a metal amp because it has an Ultra Gain channel that will help you get some screaming metal riffs out of it.
Features
This is a 40 watts amp with two channels, whereas each channel has its own gain, volume and voicing button.
As for valves, it has 4 ECC83 tubes and 2 EL34 tubes. The output is 40w, although you can tone it down to 20w.
You also have a 3-band EQ plus presence and resonance (which alters high and lowe frequency responses) on the equalization section. This section also includes a button to change the tone of your guitar. Additionally, there're independent reverbs for each channel.
The defining feature of this amp is the two master volume sections it has, which allow you to switch from classic rhythms to dirty lead tones. These sections are named "Classic Gain" and "Ultra Gain," each one with its volume and gain knobs. Similarly, the reverb section as a "Classic" and an "Ultra."
The amp ships with a 2-button footswitch to swap the channels. You can also turn on and off the effects loop on the rear panel.
The result is an amp that serves for any musical style and excels at metal and rock genres.
Conclusion
The Ultra Gain channel is the best feature of this amp. It's unique, it's raw, and it's powerful. Aside from this, everything coming out of this package makes it an ideal valve amp for studio owners, small gig performers, and those looking for a high-quality practice and rehearsal amp.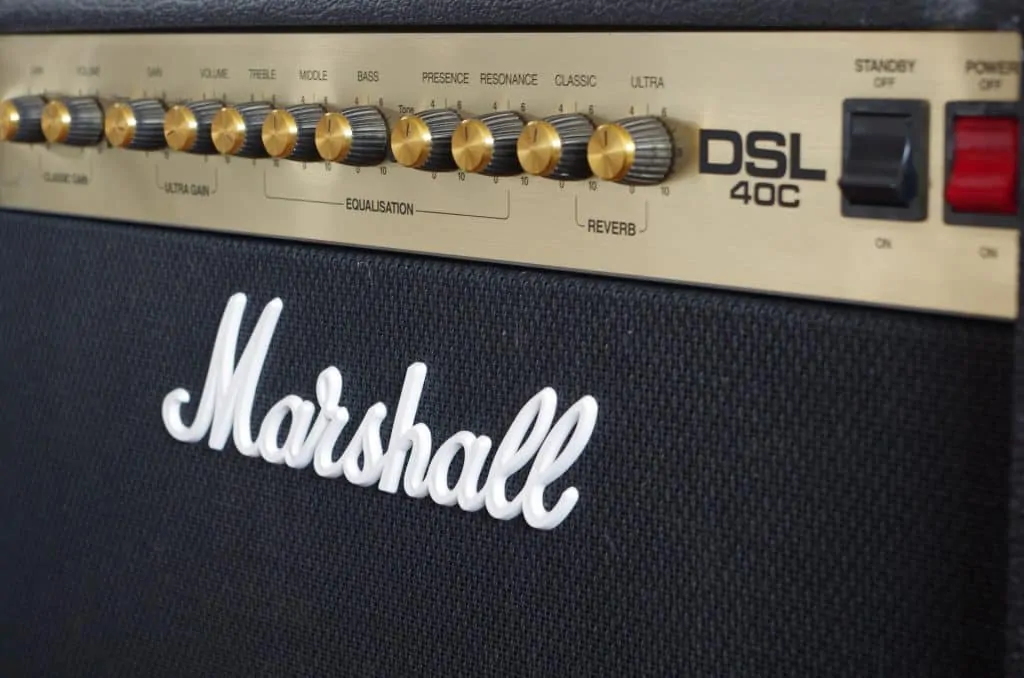 It's hard to go wrong with a Marshall amp.
That's my pick of the top 10 best metal amps for all budgets. My personal favorite has always been the Orange Crush CR120C (as I'm a mid-budget musician); as well as the Marshall DSL40CR. Do you have other suggestions for the best metal amps? Drop us a note!