If you're eager to upgrade your electric guitar, the cheapest piece of hardware is a set of tuning pegs. Let's say you have a Stratocaster, a Telecaster, or any other Fender, Squier, or Fender-inspired guitar. In that case, the best option for you would be getting a Fender locking tuner.
Machine heads are often forgotten as a fundamental part of a guitar. They can set the difference between a gig-ready and an amateur instrument. Our job is to find the best options in today's market.
These pieces are responsible for keeping the intonation. The task may be simple, but the mechanism is not. There're various kinds of tuning pegs. Moreover, tuners have evolved quite a lot over the years.

Locking tuners do a better job at retaining the intonation than classic open-gear tuning pegs.
Now that we're here, I invite you to check our guide on building your own DIY Stratocaster guitar.
Also, before we go on, you could also check a guide on the best single-coil pickups, as well as our guide on the best Stratocaster pickups.
What are locking tuners?
Guitar locking tuners are a special retaining mechanism, like a pin, at the head of the guitar and the end of each string. They lock the string in place to prevent them from coming loose or getting out of tune too easily. Fender locking tuners are particularly special.
You can adjust these tooners by loosening or tightening a knob at the back of the headstock. That's something a lot of people miss, and so most people would go through the trouble of wrapping the string around the tuning pegs. If you wrap the strings around these kinds of tuners, the strings will easily lose their tension and stability.
How to use locking tuners?
Here're the right steps to change the strings on a locking tuner:
Remove the old strings by losing the tuners. You can move the pin to achieve the result.
Place the new strings through the bridge, tailpiece, or tremolo block. Pull it all the way through.
Line up the hole in the bridge with the string so it goes to the tuner straight. Also, make sure to pull the string until it has enough tension.
Tighten the locking tuner until the string doesn't slip out of the mechanism.
Next, you should tune-up the string with a tuning pedal or similar.
Lastly, clip your new string about ⅛'' from the hole.
Here's an additional tutorial video:
Gear ratio
Another aspect I should mention is the gear ratio because it's something we'll see mentioned on most models.
Gear ratio means how many turns a tuning key needs to complete a turn of the strings. For example, an 18:1 gear ratio means you'd have to turn the knob or the button 18 times to make the string raise or drop an octave.
The higher the ratio, the finer and more stable the tuning, although too high can become troublesome to use.
Gear ratios start at 12:1 and end at 39:1. You should find specs between 18:1 and 23:1, which are generally considered as the best in terms of performance and ease of use.
I have to add that an 18:1 locking tuner gear ratio works much better than a standard open-gear tuning machine or similar. The reason is that locking tuners have the extra mechanism to keep the string in place.
Configuration
Lastly, tuning pegs might be 6-in-line or 3-per side. These titles mean what they say: a 6-in-line set is made for guitars that have all of their machine heads on a single side.
On the contrary, a 3-per side means there are 3 machines on the left side and 3 on the right side.
Fender electric guitar designs use 6-in-line tuning pegs. Their acoustic guitars use 3-in-line configurations.
Naturally, a 4-string bass guitar uses different configurations, either 2-by-side or 4-in-line. Fender basses use 4-in-line setups.
Lastly, a 5-string bass guitar may use, for example, 3 tuning pegs on one side on 2 on the other. Oddly enough, Fender 5-string bass guitars place 4 pegs on one side and a single peg on the other side.
Sadly, though, there are no locking tuners for bass guitars available at this time.
Now, if you want to change the tuners after reading our guide, here's a video tutorial:
Top 7 Fender Locking Tuners
We are comparing a selection of the top X candidates. Our reviews feature the best value items you can use for Fender, Squier, and Fender-inspired guitar.
As you'd expect, some of the options are Fender-branded.
Best of the best: Fender Chrome Locking Tuners
The best Fender model is their Polished Chrome locking tuners. It's a high-quality 6-in-line set selling for a bit of a premium. But, then again, the manufacture of the model is top-tier.
As the name implies, these tuning pegs are made of chrome. They also have a smooth-motion pin and the vintage aesthetic Fender brings. If you don't like the vintage version, there's a standard set as well.
These tuners come with a dual guide pin-mounting based on the American Elite and American Deluxe guitars. The mechanism packs three short and three long pins for precise positioning.
Lastly, these tuners have an 18:1 gear ratio and come with the necessary hardware to mount. It's an excellent choice with the best aesthetics tuning heads can deliver.
So, if you're looking to improve the intonation stability of a budget or mid-tier Telecaster/Stratocaster guitar, the Chrome Fender Locking Tuners are the best choice.
Needless to say, the Fender Locking Tuners Chrome is the most popular option. Here's another model with a brushed chrome look.
Best value: Fender Locking Tuners Black
If you don't like the chrome color, there are other options within the Fender Locking Tuners series.
For example, I recommend the black set. It also packs an 18:1 gear ratio but comes with a dual guide pin mounting instead.
Also, the package includes crews, bushings, and washers. And because it's black, you can generally get it for less money than the chrome version. It also looks meaner, in case you're playing on a metal guitar.
Best budget: Fender Standard Locking tuners
Similar to our top model, the Fender Standard Locking tuners offer supreme intonation and easy installation.
Also, because these are nickel-plated instead of chrome hardware pieces, the Standard set is a bit cheaper.
They also bring a unique design choice. Fender calls it "Staggered Heights," which means they have a slight inclination to improve tone and tuning stability.
On the aesthetic part, they look like clean metal parts and come with the Fender logo on the back, embossed in chrome.
They come with a 14:1 gear ratio, which is not very good. Still, if you're looking for a quick tuning peg replacement on a budget, the Standard set might be your best bet.
Best Fender Alternative: Schaller Original F Series Locking Tuners
There are alternatives for the Fender Locking Tuners Chrome, and if you're looking for one, check the Schaller machine heads set.
We're reviewing the Original F series locking tuners. Rest assured Shaller is known as one of the most trusted guitar hardware manufacturers in the world. However, their reputation comes with a premium fee.
The Schaller set comes with a 6-in-line configuration and an 18:1 gear ratio. That means it can fit any Fender or Fender-inspired guitar.
Coming from Germany, the Schaller set delivers the best results you can expect. These locking tuners will efficiently keep your guitar's tuning during entire presentations.
Assuming you don't have money issues, the Schaller Original F Series is the option to choose if you're looking for the best locking tuners money can buy. It brings maximum precision, elegant aesthetics, and easy installation.
However, if your guitar doesn't have the original Fender dimensions, this set won't fit.
Best budget non-Fender alternative: Musiclily Locking Tuners set
Locking tuners are generally expensive, and so we needed to add an actually decent budget alternative.
We picked one of the most popular options. It's a Musiclily set, a brand with the reputation of making the best value guitar and bass hardware you can buy. That includes bridges, nuts, tremolos, tailpieces, tuning pegs, and even pickups.
These are sealed locking tuning machines in a 6-in-line configuration. They can fit any standard 10mm peg hole.
Regarding material, it has metal alloy, which is fairly durable and offers a decent aesthetic. As for the gear ratio, the numbers are 15:1.
Still, the low 15:1 ratio comes with the tuning stability locking mechanism deliver, so you can expect this set can work on modest live performances.
The set includes screws, ferrules, and instructions. It's super easy to install and works on any Fender or Fender-inspired guitar.
Best for acoustic guitars: Grover 102-18N Rotomatic 18:1 3-per Side Tuners
Sale
Our top choice for acoustic guitars goes to Grover, a brand with the reputation of making the best guitar and bass tuning pegs.
This is a golden set with 6 Grover Rotomatic tuners. They pack an 18:1 precision on a 3-by-4 configuration.
The set comes with the original Rotomatic head design, and they provide quality tuning control, superb durability.
Its construction is also remarkable. These are full metal pieces with a sealed design, a quality electroplate nickel finish, and top-tier hardware. Also, they come with a unique full metal locking button design, which is
These Grover Rotomatic tuners are very smooth and accurate. Even though these are not Fender locking tuners, their mechanism is as accurate, precise, and smooth as your expensive Fender acoustic guitar could ever need.
You could also use it on electric guitars, just as long as they have a 3-by.side configuration.
Lastly, this set is super easy to install. It comes with wood screws, ferrules, and instructions.
Grover has set the bar for guitar tuners for years, and their Rotomatic series sits at the top of their alternatives. And although 18:1 lives at the threshold of quality specs, Rotomatic delivers the smooth ratio better than ever. In fact, it gets incrementally better, as you keep using the mechanism.
Best 3-3: Hipshot GripLock tuning pegs
Sale
Lastly, I know 3+3 tuning pegs are not for Fender guitars, but I still wanted to end the list with an option for other kinds of axes, if that's what you're looking for.
The best 3-by-side locking tuners you can buy right now are the GripLock set by Hipshot.
They offer accurate tuning and plenty of stability. The price is fair, and the installation is easy.
In Summary
Currently, there're not many Fender locking tuners available, albeit there're plenty of alternatives and options. Amongst all of the models you can buy right now, I choose the best of the best, and you wouldn't go wrong with any of them if you're buying according to your budget.
Good luck on your search!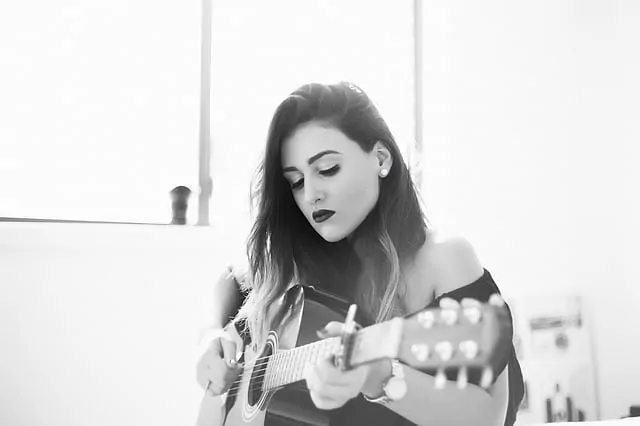 Jen is a guitarist and singer-songwriter who spends much of her time on the road and has lived in 13 cities across 4 continents. She picked up her first guitar at the age of 6 and learned to play by ear shortly after. She received her formal music education at the Berklee College of Music, and currently plays for a few bands in her free time. She has an uncanny ability to improvise creative melodies and harmonies. Her early influences include blues, jazz and rock.