Vocal harmonizers are straightforward devices. They exist to enhance your singing, and while singing is fun, dubbing your voice with a pedal is even better. And that's what we're here to present: the best vocal harmonizers you can buy right now.
These processors unlock lots of potentials, and some of them present EQ and loop options for acoustic guitars as well. That said, vocal harmonizers are typically made for solo performers and songwriters.
What a vocal harmonizer does is adding artificial harmonies to your voice by raising or lowering the pitch of your singing. This is what happens most of the time, but they can also dub your voice, which means adding an extra vocal layer; and they can add different types of delays on top of the harmonies.
Aside from this, vocal harmonizers also present equalization options to improve your voice and make it sound better in any scenario. They are great for live performances, but not very popular on live recordings. It's always better to record yourself, over and over, than using an artificial harmonizer.
Before we go on to our top 6 vocal harmonizer pedals, let's answer a few questions.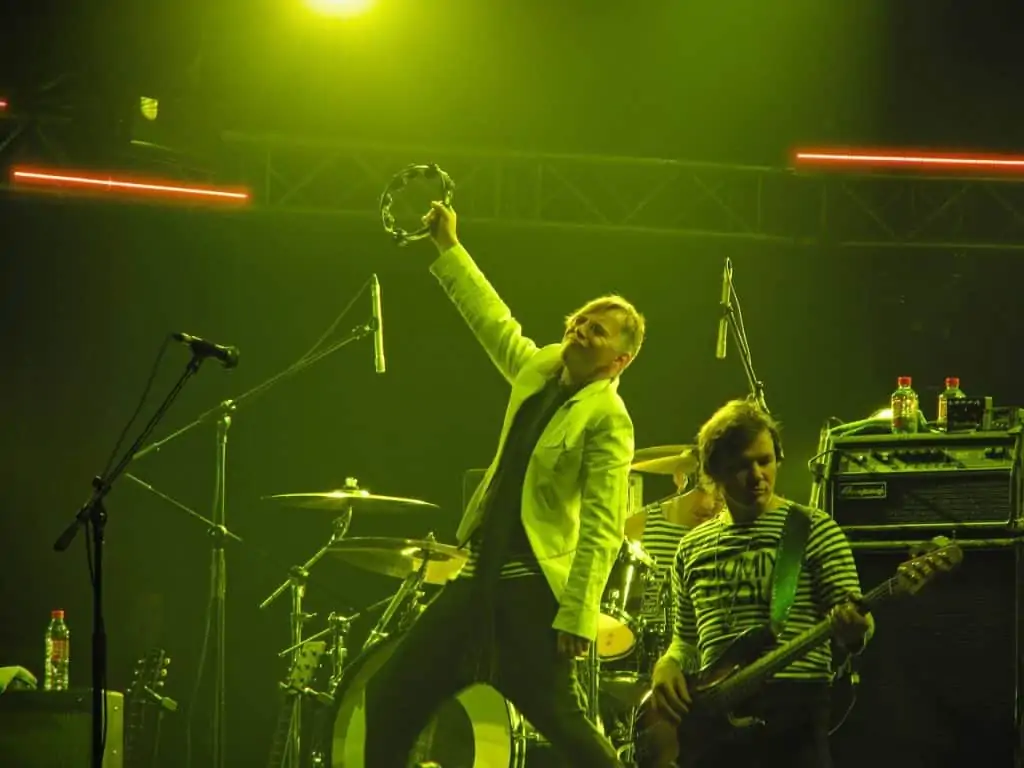 Vocal harmonizer pedals typically come with loop, EQ, dub, and harmony options for singers.
We have a guide on the site detailing the best vocal effects available right now.
This time, though, we're focusing on vocal harmonizers instead, so the extra effects are not as important.
We also reviewed the Boss VE-8 Vocal Effects pedal. It's an outstanding device that might be part of this list. However, we decided to skip it and sent you to the original review instead.
Buyer's Guide: how to pick a vocal harmonizer?
We know that you might now know everything there's to know about vocal processors, so we're here to help you. The following information can take you towards the best decision.
What's a vocal harmonizer?
Vocal harmonizers are effects that add harmonies to vocals. They may add the 3rd, 5th, or 8th above or below. Other odd choices also add the 6th and the 7th note, either above or below.
"Smart" harmonizers can determine the key of the song and add the harmonies automatically.
Some models also include echo, pitch correction, reverb, chorus, loops, and other effects. Most units also include a footswitch to turn on and off the harmonizer as you play. Others are tabletop models that give easier access to settings during a performance, but you'd need to tweak the settings with your hands, in-between songs.
How do harmonizers work?
You can set the key of a harmonizer by playing chords on your keyboard or your guitar. The harmonizer will then determine the chord and create the proper notes.
This is known as "smart" or "auto-harmonization," just remember that you need to keep your instruments in tune so the pedal can match the song perfectly.
However, some models require you to set the key manually instead.
Layout complexity
Because these pedals can pack a hefty amount of effects, vocal harmonizers can get overwhelming. It might be best to find a pedal that suits your experience level, instead of going for a model with options you would never use.
For those looking to keep things simple, there're vocal processors with presets, ready to go. If there're no presets, you might see harmony options like lower, low, high, higher, electric, dirt, and double.
Also, vocal harmonizers may come as part of a multi-effects pedal. These packages combine delay, reverb, pitch shifter (otherwise known as "auto-tune"), plus the harmonizer effects. Singers on a budget looking for multiple effects on a single device might see the appeal of these options.
However, multi-effect models often lack the quality of more specific or purpose-built pedals, although they are reliable and generally okay for modest scenarios.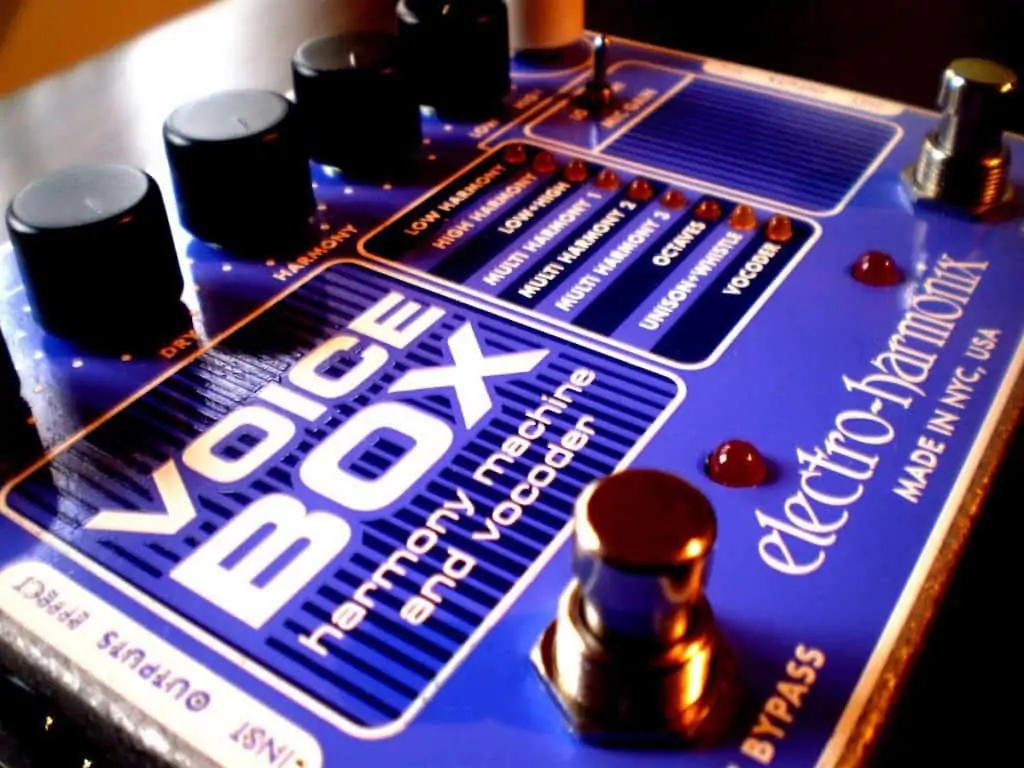 "EH Voice Box" by Fernando Martinez / CC BY 2.0 Vocal harmonizers can get as easy or as complex as you need.
Range options
There're other effects you can search for on vocal harmonizers. One of the most popular ones is the ability to "gender shift" your girl. That means making the harmonies sound like a woman if you're a man, or vice-versa.
You'd need a pedal with plenty of harmonic range. You can identify the range by checking how many octaves the pedal can shift your voices.
Dry & wet controls
An important feature to look for is wet/dry controls. They allow you to mix the effect with the raw signal of your voice, otherwise, the effect could sound as loud as the lead vocal.
In essence, "wet" means the modified signal, while "raw" refers to the unaltered signal. Oftentimes, you'd find a way to set the amount of wet signal you're introducing into the raw input.
Additional effects
Before searching for extra features like looping, reverb, or delay, make sure the pedal you choose focuses on harmonizing. Otherwise, the harmonic feature will be present as part of the package instead of the main ability of the pedal.
This might be obvious. Nevertheless, getting a vocal processor with an add-on harmonizing might be unable to fulfill the role you want.
Last tip
To close the section, I want to add that you still need a good voice microphone. A vocal processor won't compensate for a subpar mic.
Also, vocal processors aren't for professional musicians only. Beginners and amateurs can also have fun with these pedals. If your experience level is limited, then I'd recommend going for a simpler option.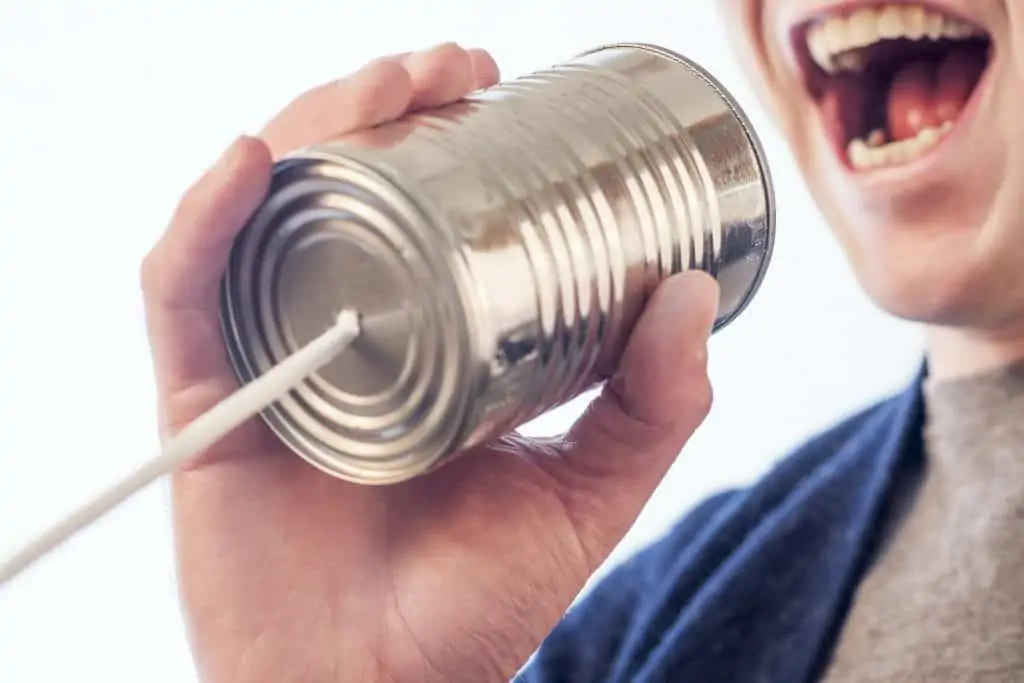 There're condenser and dynamic microphones. Condenser mics are better suited for the studio, whereas dynamic mics are versatile, tough, and stage-ready.
Top 6 best vocal harmonizer pedals
We found the top 10 best harmonizer pedals, and we're taking a closer look at what they offer. Remember to check the demo videos we're sharing so that you can hear yourself what these models achieve.
Make sure to leave a comment below to tell us which is your favorite vocal harmonizer.
Keep in mind we're focusing on simple devices, purpose-built vocal harmonizers that may or may not present extra features.
Also, there're not many brands building vocal harmonizers or vocal effects, hence we're repeating mostly Boss and TC-Helicon devices.
Best overall: Boss VE-2
The Boss VE-2 is a multi-purpose solution for solo performers, singers, songwriters, and experienced musicians.
Those looking to perform with a guitar will find the appeal on the Boss VE-2 model.
There's a "downside," you might think. The layout itself is overwhelming with a multitude of options and indicators all over the place.
But it does grant you the ability to add one or two harmonies to your voice, either an octave below or an octave above. You'd need to add them manually and then mix and match them for the desired results.
More importantly, the Boss VE-2 sets itself apart with its Auto Harmonist function. It works in combination with the guitar, so that means it understands the song's key by listening to the guitar, either electric or acoustic-electric.
So, even if it looks complicated, the Boss VE-2 is in fact a plug & play experience. Moreover, the vocals turn out natural, rich, and interesting.
Another touch is its footswitch. The footswitch is a big black button that toggles between pedal "states." Press it once, and an orange light appears to indicate both reverb and delay are working. Press it twice, and a blue light comes along to indicate delay, reverb, and harmonizer are working.
Overall, the Boss VE-2 brings 24 harmony types with an automatic feature plus an option to set it yourself. Similarly, you can also adjust the delay and the reverb.
Lastly, there's a USB port to connect the pedal to a computer and use it as an audio interface to record voices and guitar.
I'm leaving you with a tutorial video of the Boss VE-2 vocal harmonist:
<iframe width="900″ height="506″ src="https://www.youtube.com/embed/4xQMS8Dj7ig" title="YouTube video player" frameborder="0″ allow="accelerometer; autoplay; clipboard-write; encrypted-media; gyroscope; picture-in-picture" allowfullscreen></iframe>
Best budget: TC-Helicon Duplicator
TC-Helicon produces a fair range of vocal effects, and so it's the perfect brand to kickstart the list. With their common prices, they also present themselves as the best starting point for people who have never used a vocal harmonizer before.
The duplicator offers great quality vocal effects on a simple stompbox. With its three knobs, it offers the harmonizer, reverb, and pitch correction to make your voices pop.
The three dubbing options include tight (a simple overdub), octane up, and loose (3rd and 5th). Then, the reverb is always un, unless you turn it off with the knob. Finally, the automatic pitch correction can help you sing in tone.
In particular, the reverb features "Hall," "Room," and "Club," three standard options that help you better set the sound to fit any particular space or scenario.
The Duplicator stompbox features a smart mic input that detects the harmonies automatically. On top of that, it features several technologies to enhance your singing. These include adaptive EQ, compression, gating, and depressing.
If the pedal can't detect the song's key automatically via the adapter tone feature, there's a "Tone" button you can tap. You'd then need to sing after you push the button so the device can catch the key.
Lastly, the duplicator comes in a road-ready metal enclosure and a 3-year warranty.
Best value: TC-Helicon Singles VoiceTone H1
Here's another model from TC-Helicon, the brand that stands at the top of vocalñ effect manufacturers. Aside from that, they also build microphones and other effects. Their gear is used by bands like Snow Patrol, Queens of the Stone Age, and Skrillex.
The VoiceTone H1 is one of the most popular vocal harmonizer pedals. It's perfect for the job as this is part of their Singles pedal series, which means they only do one thing. In this case, is harmonizing your voice.
This model adds one or two harmonies at the 5th or 3rd note, either above or below your voice. The rest of the controls offer reverb and wet/dry settings.
You only need to plug your guitar into the pedal so it can automatically detect the song's key. Otherwise, you can choose a key to guide the harmonies without the guitar via the Key Selector, which lets you choose individual keys and notes
Another option is using your keyboard to guide the harmonies. The Single H1 will follow the chords you play, with either instrument. However, it won't follow single notes, so use chords to create vocal harmonies and prefer standard rhythm guitar playing.
Also, if the song changes the key along the way, you'll have to change the key manually. This is something that may happen in genres like jazz, hard rock, progressive metal, and similar.
Overall, the Single H1 is a simple enclosure that delivers professional performance. With only three controls, it becomes very easy to use.
And, for the money, the H1 sounds incredibly good: the harmonies are on pitch, but you'd still need to pull the effect on the background so you don't sound robotic.
<iframe width="900″ height="506″ src="https://www.youtube.com/embed/jWyJtld8mek" title="YouTube video player" frameborder="0″ allow="accelerometer; autoplay; clipboard-write; encrypted-media; gyroscope; picture-in-picture" allowfullscreen></iframe>
Best mid-tier: TC-Helicon Singer
The Singer model is one of the most versatile vocal harmonists on the list. It has a mid-tier price, but it sits as a starting pedal as well, in particular for those looking to sing and play guitar at the same time.
If you plug the Singer first on your signal chain (right after the guitar), it automatically picks the key from your playing and creates the proper harmonies with it.
Your guitar will then control the harmony intervals, which means your voices will match perfectly. However, the TC-Helicon singer can't follow "complex" chords, so be sure to try it first before you mess up your live performance.
Its three knobs dial three different options. The first on the left delivers seven harmony types, and I'd advise you to use them carefully. For example, you can turn it on on the chorus or interlude sections for a real oomph.
The second knob dials the level of the effect, which works as a wet & dry setting. Lastly, the third knob tweaks the reverb behavior. Just like the model before, it delivers "Room," "Hall," and "Club" options
Overall, the Singer is a straightforward vocal harmonizer. It has the right amount of options, a rugged enclosure, and decent sound. However, some of the options may sound robotic, thus shattering the illusion of backup singers by making it sound too digital.
<iframe width="900″ height="506″ src="https://www.youtube.com/embed/Xr5z3lOAOXA" title="YouTube video player" frameborder="0″ allow="accelerometer; autoplay; clipboard-write; encrypted-media; gyroscope; picture-in-picture" allowfullscreen></iframe>
Best for the studio: Zoom V3
The Zoom V3 is a vocal processor packing 16 studio-grade FXs, a 3-part harmony, a compressor, delay, reverb, and a chromatic pitch correction. Moreover, it works as an audio interface when you plug it into your computer with a USB cable.
Because of its design, the Zoom V3 vocal processor works better as a desktop pedal to work in the studio. Otherwise, you could mount it on a stand to play live, but it's just not very easy to dial on the fly.
As a studio vocal effect, the Zoom V3 allows you to create three backup vocals in either major or minor keys. You'd have to set the key manually, though, as the V3 is not designed to be played with a guitar.
Aside from that, there're 16 voice effects like Vocoder and Unison to improve your performance. There're parameter knobs to craft the sound to precision. Additionally, you also get reverb, delay, and compression, all of which come with a dedicated knob.
Lastly, the V3 comes with a professional preamp to improve your sound even further. It comes with an Enhance function to optimize the performance of any microphone.
<iframe width="900″ height="506″ src="https://www.youtube.com/embed/NfRvfo9iefs" title="YouTube video player" frameborder="0″ allow="accelerometer; autoplay; clipboard-write; encrypted-media; gyroscope; picture-in-picture" allowfullscreen></iframe>
Best premium: TC-Helicon Play Acoustic
The Play Acoustic is the natural companion for modern acoustic performers. It packs everything you'd need to play live and shine.
This model delivers natural and rich voices, on-pitch backing harmonies, guitar effects, and a processing unit to understand the song's key through the playing of your acoustic guitar.
Overall, Play Acoustic delivers an all-in-one FXs processor for songwriters and singers. Naturally, it integrates both the voice and the guitar.
The way it works is with five I/O ports. It has two inputs, one for the guitar and the other for the microphone. And it has two outputs to launch the mix towards speakers or cabinets, one for guitar and the other for the mic. Additionally, it has a connection to plug the next pedal, if you want.
This side of the pedal offers an onboard EQ to improve the acoustic tone plus a feature that eliminates feedback. There're also guitar effects, in particular, the Play Live pedal packs chorus, delay, and reverb.
The guitar port has a room-sense fiction to detect the music key and correct it along the way. Then, the mic input has a Pitch Correction setting plus a Sennheiser high-quality preamp. As for vocal effects, it offers reverb, delay, harmony, hard tune, and doubling.
There's also a looping functionality with 15/30/60 time intervals. Here's a guide explaining how to use loop pedals if need be.
Overall, the Play Acoustic is a premium-grade guitar and vocal processor. It offers superior sound quality, a premium build, and a hefty price.
<iframe width="900″ height="506″ src="https://www.youtube.com/embed/bSoC2ivmmv8″ title="YouTube video player" frameborder="0″ allow="accelerometer; autoplay; clipboard-write; encrypted-media; gyroscope; picture-in-picture" allowfullscreen></iframe>
In Summary
That concludes our list of the top 6 vocal harmonizers you can find right now. As you see, there're options with different price points, so it'll be easy for you to pick depending on what you plan to invest.
Unfortunately, there's no entry-level vocal harmonist right now, and by that, I mean no models are selling for less than one hundred dollars. Because these pedals pack a ton of technological features, they tend to be expensive.
Either way, a vocal effect or a vocal harmonizer can greatly improve your performance or your recording. It lets your creativity flow and, the more you practice, the better your ideas will sound in real life with these devices.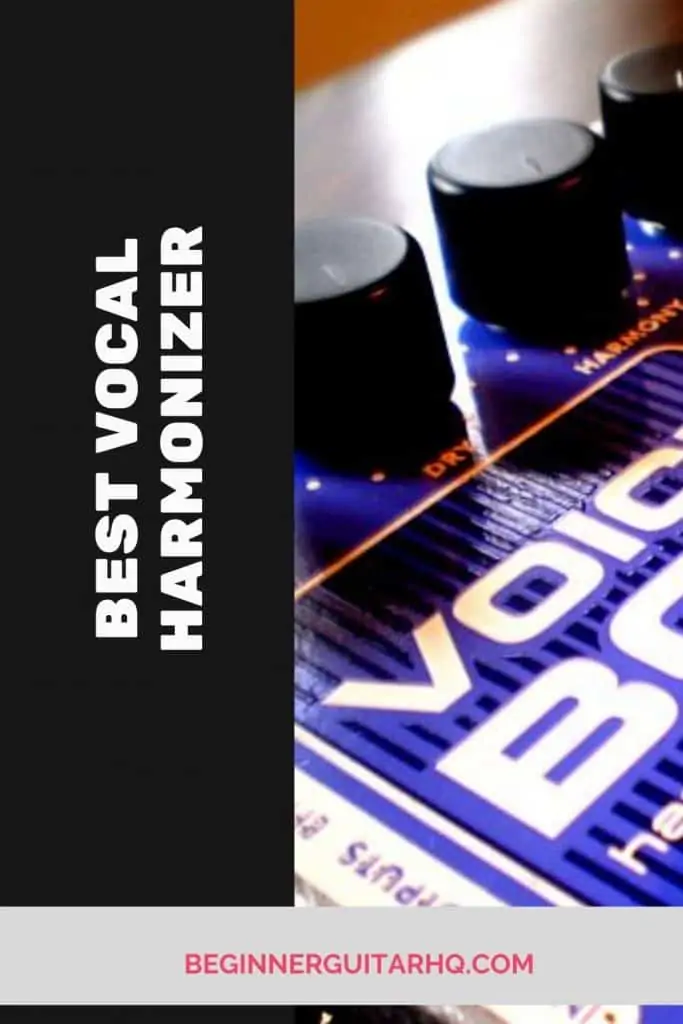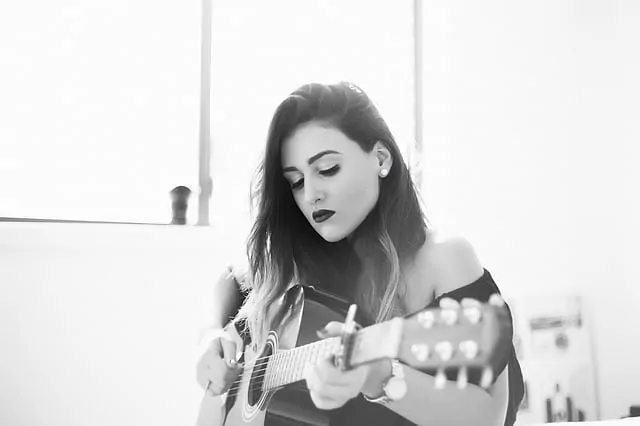 Jen is a guitarist and singer-songwriter who spends much of her time on the road and has lived in 13 cities across 4 continents. She picked up her first guitar at the age of 6 and learned to play by ear shortly after. She received her formal music education at the Berklee College of Music, and currently plays for a few bands in her free time. She has an uncanny ability to improvise creative melodies and harmonies. Her early influences include blues, jazz and rock.