Marshall Amps needs no extra introduction, but perhaps the Marshall MG15CFX does. It's a budget solid-state amp coming from the brand that empowers the likes of Joe Perry, Angus Young, Slash, Jimmy Page, James Hetfield, Steph Carpenter, Joe Perry, and more.
However, Marshall doesn't only build amplifiers for superstars. The MG15CFX model goes towards young rockers, upcoming artists, electric guitar enthusiasts, and people just starting their musical path.
It's a highly recommended amplifier that ships with built-in effects, Marshall's reliable build quality, and the unique tone signature of the UK-based brand. Most of all, it's not made by a third-party manufacturer. Instead, this cheap model comes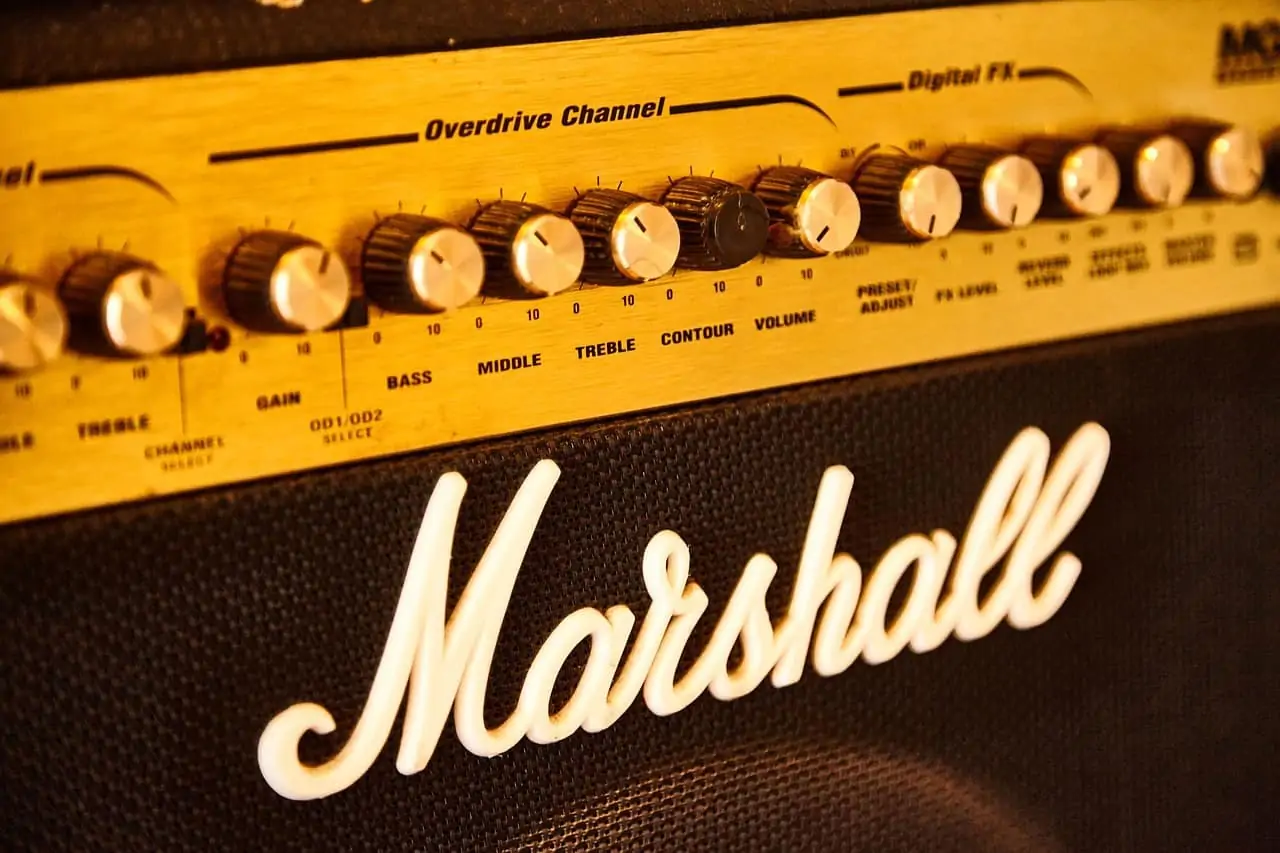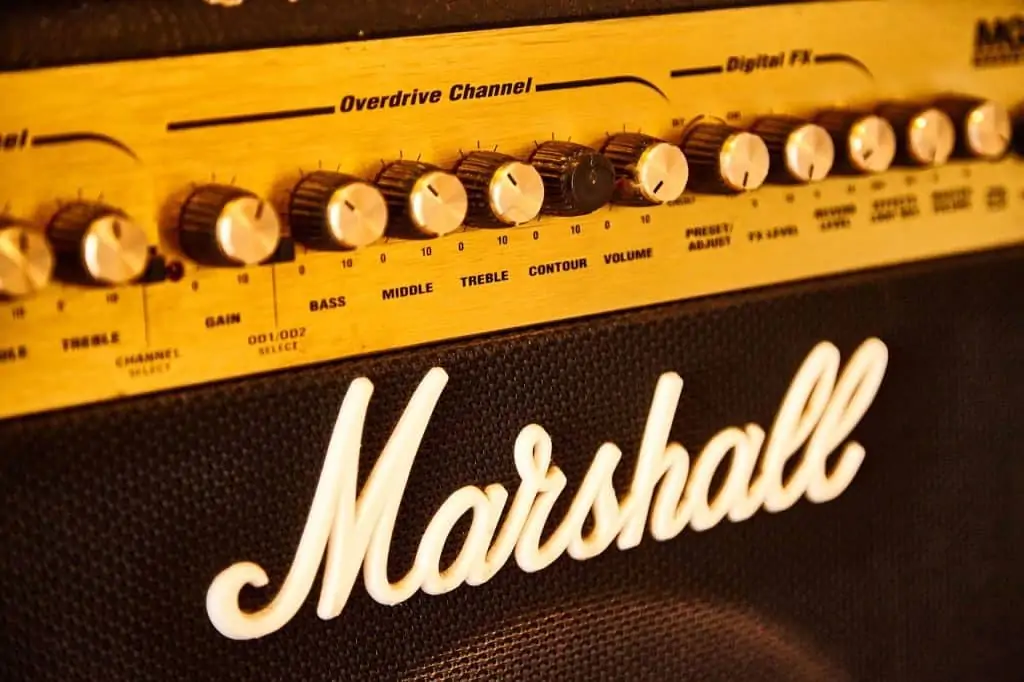 Marshall started producing guitar amplifiers back in 1962 in London, England.
We already reviewed the best Marshall amplifiers, so be sure to check that out for the best the brand has to offer.
Additionally, we scouted the best Marshall mini guitar amps, which offer outputs from one to five watts.
Marshall MG Series 15CFX-U Electric Guitar Amp Review
The Britannic brand created the first 100-watt solid-state amp. Years of experience make them a top brand in the segment, the leader of the pack.
With said history, Marshall's solid-state delivers a quality that's between legend and myth. While most people associate the brand with large, tubular amplifiers, their digital amps are something else.
That's where the Marshall MG Series MG15CFX enters into play. It's a perfect example of the brand's reputation.
It's a small solid-state amp, though, nothing you would take to the stage. It's also selling for less than $200, which makes it an affordable model. And within its price range, the MG15CFX is among the best-looking amplifiers you can get, and its performance is on par with its attractive chassis.
Most of all, the MG15CFX is a true Marshall solid-state sound. That means a lot of crunches and essential effects.
Overview
The MG15CFX-U is a 15-watt solid-state amplifier with a custom Marshall 8'' speaker. For onboard features, the MG series amp packs clean, crunch, OD1, and OD2 channels.
It also packs a series of built-in digital effects, a line-in for playing alongside playback, and an emulated headphone out for silent practice.
The FX selection includes chorus, reverb, flanger, phaser, delay with tap tempo, and octaver.
There's also an onboard preset mode you can use to swap between effect presets or to save your own sound tweaks.
The Marshall MG15CFX sells as a practice amp with an easy-to-use interface. But despite its array of effects and friendly interface, the core value of this loudbox is its tone.
Its clean channel, as well as crunch and overdrive channels, are equally capable. Each one is rather unique, and thus each channel will capture your creativity and call you to experiment and practice.
The presence of four unique channels to work your way up takes this amp well beyond the practice guitar amp category.
As a downside, the MG15CFX is not particularly cheap. The last version came out in 2015, which is the "-U" model. The price it packs also belongs to other solid-state amps that present more options and equal or better sound.
Bear in mind the Marshall logo costs money. Either way, we'll see other options down below.
Built quality
Also, as the name implies, the amplifier packs 15 watts of power (hence the number 15 on its title).
It comes on a sturdy, plastic/aluminum cabinet that's both light and sturdy.
It packs the traditional Marshall aesthetic, albeit the golden color of most Marshall amps is greyed out. You may miss the brand's standard colors, but the brushed aluminum still looks gorgeous.
So, overall, the Marshall MG15CFX is a reliable, compact, and durable practice amp. Its 15 watts of power are also okay for rehearsal without a drum or with electric drums.
Controls
Marshall knows how to be direct with their controls. Even though the layout has a fair amount of options, they are rather intuitive and beginner-friendly.
The MG15CFX follows the standard control cluster of most Marshall amplifiers. Taking a look at the knobs, you'll find Gain, Volume, and Master Volume. There's also a 3-band EQ section, with Low, Mid, and High Treble knobs.
On the right side, there's an FX rotary switch that allows you to select between chorus, phaser, flanger, delay, and octave. There's also a dedicated Reverb knob, which means you can activate the reverb with a secondary effect at the same time.
Right on top of the knobs, there's a couple of buttons for extra versatility. First, there are two buttons to swap between the channels, which are Clean/Crunch and OD1/OD2 buttons. Only one channel can be active at the same time, and there's a green LED light on these buttons to guide you.
Lastly, there's a button that swaps between tuner and tap tempo functions. It also has a LED light to guide you through its process.
All of the knobs have a clear label, and so you'll have few troubles understanding how it works. For example, the FX knob activates the sounds by moving the dial clockwise.
Here's another video showcasing the amplifiers. See it if you would like to learn how to control its features:
Performance
It's Marshall's sound on a tiny, easy-to-use box. Albeit the effects are nothing to write home about, this amplifier doesn't sound cheap or tricky at all. The sound lives to the brand's standards.
There's one downside, though, which is the clean channel. It's a bit artificial compared to higher-end Marshall gear, particularly valve tube Marshall amps (which are worth way more than this).
Because looks alone don't sell amps (much less a lonely logo), Marshall included a great tone aside from the clean channel.
In particular, the Crunch sound is warm, subtle to overdrive, and very much above its price point. It deserves recognition as it can be taken seriously by professional players. Push the button and you'll enter blues and classic rock territory immediately.
Then, the OD1 and OD2 offer different saturation digress. OD2 delivers sounds for heavy metal, whereas the other leans towards hard rock, alternative rock, and alternative rock genres.
Tonally, the Marshall MG15CFX is a solid choice. Now, the clean channel is a bit artificial, but it can still work wonders with a good setup of guitar pedals. Moreover, the other channels can take pedals as well. For example, you could mix the crunch channel with a chorus pedal for a super '80s rock sound.
Also, I should say the MG Series model is actually quite loud for a 15 watts amp. Although I wouldn't take this to play live with a PA system, it can be a good rehearsal and even home recording amp as well.
Tonal shaping options
The 3-band EQ is a great addition at this price point as well. It allows you to tweak your sound with more precision. Also, it allows you to improve the stock sound of your guitar.
For example, you could make a bright guitar sound darker and fatter by lowering the treble knob and dialing the low control.
This is where the presets come into play. You can edit the sound of each channel and then recall them for instant versatility.
For instance, you can tweak the 3-band EQ, select, and FX while you're playing on the OD2 channel. Then, you can hard-press the OD button to save the preset, so every time you select it you'll recall the same tweaks.
There's also the option to play with the presets or in manual mode, which means tweaking the sound with the knobs. In other words, manual mode makes the Marshall MG15CFX operate like a regular amplifier.
As for the effects, none of them top what a modeling amp can deliver. The reverb is also not particularly impressive. They are still okay, way better than okay. If you stick to practicing and demo recording, you'll be very happy with the sounds. Also, avoid playing with exotic pedals and sounds as the amp can quickly saturate the sound.
Alternatives
The MG15CFX is a popular amplifier, and many musicians and musical pages recommend it constantly.
However, recent years have introduced an influx of versatile practice amps that can prove better value than the MG series option.
For example, there's the Yamaha TRH5, a 10-watt modeling amp packing top-of-the-line circuitry. Yamaha delivers an impressive amount of features for a desktop amp that makes the TRH5 a worthy contender for your home studio.
It's a serious off-stage amplifier offering Yamaha's reputed Virtual Circuitry Technology. The VCT feature delivers various authentic-sounding tube amp voices. On top of that, it brings premium onboard effects, and hi-fi stereo playback.
It also packs a USB recording feature, so you could use the TRH5 as an audio interface for your guitar. Alongside this option, the amp bundles a DAW (Cubase).
It's definitely smaller than the MG15CFX-U, but if you're looking for the best non-live amplifier in the market, the TRH5 is perhaps a no-brainer. However, you couldn't use this to practice with your band
It would be great to mention the Boss Katana as well, which is known as the best solid-state amplifier you can buy, period.
The 50-watt version sells for a similar price to the MG15FX, but it brings a whole list of features to turn it into a top-tier digital amplifier.
First of all, it's a 50-watt amplifier with five solid amp voices. Then, it packs a wide array of onboard effects and the ability to save and recall presets.
The sound comes from a custom Boss 12" speaker, capable of delivering premium-class power, with plenty of crunch and cut.
There're five independent effect sections, each one with three variations. Also, there's a dedicated FX pedal to swap between these effects swiftly.
Additionally, the amplifier comes with Boss Tone Studio, a software you can use to customize and save presets. You can even download presets from other users to recall them on the amplifier.
As you'd expect, the amp features a USB out you can use to record on your computer, effectively making the amp work like an interface.
I'm recommending the 50-watt stage-ready amplifier. There're other sizes to pick from, though.
My last recommendation for you would be the VHT Special 6. It's a practice tubular amp that sells for a higher price point. It still brings a great valve-tubes sound for a modest price. If you're looking for vintage rock tones, this is your option:
Variety
It would be wise to mention some Marshall amps you can get near the $200 price point as well.
First of all, I can mention the MG15GR. It's the bare-bones version of the Marshall MG15CFX-U, with only two channels and digital reverb. It can work if you're looking for an entry-level, beginner amplifier.
For a "budget" valve alternative, you can check the Marshall Origin, a 5-watts all-tube amplifier featuring an amazing sound, FX loop, and low & high output options. Albeit it's a small amplifier, it can work as a slate for your guitar pedals and play live with the help of a stage mic.
In Summary
Trusting the Marshall brand is a wise choice. Once again, the brand proves to deliver well-rounded amplifiers for all competitive brackets.
While it's not a professional option, nor the best or most valuable amplifier you'd find by the price. The MG15CFX by Marshall is still very commendable.
It has a competitive price and blends a dried-out aesthetic with the raw crunch power Marshall has to offer.
Final Say
The Marshall MG15CFX is a perfect amplifier for home practice and rehearsal. You wouldn't take this for a gig,m though, as it doesn't have enough power to play live.
For all else, take your pick between this model and the other options we listed!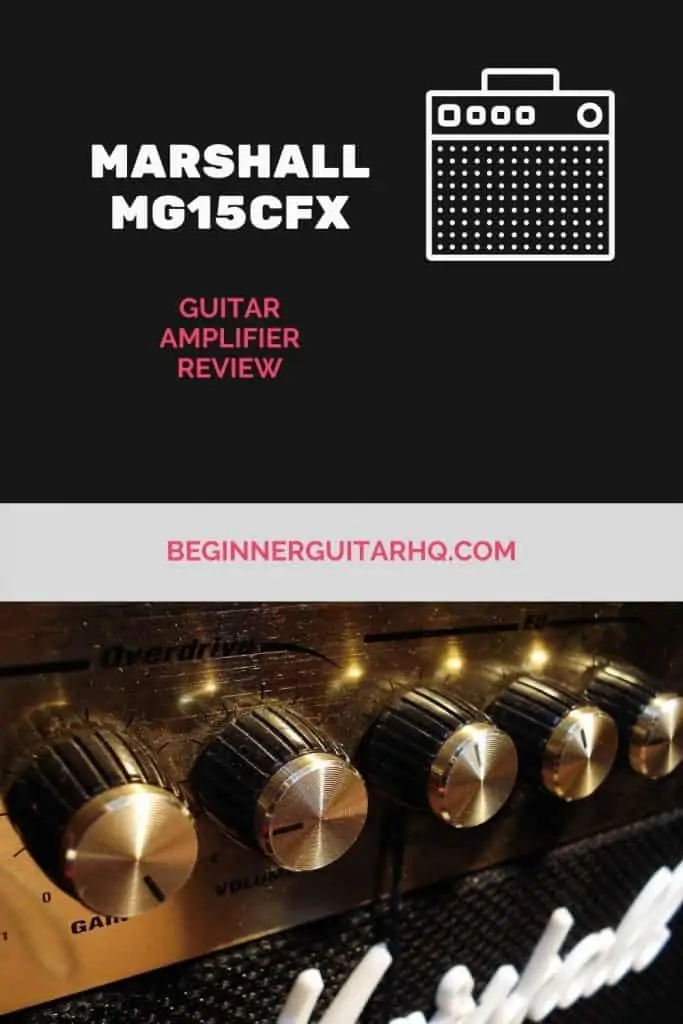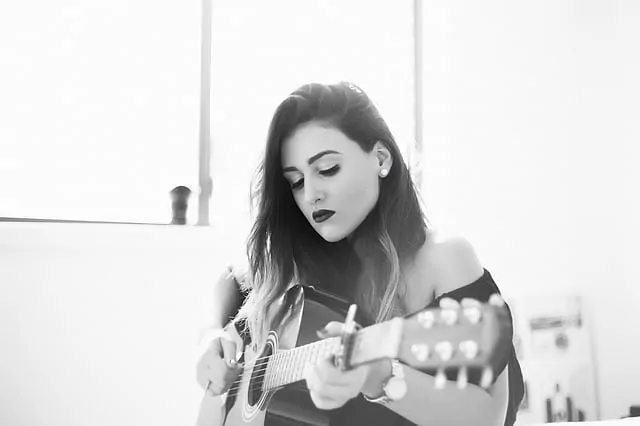 Jen is a guitarist and singer-songwriter who spends much of her time on the road and has lived in 13 cities across 4 continents. She picked up her first guitar at the age of 6 and learned to play by ear shortly after. She received her formal music education at the Berklee College of Music, and currently plays for a few bands in her free time. She has an uncanny ability to improvise creative melodies and harmonies. Her early influences include blues, jazz and rock.