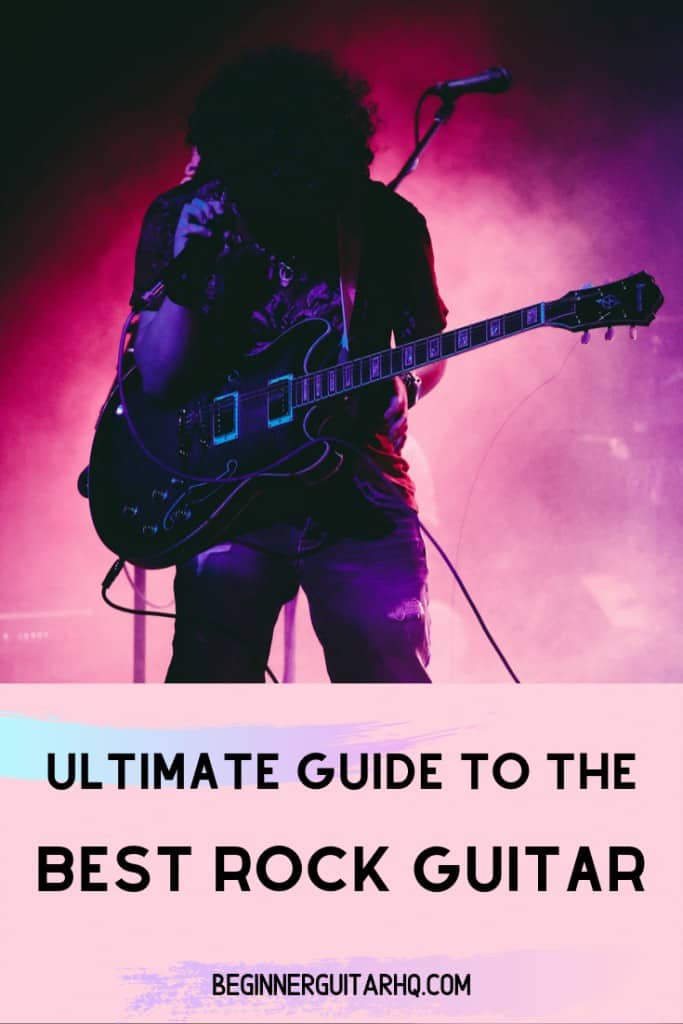 Any new players starting out in the world of rock are going to be looking for a great priced guitar that packs some serious punch. Rock guitar is traditionally distorted so you'll want something loud, aggressive and full of attitude to make those rock riffs swagger and shake.
Rock of course is a very broad spectrum term when it comes to describing music so we will generalise rock guitar tones being anything from classic rock like AC/DC and Led Zeppelin to 20th Century Rock bands like Green Day, Nirvana and everything in between that sits in the family of rock.
Epiphone Les Paul
The Les Paul is an essential rock guitar. Every rock icon has worn one of these slung around their neck. Imagine seeing Jimmy Page or Slash without one by their side.
The thick mahogany body and dual Alnico Classic humbuckers give you all the shimmering cleans you need for those tender ballads and all the depth and growl you need for cranking the overdrive and busting out those groovy riffs.
The Les Paul is a big contender for anyone looking to get their first serious rock guitar. It's versatile and it always looks super cool.
Ibanez GRGA120
Ibanez are a name that many rock and metal players lean on for their tones. You may recognise them as being big in the shred guitar world in the hands of such guitar luminaries such as Steve Vai and Paul Gilbert playing more notes than the human eye can see. Ibanez also hold their own when playing slow.
The GRGA is a great guitar for anyone looking to get into rock playing. It's got plenty of attitude and it's fast enough for the budding shredder.
It's all black. Black paint, black pickups, black hardware. What's not to love. It's also got a slim neck and jumbo frets so you can get the string action low for those super speedy guitar solo runs you'll be working on with this guitar in your arsenal.
A Telecaster style guitar loaded with humbuckers would be a fantastic choice for any rock guitarist. The bright attack of a Telecaster coupled with the warm growl of some good humbuckers is a recipe for success.
Yamaha Pacifica PAC112
Yamaha's Pacifica range goes all the way from entry level to pro level and with it's bridge humbucker and pair of single coils, this is a very versatile guitar for the budding rocker. It offers all the grunt from it's humbucker and the shimmer and bite from the pair of single coils. It goes ballad to headbang faster than you can scream rock and roll.
The PAC112 might be the lowest model in the range but it's certainly a guitar that punches well about its weight class. It's a solid build with it's flat fretboard leaning well into shred territory. You could get pretty fast on this guitar and really melt some faces.
It takes its visual cue from the Strat with it's big pickguard and top mounted controls but it's a hot rodded rock machine.
Jackson Dinky JS22
Jackson are a brand known for their rock ties. They've been around a while and many rock and metal icons have worn their guitars with pride. The JS22 is one of their entry level guitars but it still rocks as hard as the rest.
The spec on this guitar is way beyond it's price point. The neck has 24 jumbo frets on a compound radius fretboard. This means the fretboard gets flatter the further up you go meaning low action and speedy licks.
The twin humbuckers are high output and probably lean more towards your modern rock tones rather than AC/DC style rock, but it still can pull this off convincingly. The lower horn has a really deep cutaway for those hard to reach high frets and the body is lightweight and comfortable against your body.
Dean Thoroughbred TBX FM TRD
While the model name might not be the catchiest, this single cutaway guitar from Dean is clearly built to rock. It takes its inspiration from a guitar we've already featured on this list but under the hood it hides a more modern rock friendly spec.
The basswood body is light and resonant and would be perfect for jumping around stage and the slim C shaped fretboard will feel comfortable in any setting. This guitar has a very flat fretboard radius compared to it's inspirations more vintage feeling radius.
Vintage looks, modern feel. Could this be the best rock guitar ever for very little money?
The electronics are to the point, 2 volumes and 2 tones, one set for each pickup, and a three way toggle switch. You don't get anything fancy here. This is a no-frills workhorse built to be used and abused in the clubs and stages of your town.
Schecter Diamond Series
This guitar may look complex but that is only because of it's Floyd Rose Tremolo. It is also available without this. The Floyd Rose is a style of locking tremolo that allows you to make more extreme tremolo bar movements, both up and down, without the tuning stability being compromised.
These systems hold their tune as the strings lock in place as the bridge and nut.
The Schecter Diamond Series has a pair of Schecters active high output humbuckers and a Wenge fretboard. Wenge is usually a material reserved for higher end brands so it's great to see it appear in a more friendly price point. The active pickups are very responsive and can handle as much gain as you can throw at them and are powered by a 9V battery.
The electrics are simple with a single volume and tone control with a three way switch. You don't need to worry about complicated wiring setups, just focus on playing great riffs!
Squier Contemporary Active Stratocaster
Sticking with the Floyd Rose based theme of the previous guitar, here is a new offering from Squier. A twin active humbucker, Floyd Road Tremolo loaded guitar. This guitar ticks every single 1980s guitar hero box possible. The reverse headstock calls out for hair metal riffs and the Floyd Rose is begging to be divebombed.
Squier have a reputation as a very solid brand and the Contemporary series is an extension of their reputation by branching out to supply more of a modern feeling guitar.
The slim C shaped Maple neck feels like a shredders dream and the tall frets on a flat radius fretboard just call out for speedy runs up and down the neck. Even the hardware is ready to rock with it's all black plating.
Gretsch guitars can be just as useful in a rock band than they can in any other genre. Soundgarden's Chris Cornell was often seen with a Gretsch hung around his neck in the early days of the band.
Gretsch G5232T Electromatic Double Jet
Grestch are a brand you might not consider high up a list of rock guitars, but their BlackTop BroadTron pickups make this guitar the perfect blend of a Telecaster and a Les Paul. Imagine having the snap of a Tele and the grunt of a Les Paul on one neatly wrapped package.
The G5232T also comes with a Bigsby B50 Vibrato, now don't expect to be doing dive bombs with this style tremolo, it simply won't move that far. But, if you want to add some wobble to those sustained notes and chords, this will do just that.
With it's slim U shaped neck, it will be comfortable for anyone to pick up and rock out with no matter how big or small your hands.
Summary
As you can see, if you're looking for a great guitar to play rock music on there is a huge selection on offer. You don't have to look far to find a great guitar that will suit whatever style of rock music you are playing. Everything from 80s rock to classic rock even to some variations on metal, a good pair of humbuckers will see you through.
As rock is such a widely spread genre of music, I would suggest looking at your favourite artists and seeing what sort of guitars they use. If that is the sound you're looking for, then follow their guitars as a template to what you think would suit you in your own playing.