Today, we're looking at one of the only modern amps capable of delivering the same Top Boost and British Drive tone musicians loved so much about the AC30. We're reviewing the AC4 Classic Limited Edition, also known as the Vox AC4C1-12.
The Vox AC4 family of tubular electric guitar amps are the compact, available, and affordable versions of the brand's vintage coveted Vox AC30. The newer AC4C-12 is the latest iteration of the AC4 series and represents an upgrade over its predecessors. It could even be better than the original version.
It also represents an option over the different reissues of the Vox AC30, which are more expensive.
About the Vox AC30
The original AC30 was a handcrafted 30W tube guitar amp. It was released by Vox as early as 1958 and became known for its various quality features. For example, its clean channel was bright, clean, and soft; and its distortion channel was strong and energetic.
Vox left a great imprint on the music industry with its 1960's AC30 Twin. This model incorporated the first quality 3-band EQ the world had ever seen. The famous "Top Boost" came afterward, which is an extra gain for lows and highs on the back panel.
As a new version of the AC30, the AC4C1-12 includes all of the features included in the best AC30 models all over history.
And what's best, the Classic Limited Edition sells for a price us regular musicians can afford. Hundreds of professional rock musicians have chosen the Vox AC30 time and time again for both the studio and the stage, so the price and the availability of such a model is just not something suited for regular musicians.
If you want to know who has used the Vox AC30, the list includes:
Slash
Dave Grohl
Alex Turner
Kurt Cobain
Matthew Bellamy
Billy Joe Armstrong
Eric Clapton
Thom Yorke
John Lennon
Noel Gallagher
The Edge
Keith Richards
Tony Iommi
Jerry Cantrell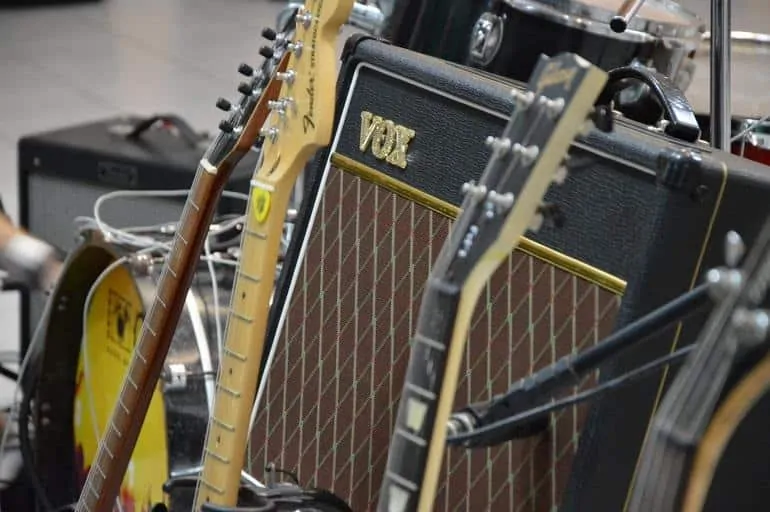 The Vox AC30 is one of the most popular amps in rock history. It's so popular and versatile it's even present on Metallica's stages as part of James Hetfield's guitar gear.
Let's dive right into our review of the AC4C1-12 Mini Tube Amp and see why this tiny device is so expensive. If you have any doubts about tubular amps, you can check this prior best tube amp list, where we already selected the two Vox models we already discussed.
Vox AC4C1-12 Mini Tube Amp Review
Introduced alongside the AC15 back in 1958, Vox's AC4 is one of the best British guitar amplifiers you can buy right now. The name refers to Alternating Current, which is a type of circuitry that was uncommon back in the day.
Originally, Vox called it the AC2, then the AC6, and finally AC4 in 1962. The re-brand had no significant changes to the circuit, which still featured the same built-in tremolo plus three control knobs (Speed, Tone, and Volume).
The modern version, though, is a complete upgrade. It features a new circuit plus a new 12'' Celestion loudspeaker.
What's best is the new circuits seem to improve on the early Vox sound. See, the highlight of this compact 10W amp is how the clean sound at a lower gain is just what you'd expect to hear from vintage Vox devices.
Overview
Among all Vox tube amps, the AC4 series has remained the most popular over the years. They provide a simple and easy-to-use way to enjoy one of the richest sounds in the guitar amp industry.
More so, this driven amp is widely available and sells for a mid-level price that's well worth every penny.
Don't get fooled by its output. A 4W quality tube amp can be just as loud as a 20-30W solid-state amp. However, this is but a practice and rehearsal amp, but it could be enough for a small venue.
More so, prior versions had a 10'' Celestion speaker. The new version packs a 12'' Celestion driver that delivers even fatter and rounder sounds.
Overall, the sound is pretty robust and comes from a classy amp wearing an elegant diamond grille cloth plus a vinyl exterior. That's how Vox likes it.
Is it worth the money for such a small amp? Well, if you're into a Class A tube amp you can use for home practice, small performances, garage rehearsing, or recording, then yes. It's worth it.
What you see is a small 4W tubular amp. This kind of loudspeakers uses vacuum tubes to create the sound. The sound wave enters a tube on the preamp section and then goes to the speaker within another tube.
The result is a warmer, brighter, and overall more realistic sound than what solid-state amps can give you. More so, tube amps have more headroom, which means you can play at louder volumes without losing the quality of your guitar.
Lastly, a tube amp reacts to your playing as it's very dynamic. That means you can go from overdrive to clean simply by the strength or your strumming.
The amps volume knob also works in a similar fashion, which is why tube amps don't commonly feature a distortion channel. Instead, as you dial-in the volume knob, you get a driven guitar tone.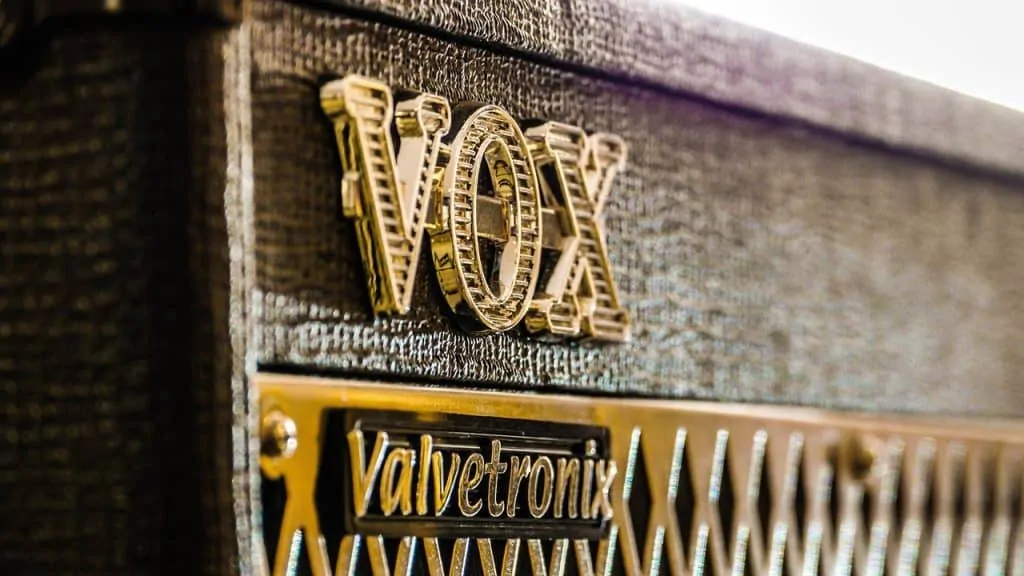 Tube vs. solid-state amps is a long-going discussion within the music industry. The truth is tube amps have always been better, which is why they've been the standard choice for professionals. However, digital amps are becoming better by the day. Plus, solid-state boxes are more versatile and often pack a wide variety of effects, which decreases your needs of carrying extra pedals.
Features
The new AC4 Classic Limited Edition looks like the mid-60s product. However, its internals are significantly different from its old-school version.
Let's start by the rectifier tubes it uses. Back then, it used an EF86 tube for the preamp section plus an EZ80 rectifier tube and a single EL84 tube on the power section.
Now, it has an EL84 on the power section, while the preamp is handled by 12AX7/ECC83 tubes.
Let's review the advantages and characteristics of each rectifier tube for a bit. Basically, different types of vacuum types have different sound qualities. In particular:
12AX7: these are the most standard tubes as they are less expensive and require less care. The sound it produces is warm, round, and fat. ECC83 is a similar modern alternative.
EL84: these are vintage tubes. This is a silicon rectifier tone that increases sustain and delivers a balanced tone. More so, the output it generates is lower and offers a smooth harmonic distortion and overdrive.
Next, instead of a hardwired circuit, it has a tech update with its 3D-printed circuit. The electronics used a non-plated board and are printed in an L-shaped steel chassis. It's a simple layout but it's built to the highest standards.
There's one very special feature this little tube amp has. It has a custom-voiced Celestion VX12 12'' speaker. This piece gives you the kind of performance you'd only get from top-notch Vox amps, and we already know how beautiful that can be.

Rectifier tubes need to be changed every six months or so. A 12AX7 can hold it for a year.
Controls
The beauty of an old-school tubular amp is how simple they are. As it ships right out of the box, the AC4C1-12 already delivers a top-notch sound, and you can get just enough versatility for modern and classic genres
This Classic Edition has its control cluster at the very top of the enclosure, where there's a small number of knobs. Said chicken-head knobs offer Gain, Bass, Treble, and Volume controls.
That means there's a 2-band EQ plus the standard gain and volume options. The only extra is the power switch at the right of the amp.
I know it seems limited, but these controls are more than enough to tweak a killer vintage rock guitar tone. That said, I wish this had a full 3-band EQ.
Performance
Digital guitar amps have advanced so much over the years. Right now, we even got amazing solid-state modeling amps like the Boss Katana or the Fender Mustang that are able to imitate the sounds of vintage tube amps…
Did you read what I just said? Imitate! As with all things music-related, it seems that music companies got it right the first time, and everything they've done over the years is trying to reissue, re-image, re-create and improve their original vintage '50s and '60s sounds.
Why not, then, go for the masters of vintage rock loud boxes? Because that's exactly what this modern reissue delivers.
The Vox AC4C1-12 carries the legendary tone brought to you by bands like The Beatles, The Rolling Stones, Stone Temple Pilots, Guns N' Roses, Foo Fighters, or Black Sabbath. Reading into a list of Vox users feels like going through a rock history sticker album.
Whatever made the AC30 so revolutionary back in the day is exactly what the AC4 brings forward, albeit in a smaller, affordable format.
Sound
The custom Celestion speaker reproduces the sweet vintage sound you think of whenever you look at a Vox amp. Regarding tone, this amp is your affordable ticket towards the major leagues.
Sonic-wise, this amp is well-articulated, although it has a faint background hum. Don't fret, though, because that's something common on tubular amps with a single power rectifier tube at the power section.
When you use this on low gain, it sounds like an early Vox amp. It has a boxed midrange tone, a restrained bass, and a crispy treble that shines through. However, you do need to tame the brightness, either on your guitar or with the amp's treble knob.
Set the treble knob right and you get the chiming chord sound that made the AC30's one of the greatest rhythm guitar amps of all times. Turn up the gain and it's British Invasion alter ego comes through. Push it to the limit and you'll be welcoming your neighbors to Paradise with the natural overdrive it delivers.
Single-coil guitars won't go anything beyond overdrive and overdrive pedals with the AC4. If you plug in a guitar with a decent humbucker on the AC4, though, you'll be able to use distortion pedals to great effects. Additionally, the natural drive of the amp will tear through the envelope.
Then, guitars fitted with P-90 pickups are more likely to squeal on high gain situations, especially those wearing Gibson P-90s.
I must add Vox amps are the greatest companions of Les Paul guitars. If you find or own a Les Paul fitted with Gibson's Classic '57's humbuckers, you'll be able to enjoy one of the best guitar sounds you'll ever hear.
Here's an Epiphone Les Paul with 57's humbuckers I find amazing:
Overall, the Vox AC4 Classic Limited Edition packs the truest Vox amp sound in a compact enclosure. The early Vox clean sounds and higher gain tones are cheaper than ever with this model.
Lastly, the Vox AC4C1-12 is great for lower-volume situations, and it's also great for the studio if you're an experienced player (as it needs some tweaking on the treble side). Lastly, it works even better with decent humbucker pickups.

Handwired electronic circuits are preferred by sound purists.
Drawbacks & alternative
Not everything is gold, and by everything, I mostly mean the price vs. the size of this mini amp. Although the quality is very high and the construction is as sturdy as it gets, many people might be deterred because of how little wattage they get for the money.
Even when I say this is worth it, maybe you're in need of a tube-sounding amp you can comfortably take to your gigs without needing an extra PA system or looking like a flimsy guitar player.
If that's the case, then, I can suggest the Boss Katana solid-state modeling series. You can also check our prior Fender Mustang review. These devices carry "amp voices" that imitate specific vintage tube amps from Fender, Vox, Marshall, and other brands.
A similar option is the Marshall 50 Code series, which modulates vintage Marshall tube amps. Handwired Marshall tube amps are also a thing of legend, but there's no one producing those devices anymore.
There's another downside to the design of this little amp. Because it offers so much output on its 12'' speaker, the EL84 rectifier tube runs very hot. So, there's a lot of heat going towards the control panel, and although there's a ventilation system, it's just not enough.
That means you shouldn't use this in hot environments. Additionally, you should be careful not to overstress this amp with a massive use of guitar pedals.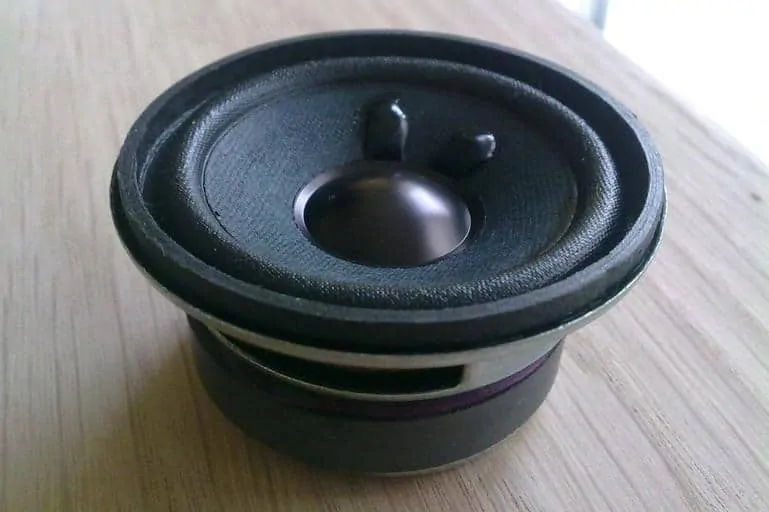 The custom Celestion speaker of the AC4C1-12 recreates vintage sound with a modern electronic circuit.
Alternative Vox Amps
Keep in mind the AC4 still belongs in the category of practice and studio amps, even when it's much more powerful than what a 4W digital amp.
Tubular amps have always been expensive. Quality takes a toll, especially when it comes from such a reputed brand like Vox.
That said, there's no such thing as a "budget tube amp." Likewise, vacuum amplifiers are hard to find.
Nevertheless, I'm recommending you to check the AC30 reissue, the AC30 Twin. This 30W amp is everything I said about the original AC30, and it's built for modern musicians.
And do you want to know something amazing? The price is only twice as much as the AC4 but it delivers about 7X times the power. That means this amp is ready for the stage and it can go through a PA system comfortably.
In fact, the AC30 Twin is ready for everything and anything. It also packs a brand new reverb effect that puts budget reverb pedals in shame.
Lastly, if you're super into the Vox AC4C1-12 Mini Tubular amp, I should mention there's an upgraded version: the Vox AC4HW1.
The hardwired model is self-explanatory. The quality and built of the electronic system is just like it used to be, so the vintage sound of this amp is more honest.
In summary
Why would you go for the Vox AC4C1-12?
All in all, the AC4 Classic Limited Edition Mini Tube amp is a well-balanced guitar amplifier that delivers the experience, the flavor, and the sound of Vox's older and massively popular amps.
Although it remains in the practice amp branch, the AC4 does pack a surprising amount of heat. It's enough to rehearse with your friends at the studio or at the garage; it's enough for a small, 20-30 people gig; and it's definitely enough for the studio for creamy vintage sound might be what you're looking for.
So, if you're searching for a great amp that sounds like a piece of rock history, the AC4C1-12 is definitely the way to go.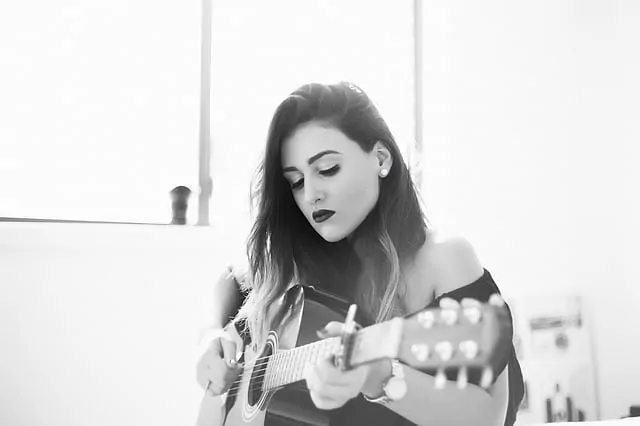 Jen is a guitarist and singer-songwriter who spends much of her time on the road and has lived in 13 cities across 4 continents. She picked up her first guitar at the age of 6 and learned to play by ear shortly after. She received her formal music education at the Berklee College of Music, and currently plays for a few bands in her free time. She has an uncanny ability to improvise creative melodies and harmonies. Her early influences include blues, jazz and rock.