Marshall, as the creators of the first 100-watts combo amplifier, knows a thing or two about guitar loudspeakers. But we're not here to talk about their meanest and biggest models: Instead, we're discussing the best Marshall mini amps you can buy right now.
There's nothing sweeter than plugging your guitar into the loudest amp you can find, and just let it ring in its full glory.
Like this:
However, not everyone can do this, as people would agree that your guitar jam sessions are just noise.
Hence, mini amplifiers are the solution for those looking for a quieter practice, in a smaller space.
Some mini-amps go beyond that with extra features for home studios, like the ability to use the amplifier as an interface to record the guitar on your computer. Others pack extra onboard effects, computer software to edit presets, and amp voices.
Most tiny amps, though, are bare-bones. They simply present themselves as affordable solutions to practice at home without annoying anyone else.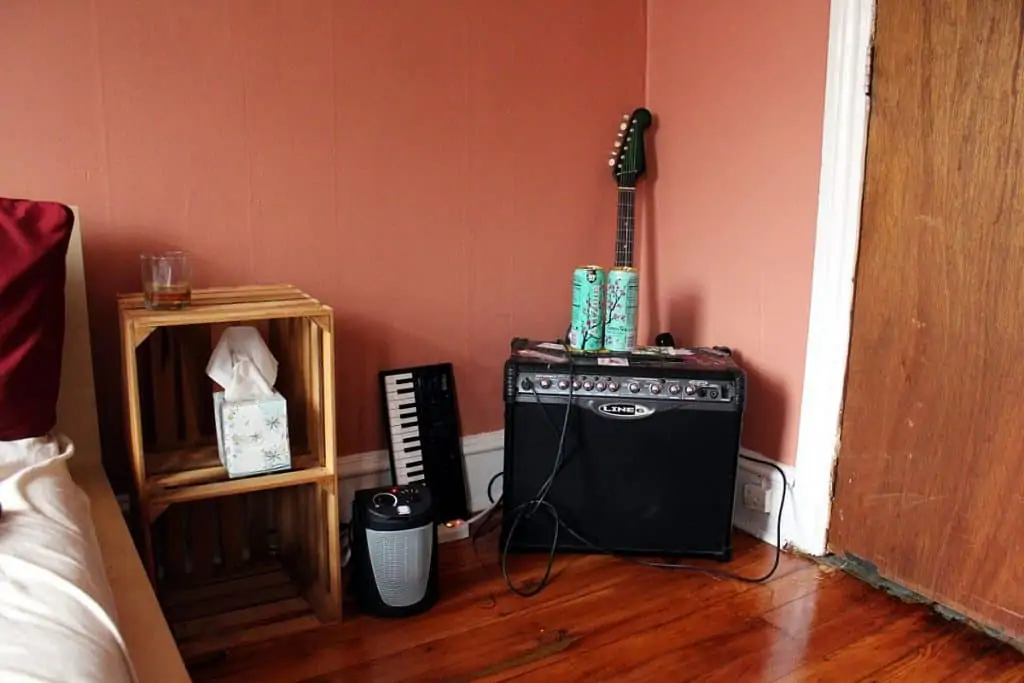 "Electric guitar" by Dylan Moore / CC BY 2.0. Mini guitar amps can be either digital or tubular. There're also some modeling options, which means they pack presets or "voices" that imitate the sound of reputable amplifier models or brands.
Mini-amplifiers for guitars are mostly practice amps. You can check the article on the matter for further options.
There are other mini-amp options on our site as well, such as the Danelectro Honeytone, the VHT Special 6, the Blackstar HT1, and the Vox AC4 (the latter three are tubular options).
Other guitar amplifier guides include:
Lastly, if you're looking for a pair of headphones to play with your amp, I highly recommend the OneOdio brand. I use an OneOdio Fusion A70 model on my home studio.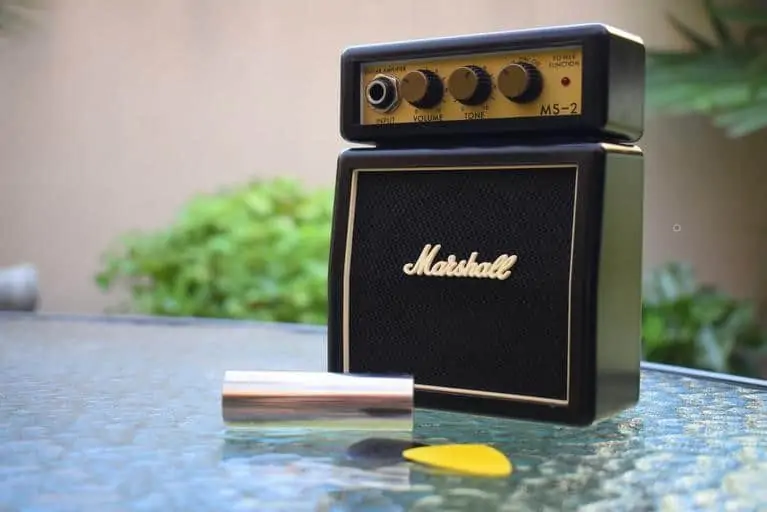 Marshall is one of the top amplifiers brands. Needless to say, their reputation and prowess translate to their Marshall mini amps as well.
Top 4 Marshall Mini Guitar Amps Reviews
I'd say every guitar player needs a mini amp as part of their musical gear. These are cheap tools to practice and mess around with your guitar pedals. Best of all, you could play with your headphones for silent practice, so it gets even better when the amp also packs a simulated headphone out.
I'm listing the top 10 best Marshall mini guitar amps. I choose them by balancing their features, performance, portability, and affordability.
Because these are mostly simple items, I'm also keeping the reviews clutter-free. Also, there're not many Marshall mini amps out there, so we're keeping the selection short.
Marshall MS-4 Micro Stack
Sale
The Marshall Micro Stack is cute and cool-looking. The micro-amp sports 1-watt of power, but don't let that fool you. It delivers a serious amount of punch and crunch.
It's very tiny, though, with its measures being 260x110x60mm. Still, it's a full-stack, which means it has an amp head and two mini cabinets.
The head amp delivers two channels (drive and clean), both of which are solid. The clean is pristine and articulate, whereas the crunch stage sounds like '80s rock and roll coming from the radio.
You can engage the drive channel by turning the fourth knob (left to right) on. The rest of the control cluster consists of volume, tone, and gain levels. The versatility they offer is fair is pretty usable.
Moreover, the MS-4 packs a headphone output you can use for silent practice or plug an external power amp.
It's a great option for practice, as well as for street performers looking for something carriable. Simply put, it's a no-nonsense full-stack sound coming from the smallest enclosure possible. It's not a professional sound, though, but you can make it work with a good mic setup.
The MS4 runs on a single 9V battery. You can also connect with its included power supply.
Marshall MS-2 Mini Amp
Next comes the Marshall MS-2 Micro Amp, the most popular Marshall mini amp you can buy right now. It's so popular even bands like Metallica and Mastodon use it to practice off stage, so you can expect a great deal of rock power coming out of them.
The model represents Marshall's classical tones in their tiniest presentation. It sounds like a taste of premium, but it's also louder than you would expect.
This mini combo amp also has 1-watt of power. And just like the MS-4, it delivers the same clean and crunch channels. There's a third option here, which is the overdrive channel you can turn on by turning the third knob over to the "OD" option.
The overdrive option is very appealing for beginners looking to play high output music without expending too much money. It's a great first-timer option for those on a limited budget.
However, the clean channel does get distorted when playing on high volumes.
The other knobs include volume and tone, which is simpler than the MS-4. They are not as versatile, and you would use them to clean your sound and get rid of any fuzz and noises.
What this gets you over the MS-4 is less weight, thus some extra portability. As for performance, it's on a similar level as the model below. It's so portable that you can clip it on your belt.
Also, it's a bit cheaper. Just don't use it with any kind of overdrive or distortion pedal.
Lastly, the amp has a headphone out. It also runs on a 9V battery or a 9V power supply.
Marshall MG10
Another option I should list is the Marshall MG10 mini amp. It's a portable model with a custom 6.5'' speaker plus a similar control cluster.What it offers is convenience, affordability, and portability.
Overall, the MG10 is a 10-watts beginner amplifier offering extreme ease of use. Amateur players will get the hang of it pretty quick, even if they buy it as a first-time gear.
The control cluster relies on a two-channel configuration you can swap through a button. The clean channel has two knobs, volume, and contour. In particular, the contour knob functions as a tone knob as it allows you to reach a sound of your taste.
Then, the overdrive channel has two knobs, which are gain and volume. The contour knob also works on the overdrive channel.
Unlike the other two options we listed, the MG10 does have an emulated headphone output. That means your headphones won't lose the properties of the sound the amplifier creates. On top of that, it has a line in aux input you can use to connect a mobile device and play along with some tunes.
All of the MG10 amp series carry emulated headphone output, dual-channel configurations, and custom speakers.
Lastly, I must say the price is impressive. It's only a fraction more than the MS-4, even though it delivers 10-watts of power. That makes it okay for home practice as well as rehearsing with your friends.
Overall, the Marshall MG10 offers the classic Marshall sound and built quality at a fraction of the price. For example, it has a carbon fibre finish.
Marshall M-DSL1CR-U
The M-DSL1CR is an ambitious mode. It's 1-watt tubular design comes packed with a host of features and a top-tier Celestion speaker. However, the investment equals the value of a 50-watts solid-state amplifier.
Still, we're looking at one of the newest Marshall mini tubular amps. The new DSL comes with a fully-fledged vintage Marshall tone, plus functionalities for both novice and experienced players.
First of all, the amp comes with adjustable power output. Because a tubular amp is significantly more powerful than a solid-state model (as it has more headroom), you can lower the wattage even further for silent practice.
In particular, it can turn down the output power to a 1/10th wattage. It even has a silent practice mode. Marshall calls it "Softube;" a speaker-emulated output you can use for direct recording on your computer, as well as monitoring.
That said, the sound is loud, clear, and full of vintage grit. Its overdrive channel is brutal, way better than you would expect. At the same time, the clean channel will pair great with almost any guitar pedal you use.
The sound comes from three-valve tube amps. There are two ECC83 at the preamp section, and then an ECC82 at the output section.
The control cluster is equally professional. It has a channel select button to swap between clean and overdrive, a master volume/gain knob, a 3-band EQ, and a reverb knob. Moreover, it has dedicated gain and volume knobs for the overdrive channel. Now, the onboard reverb effect is okay, just not something to write home about.
The DSL mini tube amp offers enough quality to use it as a recording tool for your electric guitar. If you like portability or you need a tight amp to play on a small scenario, you could use it through a PA system as well to play live.
And, overall, it delivers the distinct Marshall tone. From aggressive mids to sparkling cleans, and everything in-between through its 3-band EQ.
You could also go for the DSL head amp. It packs the same features plus a 12'' Celestion speaker. Its 1-watt of the volume is enough to cover your room, and, better yet, it won't go beyond your practice area.
That said, as this is a head guitar amp, you can plug extra guitar cabinets for when you go live. That gives you everything: a practice amp, a home record tool, and a live-scenario gig.
In Summary
I showed you a complete spectrum of mini amps, from portable & cheap to tubular & professional. The choice is yours, and it depends on what you need.
As always, feel free to leave your comments below with your suggestions, experiences, and questions.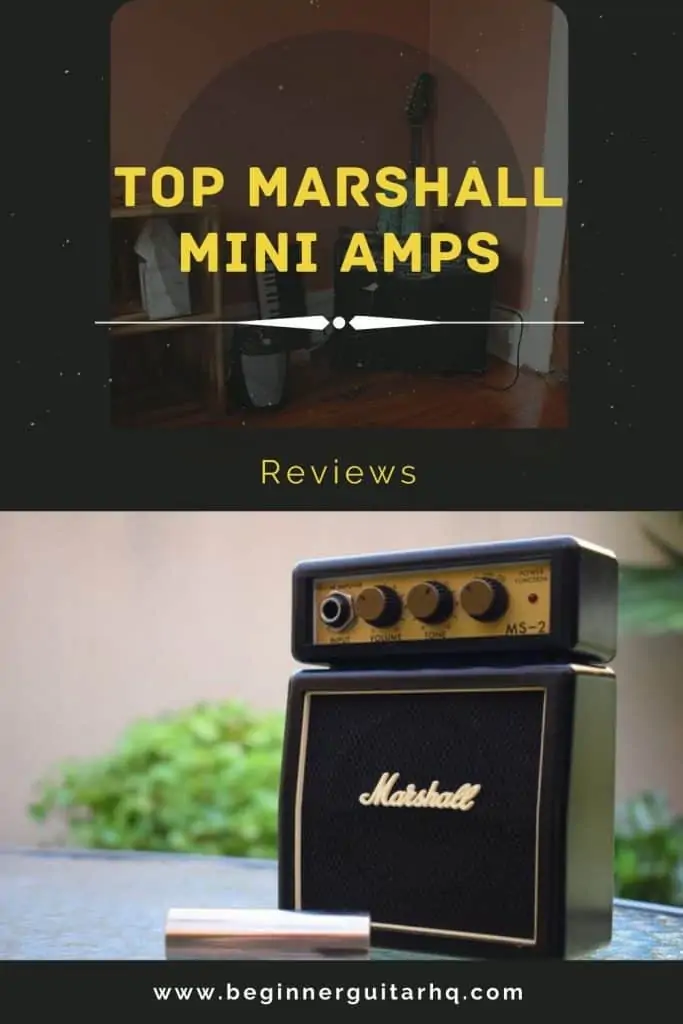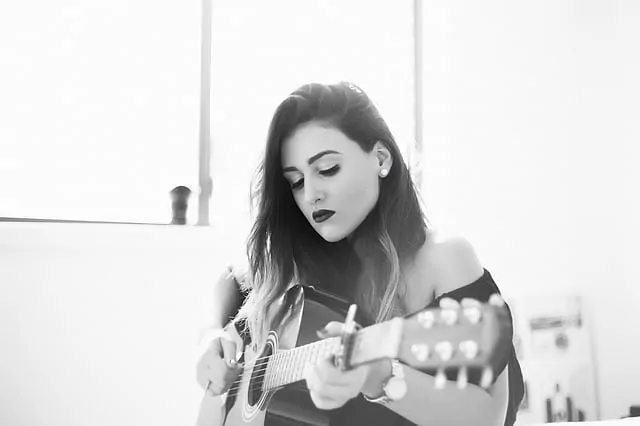 Jen is a guitarist and singer-songwriter who spends much of her time on the road and has lived in 13 cities across 4 continents. She picked up her first guitar at the age of 6 and learned to play by ear shortly after. She received her formal music education at the Berklee College of Music, and currently plays for a few bands in her free time. She has an uncanny ability to improvise creative melodies and harmonies. Her early influences include blues, jazz and rock.