The world of mini guitar amplifiers is not as rich as it could be. In essence, there's not a huge market for portable amplifiers, so brands making these items tend to shine. That's where the Danelectro Honeytone mini guitar amp comes into play.
Its price tag should say enough. A quick glimpse at the device reveals what it looks like a pocket speaker that came out straight from a '50s dinner place. It also looks like something you could carry around your belt.
And as the name implies, the Danelectro Honeytone is about delivering a tone sweet as honey.
Let's keep the Danelectro Honeytone review as simple as the amp itself.
Danelectro Honeytone Review
Danelectro's core idea is reviving retro designs, on and on. They continuously show their vintage love on their guitars, amplifiers, and pedals.
The brand's '50s nostalgia doesn't translate into subpar devices. For example, we picked a Danelectro model as one of the best rock guitars available right now.
The Honeytone N-10 portable guitar amp is a popular choice for guitar players wanting super affordable solutions.
With reliable vintage tone plus its lovely design, the Danelectro Honeytone deserves a closer examination.
Overview
We're looking at a portable guitar amplifier that runs both on clean and overdrive.
It's a portable device that comes with a leather handle so you can carry it around. Similarly, it has a belt clip to hang it around your waist.
To complete its short list of features, it has a headphone jack, volume and tone knobs, and overdrive controls.
The N-10 draws power from its included 9V battery. You could also buy a separate Danelectro DA-1 Adapter to play at home.
Lastly, the Danelectro Honeytone N-10 mini guitar amp comes in various colors. The different options you've got are black, burgundy, and aqua.
Design
The wattage of the Honeytone amp is surprising for its size. Drawing power from its 9V battery, the device delivers 10 watts of sound.
However, the main highlight of the amp is its retro design. It looks like a '50s hot rod, all with its chrome-like grille.
The construction doesn't feature high quality, though. The device is made of cheap plastic, so it can sell for a budget and remain lightweight.
Regarding connectors, the Honeytone features a 1/4″ XLR input for guitar at the top, next to a 3.5mm headphone jack for silent practice.
You could also plug a mobile device into the audio I/O for your backing tracks.
On the back, there's a belt clip that allows you to attach the amp to your belt so you can walk around as you play.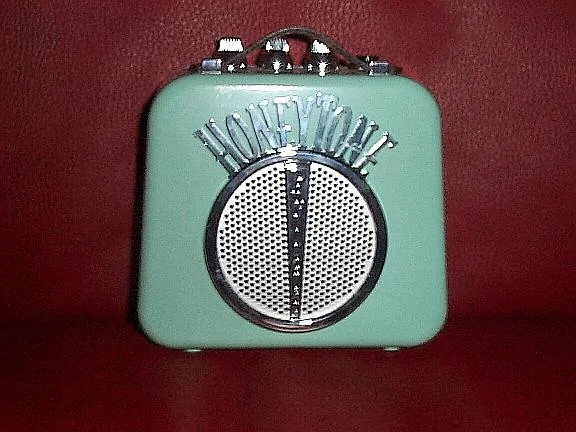 "Danelectro HoneyTone" by Sander van Malssen from Netherlands / CC BY-SA 2.0 The Honeytone is one of the cheapest guitar amps you can buy right now. 
Controls
Given its small size, the straightforward layout of the Honeytone is no surprise.
Its controls are as essential as they come, but they can do the job. On top of the enclosure, it has three control knobs: power/volume, tone, and overdrive.
Pushing the overdrive knob functions like a gain knob. The higher you go, the more the amp clips the tone of your guitar.
The controls are stable, responsive, and provide fair versatility.

"1962 Danelectro Shorthorn 3022" by Jazzypants123 / CC BY-SA 3.0  More than amps and pedals, Danelectro is known for their guitars. In particular, they feature unique "lipstick" single coils. They use an actual lipstick case as the enclosure for the magnets and the coil of wire. 
Performance
First off, the clean tone of the Honeytone is sweet, warm, and relatively loud. However, it doesn't have much clarity. The dry tones aren't as clean as you would like. Instead, they have some light dirt, a subtle grit, if you wish.
Then, the overdrive delivers itself as a gravelly crunch. The soft-clipping sound is what you would expect from an affordable amp running on batteries.
I mean that the sound doesn't go beyond its price point, which is just a practice amp.
Pushing the volume knob delivers some punch, but it's only usable in small rooms and scenarios. If you take it to the band's practice, for example, your guitar will get lost.
And tonally, the Danelectro Honeytone goes for vintage rock & roll, surf rock, and blues.
Drawbacks & Alternative
Discussing the "drawbacks" of a portable mini amp is not a very productive activity. We all know them, but you might still be looking for this kind of item.
That said, there are other alternatives we can check around. For example, there's the Blackstar FLY 3, a portable amp carrying the brand's proprietary ISF.
The ISF tech allows you to switch the tonal signature of the amp from American to British feels.
Also, the amp features "analog" delay effects you can engage on the fly.
Lastly, it has a definite plus over the Danelectro Honeytone, which is an emulated output jack. It allows you to hear yourself as you play while retaining the exact -or near- tone the amp is creating.
Compared to the Honeytone, the Fly 3 sounds bigger, cleaner, and overall better. However, it's not a "vintage item;" it doesn't look as good. It's also about twice as expensive, though.
Another similarly portable mini guitar amp is the Fender Mini Deluxe. You can tell it's a device to carry around by looking at its top handle.
It provides gain, tone, and volume controls on its 1-watt speaker.
For additional options, please check our guide on the best combo amps for electric guitar.
In Summary
The Danelectro Honeytone is a far-from-perfect mini-guitar amp. And if it sounds cheap to your ears, it's because it is.
For the price of three hamburgers, it is what it is: affordable, portable, and loud.
Still, it remains quite stylish, with aesthetics far beyond what the rest of the amps in the branch can do.
As for sound, it delivers nothing more than you can ask, with just a tad of warm vintage.
Fnal Say
For players looking for a super affordable, light, and cool looking guitar amp, the Danelectro Honeytone is a fair choice.
That said, here's a video of an experienced player getting the max out of the amp via a PA system: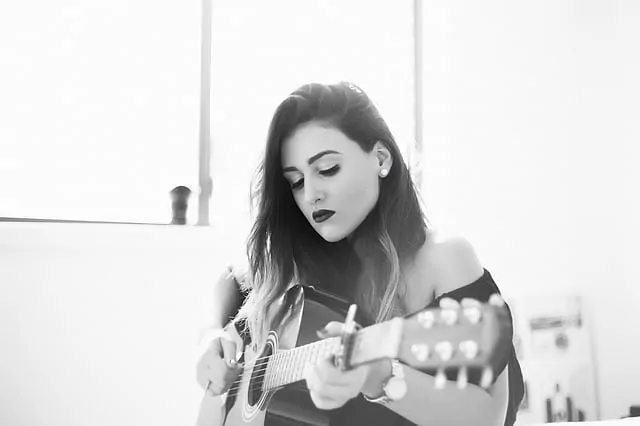 Jen is a guitarist and singer-songwriter who spends much of her time on the road and has lived in 13 cities across 4 continents. She picked up her first guitar at the age of 6 and learned to play by ear shortly after. She received her formal music education at the Berklee College of Music, and currently plays for a few bands in her free time. She has an uncanny ability to improvise creative melodies and harmonies. Her early influences include blues, jazz and rock.