Despite the name of our site, there's more to talk about around here than guitars. One of our goals is highlighting top-value musical gear in every market segment, from premium to budget alternatives. The latter is where the Blackstar HT1 comes into play, as an affordable combo amplifier for electric guitars.
The Blackstar company is about delivering highly advanced solid-state amplifiers. Their digital modules feature top-of-the-line modeling tech and interconnected features. That means you can expect extras like software for recording music without an interface, amp voices, or BlueTooth connectivity.
Additionally, Blackstar also sells tubular amplifiers with plenty of quality to play on professional stages or recording music.
The Blackstar HT1 is none of these options, though. It's something else entirely, something quite odd. The HT1 model is a small, single-watt tubular amplifier with various amp voices via the brand's ISF toggle switch.

"Blackstar 3 HT CLUB 40" by Morriscollege420 / CC BY-SA 4.0. The Blackstar 3 HT 40 watts amplifier serves as a canvas for the H1 mini model.
In a previous article, we discussed another Blasktar guitar amplifier model. It's the budget, all-rounder ID: Core Series 10-watts stereo solid-state amplifier. Check it out for further options.
Alternatively, you can check the VHT Special 6 as an affordable tubular amplifier for practice and modest applications.
Blackstar HT Series HT-1R MKI single-watt mini tubular amplifier review
Tubular amplifiers are famous for delivering high wattage, strong outputs, and far projections. Moreover, they maintain the natural sound of the guitar at high volume levels with a dynamic distortion in the mix.
By dynamic distortion, I mean the ability to go in and out distorted sounds either by your guitar's volume knob, the amplifier's volume/gain knobs, or the strength of your strumming. The natural overdrive a tube amplifier can deliver is preferred in most professional settings. Moreover, they won't introduce any undesired noises, hums, interferences, or distortions.
However, tubular amplifiers are difficult companions for home practice. Even a small, 5-watts tubular amp can tear your windows down while you play sitting on your bed. On top of that, a small, 5-watts valves amp can also take your savings apart. They are significantly more expensive than their solid-body counterparts.
The Blackstar HT Series HT 1R, better known as the HT1 model, is a single-watt tubular performer. It's a tiny solution that can nonetheless do everything your regular tubular amplifier can do. That means bringing the classic feel of the rock guitar without getting complaints from your neighbors.
About Blackstar
Blackstar is a British musical gear company producing guitar amplifiers and pedal effects.
Ex-Marshall employees founded the company under Ian Robinson''s direction in 2007. Robinson is the former Marshall Chief Design Engineer.
Blackstar left a significant mark in the market when they premiered the HT-5 amplifier in 2011. It's a 5-watts model with a single 12'' speaker and a stereo reverb effect. The combo amplifier won several prizes and became a standard for intermedia and experienced musicians.
The company is now bringing the formula to a smaller package. As a result, the Blackstar HT-1 is one of the most capable tube amplifiers under the $300 mark. It's probably the only tube amplifier you can find from a reputable brand.
We're talking about the Blackstar HT-1 MK1 model during the article. There's also a newer MKII model we'll discuss down below.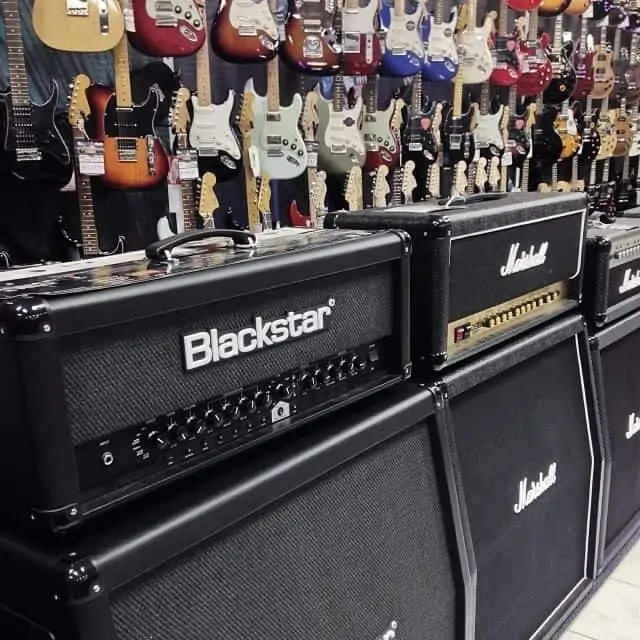 "Blackstar amplifiers in a store in London, UK" by Morriscollege420, CC BY-SA 4.0. Blackstar is a British company with its headquarters in London.
Overview
The Blackstar HT-1 is a tiny 1-watt tubular amplifier with classical valve harmonics, compressions, and natural overdrives.
It's not particularly affordable, given its small size. It's selling for the price of a fully-fledged solid-state amplifier like the Boss Katana.
Blackstar made the model for players looking for a tubular performance for home practice, without using an extra pair of headphones.
Keep in mind the quality of your guitar further degrades on your headphones, as it needs two things to work properly. First, you need a proper pair of headphones with preferably a flat audio sound capacitor. And, secondly, you need a headphone out option that specifically imitates the sound coming out of the amp, something not all amplifiers pack.
Either way, what we have is a single-channel tubular amplifier with an 8'' speaker. It has a single USB output, a reverb effect, and the brand's Infinite Shape Feature.
It's a tiny box for sure, but it's not a toy. Instead, it has a good range of features plus a surprisingly good sound.
Lastly, I want to clarify that the HT-1 and the HT-1R model are essentially the same options. The difference relies on the extra reverb effect on the "R" model. I decided to review the latter as it's easier to find on online retailers, although the review mostly applies to both alternatives.
<iframe width="1044″ height="587″ src="https://www.youtube.com/embed/MxI491hDMN8″ frameborder="0″ allow="accelerometer; autoplay; clipboard-write; encrypted-media; gyroscope; picture-in-picture" allowfullscreen></iframe>
Build quality
The Blackstar looks big in photos, but it's a tiny item in real life. The marketing makes it look bigger than it is, albeit it's purposely tiny.
The cabinet is still a good quality build, similar to the professional HT-5 option, with a mixture of metal and aluminum. Naturally, the HT-1 can last for years without suffering any damage.
Moreover, the edges are screwed and protected with a special material. That keeps the circuitry inside safe from harm.
Similarly, the build is all-black, and the pots are made of fine metal for a general feeling of quality finish.
Inside the cabinet, you'll find a 10'' custom speaker, although the brand doesn't specify the model.
There's also a headphone out jack for audio monitors, as well as the XLR input for guitars, plus a 3.5mm input jack from external playback. It's an 8-ohm speaker output you can use to plug, for example, extra cabinets.
On the back, you'll find an additional output to plug an extra speaker. Lastly, there's an "emulated" output jack for silent practice.
Circuitry
The power comes from an ECC82 on the preamp and an ECC83 on the output section. Both tubes are running with an A/B push-pull configuration.
A push-pull amplifier means two separate tubes share the same voltage load. That makes it efficient in pumping out the volume as well as breaking the sound as the power goes up. Bear in mind that you'd want to play a tubular amp right around the breaking point for a soft overdrive sound.
Be that as it may, both tubes have a maximum capacity of 5W. Both are also popular for their broad frequency response and clarity.
These tubes came out in 1970, when solid-state amplifiers were still in their infancy stages. Nowadays, though, musicians are still willing to pay premium fees to hear those natural distortions digital amps are trying so hard to both emulate (on the distortion channels) and eliminate (on the clean channels).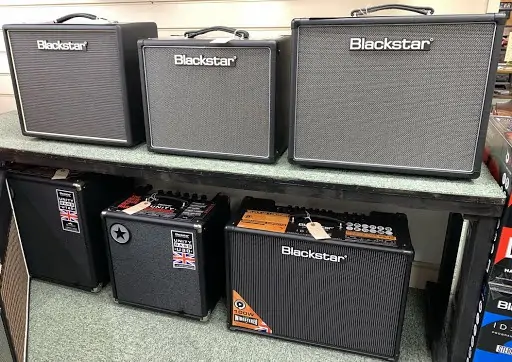 "Blackstar Amplifiers in California, USA" by Morriscollege420 / CC BY-SA 4.0 The Blackstar company produces solid-state and tubular amplifiers as well. Their digital solutions are significantly cheaper than their vintage-inspired models.
Channels & controls
The HT-1R has a single channel with easy-to-use controls. The control cluster includes volume, gain, and EQ knobs.
In particular, the EQ knob pertains to the brand's proprietary ISF tech (Infinite Shape Control). The knob allows adjusting the tone of the amplifier between two traditional voices, British and American. The American voicing would be at 9 o'clock, and the British voice would be at 3 o'clock.
The knob also works to modify the EQ response of the amplifier. Essentially, it affects the tone of mid-frequency sounds.
Blackstar adds the British voice that mimics the classic amps of the British invasion generation. That means scooped mid-range sounds. On the other end, the American voice mimics the bottom end sounds of the classic American amplifiers.
Rather than spanning vaguely woolly to vaguely tinny like most single tone pots, this one shifts the whole EQ curve, which has the biggest tonal effect in the mid frequencies.
Next, the single-channel runs on two modes, which makes it behave as an amplifier with two channels. With the Overdrive Select button, you can swap between crunch and clean modes. Naturally, the crunch mode is all about punching the overdrive to the top.
Lastly, the "R" model brings the reverb effect. Its reverb knob simply tweaks the level of the digital effect.
Additionally, the "R" model packs an emulated headphone out which allows you to plug the amp into a mixing console, an interface, or a soundcard for recording. It also allows you to practice in silence.
<iframe width="1044″ height="587″ src="https://www.youtube.com/embed/tuaurJgwsXc" frameborder="0″ allow="accelerometer; autoplay; clipboard-write; encrypted-media; gyroscope; picture-in-picture" allowfullscreen></iframe>
Sound & performance
The Blackstar HT1 packs the same flavor and tone as the HT5.
With its 1 Watt of power, its tubular amps, and the custom speaker work together to create a top performer. Plug the HT-1 into extra cabinets, or play it through a PA system with the right mic, and the results are professional.
That said, the best feature of the tiny monster is its speaker output. That means the best possible scenario would be amplifying the amp through an extra microphone.
As it is, it sounds powerful, full, clear, and aggressive. In particular, the American voice leans more towards metal and hard rock, whereas the British voice goes towards pop, indie, alternative, and classic rock.
The HT-1 has plenty of flexibility as well. Its natural sounds can travel from pristine and beautiful cleans to vintage overdrive and modern distortions for metal genres.
There's a problem, though. With the lack of a 3-band EQ, the bass frequency tends to consume everything else as you go deeper into distortion. Because it punches the bass significantly, you might want to use distortion pedals that allow you to tweak the tone further.
Overall, the sound is amazing, only that it's a bit scooped because of the bass presence. Even so, it's capable of delivering a vintage rock, heavy metal, and the in-betweens without breaking the bank.
I wouldn't say it's capable of creating professional sounds, but it's indeed a good option for practice, home recording, and modest live venues.
Also, I should say the HT1 is quite lite. A single watt of power doesn't sound like much, but you probably won't be able to play it with the volume knob all the way up in your bedroom.
Overall, the Blackstar HT-1 produces a raw, gritty, and authentic tubular tone for a reasonable price.
As for the clean channel, it feels quiet, gentle, and clear. It has no hisses, no hums, and no weird noises. It's also warm and traditionally harmonic.
Lastly, the reverb is a great extra you might want to use as you play on clean.
<iframe width="948″ height="533″ src="https://www.youtube.com/embed/afdtBmsqUc4″ frameborder="0″ allow="accelerometer; autoplay; clipboard-write; encrypted-media; gyroscope; picture-in-picture" allowfullscreen></iframe>
Alternative: Blackstar HT-1 MKII
The MKII model simply refines the original design and sells for a lower price.
That means the sound is slightly better. Plus, the base model comes with a reverb effect.
Because of its improvement, many people would consider it as a small, boutique amplifier. Its updated clean channel sounds clearer and warmer, and the crunch mode can go more aggressive than ever.
Here's a video testing the very similar MKII model with heavy distortion:
<iframe width="948″ height="533″ src="https://www.youtube.com/embed/CH0xazPYtI0″ frameborder="0″ allow="accelerometer; autoplay; clipboard-write; encrypted-media; gyroscope; picture-in-picture" allowfullscreen></iframe>
Overall, the HT-1 MKII packs the best possible sound a 1-watt amp could possibly carry. It has texture, depth, warmth, flexibility, and clarity. Plus, with the ISF switch, there's plenty of expression to use.
I'm sharing the head option below, as the combo is not currently available:
Mid-level alternative: Blackstar HT-5R
If you can stretch your budget, and for about twice the price, the 5-watts version offers the sound you're looking for in professional applications.
It has a custom 12'' speaker, a Power Reduction Circuit, emulated out, effects loop out, and the ISF switch. Additionally, it packs the same reverb effect.
Professional alternative: Blackstar HT Club 40
Say you're looking for something other than a bedroom amplifier. The answer is the 40-watts HT Club amplifier.
It's impressive that Blackstar can sell such a heavily-packed amplifier for the price. It's an all-tubular amplifier with two EL34 power tubes plus two ECC83 on the preamp section.
It also has an extended control cluster with its dual-channel configuration (crunch and clean). That includes an EQ section for the crunch alone, ISF knob, and reverb. Then, the clean section has gain, volume, treble, and bass; the OD channel packs gain and volume.
Additionally, the amplifier packs a 12'' Celestion Speaker.
Overall, you can expect a professional and powerful sound ready for the most advanced stages. It's a bargain for the price, and it can definitely take your guitar rig to the next level.
<iframe width="948″ height="533″ src="https://www.youtube.com/embed/i6ZQZ3MRg_o" frameborder="0″ allow="accelerometer; autoplay; clipboard-write; encrypted-media; gyroscope; picture-in-picture" allowfullscreen></iframe>
In Summary
The Blackstar HT-1 is the kind of amp for advanced musicians. You need to recognize the value of a vintage sound to appreciate the model.
It's not the loudest, and it's definitely not the cheapest. It's an odd buy, as a single-watt amplifier has limited uses.
However, we're talking about a near-boutique sound for an affordable price. Is that something you might enjoy? If that's so, there's nowhere else to go to find a similar item.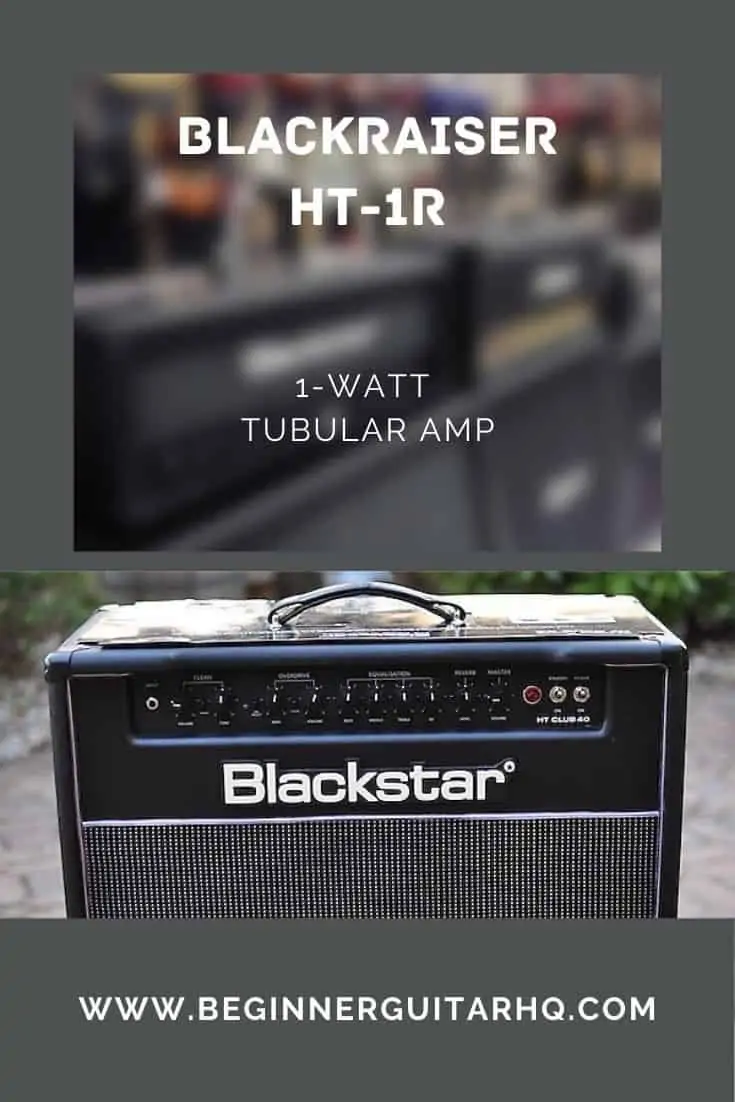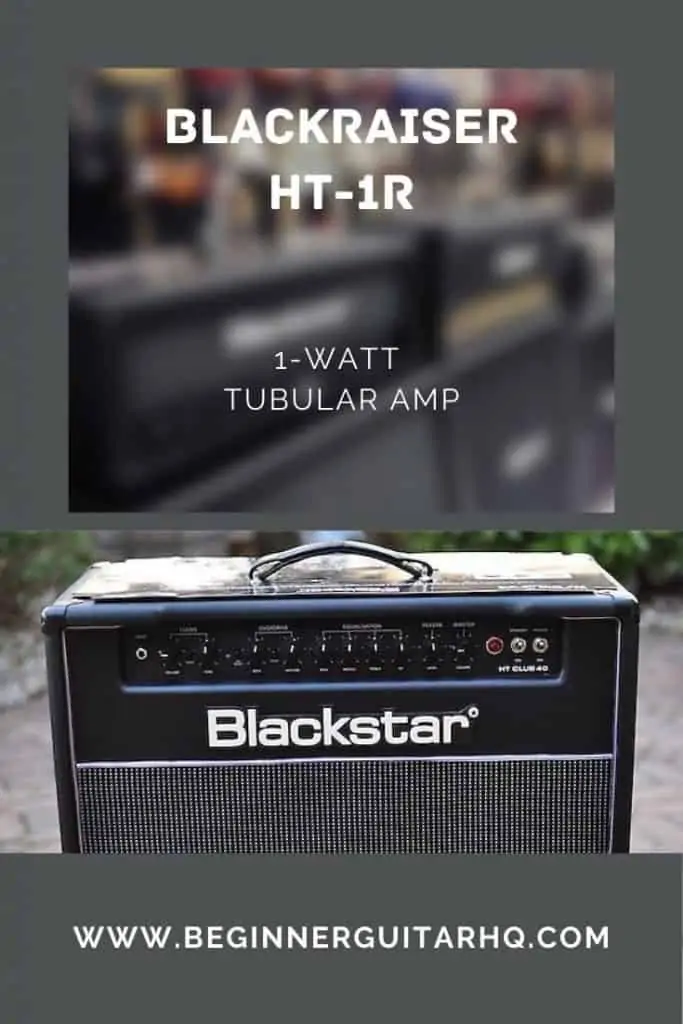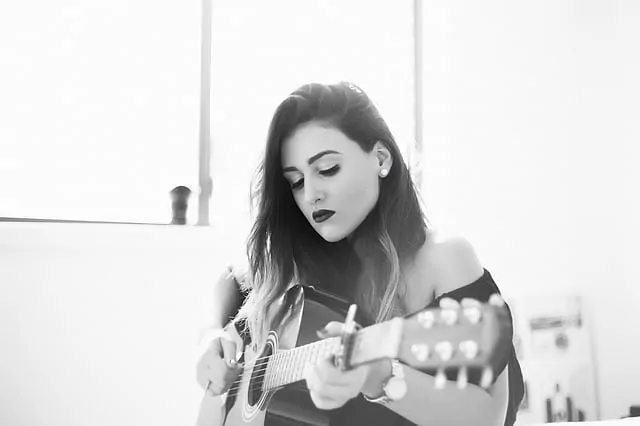 Jen is a guitarist and singer-songwriter who spends much of her time on the road and has lived in 13 cities across 4 continents. She picked up her first guitar at the age of 6 and learned to play by ear shortly after. She received her formal music education at the Berklee College of Music, and currently plays for a few bands in her free time. She has an uncanny ability to improvise creative melodies and harmonies. Her early influences include blues, jazz and rock.