If you read "Fender" on the brand, you know it's something good. Add 60-watts of tubular power and you'll end with a pricy, premium item. As such, the Fender Hot Rod Deville is a top-tier offering by the legendary musical gear brand.
We've reviewed many Fender guitars, and we even named Fender as one of the best guitar brands available. It was only a natural call, given that the American company created the first mass-produced solid-body electric guitar, the Telecaster. They also shaped the electric bass industry with both the Precision and the Jazz Models, and they introduced single-coil pickups for guitar.
Fender's contribution to the music industry is wide. The Hot Rod guitar amplifiers series hones the tradition with decades of presence on worldwide stages and studios. As you would expect from a Fender amplifier, they pack the all-American rock tones, plentiful EQ options, and onboard reverb effects.
Also, the amp sits in an odd place that attracts both love and skepticism. You see, it's both a solid-state amplifier, as well as a tubular model. That makes it a hybrid guitar amp, which uses valve tubes for the pre-amp and power stages, plus digital circuitry at the rectifier section.

"Fender Hot Rod Deluxe" by Shahid1618 at the English language Wikipedia / CC BY-SA 3.0 The Fender Hot Rod series specializes in reverb effects and soft rock tones.
The Fender Hot Rod Deville 212 is a hybrid amp that combines tubular sound with the versatilñity and consistency of a solid state amplifier. If you're looking at items at higher price ranges, you might as well check for the best tubular amplifiers you can buy.
Alternatively, you could check the differences between solid-state and valve tube guitar amps.
Fender Hot Rod DeVille 212 Mark IV Guitar amplifier Review
The Hot Rod series offers over a dozen different models. The top amplifiers of the lineup are the Hot Rod Deluxe and the Hot Rod DeVille.
The Hot Rod Series of amplifiers are common on stages around the world Beginner, intermediate, and professional musicians gravitate towards these models because of their consistent tones and warm overdrives.
The Hot Rod Deville delivers the distinct Fender tone. They also offer articulate cleans that can respond to almost any guitar pedal you use. Additionally, the Hot Rod series has an extender control cluster for superb versatility. All of that combined delivers a platform for musicians to craft their signature sounds.
Fender highlights how pedal-friendly the Deville model is. The brand makes it with stompboxes in mid. From fuzz pedals to the wildest flanger, any kind of effect can combine with a Hot Rod amplifier. Even better if you're using a Fender effects pedal.
Overview
We're reviewing the Fender Hot Rod Deville 212 IV. That means two things: one, it has two 12'' Celestion speakers. And, secondly, the "IV" surname represents an update over its previous models.
After receiving feedback from hundreds of users, Fender improved the preamp circuitry to deliver a smooth reverb. They also updated the looks for a more generally-appealing aesthetic.
With its 60-watts of power, the Fender Hot Rod Deville combo amplifier is a standard for gigging guitar players.
More importantly, it sounds and behaves like a tubular amp -because it is- while adding the extended versatility and consistency of a solid-state model.
All of that comes on top of three channels, onboard reverb, and superb versatility. Lastly, it includes a 2-button footswitch to swap between the 3 channels.
Here's a video showcasing the Fender Hot Rod Deluxe, which is a simpler version of the DeVille model:
Mark IV update
The Fender Hot Rod and the Fender Blues amp series have remained almost untouched for 25 years. Both retain their places as the best models you could find on mid/high market segments.
Between the early '60s and the late '80s, Fender amplifiers weren't selling very well. Other companies like THD and Kendrick were creating high-quality Fender classic remakes to topple the company. These models had point-to-point hand wiring, twill cabinets (pine cabinets with tweed), and cloth covering on the front grille.
Moreover, classic rock and early metal were thriving on stacks, which is to say combining a head amp with a series of cabinets. Brands like Marshall were particularly outstanding in that regard.
However, the endless tone variations you can get with a stack present a significant issue. They become self-defeating. Even professional musicians can spend too much time messing around with the parameters without finding what they want. It's a frustrating experience.
Fender started delivering what musicians wanted back in the mid-'90s. They presented themselves as combo amplifiers with a host of features so musicians ditch the use of overly-complicated guitar amps.
A Mark II update came around the year 2000 with minor aesthetic tweaks. That included a revised EQ section plus a gain boost feature.
A Mark III update came in 2010 with cosmetic changes and EQ improvement. Moreover, the Mark III update changed the Eminence speaker for Celestion G12P.
Recently, Fender introduced the Mark IV update with various revised models. One of those is the Hot Rod Deville IV. The other important revision is the Hot Rod Deluxe:
Built Quality
The Hot Rod Deville IV combo amplifier is larger than its previous iterations. It features the same cabinet design as before. That said, the grille design is something we must highlight:
Lightly aged grille cloth: the DeVille IV has the classic Fender look. That means an aged silver grille cloth, which has a certain sparkle plus a vintage moho.
Lightweight pine cabinet: pinewood is the material of choice for the amplifier. It's lightweight, strong, and great looking. It's also being present on Fender amps since the '50s because. That's because pine can make the sound more resonant and natural.
For a while, Hot Rod amplifiers were using plywood and MDF. They changed the material to pinewood on the Mark IV upgrade to mimic the '50s original Fender amplifiers. Pine provides an important weight reduction while improving the cabinet's resonance. Also, it looks good.
Then, the Fender Hot Rod DeVille has a top control panel with PCB material plus a stylized texture finish. There are even visible graphics plus ivory chicken head knobs.
On the front of the amp, you find a black textured vinyl that pairs perfectly with the aged vinyl cloth.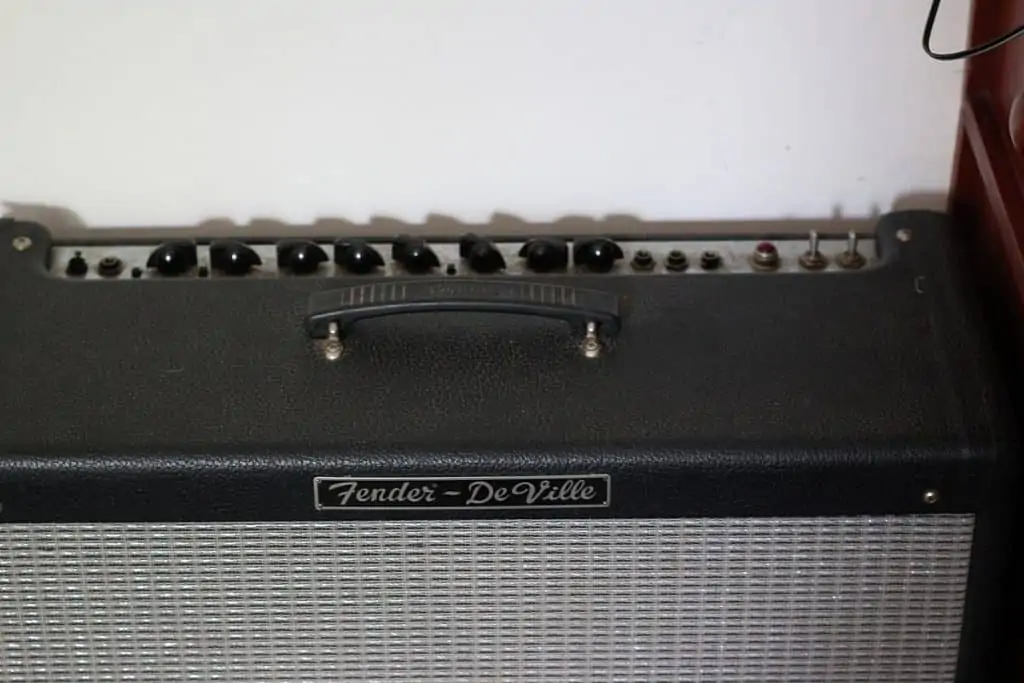 "Fender Hot Rod DeVille front & top" by ligia diniz / CC BY 2.0 The current Fender DeVille amplifier has gone through three upgrades over its original version, which premiered in the mid-'90s.
Back panel
On the back, you'll find an open-ended cabinet with a steel tray chassis. Open-ended cabinets create immersive sound, like a surround system. However, they do not project the sound forward as powerful as a closed-back cabinet.
I/O
The input/output section gives you more than enough options to play around with. However, it does lack some significant features like a simulated headphone output.
The top panel has two ¼'' inputs. These work as high and low sensitivity input, as one of both, operates at -6dB. That accommodates a wide range of guitars.
Oftentimes, though, you'll prefer using the low, -6dB input: the DeVille 212 gets loud, really fast. Even so, a -6dB dim is quite subtle.
There are also two speaker jacks at the top. The speaker jacks are preamp/out power jacks, allowing you to connect effect pedalboards and connect various amps.
There's a third jack at the top to plug the included footswitch. Lastly, there's a ¼'' at the that works as an effects loop connection.
Speakers
Within the cabinet, you'll see two 12'' Celestion "A-Type" speakers. Fender uniquely positioned the tweeters, as one of the speakers sits at the button left, whereas the other sits at the upper right.
Celestion speakers have a worldwide reputation for their distinct rock 'n roll sound. The model Fender chooses for the DeVille amp mixes modern sounds with the vintage dirt. The result roars when pushing the drive to distortion or overdrive.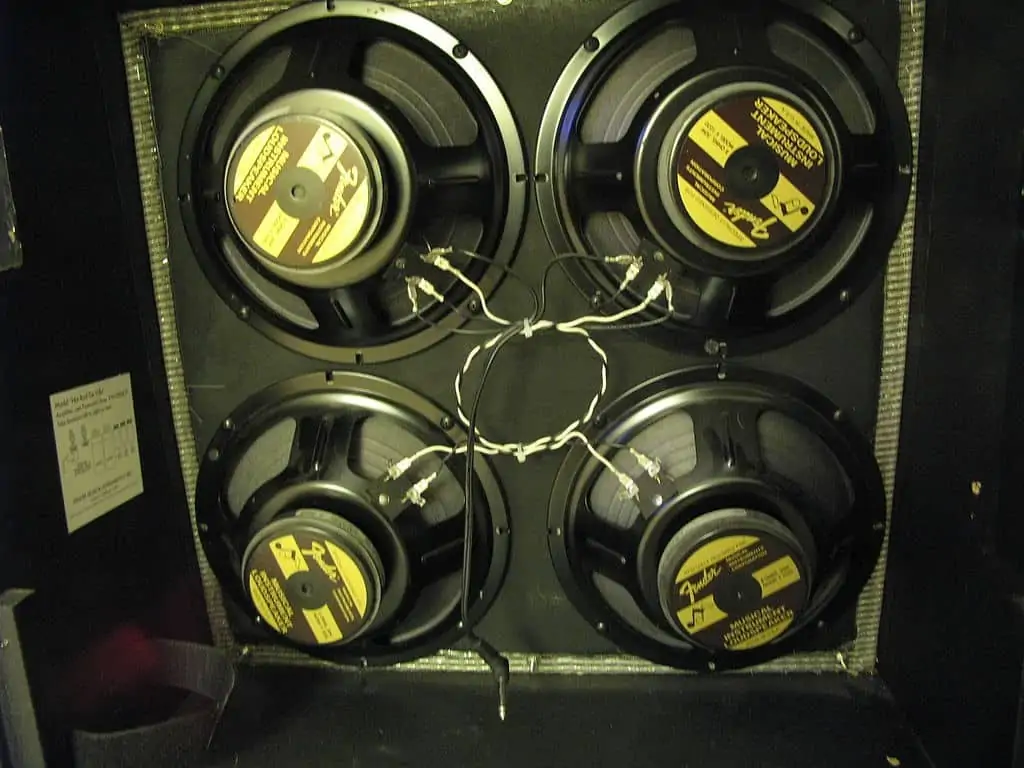 Fender has created limited editions of the DeVille amplifier with four loudspeakers instead of two.
Circuitry
The Hot Rod DeVille uses five rectifier tubes. It has 3 x 12AX7 on the preamp stage, plus 2 x 6L6 on the power section. The result is a very powerful 60-watts output with two loudspeakers and superb headroom.
On top of the vintage tubes, the amplifier comes with spring reverb. The tubes don't create the reverb, though. Instead, a solid-state rectifier creates the effect.
The presence of the solid-state rectifier is known as "backface." A rectifier is an electronic device that turns DC voltage into AC voltage for the speakers.
Since all amps run on DC voltage, old amplifiers had tubular rectifiers. Tube rectifiers are limited in how much current they can transform without failing, which is why most tubular amplifiers are smaller, below 40-watts generally.
Moreover, tube rectifiers are not consistent, and so they create voltage drops that affect the sound consistency.
Here's where the Fender Hot Rod DeVille solid-state rectifier comes. It makes the amp cheaper while delivering a reliable, fail-safe sound. Also, it allows the amplifier to sound bigger.
Solid-state circuitry
The DeVille IV features an improved preamp circuitry over its predecessors. That allows the amp to deliver extra clarity and definition when playing on overdrive. The model retains articulation above all else.
Moreover, the circuitry takes care of the control cluster to deliver a consistent tone. That said, the control relies on the following knobs:
Presence
Reverb
Master Volume
EQ (Middle, Bass, and Treble knobs)
Drive Select Switch
Drive Volume
Bright Switch
The Hot Rod DeVille IV has three channels. You can select the channels with the Drive Select Switch. The toggle switch swaps between Normal, Drive, and More Drive. That's pretty self-explanatory.
You can swap between the channels with an extra footswitch. Moreover, the three channels share the same controls, mostly. The Normal mode, otherwise known as "clean," doesn't use the "Drive Volume" knob.
In particular, the Bright Switch can tame the darkness of humbucker pickups and metal-oriented guitars. Also, the Presence knob dials-down the bassy nature of the amplifier.
Lastly, the amplifier brings 60-watts of power and runs on 120V.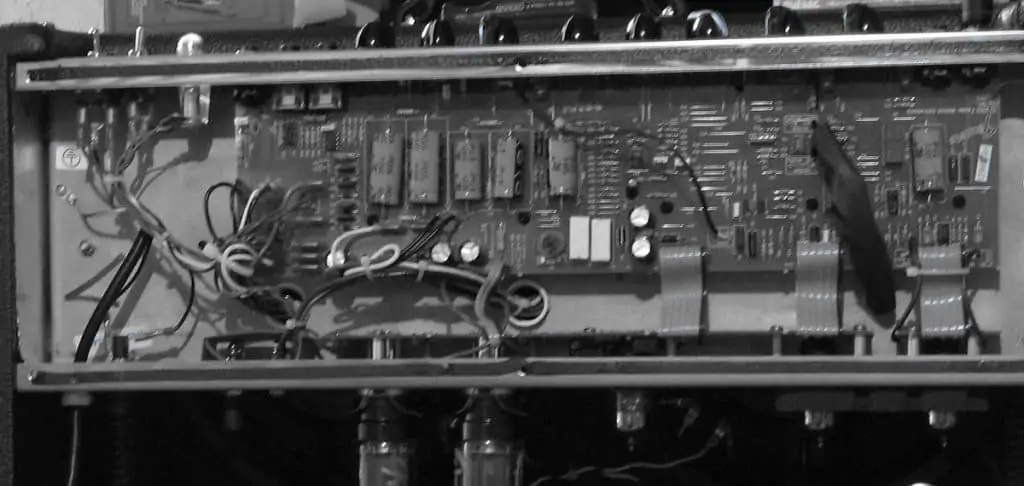 Solid-state rectifiers create consistent, firm, and reliable tones as they don't suffer from voltage drops.
Sound quality
The DeVille delivers what you would expect from a Fender amplifier. However, I must say the drive channels are not optimal. That's something most musicians would agree on.
Still, the clean channel sounds gorgeous. It has an emphasis on the mid-range sounds without reaching overtones or chimney tones. You can tweak the presence, EQ, and bright switch to reach the perfect sound you're craving.
Either way, the clean channel has a rich clarity. It's not entirely clean, though. Instead, it mixes gentleness with the scooped, dirty mids of the mid-'60s. The result is a sparkling and sweet treble plus a low-end punch.
Be sure that any pedal that you run through the clean channel is going to sound amazing. Few amplifiers can work on guitar pedals as good as the Fender Hot Rod DeVille.
The Drive channels, though, are not of the highest quality. You would have to find a metal-oriented amp for a better onboard distortion.
Drive channels
If you don't have extra distortion pedals (like overdrive, fuzz, or metal distortion), bear in mind the drive will still function for you. They just don't deliver the same quality as the clean.
That said, the drive delivers a crunch that works great on blues, surf rock, classic rock, and similar genres. The "More Drive" knock delivers a fluid sustain plus a smooth projection.
With the improved circuitry, the drive channel has a better definition. That means the attack is articulate and more aggressive.
It also seems like the drive channels don't make preferences between humbuckers and single-coils.
Then again, the amplifier will behave better by using an extra distortion pedal on the clean channel. I'd advise you to check our overdrive pedal reviews for further info.
Reverb effect
The onboard effect is a Spring Reverb, through and through. That means it's shiny, smooth, and deep.
The improved reverb effect can surround your notes with warm textures, otherwise known as a spring. As you turn up the level, you'll be adding extra texture, depth, and warmth to your sound.
It's a classic reverb effect that gives the best analog reverb effect pedals a run for their money. Not to mention the digital reverb of the DeVille amplifier is quiet, robust, and traditional.
Here's a demo of the Fender Hot Rod DeVille 212 IV. The demo comes from Michael Landau, a reputed session guitar player who has recorded for Rod Stewart, Seal, Michael Jackson, Pink Floyd, Phil Collins, and more.
He recommends using the clean channel plus effect pedals as well.
<iframe width="948″ height="533″ src="https://www.youtube.com/embed/Ml6zmPIyHlQ" frameborder="0″ allow="accelerometer; autoplay; clipboard-write; encrypted-media; gyroscope; picture-in-picture" allowfullscreen></iframe>
Downside & alternatives
The clear downside of the Fender Hot Rod DeVille is its lackluster drive section. As I said, the DeVille model -as well as the rest of the Hot Rod series- work as a clean slate for your guitar pedals.
Sadly, that's the case with most tubular amplifiers. Few of them can deliver usable drive channels, especially bigger tubular amps.
If you're looking for another clean slate for pedal effects, I would recommend checking the Roland Jazz Chorus 120. Known as the "King of Clean," the JC-120 offers the best clean channel of the market.
Needless to say, the JC-120 has one of the best reverb effects on the industry. After all, Roland created the reverb.
For guitar players taking their sound extra-seriously, there's also a solution. Fender sells an extra cabinet to plug into the DeVille amp. I'm talking about the Hot Rod Deluxe 112, made specifically for the Hot Rod series.
If you're looking to save a few bucks, you can go for the cheaper Hot Rod Deluxe model. It's a 40-watts hybrid guitar amp with a single 12'' Celestion speaker.
There's a cheaper alternative, the Blues Junior. It delivers 15-watts of power, a single 12' Celestion speaker, and a simpler control cluster.
Now, if you're looking for cheaper tubular guitar amplifiers, you would have to look elsewhere than Fender.
On that particular brand, we have the VHT Special 6 lineup. They are solid, reliable valve tube amplifiers with sub-optimal performance but plenty of room to grow:
Fender Hot Rod DeVille 212 Mark IV Specs
Material: pinewood cabinet & vinyl grille
Included items: 2-button and 3-function footswitch / fitted cover
Controls: Master Volume, Reverb, Presence, Drive Select Switch, Drive Volume, Bright Switch & 3-band EQ
Channels: 3 channels (Normal, Drive & More Drive)
Inputs: 2 X ¼'' inputs (high & low sensitivity) / Footswitch input
Outputs: 2 X ¼'' Parallel speaker jacks & ¼'' Preamp Out / Power Amp In the effects loop
Speakers: 2 X 12'' A-Type Celestion speaker
Tubes: 3 X 12AX7 preamp tubes & 2 X 6L6 power tubes
You can read the full specs on Fender's official page.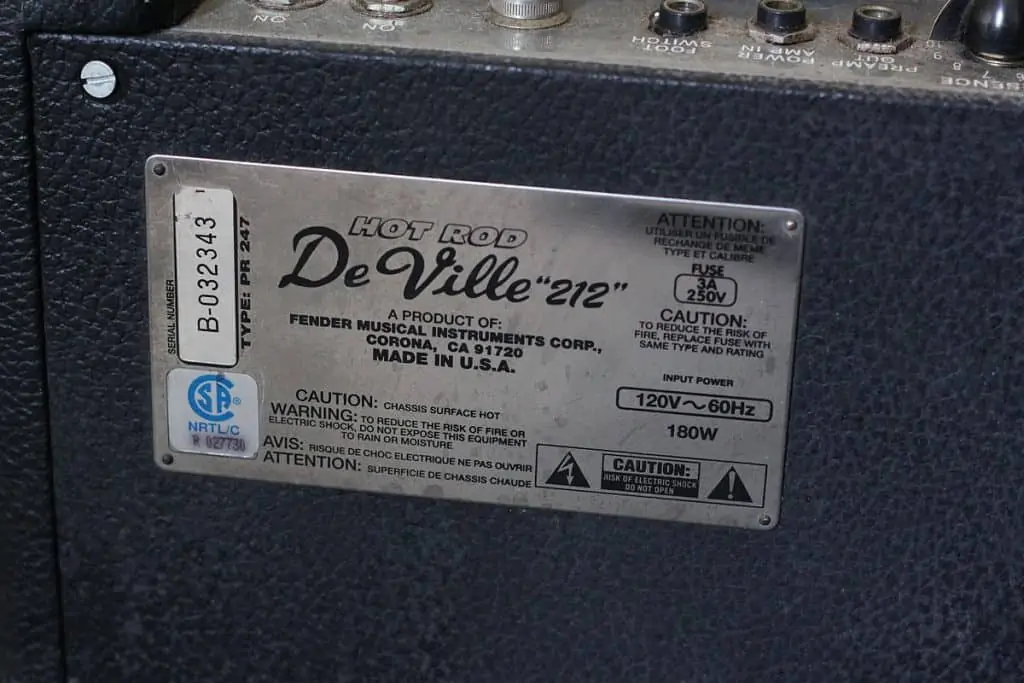 "Fender Hot Rod DeVille product plate" by ligia diniz / CC BY 2.0 The Fender DeVille is made in the USA. However, there're some iterations of the Hot Rod amp series produced by Fender Mexico. These are generally cheaper.
In Summary
With years of experience under their belt, Fender crafted the perfect companion for your pedalboard.
The Fender Hot Rod DeVille might not have the best drive channels, but they do shine on the clean channel. It's rich, warm, and gorgeous. Moreover, it will make even your low-cost pedals sound superb.
It's a hard pick for its high price. However, if you're a professional musician with an extended board, I would say it's a smart investment.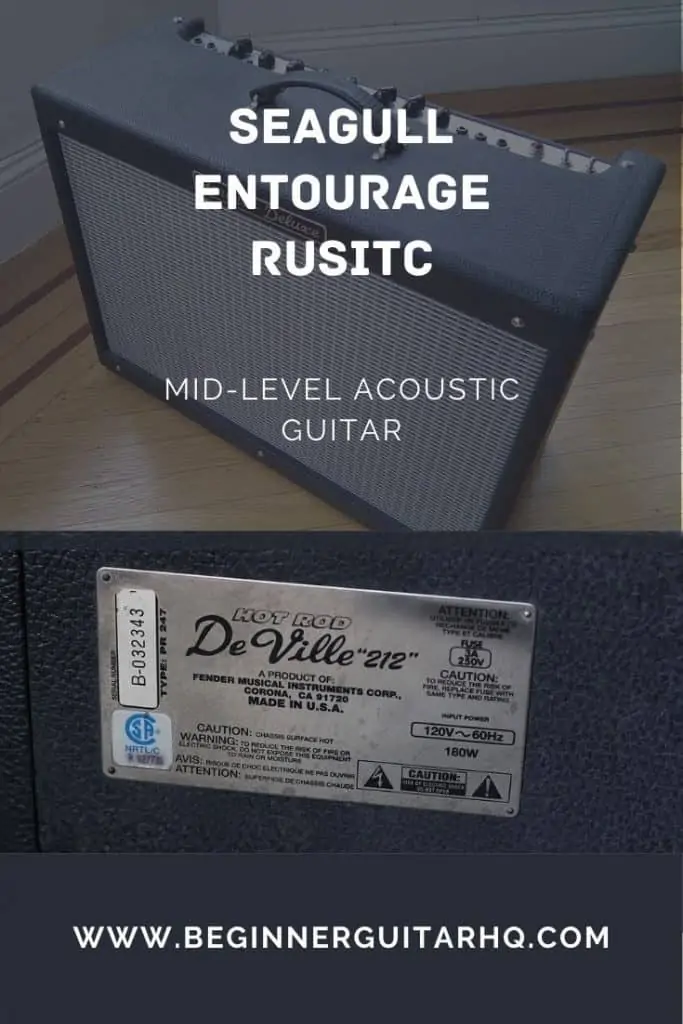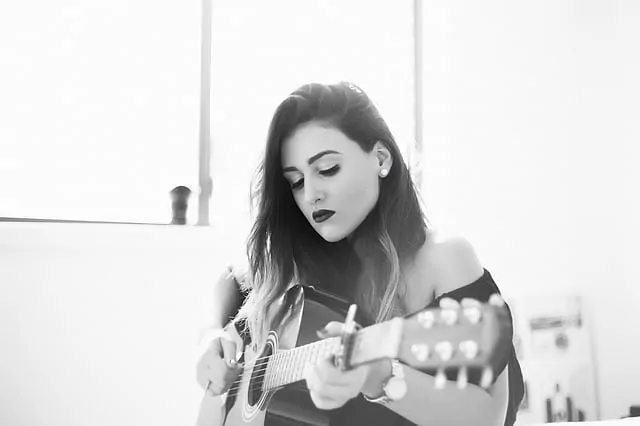 Jen is a guitarist and singer-songwriter who spends much of her time on the road and has lived in 13 cities across 4 continents. She picked up her first guitar at the age of 6 and learned to play by ear shortly after. She received her formal music education at the Berklee College of Music, and currently plays for a few bands in her free time. She has an uncanny ability to improvise creative melodies and harmonies. Her early influences include blues, jazz and rock.