You have the guitar and the new amp but now you'd like to add a little grit to your tone like you heard from the band you saw over the weekend. You thought the guitar player was doing a foot dance until you got up close and saw a series of small metal boxes they were tapping with their feet.
They were using drive pedals.
Good drive tone can be elusive and can often come at a huge cost and most of us don't have the money or the time to waste on buying numerous pedals to finally find what we're hearing in our heads.
Which one will do the trick for you?
Well that's key questions isn't it?
Most of these boxes are made of metal although you can find a few made of plastic. Metal is gonna hold up longer and keep in mind you'll be stomping these with your feet. There are also some, especially from much smaller independent makers that only offer them with battery power, due to the myth that power supplies are noisy. Heavy use will keep you running to the store for more 9 Volt batteries.
The rest of this decision making process is mostly subjective.
The advice we have here is research what your favorite guitar players are using, chances are they're using something similar to the types of pedals listed below. If they are using something very expensive it's likely there is a close option in a much lower price range that will do the same thing.
Classic Drive, Rock Drive, Metal Drive
There's a lot of choices out there. It might make it a little easier to ask yourself a few questions before proceeding to the checkout.
What kind of music do you play?
What kind of options do you want in a pedal?
Are looking for something to drive existing amp distortion?
Are you running the pedal into a clean amp channel?
Do you want both 9 Volt and power supply options?
So let's take a look at some low cost options that won't break the bank and possibly help you find that sweet spot you've been looking for.
Boss SD-1 Super OverDrive
This pedal sits on many a pedal board and for good reason. Since its introduction in the early 80's the SD-1 has " crunched up " the front end of amps worldwide.  Level, tone and drive control knobs offer a wide array of tonal options while also keeping the functionality of the pedal quite simple.
This pedal can give you solid midrange classic rock crunch but can also give you old school metal sizzle when paired with built in amp distortion. It's classic and simple design has opened the SD-1 up to a large niche " modification " market as well so if mods are something you're into then this little beast might be worth the investment.
Sale
The Rowin Dumbler
The Rowin Dumbler aims to get that classic drive tone that all the professionals use but at a much lower cost. In addition to the standard volume and tone dials you also get a " voice " dial which acts as an onboard eq. There a many pedals that are aiming for this sound and this low cost option gets you real close without taking out a loan.
This stompbox also offers true-bypass which is not something often seen in the lower priced pedal market. For you folks that need or want to have that option this pedal should be taken seriously.
Donner Tube Drive Overdrive Guitar Effect Pedal Super Mini
Donner was founded in 2012 so it's still a young company in relation to some of the more well known pedal companies out there.
Don't let that deter you though. Their entry in the tube overdrive pedal niche is worthy of a look for a low cost option.
It's small size won't take up much room, features a true bypass, enlarged output to tighten sound ( some tube drivers can sound flabby ), volume, tone and gain knobs along with a switch for normal and boost option. You'll come very close to classic tube overdrive sound here.
Joyo JF-01 Vintage Overdrive Guitar Effect Pedal with True Bypass
This little small green and yellow stompbox has a ton of tone and looks to give the player a vintage overdrive sound that's highly sought after, especially in the blues / rock area.  A great option for the beginner with simple drive volume and tone knobs it will be easy to dial in the sound you're looking for.
JOYO wants to make tools for the modern musician in an increasingly digital market. Given the rise of digital music making and the ease of which it can be done it's easy to see why they have made a quick impact in the foot pedal market.
Mooer Hustle Drive, drive micro pedal
Mooer has been on the scene since 2010 and primarily produced small or " micro " pedals in the beginning. They continue to make pedals as well as amps, preamps, multi effects processors and accessories for musicians around the globe.
The Mooer Hustle Drive has a bonus feature that the other pedals listed do not.
A HP/LP switch.
When in HP mode you can beef up your low end. When in LP mode it can enhance your clean sound by just giving it a touch of grit. Combine that with the drive knob and you may get a slight boost in the midrange as well, great for solo's or when you need to cut through in a jam session or gig.
Sale
Quick Tip
A neat little trick that's fun to do with any drive pedal. Throw an EQ pedal in front of them as a boost pedal. The nice thing about having an EQ pedal in front of a drive pedal is that you can really sculpt your drive tone. Great for lead players or if you are playing with a big band and don't necessarily need more power.
Important things to remember
Any of these drive pedals are a good start. If you have more than one pedal then a pedal board is a worthwhile investment. It'll save time and possibly the gear itself from being damaged when traveling. There are many types of pedal boards, some small, big, with a power supply and without.
You can buy pedal boards at just about any music store or even build one out of wood or aluminum framing which can be found at most hardware stores.
Power supplies are optional but can save money over purchasing batteries for every pedal on your board. 9 volt batteries ( which many of these take ) can add up over time so a power supply can save you money in the log run.
Another must if you have more than one pedal are patch cords. Just like pedals there are many options to choose from for patch cords but in essence they all do the same thing, connect one pedal to another in a chain of effects.Keep these in one spot, they magically get lost or get stolen by the patch cord fairy. Cousin to the guitar pick fairy.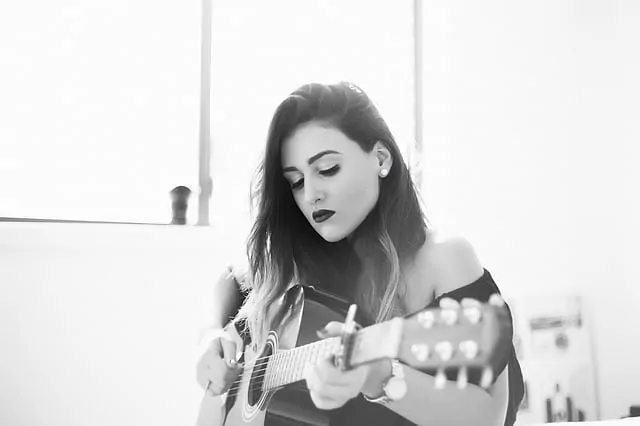 Jen is a guitarist and singer-songwriter who spends much of her time on the road and has lived in 13 cities across 4 continents. She picked up her first guitar at the age of 6 and learned to play by ear shortly after. She received her formal music education at the Berklee College of Music, and currently plays for a few bands in her free time. She has an uncanny ability to improvise creative melodies and harmonies. Her early influences include blues, jazz and rock.