Let's say you want a guitar that's easy to whip out and practice on. Or you're going on a road trip with your friends and want something to strum. Or maybe you just want to record with a guitar that has a unique sound.
In each of these situations, the best solution is using a travel guitar. And in this review, I'll be breaking down the best travel guitars on the market, what they cost, how they perform, and their overall pros and cons.
What Is A Travel Guitar?

One benefit of travel guitars is you can play them almost anywhere
A travel guitar is basically a portable guitar that's smaller than a typical guitar. It still has a full scale-length or a nearly full scale-length, but it's friendlier for traveling, sometimes in harsh weather conditions.
Pros And Cons Of Playing A Travel Guitar
Just as with any guitar, it's not all good or all bad. If you're in the market for one, you'll need to weigh the benefits with the downsides.
Pros:
Smaller size body (usually ¾ size) making it easy to travel with
Has full (or near full) scale-length
More affordable than a full-sized acoustic guitar (i.e. best bang for your buck)
Cons:
The smaller size can make it difficult to play for those with bigger hands/fingers
May not sound as full or have as warm a tone as a normal sized guitar
What To Look For In A Travel Guitar
There are certain characteristics to look for in a good travel guitar 
When you ready to buy a travel guitar, there are a few characteristics that I'd recommend you look for. It's best practice to think about each of these features before buying.
The first and most obvious one is the portability of the guitar. "Travel guitar" implies a size good for throwing in your car, as a flight carry-on, or even on your back. So the guitar you choose will need to be portable in size.
Another aspect you'll want is a guitar made with some of the best, quality materials. A good type of wood for a travel guitar is laminated wood because it stands up to weather and temperature changes better than solid wood, even though it won't resonate as much as a solid wood guitar. If you want the beautiful tones of solid wood but the climate-resistance of laminated wood, your best option may be to get a guitar with a solid wood top and laminated sides and back.
Speaking of tones, that's another important characteristic. The basic rule is the smaller the guitar, the quieter it is. So it depends on how you'll be using the guitar. For busking on a street corner, you can use a smaller acoustic-electric guitar that plugs into your travel amp. Or you can even get a full-sized guitar that folds. However, if it's just for songwriting and/or practice, you can get away with as small of a guitar that you want.
Determining how you'll be using the guitar will affect whether you choose an acoustic-electric or just an acoustic. Street corner or venue? Go with an acoustic-electric. Songwriting and noodling? Just an acoustic will be fine.
Also with a smaller guitar, you have to consider playability (nut width and scale length). The nut width is how wide the neck is and the scale length is the length of the strings between the bridge and the nut. If your travel guitar has a shorter scale length, it may be easier to play, but it won't be the same as a regular-sized guitar.
And then, of course, there's the price. It's all about balance. Spending a lot on a travel guitar maybe isn't the best idea because it's more likely to get damaged, lost, or stolen. On the other hand, spending $20 probably won't get you anything worth playing.
The sweet spot, in my opinion, is between $100 and $400. At this price range, you won't be carrying it around with white gloves and storing it in a locked case. But instead, it's more likely to be a reliable, good-sounding guitar.
The Best Portable Travel Guitars
Now onto what I think are the best travel guitars. After some deep research, I've come up with seven guitars that I think are solid choices, depending on your situation and needs.
For the cost of each guitar, I've used a simple table:
$ = Very affordable
$$ = Fairly priced
$$$ = Relatively expensive
Cordoba Mini M – $
If you're a nylon string guitarist who wants a travel guitar, the Cordoba Mini M can be your bread and butter. It's made of solid wood, so the tones will be very pretty.
The overall size of the guitar is similar to the typical parlor shape and the playability is on par with its classical guitar siblings. It's tuned to A by default (which is common), but you can tune it to E if you were to get thicker strings. Whatever fits you best.
Pros:
Affordable
Portable yet still gives you that classical guitar playability\
Good tones thanks to the solid wood top
Cons:
Tuning to E with default strings causes tuning issues (you'll need thicker gauge strings to do that)
Neck may be too wide for some players
Specifications:
Body style: Parlor/mini
Materials: solid spruce top, mahogany sides and neck
Scale length: 20.07 inches
Nut width: 1.96 inches
Guitar length: 30.51 inches
Total weight: 2.5 lbs
Fender CT-60S – $
Fender is one of the best sources for guitars. And their CT-60S does not disappoint. Although it's not perfect, its playability and tones are very good for its price. It seems like a solid option if you need something to write songs with or noodle around on.
Pros:
Solid wood top and laminated back and sides, so it's climate resistant and sounds great
Very affordable price
Good for a beginner guitarist
Cons:
Frets have been known to buzz
Neck is a bit wide
Specifications:
Body style: Travel
Materials (top/sides/back): solid spruce top, laminated mahogany back and sides
Scale length: 23.5 inches
Nut width: 1.69 inches
Guitar length: 41.9 inches
Weight: 7.05 lbs
KLOS Carbon Fiber Acoustic Travel Guitar – $$$
KLOS' main feature is its durability. In terms of standing up to a beating, it's the best. You can literally watch videos of people dropping it or hitting it with a hammer and it not breaking. The reason it's so tough is that the body is made of carbon fiber, not wood. The neck is made of wood, so it still provides some nice tones. Plus, it has a detachable neck for easier storage.
Pros:
Extremely durable
Very good tones
Detachable neck for easy storage
Cons:
Very expensive when compared to other travel guitars
Will produce different tones than a wood guitar
Specifications:
Body style: Mini dreadnought
Materials: carbon fiber body, mahogany neck, blackwood fingerboard
Scale length: 24.75 inches
Nut width: 1.69 inches
Guitar length: 33 inches
Weight: 2.85 lbs
Martin LX1 Little Martin – $$
It's hard to go wrong with Martin because they consistently make good guitars. And the Martin LX1 Little Martin is no disappointment. Even though it's a small-body guitar, its resonance can fill a room, making it great for small performances or a gathering of family or friends.
Pros:
Big, full tones for a guitar of its size
Strings stay in tune for a long time
Martin is a trusted name in the guitar industry
Cons:
May be difficult to play for those with large hands
Specifications:
Body style: Dreadnought style
Materials: solid wood top, laminated mahogany back and sides
Scale length: 23 inches
Nut width: 1.69 inches
Guitar length: 37.75 inches
Weight: 3.38 pounds
Martin Steel String Backpacker – $
The Martin Steel String Backpacker has one of the most memorable body shapes. It's shaped almost like a boat oar, which is both cool looking and works well as a travel guitar. And thanks to the non-laminated solid spruce top and mahogany back and sides, it's sound great for such a little guitar.
Again, Martin makes high-quality guitars, and the Backpacker fits into the family well.
Pros:
Sturdy build
Stays in tune well
Very affordable
Cons:
Abnormal body shape can take some time to get used to
Because it's so small, it lacks bass and volume
Specifications:
Body style: Backpacker
Materials: solid spruce top, mahogany back and sides
Scale length: 24 inches
Nut width: 1.69 inches
Guitar length: 36.22 inches
Weight: 5.3 pounds
Taylor BT2 Baby Taylor – $$
Yes, the Taylor BT2 Baby Taylor doesn't have the typical concert body shape and, yes, it is a bit bigger than other travel guitars. But it's still a travel guitar many people use. It's still very compact and delivers a Taylor-type sound. The solid mahogany top is expected, but the surprise here is the layered Sapele that makes up the rest of the body.
Pros:
Louder than other travel guitars because its body is bigger
The body wood looks beautiful
Cons:
Does not do well in hot/cold weather or dry/humid conditions — users report cracks in the body
Neck is narrow, making it difficult for players with big hands
Specifications:
Body style: Parlor
Materials: solid mahogany top, layered Sapele back and sides
Scale length: 22.75 inches
Nut width: 1.69
Guitar length: 38 inches
Weight: 8.1 pounds
Traveler Guitar Ultra-Light Acoustic-Electric Travel Guitar – $$
This guitar from Traveler is one of the most unique-looking travel guitars on this list. The body almost looks like the head of a guitar but bigger. It's made out of Eastern American hard maple and is only about 28 inches short yet still have a normal scale length. Plus, it comes with a detachable lap frame for when you want to rest it on your lap while playing it.
Pros:
Acoustic-electric, allowing you to plug into any amp
Cool-looking body design
One of the best guitars when it comes to ease-of-travelling-with
Cons:
Specifications:
Body style: Neck-through-body design
Materials: Eastern American hard maple
Scale length: 24.75 inches
Nut width: 1.75 inches
Guitar length: 28 inches
Weight: 2 pounds
Final Verdict: The Best Travel Guitar
Let me first say, "best travel guitar" depends on the buyer. Choosing a guitar is really a subjective thing. What I've done is compile the best guitars for the road in one list to help you decide.
However, if I were going to buy a travel guitar right now, I'd go with the Martin LX1 Little Martin. I'm a Martin guy (and so is Bob Dylan). I can't get enough of their warm sound, and this little guitar gives you a smaller version of those sounds.
Which of these travel guitars do you like best? Let us know in the comments!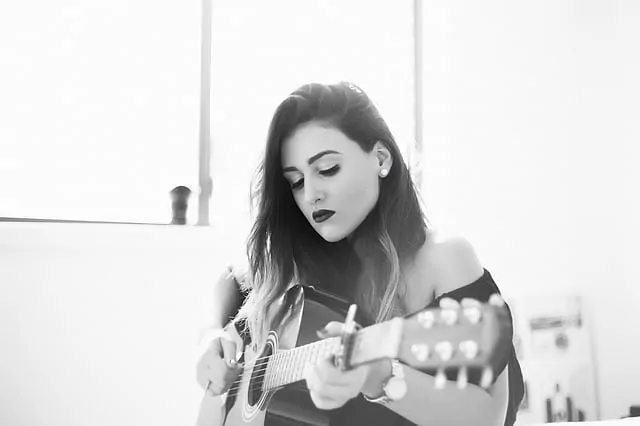 Jen is a guitarist and singer-songwriter who spends much of her time on the road and has lived in 13 cities across 4 continents. She picked up her first guitar at the age of 6 and learned to play by ear shortly after. She received her formal music education at the Berklee College of Music, and currently plays for a few bands in her free time. She has an uncanny ability to improvise creative melodies and harmonies. Her early influences include blues, jazz and rock.