The Epiphone Wildkat semi-hollow guitar is one of those original Epiphone models. You see, aside from making affordable Gibson-designed instruments, Epiphone also manufactures original designs that date the company's origins.
The times where you choose an Epiphone instrument simply for its Gibson aesthetics are over. Gibson's subsidiary is now much more than that. They have become a fully-fledged musical gear manufacturer that covers the budget segment as much as the professional branch of the market.
As the brand expands, I think it's time to revisit some of their original models and see what they've got to offer. In particular, the Wildkat is a recent addition to their shelves that stands out because of its attractive, almost luxurious design.
What we're going to see, then, is how the classy looks of the Wildkat combine with its tone and playability. Is this guitar just a gamble? Or is it a reward?
Let's see…


Epiphone_Wild_Kat/ Ryan Clare from Vancouver, Canada / CC BY-SA  Semi-hollow guitars like the Epiphone Wildkat pack to f-shaped sound holes for extra resonance and sustain.
If you don't know what a semi-hollow guitar is, you can go check our top 10 budget hollow & semi-hollow guitars list. We already made a short review of the Epiphone Wildkat in that article.
Additionally, you can check our previous guide on the types of electric guitars if you need some further info.
Epiphone Wildkat Pearl White LE Semi-Hollow Guitar Review
The Epiphone Wildkat semi-hollow guitar is a jazz-tyled instrument that doesn't cost a fortune, like the genre's gear usually does.
I mean it's quite difficult to purchase a true jazz or blues guitar because they cost a lot. Following the pricing pattern set by the original Gibson ES-335, jazz-branded instruments are around the triple zero mark.
However, Epiphone has a lower cost than Gibson, even on its most premium offerings. The Wildkat is not a premium instrument, though. Instead, this is a choice suitable for beginners and enthusiasts alike.
What we've got here is an all-round vintage-sounding guitar made by a guitar brand with a great reputation. Looking at Epiphone's lists of successful, top-value instruments, it's easy to think you can't go wrong with the Wildkat.
In fact, this is one of the brand's most respected vintage guitars. It's about delivering the sustain-rich classical sound for an honest price.
It also has an attractive and very antique natural white color which is sure to get compliments as you put this guitar out of its case.
Let's see if the Epiphone Wildkat is a worthy mid-level jazz semi-hollow guitar.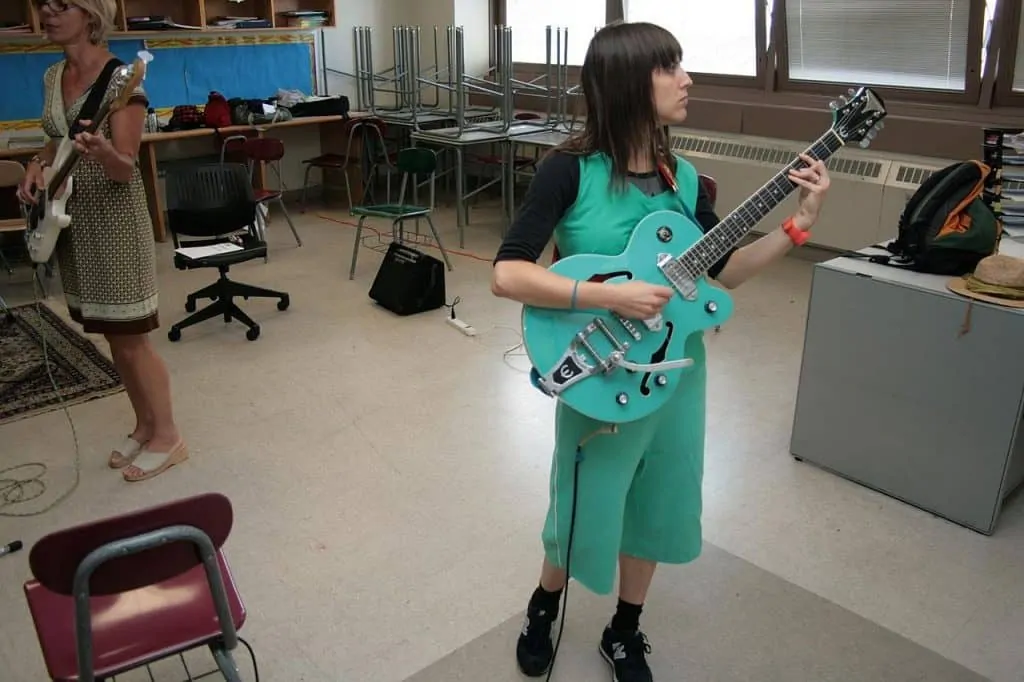 Willie_Mae_Ladies_Rock_Camp_111 / emily przybylinski / CC BY 2.0 The Wildkat ships in various colors, which includes white, red, and green.
Overview
Gibson is the creator of the hollow-guitar. As Gibson's subsidiary, Epiphone knows a thing or two about this type of instrument. On top of that, Epiphone is also an expert when it comes to semi-hollow guitars for they offer some of the most popular models of the branch.
We're going to discuss the Epiphone Wildkat alternatives the brand is offering down below if you're interested. For now, we're going to see how this guitar manufacturer has translated their knowledge into an affordable model that delivers the type of performance you're expecting from a semi-hollow guitar.
Overall, the Wildkat is a great combination of hardware, tone, built-quality, and affordability. And it wraps all of its goodies with a set of P90 pickups.
Built quality
The reason why most semi-hollow and hollow guitars are so expensive is that the craftsmanship is quite complicated.
In particular, a semi-hollow guitar has two cavities beneath its body divided by another piece of wood. These chambers are usually hand-crafted, so the idea of "mass producing" semi-hollow guitars is practically non-existent.
But the Wildkat brings quite an argument to the table. It packs the same levels of craftsmanship for a budget and for a crowd that hadn't seen an opportunity to afford one of these guitars before.
What you're going to see are some tweaks Epiphone had to do in order to put this guitar into the mid-level price range. It makes it look like a shy guitar next to the regularly big semi-hollow guitars. Even so, what's important here is playability and tone, not aesthetics.
Let's see…

Most semi-hollow guitars have a single f-shaped hole, but the Wildkat uses two.
Body & Design
Now, instead of the traditional center block of wood dividing the two hollow cavities, it's hollowed-out solid body mahogany. That means the body was made first and then the luthiers carved the inside of the guitar.
This design choice is put to shame by fully-fledged professional semi-hollow guitars. However, at this price point, this is as close as you can get to the vintage sound.
There're other good things, though, so let's keep looking. For example, I have to note that mahogany is an incredible choice at this price point. It's the same kind of wood Gibson uses for most of its guitars because of its balanced and rich tone.
The mahogany body is covered with a laminated flamed maple veneer, which gives this guitar it's authentic feel.
Additionally, this is an arched-top design, which means the body is arched on the front and the rear for extra comfort and tonal quality. It's a feature common on high-end Gibson guitars.
Another thing that's particular with this guitar is its slimmer body. Compared to the bulky ES-335, the Wildkat is much smaller and feels like a Les Paul.
Neck & headstock
This guitar packs a mahogany neck with the classic Les Paul asymmetrical slim taper D-profile and the same 24.75'' long-scale size.
A particularly amazing thing is that it has a glued-in neck, which gives you the most optimal volume levels and tones. Even the most expensive Gibson guitars pack the same kind of set-in neck. At this price range, you would expect the classic bolt-on solution.
The neck is pretty smooth, sharp-free, and fast. It packs a rosewood fingerboard with 22 medium jumbo frets and Pearloid dot inlays.
Finish
The Epiphone Wildkat has a great finish with the classic binding, chrome hardware, and natural wood aesthetics.
Overall, this guitar has no scratches, no mistakes, and no flaws. Plus, the Epiphone applies a special binding that makes the Wildkat dent resistant.

The Epiphone Wildkat features a Les Paul-type body.
Sound quality
The mahogany body and neck are the first steps to ensure a quality sound with plenty of flexibility.
Everything comes together in the electronics-department…
Electronics
This guitar has a couple of Epiphone P90 pickups, which is the traditional choice for semi-hollow guitars. In particular, it has an Epiphone P90R plus an Epiphone P90T Dogear Classics pickups.
The set is wired to a master volume knob, two individual volume knobs, and a master tone knob. It also has the classical Les Paul 3-way selector switch to combine both pickups easily.
These electronics rely on Epiphone's quality 500K full-sized potentiometers. They are pretty reliable and durable. Plus, they are able to clean the signal a bit to reduce noise.
Like it is, the Epiphone WIldkat offers great versatility, much more than what its price should offer. For example, because you're controlling the volume of each pickup individually, you can get as loud or as soft as you want. Plus, the master volume gives you the extra flexibility you need.
Sound
Because Epiphone rewrote the books on how a semi-hollow guitar is made, this guitar offers but a taste of what "real" semi-hollow instruments can give. However, only true sound purists will tell the difference.
For a budget, the Wildkat delivers two classic P90s, a mahogany construction, and two f-shaped holes. The result is a sound that feels handmade for blues, classic rock, and just a bit off jazz.
It has a great range, great projection, and just enough sustain. The tones are not so smooth, though, but it can still get into the jazz territory.
The two tapers have some bite and enjoy the balance the body of the guitar offers. They don't sound like a high-end model, but they are close enough.
So, because the sound of a semi-hollow guitar greatly depends on its built- quality and design, the sound of the Wildkat is very balanced, vintage, and a bit fuzzy.
Overall, it offers 50s rock sounds with a decent degree of flexibility for modern genres. Don't expect to play modern rock and metal genres with this guitar, though, as the feedback will eat up your distortion pedals. An overdrive plus tube amps, though, are great partners for this guitar.
<iframe width="853″ height="480″ src="https://www.youtube.com/embed/KgePke5HDvM" frameborder="0″ allow="accelerometer; autoplay; encrypted-media; gyroscope; picture-in-picture" allowfullscreen></iframe>
Feel Quality
One of the most difficult things regarding semi-hollow guitar construction is the hardware. Even top-tier models can destroy their tone with defective bridges, tuners, tremolos, or even the strings. Imagine adding cheap components now.
The Wildkat is a decent compromise, though.
Hardware
First of all, it offers the classical Epiphone Adjusto-Matic bridge with a Bigsby tailpiece. It's solid and gig-ready. And it's the kind of thing Gibson Les Paul guitars uses.
Furthermore, it has a Bigsby tremolo system, which is the kind of hardware many people are looking for in semi-hollow guitars. It's a solid tremolo, but it won't sustain any abuses.
As for the tuners, the Wildkat has a decent set of open-gear tuners that's gig-ready as well. These are 16:1 Grover machines that provide superior tuning and superior intonation stability.
Another thing to highlight is its heavy-duty output jack
None of the hardware will give you any trouble as long as you play what this guitar intends to play.

A Bigsby tremolo is a fragile but top-tier level whammy bar made for blues, classic rock, and similar genres.
Playability
This guitar offers a solid and comfortable neck. Its fingerboard also offers plenty of grip and ease of play.
That makes this guitar very comfortable. Even with the Bigsby, it feels light, focused, and balanced. However, this guitar still feels a bit heavier than your regular beginner's guitar, so beware.
The arched-top body and smaller-sized body also make this guitar generally more comfortable for inexperienced players than bulky hollow and semi-hollow guitars.
Lastly, its 22 frets give you plenty of range. There's even a small cut on the body so you can teach the higher frets easily.
Downside & Alternatives 
The downside is that the Widlkat sounds a bit average out of the box. That's because it needs the right setup in order to reach its full potential.
The first thing you need to do when you receive this guitar is taking care of the tuners. These guitars are very fragile in the tuning section, no matter how much they cost.
That said, you should tune this guitar and then get yourself a tuning pedal if you're going to take this into a scenario. Here's the budget pedal I recommend.
Aside from that, you could vastly improve the quality of this guitar by changing its stock pickups. These Epiphone P90s are too dark for my own taste. The ones I recommend are Seymour Duncan Phat Cat.
Another thing you have to check once your guitar arrives is the tremolo. A Bigsby is a fragile piece on any guitar, so adding a Bigsby on an affordable instrument was a gamble. It works fine, but it can take some time to adjust this tremolo piece along withs its Adjust-o-Matic bridge.
If you set it correctly, it won't give you much trouble. You should just avoid going wild with the whammy bar. Still, beginners could find troubles keeping the Bigsby in tune.
That said, if you want to take this guitar more seriously, maybe you'd need to change the Bigsby for a higher-tier unit that offers better tuning stability and easier use.
A top-tier unit is the B7 Les Paul Bigsby:
I know those are some expensive pieces, but it's the kind of set up you'd want to do to take this guitar all the way to a professional level without having to buy a new one.
There's another option if you like this guitar, though, which is going for the Royale edition. It features better hardware and better pickups. Like it is, it sounds great.
Now, there're other options at a similar price we can guide you to. For example, we've got the Washburn Oscar Schmidt Delta King semi-hollow guitar, which is a bluegrass sounding instrument with great built quality. It just doesn't have the same level of reputation as an Epiphone-branded guitar.
If you're willing to pay a bit more for the best value semi-hollow guitar there is, you could buy a Gretsch G2622T
Additionally, I advise you to check the Epiphone ES-335, which is the perfect mid-level jazz-styled hollow guitar.
Otherwise, you could simply check our list of the top 10 budget semi-hollow and hollow guitars.
Epiphone Wildkat specs
Design: Single-cutaway hollowed-out Les Paul semi-hollow body
Tonewoods: mahogany body, mahogany neck, rosewood fingerboard
Neck: set-in asymmetrical SlimTaper U-shaped neck
Scale: 25.75'' long-scale
Fingerboard: 21 medium jumbo frets
Radius: 12'' neck radius
Pickup configuration: Alnico V Classic Epiphone P90 pickups (bridge & neck position)
Controls: 2 individual volume knobs, master volume, master tone & 3-way selector switch
Tuners: Open-gear tuners
Bridge: Adjust-O-Matic Bridge & Stopbar Tailpiece
Tremolo: B90 Bigsby
In summary
Who should buy the Epiphone Wildkat semi-hollow guitar?
The Wildkat is an intermediate jazz-style guitar that offers the sounds of pre-sixties rock and blues genres.
It's a complete vintage package with its fine-tuned aesthetics, Bigsby tremolo pice, and P90 pickups. And for such impressive add-ons, it sells for an excellent price.
So, if you're looking for a suitable jazz guitar that doesn't break your wallet, the Wildkat is a very good option.
I mean, this is not the best semi-hollow guitar that exists. It's not even a particularly great-value guitar. But it does pack a few interesting features with small compromises we can deal with.
Final Say
All in all, Epiphone hit the right spot with this guitar. Although it comes as a bit average, the Widlkat is ultimately a well-balanced package that brings features you would normally find at much pricier guitars.
Plus, with the right setup, this guitar can become a real contender at the stage. And it packs the looks to make you proud.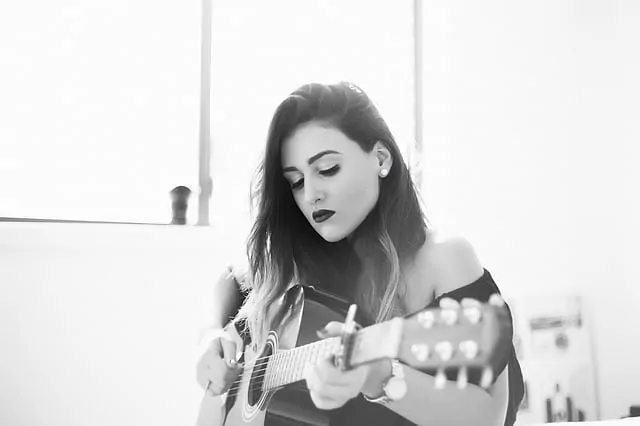 Jen is a guitarist and singer-songwriter who spends much of her time on the road and has lived in 13 cities across 4 continents. She picked up her first guitar at the age of 6 and learned to play by ear shortly after. She received her formal music education at the Berklee College of Music, and currently plays for a few bands in her free time. She has an uncanny ability to improvise creative melodies and harmonies. Her early influences include blues, jazz and rock.