Today's article is reviewing the famous Ibanez Talman TMB100 budget bass guitar for beginners. We've chosen an Ibanez bass or electric guitar on most of our top 10 charts, so I think it's time to dedicate another review to this revered brand.
We already choose the Talman TMB100 as one of the best bass guitars for beginners, so stick around if you're looking for first-timer 4-strings.
Let's go into detail about the Talman series and see why these instruments are something every enthusiast and professional bass player should consider.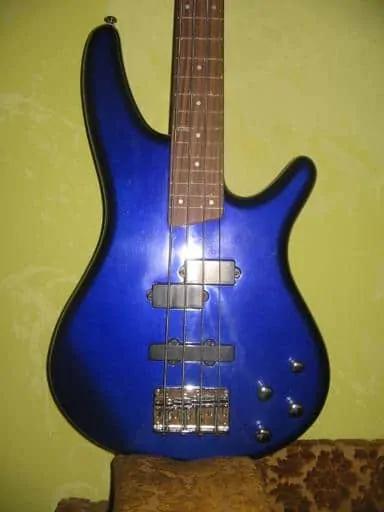 The Talman is an Ibanez original PJ bass guitar.
About the Talman Series of bass guitars
Within the Talman name, Ibanez packs acoustic guitars, electro-acoustic guitars, and electric bass guitars. The series is an amazing display of variety, ease-of-play, and affordability.
We're here to review the Ibanez Talman TMB100, which is the most popular entry of a series that offers over 9 different models. In particular, the TMB100 is a budget bass made for beginners and pro players alike.
The Talman bass series goes from fully-fledged premium models all the way down to the entry-level Talman TMB100. This lineup is quite historic and particular. They represent the re-emergence of a historic Ibanez body design that created a particular bass style: the PJ bass.
The history of the PJ bass
The "PJ" bass guitar combines the classic Precision bass split-coil middle pickup with the sharp & bright Jazz bass bridge pickup on a single instrument.
On top of that, the PJ bass has the sturdy body of the Precision bass plus the fast, light neck of the J bass.
Leo Fender brought the beefy and crunchy P bass in 1951. Then, in 1960, Fender presented the J bass for clarity, punch, and versatility. The PJ bass represents the both of both worlds.
The idea of combining both models for maximum versatility has been around since the '70s. However, even before companies began producing PJ basses themselves, professional and enthusiasts bass players were already modding their P basses with an additional J bass single-coil pickup.
Ibanez was making Gibson and Fender copies by the time. So, by 1974, the Japanese instrument manufacturer released the 2369B-W bass guitar with a P-styled neck, and both kinds of pickups. Plus, it had a master tone and a master volume knob, as well as a Gibson-style 3-way toggle switch to blend both pickups.
The new Talman bass series reissues the first mass-produced PJ bass guitar in history, then. You can expect wide versatility, power, and gorgeous aesthetics from the lineup.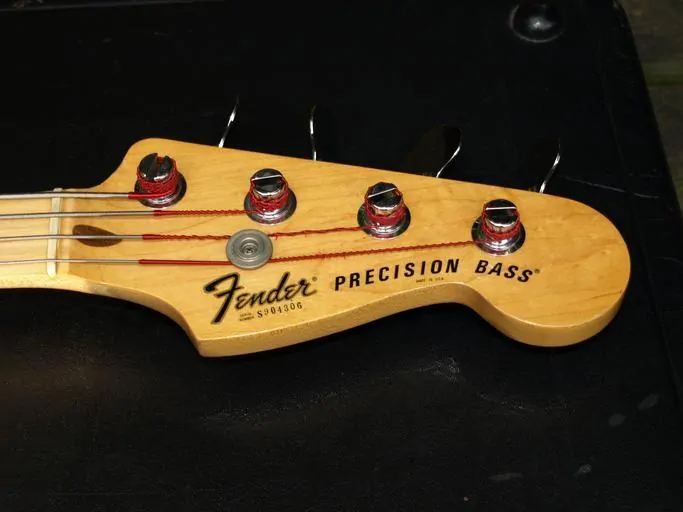 The Talman is a PJ bass that features both the P and the J bass pickups
All of this talk about "J Pickups" and "P Pickups" probably has you confused. If you need any further info, I advise you to go look at our prior guide on bass pickups.
Overall, you have to understand the following:
A J Pickup is a bass single-coil like the one of the Peavey Milestone.
A P Pickup is a split-coil taper you'd see on a Precision bass installed on the particular "middle/neck" position (neither the middle, nor the neck, but something else). 
Fender jumped the PJ wagon in the 80s, but they took many years to get a hold of the idea. For example, Fender's first experiments included bass guitars with double  P pickups, heavy metal-oriented PJs, and even setups with 2 single-coils and 1 split-coil in the middle.
In the end, the most enduring design was the original Ibanez for it had already solved the problem of the PJ bass: volume and hum.
Let's see…
PJ bass guitars volume problem
The first problem common in PJs is how the split-coil is louder than the single-coil. That's because the middle/neck position enjoys a beefier sound than the neck position.
That means that the P pickup can eat up the sound of the J pickup unless it has a lower volume. In practice, a split-coil drowns the J pickup. 
PJ bass guitars hum problems
The hum problem comes because single-coils are noisy at loud volumes, whereas split-coils are not.
The original P bass used a Telecaster-style single-coil pickup in the bridge position, but it was too noisy. In 1959, Leo Fender-designed the split-coil pickup to solve this issue. 
Nowadays, though, you can find plenty of hot-output noiseless J pickups. For example, stacked J pickups are two single-coils arranged upwards. They feature the noiseless capabilities of a split-coil plus the same kind of power.
However, the common fix on entry-level P basses is a small capacitor that cuts out some of the output of the P pickup in order to keep the volume levels balanced.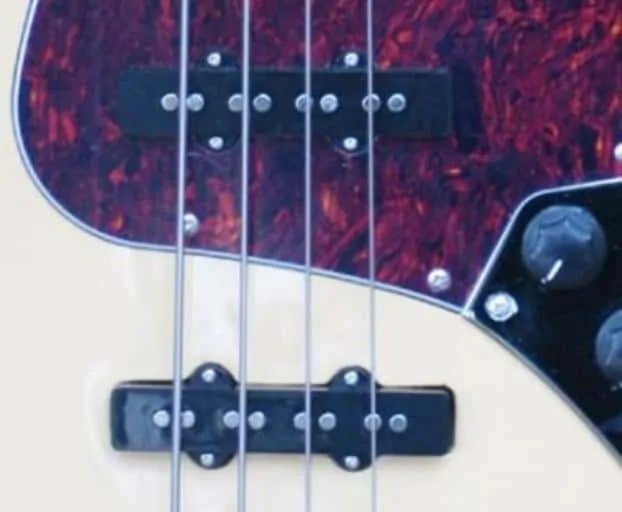 If you don't like the stock pickups on your budget PJ bass you can always change them for something better.
The advantage of PJ basses
The problems of these models are lesser than the advantages they represent. In short, the PJ is the most versatile kind of bass there is. Not much has changed since Ibanez's original design but, despite that, the PJ can play any kind of music.
Overall, they offer warmth, power, brightness, clarity, versatility, and fast playability.  It's the perfect mix between punchy highs, mid-range growl, and beefy lows that make your bass stand out in any mix.
Here's a video showcasing the sound of the Fender Deluxe Special P bass, an impressive made-in-Mexico PJ model we already reviewed.
<iframe width="853″ height="480″ src="https://www.youtube.com/embed/n6a0iwEciHE" frameborder="0″ allow="accelerometer; autoplay; encrypted-media; gyroscope; picture-in-picture" allowfullscreen></iframe>
Ibanez Talman TMB100 Review
The Talman TMB100 is an entry-level bass guitar that presents the classic PJ design plus the Ibanez retro vibe and body shape. The old-school features include a shell pickguard, cloverleaf tuners, and a simple headstock design.
As you imagine, the most interesting thing about the Talman is its P/J pickup configuration. It represents the budget alternative of the Ibanez Talman Prestige with a split-coil on the middle/bridge position plus a single-coil at the neck.
The Talman series of bass guitars includes 9 models, and the TMB100 is one of the cheapest ones. It's also one of Ibanez's best-sellers.
So, if budget and retro looks are something you like, read on!
Sale
Overview
The Ibanez Talman TMB100 is definitely a cheap bass guitar. Nonetheless, it's a model that defies the very definition of budget instruments for it's a no-compromises kind of musical gear
Whereas most cheap bass guitars cut corners on sound quality, aesthetics, materials, or playability, the Talman keeps everything balanced and steady.
Overall, the Ibanez Talman TBM100 appears to have no problems whatsoever. It even looks gorgeous and sounds very cool right out of the box.
The best thing about it, though, is its ridiculous price tag. You wouldn't find any Squier P bass looking so low.
I commonly say that looking for a bass guitar at this price range is a useless task, but the Talman proved me wrong.
Foreword? This is a lot of bass for its price.
Built quality
In all honesty, the Talman's shape lacks the popularity levels of the RG series or our recently Ibanez SR series. However, it still has its fans because of the '50s auto aesthetics it features.
That said, the TMB100 is built with impressive tonewoods, great attention to detail plus, and a fun selection of vintage colors. 
All 9 basses of the Talman series offer middle-bridge split-coil plus either a humbucker or a single-coil at the bridge. Moreso, they all feature the same rounded body with rear contour and front chamfer. 
Let's see…
Body & Design
The Ibanez Talman TMB100 has a slick curvy double-cutaway body. The body is made of mahogany, which is impressive as mahogany is a choice that usually deserves mid-level and high-end crunchy bass guitars. Points added!
There's also the option of getting the TMB100 with a poplar body, which is also a great tonewood. It's even similar to mahogany as it features a similar look, similar weight, and similar tonal characteristics. In particular, poplar offers beefy warm tones plus crisp and bright sounds all over the fingerboard.
The curvy body follows a custom belly cut that adds comfort when you play the bass standing, so it's not there just for show. It also has a rounded top horn with a deeper cutaway to enhance access to the upper frets, plus a lower cutaway for ample access to the frets.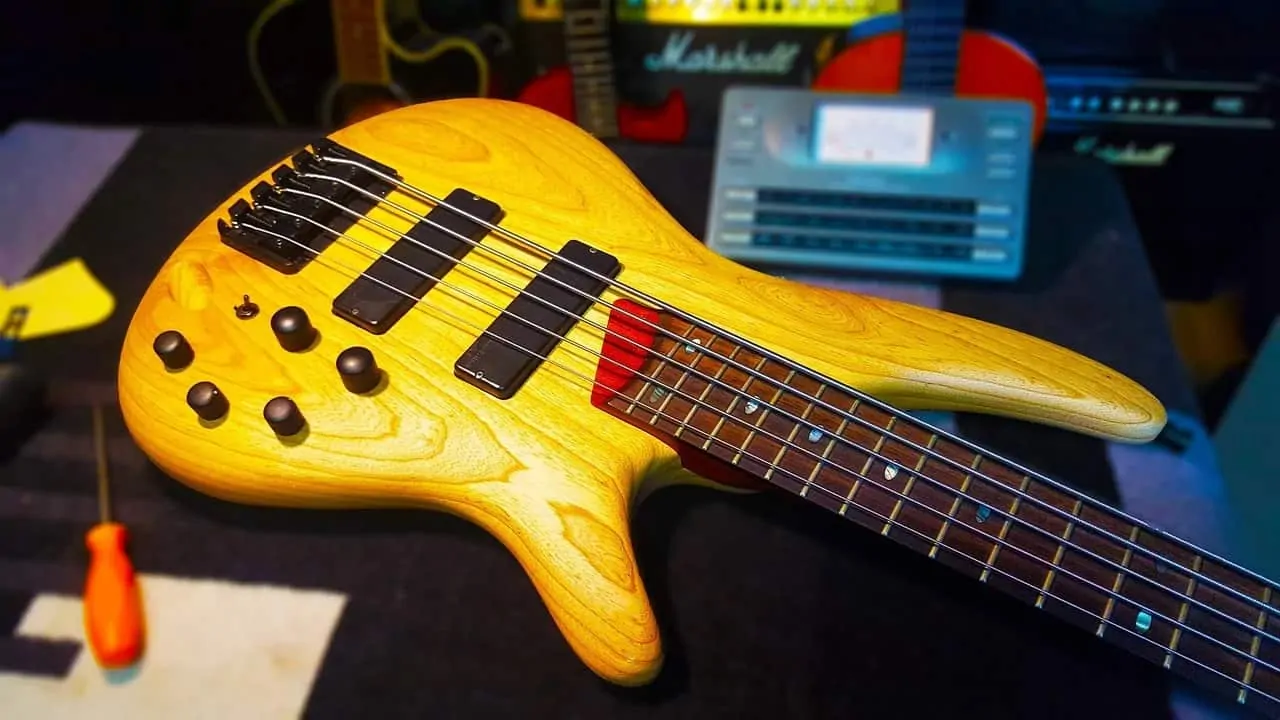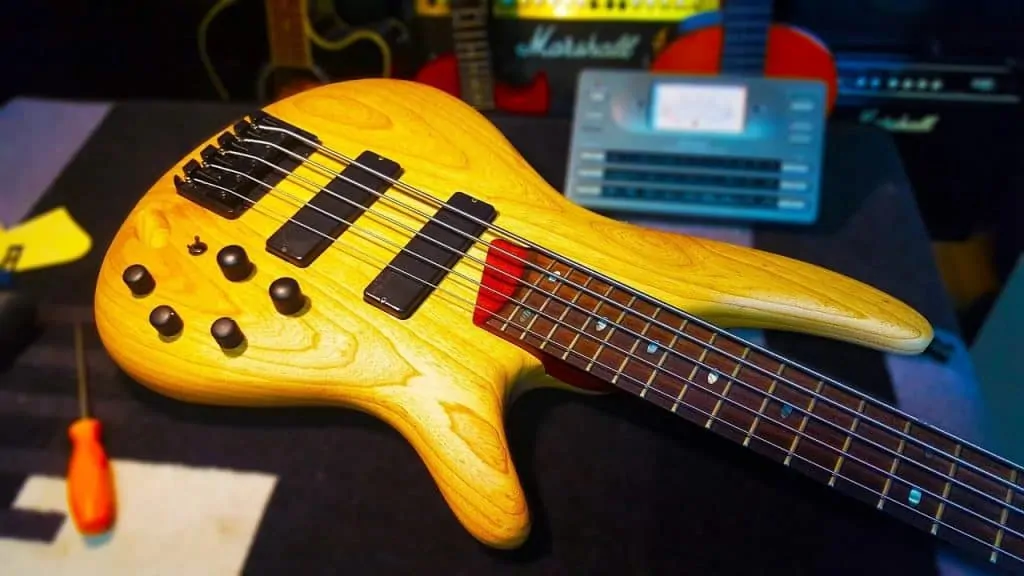 Ibanez's Gio series is the modern alternative. Unlike Talman basses, Gio basses feature a sound crafted for modern rock and metal.
Neck & fingerboard
We've got the typical bolt-on neck made of maple with 20 medium jumbo frets. The fingerboard is made of jatoba, also an impressive tonewood as it belongs to high-end bass guitars. 
However, the 4-screws bolt-on doesn't use a plate, which doesn't look very good. Still, the screws are hidden on the backside of the body.
On top of that, the neck has white dot inlays, garnish, and an overall smooth feeling. We're also talking about a sharp-free neck. More points.
I must add this bass has a comfortable neck profile plus a 9.4'' neck radius. In particular, the neck's shape is known as TMB4 Precision-style neck. 
All of this fits into a full-size 34'' long-scale body. For such a cheap bass, the finish and the feel of the frets are impressive. However, the out-of-the-box setup suffers from fret buzz as the strings are not correctly set up.
Headstock
The headstock is rather simple. It looks like a paddle and has vintage-looking cloverleaf tuners. It's appealing nonetheless. 
However, the weight is a bit off, as the bass tilts a bit towards the headstock.
Finish
The finish starts with a 3-ply protected tortoiseshell pickguard that covers half the bass. The scratchplate offers a nice contrast with the colors of the bass.
On top of that, you can select various vintage colors that include Soda Blue, Coral Red, and Mint Green. All of them carry the cool-looking t pickguard.
Lastly, the fingerboard is covered with a dark satin finish that also delivers a nice contrast, whereas the body has a gloss finish.

The Talman TMB100 bass doesn't come in the classic sunburst color.
Sound quality
The impressive build of this budget bass transfers to the electronics section as well. So, naturally, the sounds it produces are well above its price range…
Electronics
Electronics-wise, the Talman TMB100 has two very solid pickups: a Dynamix P at the middle/bridge position plus a Dynamix J at the bridge.
They are connected to three control knobs:
Master volume
Blend (to select between the single-coil, the split-coil, or both)
Active 2-band EQ
So, even though the pickups are passive, they are connected to an active 2-band EQ powered with an extra 9V battery. This 2-band features Treble plus Bass Cut.
<iframe width="853″ height="480″ src="https://www.youtube.com/embed/90EFLri4GUs" frameborder="0″ allow="accelerometer; autoplay; encrypted-media; gyroscope; picture-in-picture" allowfullscreen></iframe>
Sound
The Talman has a very traditional sound. It's not very lively, but it has an even tonal response across the four strings and across the entire fretboard.
This model features the kind of warm and round tone you'd expect from a PJ bass. Plus, the EQ can add some extra color. 
The control setup makes it very easy to alter your tone on the go without too much effort, so that's a plus. Even if it lacks some versatility.
For example, you can add some bass to fatten the tone and gain some extra power. Or you can add some treble to open up the sound and help this bass stand out in the mix. 
I have to note that articulation and tone definition is very good, even impressive at this price range. You could even slap or play this bass alongside bass distortion pedals.
Personally, I love the harmonics of this bass. They ring out clearly and with plenty of sustain. Furthermore, playing this bass with a pick gives you a great initial note attack.
Overall, you can go from powerful & crunchy to a clear bite with plenty of attack. The versatility is there, although the tonal differences are not that extreme.
In the end, I'd say the sound of the TMB100 is perfect for rock, hard rock, metal, and punk. However, it has enough versatility to go for soft rock genres, pop, reggae, blues, and jazz.
Such leves of versatility puts other basses at the entry-level segment to shame.
<iframe width="853″ height="480″ src="https://www.youtube.com/embed/w8xYpUvD3XY" frameborder="0″ allow="accelerometer; autoplay; encrypted-media; gyroscope; picture-in-picture" allowfullscreen></iframe>
Feel Quality
This bass has a fairly simple construction but it's crafted to the perfection its price permits. That said, the simply built quality makes it quite playable
Hardware
The Talman TMB100 carries a standard but satisfactory hardware. We've got an adjustable bridge with 4 saddles covered in chrome. It's a gig-ready piece that allows you to adjust the height, tension, and spacing between the strings easily.
On the headstock, it has a set of open-gear cloverleaf tuning machines that are solid enough for the price, although not really gig ready.
That set, the hardware of this bass can sustain de-tunes.
Playability
This bass has 20 frets that feel very comfortable and smooth. The double-cutaway of the body increases access to the frets whilst also making the bass comfier for both your legs and your arms.
You could play with your fingers, your pick, or with slaps. This bass can take it all. The ebony fretboard is smooth, fast, and contoured to the shape of your hand.
Additionally, the strings have 19mm spacing and the nut has a 40mm width. It's modeled after the neck of a P bass, which is as comfortable as it gets.
Likewise, the neck's radius is 9.4'', which is a curved neck. That's an odd choice for a bass guitar, but it works as it makes the neck slimmer so you can wrap your hand around it better for chord figures and scales.
The bass is not as light as most budget basses. It has a certain sturdy feel that tilts slightly towards the headstock. It feels nice on the shoulders of adult players, but not so much on children.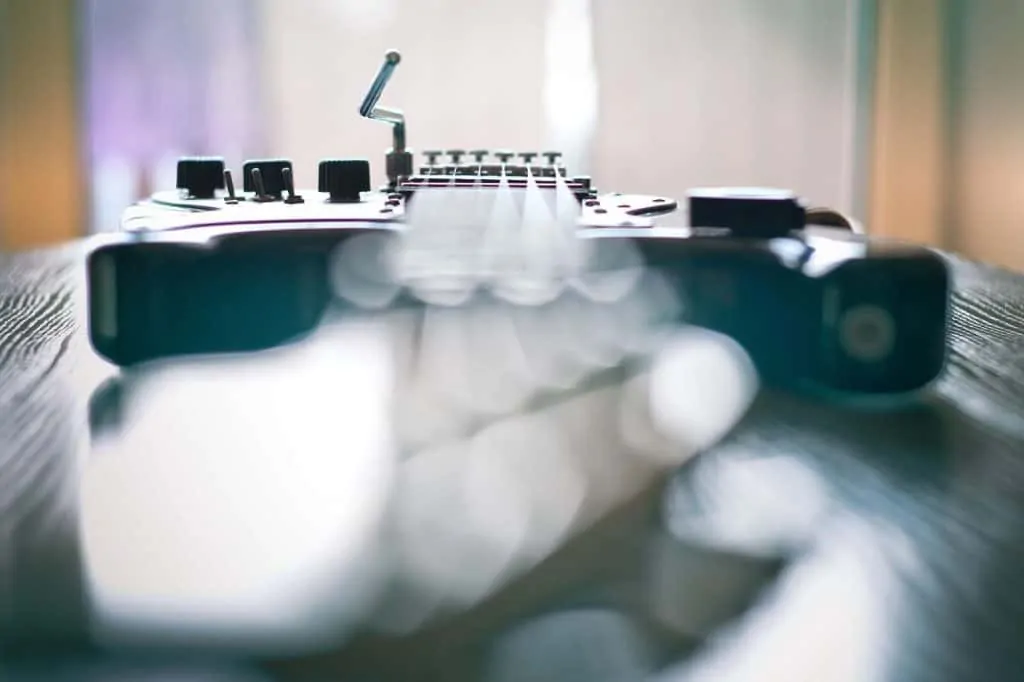 The design and measures of the bass neck influence its ease of play.
Downside & set-up
As it is, the Ibanez Talman TMB100 is very playable, vintage-looking, and great sounding. 
Moreover, it packs solid hardware that doesn't need much care aside from your regular bass tuner. And, by hardware, I'm including its functional but easy control knobs.
That said, there are three things we can do to improve this bass and make it feel and sound like a premium instrument. I think it's a worthwhile investment because you can do it slowly and end up with a bass that sounds even better than a Fender PJ.
First of all, we can change the tuners for a solid set that holds everything together during the most demanding situations. I'm choosing standard D'Addario Nickel strings.
I also recommend changing the strings as the stock ones are not really the best. While you are at it, you should also take the bass to your local luthier in order to eliminate the fret buzz by adjusting the truss rod.
Last but not least, you can vastly improve the sound of this bass by changing the stock pickups. Because the tonewoods are so good, and the craftsmanship, the results are going to be top-notch.
I'm recommending the Geezer Butler PJ bass set, which works with both passive and active circuits.
Designed by former Black Sabbath's bass player, the Geezer Butler configuration offers plenty of output, a big punch, and a balanced tone.
Variety
Feel free to take a look at the different Ibanez Talman basses there're available on their official webpage.
Right now, I can recommend the Ibanez Talman TMB505, a mid-level option that sounds professional and looks amazing. Moreover, this baby packs Nordstrand pickups. If you need to know, Nordstrand only makes high-quality pickups. 
And for just a tad more money, you could get the TMB35 that offers a better bridge and a better set of tuners. 
Ibanez Talman TMB100 Specs
Design: double-cutaway vintage Ibanez bass body
Tonewoods: poplar (or mahogany) body, maple neck, ebony (or rosewood) fingerboard
Neck: bolt-on C-shaped neck
Scale: 34'' long-scale
Fingerboard: 21 medium jumbo frets
Radius: 9.5'' neck radius
Pickup configuration: Dynamix P passive split-coil (middle/neck) & Dynamix J passive single-coil (bridge)
Bridge: Adjustable bridge & 4 saddles
In summary
Why do I like the Ibanez Talman TMB100 bass? 
The Talman is an effective bass. It's simple and yet it compromises nothing- It performs well and it's even ready to play live. It won't let you down.
Overall, this bass is a pleasant surprise. It's a fine entry-level bass from Ibanez and serves both beginners, budget players, and enthusiasts looking for a vibe bass without breaking the bank.
Lastly, its tonewoods (poplar/mahogany and jatoba) do a great job for the tone of this bass, which is bass it offers the much-coveted mix of modern and classic sounds at the same time.
Here're other articles were we've selected Ibanez basses:
Final Say
You could buy this for twice the price as your backup instrument or as your main performer and it would still be a steal. 
Verdict? The Ibanez TMB100 is the best bang for buck instrument you will ever see.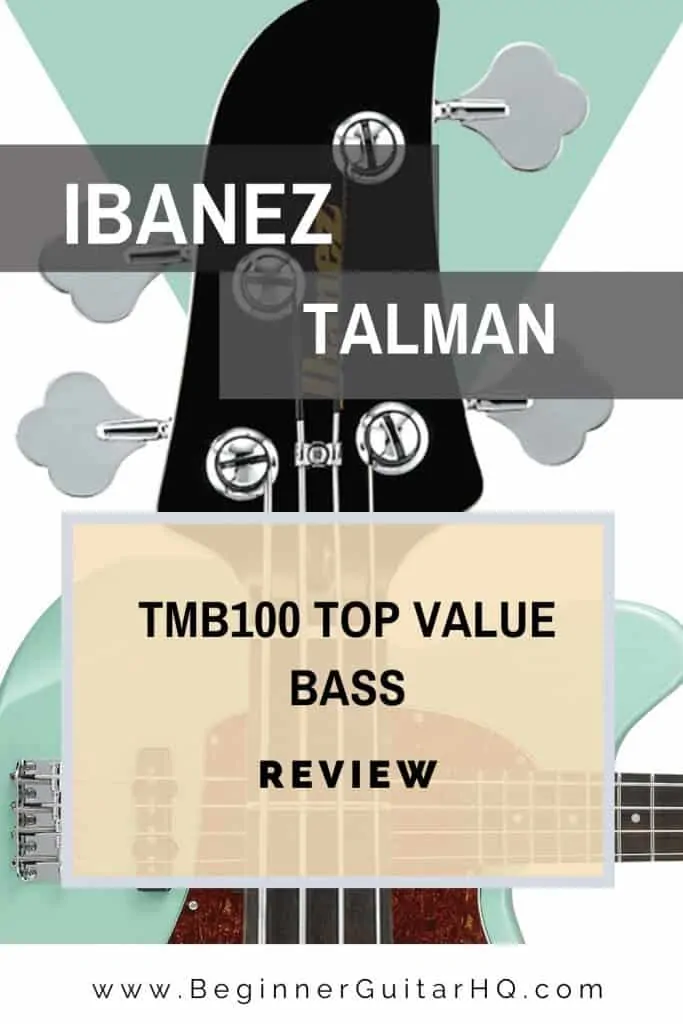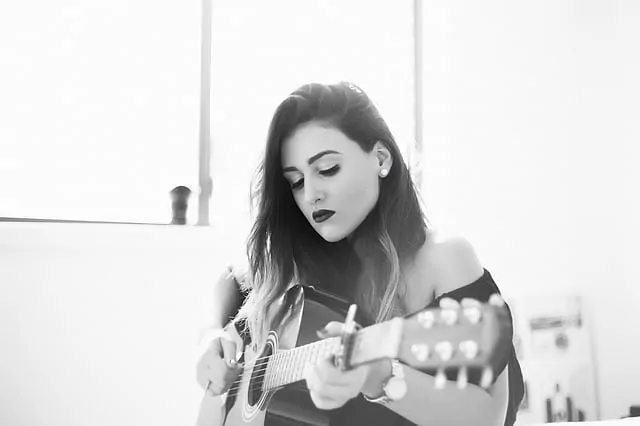 Jen is a guitarist and singer-songwriter who spends much of her time on the road and has lived in 13 cities across 4 continents. She picked up her first guitar at the age of 6 and learned to play by ear shortly after. She received her formal music education at the Berklee College of Music, and currently plays for a few bands in her free time. She has an uncanny ability to improvise creative melodies and harmonies. Her early influences include blues, jazz and rock.