Gibson doesn't have many models. In fact, Gibson doesn't build much variety in terms of musical gear…what they do build, they do it perfectly. And because I said that, I can now name the two Gibson series that are so special they practically don't need to sell anything else: the Gibson Les Paul electric guitar; and the Gibson Thunderbird bass guitars.
Epiphone can be just as good as their parent company…I mean, if Gibson were to sell instruments for honest prices, Epiphone is what you would get.
More so, the quality gap between budget and high-end instruments is getting thinner by the moment. That's something I already discussed in my Squier Classic Vibe series review.
That means a budget Epiphone instrument can be just as good as a Gibson instrument. Their best models are mostly using Gibson pickups, hardware, and electronics. The rest of the guitar's features (like tonewoods, body shape, colors, finish, etc), are not going to affect the sound as much as the pickups itself.
That brings us to the Epiphone Thunderbird Reverse bass, an affordable version of the Gibson Thunderbird built to the same specs, standards, electronics, and even pickups.
We're reviewing the Reverse version because it's the most available of the series, although there are more alternatives like the Pro version.
Can you already see how this is such a special bass?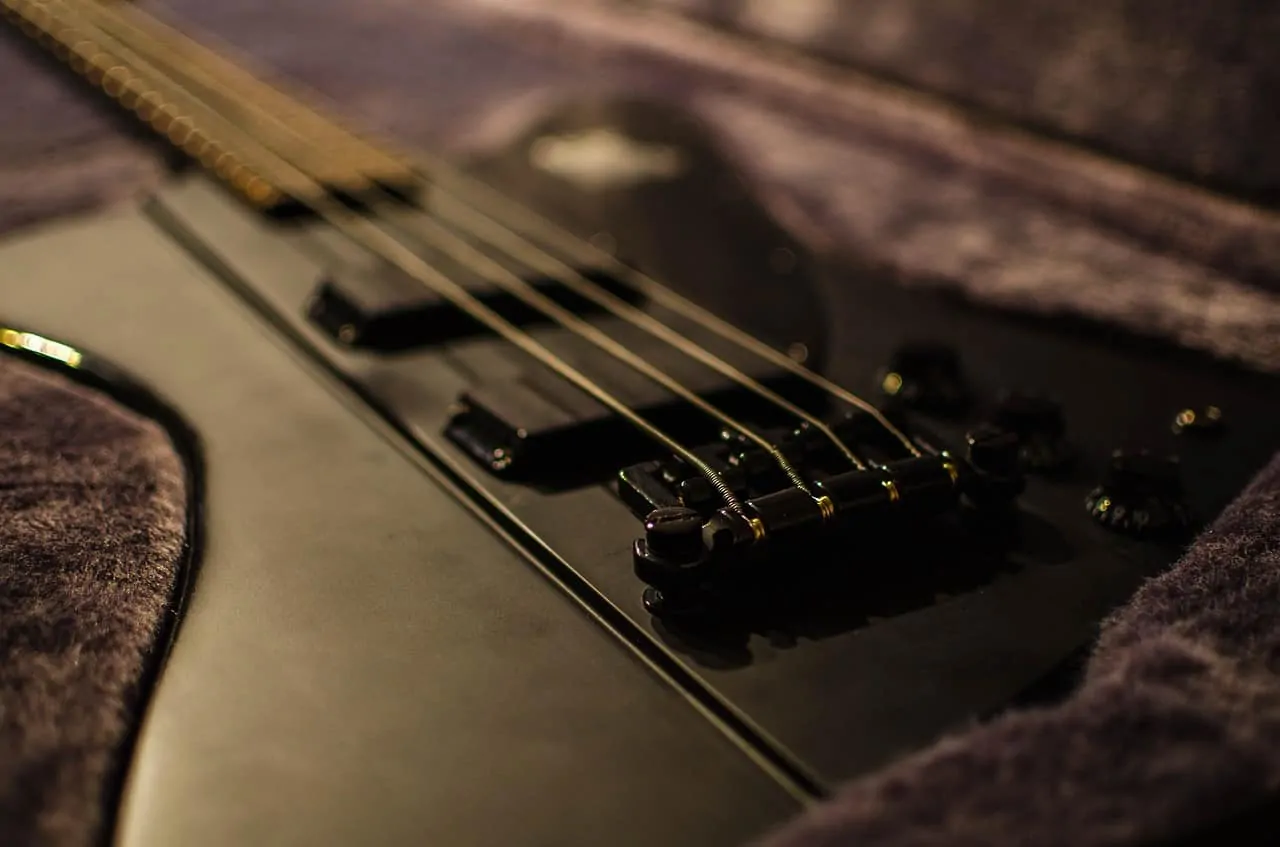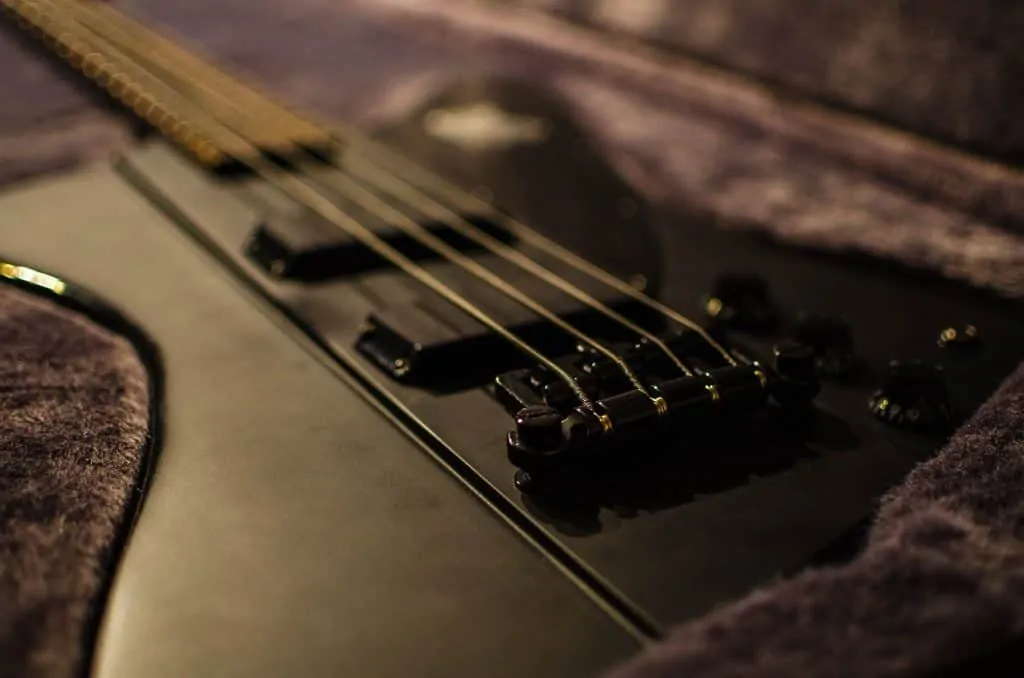 The Epiphone Thunderbird is built to the highest Gibson standards.
About the Thunderbird Bass
Gibson debuted the Thunderbird in the early '60s, and it looked like the bass of the future.
Over 60 years later, it has stood the test of time. Its design hasn't changed in a bit, and it still looks as unique and different as it did once before.
No other bass looks like it, and because of its body shape, no other bass feels like it. You can only understand that once you try it, and that's what musicians love (and dislike) so much about this bass.
Vintage and modern Thunderbird basses have remained the same over the years: winged body, dual-coil humbucker pickups, and the Thunderbird insignia on the pickguard.
There's something that has consistently improved over time, though: the pickups, the electronics, and the price.
Epiphone Thunderbird Reverse IV Electric Bass Guitar In-depth Review (4 and 5 strings)
The Epiphone Thunderbird Reverse IV Bass is amazing. It takes the best features of the original Gibson bass and translates it into an affordable instrument.
If you're lucky enough to own Fender or Squier basses, you'll know how those are smooth, pristine, and timeless. They are more than enough for most situations, which is why they are somehow silencing the Epiphone Thunderbird Reverse IV bass.
Sometimes, though, you need a noiseless, powerful, punchy, and crunchy bass guitar with a body big enough to scare your audience.
This is where the humbucker-fueled Thunderbird comes into play. This baby is made for rock like no other.
Finding a quality humbucker bass at this price range is already a complex task. It's much more trouble finding an affordable 5-string humbucker bass. Epiphone solves both these issues by offering a 4-string and a 5-string Thunderbird bass.
These models are hard to bit by other mid-level basses. They sound fat, they are noiseless, and they have humbucker pickups, and they have amazing playability.
The 5th string is just the top of the cherry pie. When you look for 5-string basses at this price range, expect the lower 5th string to be flappy and thin.
Now, the Epiphone Thunderbird Reverse has a perfect balance between functions, sound, and cost.
Keep in mind the 4-strings model carries the "IV" nickname. The 5-string model carries the "V" nickname.
The Epiphone Thunderbird V has 5-strings, then. Here, we're reviewing both models as they are basically the same.
Overview
I bet everyone who reads this has seen or heard about the Thunderbird bass. However, you have probably never played one.
Interestingly, though, you don't see many Gibson or Epiphone Thunderbird basses flying around rock stages, performing at music videos, or sitting quietly at home studios. THose places mostly belong to Fender and Squier.
Part of the reason is how these bases are eccentric. Their winged design is not for everyone and, yet, its looks seem to get everyone's attention.
But like everything else that doesn't follow standards, the Thunderbird basses are both superb and unpopular. And that's part of their mystique because the few people who have played one of them remarks how good they sound, feel, and look.
Additionally, both Gibson and Epiphone brands purposely build few Thunderbird models, and the few that reach online and physical stores sell as fast as a new Drake song reaching the radio. So, although this is not a limited series, it certainly feels like it is.
Being different has nothing wrong.

More on what to look for in bass guitars here.
Body & Design
It features the same iconic reverse body style that's sure to catch people's attention. It has an organic retro look and a really nice finish.
The design comes together with the white pickguard with the Thunderbird insignia and black knobs, It gives the bass an aggressive but elegant design.
Its unique shape is interesting and universally recognized as an icon of modern eras. Even its headstock looks like a spaceship compared to most bass guitars.
This bass has an alder solid body and a bolt-on hard maple neck. This combination enhances sustain and tone.
Mahogany is a medium-quality tonewood that offers a deep resonance and a balanced sound. It also gives the bass pronounced mid-tones, round bottom, and rich but compressed high ends.
The sound of mahogany-made basses also tends to have an organic bite and grind. Here's some more info on tonewoods.
It also has a "SlimTaperGao" profile neck with a 34'' long-scale length. Its rosewood fingerboard houses 20 medium nickel/silver jumbo frets. The SlimTaper neck profile feels smooth and comfortable, and there's no other neck with the same shape out there, which is part of the reason why this bass feels so unique when you play it.
In particular, rosewood fretboards give instruments warm and deep tones. Its EQ response tends to be pronounced on the mids and balanced on the lows and highs, much like alder.
The neck has a 12'' radius. It makes for a flat neck, and a flat neck increases individual string attack (bending, arpeggios, solos, walking, and overall bass playing. The nut width is 1.73'', which gives the bass great string spacing.
The hard-wearing bolt-on maple neck enhances sustain and tone, although it has less quality than a single-piece bass guitar or a glued-on neck.
Hardware
Everything comes alive with its popping Vintage Sunburst finish plus the dot inlays on the frets. And the cherry on top is its Premium die-cast machine heads offering extreme tuning precision.
The tuners' ratio is 17:1. It means you'd have to turn the tuner knob 18 times to make the strings go around a full revolution.
The best gear ratio is 18:1, so 17:1 is almost just as good as a premium guitar. The higher the ratio, the finer the tunning.
As for the bridge, we have a Gibson-designed hardware with 3 adjustable saddles.
Lastly, the knobs are painted in black with white or gold numbers.
Playability
The Epiphone Thunderbird Reverse plays like the mother of all Les Paul bases.
Its neck is wide enough to be comfortable regarding string-width. At the same time, it's slim enough to make it easy to navigate the full range of the fretboard.
Furthermore, it has a slick finish on the neck makes it smoother and softer on the fingers. Overall, the neck really enhances the playability of the Thunderbird bass.
Keep in mind the neck is thicker than a Jazz bass, and a bit wider than a Fender P's neck. If you're already used to those kinds of basses, maybe you won't feel too comfortable with this. Remember there are numerous basses out there that have copied Fender designs and measures.
That makes the Thunderbird a bit bulky and heavy, so it's only suited for adult players. It can be heavy for kids, small people, and women.
The advantages of the fretboard rely somewhere else, though: the overall effort you need to press a note results in a great balance between buzz-elimination and strength. That means it's easier to get clean notes from this instrument than with many other bass guitars.
The body weight is understandable for its size… It isn't too light as it has plenty of sustain because of its body mass. Nor is it too heavy to burden your shoulders after half-hour of playing.
The balance is leaned towards the neck, as most bases. You'd need a strong leather to hold your ground.
When I compare it to its Gibson counterpart, I can say the frets are not as polished as its Gibson counterpart. It just doesn't have the same level of finish.
Finally, people might dislike its hard-edged design which might feel awkward on your legs.

A powerful sound often comes from a powerful design.
Pickups & sound
The rock-solid sound of the Epiphone Thunderbird Reverse comes on 2 Epiphone humbucker pickups, 2 individual volume knobs, and 1 tone control knob.
These tapers are high-quality components. In particular, the bass features Epiphone Thunderbird TB Plus humbuckers which are versatile tapers for the bassist on the studio and the stage.
Its sound can go from "compressed," which is how I'd understand it, to a full growl bass guitar with deep and powerful lows.
The tone is always pristine, very clear on the low-end, round at the mids, and compressed at the highs.
I find the sound to the wonderful and, better yet, buzz-free and noiseless.
Besides, the variety of this sound covers plenty of ground regarding rock, rock pop, rock ballads, alternative rock, progressive rock, heavy metal, and other metal subgenres.
For example, you could dial a sound that's mellow and clear enough to play on acoustic setups with the mid-pickup toned-down. Or you could dial-up a growling sound by using both pickups…just be careful not to go overboard with your amp.
These pickups are very special and were designed by Gibson and made by Epiphone in Taiwan. Many people compare them to EMG pickups because of their high versatility, high output, and harsh tones.
You would have to be careful with the output of the bass, though. The sound tends to "red-out" the meters/recording meters when you crank the volume up, thus eclipsing the rest of the band.
What you need to do is choose your bass amp carefully for this bass has more power output and is harmonically richer than all mid-level basses and all entry-level basses out there.
Overall, the sound can be subtle as much as it can punch. It also goes very well with modulation effects like reverb, flanger, chorus, compression, and distortion/overdrive. Take a look here for the top 10 bass pedals if you want to further expand your bass gear.
Lastly, it's harmonically rich so the sound feels alive, as its breathing. It makes it very flexible, versatile, and organic.
Check the sound on this demo video…it has some "serious lows."
Quality & value
Generally, Epiphone guitars and basses need some prior tinkering and improvements to sound as you'd want them to sound. There're a couple of models, though (like the Epiphone Casino) that are in all but price premium instruments.
Such is the case with the Epiphone Thunderbird Reverse.
So, quality-wise, the finish is just about perfect for its price range. It looks great, feels great, and has no flaws anywhere.
The pickups and electronics are well above-par for instruments at this price range, even for Epiphone.  Its pickup system also brings a level of sonic power and versatility you would need to search in basses near and above the triple-zero price range.
The brand put special care on this item as they wanted to produce a bass that sounds just as good as its Gibson counterpart. Only the bolt-on neck, mahogany instead of alder, plus other finish and paint-job features separate this model from other pricy bass guitars.
The neck and bridge setup is just right, and they do their job at keeping intonation and improving playability. However, you might find its design as a downside if you have small hands or feel very comfortable on Fender/Squier basses and copycats.
Overall, this is one of the best basses I've seen, quality-wise, in any price range. Not even the Gibson Thunderbird is that much better than this.
Having said that, I think this bass is worth more than its actual price. I'd say it could sell by double. But because Epiphone makes affordable instruments, you can get a lot for your money.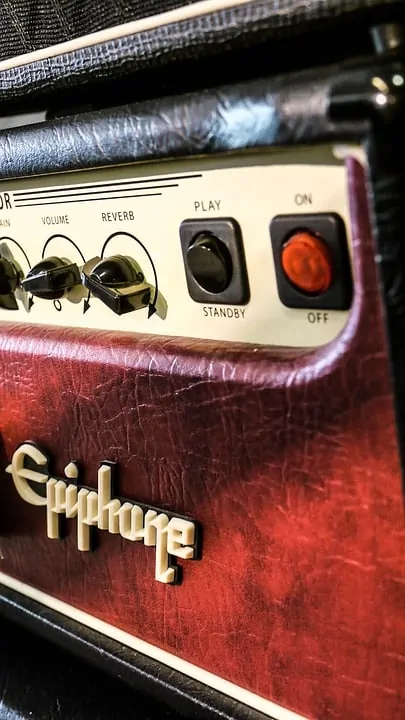 Epiphone is Gibson's subsidiary making affordable and entry-level Gibson-designed instruments.
Epiphone Thunderbird Reverse IV specs
Tonewoods: mahogany body, maple neck, and rosewood fret.
Neck: SlimTaper™ neck.
Scale:long-scale bass guitar (34'');
Fingerboard: 20 medium jumbo frets
Radius: 1.73'' nut radius & 12'' neck radius
Pickup configuration: Dual Epiphone TB Plus Humbuckers (HH)
Controls: Two individual volume control knobs & master tone knob.
Hardware: Premium die-cast tuners 17:1 ratio & steel-black knobs
Bridge: 3-point fully adjustable
Output: ¼'' mono, metal jack plate
Cons
At this price range, there's really not much you could complain about this bass.
If they were to offer a custom model, I'd want improvements on a couple of things:
The bolt-on neck does a disservice to the rest of the bass. It could be better with at least a glued-on neck.
The bridge needs a bit more mass to improve sustain even more.
The strap lock buttons need to be tighter and more reliable.
Two individual tone knobs would be an amazing feature. Or maybe a 3-way switch.
I also need to add this is a heavy bass. Only adult players with experience can tame this beast.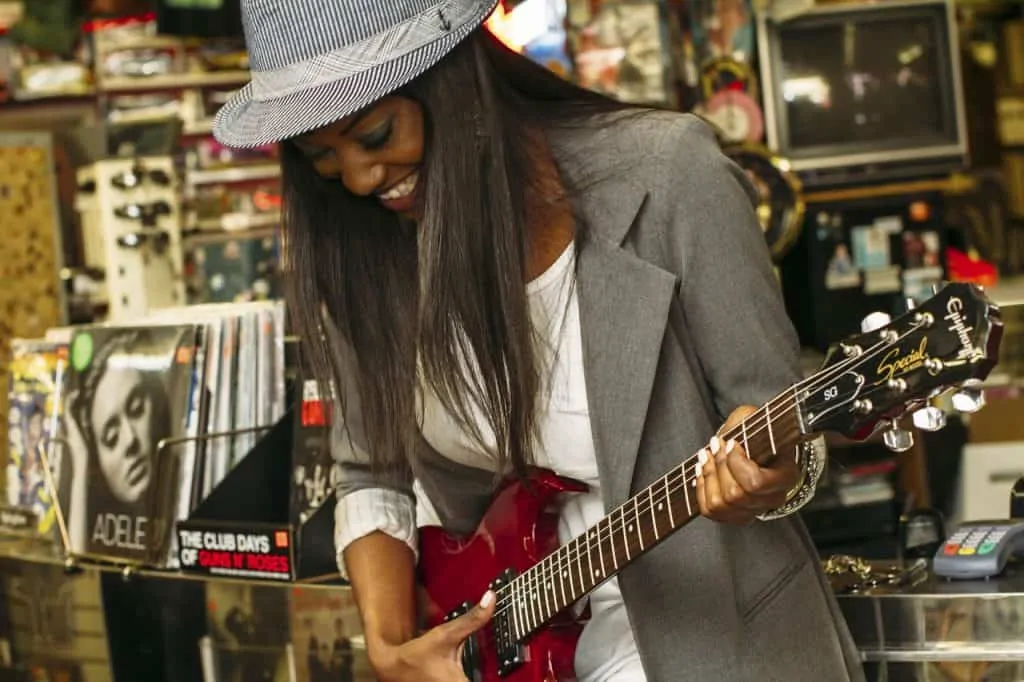 Long-scale bass guitars offer a deep sound and resonance. They are also heavier and bulkier than short-scale and medium-scale bass guitars. 
Alternatives
The premium alternative is the Epiphone Thunderbird Pro IV.
This version has enhanced dual-coils named Epiphone T-PRO Bass Humbucker pickups. They are wired to two individual control knobs and two individual tone knobs, which improves the versatility of the bass.
These new pickups have a custom active electronic and EQ circuit, which gives you even higher output, clarity, and tonal possibilities. The circuit is powered with a 9V battery accessible in the back of the body.
The body also has a major improvement. Instead of having a bolt-on neck, it has through-body 7 piece construction made of maple and walnut, plus a rosewood fretboard. It enhances sustain and tone.
You then add the black hardware, the black pickguard, and the silver Thunderbird logo to get a truly premium bass guitar.
The tuning machines are a downgrade, though, because the ratio is 14:1.
It's a good choice if you're looking to cover more ground and enjoy an overall better sound.
Overall, the Thunderbird Pro takes the best parts of the Thunderbird's classic design and adds modern improvements to create a versatile and powerful ax.
In summary
The Epiphone Thunderbird is a cool-looking bass, as that's not the last of its advantages. The sound is nothing but premium, and the versatility is impressive for rock and metal genres.
The weight is medium, although its body shape might tire your posture.
All in all, for its price tag, bass players can get a ton of value for what they pay. You would have to pay twice or three times the money to get something that's truly better than this instrument.
Grab a Thunderbird if you're looking for professional rock bass. If you can afford the Gibson model, then go get it, by all means. But buying the Epiphone version won't do you any kind of disservice.
If you're looking for a similarly affordable and versatile bass, check our review of the Squier Jaguar bass series, which are Squier's most versatile basses available.
For everything else, take a look at this list of affordable bass guitars.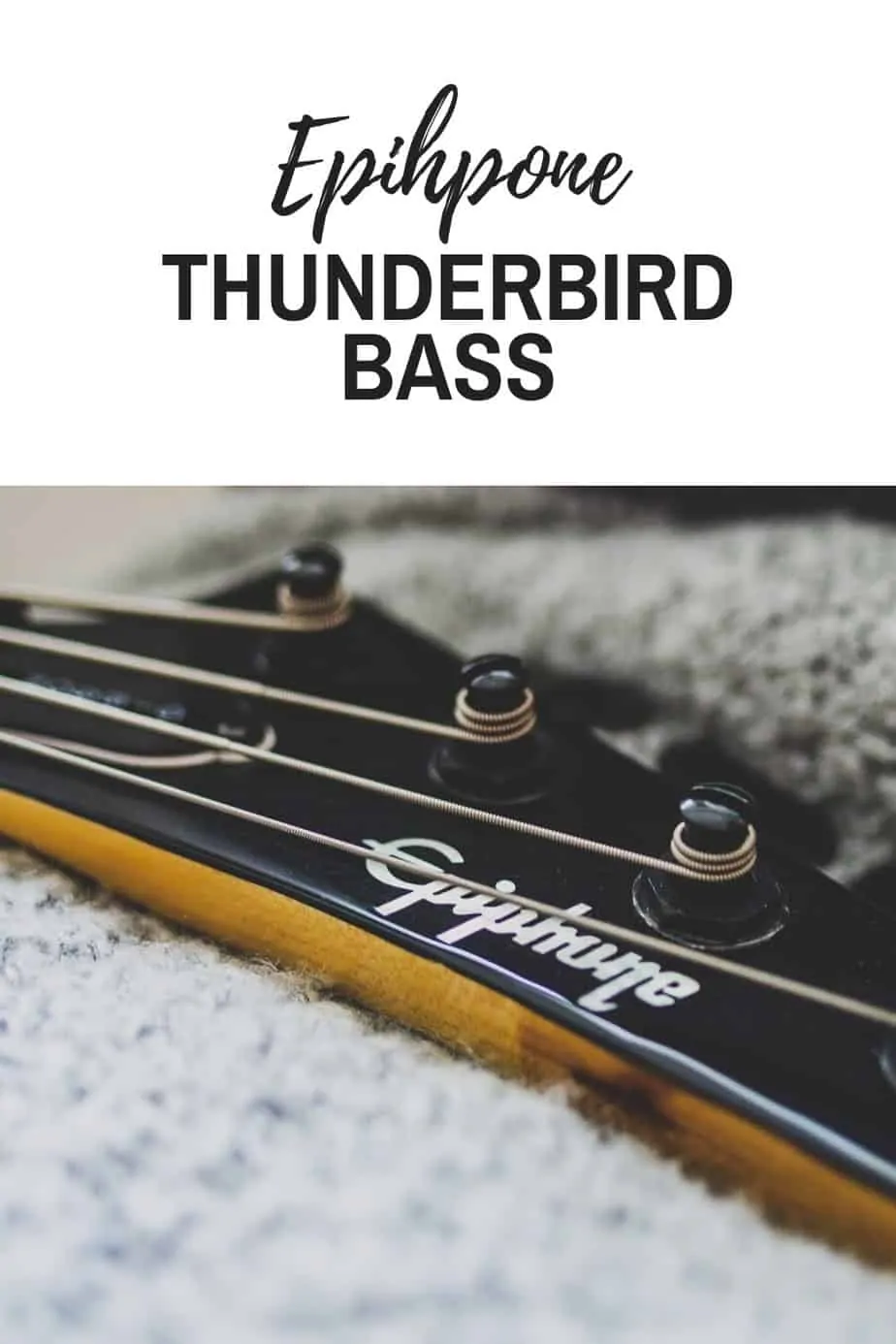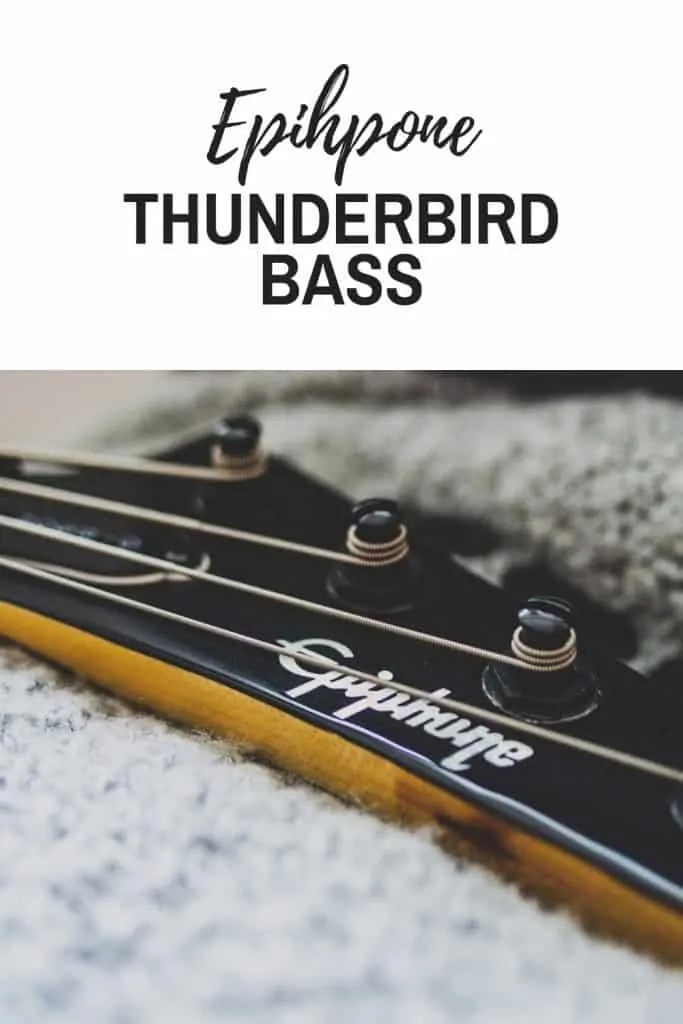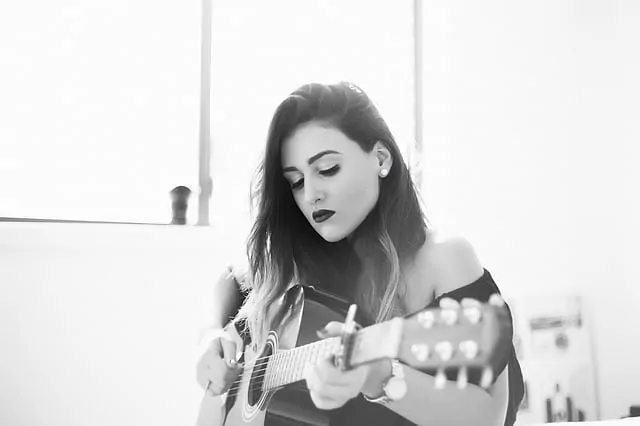 Jen is a guitarist and singer-songwriter who spends much of her time on the road and has lived in 13 cities across 4 continents. She picked up her first guitar at the age of 6 and learned to play by ear shortly after. She received her formal music education at the Berklee College of Music, and currently plays for a few bands in her free time. She has an uncanny ability to improvise creative melodies and harmonies. Her early influences include blues, jazz and rock.