As the first mainstream website for online lessons, Guitar Tricks has its share of bragging rights. 3 million+ users. 11000+ lessons. 1000+ songs. 33 instructors. All wrapped up in one platform.
But it's not 1998 anymore and there's lots of newer sites to choose from. So, what sets Guitar Tricks apart?
Let's take a closer look to find out.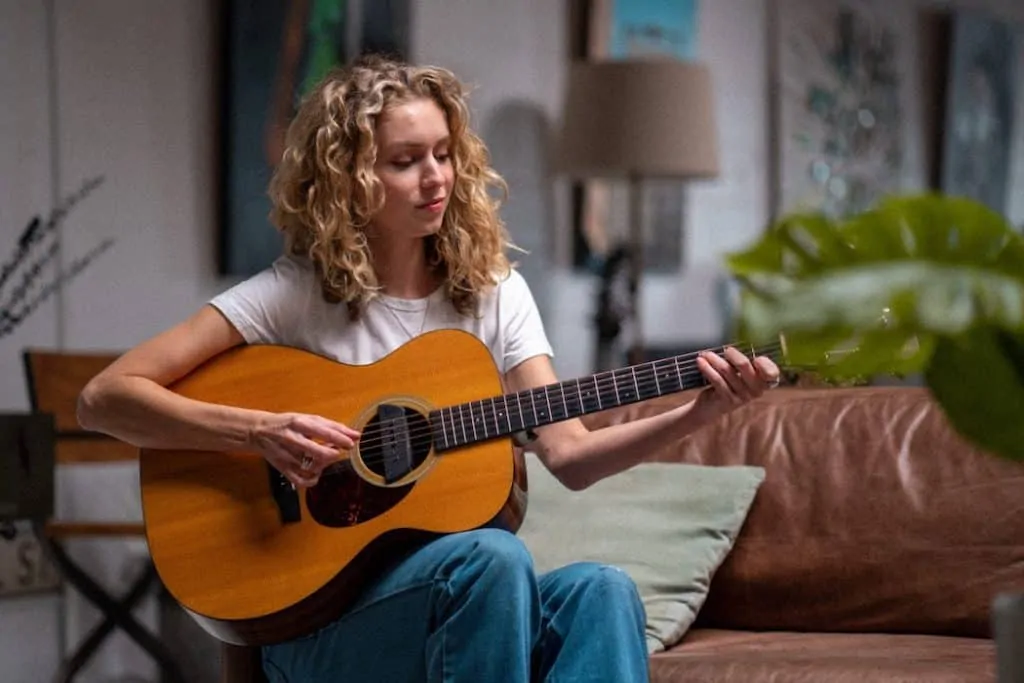 Guitar Tricks is still one of the most popular options for beginners and advanced players alike.
Getting started
After signing up for full access membership and filling out a quick survey, you can start exploring the Guitar Tricks website. It's easy to navigate, with tabs along the top and left of the screen, and grids and lists in the centre. The design is bright and image-driven, but not too overwhelming.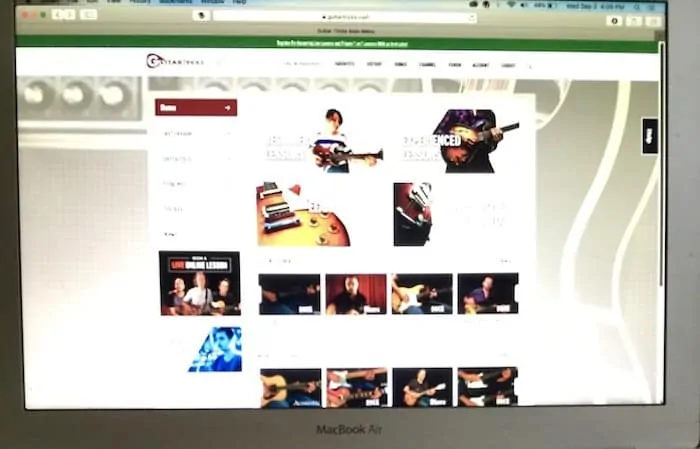 The home page of the Guitar Tricks website.
If you prefer dark mode, you can download the iOS or Android app. It doesn't include all the web features, but offers the same lessons.
The home page of the website has four main sections:
You can start wherever you like. But because the songs and styles are geared toward intermediate/advanced players, I'd recommend starting with the beginner lessons if you haven't mastered your barre chords and major/minor scales.
The beginner and experienced lessons belong to Guitar Tricks' Core Learning System. They're structured as two Guitar Fundamentals courses for beginners/improvers and eight style courses for intermediates. Depending how often you play, you can finish a course in 1-8 weeks.
The other tutorials are loosely organized by category, giving you the flexibility to explore whichever ones you like.
Layout and controls
If you choose a Core course, you'll be directed to a page with an intro video, list of chapters and links to the tutorials in each chapter. You can also read short descriptions including the instructor, style (if applicable), number of lessons and overall difficulty level from 1-5 picks.
Otherwise, you can choose from a list of song, style or skill tutorials and dive straight in.
Each lesson features a high-quality video with multiple camera angles on the instructor's face and hands. Some videos also include a tab or scale chart.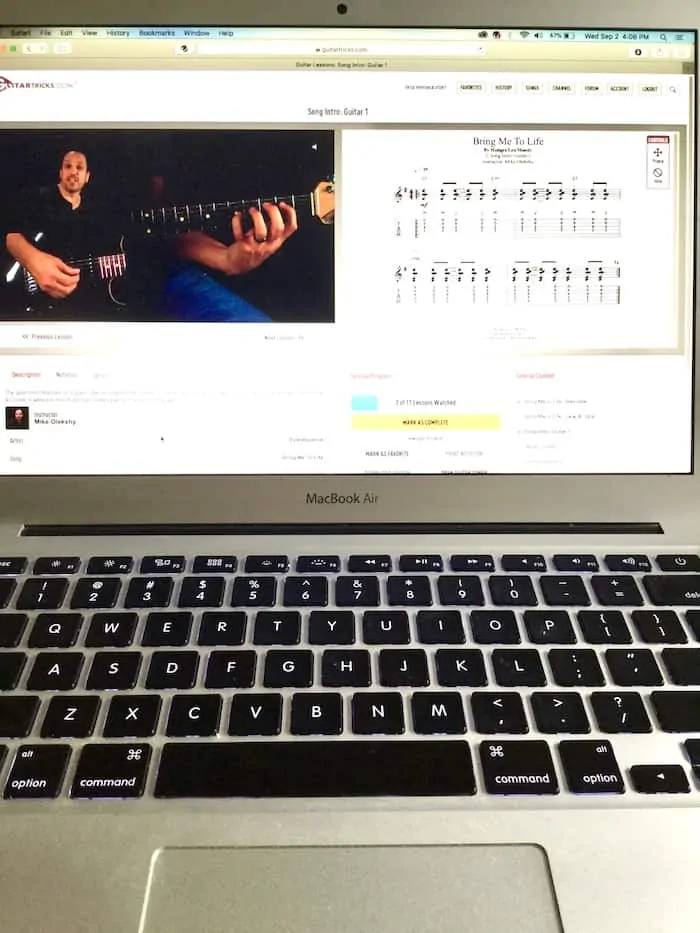 The default Guitar Tricks lesson layout.
Videos tend to be short, lasting 5-10 minutes. Yet, some of the song and artist studies lessons are 15 minutes or longer. Despite the professional videography, the videos also have a laid-back feel and instructors' mistakes are unedited.
Aside from your basic YouTube-type controls, including speed adjustments from .5-2.0x, you can also set a loop by drag points A and B to your desired start and end times.
In the box below the video, you can choose between several views, depending on the lesson:
Description: summaries varying in length and detail. They also have the same information from the course page, but with guitars instead of picks for difficulty levels.
Notation: musical notation and tablature that you can also pop up as a separate window.
Images: chord charts.
Lyrics: sometimes includes chord changes.
JamTrack: the drum and bass backing track for songs and exercises.

You can follow Guitar Tricks lessons with the notation or the tab.
Many lessons also have a second tab beside the video. In some lessons, it includes AutoScroll, making it even easier to play alongside the instructor.
Below this tab is a section called Tutorial Progress. This is where you can see how many lessons you've watched in the tutorial. You can also add lessons to your favorites, print (or download) the notation/tab PDF, download videos, open the tuner or revert to the old lesson layout (without the second tab and with the lower boxes shifted to the right column).
Lesson contents
Whether you're a beginner who wants to master the fretboard, a confident rhythm guitarist who wants to brush up on your soloing or an experienced shredder who wants to learn a new style, Guitar Tricks offers a diversity of lessons to improve your skills.
Core Learning System
Guitar Fundamentals 1 (GF1) is the crash course for absolute beginners.You'll learn basic techniques, like how to fret major and minor chords, play simple melodies (like Ode to Joy) and strum 4/4 and 3/4 rhythms.

The concepts in GF1 apply equally to electric guitars, even though the instructor uses an acoustic.
All of the Fundamentals courses are taught by Lisa McCormick, an upbeat singer-songwriter. She breaks down each topic into short, straightforward sections and ends each tutorial with an "Essential Takeaways" lesson to summarize what you've learned.
Especially in later lessons, where the difficulty level rises to 2 guitars, there's a stronger balance between learning techniques and practicing them through Lisa's original songs. Still, if you want to learn basic music theory, you'll have to skip ahead to GF2.
Guitar Fundamentals 2 builds off the skills you learned in GF1, raising the difficulty from 2 to 3 picks. Lisa introduces power and barre chords, seventh and suspended chords, major and minor scales, musical notation and "chord alchemy" – how to combine different notes to make chords. The theory isn't super in-depth, but it's enough to help you experiment with different chord voicings and turn scales into melodies.
The structure of GF2 is the same as GF1. There's also fun activities, like a power chord spelling bee, where you can use your knowledge of the low E- and A-string power chords to spell words like BAG and FACE.
Next up are the Level 1 and 2 Style Courses in Rock, Acoustic, Blues and Country. The first few Level 1 lessons are like GF2, but tailored to specific genres. For example you'll learn how to adapt open chords for rock riffs or modify I, IV, V chord progressions in country songs. Then, it's onto more style-specific lessons, like mastering the 12-bar blues, picking country tic-toc arpeggios, palm muting rock pentatonics and using embellished "campfire chords."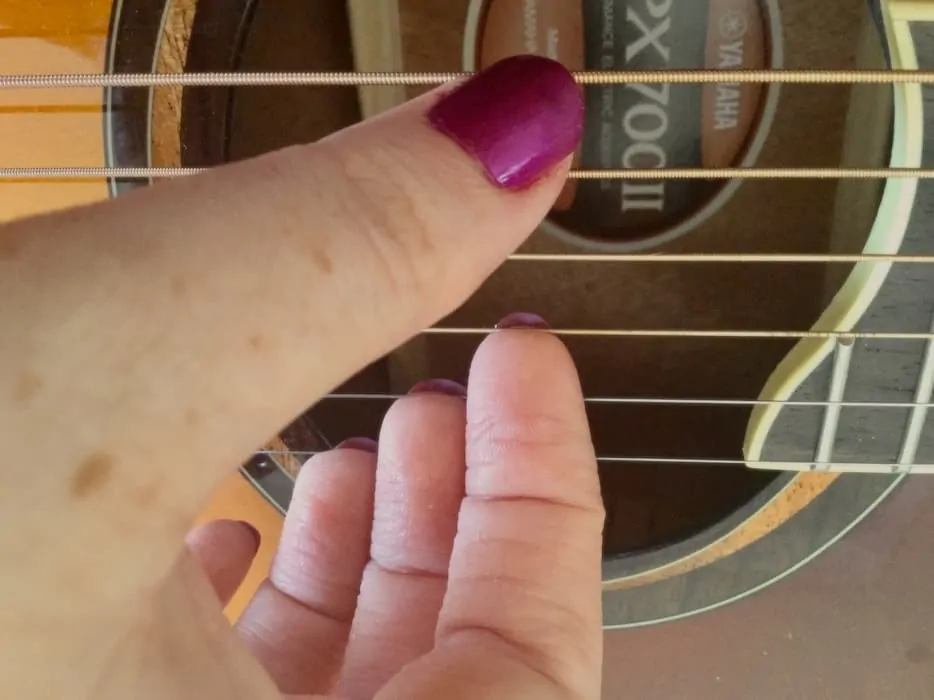 By the end of the Acoustic course, you'll master intermediate fingerpicking patterns.
Each of these courses incorporates rhythm parts, introduces lead techniques, discusses variations across regions and decades, and suggests style-specific gear and tones.

Some style courses end with a chapter on gear and tone. Others incorporate them at the start of each tutorial. 
Level 2 builds off Level 1 by introducing more advanced rhythm and lead techniques and style variations. For example, you'll learn how to apply mambo and reggae rhythms to the blues, add triads and intervals to your country solos, layer different arrangements in a rock song and use open tunings for acoustic slide guitar.
All of these courses, except for the Blues 1 Gear and Tone tutorial, are taught by Anders Mouridsen – a guitarist who's worked with Taylor Swift, Pink and John Fogerty. He goes a bit faster than Lisa, especially in Level 2, but still breaks things down so they're easy to follow. He teaches lots of riffs, licks and practice songs to put techniques to use, referencing famous guitarists who do the same. And instead of starting slow and working up to speed, he starts at normal speed then guides you to repeat sections more slowly each time. It's an unusual teaching method, but I find it effective.
I also found the difficulty of each style comparable across the Levels. Yet, for some reason, most rock and country lessons are rated as 2 guitars instead of 3 at Level 1 and 3 instead of 4 at Level 2.
Styles
Interested in learning a new genre? Why not try one of these 12 options?
Acoustic
Bluegrass
Blues
Classical
Country
Funk and Soul
Jazz
Metal
Rock
Rockabilly
Surf
World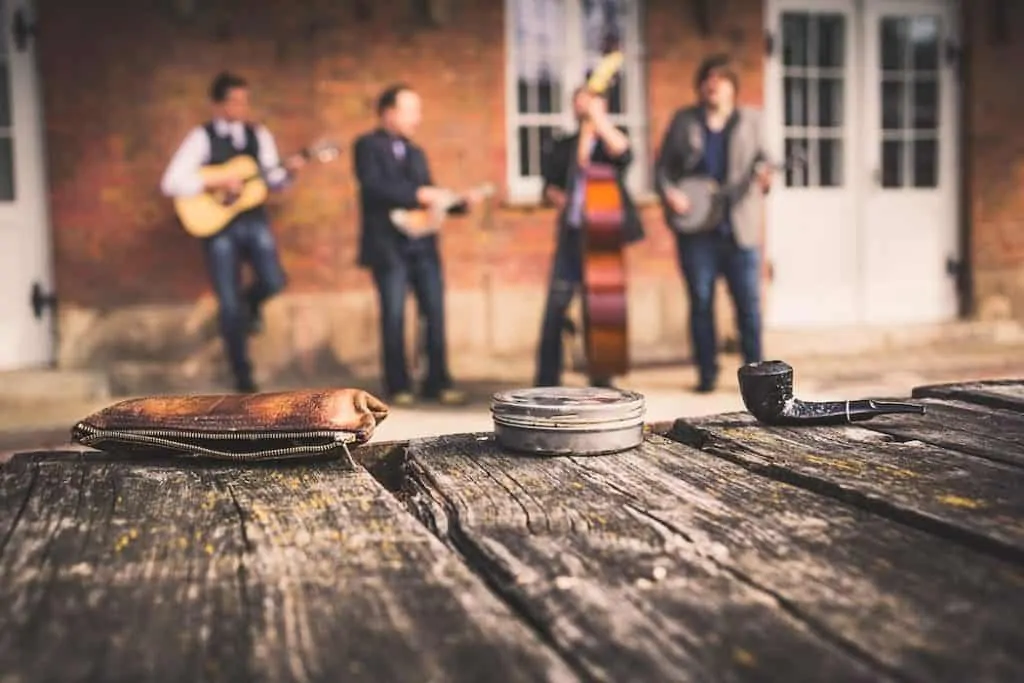 Bluegrass is one popular style you can explore on Guitar Tricks.
The lessons tend to go fast, even though they range from 1 to 5 picks. Still, if you've mastered a Level 1 Core course, you can apply many of the techniques you've already learned, like major 7th chords to jazz,12-bar blues to rockabilly and fingerpicking patterns to Celtic songs (World). There's also lots of new techniques to learn, especially for classical guitar.
Acoustic, Blues, Country and Rock go deeper into Core Learning Systems topics like scales, chord progressions, fingerpicking and soloing. They introduce artist studies along with new techniques, like sweep picking, tapping and pre-bending strings. They even include lessons on subgenres like punk, soulful R&B and ragtime fingerstyle.
Songs
With new songs added every week, the Guitar Tricks catalogue can seem overwhelming. But you can easily filter the list by artist, title, popularity style and difficulty (absolute beginner to advanced). You can also search famous rock and acoustic riffs or explore collections, like "Modern Metal," "Leading Ladies" and "Songs About Heartbreak."
Each lesson starts with an introduction, discussing the key, tempo, effects, and dynamics of the song. The instructor then breaks it down into intros/outros, verses, choruses, bridges, solos and second/third guitar parts. Some instructors include extra lessons on strumming patterns or extra licks and riffs. Finally, they end the tutorial with a performance lesson, where you play alongside the instructor, and a jam along lesson, where you play with only the backup band and vocals.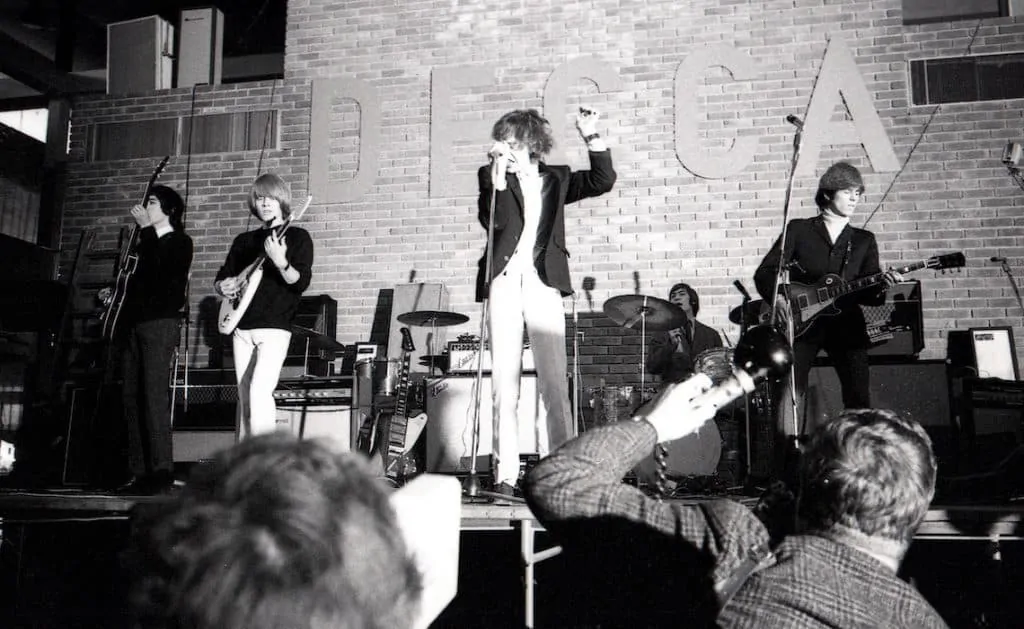 The Rolling Stones are one of the most popular featured artists.
Even if you've just finished the Fundamental courses, there's a good selection of one- and two-pick songs, ranging from Baroque instrumentals to modern hits. There's also a section called Songs Made Easy, where you can play simplified strumming patterns and chord voicings for intermediate/advanced songs like "Imagine" by John Lennon, "T-Bone Shuffle" by T-Bone Walker and "Stay" by Rihanna. However, some of these songs are still difficult for beginners to master.
Other lessons
Aside from the Core Learning System and Songs Made Easy, the Beginner section has Practice for Beginners tutorials, with exercises and practice tips to strengthen your skills, and Tuning and Maintenance tutorials to teach you how to change and tune your strings.
There are also some beginner-friendly skills tutorials in the Experienced section, including:
Techniques: alternate picking, bends, harmonics, slapping, vibrato, and more.
Artist Studies: how to sound like BB King, Wes Montgomery, David Gilmour, Eddie Van Halen, Jack Johnson and other famous guitarists, through licks, riffs and technique exercises.
Practice: warm-up exercises, focusing on fingerpicking, building speed and using scales. Some are style-specific.
Chords and Scales: general and style-specific scales, chords and arpeggios.
Gear and Tone: general and style-specific topics like tuning your guitar, creating a pedal chain and choosing the right guitars, amps and effects for your setup. A lot of this material is recycled from the Core Learning System.
<iframe width="560″ height="315″ src="https://www.youtube.com/embed/uXr_J_os81A" frameborder="0″ allow="accelerometer; autoplay; encrypted-media; gyroscope; picture-in-picture" allowfullscreen></iframe>
Although this Mark Knopfler-inspired lesson is one of the older YouTube channel videos, it still captures the easygoing, helpful vibe of the website/app's Artist Studies.
Additional features
With so many cool tutorials, it's easy to forget about the other Guitar Tricks features. But it's useful to investigate the areas of the website where you can organize your favorite lessons, double-check your chord voicings and connect with other guitarists.
Tracking your lessons
To see your most recently viewed lessons, you can either jump directly to your Last Lesson, browse a chronological list in the History tab or see them organized by course/category under the Progress tab.
You can also use the Favorites tab to browse your favorite lessons and order them in a list.
Exploring tools
The Toolbox is another section that's worth checking out. It includes the following:
Scale Finder: shows five different fretboard patterns for 20 different scales.
Jam Station: contains backing tracks from the lessons. You can select favorites and also jam along to the tab underneath.
Metronome: allows you to change the bpm, beats per measure and sound of each beat and/or accent.
Chord Finder: shows variations of different chords on the fretboard, highlighting root notes.
Reference Tuner: includes Standard Tuning, DADGAD, Open C, Drop D, Open G and Open D. Or, you can manually change the note on each string for custom tunings.
Fretboard Trainer: quizzes you about your knowledge of notes on the fretboard. Once you've completed 20 questions, you can compare your score to the leaderboard.
Chord Charts: like the chord finder, it shows you variations of different chords, including open chords and barre chords.
Guitar Tab Guide: features a video and short article about how to read tabs.
Guitar Glossary: contains an alphabetical list of relevant terms and their definitions, from "a capella" to "whammy bar". You can also explore lessons associated with the terms.
Fretboard Diagram: shows all the notes from the 1st to 12th fret in a printable PDF.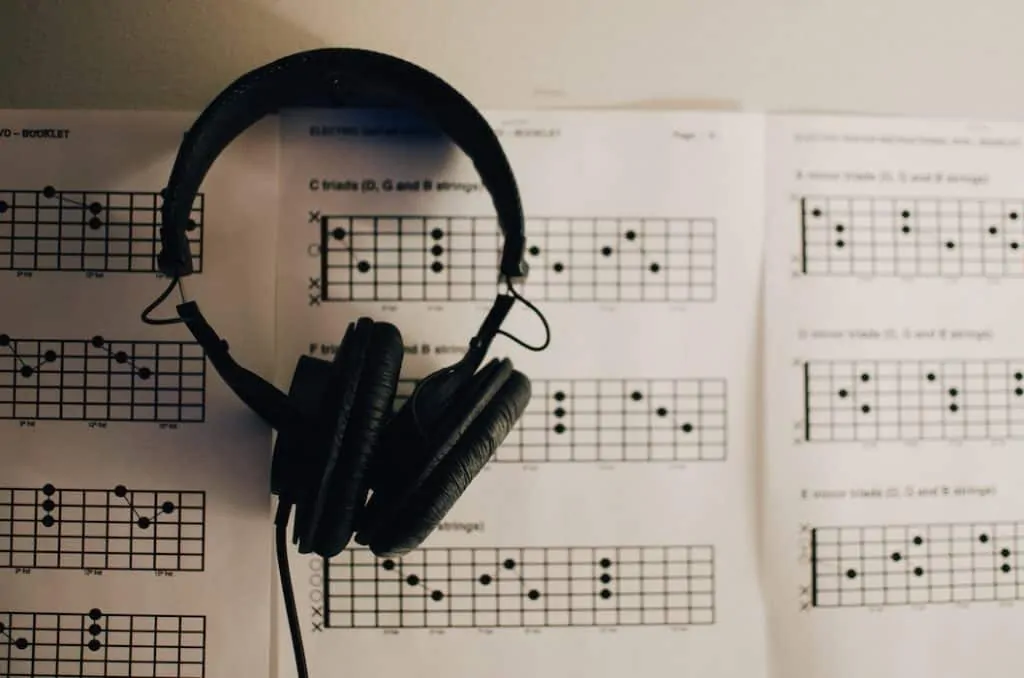 The Fretboard Trainer and Fretboard Diagram are great tools to help you memorize notes.
Reading articles
Under the News tab, you'll find the Guitar Tricks Blog. It's updated regularly with important announcements, band studies, gear reviews, how-to articles and music theory guides. It also features quizzes from 2017-2018.
Connecting with the community
Guitar Tricks has both a public and private forum.
Even without a full access membership, the public forum is worth bookmarking. It has open discussions on topics like guitar basics, music theory, songwriting, recording, favorite bands, and more. My favorite is the Listening Post, where you can link to an audio or video file of you performing a song or exercise and get feedback.
With the full access forum, you can ask instructors and other users questions about the lessons and request songs.
Browsing social media
To explore the Guitar Tricks YouTube channel, you can select the Channel tab on the website. It includes topics like playing unusual chords, using a looper and jamming by ear.
<iframe width="560″ height="315″ src="https://www.youtube.com/embed/JMHhOd4fGsA" frameborder="0″ allow="accelerometer; autoplay; encrypted-media; gyroscope; picture-in-picture" allowfullscreen></iframe>
This video, covering strumming for beginners, is one of the many videos you can find on the Guitar Tricks channel.
Off the website, Guitar Tricks also has a Twitter account, with links to new blog posts, and a Facebook page with weekly live sessions and Q&As. Even if you miss the time slot, you can still watch the published video to learn about ear training, the CAGED system, and more.
Free features
If you don't want to buy a full access membership, you can always sign up for an unlimited free trial on the website. Or, you can download the app and start exploring.
For the Guitar Tricks free trial, you don't need to enter your credit card details – just your email address.
Website freebies include the first tutorial in each Core course and 33 additional free lessons. These lessons range from high-beginner to advanced topics, like playing "Amazing Grace," using a delay pedal or learning the basics of surf rock. You can also learn about The History of Blues and access the blog and toolbox – except for the Chord Finder, Metronome and complete Jam Station library.
Through the Guitar Tricks app, you can access even more tutorials, testing out the first lesson(s) in almost every style. You can also enjoy a free technique lesson (Alternate Picking), song (Sweet Home Alabama Made Easy), Artist Series (AC/DC) and weekly free lesson (although this is usually a duplicate of another free lesson).
Upgraded features
For an extra price, you can book a 1-on-1 lesson with one of four instructors. These lessons last 30-60 minutes and can either be one-off or recurring.
Pros and cons
Overall, Guitar Tricks is a solid platform. The Core Learning System has a structured, go-at-your-own-pace curriculum, while the intermediate/advanced tutorials give you the freedom to explore different styles, songs and skills.
If you're interested in technique, there's a diversity of tutorials to choose from. Like the rest of Guitar Trick though, they're light on music theory, giving you just enough to understand what you're playing and apply it to different songs and styles.
There's a decent variety of styles, though some are more extensive than others. For example, the World section only has three Celtic tutorials and one Ska tutorial. Other popular styles like flamenco or contemporary R&B aren't available.
The Artist Studies are a bit more diverse, representing musicians from different eras and genres. They're a great way to enhance your playing by learning from the pros.
To me, the song tutorials are the best part of Guitar Tricks. The instructors work hard to capture the exact feel of the recording and break down each song into easy-to-follow sections.  Plus, the Jam Along makes it feel like you're actually performing with a band.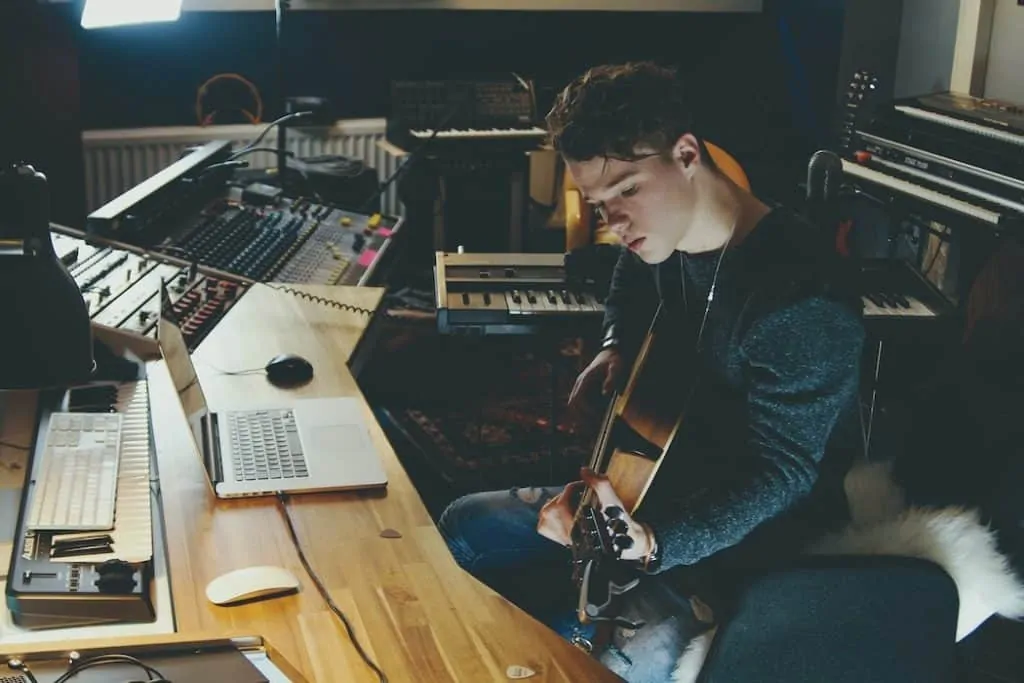 The professional sounding JamTracks might make you feel like you're in a recording studio. 
The most extensive song styles are rock and acoustic. This makes sense, as they're probably the genres most guitarists want to play. There's also a good selection of blues, country and metal, but not as much for funk/soul, pop or jazz especially.
Some artists also have a wide selection of songs. If you're a fan of Bob Dylan, Johnny Cash, The Who, AC/DC, Pearl Jam, Kings of Leon or Jason Aldean, you won't be disappointed. Other popular artists, like Pink Floyd, Metallica and Ed Sheeran are underrepresented, while some like Green Day, Foo Fighters and Brad Paisley are non-existent.
Though you won't learn famous modern songs in the Core Learning System, Lisa and Anders's original riffs, licks and songs have similar vibes as famous acoustic, rock, blues and country songs. This makes it more interesting than endlessly repeating technique exercises with nothing but a metronome.
I also love that many of the Core tutorials have whimsical names, like "Look Mom, Two Hands!" and "Fingerpicking: Poor Man's Piano." They're fun details that match Guitar Tricks' easygoing tone.
Lisa and Anders are the only teachers in the Core Learning System. This is different from other online lesson sites, where you have multiple instructors teaching key lessons. If you don't like their teaching methods, this could be a problem. But if you're an experienced player, you can choose from a variety of instructors to learn styles and songs.
Like JamPlay, Guitar Tricks features some well-known instructors, like Lawrence Katz (guitarist for The Mighty Mighty Bosstones) and Sharon Aguilar (former touring guitarist for Cee Lo Green). Yet, as you can see from their bios, all 33 teachers are highly qualified musicians.
Aside from the lessons and Jam Station, the forums are another excellent feature on Guitar Tricks. You can tell that there's a strong community feel, not only with other members but with the instructors as well.
Finally, the Guitar Tricks website has a user-friendly layout with high-quality videos and helpful tools, like the pop-up tab. However, the videos are automatically muted on the website – which doesn't make sense, because there are no subtitles. Another drawback is that Autoscroll can be glitchy at times. Some Mac Firefox users have also had issues with the Jam Station controls.
By far, the worst aspect of Guitar Tricks is the Android app. Every time you pop up the notation/tab PDF, you have to restart the tutorial, making it impossible to play alongside the instructor. When I tried the iOS app on my iPad, however, the tab function worked perfectly.
Luckily, Guitar Tricks offers a 60-day money back guarantee if you don't learn anything on the website/app. You can also cancel your full access membership at any time within two weeks for a full refund.
Final thoughts
After exploring the many features on Guitar Tricks, I'm not surprised that it continues to rate highly with guitar students.
I would recommend it to guitarists of any level who want to advance their skills, learn songs and experiment with different styles. It's not cheap, especially compared to JustinGuitar and Fender Play. But Guitar Tricks' huge catalogue of lessons makes it worth the extra money.
I wouldn't recommend Guitar Tricks if you plan on using an Android, if you want to dive deep into music theory or if you want to learn niche genres like flamenco.
Still, it's no small feat to remain at the top of the game for 22 years. As a true oldie, but goodie, Guitar Tricks offers exactly what it promises – "easy, fast and fun" lessons for guitarists of all levels.
To save 20% on your first month of Guitar Tricks, use the code Save20.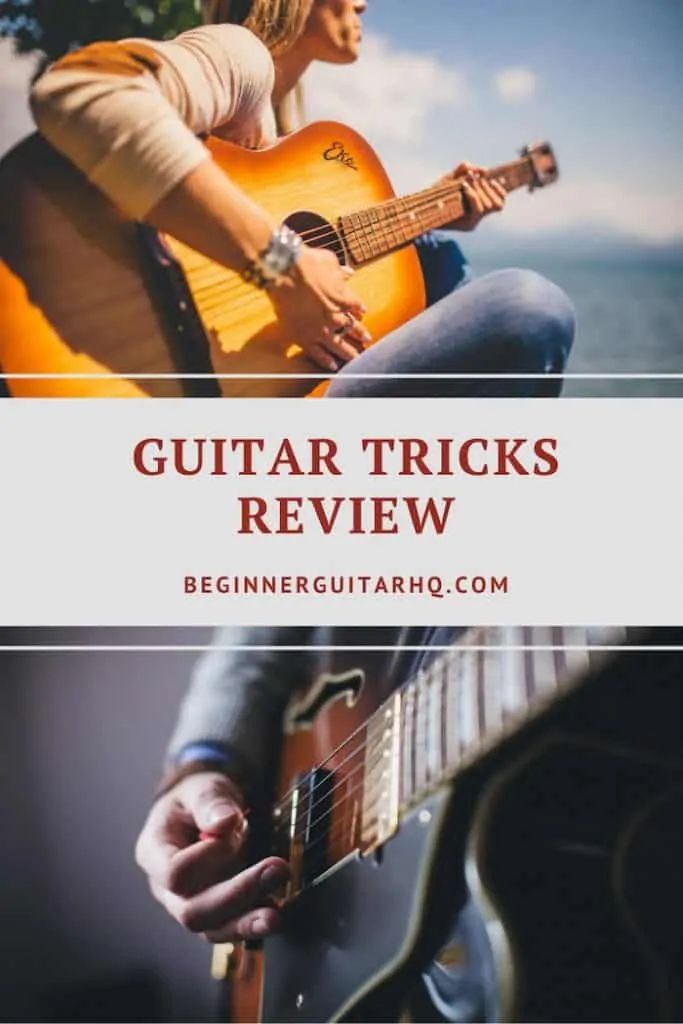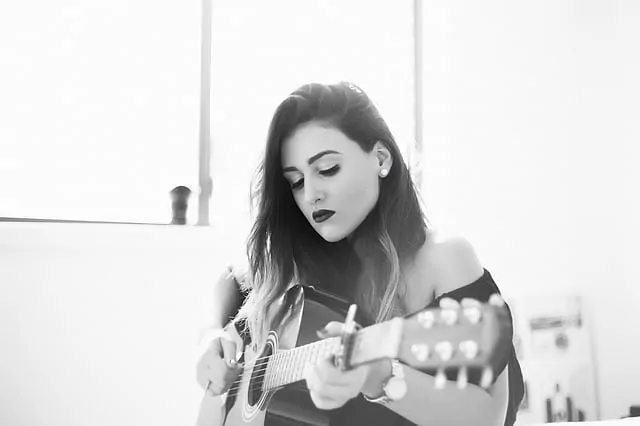 Jen is a guitarist and singer-songwriter who spends much of her time on the road and has lived in 13 cities across 4 continents. She picked up her first guitar at the age of 6 and learned to play by ear shortly after. She received her formal music education at the Berklee College of Music, and currently plays for a few bands in her free time. She has an uncanny ability to improvise creative melodies and harmonies. Her early influences include blues, jazz and rock.