When it comes to online guitar lessons, it's hard to beat TrueFire in numbers alone.
Launched in 1991 as an audio series, TrueFire is now a website with 40,000+ video lessons, 900+ courses and 600+ educators – including famous musicians like Steve Vai, Tommy Emmanuel, Andy Timmons and Robben Ford.

With 500,000+ students across 200 countries, TrueFire is one of the most popular choices for online guitar lessons.
It's definitely earned its title as the "largest and most comprehensive selection of online guitar instruction." But bigger doesn't always mean better. So, how does TrueFire hold up compared to other platforms?
Getting Started
When you visit the website, you'll find a selection of new and popular courses, member reviews and information about contests and giveaways.

The website has a busy, visual-driven design with a white background and purple accents.
But the real magic happens under the Courses tab. Here, you can browse the entire catalogue and watch intro videos for free. You can also download 6000+ free courses without a membership. However, most of them cover intermediate/advanced topics like funk rhythms, tactical improvisation and soloing.
No matter your skill level, the best way to start exploring is to sign up for an all-access 30-day free trial. You don't even need to enter your credit card – just your email address.
Once you pick a username, TrueFire asks a few questions about your playing history, favorite genres/styles and general learning goals. Then, you can choose one (or more) learning paths:
If you'd rather learn on your phone or tablet, you can also download the TrueFire app. It has the same courses, along with some handy tools.

The Android app (pictured) has basically the same layout as the website, but with a dark border. The iOS app offers full dark mode.
There's also a desktop app for Windows, Mac and Linux. This includes all TrueFire courses, plus the In the Jam feature (which I'll talk about later).
Layout
When you select a course, you can watch the intro video and find out more information about it, such as the:
Number of lessons, tabs, charts and jam tracks
Runtime
Release date
Skill level
Style tags
Curriculum tags
Reviews
Ratings (1-5 stars)
It also shows the cost if you want to buy the download. To stream for free, just click the "Play" button in the top-right corner.
Almost all of the videos are shot on a neutral white background. This places the educator and their guitar front and centre – especially with closeup shots of their left and right hands. Aside from the occasional title card or pop-up tablature (older videos only), there aren't any fancy graphics. And while the quality is a bit grainy in some older lessons, newer videos are all shot in HD.
Many videos feature unedited mistakes, giving the lessons a down-to-earth feel. Others feel more scripted and professional. Many lessons are also less than 10 minutes. But especially at the late intermediate-advanced levels, you can find videos lasting 20 minutes or longer.

A typical TrueFire lesson.
In classic view, TrueFire videos have your basic YouTube-type controls, along with a loop and speed adjustments of 0.5, 1.0 or 1.5x. Tab sync view is more complex. It has speed adjustments from 25-200%, audio waveforms and a display of time signatures. For playalong videos, you can also watch the chords pulsing in time to the metronome on a guitar fretboard or piano keyboard.
Both views allow you to favorite a lesson, add it to a playlist and mark it as complete, incomplete or in progress.
Below the video controls, you'll find three view options:
Lesson Materials: chord charts, tabs and notations. You can download these as a PDF or GPX file (compatible with Guitar Pro 7). Some playalong lessons also have Autoscroll tabs.
Description: short or in-depth information about the topics covered. Sometimes, you can find chord and scale charts here.
Recommendations: other courses covering similar styles and topics.
On the left side of the screen, you can scroll between different lessons. It also shows the running time, progress and type of lesson (overview, demonstration, playalong, performance, breakdown, etc.). On top of this box is a gear sign where you can adjust settings like autoplay, video quality and your default view. Below it you can find the discussion section and information about the educator.
Finally, you can use the chatbox at the bottom right of your screen for any questions or comments.
Courses
TrueFire organizes their guitar courses into five skill levels:
Beginner: for new players, who want to master new chords, strumming patterns, songs and licks.
Late Beginner: for players who know a few open chords, scales and simple songs. They want to learn more songs, chords, scales and licks.
Intermediate: for players who know a lot of songs and can jam with others. They want to learn how to solo over anything.
Late Intermediate: for players who can solo over any chord progression. They want to advance to a pro level.
Advanced: for players who can solo in any style. They want to improve their technique and expand their improv skills.
You can find courses at all these levels by following a learning path. Or you can browse more style, topic and series lessons through the Courses tab.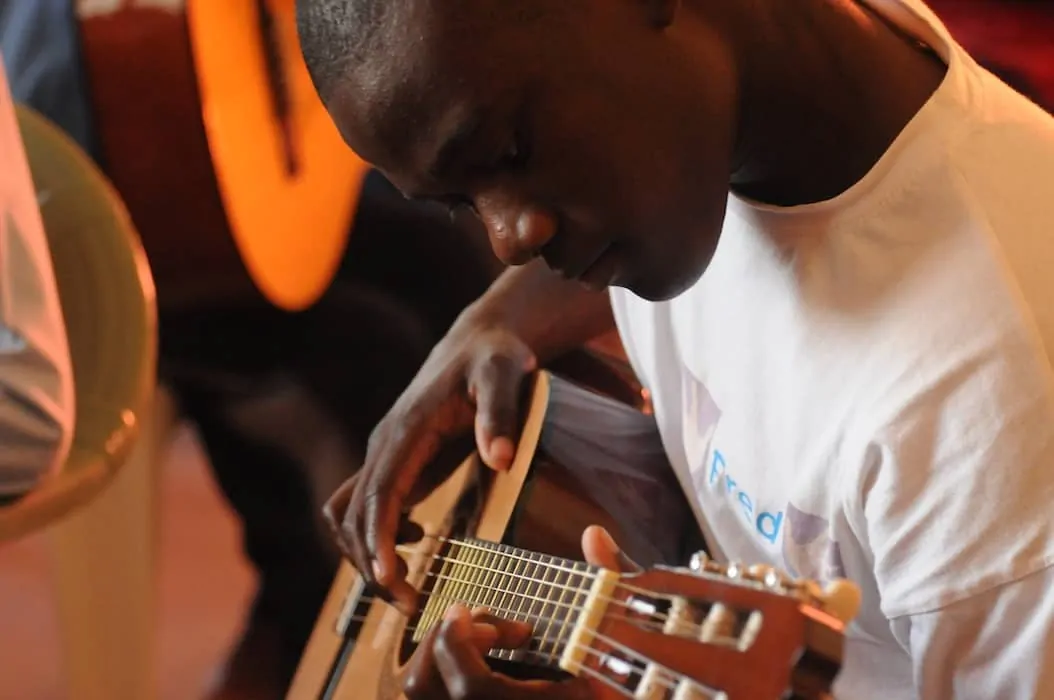 There's lots of TrueFire courses dedicated to acoustic guitar, electric guitar or both. You can even find some covering different styles of classical guitar.
TrueFire prides themselves on skipping "boring exercises" and "tedious theory." So no matter where you choose to begin, you can expect to dive straight into licks and songs covering rhythm and/or lead guitar skills.
Learning paths
All five guitar learning paths follow the same structure, beginning with courses for brand new players.
Taught by TrueFire director Jeff Scheetz, Learn Guitar 1 and 2 cover the basics, like how to tune your guitar and play simple progressions and scales. After you learn each concept, you can apply it to an original song inspired by classics like "Wild Thing" by The Troggs and "Knockin' on Heavens Door" by Bob Dylan. You'll start by practicing alongside Jeff (demonstration), then playing with a backing band at slow, medium and fast speeds (playalongs).
Playalong lessons can make you feel like you're actually in the studio with a backing band.
If you're not an absolute beginner, Truefire recommends that you browse all the core courses in your path and mark the topics you already know as "complete." This way, you can start with brand new material.
The first three genre-specific courses are for late beginners to intermediates. They build off the Learn Guitar courses, introducing new chords, scales, rhythms, techniques and songs. For example, in Play Jazz Guitar 1, you'll learn to strum 7th and 9th chords to swing and Bossa Nova rhythms. Acoustic Guitar 2 introduces Drop D tuning and the 12-bar blues, while Rock Guitar 3 covers minor pentatonic scale positions, arpeggios and tapping.
These courses are taught by a handful of expert educators. They go through each topic at a clear, steady pace. Yet, I find the Jazz and Acoustic courses a bit more advanced than the others.
The intermediate, late intermediate and advanced levels include courses dedicated to rhythm, licks, soloing, style variations and (in the Acoustic path) fingerstyle etudes. These courses are split into sections – often beginning with essential concepts and ending with performance studies. Performance studies will help you put the concepts to use, like distinguishing Texas Blues from Chicago Blues, playing bluegrass-style rolls or improvising your own licks from different scales.

From Levels 4 to 10, you'll learn how to use scales like this to create memorable riffs and licks 
Country has the least amount of intermediate-advanced courses while Acoustic has the most. However, many Acoustic educators incorporate country, blues, jazz and rock principles into their lessons.
All intermediate+ lessons are taken from other Truefire courses. Because of this, the organization can be clunky, with some lessons out of sequence. There also aren't any playalongs – just performances and quick breakdowns. This is because educators are more interested in helping you adapt concepts to your own style instead of memorizing riffs or licks.
Aside from the core courses, you can also browse supplementary courses on each learning path. They don't count toward your overall progress, but they're a great way to learn more about different core topics.
<iframe width="560″ height="315″ src="https://www.youtube.com/embed/FpGUIy5-kvc" frameborder="0″ allow="accelerometer; autoplay; clipboard-write; encrypted-media; gyroscope; picture-in-picture" allowfullscreen></iframe>
This gypsy rock lesson is included in Vicki Genfan's "30 Strumming Patterns You Must Know" – a supplementary course for Level 4 on the Acoustic path.
Other guitar courses
If you don't want to follow a learning path at all, you can dive straight into TrueFire's enormous catalogue. It has all of the supplementary and recommended courses from learning paths, plus thousands of others.
<iframe width="560″ height="315″ src="https://www.youtube.com/embed/kg0o_Gwt-Rc" frameborder="0″ allow="accelerometer; autoplay; clipboard-write; encrypted-media; gyroscope; picture-in-picture" allowfullscreen></iframe>
New courses like Tyler Grant's "30 Classic Country Guitar Licks You MUST Know" tend to have longer intros, featuring snippets from different lessons.
There are 30+ beginner and 60+ late beginner courses here, covering everything from essential chords to must-know licks to songwriting. Yet, the real diversity happens at the intermediate+ level. These courses include "Pentatonic Deep Drive," "30 Harmonic Fingerstyle Licks You Must Know," Songsmith: Rhythm and Rhyme" and "Soul Guitar Handbook."
You can buy many of these courses as downloads from Amazon.
If you want to explore multiple courses around the same theme, try TrueFire's curated collections. They often have enticing titles like "Stupid Fun Licks," "The Blues Clues" and "Geography Class for Guitarists."
Songs
Although TrueFire's main focus is on styles and skills, they do offer some song lessons under the "Learn to Play" section of the Courses tab. For copyright reasons, most of them are original songs written and composed by the educators. Others are folk songs, gospel hymns, standards and songs inspired by pre-1990s artists.

Bebop legend Charlie Parker is one of the most featured musicians in TrueFire song lessons. Others include Eric Clapton, the Rolling Stones, Freddie King and Chet Atkins.
The biggest song styles are fingerstyle and jazz. There's also a decent amount of rock, blues and bluegrass. But funk and r&b/soul have slim pickings..
All of the song lessons are part of larger courses, like "Tommy Emmanuel's Certified Gems," "Bebop Fakebook," "Jam Night" and "The Lone Arranger." Like other intermediate and advanced lessons, they're usually organised into introductions, performances and breakdowns. Again, the goal is to help you get the feel for songs instead of copying them note by note.
Other instruments
After guitar, bass is the second biggest musical focus on TrueFire. The learning path shares the same structure as the guitar paths, with two blues-heavy beginner courses taught by Stu Hamm. Late beginner to advanced lessons focus on essential skills, grooves, styles and techniques.
You can also check out supplementary courses like "Motown Bass Survival Guide" and "30 Groove Master Basslines You Must Know."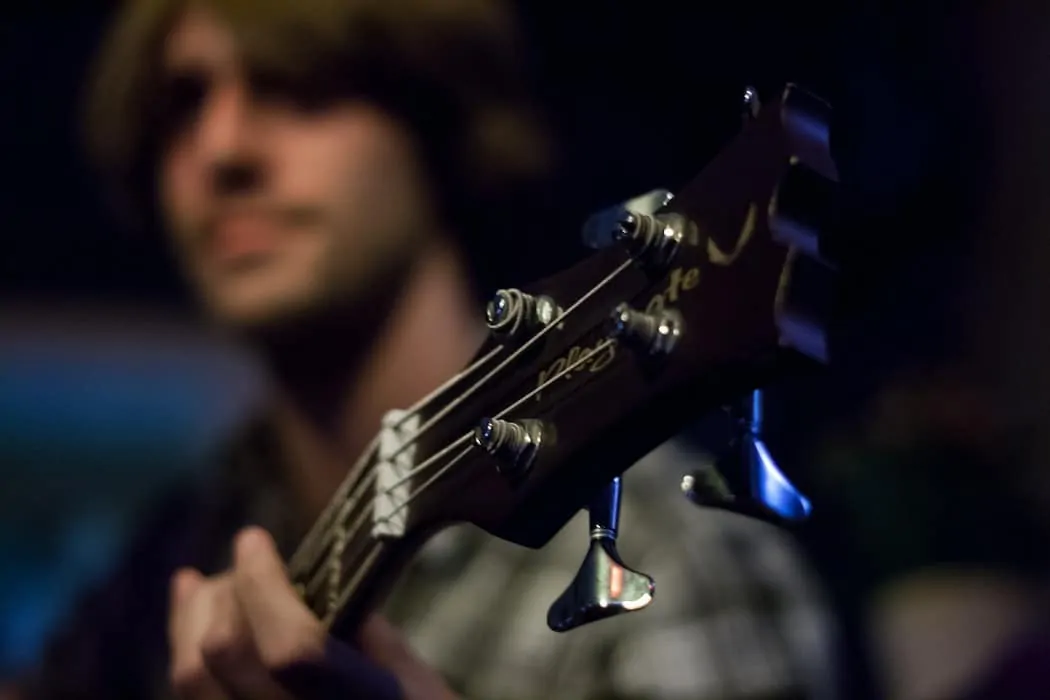 Though not as huge as the guitar catalogue, the TrueFire bass catalogue offers 50+ courses at different levels.
Want to try lessons for a different instrument? You're in luck if you want to learn:
Additional Features
TrueFire has lots of other features you can explore – from bonus lessons and apps to tuners and jam tracks.
Other lessons
Twice a week or more, you can catch live sessions and occasional concerts. Most of them link to YouTube, where you can also watch older live streams. For audio-only versions, you can subscribe to TrueFire on Apple Podcasts, Google Play, Pocket Casts or Spotify.
Under the More tab on the website, you'll find 1000+ audio lessons covering different artists, styles and techniques – from Jimi Hendrix to Hawaiian slack key to country double stops.
Under the Channels tab, you can subscribe to educator-produced lessons, performances and discussions. Popular options include Doug Munro's "Guitar Garage," Ana Popovic's "Power Blues Drive" and Jeff Beasley's "The Shredder's PhD." The monthly subscription price varies from channel to channel.
For an additional price, you can also sign up for a one-off or ongoing private lessons. Complete your profile, choose 1 of 37 instructors, then send in a performance video with any tabs or notations. You'll soon receive feedback.
Finally, you can use the Live section to sign up for online camps and seasonal Fireside Festivals. You can buy a fully notated and tabbed course a few days after each Festival.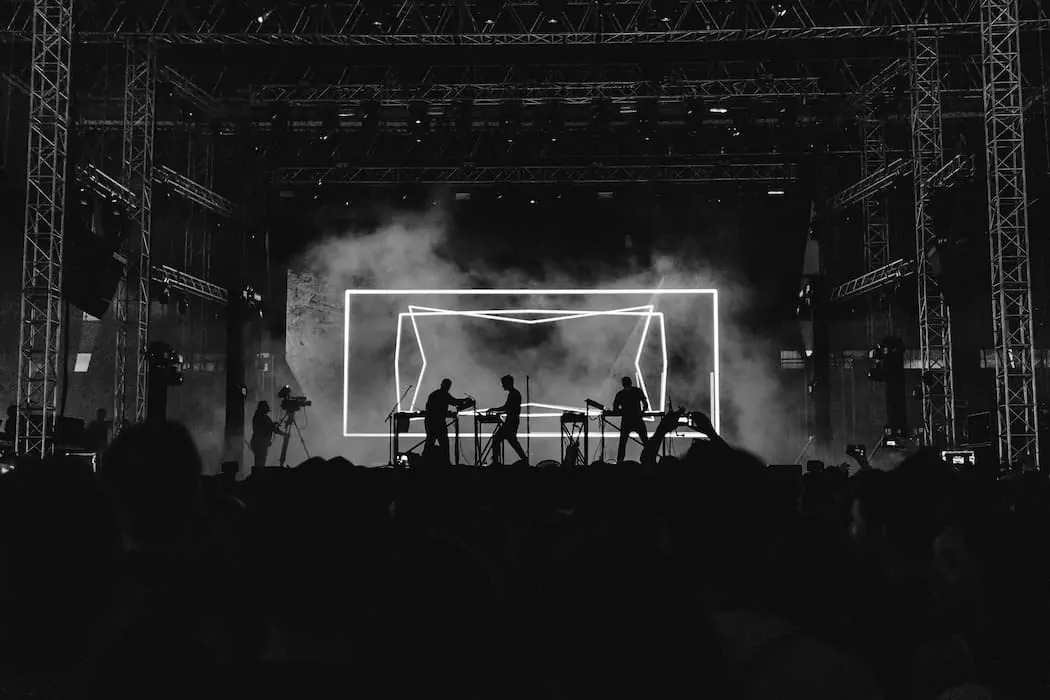 The lineup for each Fireside Festival is usually released a few days beforehand.
Jams
Once you reach the intermediate level, you might be missing the beginner playalong lessons. Don't worry – these aren't the only options for practicing at home.
In The Jam is an app-only feature, with compilations from different educators. Each one has 10 jams with adjustable video and audio tracks for each instrument. It also has a sheet chart with chord changes. Although it costs extra, you can stream a few free tracks on the desktop app.
A similar feature, called Multi-Track Audio Jams, has 20 different tracks with individual instrument and master controls. You can download these via the website or desktop app.
Finally, the Jam Packs section of the website and desktop app has over 100 free mp3 files from session musicians and educators. You can filter these by style, key and BPM. As a bonus, they often have fun, descriptive names like "Allman Butter" and "Johnny B Revolution."
Tools
TrueFire has a handful of basic tools on their website and apps, including:
Guitar Chord Charts: free email PDF with various open and barre chords.
Guitar Scales: free email PDF, featuring the 7 modes and the pentatonic and Blues scales.
Guitar Tuner: mobile app-only feature. The Android version works through your microphone as a chromatic tuner. The iOS version also includes a reference tuner for Standard, Eb, Drop D, DADGAD and several open tunings.
Journal: collection of personal notes and reflections.
Metronome: app-only feature, where you can select the BPM and toggle between quarter, eighth or sixteenth note clicks.
Practice Guide: free download of a 40-page PDF called the "25 Principles of Perfect Practice."

The journal is a handy tool to write down any ideas that come to mind while you're playing guitar.
Community
The TrueFire forum is currently down for maintenance. Yet, you can still connect with other members via the public Facebook group. Many students post performance videos for feedback, while others ask for advice on trying courses or buying gear. Some educators even reply to the comments.
TrueFire's Facebook and Twitter pages are the places to go to find out about new courses, giveaways and livestreams. Their Instagram also features different video series from educators.
For more free videos, check out the TrueFire YouTube channel. You'll find many lessons taken from courses on the website, along with special series like the "History of Rock" and "Rhythm Expedition."
Extras
TrueFire has an active blog, covering topics in 7 categories: Guitar Lessons, Announcements, Favorites, Inspiration, Gear, Lists and Interviews. They also have a less active Riff Journal – a quarterly magazine with stories and lessons from different educators.
For more reading, you can check out TrueFire's e-books. Most of them cost extra, except for "7-Step Chord Progression Theory Guide."
Once upon a time, TrueFire offered DVD courses. You can still buy some of them on Amazon.
You can also download the assets to DVDs you've already bought through third-party links on the website.
Other iOS apps
If you have an iPhone or iPad, you can download a selection of apps to complement your learning on the main TrueFire app. These include:
Ear and Eye Exam for Guitarists: visual/auditory chord recognition and interval training exercises for late beginners to intermediates.
In the Jam: downloadable version of the paid desktop feature.
Jambox: downloadable version of free Jam Packs.
Licktionary: 100+ free lick lessons.
Notes on Call: 1200+ short audio lessons – like the kind that made TrueFire famous. They cover topics like "Pedal Stealin'" and "From Allman to ZZ: 24 Slide Licks, Part 1," occasionally with tabs and notation. Some lessons are free, but most cost extra.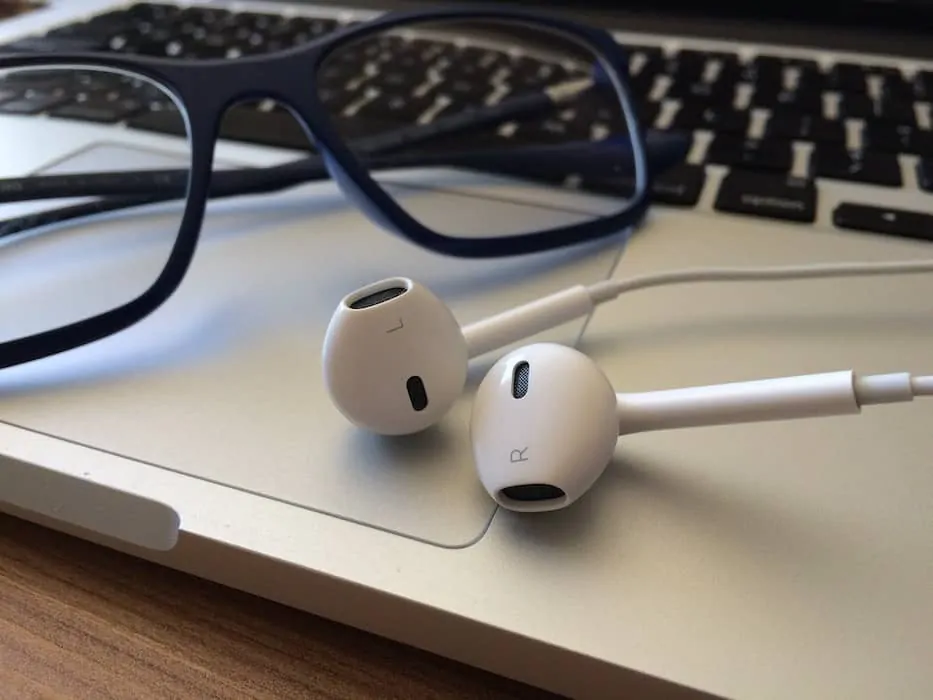 The Ear and Eye Exam app is particularly helpful, with lots of exercises to train your ears and improve your memory of different chord voicings.
Giveaways
TrueFire has themed monthly giveaways,where you can win prizes like guitar gear, all access course passes, coffee table books and more. All you have to do is complete daily challenges to earn entries.

Amps are one of the most common gear giveaways on TrueFire
You can also take advantage of different course sales, which change hourly.
Pros and cons
One look at TrueFire is enough to see how it's managed to stay a popular choice for three decades.
The learning paths and loosely organized style/topic courses give you the best of both worlds, as a clear learning structure with wiggle room. The same goes for the variety of qualified educators to learn from. Like JamPlay, this gives you the freedom to choose whoever's teaching style you like best – and mark them as a favorite.

Instructors like Tommy Emmanuel even reply to questions and comments in the discussion section of their courses 
Overall, TrueFire keeps its promise to deliver comprehensive guitar instruction. The beginner lessons progress at a steady, easy-to-follow pace. The playalongs are an engaging way to practice new techniques, build muscle memory and start experimenting with improv. Plus, the auto-scrolling tabs and HD videos make it even easier to follow the educator.
Still, I find that the TrueFire beginner courses aren't as strong as the intermediate+ levels. To fill in the gaps between "Learn to Play Guitar 2" and "Play [Style] Guitar 1," you have to dig in the supplementary courses – especially to learn how to read tabs and chord charts. This might be a daunting task for absolute beginners.
While some feel rushed, most intermediate/advanced lessons are clear and to-the-point. They provide you with the concepts you need to develop your sound and take your playing to the next level.
Although they're light on music theory, the lessons still give you enough information to learn how chords, riffs, licks and songs are made. This way, you can adapt whatever concepts you need to your individual playing style.
TrueFire covers a wide selection of styles – especially at an intermediate/advanced level. This includes popular genres like rock and blues and more niche offerings like gypsy jazz and flamenco. Yet, other styles like punk and indie are underrepresented.

If you want to learn flamenco and other Latin guitar styles, TrueFire has you covered 
Similarly, the song catalogue is much smaller and less diverse than other platforms like Guitar Tricks, JustinGuitar and Fender Play.
In terms of design, TrueFire is an easy platform to navigate. However, it doesn't work well on Safari or on the Mac desktop app. After several frozen videos, out-of-sync tabs and non-functioning jam tracks, I switched to Firefox and had no major issues.
Both the Android and iOS apps are user-friendly. Most of the bonus apps also work well, except for Licktionary. Many users, including me, have been unable to open it after downloading.
Some other minor issues I've had with the website/apps include the:
Microphone tuner: on the Android app, the tuner doesn't work at all. On the iOS app, it's quite inaccurate. When I tested it against a clip-on chromatic tuner and the built-in tuner on my acoustic electric guitar, it showed all the strings as either too flat or too sharp.
Lesson progress: you have to physically mark each lesson as complete, even if you've finished the video.
Running times: sometimes, the video is shorter or longer than it says on the sidebar.
Final thoughts
Despite a few setbacks, TrueFire is a solid choice for learning to play guitar. I would recommend it to experienced players who want to:
Develop their technique
Find inspiration for their sound
Experiment with different styles
Try other instruments
Learn from respected musicians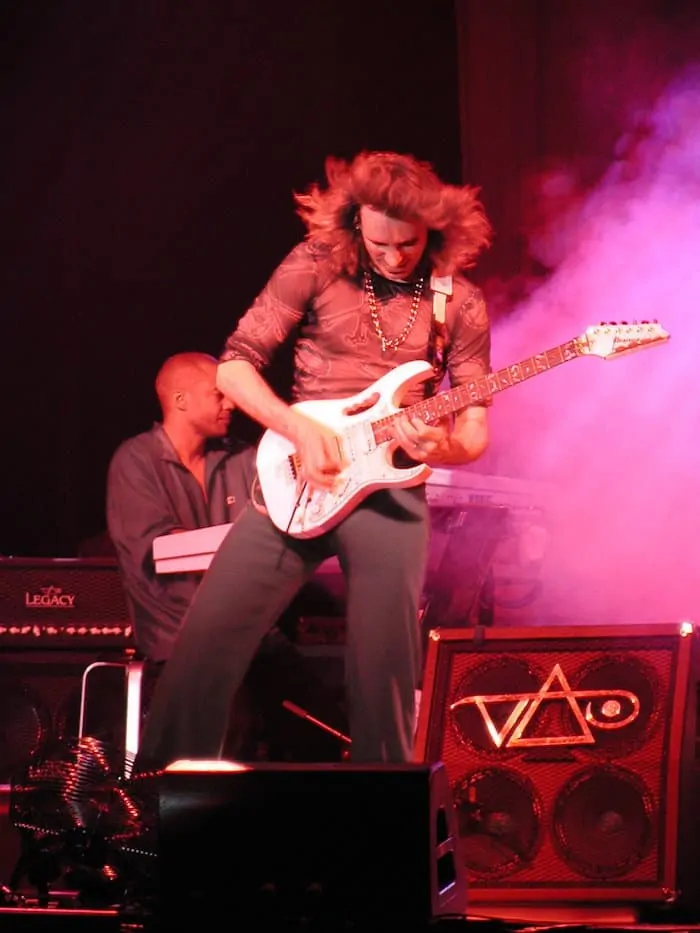 Top notch educators like Steve Vai give TrueFire an edge in the world of online guitar lessons
I wouldn't recommend TrueFire to guitarists who:
Are absolute beginners
Want to learn songs
Want to dive deep into theory
Still, it's hard work to remain as a popular platform for almost 30 years. And with new courses and updates constantly being added, TrueFire will no doubt continue to help thousands of guitarists around the world become better players.
For a free 30-day trial, check out the TrueFire website.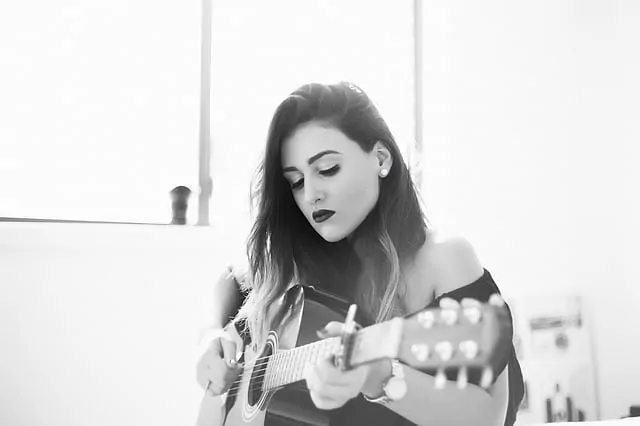 Jen is a guitarist and singer-songwriter who spends much of her time on the road and has lived in 13 cities across 4 continents. She picked up her first guitar at the age of 6 and learned to play by ear shortly after. She received her formal music education at the Berklee College of Music, and currently plays for a few bands in her free time. She has an uncanny ability to improvise creative melodies and harmonies. Her early influences include blues, jazz and rock.