Today, we're reviewing the Taylor 114e electro-acoustic guitar. We've discussed many acoustic guitars before here on Beginner Guitar HQ, but we've never reviewed a Taylor model. Taylor is highly considered as the best acoustic guitar manufacturer in the world, and its reputation is as reliable as the brand's consistent quality.
The Taylor 114e is an upper-mid-tier acoustic-electric guitar, the proper price for the built and sound it offers. It' not immediately accessible for beginners because it's not considered as an "affordable model." 
This alternative is the type of guitar that shows how much music gear manufacturers have advanced. It offers the kind of modern dynamic sound options, and performance enthusiast players enjoy.
That said, the Taylor 114e is made for the average musician. However, it packs the hefty price tag Taylor guitars tend to carry.
The Taylor 114e is an expensive acoustic-electric guitar. If you're looking for cheaper alternatives, you can check our top 10 selection of budget acoustic-electric guitars.
Taylor 114e Review
Companies cannot beat their levels of quality at the moment, albeit brands like Yamaha or Fender have learned how to bundle plenty of acoustic quality into an affordable price tag.
That's not what the Taylor 114e represents. As far as acoustic guitars go, Martin and Taylor stand at the top of the chart. It's premium stuff, and "premium" represents both price and unrivaled durability.
You could buy a guitar like the 114e and be happy forever, or buy cheap acoustic guitars every two years. Here's a guide on how to choose an acoustic guitar for more insight.
What's unique about this guitar is its oversized body, which we're about to explain. Its unique physical dimensions plus its onboard Expression System Pickup allow this guitar to deliver high-quality acoustics. Overall, the Taylor 114e is ready for the stage. 
I'd say you've probably never heard this kind of sound. It's the kind of guitar that will make you sound good, even if you're a beginner guitar player. 

The Taylor 114e debuted in November 2011 and has remained unchanged ever since.
The Taylor 100 series
The Taylor 114e guitar is part of the brand's 100 series. 100 series guitars pair attractive walnut black on the sides with solid Sitka Spruce tops. 
These guitars also sport the same narrow neck profile plus the ES2 Pickup System for a natural amplified tone. 
This series varies the guitar's sizes as there's, for example, a 12-string guitar in the household. 
More specifically, these guitars have unique features that include layered woods, advanced bracings, and no-cutaway shapes.
Lastly, you'll be happy to know that all 100 series guitars ship with a nylon gig-bag.
Overview
We're taking the value for your money into consideration, as paying so much for an acoustic guitar might be crazy for non-professional musicians. However, if money if not a problem, you can simply take this Taylor 114e review at face-value. 
For starters, the Taylor 114e is made with top quality wood and features a unique Grand Auditorium-sized body.
Let's see why the Taylor 114e offers everything an acoustic-guitar could offer. And even so, it looks expensive; it's a "cheap" guitar on Taylor's terms.
Built Quality
The built quality of this guitar can be justified with its construction alone. 
The construction not only makes this one of the best guitars in the market. It also makes it as durable as to turn the Taylor 114e into a family relic.
Body & Design
Design-wise, this guitar is built with the famous Grand Auditorium body. It has unique physical dimensions that make it larger, bulkier, and heavier. 
Tonewoods of choice are Layered Walnut for the sides and the back. Furthermore, the body packs a solid Sitka Spruce top.
In particular, the Sitka Spruce top is the most popular guitar tonewood for a reason. It offers grain, power, and sustain. Most of all, it keeps the tone focused and strong, which makes it perfect for pick playing, fingerpicking, heavy strumming, chords, and anything in between.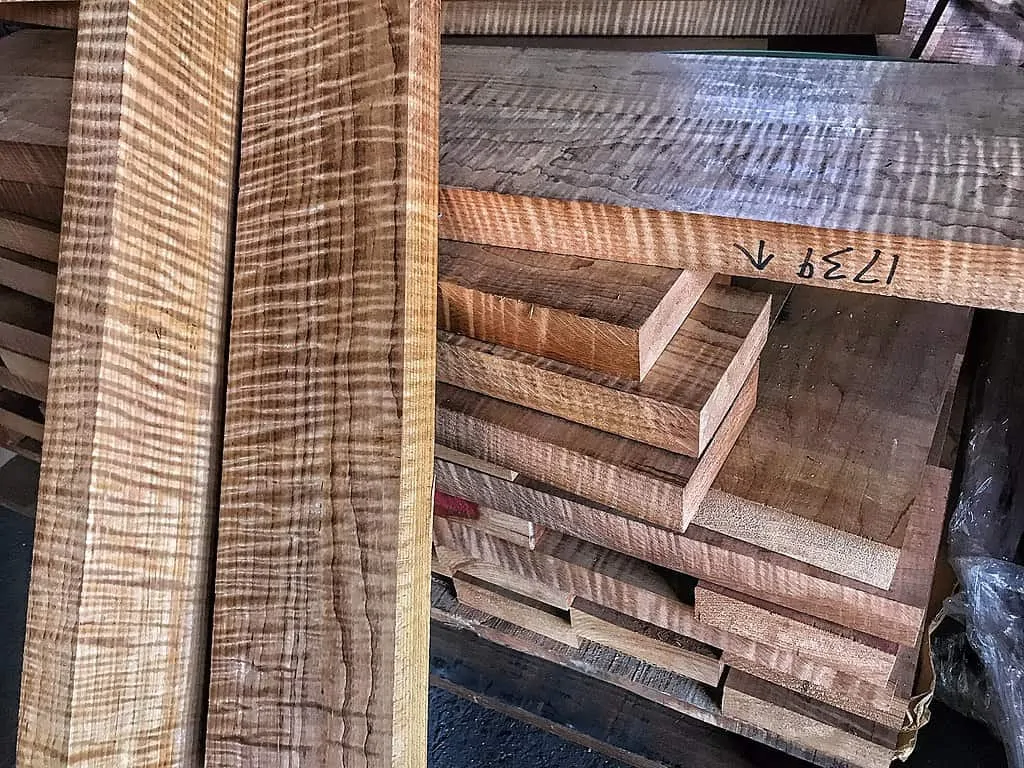 Roasted_Figured_Maple_Guitar_Neck_Blanks / Stephen Ondich / CC BY-SA Sitka is a medium-weight tonewood that yields a bold, high-velocity sound
Let's take a look at additional construction features that make this guitar unique:
The Layered Wood construction technique allows the guitar to preserve the tonewood's physical properties.  That means the Walnut delivers response and rich tone that even improves over time and during extended playing sessions.
All 100 series guitars have the same layered wood design, and so they enjoy the high-end sparkle and mid-range presence the Walnut offers. 
Another advantage of this layering process is how the body is arched on the back, making it more comfortable as you play.
The No-Cutaway shape gives this guitar the looks of a vintage classic guitar. That means it doesn't offer easy access to the upper frets as it trades some playability for a clean, symmetrical shape. 
The Nylon-String Fan Bracing has a unique "X" shape that delivers a non-stop flow of loud tone into the sound-hole.
By "bracing," I mean a feature found on mid-tier and above acoustic guitars. These are chunks of wood laced underneath the acoustic hole to make them sound more steady. 
The Taylor 114e makes the sound flow from the bout of the guitar to the upper part. Because nylon strings produce less tension, the bracing material is very light. 
Plus, the bracing features the same ladder design present on most Taylor acoustic guitars. It's part of the reason why the brand's instruments sound so unique.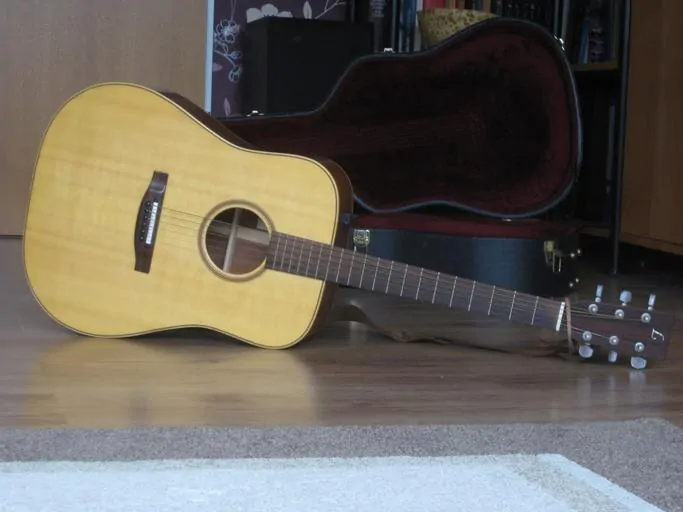 No-cutaway guitars feature are "flat" where the body connects with the neck, which makes it harder for players to reach the upper frets. This is for players who don't care about the higher registry of their guitars.
Neck & fingerboard
For the neck, Taylor used Sapele wood on a 25.5'' scale length. 
The fingerboard has 20 medium jumbo frets with dot fret markers. It's made of African Ebony.
Overall, the tonewood combination brings the guitar plenty of clarity, sustain, and resonance. It's a great combo for a vast amount of genres. We firmly say you could use this guitar to play any kind of sound you imagine. 
Another thing to mention is the fingerboard's narrow profile. It follows Taylor's famous neck shape with a 1-11/16' nut. It makes this guitar easier for barre chords and complex chords.
Finish
You would think that's enough built-quality, but the whole thing comes together with a neat and beautiful matte black varnish finish. It makes the guitar feel quite smooth on your hands. It will leave an impression on you.
Other standard add-ons for all 100-series guitars include a black pickguard, black binding, satin, and Italian acrylic dot inlays on the fretboard.
Also, remember this guitar comes with a gig bag.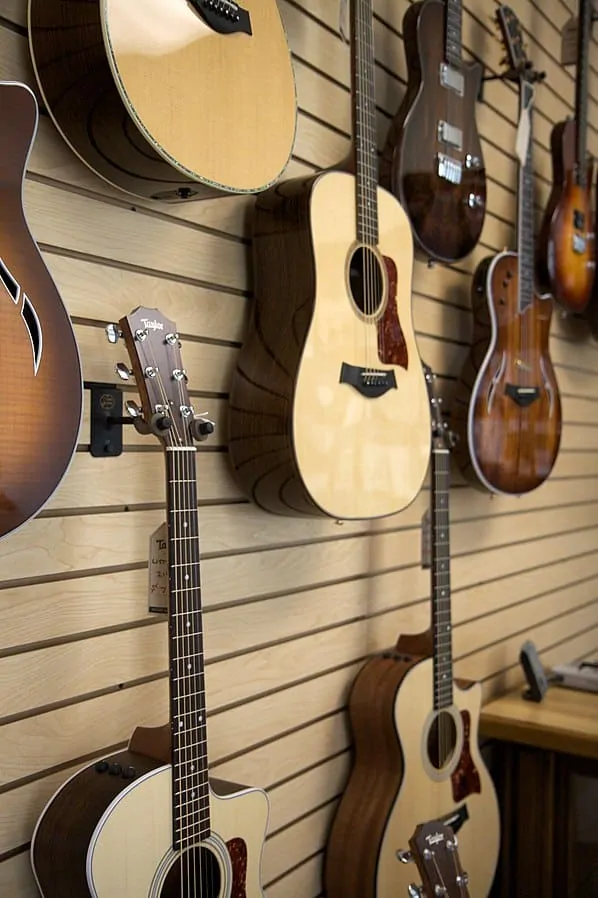 TGFT02_Taylor_guitars_-_Taylor_Guitar_Factory / Marcin Wichary / CC BY  The Taylor 114e is the most popular 100 series guitars and one of the brand's best-sellers.
Sound quality
The tone of an acoustic-electric guitar depends significantly on its tonewoods and design. For that reason, I'm guessing you already have an idea of how this guitar sounds.
To make it more transparent, let's talk about its pickup system.
Electronics
The Taylor 114e carries a top-tier piezo-electric pickup. Guitar manufacturers have always placed piezo transducers under the soundhole, which commonly restricts guitars' sound capabilities.
Taylor used a unique positioning, though. The 114e model features the unique under-the-bridge piezo pickup. As a result, the unit responds better to the string's vibrations while letting the soundhole clear and at full capacity.
Furthermore, Taylor screwed this unit with special Allen screws that set the perfect position for the pickup's sensors on the saddles.
Additionally, it has an outstanding preamp with a customized gain design. The Expression System 2 pickup & preamp combo gives you enhanced sound control that's still easy and friendly.
The best thing about it is its EQ system. Even without extra acoustic pedals, the preamp allows you to tweak the same sound no matter where you are. You could be playing through a PA system on a dense club or unplugged at the park, and the sound quality remains the same.
Sound
There's a thing that stands out immediately, which is its booming bass. The low-frequency sounds have a lot of presence, much more than on most acoustic guitars. It makes the guitar richer and beefier.
On top of that, this guitar features a fantastic response. Even minor changes in your playstyle will yield changes. And that's great as it gives you the potential to dial-in a top-notch sound. It also gives you the ability to alter the response and feel how you progress as a guitar player.
As it is, the Taylor 114e will make you want to learn more and strive for higher settings, more complicated songs, and better scenarios. That's what every instrument should inspire.
It's acoustic and plugged sounds are versatile and balanced across the tonal spectrum, although a bit biased towards the bass. Still, if you're looking for an all-purpose acoustic, the Taylor 114e is a great choice.
Remember that its tonewoods and bracing design distribute the vibrating energy equally, which means the sound is enormous, with plenty of rings, and plenty of beauty.
Feel Quality
This part of our Taylor 114e acoustic guitar review is about checking the playability of this guitar. We need to evaluate its performance by checking the hardware first.
Hardware
The hardware department is quite reliable and neat. It starts at the headstock with six die-cast tunes that are more than capable of holding your tune during your most potent presentations.
On the other side, there's a rosewood bridge. Rosewood is the preferred material for acoustic guitars' bridges, as it resonates very well. It's also a solid piece of hardware that will pose no issues.
Another notable feature is the guitar's black pickguard that makes sure the body stays safe and dent free. It protects the guitar from scratches in case you play it with a pick.
All of the hardware is covered in chrome. Overall, just a perfect match for the Taylor 114e acoustic-electric guitar.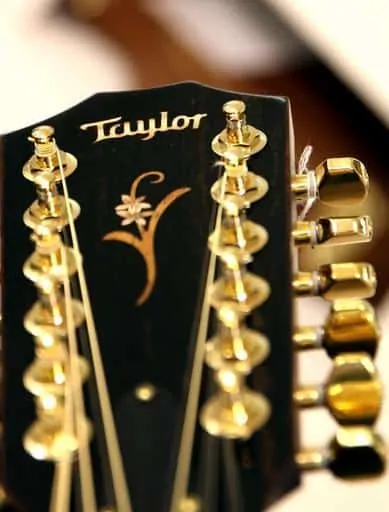 The guitar's intonation stability depends on the quality of its tuners and its bridge.
Playability
There's not much to say about its playability as it packs no extra features to make it comfortable for beginners.
It's big, it has a medium-weight, and it has no easy access to the upper frets. Naturally, it's not built to be a first-timer guitar.
What it does has, though, is the smoothest neck in the business. It feels like soft silk traveling through your fingers.
On the same note, the nylon strings are soft, almost spongy. Coupling that with its narrow neck and playing chords and arpeggios becomes easy for the intermediate player.
Downside & set-up
There are no downsides this time except for its price, which is why we're going to discuss some alternatives.
However, some users might prefer steel strings for stage-ready acoustic-electric guitars. Steel strings can deliver, more powerful sound, whereas nickel strings lean towards mellow tones.
My recommendation is the Dean Makey Blue Steel acoustic guitar strings.
Otherwise, you could go for the cheaper aluminum bronze strings for more comfortable playing experience. Don't worry, though; you don't have to change the stock strings right away. Instead of that,  just wait until it's time to change them.
If you're getting this guitar, that probably means you're taking your sound seriously. In that order, you should also check our previous list on the top 10 best acoustic guitar amps.
Variety
Let's check a couple of Taylor alternatives in case this guitar caught your attention.
First, I have to name the Taylor 150e, which is probably the best 12-string acoustic guitar.
Alternatively, another famous Taylor guitar is the 214ce. It's a premium dreadnought acoustic guitar featuring a single-cutaway, tropical mahogany, West African Mahogany, and rosewood tonewoods.
Going down the price ladder, we can find the popular Baby Taylor. It's a parlor (a small) acoustic guitar that features the same premium sound on a compact package. It's suited for kids or as a practice/entertainment tool for your home.
Alternatives
It's time to discuss cheaper alternatives because not everyone will have access to the Taylor 114e. I certainly don't!
First off, the Fender CD60CE is a great-value model. It's perfectly okay for beginners and intermediate musicians.
Another great acoustic-electric alternative is the Yamaha NTX700. With a mid-price tag, it reaches near-premium sounds and performances with its advanced pickup system. However, it lags on finish and aesthetics compared to the Taylor 114e.
By the time of this article, the NTX700 was not available on Amazon because of the pandemic lock-down. However, you can check the very similar NTX-1.
Taylor 114e Specs
Design: No-cutaway Grand Auditorium body
Body tonewoods: Sitka Spruce top, Layered Walnut back & sides
Neck tonewood: Sapele wood 
Neck profile: Taylor Narrow Neck Profile (42.8mm nut width)
Fingerboard tonewood: African Ebony
Length: 25.5' long-scale' & 20 medium jumbo frets
Pickup System: under-the-bridge Expression Pickup System II
Finish: Matte 2-0 Varnish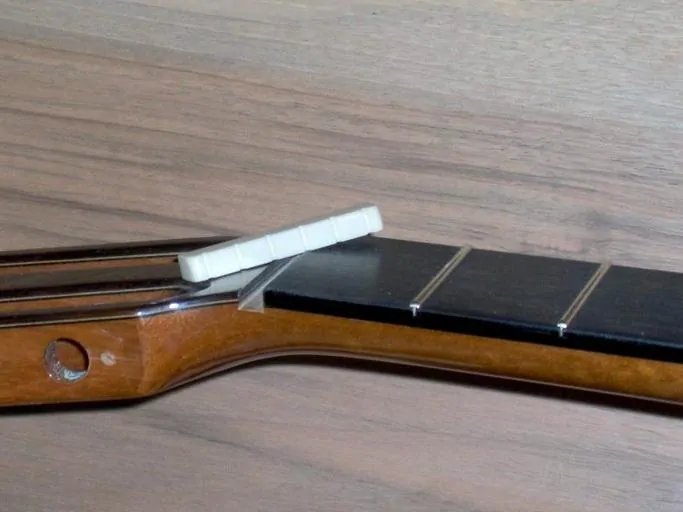 The nut is a small piece of a hard material that supports the strings at the start of the fingerboard. It defines the vibrating length of the open strings, and so it preserves the quality of the open sound. More so, it sets the width of the fretboard.
About Taylor Guitars
Taylor Guitars is a US-based guitar manufacturer with its headquarters in California. It's one of the largest American guitar makers. 
Their specialty is acoustic guitars, acoustic-electric guitars, and semi-hollow electric guitars. 
Bob Taylor and Kurt Lisug founded the company back in 1974. In particular, Lisug and Taylor were employees of a small guitar shop in 1972. When his boss decided to sell the business, the duo decided to buy the former American Dream and renamed it Westland Music Company. Taylor was only 20 years old.
Taylor has built a reputation as a top acoustic guitar maker. In fact, in January 2014, the U.S. State Department honored the brand with an Award for Corporate Excellence for their responsible wood-obtaining practices. For example, they use their own ebony mill, which increases the timber they can use from 10% to 100%.
That's why Taylor guitars use the best quality tonewoods in the market. They are 100% real, 100% premium, and 100% made in their factories.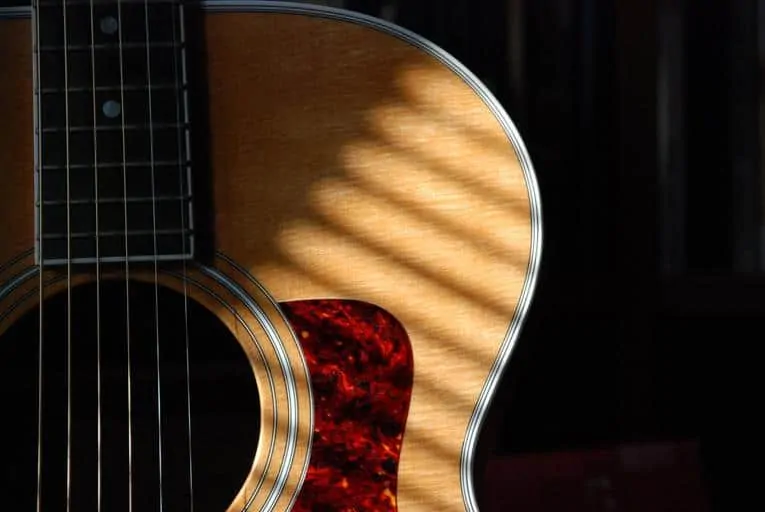 Taylor and Martin are at the top of the acoustic guitar market.
In summary
Who should buy the Taylor 114e? 
The construction quality alone makes the Taylor 114e one of the best acoustic-electric guitars you can buy right now. It's not suited for beginners, as its upper-mid price might deter a lot of people. Instead, this is suited for people looking to take their music seriously.
The Taylor 114e is a long-lasting investment. It's the kind of sound that will make you sound professional. And it feels smooth as silk on your hands.
If you're looking for one of the most reliable and versatile acoustic-electric guitars in the market, the 114e model is perfect for you. Its unique and heavy-duty structure delivers outstanding natural acoustics plus a sound that improves with age.
Lastly, the nylon fan bracing enhances the Taylor's performance by tenfold. It will help you enjoy this guitar regardless of your guitar playing level. It will also make your progress much more apparent. 
Final Thought
When it's time to choose the best acoustic-electric guitar you can afford, the best way to start the process is by going for a reliable brand.
Taylor does not disappoint with its popular 114e model. This one boasts professional features you didn't even know existed.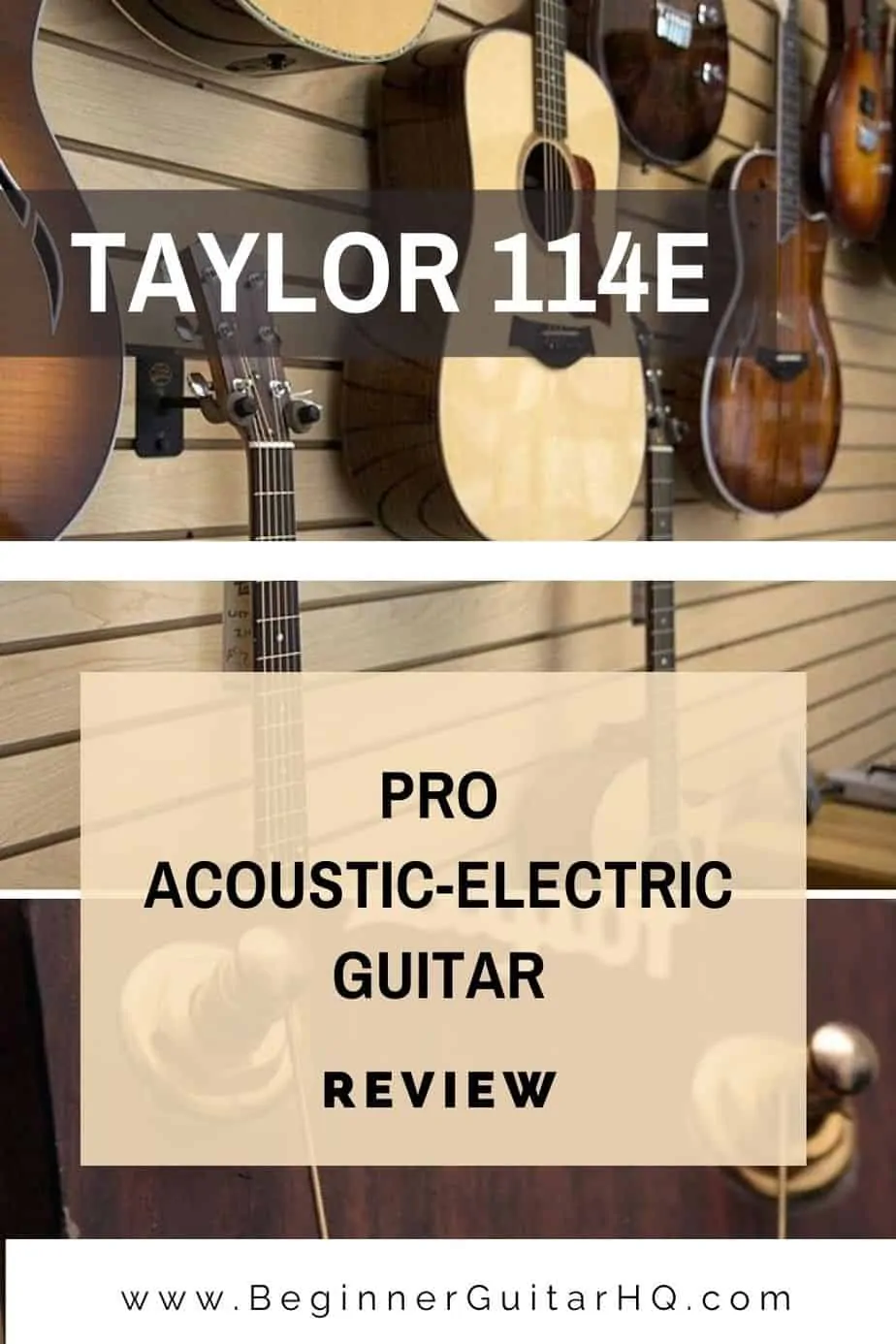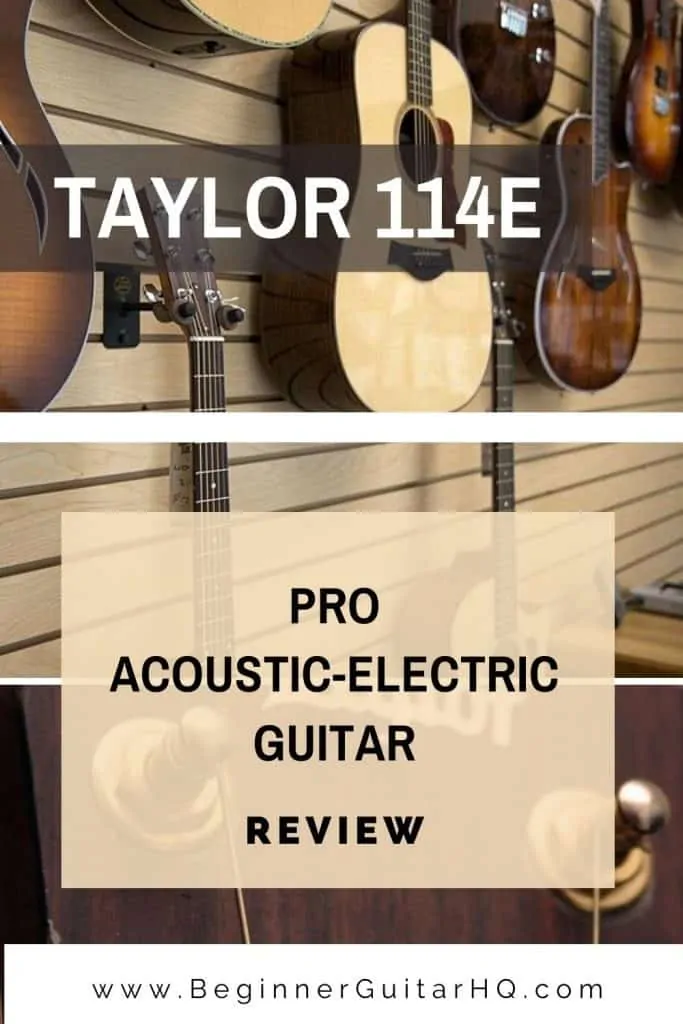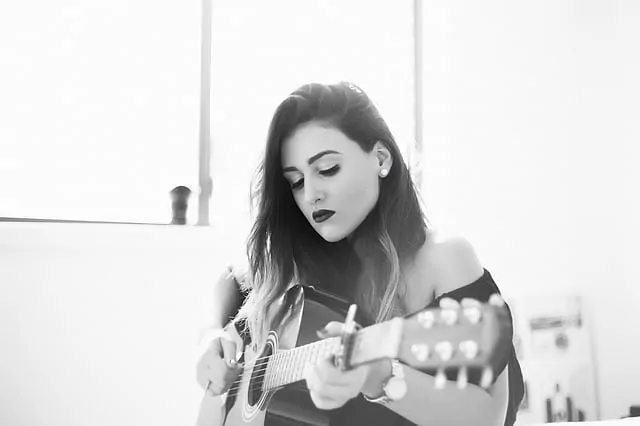 Jen is a guitarist and singer-songwriter who spends much of her time on the road and has lived in 13 cities across 4 continents. She picked up her first guitar at the age of 6 and learned to play by ear shortly after. She received her formal music education at the Berklee College of Music, and currently plays for a few bands in her free time. She has an uncanny ability to improvise creative melodies and harmonies. Her early influences include blues, jazz and rock.