Today's article reviews the Bugera G5 Infinium Head Amp. The Infinium head is a bedroom amp with plenty of tricks on a simple case. The G5 packs the size and the weight for maximum convenience. More so, it favors budget musicians with an affordable price tag.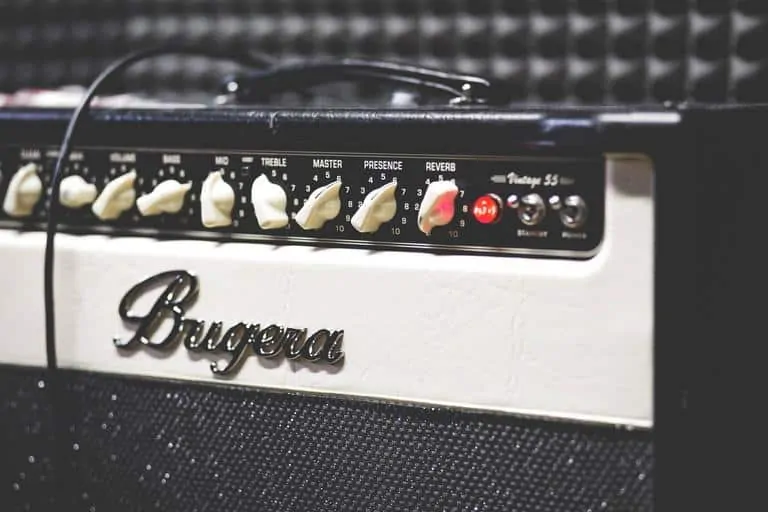 Bugera is known for vintage aesthetics on their amps. 
A "head amp" is the upper part of your "stack." See, a complete guitar amp is either a cabinet (the speaker enclosure) plus the head, or a combo amp.
The advantage of head & cabinet versus combo amps is versatility and overall quality. Usually, head amps bring a lot of top-tier options, enough to craft a sweet tube-driven guitar sound. Then, you can pair it with the perfect cabinet to create perfection.
Combo amps, though, are more affordable and overall easy to use for beginners and intermediate musicians. Either way, here are the combo amps we've reviewed before:
Bugera G5 5W Infinium Tube Head Guitar Amp Review
The Bugera G5 is a superb bedroom and practice amp. It's a Class A tube amplifier. That means it has vacuum tubes on the preamp section and vacuum tubes on the output section.
The power comes from its 12BH7 vacuum tube on the output section, plus the ECC83 on the preamp portion of the amp.
On top of that, it has flexible EQ options plus a Morph EQ option to swap the amp voice. Furthermore, it has a switch to drop the wattage of the amp. It's a handy feature for super-quiet practice. Likewise, it features a headphone output, an effects loop, a digital reverb, and two channels.
Rounding up our short review of the Bugera G5 Head amp is its included 2-button footswitch. Let's get into detail.
Overview
Guitar amplifier heads have always been more appealing than combo amplifiers. Most professional guitar players prefer the versatility and aesthetics of the design of head amp packs.
Finding an excellent affordable tubular guitar head amplifier is tricky. The tubular amplifier segment is getting increasingly expensive, whereas all-digital solid-state amps offer more value by the minute.
That's where the Bugera G5 5W amp head comes into play. It's a reasonably priced tube amp with enough power and options to give you a serious sound. 
Bugera's Infinium technology
One of the things that makes the G5 head amp shine is Bugera's proprietary Infinium technology.
Infinium technology brings the following features:
Infinium extends the life or your amp's tubes up 20 times. Tubular amps are expensive and delicate. The industry standard is changing tube amps at least once a year; Bugera promises the most durable tubular amps in the market.
It enhances the reliability and consistency of the tone. That's because the tubes will maintain its properties and physical qualities over time. They won't degrade, and they won't damage the sound. For example, the fuzz guitar effect imitates the sound of a broken tube amp.
Infinium monitors the tube amps' performance and displays the defective pieces so you can replace them quickly.
The Infinium series represents modern tube amps. So far, Bugera has delivered on its promise.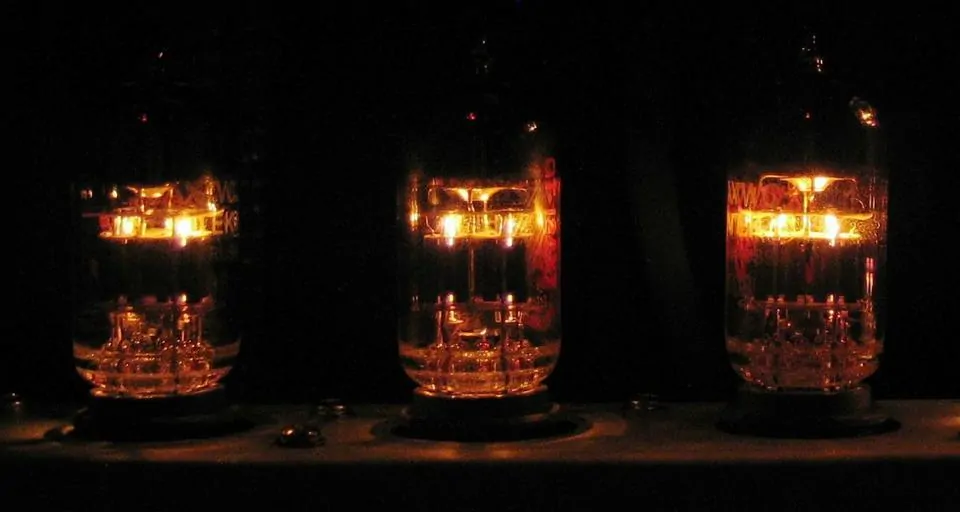 Tubular guitar amplifiers use vacuum tubes on both the output and the preamp section. Vacuum tube amps are the standard choice for professionals, from Jimmy Page to Metallica's James Hetfield. 
Features
The Bugera G5 Head Amp is a timeless all-tube amp design. It also delivers the British tone that has crafted rock guitar history. Its ultimate pursuit is that fantastic vintage and saturated hues with a couple of modern twists.
Classic Push-Pull configuration 
As a modern amp, it looks good and it feels good. It follows a vintage design; it features an ECC83 at the front plus a 12BH7 at the back.  In particular, the ECC83 is a vintage high-gain tube. 
On the other hand, the 12BH7 is quieter, warm, and smooth. It's a beautiful combination.
Its push-pull tube amp provides sweat and harmonious tone with a natural tube compression. These two puppies combined deliver 5 watts of power. As you crank the volume up, it gives you the inherent distortion you expect from head tube amps.
Power attenuator
Bugera went the extra mile with the power scaling options of the G5 amp. There's a switch that allows you to take this baby from 5W to 1/0.1W.
At .1 Watts, you can get the power-tube saturation at a pleasant volume. It's great for home practice and for experimenting with your guitar pedals.
Then, pushing the 1W setting, the tone remains consistent, balanced, and strong enough for home recording in the studio. It's original setting, 5W, keeps the amp steady and warm. It's also a great setting for home recordings and rehearsing. 
Most tube amps get darker when you attenuate the sound, but the G5 remains warm and defined all the way down. The speakers are very efficient, consistent, and capable.
That means you have enough versatility to push the tubes down to their optimal volume state, even when practicing in your bedroom.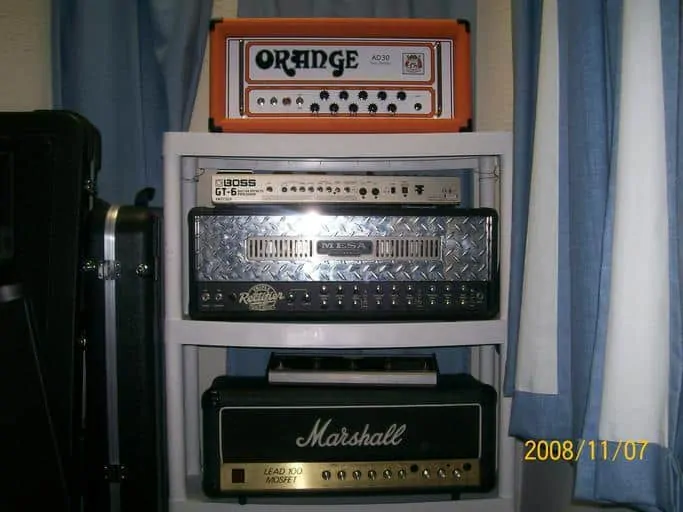 Head amps may carry a built-speaker as big as 10W. Other times, though, the head amp can only sound through an extra guitar cabinet.
Digital Reverb & Effects loop
This amp packs a capable digital reverb. It doesn't compare to something you'd get out of a Fender or a Roland amp, but it's usable. More so, it doesn't introduce noises or interferences to the signal.
Also, the G5 head amp comes with an effects loop out. That helps you in case you want to connect something like a noise gate.
Headphone out
Having the option of plugging the headphone to your amp is always lovely. The G5 presents a couple of tweaks in this department. 
You can run the headphone with two settings:
1×12: it emulates the sound of a 1×12'' cabinet
4×12: it emulates the sound of a 4×12'' cabinet. In practice, though, it adds some extra low-end compared to the 1×12 simulation.
The headphone output doesn't deliver a professional sound you would use for recording. You would need an audio interface for that kind of reliability.
Still, the headphone out on the Bugera G5 head amp works great for silent practice. Keep in 
Footswitch
The footswitch works as intended. It swaps between the two channels of the amp and turns the reverb effect on and off. 
On the downside, the buttons are made of plastic.
Controls
As a budget tube amp, it features basic controls. The layout is pretty familiar and easy to use.
There's the Reverb known plus the tone section on the left side of the amp. The tone section has the classic 3-band EQ plus Bugera's Morph EQ knob, which lets you go from British tones to US sounds and back. 
Next up, there're Gain and Volume knobs, plus the clean channel controls. Finally, you see the power switch.
Channels
As you imagine, each channel has its EQ. The clean channel has a simple tone knob plus a volume knob. 
The drive channel has a 3-band EQ plus the Morph EQ knobs we just discussed. On top of that, the clean channel coms with the 2-button footswitch.
As for the reverb, it works for both channels.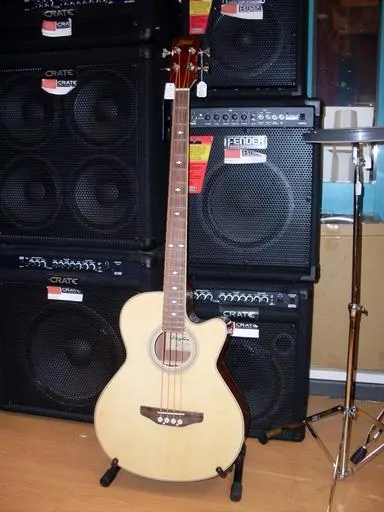 Most tube amps carry two channels: overdrive and clean. Solid-state amps carry a "distortion" channel as they are more inclined to rock & metal.
Performance
The Bugera G5 head Amp is a mix of modern and vintage features and tones. There's a mix of Marshall tube amps as well as some classic British crunch.
Still, the Bugera G5 has a unique sound.
It's a built-in digital reverb, though, is not a great solution for the stage. An extra reverb pedal is a much better alternative.
Now, if you want to take this up to a gig, that's up to you. However, its options might leave you a bit under-powered in terms of options.
 In terms of pure badass tone, though, it's outstanding for the money. I could even name this as the best budget guitar amp head for rock and metal. Sadly, there's another top metal amps list, and I wasn't wise enough to add this item.
If you want to be sure, though, take this for practice, home studio, and rehearsals. That's the same conclusion we got from the Vox AC4 Mini. 
Notably, this small 5W amp does a great job keeping up with the rest of the band's volume on rehearsals.
How the clean channel sounds
On clean, this amp is a bit simple and flat. That's why it can take guitar pedals so well.
Notably, single-coil pickups will break to distortion when you roll the volume knob towards 7 or 8. Humbuckers, though, can only hold it steady up until 6 or 7.
The single tone knob is enough to keep the sound warm, never too dark, or too shiny.
How the drive channel sounds
Here is where we find all of the fun. The Bugera G5 Head Amp is a perfect match between modern crunch and vintage driven. 
There's plenty of headroom, plenty of power to harness. We can go all out.
The EQ knob shines with its flexibility. They shine on stand-by and leave them right in the middle, and the color you get is just right. Otherwise, if you have a bright or a dark guitar, you can make it better with the 3-band EQ.
Lastly, we need to talk about the Morph Knob. With a simple twist, you can go from The Beatles' invasion to early American metal. 
On one side, it delivers British tones, which means more midrange. On the other hand, it gives you American-style distortions, which means a scooped midrange. You can leave in the middle for a balanced result.
The knob tweaks mid-low frequency sounds. The sounds it creates are subtle.
Variety: Bugera V5 Combo Tube Amp
The V5 is a top-value hand-built 55-watt amp that overshadows most Bugera alternatives.
If you're looking for a professional alternative, this is the choice for you. It's built with two 6L6 tubes, which are warm and loud.
Plus, it has the British engineer 12'' Turbosound speaker, a top-of-the-line option.
Lastly, this amp features 2 channel preamp designed after classical '60s vintage amps. 
Alternative: Vox AC4 Mini
The Vox AC4 Mini Tube Combo Amp follows the path of the legendary AC4 amp family.
Many iconic guitar players have used AC4 models. It's a household name, and now Vox is delivering an option you can actually find and afford. 
It's not professional, though. It's a small 4W home practice amp. Check our previous review.
In summary?
Why do I like the Bugera G5 Head Amp?
Checking for some alternatives, I realized there's nothing like the G5. Affordable and tubular are not two words easily found together.
In essence, the G5 delivers a pro sound for your home silent practice. That may sound weird, but there's a lot of market for that. 
As a parent, I love its power scaling option. I can play all night long in my room without waking my baby up. She sleeps, my wife sleeps, I play, and everyone is happy.
It's also a great tool for experimenting. If you've got a bunch of pedals (or one particular versatile monster), the Bugera G5 is the perfect place to try them out.
The durability of the Infinium series is also something to consider. While it doesn't deliver the same quality tones as a fender or a Vox, you can simply take this live because it's reliable. 
Plus, if you put a mic into your guitar amps through a PA system, it will have enough volume for anything.
Final Say
There's no doubt in my mind. The Bugera G5 is the best budget tube amplifier there is, and it looks awesome.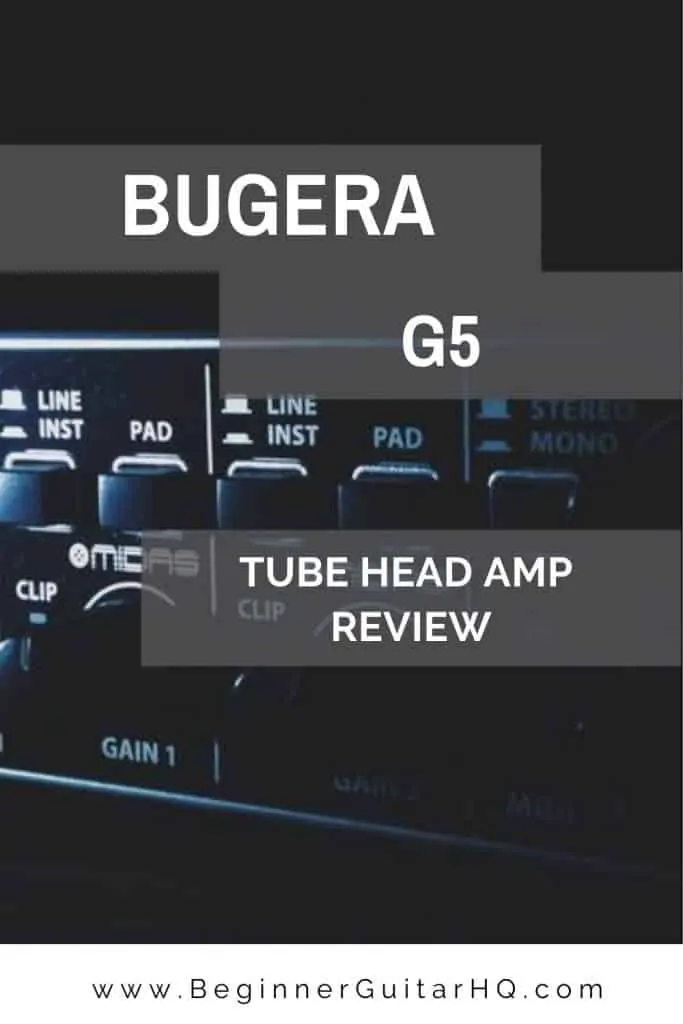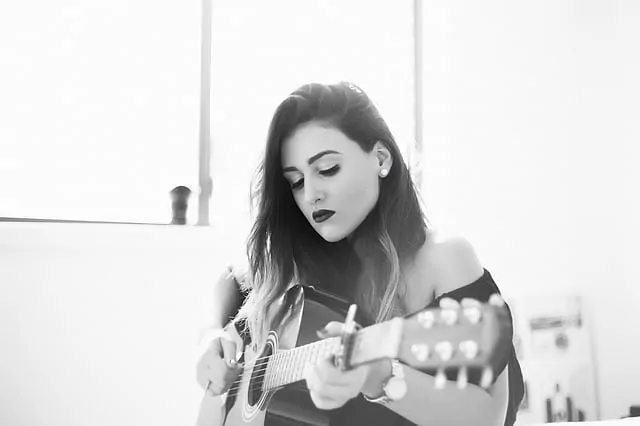 Jen is a guitarist and singer-songwriter who spends much of her time on the road and has lived in 13 cities across 4 continents. She picked up her first guitar at the age of 6 and learned to play by ear shortly after. She received her formal music education at the Berklee College of Music, and currently plays for a few bands in her free time. She has an uncanny ability to improvise creative melodies and harmonies. Her early influences include blues, jazz and rock.