It's time to build the home studio. Great. Right after we choose our home studio laptop, the next step is going for an audio interface. Enter the Behringer UMC1820 Audio Interface, a different kind of beast.
In short, this is an affordable and well-built 8-input model. If you're looking for an audio interface with plenty of I/O options, different brands ask you to stray far away from your regular budget. Behringer, though, knows how to add features while keeping the price affordable.
The U-Phoria UCM1820 is one of the few cheap interfaces that deliver the same quality and features found on mid-priced alternatives. It offers so much it will make you think…" why haven't I bought this yet?"
Let's take a look.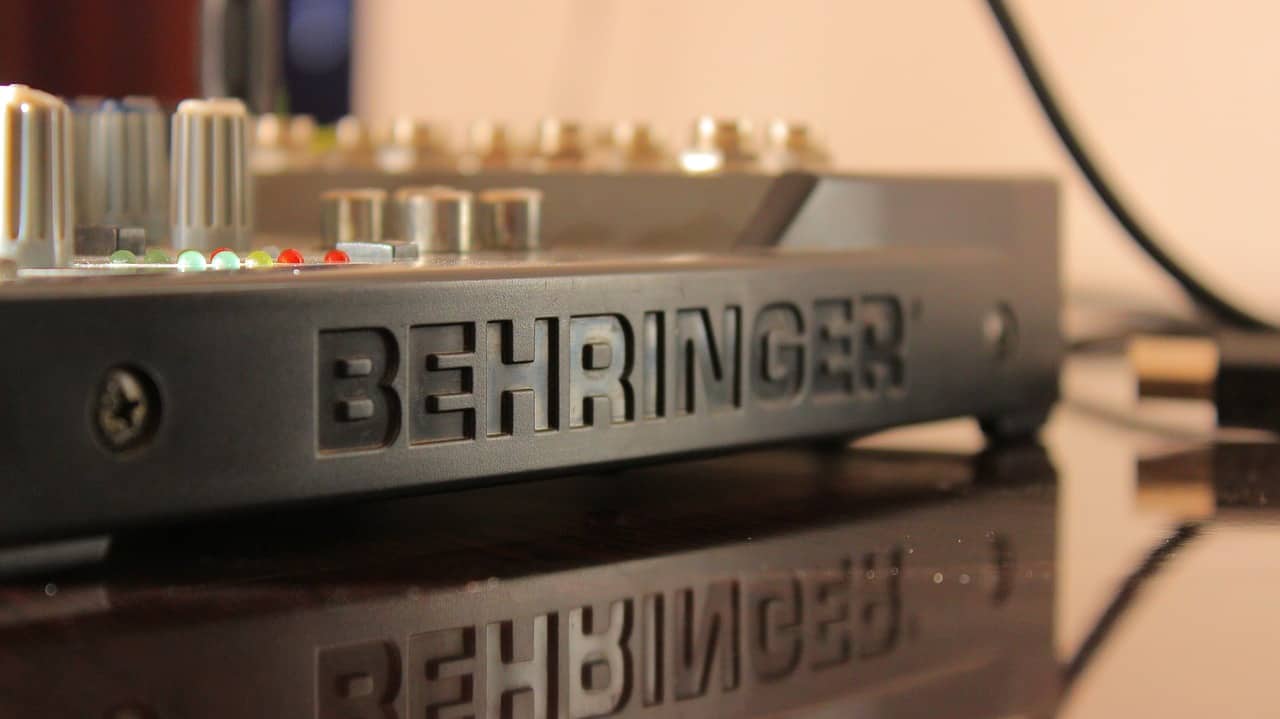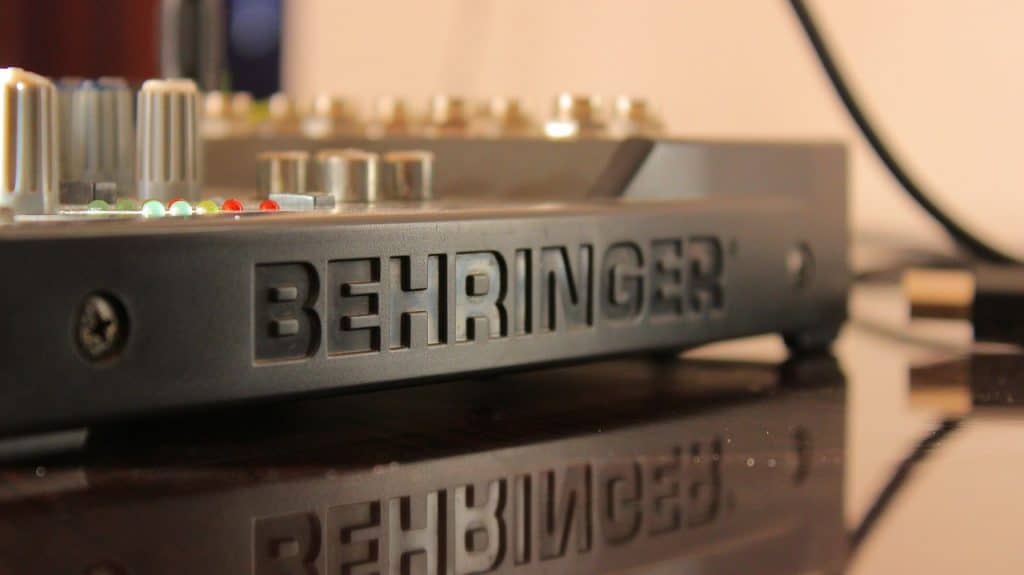 Audio interfaces and audio mixers are not the same. 
Are you looking to build your home studio? Here are some guides on that:
Let's take on some theory first:
What's an audio interface device?
An audio interface is what you need to get a professional sound out of your computer. You plug these devices onto your computer via its USB plug and then connect a microphone or an instrument into the audio interface.
Such a setup allows you to create high-quality sound with your music recording software of choice (DAW). As a result, you can get a better sound mix and master for your professional needs.
The primary use of audio interfaces is voice recording, which is why you might be reading this article.
There Are other ways to record your voice, though, which are often cheaper.
Are interfaces better for voice recording than a USB mic?
Now, you can make voice recordings with any tablet, computer, or cellphone. However, the resulting sound is noisy and sub-par.
You can step your voice recording with a video mic, but they are not designed for voice-overs. They catch on too much noise, and their overall quality is not the same.
The next step is getting yourself a USB Mic. They are great. Plug & play budget solutions to get a clean sound out of your voice. Are they better than an interface? Hardly.
People tend to think audio interface devices are simply boxes with a bunch of mic inputs and headphone outputs. But they do so much more than that. They contain an audio chip that's more advanced than any USB mic could carry.
As a result, the sound they record has better quality. It's crisper, more defined, and packs the highest fidelity.
More so, audio interfaces give you additional options most mics don't carry. These options come because of their advanced mic preamps.

You can plug an XLR mic directly to your computer with an XLR-USB cable. However, it loses the high fidelity the interface ensures.
Are audio interfaces and sound cards the same?
Essentially, yes. An audio interface is the same as a sound card.
Your computer carries a sound card, for example. The primary job of sound cards is processing audio signals you can then edit digitally, and then turn it back into an audio signal again.
Most modern computers have a sound card installed on their motherboards. If you have a built PC or if you're building a PC, then you need to know most modern motherboards carry an audio chip that renders external sound cards a pricey luxury.
However, these are still not as good as an audio interface. Sound cards work on your computer's CPU. So, if your computer's CPU is bloated, it will not work at 100%. Besides, most consumer built-in audio chips are made by Realtek, and Realtek doesn't have the highest reputation.
Naturally, when you plug a USB mic into your computer, the built-in audio chip will take care of the recording. Back a few years ago, most studios had to buy a third-party sound chip to improve the recording quality.
Now, though, audio interfaces are the standard option. It takes your recording quality one step forward without harnessing your computer's resources. The audio interface is the most critical equipment of any home or professional recording studio.
HDBB_recording_studio_in_the_living_room / pedronchi / CC BY 2.0 – The essential tools for your home studio include your recording laptop, an interface, a mic (if you're recording voices or an amp), and the speakers (or a headphone with flat audio). The mixer is optional.
Here're some of the things I've been talking about:
In particular, the Creative Sound BlasterX serves both as a headphone amp and a recording interface. It connects to your PC's motherboard and carries its own I/O options.
Sound cards like the Sound Blaster were essential during the '90s and early '2000s. Nowadays, though, every motherboard has capable audio hardware.
On top of that, audio interfaces are simply more convenient and deliver better playback and recording qualities. Check here for more info.
Behringer U-PHORIA UMC1820 Review
Behringer is known for its budget-friendly musical gear. Their options include pedal effects, speakers, headphones, interfaces, and similar.
The Behringer UMC1820 audio interface is another budget musical gear by the company. Its sound quality is not as high as some of its similarly-priced competitors, to be honest. But it shines in the amounts of options it gives.
With so many ports going on, you can record a ton of instruments simultaneously with this baby. That's something big-band musicians, podcast creators, radio producers could want.
The UMC1820 is part of Behringer's U-Phoria Series. These are mid-range audio interfaces with few surprises other than its core functionality and its robust construction.
Overview
My friend, if you don't know much about interfaces, read on. I'm reviewing the Behringer UMC1820 audio interface in a way everyone can understand.
My goal is guiding you towards an informed decision. More than that, I want you to enjoy a straightforward plug&play experience.
You need to know that Behringer sells the UMC as a fast USB 2.0 "studio in a box."
Design
The Behringer UMC1820 interface is large, flat, and thin, and built of sturdy black matter metal. The chassis is impact-resistant and has grey highlights around the controls.
It's also very compact and sturdy. It's only 17'' wide plus 4'' deep. That means it can fit in a 19'' rack.
Speaking of which, the UCM1820 is rack-mountable. It has two ears you can screw to the rack, so installing this interface is relatively easy.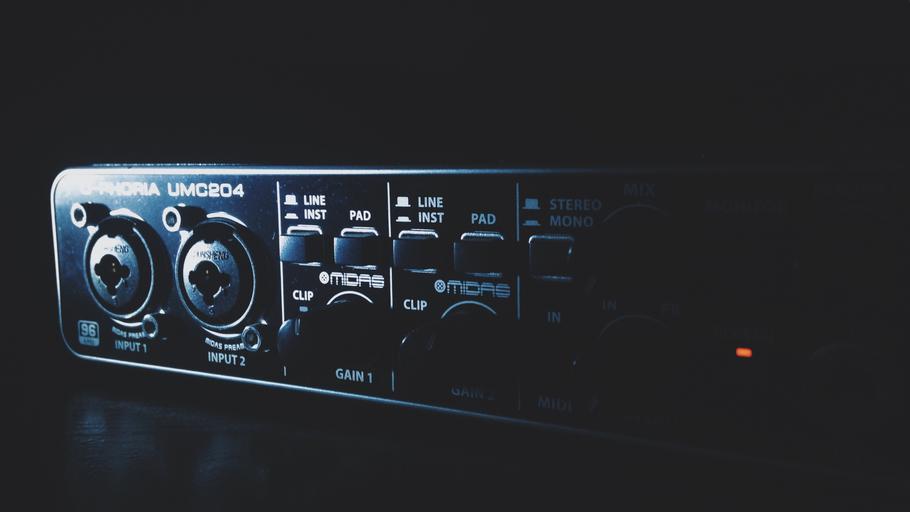 THe U-Phoria series has shorter, more affordable models for those looking for something simpler.
Input options
As for ports, it uses a standard approach with I/Os on the front and the back. Here's where we find one of the highlights of this model. Its price point shouldn't accommodate so many I/O options. And they come in the form of XLR/TRS ports.
In detail, these are the ports on the Behringer UMC1820 audio interface:
USB 2.0 AUDIO/MIDI interface connector for your computer
Two XLR ¼'' for mic & instruments/amps in the front (combo XLR/TRS port)
Six XLR ¼'' for mics & instruments in the back  (combo XLR/TRS port)
By "combo input," I mean it works on both mics and instruments, which is a rarity. Most interfaces feature separate mic & instrument inputs. Both need a different kind of power.
Most notably, condenser mics need yet another different kind of power (phantom power), which the Behringer UMC1820 already packs on its combo inputs.
See, each port is plugged to advanced MIDAS mic preamps and carry +48 V phantom power for condenser mics.
So many options. You can plug anything into the Behringer UMC1820. On the other hand, many budget  interfaces only have a single mic input plus two instrument plugs.
https://snappygoat.com/s/?q=audio+interface#4806a637f7feebed7d8145360dbe28b4f8ed6398,0,1. Most budget-level interfaces feature two inputs and two outputs.
Input controls
The controls on the Behringer UMC1820 look confusing at first glance. Lucky for you, I'm here to guide you.
Each input has a control cluster to swap the input level. First of all, the group includes a line/instrument switch. To engage the input for instrument level, you'd need to press the "Line Inst" button.
On the left side, there're two buttons named "1-4" and "5-8." Pushing the 1-4 button turns the first four inputs from XLR to phantom power. So on and so forth.
Additionally, each input has a -15 dB option you can turn on if your recordings are blowing your speakers out the window. It is the PAD toggle attenuator. Sensitive condenser mics are going to find this option quite useful.
Many interfaces don't have a PAD option. The fact that the UMC1820 packs a PAD for each input is outstanding.
Lastly, each input also features a gain knob plus notification Led lights showing you when the signal is on and if the signal is clipping.
Output options
Output options are also flexible and fairly simple.
It has 10 line outputs. In detail, here's what we've got:
Eight line outputs in the back for speakers, headphones, and similar (TRS, XLR)
Two "Main Out" ¼'' TRS output for studio speakers
One ADAT/SPIF out in the back (RME audio or "yellow & red audio outs)
One power output in the back
One MIDI in for external MIDI controllers such as a MIDI keyboard
One MIDI out to connect effect gates
Two ¼'' TRS out for headphones
As you see, the output options are split back and front, whereas the output controls are at the front of the device.
It could prove very convenient. For example, you could plug your monitor speakers from the back for playback and then connect a couple of headphones in the front for real-time listening.
Output controls
Output controls are a bit easier. First, we've got the plain gain knob for the Main Out. It has an attenuator option (DIM) plus a mute button.
There's also a gain knob that controls the rest of the back line outs with a Moo / Stereo option.
Lastly, the two front headphone outs have gain options. They also have a couple of buttons, which work as so:
"1-2" toggles the stereo mix channels from inputs 1 & 2
"3-4" toggles the playback from inputs 3 & 4

Collegamento_adat_ottico / Rics1299 / CC BY-SA  The "Adat" outs work on standard RCA cables.
Features
Feature-wise, the Behringer UMC1820 audio interface is fairly standard. Here's the list of tech its audio chip carries:
Audio quality: This U-PHORIA interface records audio quality up to 24-bi/192 kHz resolution for the most demanding applications and video production. In comparison, a budget USB mic records at 44 kHz. The more kHz, the more details, and accuracy.
MIDAS Preamps: MIDAS has been innovating in the music industry since 1970. It's a coveted option in most professional settings. Naturally, the U-PHORIA's MIDAS preamps are top-on-the line.
Zero-Latency: this device has zero-latency, which means there's no lag between the record and the playback audio. That means musicians can listen to their performance and without any delay.
Tracktion record included: the interface packs the Tracktion DAW, and easy software for recording, editing, and mixing your music.
Here's a showcase of how Tracktion works. You can check this list of Digital Audio Workstation software for further info. Keep in mind the Behringer interface works with most DAWs, like ProTools, FL Studio, Cubase, or Reaper.
Installation
Let's start by saying the UMC1820 is compatible with both Windows and Mac.
Mac users don't need to download any additional drives. However, Windows Vista/7/8/10 users would need to go over Behringer's site and search for the drivers. Type the name of the unit in the search box and find what you need to download on the driver section.
Once you download the driver, double click the .exe file and install it. Let Windows guide you through the process.
Let's say you already downloaded and installed the drives. After that, simply connect the device to your computer. Then, check the sound options of your computer and select the Behringer interface as default speaker, default recording option, and default communication device.
Plug your mics, your instruments, and your speakers. Open your Daw. You're ready to record!
Performance
The audio quality of the Behringer UMC1820 is solid. It can handle hot instruments, hot guitar pickups, and loud singers easily.
The MIDAS preamps do a great job cleaning the sound. In particular, the vocals come out clean, defined, noise-free, and without any color or saturation.
Lastly, it does deliver its promising zero-latency direct monitoring sound, with no lag and no delay.
Overall, an excellent interface for the money.
Variety: Behringer UMC202HD Audio Interface
If you think the UMC1820 has an overwhelming amount of ports, there's a cheaper option.
The UMC202HD sells for less money, although the difference is not as big as to justify only two inputs.
Still, this is a shorter, more compact device with two combo TRS/XLR inputs. And because it delivers the same levels of quality as its bigger brother, it's a great option for small video production studios, podcast producers, and radio producers.
Sale
Alternative: Focusrite Scarlett 2i2 (3rd gen)
This is the absolute best-seller. This entry-level audio interface presents two XLR/TRS inputs connected to top-of-the-line mic preamps.
These inputs have a switchable air Mode to make your recordings a bit brighter, with a more open sound. That's a nice option for when recording live, as it gives color to your voices.
The line inputs allow you to record guitars, basses, keyboards, and similar instruments without distortion or clipping as it has a Gain Halo meter to check the input levels. You have to toggle the "inst" button to record your guitars.
Just like the Behringer, it records at 24-bit/192 kHz with no noticeable quality difference with Behringer's option.
As for out, it has two lineouts labeled as "left" and "right" for a stereo mix with your monitor speakers. Plus, it has a ¼'' stereo headphone (6mm) plug at the front.
However, this unit comes with Pro Tools plus Ableton Lite. Either way, it works with most DAW software. On top of that, it offers users a 3-month membership at Splice Sound. Splice is a site offering millions of royalty-free samples, loops, presets, and similar.
In Summary
Why do I like the Behringer UCM1820 audio interface?
I love Behringer UMC1820. If you're looking to build a big studio with plenty of I/O options, it is the cheapest feature-loaded interface.
For its budget price, you get eight XLR/TRS mic/instrument level recording with -15 dB attenuator.
On top of that, you get ten ¼'' plus MIDI in and out for additional versatility.
And it's not just about the connectivity. It's features meet the standard quality we expect at that price point. Even the much-coveted Scarlett doesn't sound that much different to the Behringer option.
I highly recommend it, as there's nothing else like it at that price point.
You can check our reviews of the best audio interfaces and our list of the top budget interfaces:
Final say
The U-Phoria UMC1820 is a clear winner from Behringer, a company that knows how to add a lot of value into their musical gears.
For bands, performing artists, studio managers, and overall professionals looking for wide I/O options on a budget, the UMC1820 is the unit you must consider.
All in all, the Behringer UMC1820 is a top-value interface. However, the cheaper UMC202HD simply doesn't present an improvement over the cheaper Scarlett 2i2.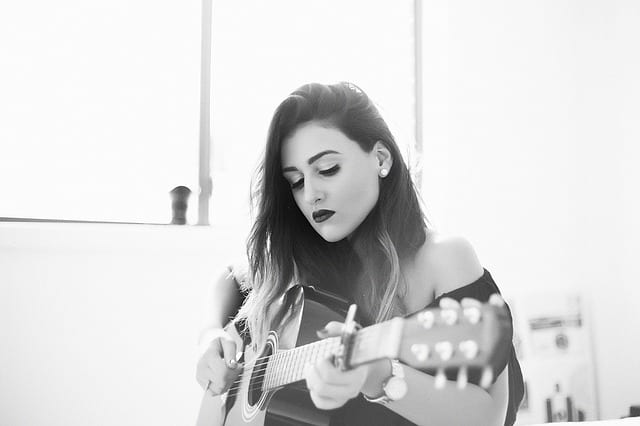 Jen is a guitarist and singer-songwriter who spends much of her time on the road and has lived in 13 cities across 4 continents. She picked up her first guitar at the age of 6 and learned to play by ear shortly after. She received her formal music education at the Berklee College of Music, and currently plays for a few bands in her free time. She has an uncanny ability to improvise creative melodies and harmonies. Her early influences include blues, jazz and rock.