Taylor is a highly-revered acoustic and acoustic-electric guitar maker. Their offerings are premium, expensive, and professional. The Baby Taylor, though, doesn't belong on the brand's higher-shelves. Instead, as the name suggests, this is a guitar suited for kids and home practice.
Yet, the Baby Taylor is an incredibly popular guitar as it packs the kind of quality we expect from the US brand.
As for price, the Baby Taylor packs a mid-level tag. Even so, this is an instrument for beginners and kids, so I'm keeping this Baby Taylor review free of complex terms. I'm going to be very friendly, this a guitar you might be looking for for your kids.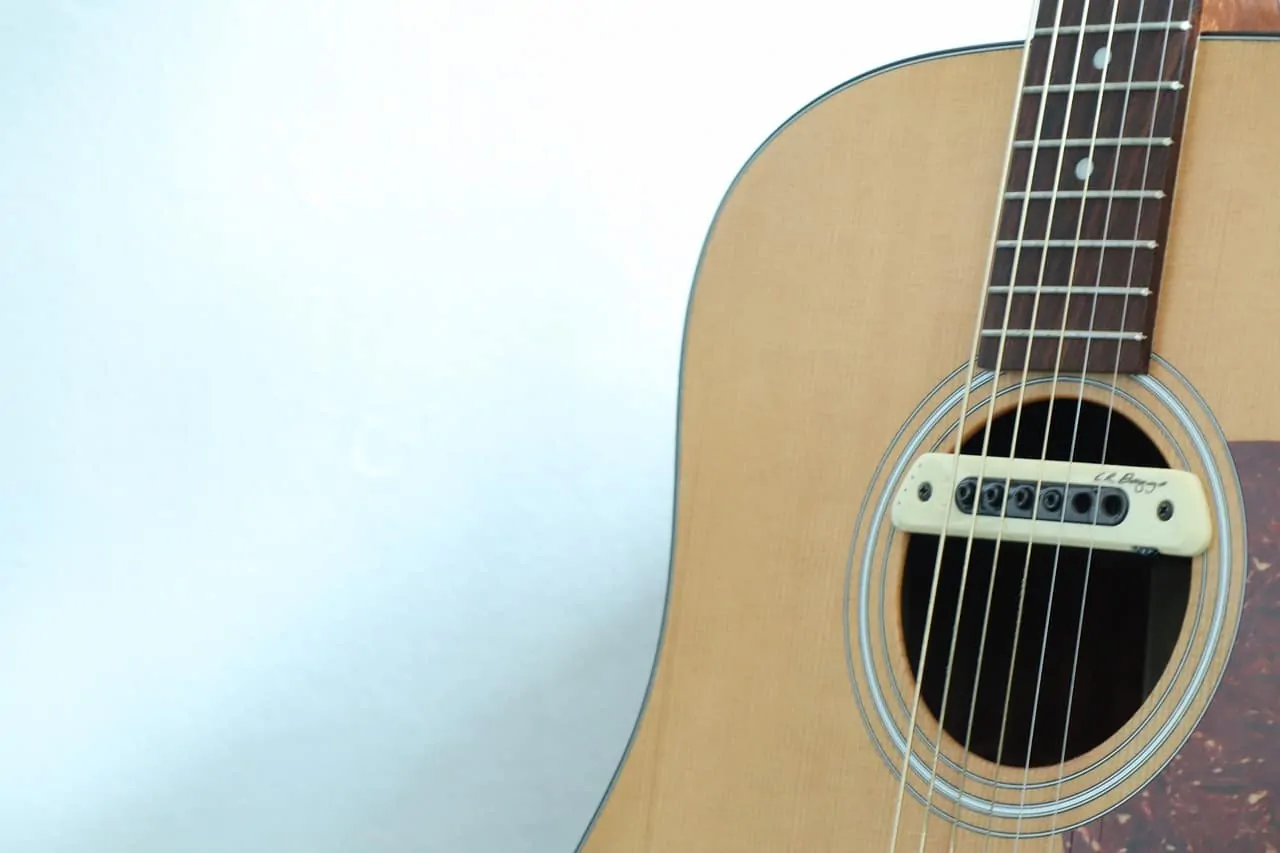 Taylor is known for its high-end acoustic and semi-hollow guitars.
BT2 Acoustic Guitar Review
Owning a Taylor is a pipe dream every guitar player has on their musical journey. And the reason it's just a pipe dream is that most Taylor guitars are above $1,000. Would you pay that much for a chunk of wood, though?
Suppose you're not a person with a massive budget under your sleeve. Buying a full-sized Taylor is probably out of reach.
The Baby Taylor has ¾ the size of a fully-fledged Taylor model, which is why we call it a Parlor Guitar. More than that, it sells for a fraction of the price, which is still far from some of the entry-level options we've listed.
The smaller size and the lower price tag also means this is not the guitar you would take to the stage. Just because it packs a big name on the headstock doesn't say it's better than anything else.
That said, you do have to think if the price is worth for an instrument without professional ambitions. Instead, this is a great-sounding guitar with the perfect size for kids. Likewise, because of its size and weight, the Baby Taylor is a great traveling guitar.
If you're looking for the Baby Taylor as a guitar for home practice or entertainment, that's also a great choice.
We're here to see if its price tag is justified. We're also sharing other traveling, beginner, and fully-fledge acoustic guitars we could get for the money.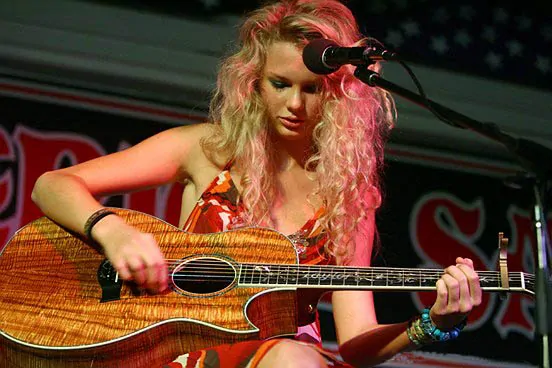 Taylor_Swift/ Dwight McCann / www.DwightMcCann.com / CC BY-SA 2.5   Taylor Swift often uses a Signature Baby Taylor Swift guitar.
Overview
The parlor traveling guitars segment has a lot of competition, especially when moving away from the entry-level branch mid-range prices.
Taylor is known for top-tier acoustic guitars, but they wanted to create a model for hobbies and student guitar players.
Their way into this market is the Baby Taylor BT2, which is Taylor's cheapest model. Coming from Taylor, we expect this to be one of the best traveling guitars out there. We also hope this to be one of the best mid-priced models out there.
But let's not rush into a conclusion. Let's focus on what makes this guitar special.
The BT2's appeal is its mellow tone plus its strumming acoustic. It makes it sound dark, sad, real. It's not powerful enough for the stage, yes, but the sound is well enough beginner alternatives.
Built quality
This guitar uses the standard Taylor construction with laminate woods on the top, back, and sides, plus solid pieces of wood for the body, the neck, and the fingerboard.
The result is a small-form guitar without electronics. Its size and weight are well-crafted for beginners and kids.
Body & Design
The body of the BT2 doesn't follow the same small concert body shape of other parlor guitars. Instead of that, it's more significant than the typical model of this category.
It has a ¾ dreadnought body, which means the BT2 brings higher versatility to the players while keeping a compact size for smaller hands and smaller places.
That said, this is a no-cutaway body. That means the body is flat, where it connects with the neck.
For tonewoods, Taylor chooses the very popular mahogany for the top plus Layered Sapele for the back and the sides. In particular, it uses real Tropical America Mahogany, which gives this guitar a distinctive tone and a unique appeal.
On the downside, laminated back, sides, and top don't give the same tonal quality as solid-body guitars. The sound they produce is not as full or as round. More so, laminated woods make a guitar feel cheap and flimsy.
Even so, Layered Sapele is a premium Taylor construction feature that protects the wood's physical and tonal properties. Furthermore, it enhances the guitar's top and bottom curvatures.
Another important built quality features are its simple X-Bracing Pattern. Although nothing like the more delicate Taylor models have, its non-scalloped pattern still helps deliver a better sound.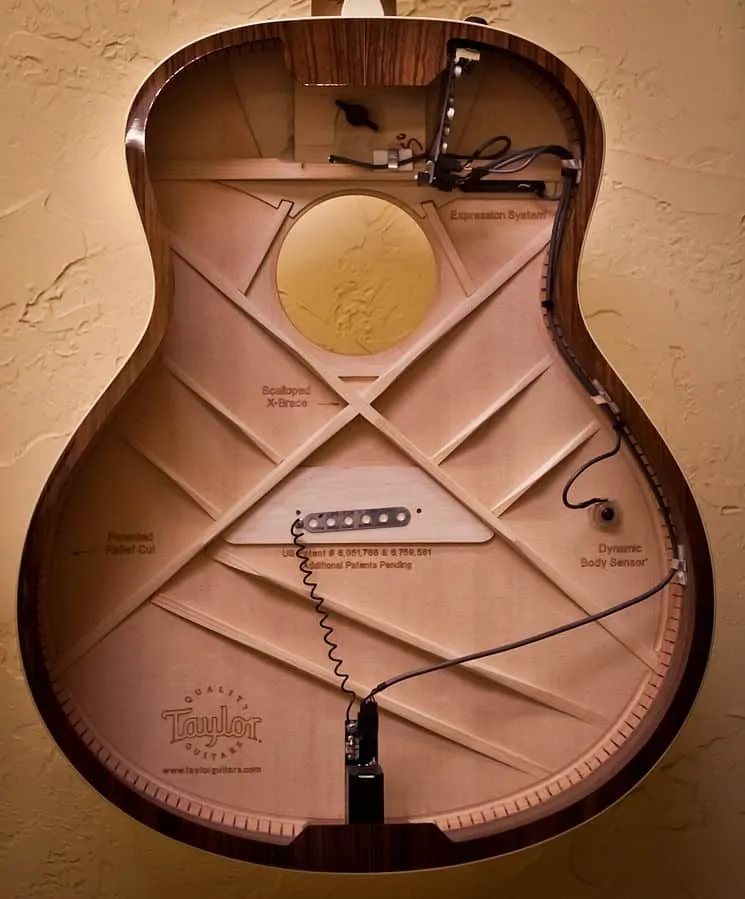 Taylor_Guitar_insides / Richard / CC BY-SA 2.0 The bracing is the textured design beneath the soundhole. Its job is to keep the sound steady.
Neck & fingerboard 
The Baby Taylor has a 22.75'' small-scale (the length of the vibrating strings). That means the neck and the fingerboard are shorter than what you see on the typical acoustic guitar.
The neck is bolted to the body on the 16th fret. A bolt-on neck is the cheaper alternative of a glued neck (known as set-in). Yet, that's something we expect at this price range.
Now, we can see the screws on the 16th fret. I have to say the screws look quite strange and cheap. However, because this is a no-cutaway guitar, the screws are below the frets you won't be using.
A no-cutaway shape gives no access to the upper frets, something for players that don't care for the higher register can take. Nevertheless, seeing the screws on the fingerboard is very weird for a guitar.
For tonewoods, Taylor used African Ebony for the fingerboard plus a mahogany neck. It makes it feel smooth and sturdy. Plus, these are high-quality tonewoods that contribute to the overall tone quality of the Baby Taylor.
Finish
Lastly, this guitar comes with a varnish finish on the top and the fingerboard for a smooth feeling, plus a black matte varnish finish on the rest of the guitar for aesthetics.
Overall, this guitar feels solid on your hands and doesn't come off weak, even with its basic construction.
Don't be fooled, though. The Baby Taylor is made of crystal. Treat it wrong, and it will break. It can even suffer damage from humid places, tight strings, and bad weather.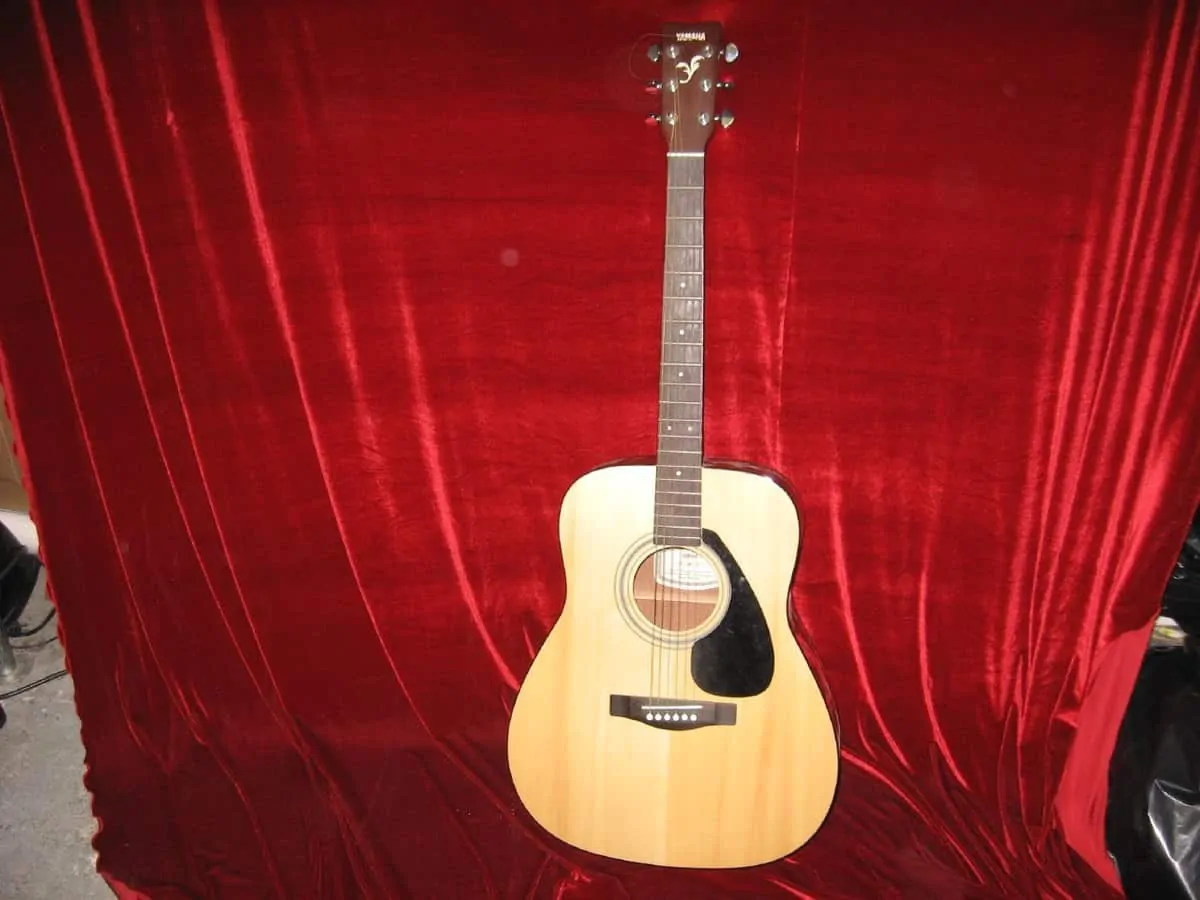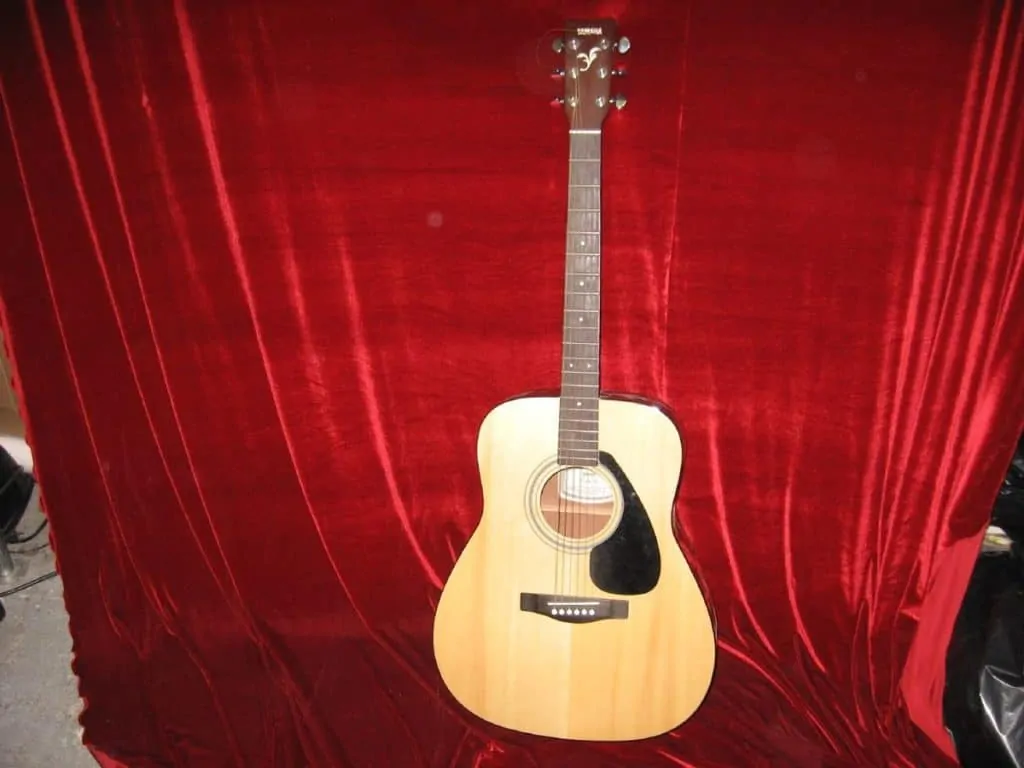 As all Taylor guitars, the BT2 comes with a travel bag. However, the BT2 is so delicate it probably needs some extra protection to be safe.
Sound quality
Albeit it features a flaky construction, the Baby Taylor delivers a great sound. The tone gets pretty competitive compared to fully-sized guitars of the same price. Plus, it captures what makes other Taylor guitars so unique.
Its dreadnought-shaped body compensates for its parlor size, so the tonal differences between the BT2 and a fully-fledged acoustic are hard to notice.
The volume, the natural acoustics, and the sound projection are okay. It sounds bigger than what a guitar this size should sound, but also smaller than a full-sized guitar.
Its sound is tight, balanced, mellow, soft, and smooth. The BT2 delivers plenty of definition and clarity. Likewise, the warmth is abundant.
Another thing to notice is how the sound is rhythm-friendly and forgiving. By "forgiving," I mean it puts less emphasis on right-hand movement, which means you could sound great even with clumsy strumming patterns.
All of this brings us the inspiring and defined sound we're looking for on practice guitars. At the same time, the tonal quality goes beyond what other practice guitars can offer.
Overall, the BT2 does sound like a Taylor, not just an imitation. It's a great tone for learning, practicing, and even the home studio. Pair this with an excellent acoustic guitar mic, and you'll be good to go.
Feel Quality
Let's continue our Baby Taylor review by detailing how it feels to play this guitar. Let's start by checking if the hardware can hold the tune during extended playing sessions.
Hardware
In the hardware department, the BT2 has standard units.
It has a rosewood bridge with a compensated saddle made of Nubone. The bridge is the piece sitting at the end of the body holding the strings tight. Its job is to keep the guitar's tuning and ease the tension of the strings. On the other hand, the saddle is a small piece of wood under the bridge holding the string.
Because of the Nubone material, this rosewood bridge can do its job without any issues. It will hold its tune during your most prolonged practice sessions. However, it won't sustain down-tunings.
The nut is made of the same material. You'd find the nut at the beginning of the fingerboard. Its Nubone construction delivers enough strength to make the open strings sound clean and neat.
On the other side of the guitar, we'll find die-cast tuning pegs. They do a good job retaining tuning and intonation.
Overall, the hardware is functional, but don't push the guitar too much.
Playability
With Taylor's standard neck-width (11-1/16''), the BT2 features a narrow neck that's great for playing chords.
Likewise, its smooth fingerboard makes it soft and easy on your hands. It helps you increase the speed of your overall rhythm guitar playing.
Its body shape has top and bottom curvatures, making it an excellent guitar for playing or standing up.
Lastly, it's light and small, so it's the right choice for kids and players with little hands.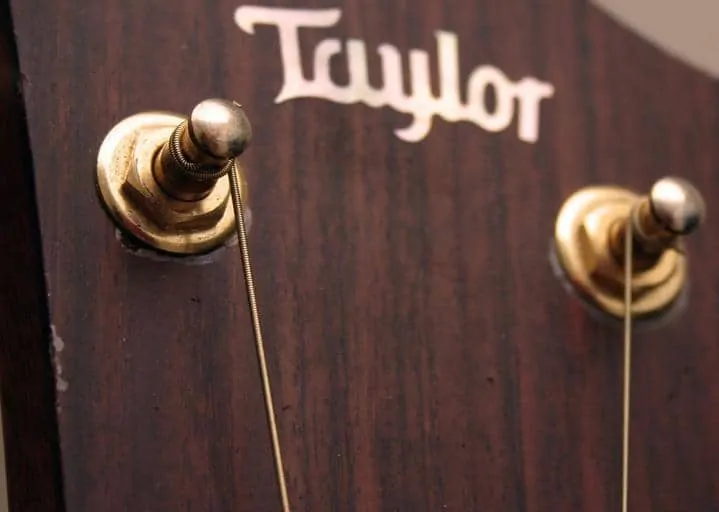 All Taylor acoustic guitars have the same narrow neck profile for easy chord playing – Taylor_Guitar_leaned_on_stool /Lisa Hall-Wilson / CC BY 2.0 – 
Downside & set-up
I think I made clear that the downside of this guitar is its flimsy construction. It needs a lot of maintenance: regular string changes, dehumidifiers, protective cases, and similar.
More so, it doesn't stay in tune once you start playing seriously, but I don't think investing in a new set of tuning pegs for a non-professional guitar is a worthwhile investment.
Notably, the Baby Taylor BT2 needs a couple of adjustments from the get-go. As you receive this guitar, you might need to tune it up. Additionally, you might need to tweak the truss rod to adjust the strings' height (more on that below). You can consult with your teacher, your local luthier, or a friend if you're a beginner.
That said, maybe we can take a look at some alternatives.
Alternatives
Beginner Guitar HQ already made a review on another parlor guitar we considered to be the best. Its marketing and pricing were candid about what the guitar was: a home practice tool.
I'm talking about the Gretsch Jim Dany. Its friendly price might be more to your liking.
For the same price range, you could also get the Yamaha FG800, one of the best acoustic guitars available. It features an advanced scalloped bracing that does the trick for a fantastic tone.
Sale
Likewise, you could get the FG800's parlor version, which is the FG Jr 1, one of the most popular parlor guitars in the market.
Sale
If you're looking for maximum cost-per-value on a home-practice guitar, I recommend the impressive Jasmine s35 acoustic guitar. It's the best budget acoustic guitar, with a sound decent enough for home recording.
Lastly, I recommend the Fender CD60CE as a great acoustic-electric guitar for beginners for its smooth playability and decent tone. More so, this guitar is ready to play as soon as you take it out of the box.
Variety
In case you're looking for the Taylor sound plus the Taylor long-lasting durability, I can't recommend the Taylor 114e acoustic-electric guitar enough. A top-value premium guitar with a bunch of features makes it ready for the stage and professional recording sessions.
Sale
Speaking of which, the Big Baby Taylor is a full-sized dreadnought with electronics. However, it doesn't have a solid body either. The construction is very similar to the BT2.
Baby Taylor BT2 Specs
No cutaway body
Mahogany top
Layered Sapele back & sides.
African Ebony fingerboard & Mahogany bolt-on neck (16th fret)
Narrow neck profile ( 1-11/16'')
Adjustable truss rod present
Mahogany neck & rosewood fretboard
In summary
Who should go for the Baby Taylor guitar?
The BT2 is ideal and cost-effective for beginners and kids, albeit it has limited traveling options. Because it's neither reliable nor durable, I wouldn't recommend this as a guitar you take to the beach to jam along with your friends.
Additionally, the BT2 is an excellent tool for home practice and home recording. It delivers the coveted Taylor sound, only with less power and within a flaky enclosure. Can you see the appeal?
Final Thought
I'm not listing this as a traveling guitar because it can break easily during your travels. Otherwise, the BT2 rewards your performance with a fantastic tone you won't find at that price range easily.
The tone alone makes this price a bargain. However, you'd need to sacrifice some mobility and keep it for your home or kid's lesson classrooms,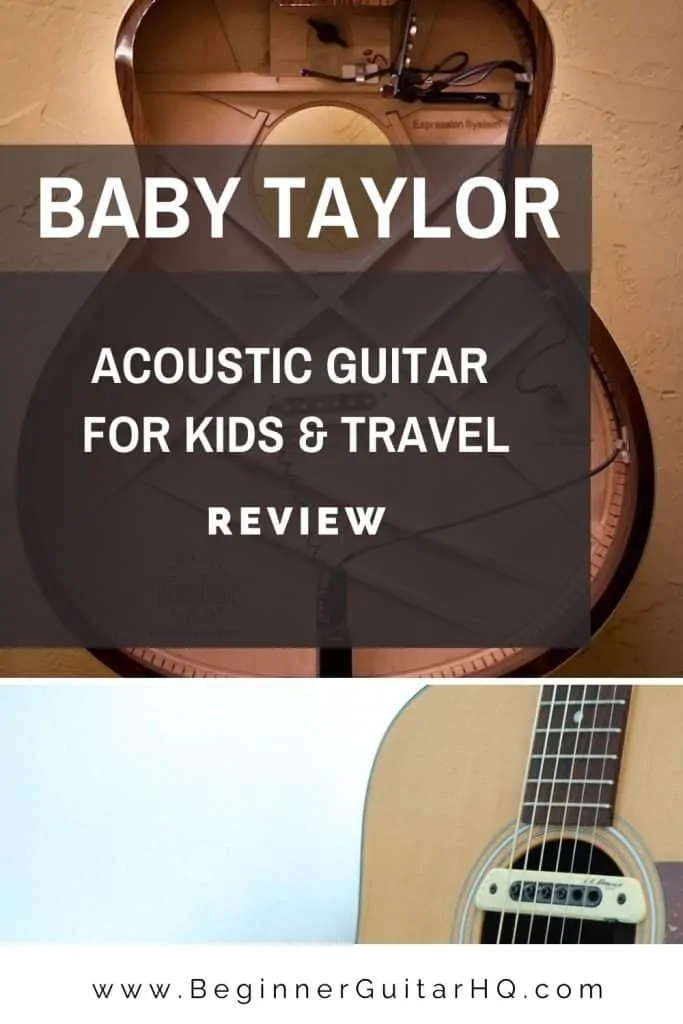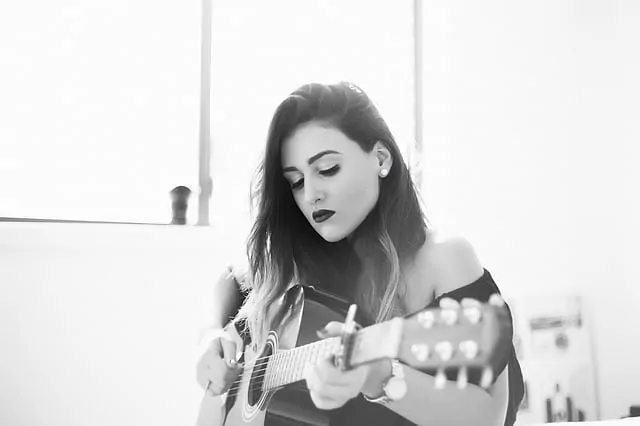 Jen is a guitarist and singer-songwriter who spends much of her time on the road and has lived in 13 cities across 4 continents. She picked up her first guitar at the age of 6 and learned to play by ear shortly after. She received her formal music education at the Berklee College of Music, and currently plays for a few bands in her free time. She has an uncanny ability to improvise creative melodies and harmonies. Her early influences include blues, jazz and rock.