Choosing a microphone for recording acoustic guitar can be overwhelming. There are so many at so many different price points with varying features and specifications. I mean, I'm exhausted just writing that sentence. That's why I'd like to introduce the Audio-Technica AT2035.
It's affordable. It captures high-quality sounds. It's great for home recording setups.
In this review, I'll introduce you to this mic and why it's the perfect choice for recording acoustic guitar.
The Basics Of The AT2035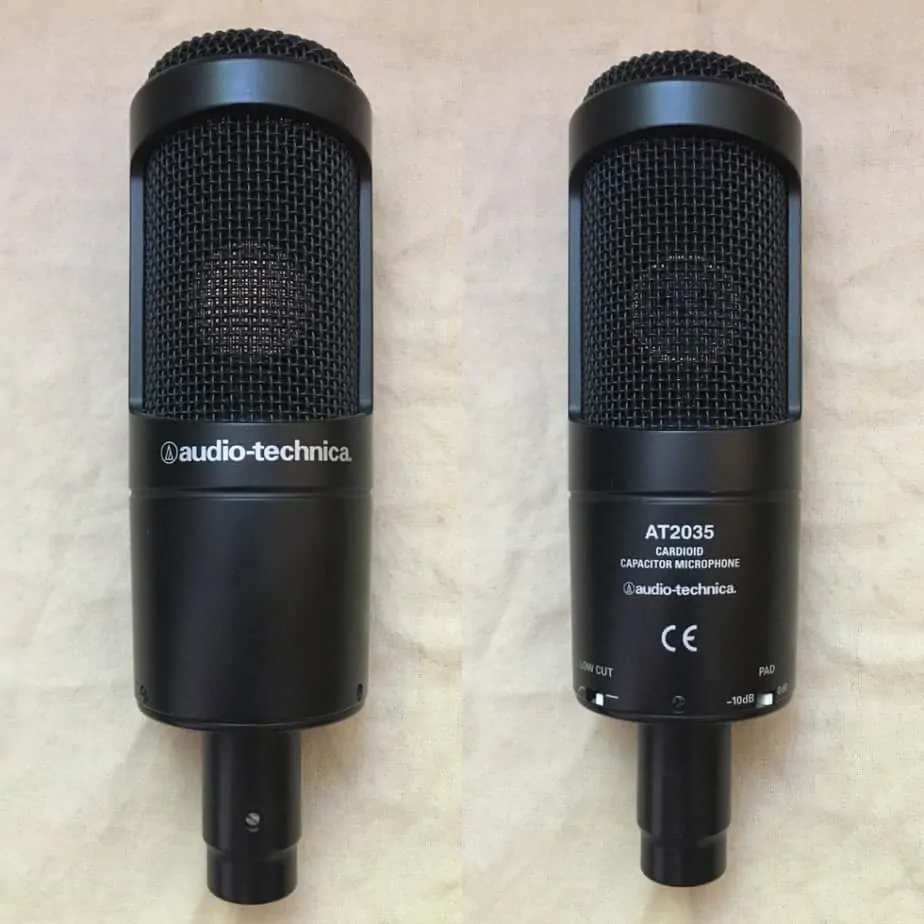 Audio-Technica AT2035
Audio-Technica built the AT2035 to their own standards, and their standards are high. 
The company says on their website that this mic was made specifically for both home and professional use. And when you use it, you'll understand why.
The AT2035 is a cardioid large-diaphragm condenser mic. What does that mean? 
Well, "cardioid" refers to the recording pattern (the area around the mic in which sound will be most predominantly recorded). A cardioid pattern is shaped somewhat like a bloated cartoon heart (see photo below). This reduces the sounds coming from the sides and rear of the mic, and that will isolate your sound source better. 
Cardioid patterns are good for capturing acoustic guitar because it's wide enough to get some low end, some mid-range, and some higher frequencies without picking up background noise. 
"Large-diaphragm" refers to the actual size of the diaphragm (a thin piece of metal or plastic-coated metal) inside the head of the mic. The biggest advantage of large-diaphragm mics over small-diaphragm mics is that the larger diaphragm means the mic's self-noise is much less. 
This is good news if you're recording some intimate, gentle acoustic guitar. 
Lastly, "condenser" refers to the type of diaphragm inside the mic, which divides mics into two types: condenser and dynamic. Condenser mics have a diaphragm that's a thin piece of metal while dynamic mics have a diaphragm that's made of a coil and magnet. 
Basically, all you need to know about condenser mics for this review is that they're typically more sensitive than dynamic mics and more fragile. Both types can work to record acoustic guitar depending on the sound you want and the recording environment you're in. 
The AT2035 has a high-pass filter you can switch on and off, which can cut out lower frequencies and bring out the higher frequencies. The mic also has a -10 dB pad, which can bring down the sensitivity (a good option for recording in louder or non-soundproofed spaces).
Okay, technicalities out of the way, let's continue on with the review. How does this mic perform?
How Does It Sound?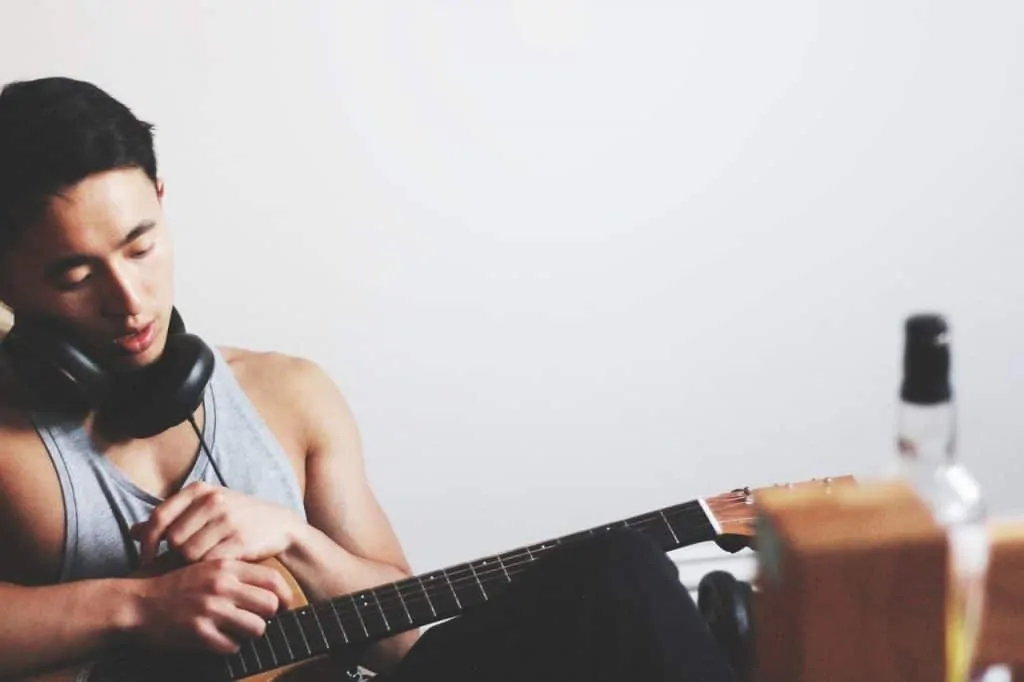 The biggest question: how does the AT2035 sound?
The AT2035 is a sensitive microphone, which is what you want in at least one of your mics. At the same time, it's not too sensitive that it picks up the neighbors (unless they're super loud). This makes it a good option for home recording. 
It captures a good amount of the mid-to-high frequencies that sound very smooth yet it still has a nice full sound. It also has low self-noise. You see, mics tend to make noise, especially those that are phantom powered. That self-noise can show up in the recording if the gain is set high. But the AT2035 doesn't get too loud.
And thanks to the low-cut switch, it can help remove even more unwanted noise, specifically the lower rumblings that can sometimes show up in recordings. 
What Can You Record With It?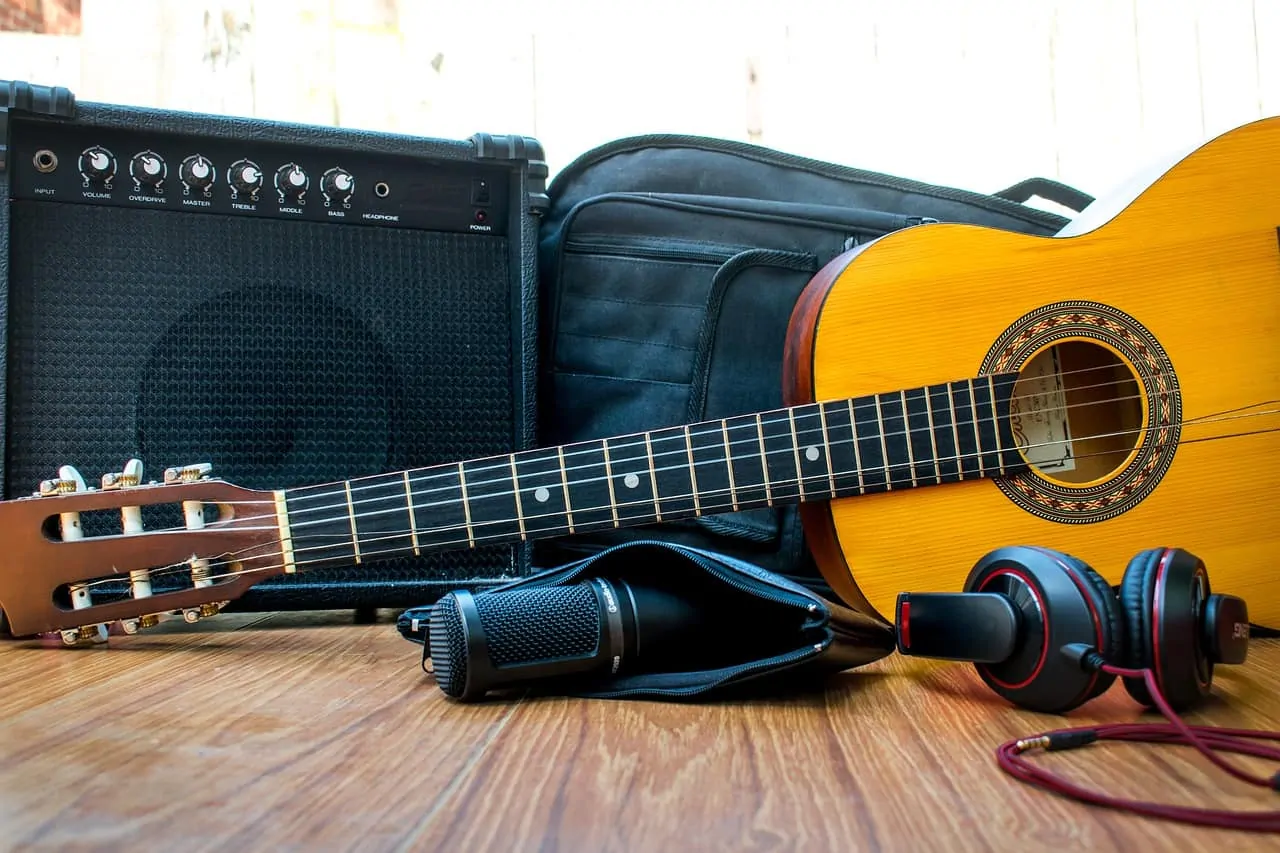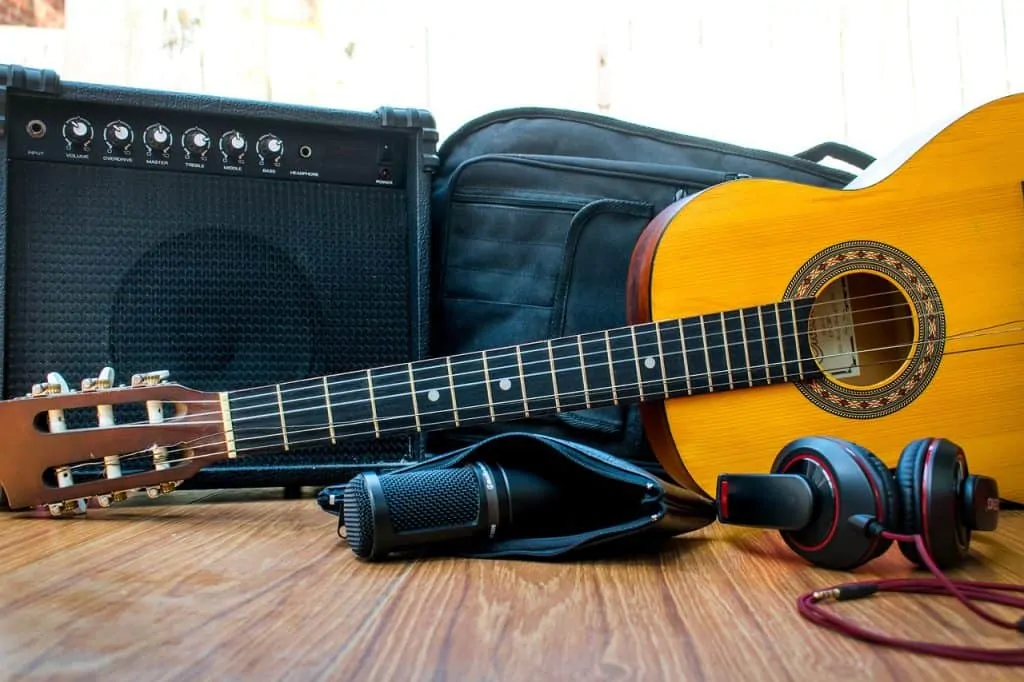 The AT2035 can record acoustic guitar acoustically or through an amp 
The sensitivity of the AT2035 makes recording acoustic guitar super enjoyable. It does a very good job of capturing your guitar's true sound, which is exactly what you want. 
Because of the way the AT2035 is built, it's able to handle really loud instruments and still sound good. So as long as you make sure your recording is not peaking (gain level hitting the red), you can strum loudly and know you'll still get a good sound. 
This also makes it a good mic for vocals, guitar amps, drums, and brass or wind instruments. 
However, the instrument it does best with is for sure the acoustic guitar. Don't just take our word for it — test and review it for yourself!
How Much Does It Cost?
You'd think that with the quality of this microphone, it would be too expensive for most DIYers. But that's not true. The price is quite reasonable. Plus, it comes with its own specialized shock mount. 
You can also find it as a part of bundle deals. For example, the bundle with the AT2035 and the Focusrite Scarlett Solo audio interface is one of the better options.
Pros And Cons Of The AT2035
We at Beginner Guitar HQ want to keep this review (and all our reviews) as balanced and fair as possible, so here's a list of pros and cons of the AT2035.
Pros
High-quality build
Very good mid-to-high range
Warm, full-bodied sound
Great value
Shockmount included
Cons
Some may find the high-end is too sensitive
Bass response may be too much for some 
Review Wrap-up
The reason the AT2035 is perfect for recording acoustic guitar is because it captures a wide range of frequencies, it records clearly, and its cardioid pattern is the optimal pattern.
Plus, it's super affordable for the quality, so it's a great first microphone for beginner guitarists who want to start recording their songs. 
I can summarize this review of the AT2035 in seven words: a microphone perfect for recording acoustic guitar.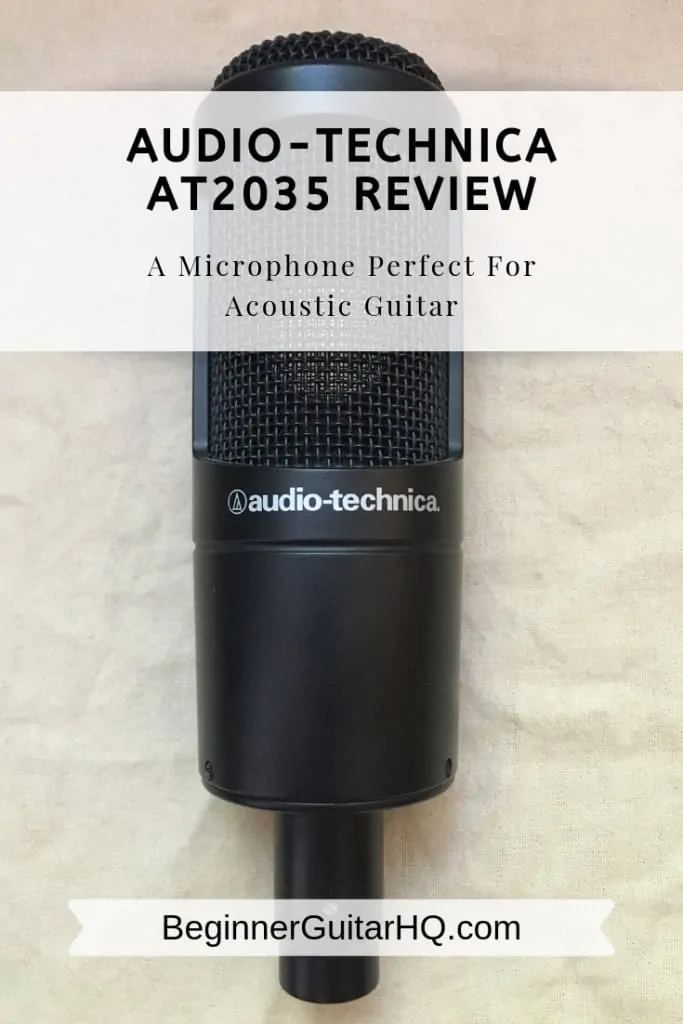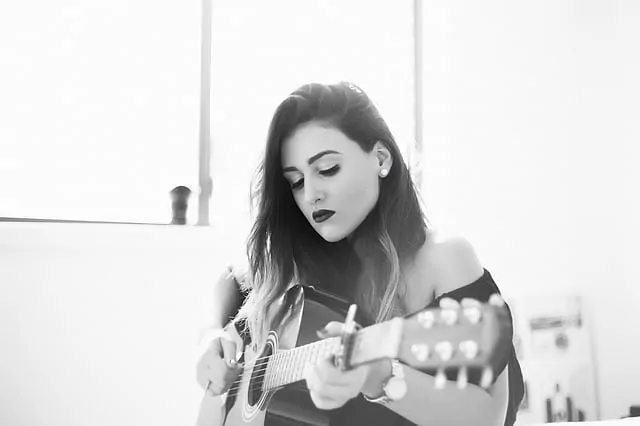 Jen is a guitarist and singer-songwriter who spends much of her time on the road and has lived in 13 cities across 4 continents. She picked up her first guitar at the age of 6 and learned to play by ear shortly after. She received her formal music education at the Berklee College of Music, and currently plays for a few bands in her free time. She has an uncanny ability to improvise creative melodies and harmonies. Her early influences include blues, jazz and rock.