Choosing a new microphone is often a pretty tough decision.
This is especially true if you're new to the audio recording game, but even seasoned pros sometimes struggle to decide.
The problem is, there are just way too many microphone choices these days.
Even with something as specific as a USB mic (which are far less common than XLR mics in most audio circles), there are more models on the market that you can shake an SM57 at.
The good news is this:
We're here to help.
This guide is going to review the 10 best USB microphones on the market, and we'll even give you a brief buyers' guide so you know what you're looking at, and so you're aware of how and why we choose these epic mics.
Let's start, though, by answering a few burning questions.
What is a USB microphone?
Okay, so maybe this is a little obvious:
They're microphones that connect via USB.
Pretty straightforward, but there is a little more to it than that.
For the longest time, microphones have really only been available with XLR outputs.
This special three-pronged audio connector is very much an analog audio format, meaning it doesn't interface nicely with digital gear, like your laptop.
To get an XLR mic to play well with your computer, you need a mic preamp and an analog to digital converter.
Most often, these two pieces of gear are packaged in one box known as the audio interface, which then connects to your computer via USB.
But then, mic manufacturers decided to throw all of this into the mic body, and hence the USB microphone was born.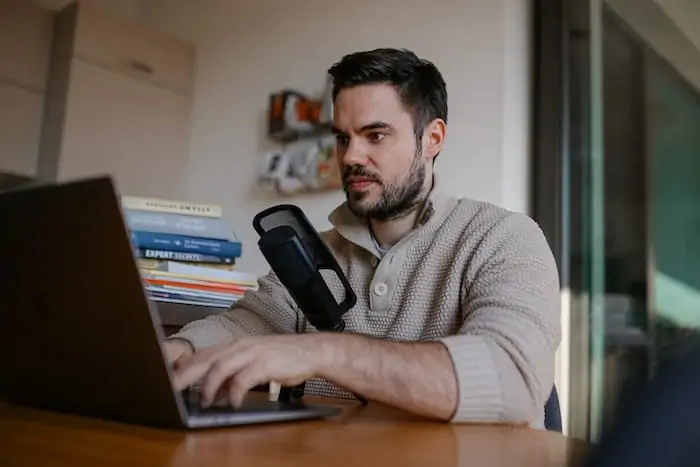 USB mics are more or less the same as regular microphones, but they have a mic preamp and analog to digital converters built-in, so they can talk with laptops and desktop computers (and even mobile devices like your iPhone) via USB.
When are USB microphones a good choice?
The main benefit that USB mics offer is that they plug straight into your computer without any additional devices.
So, they're a great choice for anyone who needs to be super portable, or if you're looking for a cheap audio recording solution and you're not keen to splash out on an expensive interface.
Bear this in mind, though:
USB mics really are aimed more at the consumer market, than at the pro-audio market.
Though many of them sound great, their affordability does mean that USB mics often cheap out on certain components, and so these units (especially the cheaper ones), can be a bit harsh, or not overly elegant.
Again, it really depends on the specific mic you buy, and I've only included microphones in this list that don't sound terrible, but just bear in mind that, as with anything in the audio world, you get what you pay for!
Rode NT-USB
It's pretty rare that I write a 'best X microphones' post and don't include something from Rode.
This Australian manufacturer is absolutely killing the budget-friendly microphone game, while somehow still producing mics that hold up to their more expensive competitors without a challenge.
On the USB front is one of their latest competition-killing units, the NT-USB.
Here's what's good about the Rode NT-USB:
Excellent pop filter that fits the body perfectly
Includes tripod desktop stand or can attach to your regular microphone stand
Dedicated zero-latency headphone output with separate volume control
Control to dial in the mix of playback to input
Two-year warranty
Compatible with the newer Apple iPads
So, quite a lot then, but how does it sound?
In a word: fantastic.
It's a cardioid condenser microphone with a dead flat mid-range and a nice presence boost of about 8dB in the 6kHz range.
The result is a forward, present sound, without too much high-end hiss, harshness, or sibilance.
Pair it with the included pop filter or maybe the compatible WS2 foam windshield, and you've got a create USB mic for podcasting and content creation.
Blue Snowball
Blue Microphones have always been at the top of the innovation game, ever since their famous Bottle mic with interchangeable capsules hit the market.
They've always been pretty heavy into the USB microphone game, too, with offerings like the Yeti wooing YouTube content creators for years.
The Snowball is one of their more affordable mics, and in my opinion, is one of the best USB microphones in its price range.
Sale
It comes in black, white, or silver (important for those shooting video), and each of these models has cardioid and omnidirectional polar patterns available.
The cardioid is ideal for recording a single vocalist or speaker, but it is nice to be able to switch to omni mode when putting the mic in the middle of a round table, say for a meeting or group podcast episode.
There's also a pad available on the cardioid polar pattern, for recording extra loud sound sources, like screaming game streamers.
The Blue Snowball comes with a tripod stand for use on a desktop, which can be removed for use with a regular stand, or to just sit on the table like a lonely Pokeball.
The frequency response of the Snowball is pretty interesting. It's quite insensitive below 1kHz, and has a few peaks in the upper mids.
So, it's clearly aimed at speech p[roduction duties such as podcasting and video calls, rather than being an all-round recording mic.
For example, I wouldn't use it on an acoustic guitar.
Samson Q2U
This is a pretty special little mic.
That's because it's a regular handheld XLR mic, with the addition of a USB port.
Seems pretty straightforward, but this is actually stupidly rare, considering how handy this feature is.
It's handy because it means you can use the Samson Q2U as a home studio mic for content creation or for recording demos, and then take it to practice or to the stage for live use (not many mixers take a USB input).
Sale
Somehow, Samson also manages to pack a little 3.5mm headphone output into the base of the mic. Perfect!
The mic itself sounds crisp and clear, exactly what you want from a vocal mic, and being a dynamic mic, it doesn't pick up too much background noise.
To make life even easier, the Samson Q2U ships with a number of accessories:
USB cable
XLR cable
Desktop tripod stand
Foam windscreen
Standard mic clip
Just grab a set of headphones and get to it!
Audio-Technica AT2005USB
Aside from the Samson Q2U, the AT2005USB is the only other microphone I know that has both a USB and an XLR output.
Of course, being an Audio-Technica mic, it absolutely oozes class, despite being a fairly affordable unit.
The AT2005USB is a dynamic handheld mic with a simple on-off switch, and has all of it's outputs in the butt-end:
There is also a nice tactile slidey wheel for controlling the headphone volume, which I felt was quite a nice touch on Audio-Technica's behalf.
From a sound perspective, this is very much a vocal mic, as it offers a total range of just 50Hz to 15kHz.
You're not going to need any more than that to capture a nice vocal tone, but for instruments such as bass or acoustic guitar, you're going to want a little more on either end.
The response of the mic itself is mostly flat, until you get to around 2kHz, where it grows steeply to a peak of +3dB at around 5kHz, before rounding out and then falling away quickly in the high end.
Overall, this is a really capable microphone for voice performances, and I definitely wouldn't be afraid to take it on tour with me, as it seems pretty strongly built.
Plus, you get a mic clip, XLR cable, and desktop tripod stand, so you're pretty much set!
IK Multimedia iRig Mic HD 2
Recording to iOS devices is still a relatively new phenomenon, or so it seems when you take a look at the number of microphones available that aren't aimed at the vlogging and video markets.
IK Multimedia, however, have planted themselves firmly into iOS territory, and offers a number of epic devices for recording to these, well, epic devices.
On the vocal microphone front is the IK Multimedia iRig Mic HD 2, a digital condenser microphone designed for use with iOS devices.
By the way, it also has a standard USB output, so it's still compatible with your Mac or PC, making this a seriously versatile little mic.
The IK Multimedia iRig Mic HD 2 records in 24 bit and up to 96kHz, which is pretty respectable, and has two controls on the top side: an input level control, and a headphone volume control.
So, obviously, it has a dedicated headphone output as well, which is great for low-latency monitoring, especially for those of us who have the latest iPhone (no headphone jack).
The IK Multimedia iRig Mic HD 2 spares no detail on the sound front, with a gold-sputtered condenser mic capsule taking care of transduction duties, and providing a crisp, intelligible vocal sound that does not disappoint.
The mic has a really nice transient response (so it's great for recording a drum kit, or miking up an acoustic guitar), and it boasts a max SPL handling level of 125dB, which is on par with most pro-quality XLR mics, so that's something to celebrate as well.
Lastly, the IK Multimedia iRig Mic HD 2 ships with some epic software and apps to help you get the job done, including:
VocaLive – a collection of virtual mic models
iRig Recorder – an iOS recording app that lets you add effects like EQ and compression to shape your voice recording
Mic Room – more mic models, this time emulating famous microphones like the Neumann U87
Mackie EM-USB
I've been a long-time fan of Mackie gear, from their range-leading mixers to their epic home studio monitors, but I didn't realize until recently that they'd gotten into the microphone game.
And I can tell you this much:
Next time I'm in the market for a new USB microphone, I'm heading to the Mackie aisle.
The Mackie EM-USB is part of the EleMent series of microphones and is a large-diaphragm condenser mic with a cardioid polar pattern.
As such, it's suitable for a variety of applications, such as vocals, brass, acoustic guitar, and electric guitar amps.
It offers more or less what you'd expect from an LDC USB mic:
Headphone output
Gain control
Headphone level control
Excellent intelligibility
Being a condenser, I'd recommend grabbing a pop filter to put in front of this bad boy to stop those nasty plosives (P and B sounds), and maybe even a shock mount if you're serious about acoustic isolation, though this isn't a deal-breaker as the Mackie EM-USB does come with a tripod stand mount.
Plus, it's affordable enough to leave room in the budget for all of those extras, so you're winning either way.
Razer Seiren X
Calling all gamers: THIS is the USB microphone for you!
Coming in nicely under a hundred bucks, the Razer Seiren X is a pretty damn good mic for anyone who needs a better solution than their headset, or the built-in mic on their gaming computer.
Sale
First of all, it's available in 3 colors (black, white, and pink), so it's suitable for gamers from all, uhh, aesthetic choice teams.
Secondly, it has a super precise supercardioid pickup pattern, which is like your standard cardioid polar pattern (front, not the back), but even more focused on the front, and cutting out even more side sounds.
That's ideal for gamers, as you can position the mic to point right at your mouth while you're sitting in that fancy gaming chair of yours.
Plus, the Razer Seiren has a handy little mute button on the front, so you can instantly cut your feed when mom calls to let you know that dinner is ready, or when you're about to get banned from the server for raging.
It's got a built-in shock mount to keep the mic capsule isolated (meaning it won't opick up too much of your keyboard noise), and it's so small that you can fit it in your hoodie pocket and take it on the bus to your friend's place for your next game stream.
Oh, and it comes with a super stable (and kind of stylish) desktop stand, so you don't need to mess around with weird desk-mounted boom arms – you can literally plug and play.
Shure MOTIV MV51
Shure tends to be more known for their epic stage microphones than their condensers and USB mics, but the Shure MOTIV MV51 is far from their typical dynamic mic.
It's a large diaphragm condenser, but it looks nothing like what we've come to expect from trusty old LDCs.
Sporting a vintage look, the MV51 can lay down flat on it's back, be propped up using the collapsible desktop stand, or even attached to a regular mic stand. Talk about versatile.
Sale
But the versatility does not end there.
The microphone has 5 preset modes for different recording styles:
Speech
Singing
Flat
Acoustic instruments
Loud
This makes the Shure MOTIV MV51 a great mic for recording singers or creating content, but it's also ideal for recording say, an acoustic guitar, or even a super loud drum kit.
One thing I love about this USB microphone is that it's compatible with your standard USB devices (like your computer), as well as iOS devices.
So, you can easily take it on the go and record using your iPhone or iPad – great for roving interviewers and podcast hosts.
Aside from all that goodness, the Shure MOTIV MV51 has a dedicated headphone output with volume control and a handy little mute button on the front for when you need to cut the feed during live stream events.
AKG Lyra
Perhaps one of my favorite condenser mics of all time is the AKG C414, and since I first used one in the studio, I've been a huge AKG fan.
Moving forward into the digital world, and AKG is making one of the best USB microphones around, the Lyra.
Sale
It works seamlessly with your laptop, computer, phone, or tablet, and even offers four distinct polar patterns for different recording situations:
Front
Front and back
Tight stereo
Wide stereo
The stereo modes are great for recording instruments like guitar, where front and back is your typical figure-8 polar pattern – ideal for two-person interviews.
You also get a headphone output and dedicated volume control, an easy-access mute button, and an integrated desktop stand which you can remove to mount the Lyra on a regular mic stand.
It has a nice, smooth frequency profile with no pronounced peaks or bumps, delivering a natural and transparent recording that just gets the job done.
Overall, this is not only a super versatile digital microphone, it's also a really great sounding one, such that I'd have the AKG Lyra as part of my YouTube content creation kit any day.
Rode Podcaster
One more entry from Rode here, because, like I've already mentioned, they make some seriously dope microphones at seriously affordable price points.
They've got a few mics aimed at the podcasting and broadcasting markets (the Procaster and the Broadcaster), but these are all XLR mics.
The Rode Podcaster is, of course, a USB mic, designed for podcast hosts who don't want all the fuss of an XLR mic and interface and just want to get their damn podcast episode recorded already.
Here are just a few reasons why the Rode Podcaster is one of the best USB microphones around:
Broadcast sound quality
Up to 48kHz sample rates
Integrated 3.5mm headphone output
Mic capsule is internally shock-mounted for maximum acoustic isolation
10-year warranty included
Works perfectly with Rode's PSA1 boom arm and PSM1 shock mount
Cardioid polar pattern is tight and focused
Strong SPL handling capabilities
It's worth noting that the frequency range of this mic is a little limited (40Hz – 14kHz).
That's fine for voice duties, which the Podcaster is clearly designed for, but it wouldn't be ideal on say, drum overheads or a piano piece.
Best USB Microphone – a Buyers' Guide
Choosing a new microphone is fun, but it can also be a little scary.
What if you make the wrong choice?
After all, you're just taking advice from some guy on the internet you've never met (I promise I'm trustworthy).
So, it's best to prepare yourself with the right knowledge so that you:
Know which mic to choose for your purposes
Understand why we chose these 10 best USB microphones.
There are 5 main things you need to know about.
Condenser vs dynamic
There are two main kinds of microphones: condensers and dynamics.
This term refers to the technology that the microphone uses to convert sound energy into electrical energy.
I won't go into the details here, but here's what you need to know about what it means for you:
Condenser mics have a wide frequency response that reaches right up into the top end of the human hearing range. They are clear and intelligible but are also super sensitive, so they're prone to picking up more room noise. Not so great if your room isn't well treated, or if you need a USB microphone for live use. Most USB mics tend to be condensers, in my experience.
Dynamic mics are kind of the opposite. They tend not to reach up so high in the frequency range (though they still cover the majority of the audible range), and they are much less sensitive. So, they're great for use in the home studio or when using live, but they're not so great when you're trying to pick up a whole room of people, like on a conference call with 10 people in the room.
Polar pattern
A microphone's polar patterns refer to its sensitivity with regard to direction.
There are three main kinds of polar pattern:
Omnidirectional – picks up sound from any direction
Cardioid – picks up sound from the front, a little from the sides, and not the back
Figure-8 or bidirectional – picks up sound from the front and back but not from the sides
Most of the time you're going to want a cardioid polar pattern because you want to capture what you're pointing the mic at and nothing else.
However, there are some applications where other polar patterns are more suitable, such as using an omni mic to record a whole room full of people from all directions.
Headphone output
Some USB microphones come with a headphone output, and some don't. Usually, it's a 3.5mm stereo output.
If you choose a USB mic without a headphone output, then you'll need to listen back from the output of your laptop.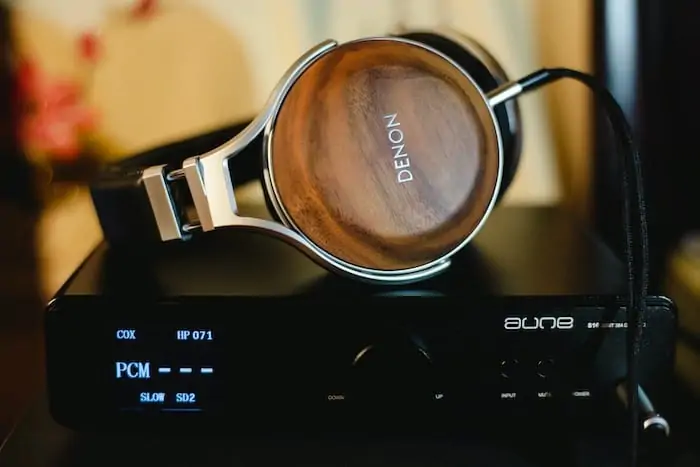 The benefit of having a headphone output is that you can typically hear what you're recording on the way in, whereas from a laptop output you're hearing the sound recorded and then played back, so there's often a little bit of a delay (called latency).
This can be pretty distracting when speaking if that delay is quite long.
I'd say that the best USB microphones tend to have headphone outputs, and I'd recommend looking for one for this reason if you're going to be recording speech or vocals.
Pads and filters
Some USB microphones give you the option to alter the sound of the mic a little.
There are two main ways that you can do this.
The first is called a pad, which basically reduces the output level of the microphone. These are great when recording loud sound sources so you don't overload the input of your computer.
Generally, pads are -10dB or -20dB.
The other switch you'll see on USB mics is the low-cut (aka high-pass) filter, which cuts out some of the low end and stops the sound from being so boomy.
You might also find a presence boost on some mics, which gives you a little boost in the upper mids for more forwardness and clarity on your vocal or acoustic guitar.
Other controls
Other mic controls include a headphone output level control, a mix control, a switch for changing polar patterns (on a multi-pattern mic), and an on/off switch.
These are all optional and really depend on your preferences and what you plan on recording.
Conclusion
And there you have it, 10 of the best USB microphones around, and a bunch of reasons why you should get each one.
Of course, you're probably not going to buy all 10 of them (though it would be nice, wouldn't it?), so make sure you check out our USB microphone buyer's guide above so you know which is the best USB mic for your specific purpose.
And then, just have fun with it!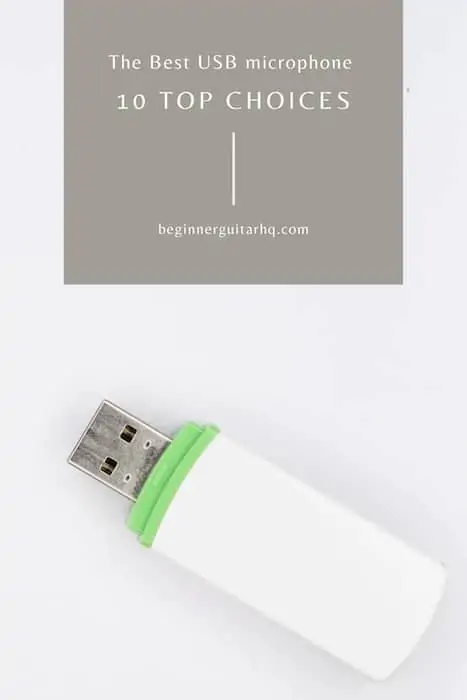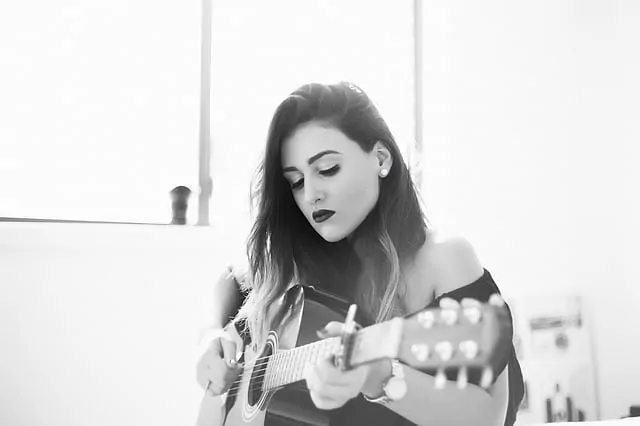 Jen is a guitarist and singer-songwriter who spends much of her time on the road and has lived in 13 cities across 4 continents. She picked up her first guitar at the age of 6 and learned to play by ear shortly after. She received her formal music education at the Berklee College of Music, and currently plays for a few bands in her free time. She has an uncanny ability to improvise creative melodies and harmonies. Her early influences include blues, jazz and rock.