We at Beginner Guitar HQ have created many lists detailing top value acoustic guitars. We've also listed a couple of premium classical models if money is not a problem. Today's article is putting everything in perspective with the top 6 best cheap acoustic guitars.
Before we move forward to the actual list, though, we'll need to check a few pieces of advice. I'm sharing a quick budget acoustic guitar buyer's guide. It will help you invest your money in worthwhile instruments.
Be that as it may, our article is reviewing the top 7 best budget acoustic guitars for those searching in circles. Indeed, there's plenty of choices out there, so it would be wise to check some YouTube demos and user comments before you buy.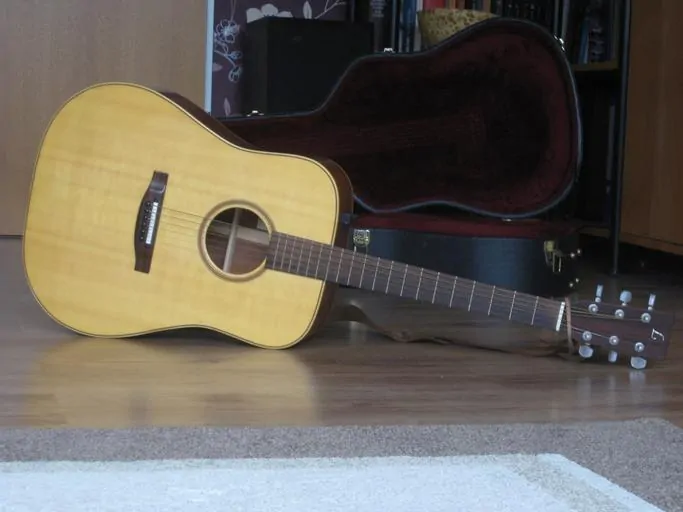 A reasonable budget acoustic guitar is easy to play and decently durable. It should also have enough sound clarity for practice and learning.
Similar articles we've made include:
Be sure to check those guides if you're looking for further info on acoustic guitars. "Too much info" is not a thing when it's about buying a new instrument.
About buying cheap acoustic guitars
Getting affordable acoustic these days is easier than ever. They are readily available, and there are many.
Moreover, many leading brands like Fender are producing their own line of budget acoustic guitars. A prime example is the electric-acoustic Fender CD60CE selling for a price tag that usually belongs to Squier gear.
On the downside, the market is saturated with sub-par models. Buy the wrong cheap guitar, and you'll be changing the strings and the tuners in a couple of months.
What we need to do is identify the gems and set them apart from their competitors. The low-budget segment is home to heavy competition, but also home of some tricky marketing scams.
Still, many cheap acoustic guitars offer similar build materials, similar builds, and similar playabilities. The differences are honestly very marginal, which makes identifying the best alternatives harder.
Let me assist you on your shopping quests with our budget acoustic guitars buyer's guide.

Acoustic and electro-acoustic guitars have the same power and resonance when unplugged. You can still play with an acoustic guitar live with a PA system, but it's best to plug your acoustic-electric into an acoustic amp.
Cheap acoustic guitars buyer's guide
Most people believe that buying an acoustic guitar below a certain budget line leads to inferior instruments. That's a myth, though, as you can get a lot of value if you know what to look for.
Aside from our straight reviews of the top 7 best cheap acoustic guitars you can buy right now, we can help you some other way.
Here is our top advice on how to buy a good budget acoustic guitar.
Build quality
The materials of an acoustic guitar are quite important. The choice of tonewoods for the neck, fingerboard, body, bridge, and nut greatly influence the resulting sound. Woods like mahogany, maple, rosewood, and spruce top are what we need to look for on this price range.
Certain tonewoods make for a warmer sound because they are denser. They are not as loud or clear as the "bright" tonewoods, but they have extra character. Here's a guitar tonewoods guide.
If you're in doubt, please check our guide on the parts of an acoustic guitar.
Solid vs. laminated
Some guitars are built with laminated pieces of wood, whereas others are made with solid pieces of wood. As you would expect, solid wood guitars are pricier and more sturdy, durable, and loud.
Laminated guitars are not bad, though; they are just what most brands can offer at certain price points.
Body type
Next, we need to choose between the three body types we'll find on this price range:
Dreadnought: dreadnought guitars have a subtle boxy shape that delivers a midrange scoop, where the vocals lie in the mix. They are great for singers, songwriters, and solo performers.
Overall, they sound fat and bold and feature a clear top-mid end. Also, dreadnought guitars have a straight body and don't have the tight waist Jumbo guitars feature. The result is a balanced frequency across the board.
Dreadnoughts are versatile and useful for all-hands guitar players. They are good for both the studio and the stage. They are also suitable for playing solo or playing with a band. Also, because they have a balanced response, they respond well to both fingerpicking and flat-picking.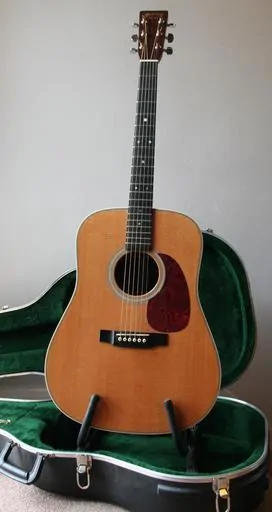 The Martin brand invented the dreadnought guitar body.
Jumbo: Jumbo guitars are bigger and fill more air within their sound holes. That means the sound is larger, fuller, and with a feeling of energy and life dreadnought guitars don't have.
Because they have a tight waist, they don't lose any clarity. Instead, its sound is clear and large, with plenty of high-end jangle. It's good for pop, country, blues, jazz, indie, and similar genres.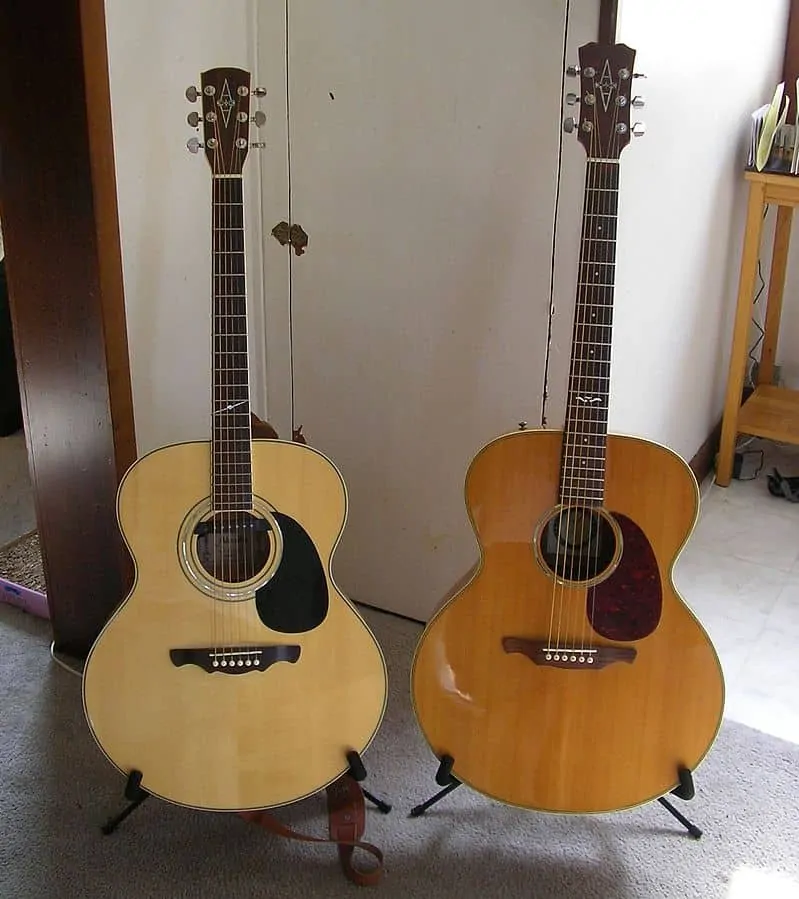 Alvarez_AJ60S_and_5072 / beth h / CC BY 2.0  Jumbo guitars feature pronounced curves on the upper and lower side of the body. The lower cutaway helps you rest the guitar on the legs, whereas the upper cutaway helps you rest your arms as you play standing.
Parlor: parlor guitars are smaller as they are made for traveling and kids.
Most guitars feature a scale (the vibrating length of the strings) that varies between 24'' to 25''. Parlor guitars are about 13.5'' to 14'', so they are significantly shorter.
The body is more extended, though. It looks like an elongated dreadnought body as it's the way manufacturers added more volume to these tiny alternatives.
Their tone is naturally softer but with a great emphasis in the mid-range. The sound is versatile and serves most music genres, albeit parlor guitars are better left at home for practice.


Stella_Parlor_Guitar / Barbara Wells / CC BY-SA Parlor guitars are also suited for travel as they are very light and small. Their convenience comes with little to none durability, though, so be sure to take care of these guitars carefully. 
Tone
Naturally, you have to consider how the guitar sounds. As we've seen, a guitar is either warm or bright, and I can't say which one is best. You'd have to decide that for yourself by YouTube demos. Better yet, you could test it yourself!
Also, be sure to select a guitar with enough clarity. Notes should not overlap with each other, and playing chords should be understandable.
Lastly, pick a guitar that features the amount of volume you're looking for. If you'd like to play on small venues without a PA system, then your guitar should have a big sound, like a Jumbo model.
Playability
How the guitar feels on your hands dramatically depends on three things.
First, the size of the guitar: if you're an adult with big hands, go for a guitar with big frets, a big body, and a big fingerboard. Otherwise, be more careful about what you choose.
See, the size between the frets is the first thing influencing the playability. Most guitars feature "medium jumbo" frets, which is an excellent middle-ground. Others feature extra-jumbo frets, which might be too big for some.
The fingerboard radius is also essential. The radius details the neck's curvature, so the rounder it is, the easier it gets to play chords. Otherwise, a flat radius makes for more comfortable solo playing.
All classical guitars feature a flat radius board, which means over 12''. 9.5'' and below is known as a round radius. The in-between is the middle ground between both options.
Another thing to note is the number of frets. Most guitars pack 22 frets, but if you're a beginner looking for a guitar you'll trade-up, 22 frets might be too much.
Also, going for a neck with an extra finish (like gloss, polystyrene, or satin) ensures the fingerboard feels smoother and softer on your hand.
Lastly, you need to consider the cutaway. The cutaway means an arch where the body meets the neck. Its purpose is to give you easier access to the upper frets. However, guitars with cutaway have a heavier, brighter sound than the others. Non-cutaway guitars are more massive and louder.

The Cutaway appears where the body meets the neck, on the lower side of the body. That gives you access to the last frets. 
Set up
The out-of-the-box hardware and configuration are also critical. That means the tuners, the nut, the strings, and the bridge should be decent enough to play comfortably at your place.
Notably, the tuners and the bridge have the job of keeping the guitar in tune. If you're thinking of an affordable guitar you can play shows with, you would need to look for a decent bridge and tuning pegs. Or change them altogether.
Then, the guitar strings should be okay to last the six months guitar strings typically last.
It would be wise to go for guitars with rosewood bridges and nuts. It's a cheap material that enhances the natural resonance of the guitar.
Next, you'd want to notice the "action" of the strings. That means how close the strings are to the fingerboard. Low-action strings are gently depressed, and so they feel easier to play. Going the other way around is more suited for experienced players.
Lastly, if you're a beginner, you'd want your guitar in tune right out of the box.

The guitar tuners quality influences how long your guitar can stay on tune during your playing sessions.
Player
The most crucial element is yourself. A beginner won't sound any different on a $3000 guitar than on a low-end alternative.
I always advise players to match their skills with their gear. For example, if you're a beginner guitar player, go for a beginner guitar. Once your skills call for a better rig, then you can trade-up for something better.
Then, when you have something better, you can wait until you become better than your guitar to change it for a premium model.
If you're looking at it as an investment, though, you can go for a top-value guitar that grows with you.
Keep in mind most brands start adding features that add nothing to the overall sound or playability after a certain price point. I'd say that the price point is around $400.
For example, dot inlays, artsy sound rosettes, or painted tuners add nothing other than looks and value.
You have to remember all acoustic guitars sound pretty much alike as there are not many places to go for these instruments. As you zoom in, though, you'll start finding subtle differences like extra twang, more definition, more balance, and better feel. As you grow as a guitar player, these differences will become more apparent.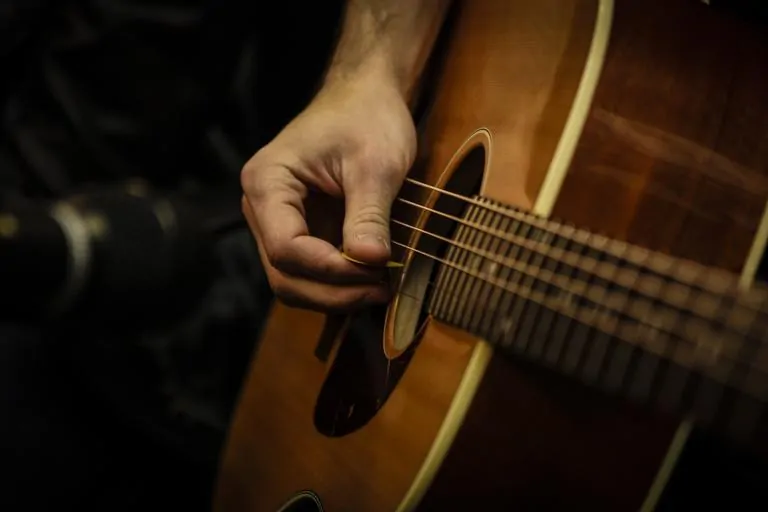 Can you make a cheap guitar sound great? 
Best cheap acoustic guitars
You may be on a tight budget or look for something to play around the house and your home studio. When entering the market of cheap acoustic guitars, it's essential to try as many as possible.
But unless you own a guitar store (and prove immune to Codi-19), then trying every guitar on the list might be a bit complex.
Our top 7 best cheap acoustic guitar reviews will help you ultimately choose for your next or first-timer banger. Our selections blend quality, value, and ease of use for the overall beginner and experienced player alike.
In the meantime, I recommend you watch the following video comparing a bottom-end acoustic guitar against a premium gear. Once again, the conclusion is that a great guitar player can make a cheap guitar sound incredible, but it can't go the other way around.
Yamaha FG820
Yamaha's FG800 acoustic guitar series means top-tier value for the money. It comes from a brand expert at creating great student and beginner electric guitars and basses.
Their acoustic lines follow the same ideas: well-constructed affordable solutions with tech features you wouldn't find anywhere else.
The FG800 series packs an outstanding bracing construction within their soundhole, representing the top-tier feature present throughout the lineup.
The bracing enhances the guitar's tone and quality by tenfold by improving mid frequencies, low frequencies, and sound projection. That means the sound is more powerful; it has more sustain, has rich overtones, and travels further.
They reached this design because they wanted to improve their original '60s FG180. Yamaha's R&D division simulated and analyzed how to create the best bracing pattern. Finally, they moved away from the traditional approach and opted for a scalloped bracing design.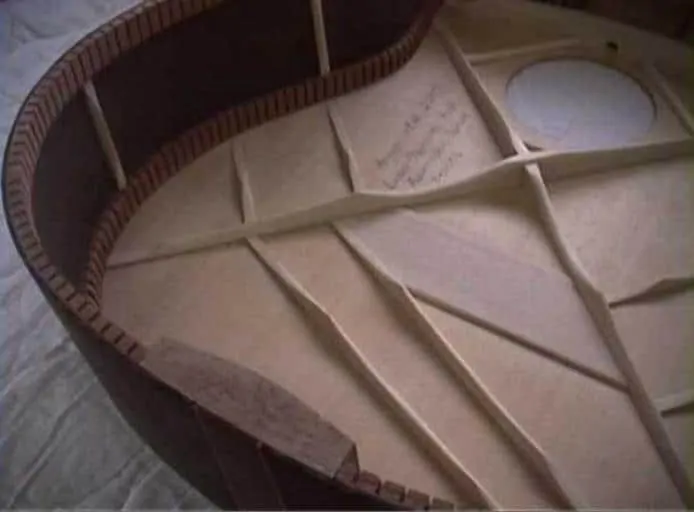 Luthiers use braces or thin pieces of wood on the inside of the guitar's body. Scalloped bracing is a unique and modern method not many guitar manufacturers are using.
The FG820 dreadnought is easily the number one choice on our best cheap guitars list. Aside from its impressive feature, it's built on solid spruce wood with laminated mahogany on the back and sides. Then, the neck is made of nato, and rosewood is the choice for the fingerboard.
Add the bundle pack that includes a bag, a strap, a set of picks, and strings, and you get an unbeatable product.
We also covered the Yamaha NTX700 electro-acoustic guitar. It also packs a proprietary tech on its ART 2 pickups. In essence, the tapers can simulate the best wood conditions on the soundhole to produce the most natural sound possible.
We also reviewed the cheaper Yamaha FG800, which uses more affordable woods but sounds very similar to the 820 model.
Samick Greg Bennett GD100S
Samick isn't a popular brand, so it's certainly not the first thing that comes to mind when looking for a cheap acoustic guitar. Still, the Korean brand produces thousands of budget guitars every year, so they know a thing or two about the beginner's market.
In specific, they created the GD100S in collaboration with famous American luthier Greg bennet. The result is a dreadnought acoustic guitar that sounds way better than the budget allows. And that's thanks to its construction quality.
Moreover, this is a guitar that doesn't look cheap. Instead, it seems like a vintage model with its tight grain, solid Sitka spruce top, and dark laminate nato mahogany on the sides and back.
On top of that, it has the proprietary Thunderflex scalloped bracing pattern that allows the top woods to "breathe."
Then, with an abalone rosette plus and multi-ply binding, the Samick Greg Bennet body has as much elegance as durability.
The neck is made of mahogany, and it sports a rosewood fretboard with 20 medium jumbo frets. With its careful craftsmanship, the guitar delivers smooth playability.
In the hardware department, the GD100S acoustic guitar delivers some impressive items that increase its feel. The oddly-shaped headstock features a robust set of sealed die-cast tuners. They can hold the tune of the guitar during rough playing sessions and performances.
On the other end, there's a rosewood bridge with unique rounded edges. Such a shape improves the guitar's looks, durability, intonation, and sustain.
With a lovely look and fantastic hardware, you would think the manufacturer cut the sound department's money. However, the sound is robust, tight, balanced, and warm. Moreover, the sound gets better as the guitar grows older due to the solid wood on the body and the scalloped bracing.
In particular, the scalloped bracing boosts the guitar's resonance and projection. Overall, the GD100S deserves way more recognition, which is why I put it as the second-best cheap acoustic guitar in the market. It's so good, both in construction and sound, that you may forget this is a budget instrument. The only thing that's missing is a brand name on the headstock.
Ibanez AW54OPN
Ibanez is another Japanese company with a top-tier reputation on both the beginner and premium segment of electric guitars and acoustic guitars.
The affordable SW540PN dreadnought guitar uses solid woods and upgraded components to deliver an impressive amount of quality for a budget. That's something Ibanez mastered many years ago.
The body, lovely and classic, is made with solid mahogany. That's a choice you don't expect "cheap" guitars. Instead, mahogany belongs to mid-tier and high-tier guitars.
There's also mahogany on the sides and back of the body plus a tortoiseshell pickguard. It gives a touch of "rustic" to the overall aesthetics, and so the guitar feels like something you'd want to pick up and play.
The neck is also made of solid mahogany and hosts a rosewood fretboard with 20 medium jumbo frets. Then, with a smooth satin finish on the neck, the guitar feels soft and light on the fingers. Additionally, the guitar comes with low-action strings out of the box.
As for the hardware, it has sturdy tuners plus a rosewood bridge. It's all very standard but functional. Moreover, it has Ibanez Advantage bridge pins, which help you change strings faster. Then, it has an Ivorex II nut and saddle, which increases the guitar's sustain. Finally, it packs D'Addario strings.
The resulting sound goes beyond what you'd expect from a budget acoustic guitar. As it has materials sitting well above the entry-level market, the sound is warm, natural, and woody. Moreso, it has a beefy sound projection plus a great sustain because of its large dreadnought body.
Overall, the Ibanez AW540PN acoustic guitar is an impressive cheap acoustic guitar.
Epiphone DR-100
It's hard finding such an inexpensive guitar, let alone from one of the most popular brands in the market. Epiphone works as Gibson's subsidiary making affordable Gibson guitars. Still, they've built a top-notch reputation for both their budget alternatives and original models.
Epiphone is not a "cheap" brand, but they know how to squeeze as much quality as possible. Their DR-100 acoustic guitar is the best evidence of what I just said, and so it belongs in the elite of the cheap acoustic guitars segment.
The Epiphone DR-100 is the brand's best-selling guitar, albeit built on laminated pieces of wood. It has a combination of mahogany and select spruce on the body, a popular tonewood combination.
Then, the neck is made of mahogany and features the brand's SlimTaper profile. That's something you'd see on any Gibson Les Paul Guitar, a design crafted for both chords playing a solo playing. It allows a speedier play without compromising your hand's grip.
For hardware, it delivers a rosewood bridge with a synthetic nut and open-gear tuners. All of it is the typical units you'd find at this price range, but they can keep up the intonation during your practice sessions. However, you might need to take the guitar to a guitar shop to assort the string actions and tuning.
Even though it's not perfect right out of the box, the sound does pack quite a punch. For a classic dreadnought, it's quite bright and present at the mids. It has abundant clarity, but it lacks some power on the low-end. Still, this is the sound you'd want for playing almost any genre.
For its price range, the Epiphone DR-100 is hard to beat.
Fender FA-115
Fender doesn't need any introduction. Coming from the industry leader, the FA-100 is their flagship affordable acoustic model. With its starter-pack bundle, the FA-115 is one of the best acoustic guitars for beginners. The brand alone gives the model sufficient credibility for you to feel safe.
It's a dreadnought guitar with a laminated spruce top. Albeit it's not a solid-wood model, spruce offers a good dynamic response plus a wide range of sounds. Add laminated basswood material on the back and sides and end up with an improved bass frequency.
The top of the body packs an advanced x bracing design plus a body binding finish.
On its c-shaped maple neck (the classical Fender profile), it packs a soft rosewood fingerboard with 20 medium jumbo frets. It has pearl dot inlays on the fingerboard, which are a nice touch.
As for hardware, it has a standard rosewood bridge plus a synthetic bone saddle. They do the job okay, but the best part of the set-up is its Fender Duratone light strings, a great addition at this price range.
The overall tone it delivers is vibrant, full, and great for strumming and fingerpicking.
Jasmine s35
When it comes to budget, the Jasmine s35 is the one that will save the most money for you. But for such a low price point, the s35 model packs an impressive amount of power.
Sitting in the category of unknown brands, the Jasmine s35 has made a name for itself simply because of user feedback.
It does have a few compromises, which it's something to expect at this price range. For starters, it's made on laminated pieces of wood (spruce on the top with nato on the back and sides).
Another downside is how the set-up is not perfect. It's even mediocre on arrival and asks you to tune the guitar, at least. Or, better yet, change the tuners and the strings.
But what makes this guitar so attractive, with its 25.5'' scale dreadnought design, is its sound. Thanks to its X-bracing design plus its combination of tonewoods, the guitar delivers a huge and pleasant tone. It's clear, big, and more than enough for recording guitar at home. It's a great cheap guitar to bash on or learn.
Moreover, it has a super smooth satin rosewood fretboard that can feel more comfortable than any other guitar on the list.
The sound and playability alone of the Jasmine s35 give the guitar enough points to become the one of the best cheap acoustic guitars.
Martin LX1E Little Martin
We're closing the list with a simpler, traveling guitar from a classic manufacturer. The Little Martin sports a great build quality, a compact size, and decent electronic components.
In truth, the Martin LX1E might go a little outside your budget, but it might be what you're craving.
First, this is a handmade guitar, a fact alone that makes its mid-level price point impressive. Moreover, with the classical Martin tones, full of crisp, clarity, and edge, you can cut through the mix harder than any other guitar on the list.
By the name alone, you already know the Little Martin is a great pick.
In particular, this guitar is made with solid Sitka Spruce on its body with Spruce on top and rosewood HPL on the back. HPL is a proprietary tech that produces powerful and warm sounds.
The neck is then made of Stratabond birch laminate and packs an FSC certified Richlite tonewood on the fretboard and bridge. Both materials are premium, rare, and capable of producing great sounds.
Its combination of tonewoods delivers a fantastic tone plus an impressive look. Even though this is a parlor guitar, light, and small, it sounds full and round.
The tuners are equally impressive and well above the price point. It packs Gotoh nickel tuning pegs. The Gotoh name alone produces the highest-quality intonation stability in the market.
Lastly, it has Fisman's Sonitone pickup and preamp for a full, natural tone. The downside is that it only packs a pre-set tone knob plus a contour function to tweak the mid-range. If you want to take this guitar to the stage, you'd probably need some extra acoustic guitar pedals.
Overall, the Little Martin delivers an excellent bang for the money.
In Summary
I hope our guide points you towards the best cheap acoustic guitars in the market. Any pick on the list would do the job for you, so just be sure to check the YouTube demos to see which guitar you like best, depending on how they sound.
What are you going to pick? Or, better yet, which expensive guitar would you buy if money wasn't a problem? Please leave your comments below!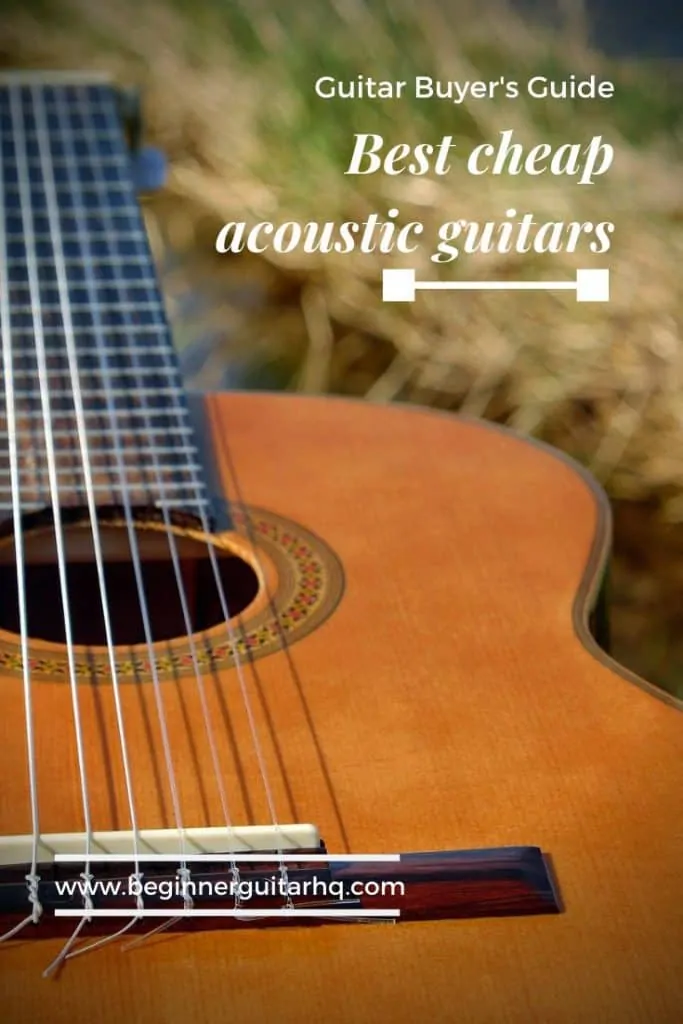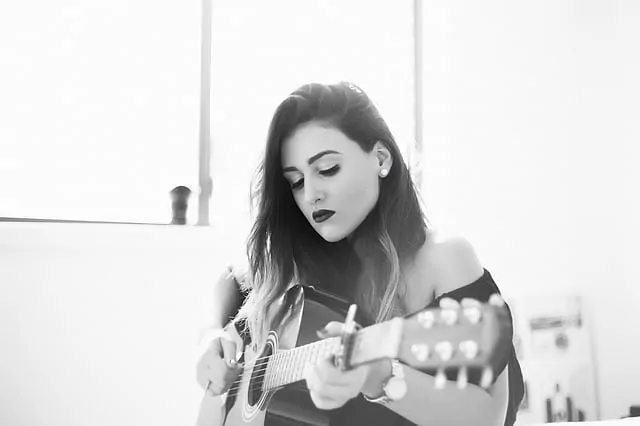 Jen is a guitarist and singer-songwriter who spends much of her time on the road and has lived in 13 cities across 4 continents. She picked up her first guitar at the age of 6 and learned to play by ear shortly after. She received her formal music education at the Berklee College of Music, and currently plays for a few bands in her free time. She has an uncanny ability to improvise creative melodies and harmonies. Her early influences include blues, jazz and rock.