When it comes to online guitar lessons, it's hard to find two platforms more popular than JamPlay and GuitarTricks.
GuitarTricks (GT) is the veteran website, with 11 000+ lessons and 3 million users. JamPlay (JP) is newer, established in 2007 vs. 1998. But it's still experienced in delivering 7500+ lessons to 500,000 players across the world.
Both websites offer lessons for beginner, intermediate and advanced guitarists. They cover technique and theory in various genres and offer a catalogue of song lessons. They're also around the same price.
So how can you tell which one is better? Let's take a closer look to find out…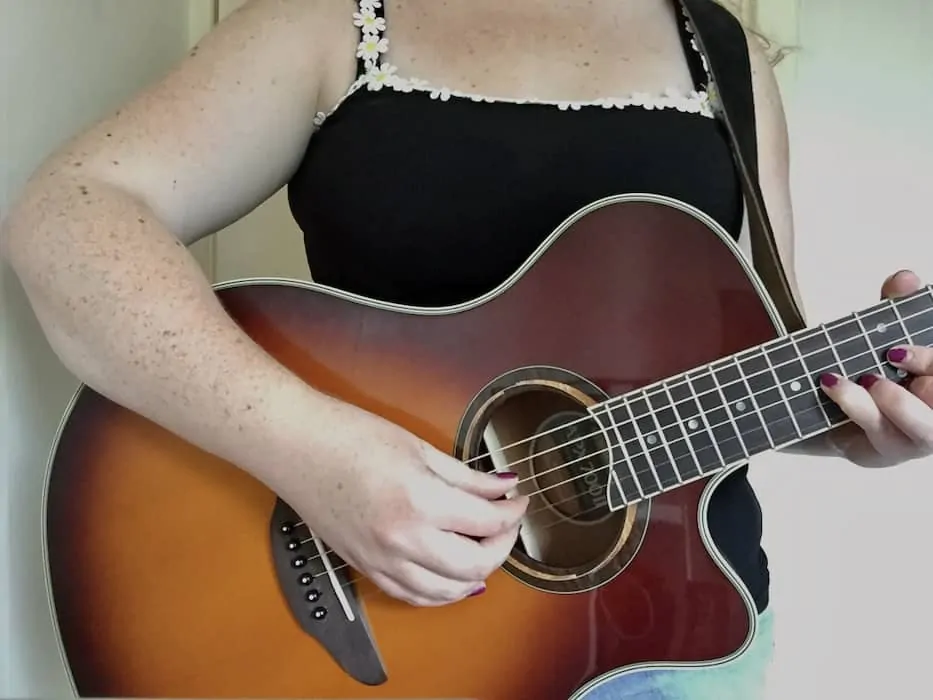 While they're both excellent options for guitarists of all levels, JamPlay and GuitarTricks have their pros and cons.
Sign up process
Signing up for either site is fairly straightforward. JP asks you to fill out a profile, vs. GT, which only gives a quick survey.
The JP profile takes a bit of time, but it's a great opportunity to reflect on what you want to accomplish. You can also use it to connect with other users who share your favorite genres and artists.
The GT survey asks how old you are, how long you plan on learning guitar and what songs you want to learn. Then you can dive straight into your first lesson.
Winner: Tie 
(Different levels of detail)
Layouts
This section may not be as important as the lessons themselves. But if you plan on using your phone instead of your laptop, prefer dark mode vs. light mode, or prefer taking notes vs. favoriting lessons, it's still worth comparing the layouts on JamPlay vs. GuitarTricks.
Website
JP is a bit confusing because it has two different websites. jamplay.com is the promo website, vs. members.jamplay.com, which contains the lessons, toolbox, etc.. But once you're logged in to the member's site, it's easy enough to navigate.
The JP website has an edgy feel, with a black-and-red colour scheme and trendy language. Plus, you can give your eyes a break with a dark mode option in lessons.
This contrasts with guitartricks.com, which has a brighter, image-driven feel. It's still just as user-friendly, but without dark mode.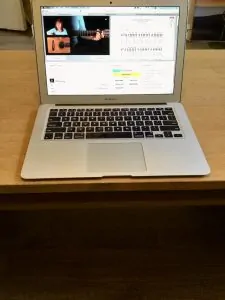 The home pages on JamPlay (left) vs. GuitarTricks (right) (Self-taken).
Winner: Tie
(Different designs)
App
Both apps lack most of the tools and bonus features of the websites. But they still offer the same lessons in a dark, user-friendly design.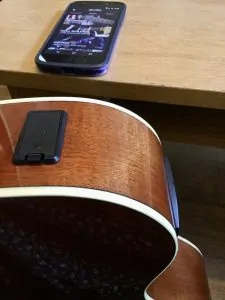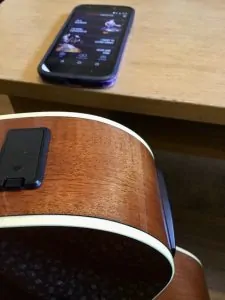 The Android app for JamPlay (left) vs. GuitarTricks (right) (Self-taken).
JP has an edge here, because they have an app for Kindle Fire, along with iOS and Android. Plus, while the GT iOS app works fine, the Android app makes you restart a tutorial every time you look at the notation/tablature.
Winner: JamPlay
(Better functionality)
Courses
JP organizes its courses into four phases, with an increasing difficulty level in each. The courses have no set order, leaving room for exploration.
GT has a stronger structure, with a Core Learning System for beginners to intermediates. They also have loosely organized intermediate/advanced style, song and skill tutorials.
When you select a JP course, you can see a short description, along with the instructor's bio, the approximate running time, the number of lessons and reviews from other members. Most courses are rated from 1.0 to 3.0, with beginner lessons ranging 1.1-1.9. Songs courses are the exception, with .5-5 music note ratings.
GT courses don't list the running time or instructor's bio. But their difficulty ratings are clearer, using picks or guitars, depending on the view. Beginners lessons are rated 1-2, Intermediate 3-4 and Advanced 5.
Winner: Tie
(Different structures)
Lessons
Both platforms contain newer HD and older 720p videos, with multiple camera angles and occasional on-screen tabs. JP has a glitzy, high-production look, vs. GT's laidback feel with unedited mistakes and fewer graphics.
In this older JamPlay lesson, you can learn how to strum quickly while changing between barre chords.
This GuitarTricks YouTube lesson, covering blues licks, is a good example of the videos you'll find on the website and app.
Both have YouTube-type controls for their videos, along with a loop and speed adjustments (10-200% on JP vs. .5-2.0x on GT). JP also includes a bookmark tool, where you can add comments to specific timestamps, and a thumbs up or down rating.
For some reason, GT videos are automatically muted on the website, which is a bit of a pain.
JamPlay videos tend to be quite long, lasting 10-20 minutes. Yet, the lessons are often split into scenes (chapters) that flow seamlessly into each other. Plus, if you close a video and return later, it picks up where you left off.
GuitarTricks has shorter videos, usually 5-10 minutes. But you have to start from scratch if you exit a video.
Below the videos on both sites, you can read information about the lesson, download the lesson (free on GT vs. for ownership credits on JP) and view chord charts and notation/tabs (PDFs on GT vs. jpegs, PDFs or Guitar Pro files on JP). JP also has an interactive tab, where you can hear a digital guitar play the score. In their new layout, GT has a tab beside the video. Sometimes it includes AutoScroll, making it even easier to play alongside the instructor.
Finally, JP has "comment" and "Ask a Teacher" sections, vs. GT's links to the reference tuner and (in song lessons) to the lyric sheet and jam track.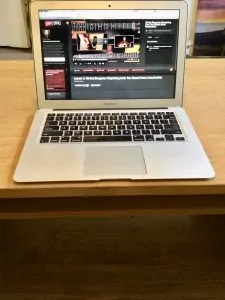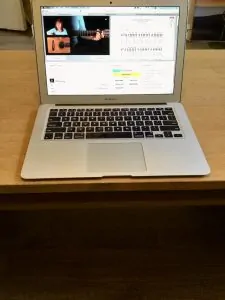 A video lesson on JamPlay (left) vs. GuitarTricks (right) (Self-taken).
Winner: JamPlay (video quality and controls), GuitarTricks (shorter videos, more supplementary material)
Teachers
Both JamPlay and GuitarTricks offer lessons by qualified musicians. But JP is home to over 100 teachers, including celebrity guitarists and bassists like Steve Stevens (Billy Idol), Mike Mushok (Staind) and David Ellefson (Megadeth). The instructor bios are also more detailed, listing their favourite genres and their years of experience.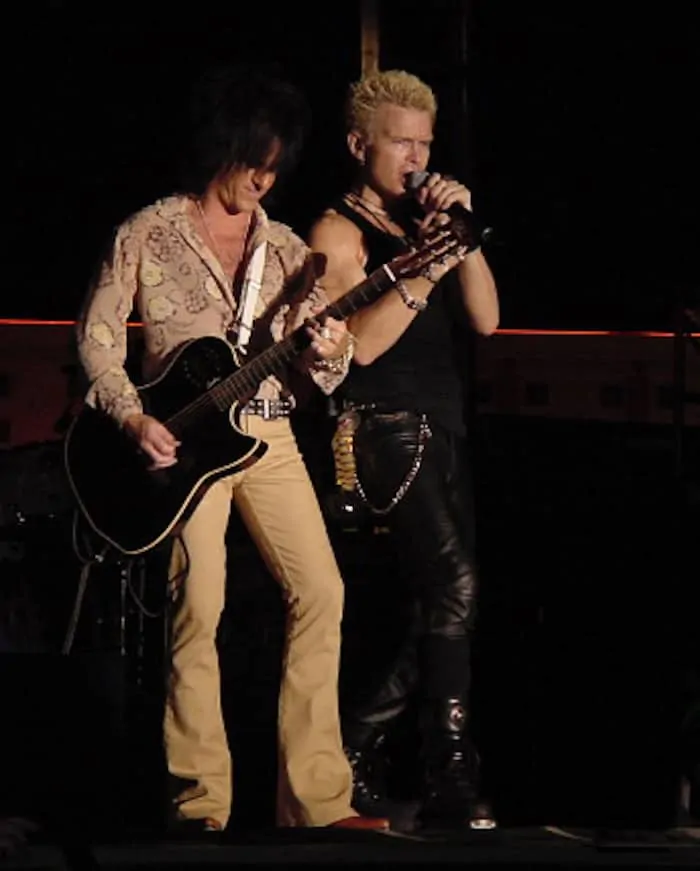 Steve Stevens (left) teaches a few JamPlay song courses, along with his Artist Series 
GT has 33 teachers, along with some well-known guitarists like Anders Mouridsen (John Fogerty, Faith Evans, Taylor Swift), Sharon Aguilar (Cee Lo Green) and Lawrence Katz (The Mighty Mighty Bosstones).
Because of JP's loose structure, you can choose a similar course from a bunch of different instructors. This way, you can find out whose teaching style you like best and stick to it.
While the other GT courses also offer a diversity of teachers, the Core Learning System is only taught by Lisa McCormick and Anders Mouridsen. Both Lisa and Anders are easy to follow, offering lots of tips and tricks to improve your playing. But if you don't vibe with their teaching style, then you probably won't take much out of these courses.
Winner: JamPlay
(More teachers, including celebrities)
Course contents
With 450 existing courses and new lessons added weekly, JamPlay has a growing repertoire, especially in Phase 2 (Skills and Genres). Meanwhile, GuitarTricks adds new lessons each week to their 1000+ song catalogue.
Both platforms also have some whimsical titles that add a nice touch, like JamPlay's "Yoga For Guitar Players" and "Strummin' and Hummin'" vs. GuitarTricks' "Fingerpicking Party Tricks" and "Sharpest Right Hand in the West."
Numbers and names aside, let's see who's courses really come out on top…
Beginner skills
Beginner lessons on both sites cover the basics, like how to tune your guitar, strum open chord rhythms, fret barre chords and memorize scales.
While there is some overlap, each Phase 1 (Beginners) JamPlay instructor incorporates different materials into their courses. Some are specific to acoustic or electric players. Some are focused on a particular genre. Some include traditional songs and licks/riffs inspired by famous artists, vs. others that just have exercises. Some courses progress slowly and carefully. Others jump into intermediate/advanced topics that might overwhelm beginners.
One thing all the Phase 1 courses share is their focus on theory and technique. They give you a clear understanding of different inversions across the fretboard and the differences between various scales.
The GuitarTricks Fundamentals I and II courses are less theoretical. But Lisa gives you enough information to understand how chords are made and how to turn scales into melodies. She also incorporates original songs into each tutorial, which you can play first alongside her, then with only the vocals/backup band.
GT also offers a handful of beginner-friendly skills tutorials. Here, you can explore tips for setting a practice schedule, warming up and caring for your guitar.
Winner: GuitarTricks
(Easy to follow, song-driven, 100% beginner appropriate)
Intermediate/advanced skills
JamPlay Phase 2 is where you can explore 11 skill building courses in reading music and rhythms, lead concepts and techniques, singing with guitar, recording and micing, and more. They cover a lot of material in a short amount of time, but should be no problem if you've finished Phase 1.
The second half of the GuitarTricks Core Learning System is geared toward Intermediate players, with two levels of Rock, Acoustic, Blues and Country courses. Here, Anders incorporates different rhythm and lead techniques, discusses variations across regions and decades, and suggests style-specific gear and tones.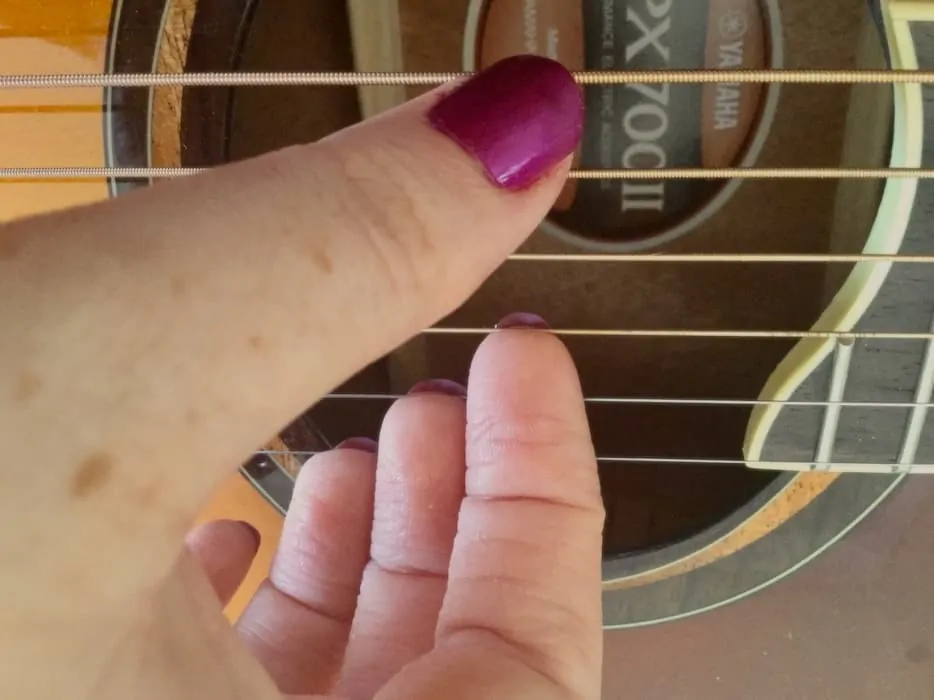 Both platforms' skill courses can help you improve your fingerpicking, palm muting, soloing, and more.
These eight courses are highly polished and easy to follow, vs. the other experienced skill tutorials, which aren't as thorough. A lot of this material is actually recycled from the Core Learning System. Still, there are useful lessons dedicated to different techniques, chords, scales, etc.
Winner: JamPlay (general skills), GuitarTricks (genre-specific skills)
Genres
JamPlay offers 21 genre courses vs. GuitarTricks' 12. Both sites cover popular choices like rock, metal, country, jazz, blues and acoustic. They also offer niche genres like Celtic and bluegrass.
While GT offers some solid courses in rockabilly and classical guitar, JP goes above and beyond with lessons in Hawaiian slack key, flamenco, gospel, reggae, R&B, and more.
Winner: JamPlay
(More options)
Songs/riffs/licks
Phase 3 (Songs) is probably the weakest section of JamPlay. It's a small catalogue of mostly pre-2000s songs, with a bias toward bluegrass/folk, country, holiday, metal and rock. This phase is also difficult to navigate on the Android app, because they're organized as "Songs with [Instructor]" courses, vs. the website's master list. And while some are improver-friendly, most teachers assume you've already mastered Phase 2.
Still, the JP teachers provide high-quality lessons where they follow the original recording as closely as possible. Better yet, you can learn many songs from the people who wrote them, like "Cherry Bomb" from The Runaways' Lita Ford and "Aesthetics of Hate" from Machine Head's Rob Flynn and Phil Demmel.
You can also browse the JP lick and riff library, which contains short video lessons organized by genre and key. Some are also inspired by specific artists and songs.
On the other hand, GuitarTricks' enormous song catalogue is one of their main highlights. Like JP, each GT teacher breaks down the key, tempo, effects and dynamics of each verse, chorus, bridge and solo. Plus at the end of the lesson, you can test your skills by playing with the jam track.
Although the majority of songs are rock or acoustic, there's a solid selection of blues, country and metal. GT also offers special tutorials like Songs Made Easy and Famous Riffs, and includes Collections like "Power Pop from the 80s" and "Songs About Heartbreak."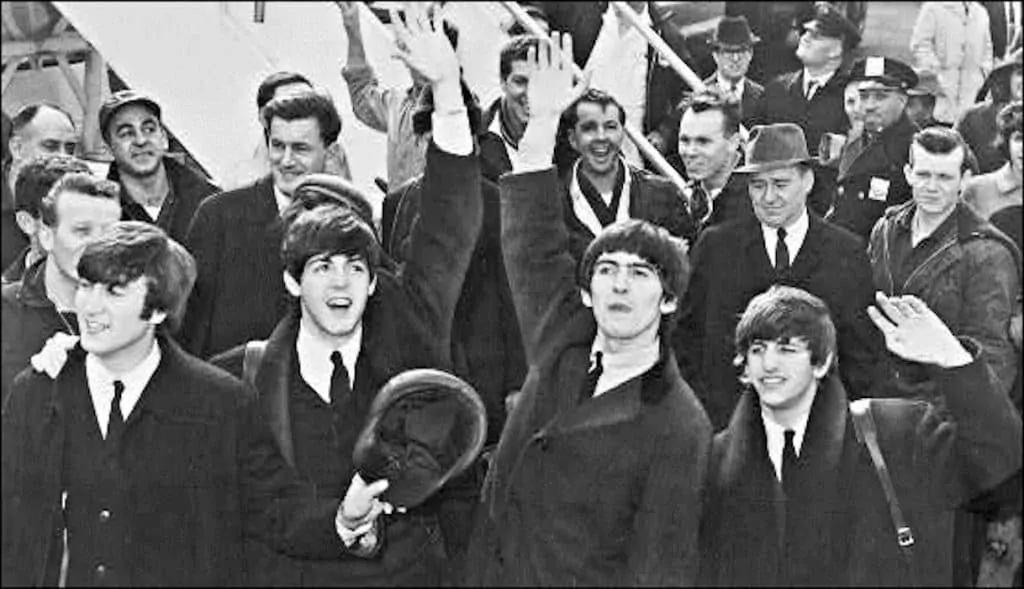 Some artists like the Beatles, ZZ Top, Judas Priest and Willie Nelson appear in both master lists. JamPlay also includes a lot of songs by Megadeth, Pantera, Goo Goo Dolls and Collective Soul, vs. GuitarTricks' collection of  Bob Dylan, Pearl Jam, Kings of Leon and Jason Aldean.
Winner: GuitarTricks
(Bigger catalogue, beginner-friendly songs and jam tracks)
Songwriting
Phase 4 (Songwriting) is the final phase on JP. Some lessons are genre-specific, vs. others that offer general tips and tricks. They're geared toward acoustic players but electric guitarists can also benefit from learning about chord progressions, doubling instruments, rhyming vs. free verse lyrics, etc.
GT offers one tutorial in songwriting by Mike Stocksdale. He breaks down different concepts through his song, "A War Outside."
Winner: JamPlay
(More courses)
Artist studies/series
Both JamPlay's and GuitarTricks' artist-themed lessons cover licks, riffs and techniques inspired by well-known musicians. Yet, GT's Artist Studies are all third-person, vs. JP's Artist Series, which are sometimes taught by the actual artists. JP also offers series from lesser-known but equally talented guitarists.
Winner: JamPlay
(Can learn from the artists themselves)
Live lessons
JP has several live lessons per week on intermediate/advanced topics, like modern fingerstyle and modes and melodies. Even if you miss the livestream, you can still watch the archived videos and download the notation/tab.
GT hosts two weekly live sessions on their Facebook page. These cover all-level topics, like ear training and the CAGED system. Again, you can access these videos at any time.
Winner: JamPlay
(More variety, downloadable tabs)
Bass
JP covers various bass skills, genres, songs and Artist Series. However, you do need a separate subscription to access these – except for the first lesson in most courses on the app. Some bass lessons are also tucked away into guitar genre and skill courses.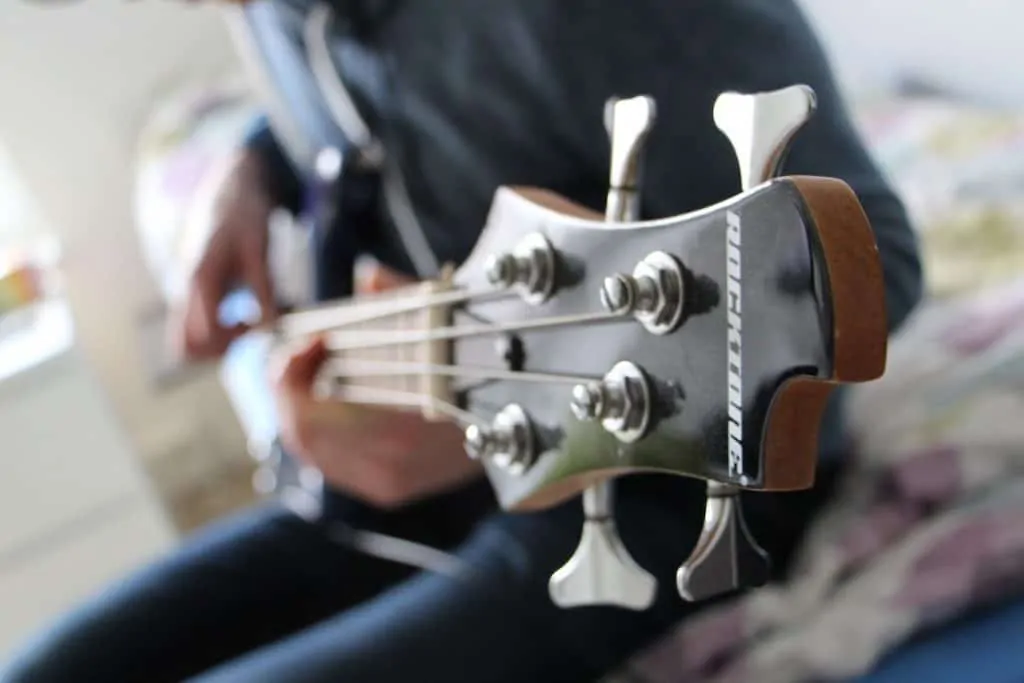 GuitarTricks only offers guitar lessons, vs. JamPlay, which provides rock- and funk-themed bass lessons.
Winner: JamPlay
(Decent course selection)
Additional features
Besides lessons, these two sites offer features where you can track your progress, expand your knowledge of the fretboard, read articles and connect with other players.
Progress
On JamPlay, your progress report includes a list of lessons you've watched, along with notes and bookmarks. You can create playlists and drag and drop lessons into them. You can earn JamPoints for completing certain lessons or maintaining streaks. You can also earn badges by uploading a video of yourself practicing a lesson.
On GuitarTricks, you can jump directly to your last lesson, browse your history, earn badges for completing tutorials and organize your favourites in whatever order you want.
Winner: Tie
(Two different systems for organizing lessons and earning points/badges)
Tools/games
JamPlay features Chord, Scale and JamTrack Libraries, with various voicings, western vs. non-Western scale info and genre- or key-specific backing tracks. There's also a chord namer tool, a metronome (with adjustable speed, sound, time signature and accents), and a guitar tuner with many different tunings, plus a "by ear" vs. microphone/line-in option.
GuitarTricks' toolbox is similar, with a chord finder, chord charts, scale finder and jam station. Their jam station relates to specific lessons, vs. JP's general collection. Yet, the GT chord finder and scale finder aren't as detailed. Their metronome only has speed, sound and accent adjustments. Their tuner also has 6 alternate tunings, vs. JP's 36. Still, you can manually adjust each string to customize your tone.
GT also offers a fretboard diagram, tab reading guide, glossary, and fretboard trainer game. JP hosts a similar game, along with a music notation quizzer and note identification quiz.
GuitarTricks' tab guide and JamPlay's music notation quizzer are great tools to improve your sight reading.
Winner: JamPlay
(More variety)
Blogs/articles
JamPlay's guides and articles haven't been updated since 2016, vs. The GuitarTricks blog, which is updated regularly. They both contain similar material, like biographies/band studies, gear reviews and mini courses. JP also includes an interview section, while GT has music theory guides.
Winner: GuitarTricks
(Active)
Community
On the JamPlay website, you'll find weekly Live Q&A with instructors. Just type in a question and you'll get an answer via webcam. Although there's no large forum, you can leave comments on individual lessons and use the JamChat link to connect with other members.
JP also has a YouTube channel. There's some unique videos, along with shortened or archived lessons from the website. They also have a Facebook page with livestreams, updates and funny memes.
GuitarTricks has a public forum, where you can discuss topics like string buzz, major vs. minor scales, and the pros and cons of different recording software. There's also a thread where you can get feedback on your playing by uploading audio and video files. The private forum includes threads where you can ask questions about the lessons and request songs.
The GT YouTube channel has short videos covering similar material as the website. Meanwhile, their Facebook page contains updates and live sessions/Q&As.
Winner: GuitarTricks
(Bigger forum, more YouTube videos)
Freebies/giveaways
Although there's no free lessons on the website, the JamPlay app offers a rotating lesson, along with the first one or two lessons from each guitar and bass course. There's also a webpage called Weekend Warrior with free lessons, articles and tools (including the metronome and guitar/bass tuners).
JamPlay also has a monthly gear giveaway for members, where you can win a guitar or amp.
GuitarTricks offers a similar selection of free lessons on their app, as well as 33 beginner/intermediate lessons on the website. You can also access the blog and some tools, like the reference tuner and scale finder.
FInally, after being a GT member for several weeks, they'll email you a free download of their ear training course. This includes lessons on how to recognize basic major and minor chords.
Winner: GuitarTricks
(More free lessons)
Upgraded features
If you upgrade to a "Year Pro" JP membership, you'll earn 25 ownership credits to buy lesson downloads. You can also access one-on-one lessons with teachers and genre- and skill-specific toolkits. These include special courses, JamTracks and tabs.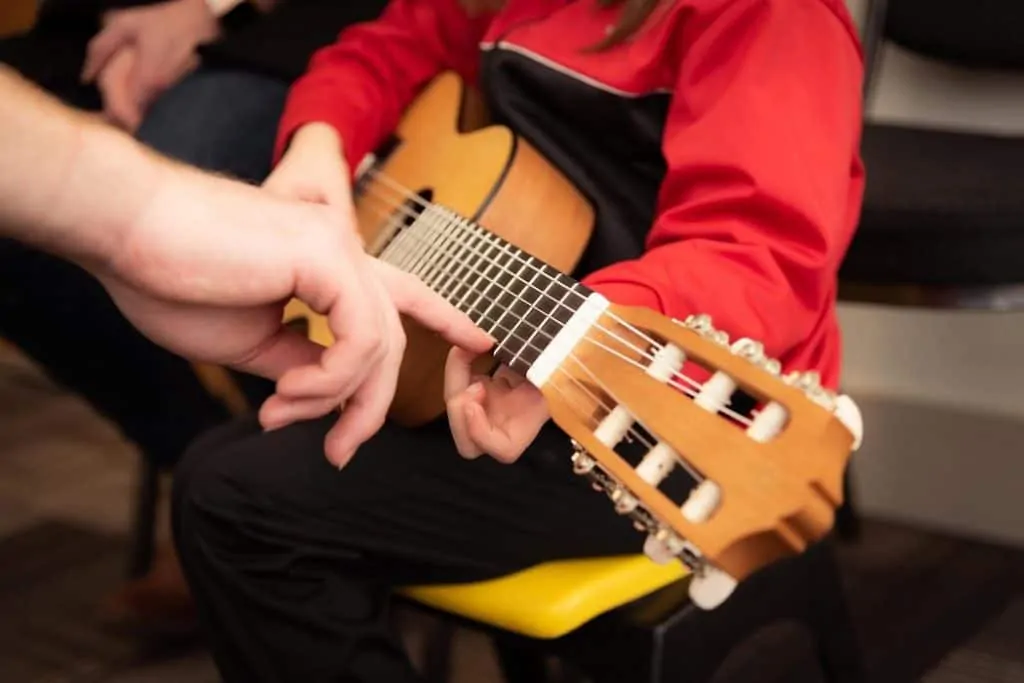 Both websites offer live one-on-one lessons.
For an extra price, you can book a one-on-one lesson with one of four GT instructors. You can also sign up for an affiliate website called 30 Day Singer for beginner to advanced singing lessons.
Winner: JamPlay
(More features)
Trials/refunds
JamPlay offers a 7-day trial, vs. GuitarTricks' 14-day trial. Yet for JP's trial, you don't need to add your credit card details – just your email address.
JP also offers a 30-day money back guarantee, vs. GT's 60-day guarantee.
Winner: GuitarTricks
(Longer trial/refund period)
Final verdict
Both sites are fantastic options for learning guitar. But of course, they each have their strengths and weaknesses.
JamPlay is more skill- and theory-focused. It boasts a variety of well-known instructors, along with a flexible course structure and strong offerings in genre courses, songwriting, artist series, intermediate/advanced techniques and bass lessons. It also offers top-notch tools and addictive training games.
Meanwhile, GuitarTricks is more song-focused. It incorporates original licks and riffs into its highly organized Core Learning System. It has an impressive song catalogue across genres and eras, which you can practice alongside professional-sounding jam tracks. It also has a strong community feel through the forum and offers an unlimited trial for the free lessons on its website.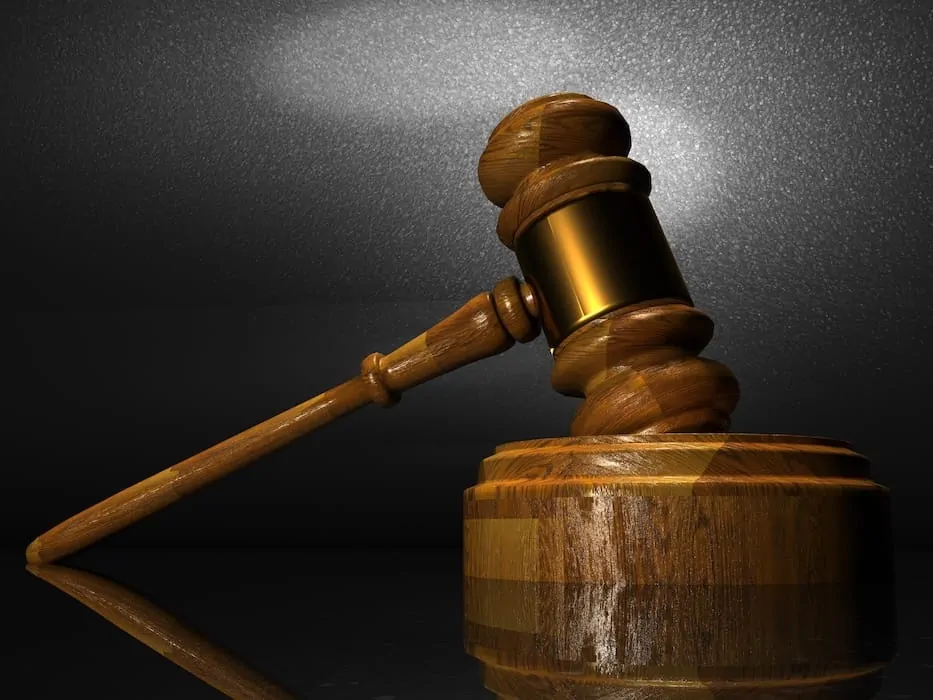 Who is the clear winner in the case of JamPlay vs. GuitarTricks? It all depends on what you value most. But for guitarists who are picking up their instruments for the first time or who are interested in learning new songs, GuitarTricks comes out on top.
It's hard to choose an overall winner, but I think that GuitarTricks has a slight edge with its Core Learning System and the huge song catalogue. Still, if you're a player who's more interested in learning new skills and genres, then JamPlay is the better choice. As an advanced player, you might also find more material to work with.
Nonetheless, when it comes to beginner/intermediate lessons and songs, GuitarTricks is hard to beat. At least for now…
Save 25% on your first month of JamPlay with this Weekend Warrior coupon
Save 20% on your first month of GuitarTricks with this code: Save20.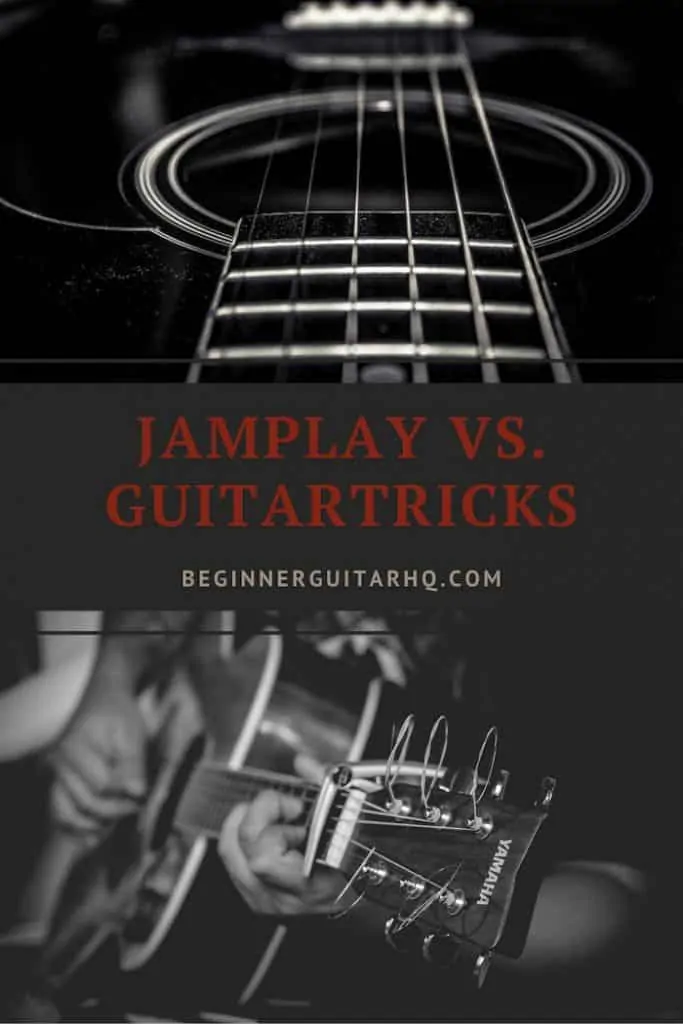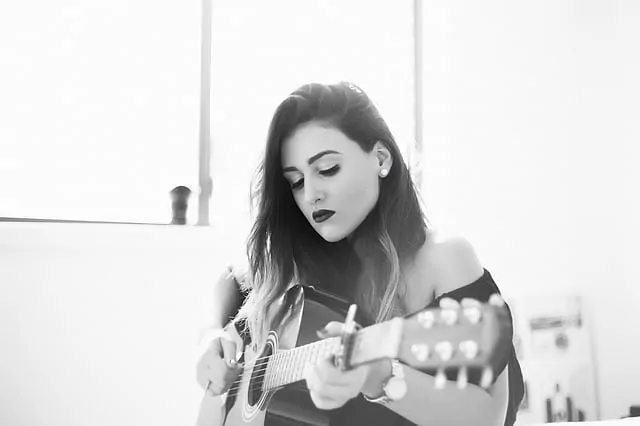 Jen is a guitarist and singer-songwriter who spends much of her time on the road and has lived in 13 cities across 4 continents. She picked up her first guitar at the age of 6 and learned to play by ear shortly after. She received her formal music education at the Berklee College of Music, and currently plays for a few bands in her free time. She has an uncanny ability to improvise creative melodies and harmonies. Her early influences include blues, jazz and rock.