If you're here, I understand you're building yourself a home studio, and now you're in need of some guidance to get the perfect recording laptop you can use to produce music.
Such a laptop, I imagine, should be within your monetary reach. It must give you the best specs it can for the money so it can handle those heavy DAWs, VST plugins, and interfaces you're going to use.
In this guide, I'm reviewing the top 6 music production laptops you can buy on Amazon right now. As you don't have to test a laptop like you'd have to test an instrument, there's no risk of buying a laptop online.
This is also a comprehensive guide into the specs you need to produce music on your laptop. I won't be giving any details into the actual music production, though.
Lastly, if you're producing other kinds of content (like photo, video or animation) or are into gaming, most of the laptops selected are good for these kinds of demanding tasks.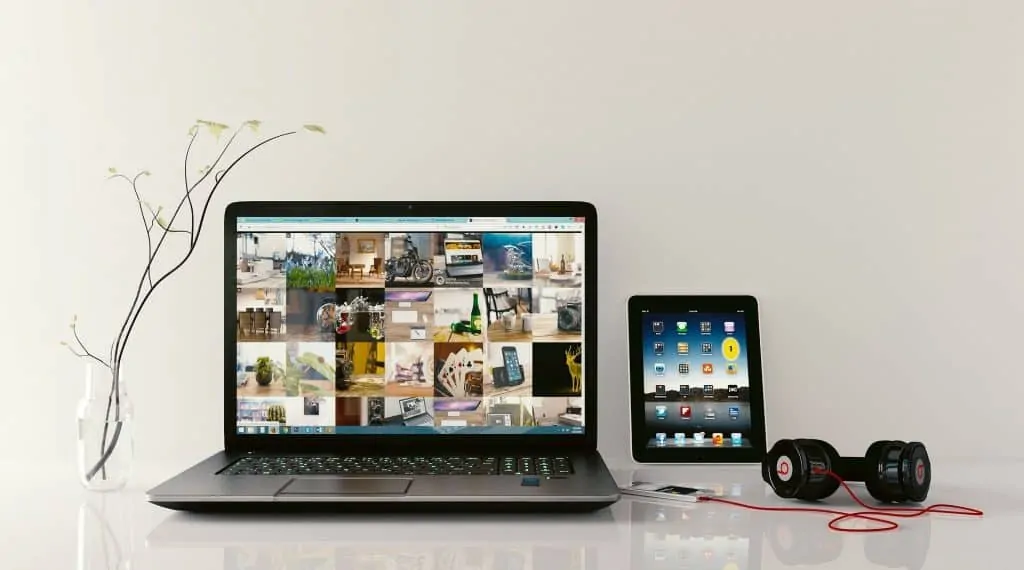 Foreword: gaming computers excel at music production. 
I'm listing affordable, mid-level, and premium choices. Let's go on…
About home studios
Modern laptops are a great alternative to produce music because of how little you'd have to invest to start your own studio. For instance, in order to produce electronic music, you'd only need a laptop. 
Pop musicians/composers like Charlie Puth use an Apple laptop plus a MIDI keyboard to create their tunes:
<iframe width="560″ height="315″ src="https://www.youtube.com/embed/BNtK5ZiFXss" frameborder="0″ allow="accelerometer; autoplay; encrypted-media; gyroscope; picture-in-picture" allowfullscreen></iframe>
The traditional music-making process oftentimes requires bulky equipment. Nowadays, here's a summary of what you'd need:
In essence, the laptop can get you started. Keep in mind you may as well produce music with your laptop only, although the MIDI keyboard can truly help the process.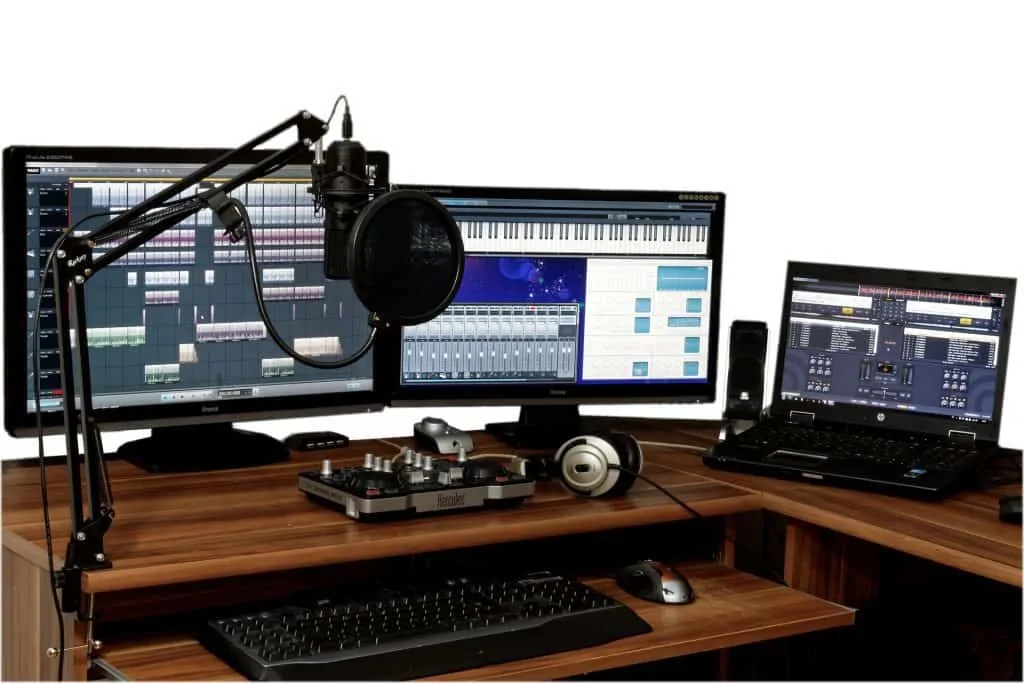 By the end of the article, you'll have a great idea about how a good recording laptop looks like.
I also have to highlight the fan's favorite interface, the Focusrite Scarlett. It's budget, it's top-quality, and it's easy to use:
Let's go on…
About recording laptops
This article is all about highlighting the best music production laptops in the market right now. A good studio laptop should have, at least, the following specs:
Strong CPU
It doesn't matter if you go for Intel or AMD. What matters is that you aim for around 1.8 GHz to 2.4 GHz processing power on 7th-gen i5 & i7 processors (or AMD equivalents).
Modern Ryzen processors are known to be better at producing music and video. However, there're not many laptops shipping with AMD chipsets.
Now, the most important factor for audio processing is a CPU with fast single-core performances. Ryzen processors are known to have faster single-core performances whilst slower multi-thread compared to Intel chipsets. 
Also, a 10th-gen i5 processor generally has more single-coil speed than an 8th-gen i7 Intel Core.
Plenty of storage memory
I recommend a minimum of 1TB storage. Solid-State Drives (SDDs) are better and faster than HDD, although the price is higher. Some options carry to hard drives, though: a boot SSD drive for your essential programs; and an extra HDD drive for storage.
If 1TB is too expensive for you, 500GB is also a good number. Later down the road, you can buy an extra external hard drive. Some laptops also allow you to upgrade the storage drive with a newer, bigger, faster one.
The more storage you have, the more data you're able to record, render, and mix. You can also store hundreds of presets, VSTs, plugins, samples, loops, beats and everything you'd need to create your music.
Keep in mind Windows 10 alone takes up to 50GB storage on installation. 
Enough Ram memory
I recommend going to 8GB at least, although 16GB is the sweet spot. You can also go for 32Gb or 60Gb if you're going to use a lot of sample-based instruments, or if you're planning to edit 2K and 4K videos as well.
Ram memories come at different speeds. The more megahertz, the faster. Also, go for at least a GDDR4 memory, albeit nowadays it goes up to GDDR6.
Don't get fooled by the minimum requirements of a DAW. There are some that ask only for 1GB or 4GB RAM (like Cubase). But if you go for such a low number, your computer will freeze with your DAW open and a couple of Chrome tabs.
Now, because you'll probably be multi-tasking a lot while producing music, you'll need both graphic and RAM power…
Graphics card:

I would avoid AMD APUs (which mix a graphic card and the CPU in the same unit). Instead, you'll do great with a modest 2GB GPU.
However, the graphic card is not all that important for a music production laptop. DAWs don't take advantage of the extra visual memory like a video editing software or video games. That means you can do just fine with the onboard Intel graphics card.
Here's what I think: A music production laptop is already expensive and powerful, so…why don't you go for a graphic card as well? That way you could play, design, edit videos, edit photos, create animations, and everything you'd want from a modest workstation.
Nvidia is the best choice in GPU, and we're going to look for, at least, the Nvidia GeForce 1050.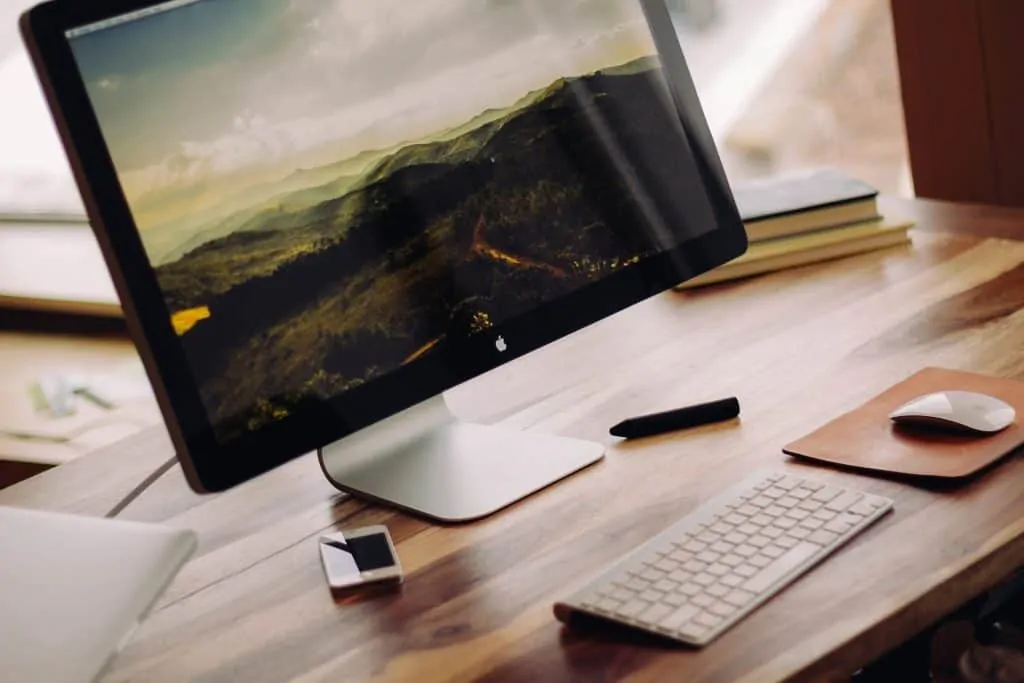 A 15'' monitor is the sweet spot. It's not too small, so it's comfortable. And it's not too big, so the laptop is still portable.
Monitor
A comfortable screen for content production is at least 15''. The more screen you have, the less scrolling you're going to do along your timeline, which means a faster workload. 
I like 1080p resolution (Full HD or 1920 x 1080) because it's the modern standard. However, you could do just well with a cheaper 720p monitor (HD or 1080 x 720). Going for higher resolution is not necessary.
Also, be on the lookout for displays with some sorts of an eye-protection feature. If not, consider using anti-glare glasses, as your eyes are not going to like spending so much time in front of a screen. Believe me.
Lastly, because you're going to be multi-tasking a lot, consider the possibility of adding a second monitor. Any Windows 10 or macOS 10 computer comes with the built-in option of adding a second screen.
Go for a reliable brand
Laptops are complex devices needing perfect construction. Cheap and sub-par laptops commonly have problems with overheating, crashing, and slow loading speeds. 
On top of the computer market right now is Dell, and Dell is pretty expensive. Top mid-level contenders also include HP, Lenovo, Acer, and Asus. Other premium choices include Alienware, Razer, and Mac.
Hardware
Add yourself a mouse with a side scroll feature. 
If the laptop speakers are not enough for your work, consider getting a speaker monitor or headphones as well.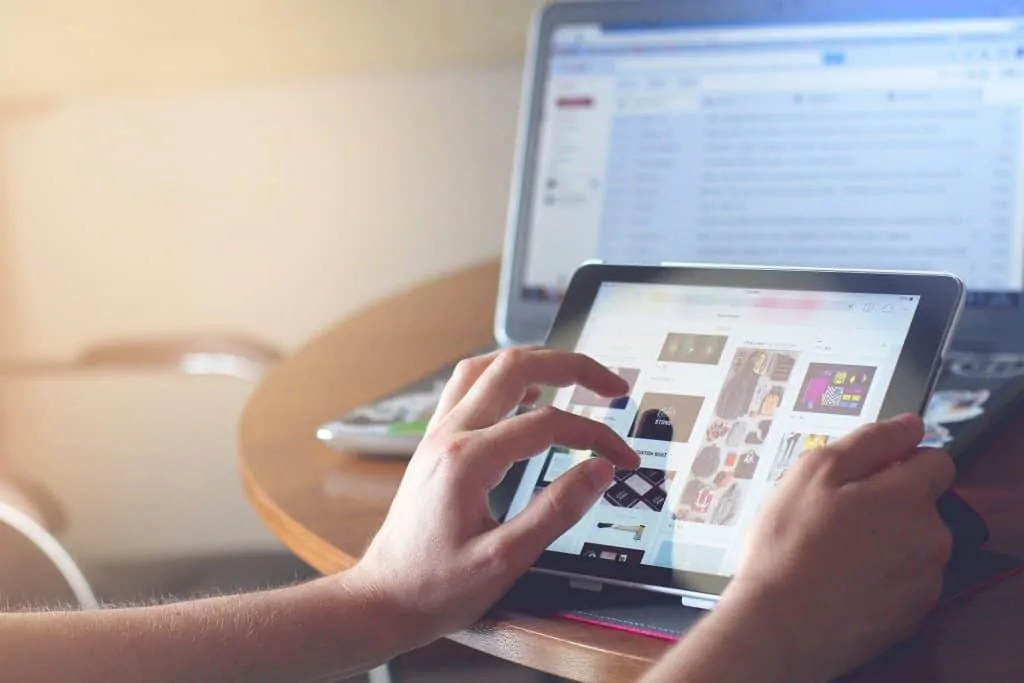 Check information about the heating system of the laptop you're going to buy.
Recording laptop buying advice
Aside from the specs, you have to think about the weight and portability of your laptop. For example, Acer computers are usually hard to beat regarding price vs. value, but they are heavy, big, and can get really hot.
With weight also comes sturdiness. Some laptops are made of plastic, while others come with aluminum or metal cases. It means you have to consider how portable you want your laptop to be. You could use it as a workstation or take with you on your travels and work on-the-go & on-the-spot.
Highly advanced design pack all of the good while none of the bad. For example, Dell computers are usually thin, light, sturdy. They pack advanced cooling systems.
Some laptops are able to upgrade the graphic card, the RAM, and the storage for better units. The motherboard has to support the new pieces, though, so its best to leave this job to professionals.
In summary, a music recording laptop needs a powerful blend of hardware and software specs. 
Your laptop choice also depends on the program you want to use. There Apple-exclusive DAWs like Logic Pro and Pro Tools; there's Windows-specific DAWs like CakeWalk, which is totally free.
Also, some programs are more demanding than others, whereas a few are somehow friendlier with your computer's resources. 
In essence, a good music production laptop can also edit videos, create animations, design, edit photos, create podcasts, and stream video.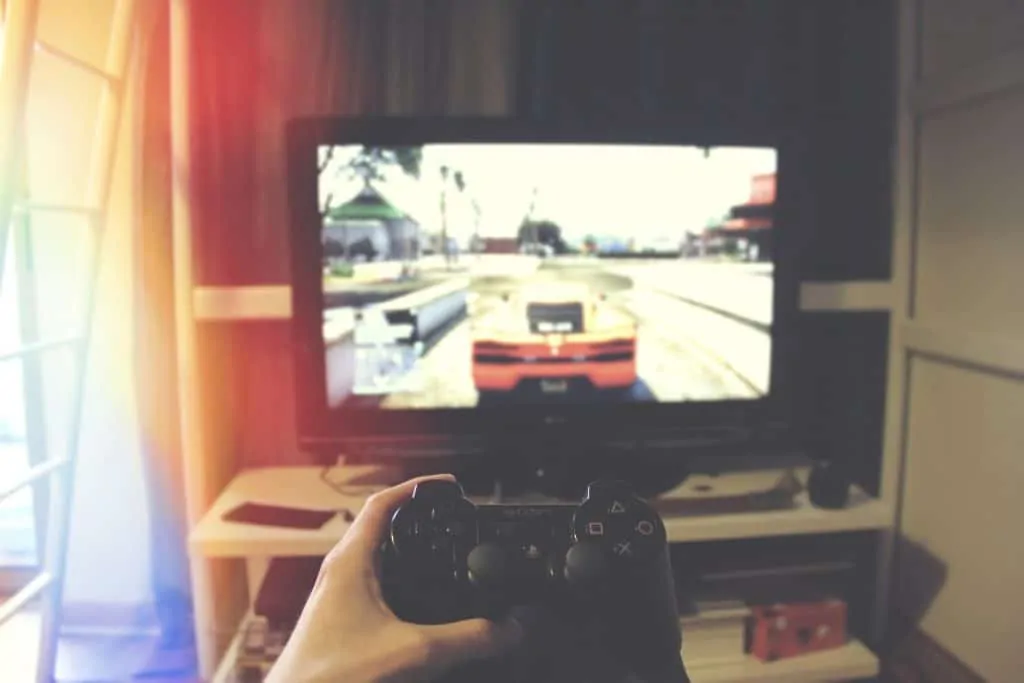 Regarding work and gaming laptops and computers, the more we get for the less we pay, the better.
Minimum requirements to produce music
Let's get a true measurement of what we need to produce music by seeing the "minimum requirements" of  two of popular DAW software in the world:
Pro Tools (most demanding DAW)
Operating system: Windows 7, 8, 10 / Mac Osx 10.8.5 and above.

Processor: Intel Core i5 / AMD equivalent (AMD Ryzen 5)

Ram: 16GB

Storage: 15GB

USB ports: 2
Ableton Live (average requirements)
Operating system: Windows 7, 8, 10 / Mac Osx 10.8.5 and above.

Processor: any multi-core processor.

Ram: 4GB

Storage: 3GB

USB ports: as many as you need.
That means you can go for a budget alternative if you're planning to use simple software like Ableton Live, CakeWalk, Reaper, and similar.
Now, keep in mind searching for a laptop is not all about the specs. It's also about how each brand can squeeze the maximum performance of the parts of their computers whilst keeping the system cool and silenced.
Let's go on to the reviews of the top 6 best recording laptops for your home studio. These items are not in any particular order but my personal preference.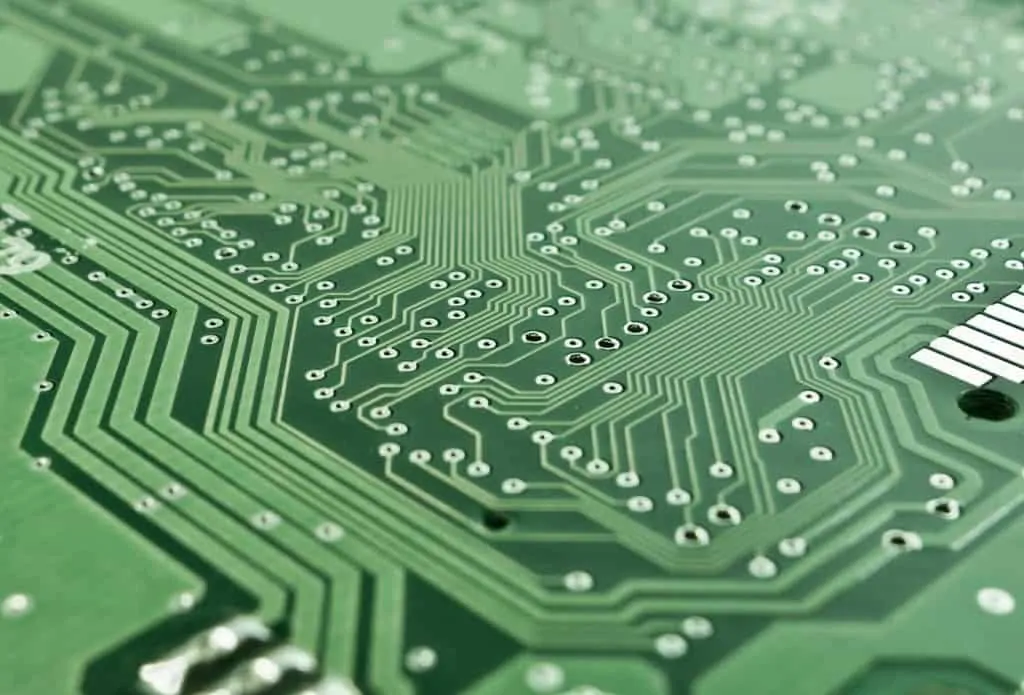 A good recording laptop should have a strong CPU, at least 8GB RAM, and at least 500 GB SDD storage.
Acer Predator Helios 300
Acer Inc. is a Taiwanese company that constantly builds powerful computers and sells them for lower prices than their US-competitors. 
The best thing is they get better and better every year, so now I'm sharing with you the 2020 Acer Predator Helios 300, which ships with a GTX 1660 Ti, which is a moderate improvement from the 1060 and 1060 Ti cards on prior models. 
The best thing about this laptop is its overclockable GPU plus the 144Hz Full HD display. It all makes for a smooth experience while editing, playing video games or mixing music.
Overall, the Predator Helios 300 is built for gaming and content production and sells at a very reasonable price.
Overview
First things first: Acer sells this computer for gamers on a budget. 
The Acer Predator Helios 300 is a mid-level series of powerful computers built for gaming and producing content. The 2020 version comes with an upgraded cooling system and better graphic cards.
It also adds a turbo button on the keyboard that gives you direct control over your performance. More so, an overclockable GPU it's not something you'd find on your typical mid-level laptop, and especially not on laptops as thin as the Helios 300.
There's also a dedicated key to jumpstart Acer's PredatorSense software which keeps tabs on the system's performances and temperature. With the software, you can also start the "CoolBoost" option which helps keep the system cool during stressful situations.
Another great feature is the ability to upgrade this laptop. See, building a PC is often regarded as the best choice for gaming and content production because it can be upgraded over time. Now, the Acer Predator Helios series gives you the ability to upgrade the RAM and storage slots easily by simply opening a panel and swapping the piece. 
In particular, there are two storage slots, but you can only change one of the two as the other one is reserved for boot. 
Before we continue, here's a budget alternative of the Acer Predator Helios 300:
2020 Acer Predator Helios 300 specs 
Like most laptop models, the Predator Helios 300 sells with a variety of specs. The more you pay, the more you get. 
Also, I must add that there's no cheaper place to buy Acer laptops than Amazon, not even their own homepage.
Having said that, let's review the specs of the laptop:
CPU:

2.6 GHz 9th-gen Intel Core i7-9750H (6 cores).

Memory:

8GB / 16GB /  35GB DDR4 Ram 2,667MHz.

GPU:

6GB Nvidia Geforce GTX 1660 Ti. / 1660 / 1550 Ti / 1550 / 1060 / 1060 Ti

Storage:

256GB /  512GB NvMe PCle SSD boot drive + optional 1TB / 2TB SATA HDD.
Screen:

15'' 1080p Led-Backlit matte IPS display made by LG. 144Hz refresh rate.
Operating system:

Windows 10 Home. 
The secondary drive has an M.2 SSD slot, so you could add more storage if you can afford it. If you need some extra help on what "M.2" or "NvMe PCle" means, take a look at this info about storage drives.
There's a downside, though: this laptop doesn't have USB Thunderbolt Type-3 connection. Plus, the Wi-Fi is not the latest so it's not as fast as it could possibly be. Still, those are things you can live without.
Here's a premium 2020 Acer Predator Helios 300:
Performance
The Acer Predator Helios 300 series performance is impressive for its price. That's why it's continuously recommended both by Amazon and reviewer sites as the best video and music production laptops there are.
The screen is 1920×1080-pixel resolution, the standard Full HD which is way cheaper than a 1440p, 2K, or 4K screen.
The full-HD display has a fast and sweet 144Hz refresh rate, which is a premium feature. It makes the action look smoother when you compare it to competitors. 
Another amazing feature of the screen is how it covers about 94% of the Abode color palette, which is higher than most laptops out there. Color, contrast, and brightness are very good. 
What's more, the computer can handle various processes at the same time because of its six cores: for example, you can render a promotional video on Adobe Premiere as you edit a cover photo on Photoshop and mix your song on your favorite DAW.
If you're looking for a bigger laptop, here's a Predator Helios 300 with a bigger screen:
Battery & portability
The thing I dislike about the Acer Predator Helios series is its short-lived battery. The battery life is not great: it won't go past 3 hours unplugged on heavy tasks like music editing or recording. Or it can go about 5 hours on minor tasks like video streaming or internet browsing.
That's typical about gaming laptops, though. And if you're looking for a home studio laptop, I bet you won't be moving it around too much.
Also, don't be fooled about the thin chassis of the model as it weighs five pounds…it can be tiresome to carry it around on your backpack.
In summary…
Acer's is a good place to start your journey into professional computers, whether you want it for productivity, for gaming, or both.
The Predator Helios 300 is a superb affordable workhouse and an excellent 1080 gaming machine. Even with its short downsides, it is a great value laptop that can kickstart your music production career.
Alternative: Acer Nitro 7
You can go for a cheaper Acer computer with the Nitro 7, which offers a modest Ram with a 9th gen 6-core Intel core. 
Also, it has a 4GB GTX 1650 GPU, which is a bit slower than what the Predator Helios 300 has. But because it has an 8GB Ram, it won't perform as good as the Helios on gaming and video editing.
Dell G5
The Dell G5 is a quality laptop series designed for gaming. However, you can adapt it to music-making because of its enhanced processor powering. It's quad-core Intel i5 CPU can go up to 4.0 GHz, which gives you enough power for content production.
Another great thing about the series and Dell laptops overall is its cooling system. Dell laptops don't heat, so they work at full potential. This is very important as music production laptops are very CPU demanding.
Overview
This is a series of affordable laptops that harness the full power of Dell-designed computers, which are currently at the top of the market.
In particular, the Inspiron 15 7000 is a 15'' gaming laptop powered with an Nvidia GeForce GTX GPU and an 8th-gen Intel CPU. 
Each core of the CPU is tested to go about 80% the speed of an i7, although it does go way slower on multi-thread mode. 
The best thing about this PC is its beautiful screen. Although it only has a 60Hz refresh rate, it has stunning colors because of its IPS technology. 
Furthermore, music producers will find its front-facing speakers to be superb-. It has SmartByte and MaxxAduioPro speakers with powerful and encompassing sound. 

Dell offers a wide range of laptops and PCs. They go from mid-level prices to super-premium choices.
Dell G5 specs
There are only two configurations available for this laptop. Let's see…
CPU:

4.0 GHz 8th-gen Intel Core i5-8300H  (4 cores).

Memory:

8GB DDR4 Ram 2,400MHz.

GPU:

4GB Nvidia Geforce GTX 1050 Ti.

Storage:

– optional – 128GB /  256GB NvMe PCle SSD boot drive + 1TB SATA HDD.
Screen

: 15.6'' 1080p IPS Anti-Glare Led-Backlit display. 60Hz refresh rate.
Operating system:

Windows 10 Home. 
You can order this laptop with two storage drives (the HDD plus the SDD) or with just the HDD drive. I recommend you go for the SDD if you want maximum performance.
Here're the choices you've got:
Performance
The G5 is a mid-level laptop that handles complex and heavy tasks with ease. It excels on single tasks and stays cool on the heaviest experiences.
The screen is also a highlight as it has stunning clarity and superior color richness. It also has anti-glare panels that create a wider range of environments and helps you see darker colors and corners better.
Another highlight is its superior sound. You wouldn't need extra speakers or headphones with this computer as its in-built speakers have improved clarity and imaging thanks to its Waves technology by MaxxAudioPro.
Lastly, the Intel CPU rips on every process when it goes on full throttle. More so, it always stays cool with its huge-cooling vents and dual-fan technology.
Battery & portability
This is a thin and light laptop that's, in all honesty, unusable without the AC adapter.
Plugged in, the machine is wonderful and smooth. But when it runs on battery power, it suffers from serious performance issues. 
So, whereas you can take it anywhere, you'd also have to plug it wherever you go so it's usable.
In summary
Overall, we got an affordable gaming laptop with amazing speakers and superb single-core processing power, which are great things for music production. It also has plenty of storage so you can work on as many songs and videos as you like while installing games as well.
However, it only has 8GB Ram, which means you won't be able to use the heaviest programs. Be sure to check the requirements of the DAW you want to see if 8GB is enough. Most DAW software only requires 4GB Ram, like for example FL Studio 20.
And what's best, it doesn't break the triple-zero mark line. It's very hard to find the same specs by the same price on other brands, particularly not from Dell, known for top-notch CPU performance and cooling systems.
Alternative…
You can ditch the Nvidia GTX graphics card for more processing power if you go for the 2020 Dell Inspiron 15 7000, which won't play modern games but can perform music production with ease. 
The Inspiron 15 also has a touchscreen with UltraHD 4K resolution. The display folds on 360 degrees so you can turn the laptop into a tablet.
It can also edit videos, photos, and create animations, although heavy work might burden the CPU too much.
Lenovo ThinkPad P 
The Lenovo ThinkPad P series by Lenovo offers cutting-edge processing power, a rugged construction, and high-resolution graphics.
These are known to be one of the best music production laptops on the market right now because of the unfiltered processing power of its Intel Core i5 or i7 processors going up to 4.0 GHz. 
Overview
This series has enough power to facilitate creativity, productivity, and workflow.
More so, these laptops come with the ergonomic "ThinkPad" keyboards providing long-lasting comfort, a great feature for those using the laptop as a working tool.
I love the ThinkPad P series because it offers an advanced visual experience on either their 1080p or 4K screens. Their LCD displays look awesome. That's great if you want to create visuals for your own shows or edit content for your musical project (like a video clip).
Lenovo ThinkPad P specs
There're many configurations available on the Lenovo ThinkPad P, most of which are available here:
Let's see the common specs of the Lenovo ThinkPad P53, which I find to be the best:
CPU:

4.6 GHz 8th-gen Intel Core i7-8565U  (4 cores).

Memory:

16GB / 24GB / 40GB DDR4 Ram 

GPU:

4GB Nvidia Quadro P520.

Storage:

– optional – 256GB /  512GB NvMe PCle SSD boot drive + 1TB / 2TB SATA HDD.
Screen

: 15.6'' 1080p IPS display. 60Hz refresh rate.
Operating system:

Windows 10 Home. 
Lenovo sells ThinkPad laptops as ultrabooks for the enterprise, or as portable offices for your home and your travels.
They are not built for gaming but for work. In particular, the Quadro GPU is an entry-level graphics card for workstations. It's designed to handle editing workloads (like Adobe programs, programming, 3D software, or DAW software) better than a GTX unit. 
Battery & portability
The ThinkPad series has an amazing battery capacity. When unplugged, the laptop lasts over 6 hours on heavy tasks and performs without any issues.
Regarding portability, this is a pretty thin and light ultrabook, mostly because of its modest GPU. 
In summary
Overall, the Lenovo ThinkPad P is a highly reviewed laptop that mixes speed, performance, durability, reliability, and multi-port flexibility with a long-lasting battery and a light chassis. All of this makes it one of the strongest options for music producers and DJs wanting to work on Windows.
Alternative: Lenovo Legion Y540
The Lenovo Legion is both a powerful gaming laptop and a powerful ultrabook. It's heavier and less portable than the ThinkPad, but it works greatly unplugged (about 6 hours of battery life).
The Lenovo Legion offers a 9th-gen 6-core i7 24 GB DDR4 Ram, and 4GB GTX 1650 DDR4 GPU.
It makes for a very powerful computer ready for multitasking, gaming, music production, design, and video production. Everything you'd need.
Dell Alienware M17
The Alienware M17 is a premium laptop made specifically for "gaming." However, as we've seen before, gaming laptops are just powerful ultrabooks carrying everything you'd need to produce music.
Just like most Alienware computers, the Alienware M17 is a beast. This is a 17'' computer that has a high-performance RAM, top-notch GPU units, and a large storage drive.
Overview
I've always thought Alienware computers are the best. They are stunning, fast as thunder, and smooth like jazz music.
However, they are pricey, and the M17 is no exception.
But you're paying for quality. You're paying for a laptop so good you wouldn't need to update your home studio's computer for years to come. 
First off, this is a premium build, made of a sturdy metal chassis (magnesium, alloy, steel, and copper). The result is a lightweight quality material that offers a driven gaming experience. 
Next, the M17 has a hyper-efficient voltage regulation that allows its Nvidia card to work at maximum performance and sustain turbo frequencies without overheating.
Regarding heat, it has an Alienware-designed Cryo-Tech that channels cooler air onto the most sensitive cores during heavy tasks. It increases performance, efficiency, and speed. It also has a dual-intake and dual-exhaust airflow design.
Even if you go for the cheaper versions, you're getting all of this, which includes Nvidia's latest and reputed RTX 2060 (and above) graphic cards, a 9th-gen hexa-core Intel CPU, and a gorgeous 17'' display. 
More so, this is a super-thin laptop that doesn't overheat. It's near perfect. It could only be better if it were free.
I also find the screen to be a great advantage. It's a 17'' 1080p display with 144Hz refresh rate and the unique Eyesafe Display Technology that reduces harmful lights without distorting color.
Alienware M17 Specs
There are various configurations available. But what I love the most about the Alienware M17 is that this is the brand's thinnest notebook ever. And it doesn't sacrifice its performance for design.
Here are the common specs:
CPU:

4.5 GHz 9th-gen Intel Core i7-9750U  (6 cores).

Memory:

16GB DDR4 Ram 2666 MHz 

GPU:

Nvidia GTX 2060 / 2070

Storage:

512 GB PCIe M.2 SSD / 2 512 PCle M.2 SSDs

Screen:

17.3'' 1080p IPS display. 144Hz refresh rate. 

Operating system:

Windows 10 Home. 
The dual SSD configuration is built on two RAID 0 drives, which means the laptop recognizes both units as a single one. It maximizes data transfer and storage.
Performance
The screen of this laptop is truly amazing. Aside from everything I've said, it has an advanced eye-tracking system. It's named Tobii, and it works with smaller sensors that identify the movement of your eyes to tweak the colors, brightness, and contrast of the screen.
You can also create "profiles" with thermal management, lighting, sound settings, and more. It allows you to go from music production to video production or gaming in a seamless workflow whilst enabling the maximum performance of the M17 laptop.
The Alienware Command Center also includes an easy-to-use overclocking control module.
Lastly, the Nvidia RTX 2060 or 2070 GPUs are some of the best graphics cards in the market right now. They can handle anything: 4K videos, gaming, animation,…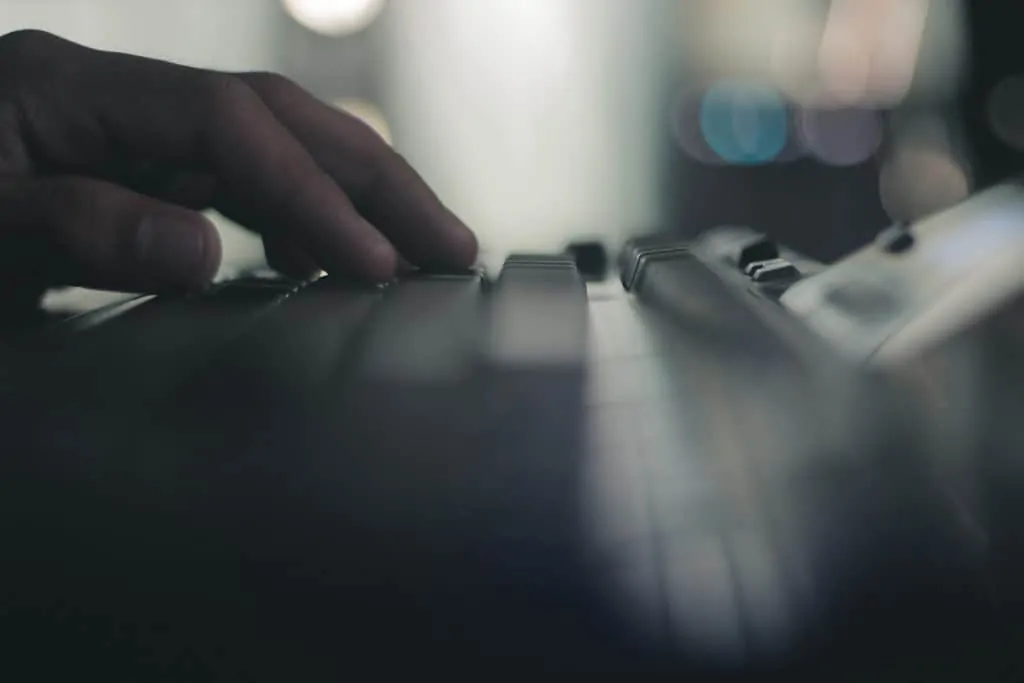 Alienware is regarded as the top brand for computers. 
Portability and battery
Although this is a super-slim and light ultrabook that performs equally well unplugged. The battery life goes up to 6 hours, even on gaming. 
In summary
This is a premium choice with a premium price tag. Go for it if you're willing to invest heavily and professionally into your home studio. It will do so much more than just produce music.
Alternative: Dell Alienware 17
The similarly priced Alienware 17 differs on weight and size, mostly. It's heavy, sturdy, and not ready to travel.
Instead, it features much more RAM memory and an Nvidia GTX 1070 GPU (8 GB). So, although it won't deliver 120fps on ultra graphics on most games, it will multi-task so much better because of its RAM memory. And multi-tasking might be something you'd want when producing music.
Our final 2 reviews are going to be shorter…
Apple home studio laptop: 2018 MacBook Pro
I left a popular choice for last, simply because I wouldn't choose it. However, I understand there are many people who prefer the Apple brand out there.
Even so, the Apple MacBook Pro is the most well-known laptop for music producers and DJs for good reasons.
The series offers a combo of solid processing power (up to 4.1 GHz) with a fast SSD storage system and a slim, attractive design.
It has mid to high-level technologies and features. For example, its Intel processors and RAM memory give you more than enough power to handle any DAW you need.
Furthermore, Apple's exclusive DAW, Logic Pro, is a program loved by professionals.
And what's better, it supports 10 hours of battery life for long production on-the-road or live performances. 
When you get Apple, you know you're going to pay a lot. But this is a reliable brand that makes durable, high-tech devices that will serve you well for many years.
I'm sharing the most premium version I could find on Amazon:
CPU:

2.4 GHz 9th-gen Intel Core i9 (8 cores).

Memory:

16GB DDR6  Ram

GPU:

AMD Radeon Pro 5500M 8GB

Storage:

1 TB PCIe M.2 SSD 

Screen:

16'' 1080p retina display. 144Hz refresh rate. 

Operating system:

macOS
The new MacBook Pro comes with the 8GB AMD Radeon Pro 5500M GPU, which is the most powerful graphical unit on a Mac laptop ever. It compares somewhere between the Nvidia 1060 and the Nvidia 1650  in terms of performance. It means it's a mid-level GPU.
One of the best things about MacBooks is the screen. The retina display offers gorgeous colors and it doesn't hurt the eyes when you see the laptop too often. It also has Apple's True Tone technology for higher color fidelity and better contrast, lighting, and shadows.
There are two downsides, though. The first one is how Mac laptops won't run most of the programs you'd want. For example, It won't run most games, although they do run every productivity program you'd need.
The second one is the price. As you see, it costs much more than the premium Alienware whilst offering similar specs.
Let's go down to a cheaper alternative:
This one offers but the essentials you'd need (16GB  Ram, Intel Core i7, and 512 GB SSD). If you're a brand guy or a beginner with no limits on your budget, then this is a great option for you.

Apple laptops are pricier than most, but they are also very reliable.
Best budget home studio laptop: 2020 HP 15
People looking for the Apple aesthetics that don't have that kind of money tend to go for HP.
HP is a reliable brand known for their ergonomic, light, and aesthetically beautiful ultrabooks.
In particular, the 2020 HP 15 is "the best bang for the buck" laptop you can buy right now, and it's your budget recording laptop choice.
Here's what we got on this model:
CPU:

1.0 GHz 10th-gen Intel Core i5 -1035G1  (4 cores).

Memory:

8GB / 16GB DDR4  Ram

GPU:

Dedicated Intel GPU

Storage:

512GB SSD

Screen:

15.6'' HD SVA bright View WLED-backlit touchscreen display. 60Hz refresh rate. 

Operating system:

Windows 10.
Because of the screen, this laptop serves for exactly what we intend: music production and other light work.
You'll find this is a super-fast laptop. Its 10th gen processor coupled with the RAM will make the computer boot and open any program in seconds. 
Another highlight is how beautiful and how light it is. Just like Apple laptops, HP knows how to make their batteries work right, so the HP 15 can run unplugged for about 10 hours as well.
Don't be afraid about the 1.0 GHz speed of the core. The speed can go up to 3.0 GHz whenever it needs. Plus, the single-core speed of this laptop can rival almost any laptop selling for two times and three times its price. 
Either way, here's a similar alternative by HP offering a better CPU:
Lastly, HP's Pavilion favorite is coveted for its affordable price. This particular model carries 16GB of Intel Optane Memory, which enhances the speed of the data you and the system use the most.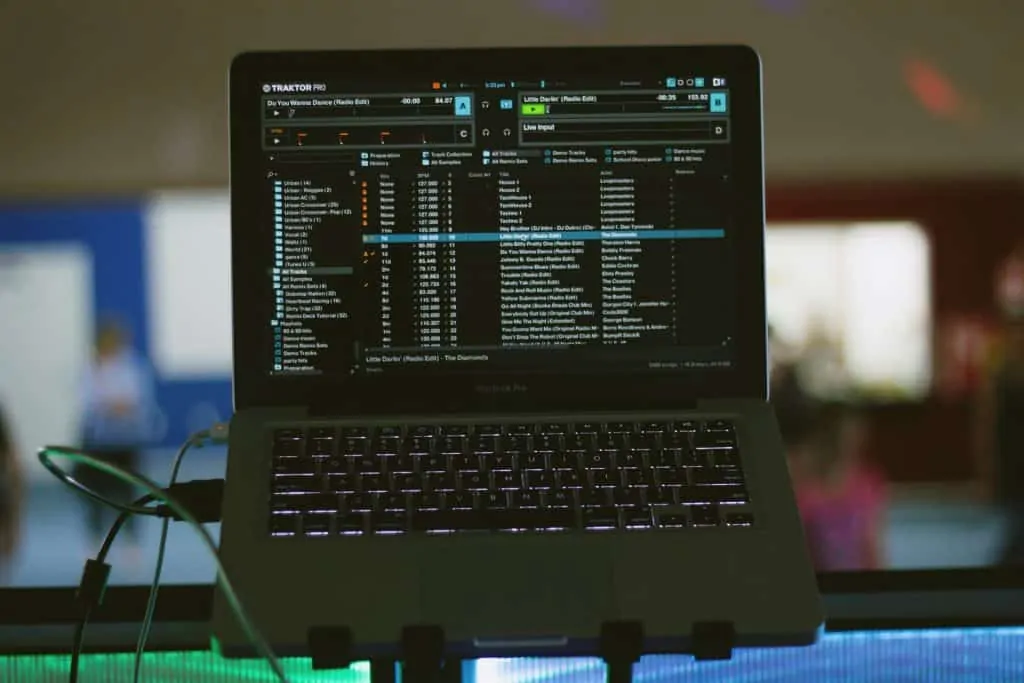 You can get the best budget recording laptops for cheaper than a flagship smartphone.
FAQs
Laptop vs. desktop for music production
Nowadays, laptops are more popular with music producers because they can work on the go. More so, laptops won't require much hassle to work with. You simply get them out of the box and push the on button to start producing.
Furthermore, a laptop can become an integral part of a musician's live show.
If portability is not an issue, though, then you should also consider getting a desktop computer. But, listen, building a desktop is not "cheaper" than getting a laptop as most people say. Whilst you can get more for the money you pay, you also have to buy a screen, a mouse, a keyboard, speakers or headphones, and even the Windows 10 or macOS license. 
Either way, by choosing a desktop you can go for the exact specs you want. 
Desktop components are developed first, which means laptops are a little behind in technologies compared to computers.
For example, whenever Intel launches the 11th-gen Intel Core processors, these units will be immediately available for desktop. However, about 6 to 8 months will pass until we see them on laptops. 
Also, laptop developers sometimes make concessions in speed and performance in order to fit all of the components. One of the concessions is heating, which tends to be a problem on most laptops. Whilst overheat won't damage a modern laptop, it can make it go slower. Plus, it will heat up the chassis, which is very uncomfortable on your hands.
That means a computer is as fast as it can be, so a computer with the same specs as a laptop can go up to 20% faster than the laptop. More so, if you build the computer yourself, you can upgrade all of its components as many times as you want (even the screen and the keyboard). 
Lastly, not all people know enough about computers to build one for themselves, so going with a laptop, which is ready to go right out of the box, might be the choice for regular people.

Mac computers are better suited for beginners. Beginners on budget not looking to do any kind of professional job on their laptops can go for the cheaper MacBook Air.
Mac or PC laptops for music production?
Mac vs. PC is an ancient dispute I think I have won long ago…just go for Windows: it's generally cheaper as you can get more for the same money; Windows 10 is Microsoft's final operating system, which means it will upgrade freely and forever; and Windows 10 is now actually pretty good and comes with a superb free antivirus.
Besides, Windows computers can run all games and all software except for those that are Apple-exclusive.
Back in the day, the MacBook Pro and the MacBook Air were the kings of music production. The reason was Apple's workflow was faster and more reliable than Windows' computers constantly crashing to the blue screen of death.
However, computing has advanced really fast, which means you can get high specs for less and less money. Furthermore, Windows keeps getting better and better, and now Microsoft's operating system is as reliable as it can be.
However, if you go for Apple, you're practically paying a full grand for the Apple logo on your computer's chassis.
The reasons for making Apple computers better than Microsoft computers are now gone. Both categories are even using the same Intel processors, so they work at generally the same speeds. 
If you're an Apple fan, that's cool. Go for an Apple. More so, if you want to work on the Apple-exclusive Logic Pro software, then you should also go for the Apple. Logic Pro is an amazing software used by many professionals.

Apple's Logic Pro is one of the best DAW software for DJs and music producers.
Mac or PC desktops for music production?
This is a more difficult question as Mac computers are no longer absolutely better than PCs, although they are still definitely great.
Price-wise, a Mac can cost two or three times more than what you'd spend building a PC. Or, if you're a newbie, a built-PC can go for about 50% less than a Mac with the same specs.
Flexibility wise, PC wins again. PCs can use most components out there in the market and run all of the software and games you would ever need. Apple, on the other hand, is much more restrictive: you can't build a Mac PC, you can only order the Mac with the specs you want, and as you add things like RAM and storage, the price goes up like a third country's inflation.
As for inputs, PCs have all of the standard inputs you could need. Plus, you can buy the case with all of the inputs you want. On the other hand, Apple is known for its restrictive and mostly Apple-exclusive inputs. 
Power-wise, PCs draw less power than Macs. Thermal throttling is a known issue on Apple products: because these computers and desktops are so thin, they can't be properly cooled.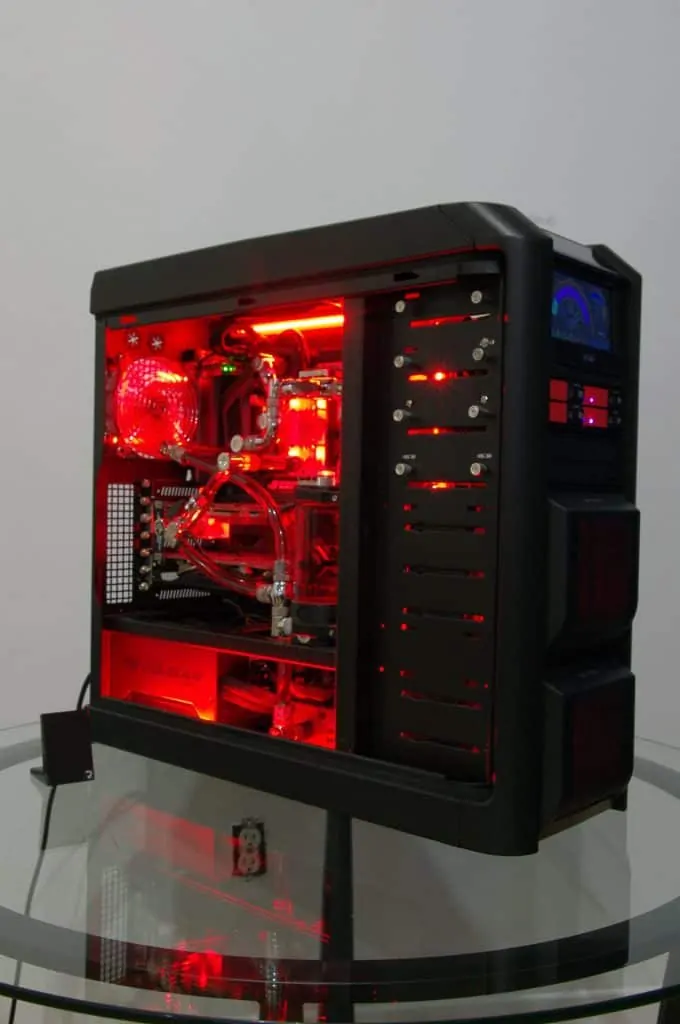 You could also install MacOS on a built PC.
As for the operating system, this is a personal preference thing. I find macOS is more intuitive and most suited for beginners, but I prefer the aesthetics and workflow of Windows 10.
Now, let's discuss usability. Most equipment you can plug on the Mac just works without you having to install anything else. For example, when you plug a Focusrite interface into the Mac, it tuns without having to install its driver as it does on Windows. 
But, as usual, Windows supports more devices than Mac. If Mac doesn't recognize it, then you're going to have a problem. The point is for Windows, then.
About reliability and fix, you can always fix a PC as it breaks individual pieces. However, when a Mac fails, it fails big time, and you'd probably have to change it altogether.
Lastly, the real advantage of Macs is security. Apple computers are known to be almost 100% virus-free, although Windows has made great advances against malware in the past years.
Overall, if you're a beginner with some budget and just want a computer that works reliably, go for the Mac. For everything else, take the risk of building your own PC.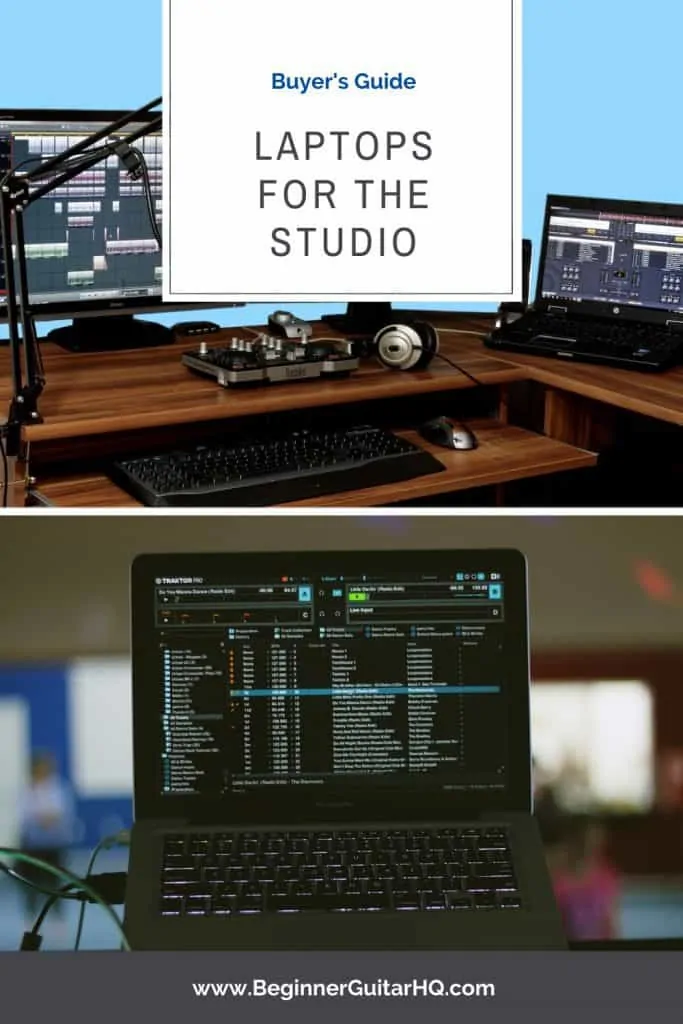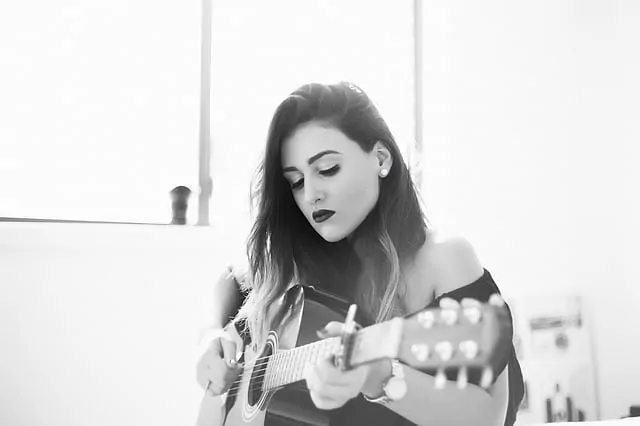 Jen is a guitarist and singer-songwriter who spends much of her time on the road and has lived in 13 cities across 4 continents. She picked up her first guitar at the age of 6 and learned to play by ear shortly after. She received her formal music education at the Berklee College of Music, and currently plays for a few bands in her free time. She has an uncanny ability to improvise creative melodies and harmonies. Her early influences include blues, jazz and rock.