It is no secret that guitar companies have trouble keeping up with the times. Some definitely do it than others. Fender in particular is a perfect example of a brand that balances its historic past with a forward looking attitude of the future. That is why when Fender unveiled their Acoustasonic series to the public at the NAMM show in 2019, I considered it par for the course for them.
The Acoustasonic range was designed to be an all-in-one package of tonal possibilities, with the ability to mimic a variety of electric, acoustic and even some percussive elements all in one instrument. I got my hands on an Acoustasonic Stratocaster recently, put it through its paces and found out whether it lived up to the hype. But before the verdict, let's run through some specs.
(Daniel Donato playing the Fender Acoustasonic Stratocaster and Telecaster)
Body: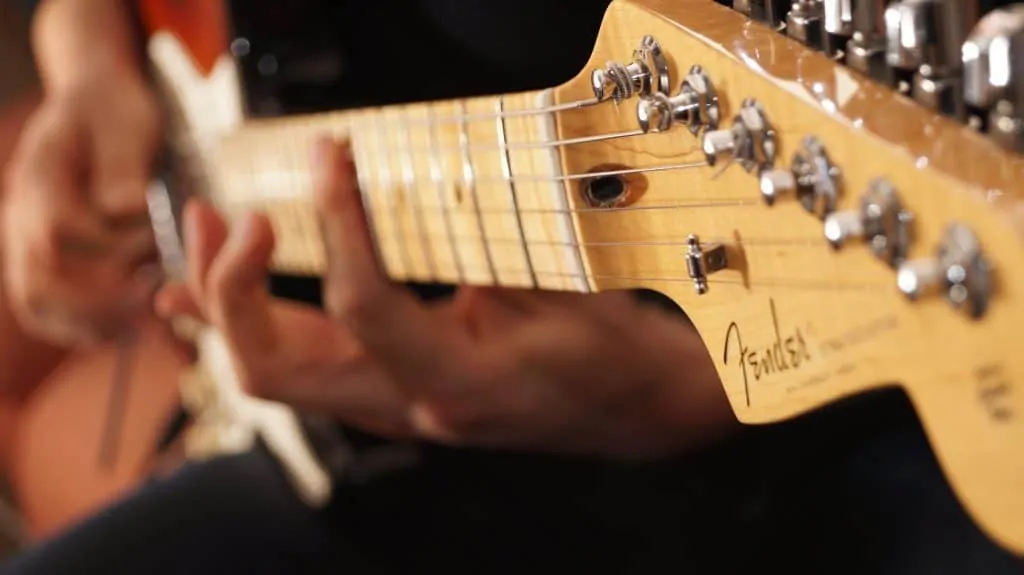 The Acoustasonic is a redesign of one of the most classic guitar shapes ever; the stratocaster
First let's get something clear, the Acoustasonic Strat is a gorgeous piece of gear. I got my hands on the black variant and it is a very classy color combo.
The Acoustasonic has a spruce top with mahogany back and sides, not typically light materials, but given the construction it is a very shoulder friendly instrument. Other than that the guitar is relatively standard given its purpose. Mahogany neck with a Deep C contour all layered over by a ebony fingerboard. All of this makes for a classy looking guitar that looks and feels like a Stratocaster but has a tone closer to a stratocaster.  Now I say similar to an acoustic, and not like an acoustic for a reason, but more on that later.
The only real issue I feel at this stage is the contrast in playability, when I sat down with the guitar, it felt almost exactly like holding your typical stratocaster, it was well balanced with a very comfortable neck and I felt right at home. However, as I bent my first note on the G string, I was struck by how odd it felt to feel acoustic string ridigidy on a neck that felt like it should have electric guitar string smoothness. That is why it is important to note that this is still more of an acoustic guitar in terms of playability, rather than an electric.
It is also worth noting that the color options for this guitar are all quite stunning, and definitely worth checking out here.
Hardware:
The hardware is where this guitar gets interesting, The Acoustasonic Stratocaster is equipped the same as the Acoustasonic Telecaster, an under the bridge Piezo, a Internal Body Sensor and a N4 Noiseless Electric pickup give the player roughly 10 tonal settings. All of which are controlled by a 5 way selector switch, a volume knob, and a A/B switch where one would typically reach for a tone knob. The controls work pretty simply, each position on the 5 way gives you two separate tones depending on where your A/B knob is sitting. The transition from purely acoustic to purely electric as the player shifts down from 5th position.
Beyond the electronics the guitar is equipped with fairly standard hardware. GraphTec nuts, saddles and bridge pins. Fender Standard Cast tuners, Biflex truss rod and 22 narrow tall frets spread across a typical Fender 25.5" scale length all going into a rosewood bridge. The quality of the hardware is apparent, the knobs and switches feel of good quality, devoid of the cheap click-clack one would find on typically cheaper switches and the knobs spin freely.
Sound:
Before we go into the tones of this guitar, it is important to specify exactly what this guitar set out to achieve. By the features, the design and the promotional materials, this guitar seems like a welcome addition to any player's collection, but it seems most obvious that it would have a special home with those who make great use of looping or have a need for an all-in-one kind of instrument.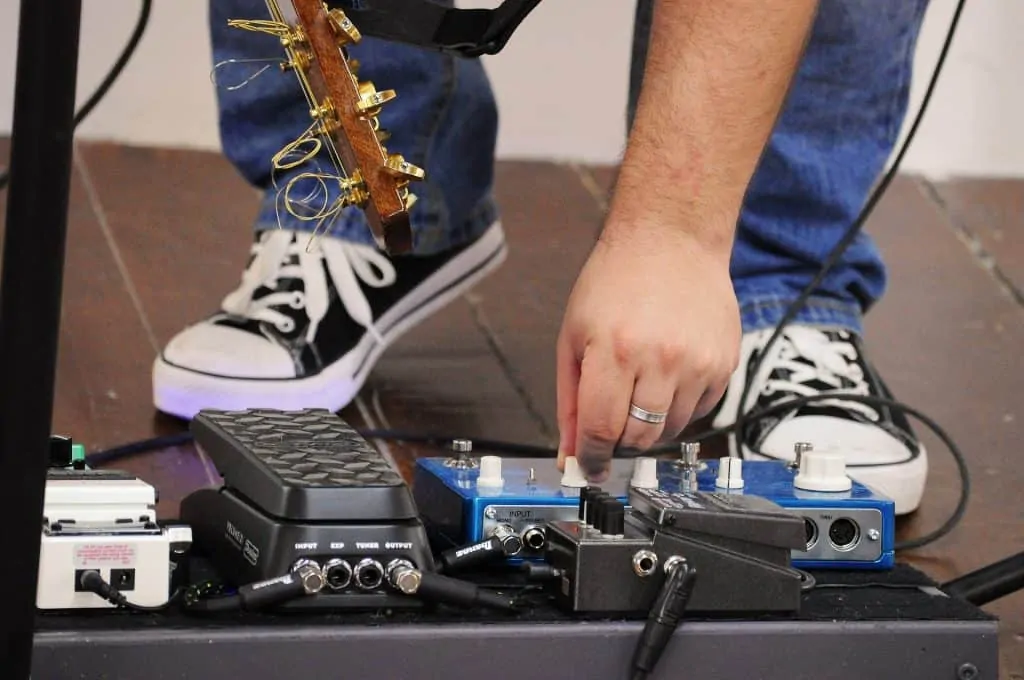 The rise of the "Looper Guitarist" is undeniable, is the Acoustasonic the ultimate answer?
The ability to switch almost effortlessly between an ideal percussive backing sound, to a lush rhythmic guitar and into a smooth lead electric tone all in one instrument is absolutely game changing. The image I have in my mind is a working musician who primarily performs primarily as a solo act, using a mixture of drum pads, multiple guitars and effect pedals all looped to make a fuller sound, the modern equivalent to a one man band.
(Billy Strings demoing some acoustic tones)
As I played however I found tones and tastes of musical inflections that were unique from one position to the next. The problem with the guitar is not the lack of said sounds, the problem with the guitar is that the sounds just were not incredible.
As I switched through the different acoustic positions it was clear that Fender put a great deal of effort tailoring each tone to match its inspiration. I noticed the difference between the bright and springy Engelmann spruce and maple of position 4A and the dark warmth of the sitka and brazillian rosewood of position 3A.
The only issue was that the acoustic settings sounded too much like what they really were; Piezo pickup acoustic sounds. Every acoustic tone sounded just a little too compressed, just a little too subdued and just a tad bit too synthetic, a result that made each guitar sound just inorganic enough for me to always be aware that these were simulations rather than proper acoustic resonations. In making concessions to fit all the fantastic features of the guitar, Fender made a guitar that, while incredibly comfortable, sleek and familiar, simply does not have the size and volume to produce a more authentic and, quite frankly, believable acoustic guitar tone. And don't even think about playing it unplugged, there is a reason few demos have sound samples of the guitar being played completely acoustically, and that is because this guitar barely resonates at all unplugged.
(Kenny Wayne Shepherd giving a good example of some of the fatter tones this guitar offers)
The electric models on the other hand were surprisingly pleasant, while they seemed to lack some of the traditional twang and push one might associate with a Fender Strat pickup, that may have been a conscious choice to create a more versatile instrument. The clean electric position is smooth and poppy, with little to no background hum or buzz. And the much fatter electric position provides a more gritty tone that still remains controllable.
The same goes for the percussive pickup, in fact, it was the percussive pickup that I found most enthralling. I believe it is the percussion features that really make this guitar stand out, for years players have been hitting their guitars to add a percussive element to their guitars, and now Fender has added a proper percussive pickup.
The percussive element eliminates the need for items such as this on the stage for some gigs
All in all, the guitar delivers on everything it had promised, a wide array of interesting and tonally complex acoustic, electric and percussive elements. The guitar only falls short when it comes to the guitar models, where some of the acoustic positions in particular sound too synthetic or artificial.
(Freak Rob Gueringer giving another demo of tones)
Final Thoughts:
The Acoustasonic Stratocaster is not a bad guitar, it is in fact, a great guitar. It is well built with high quality materials in the USA, it has a plethora of tonal possibilities making it an almost endless source of potential combinations, and it offers something that no other instrument offers right now, nearly 10 instruments in one. The lackluster tones of some of the positions may sound like a fairly damning piece of critique, but many will not and many already do not mind too much. There are such things as concessions, and I know many players that would feel perfectly fine trading some of the finer nuances of acoustic tones for the ability to have an all-in-one answer to everything.
THIS is the customer that the Acoustasonic is made for, the one who benefits from the features
All these features and qualities would make the guitar a fantastic addition to any player's arsenal, either the working musician looking for a convenient solution to needing a fuller sound, or the more casual player looking to add another unique guitar to his collection. The only issue is the guitars price tag, which is relatively expensive  But one cant help but wonder if the guitar, with the faults it has, is worth that much, and whether or not the perfect target buyer, the working musician, would even be able to consider the purchase, especially considering what a player could get for a similar amount from Fender.
Here's the bottom line; this is a fantastic guitar, one that will surely usher in a new wave of innovation as other makers seek to add their own twist on this Swiss Army Knife of a guitar, it's flaws are not to be taken lightly, but when compared to the quality and the convenience that this guitar brings to the table, I can't help but think that said flaws are easy to overlook. It is a good sign when one of the major things holding a player back is the price tag. At the end of the day the Acoustasonic is an exciting piece of gear with some flaws, but one that brings so much to the table, it is not difficult to overlook them. I am reminded of an analogy that summarizes this instrument perfectly.
It is like a houseboat, not the best house, not the best boat, but a lot of fun! And a lot easier than maintaining both.
And that is why in the end, I give the Acoustasonic Stratocaster a score of a solid 3.5/5. It is not a bad instrument, but it is not the best we could hope for either. Time will tell where this bold concept leads.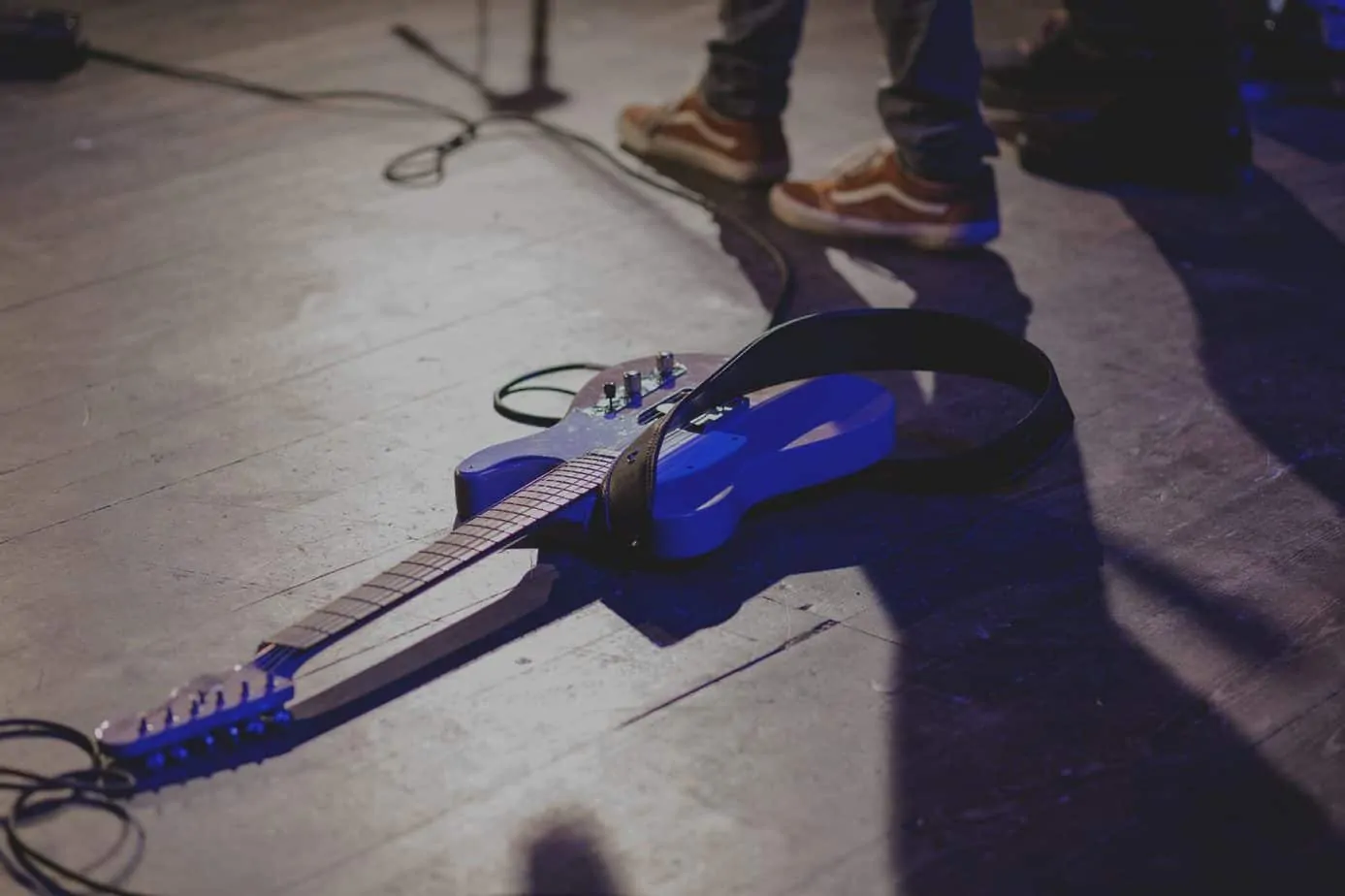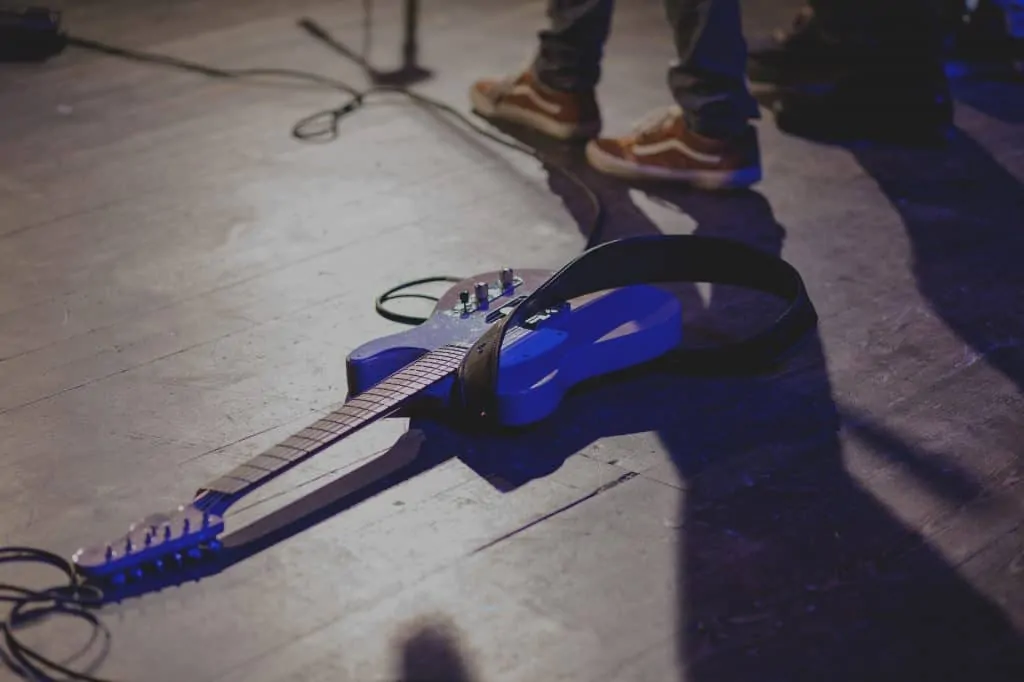 Time will tell if the Acoustasonic series or any of its descendants will make more plain electrics a thing of the past.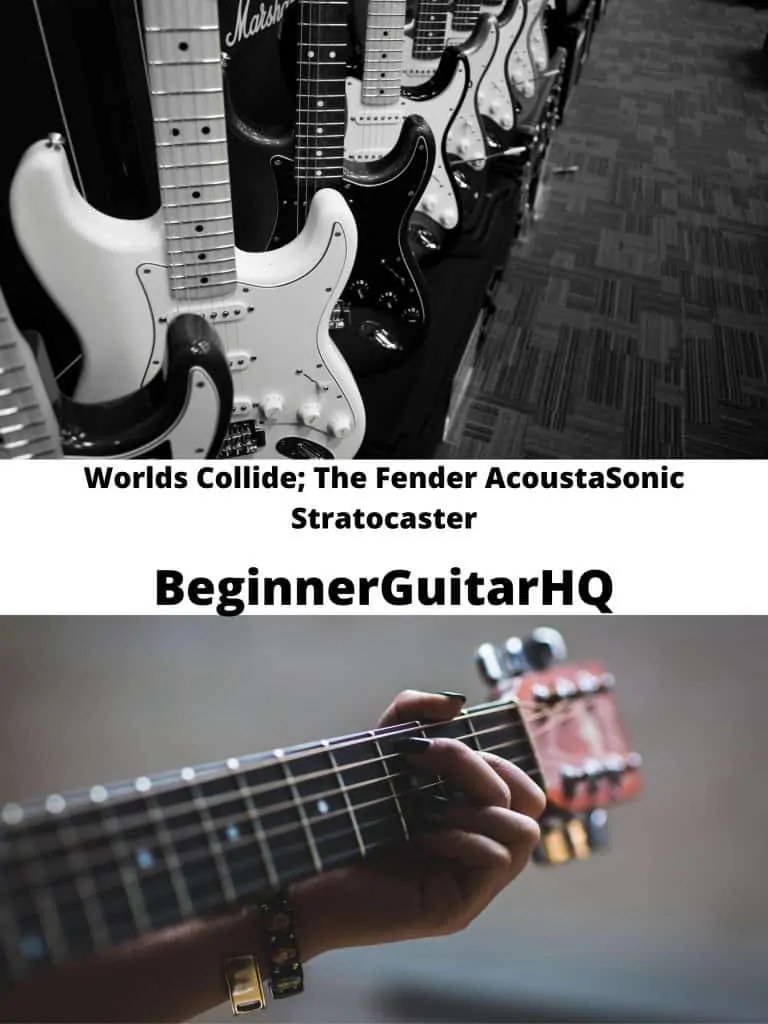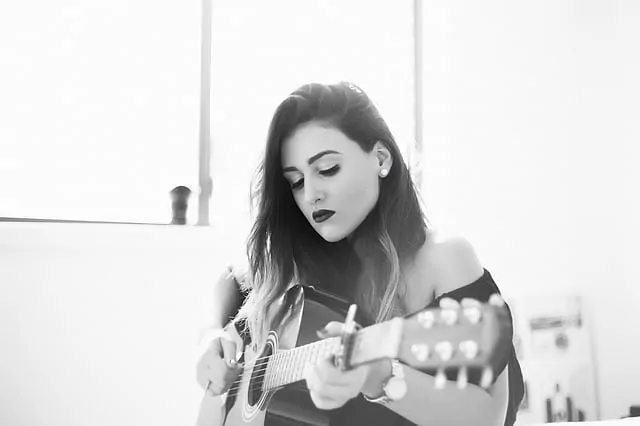 Jen is a guitarist and singer-songwriter who spends much of her time on the road and has lived in 13 cities across 4 continents. She picked up her first guitar at the age of 6 and learned to play by ear shortly after. She received her formal music education at the Berklee College of Music, and currently plays for a few bands in her free time. She has an uncanny ability to improvise creative melodies and harmonies. Her early influences include blues, jazz and rock.