The Yamaha APX500III is a hard guitar to come by, and I think it's because of the name. "APX500III" -or APX500 3- is a handful, and it's not catchy at all. At least not like, for example, the Yamaha NTX700. 
We've covered various Yamaha instruments to find the highest degrees of value, no matter the price range. 
The less popular APX500III is a straightforward beginner's electro-acoustic guitar. The price falls in between entry-level and mid-range, which is also one of its downsides. You could pay less for an instrument that sounds and performers ever-so-slightly worse, or pay a bit more for tangibly better performance. 
It's an oddball, for sure. What we've got is an APX series acoustic-electric guitar with a comfortable body and easy pre-amp. 
Let's find out why this is a good instrument for beginners.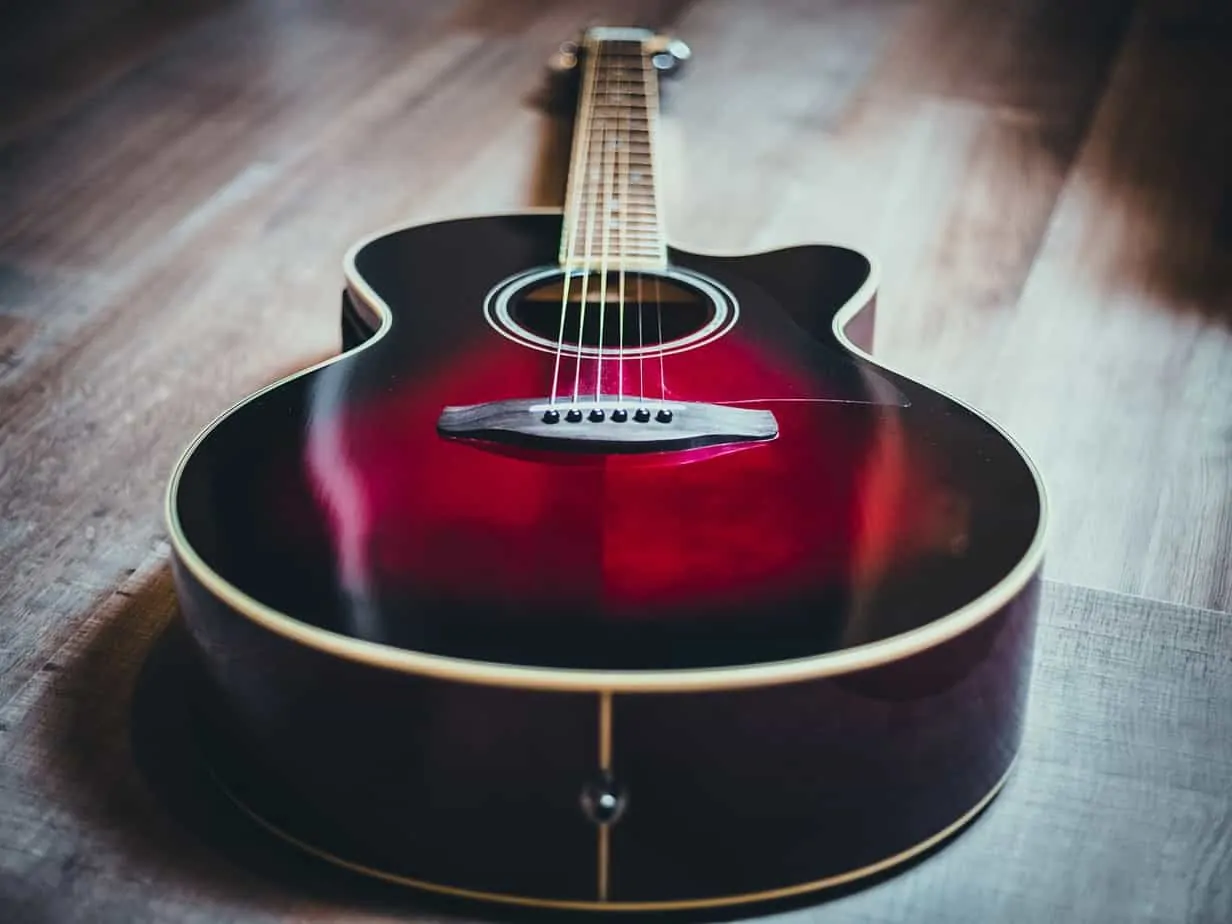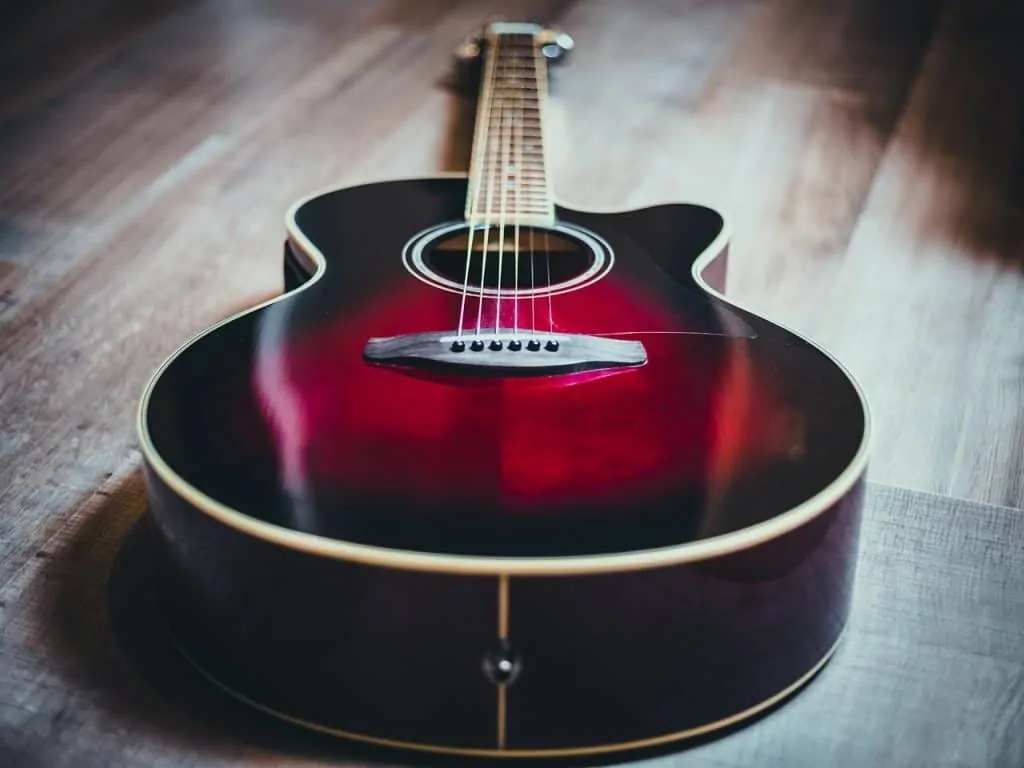 The Japanese company Yamaha has a top-tier reputation for their acoustic guitars, electric guitars, pianos, and electric basses as well.
Previously, we've covered other Yamaha acoustic guitars. All of those models boast quality, value, and top-tier tech. 
Here're the models we listed:
Yamaha APX500III electro-acoustic guitar review
Yamaha knows how to add value to their items. Their models go beyond budget vs. performance propositions, though. What the company does is mix unique design features with proprietary tech. As a result, their instruments are beyond what most brands can offer at the same price level.
That's something we can assure because of how many Yamaha instruments we've seen, played, and reviewed.
Now, the APX500III is an entry-level acoustic-electric guitar that looks anything but typical. Should you learn how to play guitar on something that looks like the rest? Yamaha doesn't think so.
In 1987, Yamaha created a groundbreaking acoustic-electric guitar. It was the first severe model of its kind that musicians could take to the stage and play it at a powerful volume.
What made the original APX guitar different was its lack of feedback or underpowered micks. 
The latest APX guitars feature new under-saddle pickups, a proprietary pickup system,  a quirky oval shape at the soundhole, and a proprietary scalloped bracing. 
You can expect a broad range of sounds, natural tones, and zero feedback from the series.
Overview
The APX500II is one of the world's best-selling electro-acoustic guitars. It comes from Yamaha's APX-series, which carries the brand's spirit: a balance between durability, performance, and reliability.
As I said before, all Yamaha's series carries a particular feature that goes from the cheapest to the lineup's priciest model.
The APX series features a brand new proprietary pickup system. It delivers a dynamic tone and extra power.
Another design feature proper of the APX guitar series is the scalloped bracing. Yamaha designed a brand new pattern for the series, and it's there to punch the sound of the bass frequencies.
Lastly, with its clear sound and easy toggles, the APX500III delivers everything a beginner needs. It's not a guitar you should underestimate.
We're taking a look at the APX series features at the end of the article. For now, you can see a video on what's a bracing pattern:
Built quality
The first thing to see on the APX500III is its color. Or, better yet, the color choices.
This electro-acoustic guitar comes in various choices of shades, which depends on the store on the marketplace.
The most common is the classy black version. Other colors include Dusk Sun Red, Blue Burst, and Vintage Sunburst.
The next feature we need to discuss on its construction is its thin-line body. It makes for a comfortable construction, light, small, and easy for kids.
Moreover, it has a single-cutaway on the lower bout, where the fret meets the body. It gives access to the top-frets, which makes it a good choice for performance use. 
The body sports laminated spruce with okoume or nato on the sides and back. The finish is natural, which delivers a traditional aesthetic.
The construction is thinner than regular acoustic guitars, as the name suggests. That allows a better holding and playing experience, especially for kids and players with small hands.
Even so, the APX500III is a full-sized guitar with 25.6" of scale.
Then, the neck also carries either nato or Okoume as the tonewood of choice. At the same time, the rosewood is made of rosewood. It has 22 frets on the neck, all of them with a commendable finish and feel.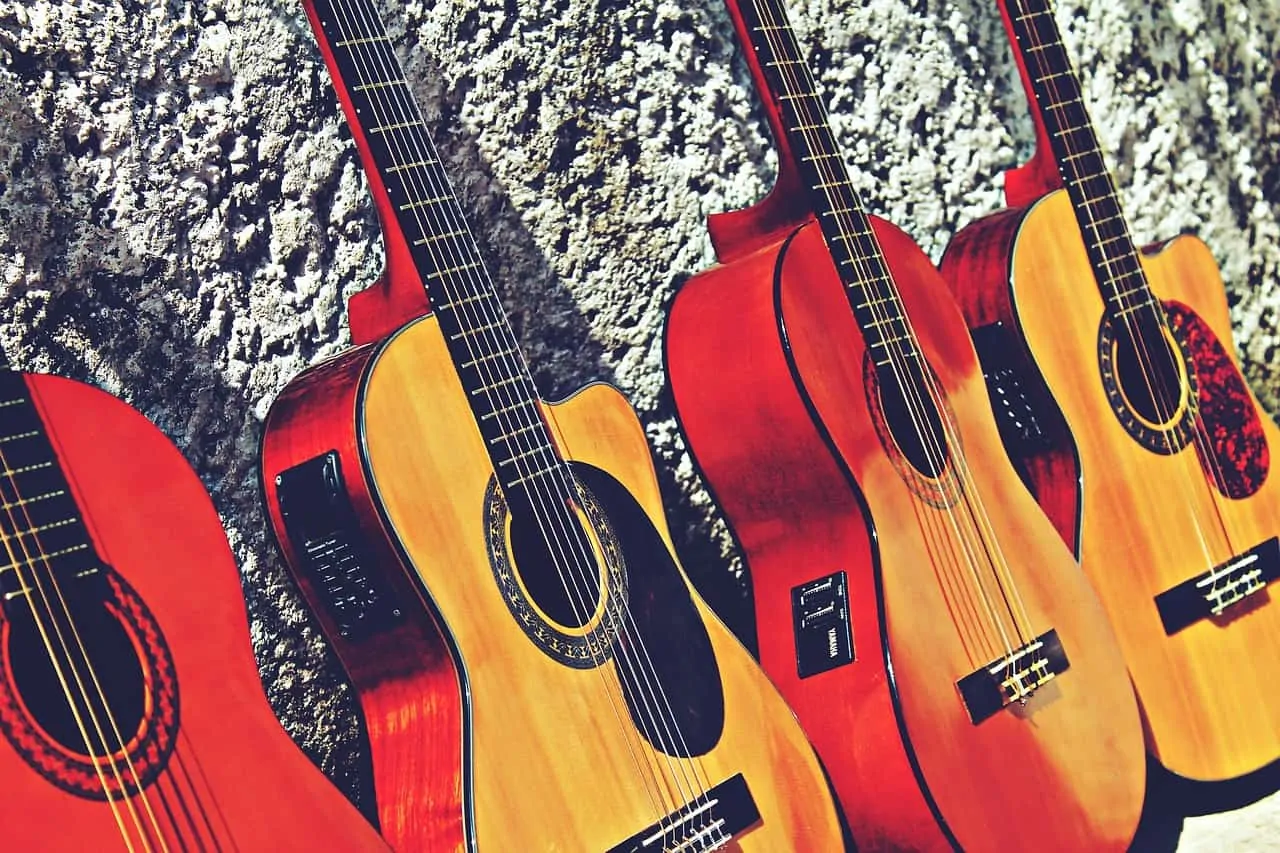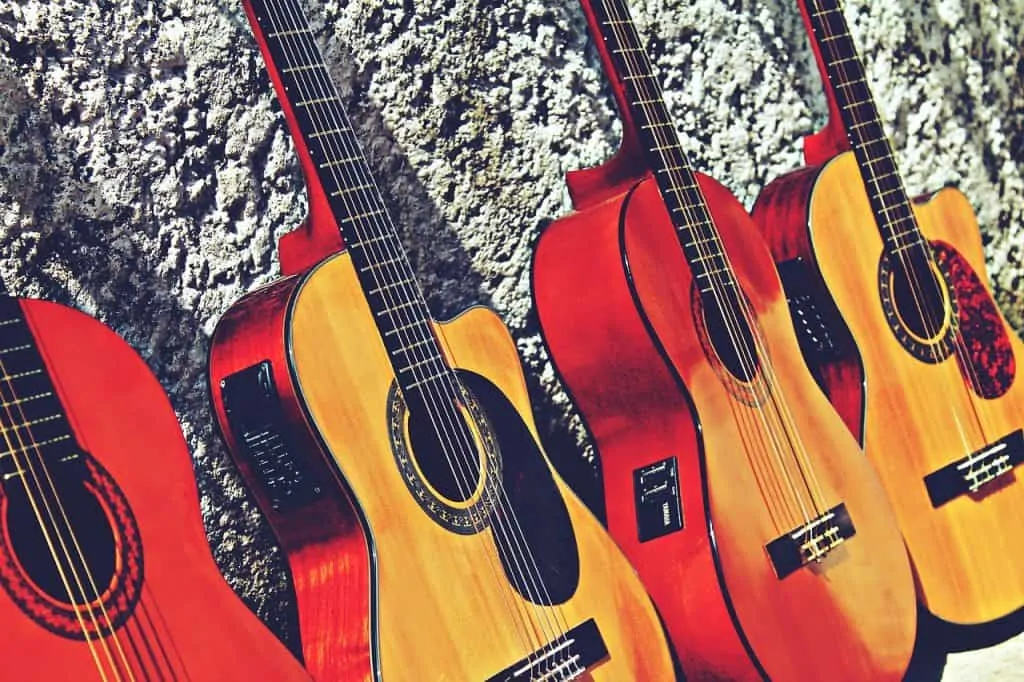 Electro-acoustic guitars need an extra set of AA batteries to function through the acoustic amplifier.
Sound quality
The APX500III has a big sound and plenty of resonance. The trick is its non-scalloped X-type bracing pattern within the soundhole. Moreover, it has an oval soundhole that creates broad low-end frequencies.
As this is an electro-acoustic model, it has a pickup system. The APX500III features Yamaha's System 66. It's a simple preamp with two AA batteries, plus an under-saddle piezo pickup.
The controls are simple as well, very easy for beginners. They rely on volume, low, mid, and high knobs. Additionally, it has a mid-range frequency control knob and a built-in tuner. 
Playing around the preamp section gives an impressive amount of versatility. The guitar has a broad range of tones, and so it can only get better with extra acoustic guitar pedals. 
Plugged or unplugged, the guitar sounds similar. The tone comes out bright, clear on the mids; balanced and subdued on the highs; and controller and broad on the lows.
Once again, the X pattern maximizes the guitar's resonance, which comes out natural, dynamic, and precise. 
Also, I must add that the guitar has no feedback, which is very important for recording musicians. If you're looking for a cheap acoustic guitar to record in your home studio, the APX500III might be it. 
Feel Quality
As I mentioned before, the Yamaha APX500III shines because of its thin-line design.
Because the guitar is slimmer than usual, the guitar weighs less than most acoustic and electro-acoustic models.
That makes it easier to carry during long play sessions. Moreover, it has a slimmer neck and low action strings. It means you don't need much strength on your hands to play, much less large fingers. 
Elsewhere, the guitar's hardware is standard but reliable. It has die-cast tuners at the headstock, a rosewood bridge in the body, and non-branded stock strings.
Overall, it offers beginners reliable performance, although nothing too special or niche for intermedia or experienced players.
Downside & Alternatives 
I don't find anything wrong with the APX500III, given its price range. If you bought it because it's an affordable model, I doubt you'll be willing to trade any of its pieces for a better performer.
Still, I would commend a change of strings. Once six months or a year pass by, you can trade them for a better set. Here's the one I recommend:
As for alternatives, I highly recommend the Jasmine S6 acoustic guitar. If you're not looking to perform live, or if you don't have an acoustic amplifier, there's no point in buying an acoustic-electric guitar.
That said, the Jasmine S35 is an impressive affordable guitar that packs excellent construction and sound.
If you're thinking "Yamaha only," then you could go for the FGX800. It's a bit pricier, but it offers a top-notch scalloped bracing design that pushes the sound's quality onward.
Lastly, I recommend the FenderCD60CE, a solid choice for beginner and intermediate players alike. It doesn't pack anything special other than Fender's typical craftsmanship. And that's a lot!
If you can't find the APX500III available, I can point you towards the Yamaha APX600. It's a bit smaller (25″). Other than that, it's practically the same.
However, it uses an improvement of the System 66 Yamaha named "APX600FM."
With all that said, I must note Yamaha is not currently producing the APX500III. They are not listing the guitar on their site either, and so you would only find its specs online.
The Yamaha APX600 replaced the 500III model, though.
Yamaha APX500III specs
Design: Yamaha APX Thinbo
Bracing: non-scalloped X-type bracing
Body tonewood: laminated spruce
Neck: okoume or nato
Fingerboard tonewood: rosewood
Pickup system: System 66 (under-saddle pickup)
Controls: 3-band EQ, mid-frequency control, built-in tuner
Tuners: die-cast tuners
Bridge: rosewood bridge
To make everything transparent, here's a feature rundown of the APX500III:
Thin-body
The APX thin-line body design offers comfort, access to top frets, and stage-oriented sound.
Bracing pattern
Yamaha's custom "non-scalloped X-type bracing pattern enhances the body's resonance. The result is a natural and round tone. 
APX oval soundhole
The oval soundhole adds juice to the low-mid frequency sounds. Moreover, it adds a more strident sound on the open 6th, 5th, and 4th strings. 
APX Pickup System 66
The pickup system catches individual vibrations to deliver ultra-clear sounds. Also, it delivers an ultra-wide signal with increased dynamic response and accuracy.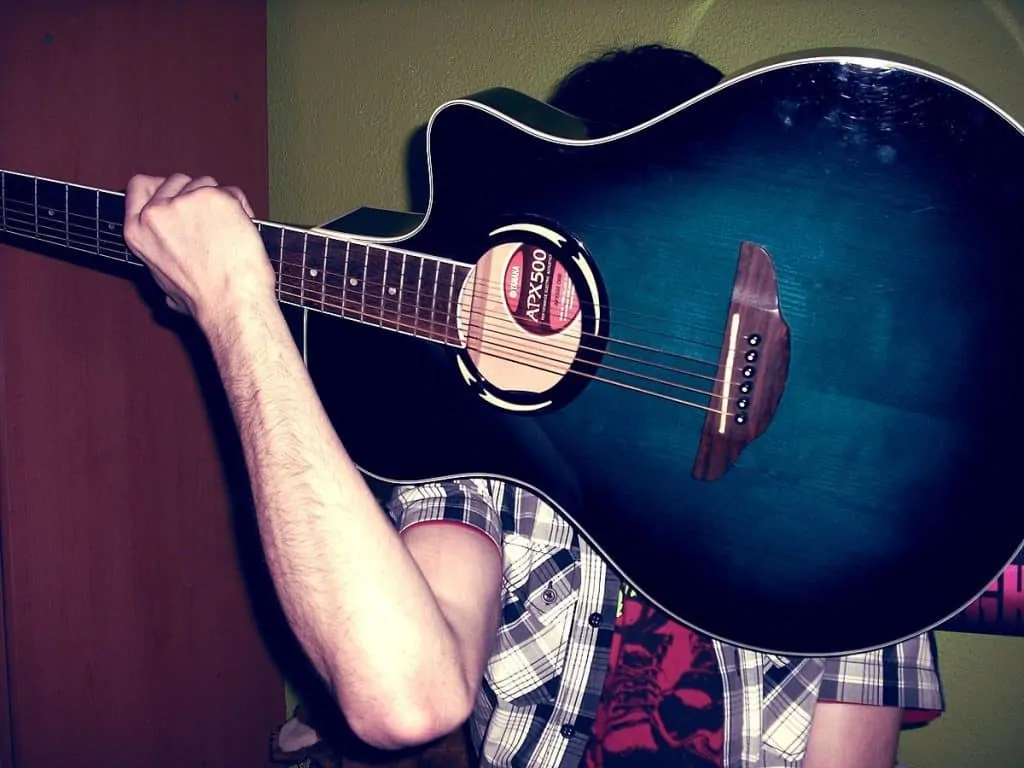 Yamaha_APX500_hiding_face/ Eleazar / CC BY 2.0 / Yamaha's guitar series mix proprietary features with top-value design choices. 
In summary
Why do I like the Yamaha APX500III?
The Yamaha APX500III Thinline is a hard to find electro-acoustic guitar, and it's a shame.
It has everything beginners need and more. The playing experience is comfortable, the construction is light and easy to play, the hardware is decent, the electronics are quality, and the sound is clear. Moreover, the guitar responds well to both strumming or fingerpicking due to its high dynamic range.
It's no surprise that the APX500III -and the APX600, for that matter- is such a famous guitar. Great value packages like this are hard to find on the electro-acoustic guitar segment.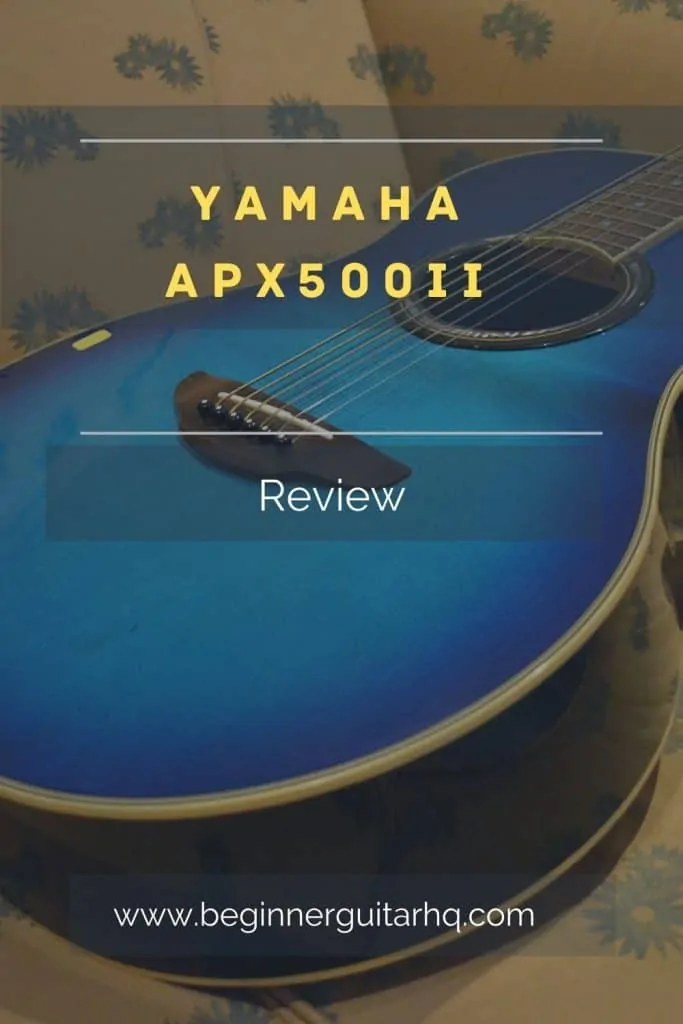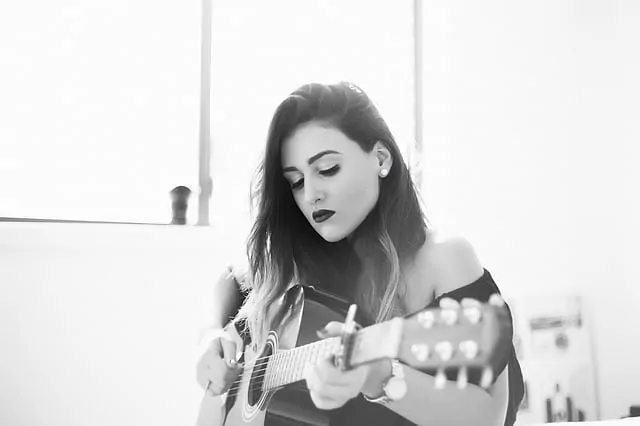 Jen is a guitarist and singer-songwriter who spends much of her time on the road and has lived in 13 cities across 4 continents. She picked up her first guitar at the age of 6 and learned to play by ear shortly after. She received her formal music education at the Berklee College of Music, and currently plays for a few bands in her free time. She has an uncanny ability to improvise creative melodies and harmonies. Her early influences include blues, jazz and rock.