Are you building a home studio? Then you need a good condenser microphone. We're here to review the MXL 990 cardioid condenser mic. The item stands as one of the most popular options on online retailers due to its price tag vs. value proposition.
Condenser mics are better at picking up extra detail, accuracy, and frequency from instruments and voices. They are delicate, flimsy if you wish, but they deliver quality recordings.
That said, we don't expect to find condenser mics below the double-zero mark. "Affordable" is not a standard feature for condenser mics.
As we get into the review, we'll see how the MXL condenser mic is an affordable solution that meets high expectations. You would use it on guitar cabinets, acoustic guitars, pianos, keyboards, and such, though. Otherwise, the noise floor can be above what you might tolerate.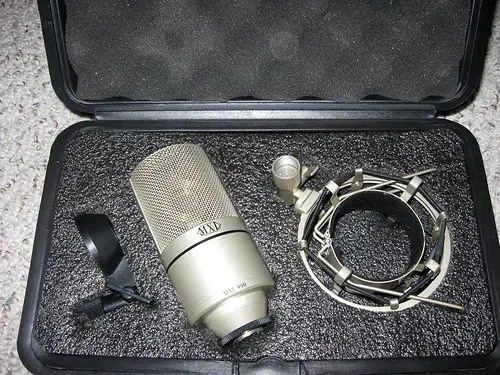 MXL_990_Condenser_Microphone.jpg / Jordan Colburn / CC BY-SA 2.0 The MXL 990 sells as a stand-alone item or with a bundle that includes a stand, a bag, and more.
We've already done various guides regarding recording microphones. Here's where you can go for further info:
Best mics for recording acoustic guitar
Before we go on, I advise you to check its listing on Amazon. Its most basic bundle includes a mic stand adapter, a shock mount, and a carrying case.
MXl 990 Cardioid Condenser Mic Review
The MXL 990 is a budget-friendly condenser mic that can work for gamers, podcasts, streamers, voice-over professionals, and entry-level/intermediate music producers.
Also, it's best suited for home studios or similar projects. Bear in mind that
This is a studio instrument microphone with an XLR connector. That means you need an interface to plug it into your computer.
Also, you can't use this mic with an XLR to USB adapter to plug it into your computer.  as it requires +48V phantom power. Phantom power is a particular energy current that powers microphones and other audio devices. It's often available on interfaces and audio mixers.
The MXL 990 is an affordable condenser mic that trades noiseless quality for power and sweetness. I have to note it doesn't deliver a natural, flat, or raw sound. Instead, it mixes sweet highs with solid mids and lows.
The tone balance, though, feels superb. It makes it work with guitars just as much as basses, albeit it will always punch the high-end frequency sounds.
Overall, both features and sound go well beyond its price point. It's best if we take a closer look.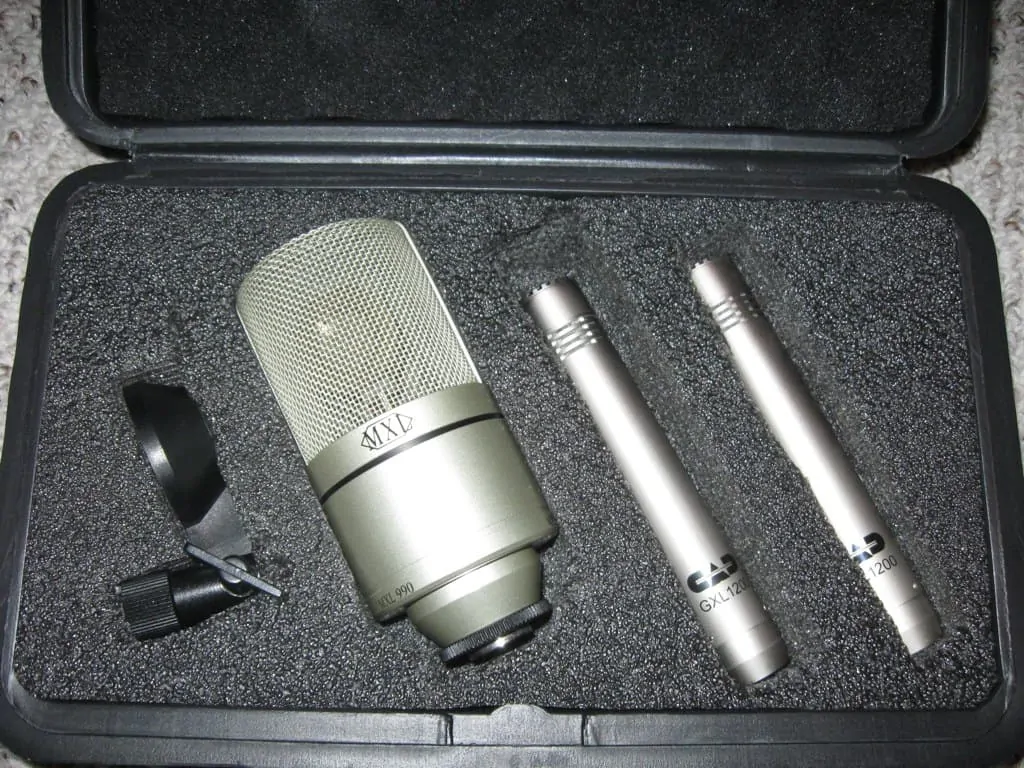 MXL_990_CAD_GXL1200_condenser_microphones / Jordan Colburn / CC BY-SA 2.0 The MXL 990 condenser is the cheapest condenser mic you'd find from a known brand.
Overview
At first glance, two things strike immediately—first, its price is very low for a condenser microphone. The price is even lower than some USB mics like the Razer Seiren (for gaming); or any mic from the Yeti lineup, like the Yeti Blue (podcast or streaming).
However, the applications of the MXL 990 is beyond what a USB mic can do, though. If you're serious about recording voices and instruments, it's best to get a condenser microphone as one of your tools.
What it can't do correctly is record professional singing voices. Other than that, its functions are very versatile.
The second most prominent characteristic of the item is it's aesthetic. With its vintage design and champagne finish, it looks like a premium microphone. And while I should clarify that it's not, it can work just as good as pricey items.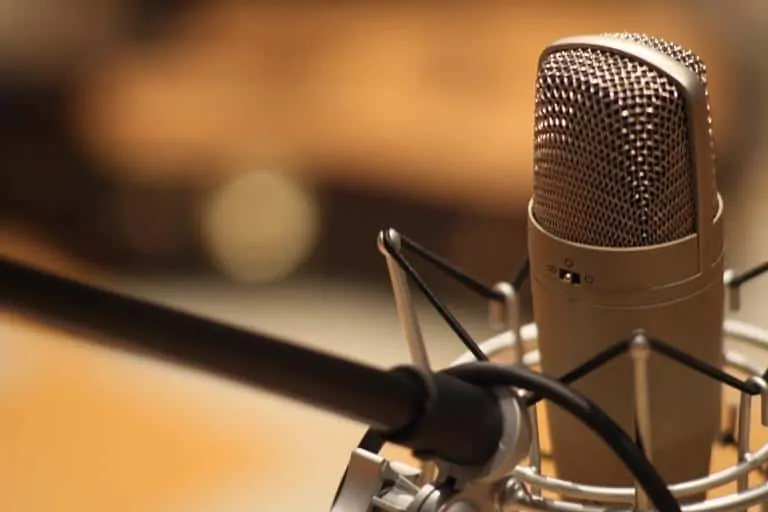 Condenser microphones are the go-to choice for studio setups.
Features
The MXL 990 is a ground-breaking condenser mic. That's because it's the first quality microphone of its kind.
MXL achieves such results with its proprietary FET preamp. The preamp modifies and cleans the sound signal. The FET solution provides a balanced output with nice high ends and focused mids and lows.
Another defining feature is its cardioid quality. A cardioid microphone can only pick up sound from the front, which means it cancels sounds from the back and the sides. There's still a noticeable amount of noise coming from the back, though, so be aware of that.
The next feature it has is a large diaphragm. "Large diaphragm" means the microphone has one inch or more diameter capsule. It's capable of delivering rich and vibrant sounds. They make instruments and voices feel rounder and fuller than small diaphragm mics.
As a condenser mic, they work as solutions for controlled environments. They are more fragile than dynamic mics, but they can capture higher-quality sound, extra details, extra volume, and accuracy. Also, condenser mics should be more expensive than dynamic and USB mics, but that's not the case with the MXL 990.
In particular, it has a 22mm condenser capsule with a low-noise FET preamp. Overall, it delivers low-noise operation for overall instrument recording.
Lastly, I should note it doesn't have any buttons or knobs in its body. That may come as a disadvantage if you're not using an interface. However, a budget audio interface should have all of the knobs you need to tweak the sound, volume, and EQ on the fly.
That said, there's a bundle I recommend to get you started. It's a great value bundle that includes:
The smallest interface of the Behringer U-Phoria lineup (two ports for instruments of voices)
Rugged carrying case
Mic stand adapter
Boom arm
Pop filter
10-foot balanced XLR cable (3-pin cable for mics, speakers, amplifiers, and other audio devices).
Bundle overview
The particular bundle I listed is not overly popular on Amazon. Still, I believe it delivers a great alternative over the similarly priced Yeti Blue.
Bear in mind the Yeti Blue is known as the best podcast and streaming microphone available. It's able to deliver a crystal clear sound quality while packing a zero-latency headphone port to hear you in real-time. Also, it comes with a gain knob to quickly adjust your voice levels as you speak.
Here's a video comparing the MXL 990 vs. the Yeti Blue (It would be best to wear headphones to listen to every detail of the recordings):
The best part of the bundle is the U-Phoria UM2 Audio Interface. The model comes with the brand's XENYX preamp system that comes with built-in +48V phantom power.
Moreover, it has two XLR ports, which can serve as both instrument or microphone stations.
The audio quality is not as high as an audiophile would want. It records at 48kHZ audio quality. Other interfaces can record at 96kHZ or 192kHz. However, most people, especially beginner sound producers, wouldn't notice a difference.
Also, the UM2 works with popular DAW software like Cubase, ProTools, or FL Studio.
Then, it has a shock mount -like most bundles. It's a mechanical holder that prevents the mic from vibrating atop the stand.
It also carries a boom arm to install the microphone on a desk or table. The boom arm has a built-in pop filter, which cancels the plosive sounds from your voice-overs (like those coming from the "Ps" or whispers).
Here's a video review of the Behringer UM2 interface:
Sound and frequency response
Most people would describe the sound the MXL 990 records as "warm" and "vintage," almost like coming from a tubular guitar amp.
That said, we must focus on its capsule. See, smaller capsules vibrate faster than large ones, which is why they can respond better to high-frequency charts. Small diaphragms are better for recording instruments like cymbals, flutes, violins, and such.
Large capsules capture mid-low frequency range sounds instead. Most sound sources belong in this part of the chart, which includes most human voices.
The frequency response of the MXL 990 is 30HZ to 20kHz. The range goes as deep as bass guitars and as high as female voices. In between, there're acoustic guitars, keyboards, electric guitars, and similar.
As for drums, though, you would be better off with other choices. For example, the MXL 990 can adequately record the drum's cymbals. Similarly, it can't go as low as to record the drum's kick.
Another thing to note is its low-noise preamp. The MXL 990 works with 20db self-noise and high 130db SPL handling.
It can record crystal acoustic instruments and voices. However, it doesn't reach noiseless levels as more expensive alternatives would.
That said, the microphone adds a significant boost to mid-range frequency sounds. That makes it ideal for recording guitars and voices, and it will punch those channels above the rest of the mix without extra EQ.
Here's a video demo of the 990 model as a vocal mic:
Mic sensitivity
Condenser mics can catch plenty of details in the quiet parts. Such sounds would disappear on USB or dynamic mics. In particular, sounds getting close to the noise floor can overload the mic, making the sound clip.
Because the 990 model is a condenser mic, it can capture the full sound range without losing detail. Moreover, it has an increased dynamic range. It's capable of producing rich quality for voice-overs, podcasts, streams, radion, and interviews.
That said, the mid-range is right and full, which is impressive for a budget mic. It makes voices sound warm and round without getting muddy.
The sensitivity can be a problem if the recording circumstances are not ideal. That's why you need to install the shock mount to cancel vibrations traveling up on the mic stand.
The sensitivity also delivers excellent results. It enhances its natural presence and adds detail on softer parts.
Regarding electric bass and guitar recording, the sound comes out warm, neutral, and balanced. However, it does lose power on the lows compared to the mids.
Here's a demo video on the 990 recording an acoustic guitar:
Noise reduction
Cardioid mics have a forward pickup pattern. That means they can reject sound coming from the back and the sides.
However, the MXL 990 captures a great deal of room sound from the back. If you're not recording in a sound-proof location, it's not going to work correctly. For example, room echo sounds will become noticeable.
Still, you can work around this drawback. I recommend using a pop filter, a mic stand, and a shock mount. Plus, keep a steady distance from the mic as you record; if you move further, the room sound will become audible.
On that same note, the MXL 990 uses a low-noise FTE preamp that still lets some noise through. Then again, that won't be a problem if you keep the sound source close to the unit.
SPL 
I have to make a point about its 130dB SPL rating. That means you won't get any distortion when recording strings, pianos, or voices.
However, it will distort louder sources as guitar amplifiers and drums, so I wouldn't recommend it for rock or metal guitar recordings. You'd need a higher SPL rating to cancel distortion overload.
I should note dynamic microphones come with higher SPL ratings. That's why they are the go-to choice for guitar amps.
That said, producers can record electric guitars and basses directly through the interface. They can then use VST plugins like Amplitube to simulate guitar pedals and guitar amps.
MXL 990 condenser mic specs
Here are the specs. We took them from MXL's official page.
| | |
| --- | --- |
| Tube Type: | Pressure gradient condenser microphone |
| Diaphragm: | 6 micron gold-sputtered |
| Frequency Response: | 30 Hz – 20 kHz |
| Polar Pattern: | Cardioid |
| Sensitivity: | 15mV/Pa |
| Impedance: | 200 ohms |
| Equivalent Noise Level: | 20 dB (A-weighted IEC 268-4) |
| S/N Ratio: | 80 dB (Ref. 1Pa A-weighted) |
| Max SPL for .5% THD: | 130 dB |
| Power Requirements: | Phantom Power 48V (+- 4V) |
| Current Consumption : | <3.0mA |
| Size: | 60mm x 130mm / 2.36 in. x 5.11 in. |
| Weight: | 1.2 lbs / 544.3g |
| Metal Finish : | Champagne |
In Summary
The MXL 990 is a common choice for hard-working musicians. It can become part of your toolkit and reach paces other mics can get. Because of its price, it's a common item in many audio studios.
The sound comes out neutral, other than enhanced boost on the mid-range (extra presence). That's a bonus for vocal recording.
Moreover, with a rich mid-range, you can capture plenty of details and information you can use in post-production.
MXL sells the 990 as a budget-friendly condenser mic. You can use it on entry-level setups but, given that you have the right knowledge, its results can go way above its price point.
Final Say
It's a solid choice for MXL 990. I find its sound, features, and quality are impressive for its competitive price point.
I'd say it's a solid pick for entry-level and intermediate audio professionals or producers. In particular, buying the item alongside Behringer's interface can give you outstanding results. The difference between such a setup and a USB mic would be Heaven & Earth.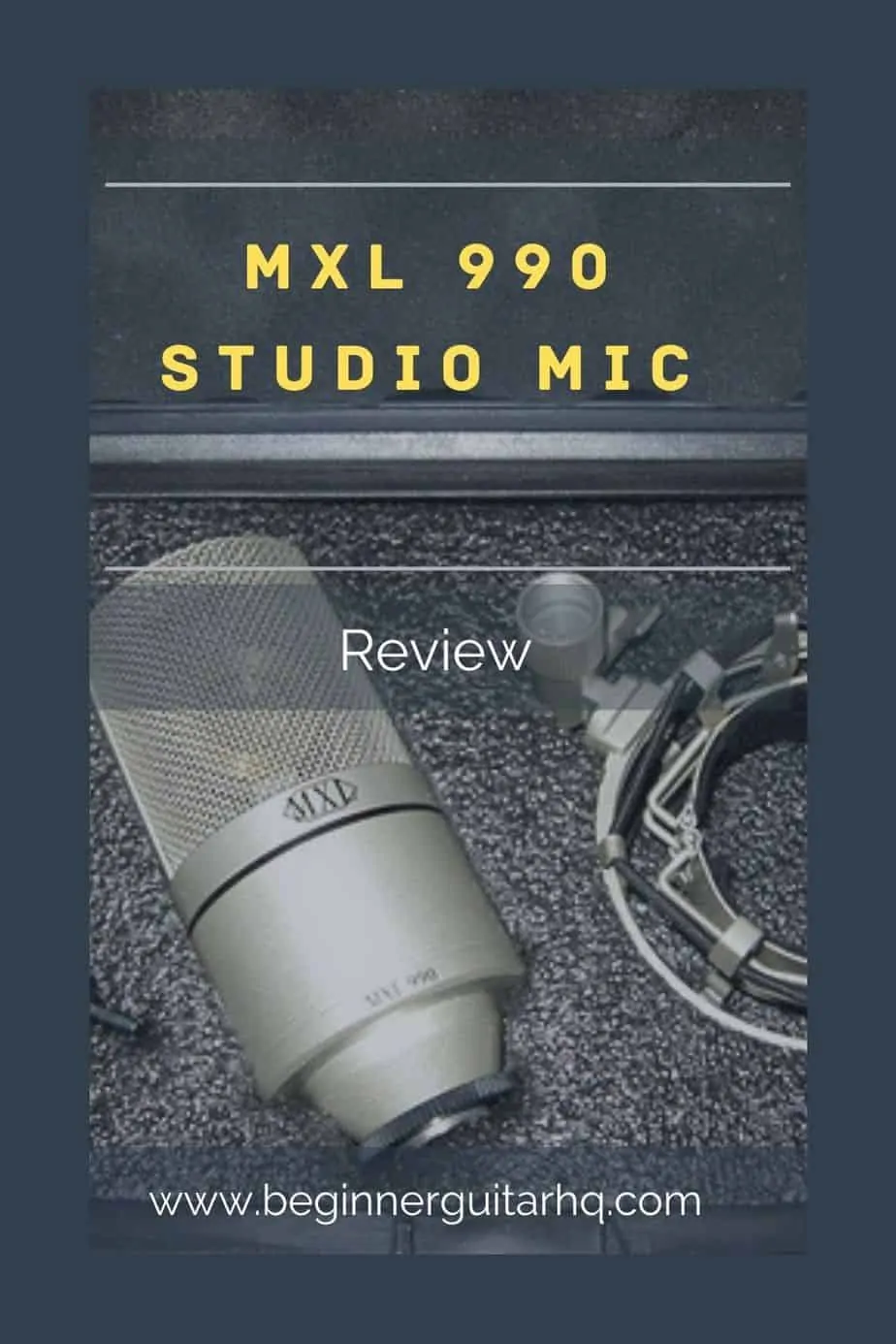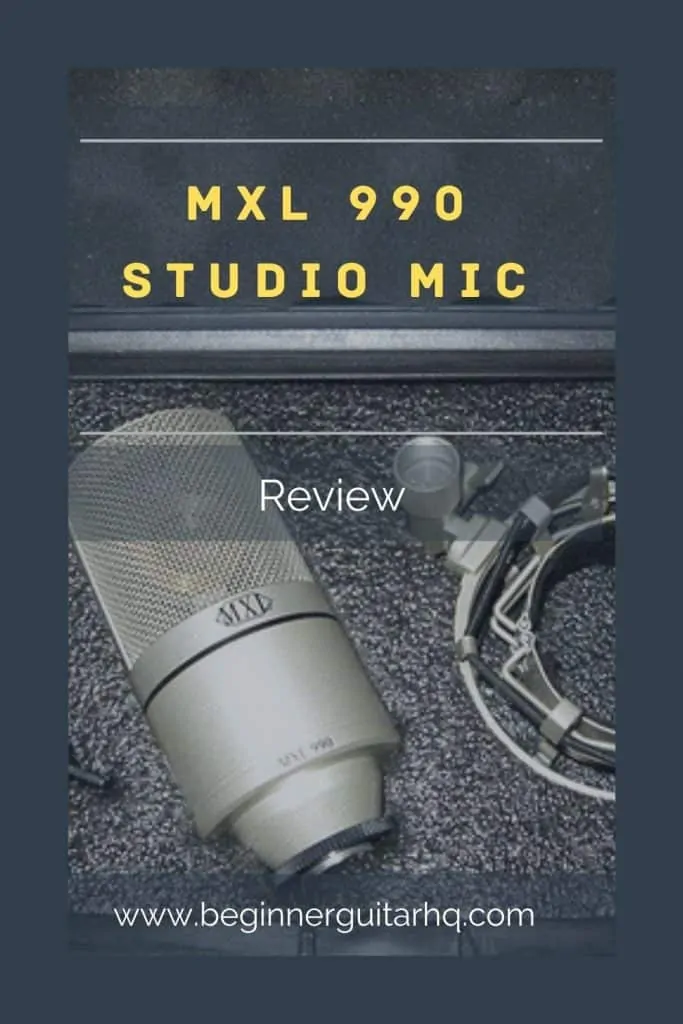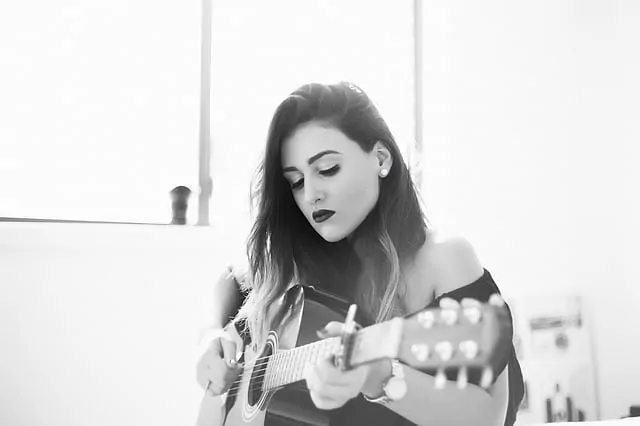 Jen is a guitarist and singer-songwriter who spends much of her time on the road and has lived in 13 cities across 4 continents. She picked up her first guitar at the age of 6 and learned to play by ear shortly after. She received her formal music education at the Berklee College of Music, and currently plays for a few bands in her free time. She has an uncanny ability to improvise creative melodies and harmonies. Her early influences include blues, jazz and rock.