The BCP Full Size is our pick for the best beginner electric guitar, which has a comfortable location for the pickup and comes complete with all accessories, including an amp and a case.
Our step-up pick is the Squier by Fender and it also comes with a strap and a case. It comes with a cable as well and is a decent looking instrument for the looks.
The budget pick is the ZENY 39″ Full and it is also a complete package with accessories, cables, a strap and an amp, as well as a case for the instrument.
A Little Background
Electric types have good advantages of being amplified and with a crisp sound, as compared to the quiet sounds of the acoustic type. These types are the best for performances such as for live gigs and the like. They can also be used for recording sessions so that you can recreate the quality of your live performance right in the studio.
In the end, always keep in mind that what matters the most is your skill, not the instrument. It all comes down to how you play, how well you nail the notes and the progressions, and also how you put your heart into your music or song performance. Remember that playing music as well as making music is more than just the musical instrument – it is all about your passion for music that counts, and how you strive to improve.
Whether it's songwriting or simply playing the musical instrument, if you teach children how to write songs, they'll be able to express themselves freely and easily. Writing music requires a lot of thinking outside of the box, and that's what makes these people special and important. Writing material takes more than just strumming your musical instrument, but also learning the chord theories and putting your heart to each performance.
How we Picked
In choosing the best beginner electric guitar for your needs, here are our criteria for picking:
Body material: this can vary depending on the brand you purchase, and can all have an impact in terms of sound. Common body materials include ash, sycamore, hardwood, alder and basswood.
Fretboard material: this can be any of the following: rosewood, maple or ebony. The fretboard should also be durable because it will serve as the main point of contact between you and the instrument.
Bridge system: this refers to how the bridge is constructed. You can have any of the following: vintage, tremolo, Floyd Rose, adjustable, fixed, stop tail and tune-o-matic.
Neck material: this refers to how the neck part of the stringed instrument is formed, and can be any of the following: mahogany, nato wood, rosewood or maple.
Number of strings: this can refer to the number of strings that are in your stringed instrument. Most will have 6, because the ones with 4 strings are for bass and those with 12 strings are potentially for advanced users.
Hand orientation: most of these instruments can either be for right-handed or left-handed or even for ambidextrous usage.
Included accessories: most of these beginner instruments also come with additional accessories such as a case, a strap, a set of picks and maybe even an amp and some cables.
Price: the price of this beginner instrument should not be too expensive, even as a full package, since it will only be for beginners, anyway.
Our Pick
As our top pick, the BCP Full Size has an easy to use amp included as well as all the accessories that you need to get started, such as cables, a strap, a pick and a case. It also comes with extra strings for a replacement once they get busted. The amp is at 10 watts and the wood body top of the instrument is shaped ideally for beginners.
Flaws but Not Dealbrakers
The only small con but not a major deal breaker with the BCP Full Size is that the zipper can run into some trouble, but since it's a beginner pack, you can always get a better case later on.
Step-up Pick
Our step-up pick is the Squier by Fender, which comes with a cool amp as well as accessories like cables, straps, tuners, picks and the like. It also comes with a tutorial DVD for reference for beginners who want to get an initial lesson on things. The fret has a medium jumbo size and the truss rod can be adjusted on its head. The neck has a c-shape and the finish of the body is made with gloss polyurethane.
Budget Pick
Sale
The ZENY 39″ Full is our budget pick, in which the neck part is made with maple wood. It comes with a scale tone changer and a single coil pickup as well. It has a truss rod as well. The amp included is at 10 watts and it has a travel bag at 420-denier quality.
Best Beginner Electric Guitar with a Tremolo Arm
The Kalos EGP-WH has many accessories such as a tremolo arm as well as 3 free picks. It comes with a gig bag as well and a free amp at 15 watts. It also comes with an amp cable. A tremolo bridge is included, as well as a 15-watt amp, some strings, a tremolo arm and many other accessories. The 5-way switch is proven to be useful in performances and in recording.
Best Beginner Electric Guitar with a Gig Bag
The Epiphone Les Paul comes with a gig bag so it can be taken with you on the go. It has an amp at 10 watts and has a chromatic tuner that can be clipped on. Other accessories are included, such as picks and a strap. There are 2 classic humbucker pickups included in the guitar and it also comes with free downloadable lessons. You can also choose packages with included games for different consoles.
Best Beginner Electric Guitar for Left-Handed Players
For left-handed people, the Davison Left Handed can be a great choice for you. It comes with an amp, some picks, a pickup and a cord. It also comes with a strap for easy playing. Bearing an overdrive and distortion setup, it is a full size one with a humbucker pickup, a chrome bridge and produces a clean / rock sound.
Best Beginner Electric Guitar with an Amp
Sale
If you want a good unit with an amp, the LyxPro 20w Package is a great choice. It is a full sized instrument at 39 inches and comes with a pickup switch as well. It is made with a fingerboard made of rosewood. It has a carrying bag and has jacks for music players. It has an EQ and its speakers come at 4 ohms with a power of 20 watts for the amp.
Best Beginner Electric Guitar with a Pick Guard
The Sawtooth ST-ET-SGRT-KIT-3 comes with a pick guard and also has dot position inlays for guiding the beginner in terms of playing different chords. It comes with a gig bag, a 10-watt amp, a selector switch, a volume control and a tone control. It has medium jumbo frets for easy playing.
Best Beginner Electric Guitar with a Basswood Body
The Peavey Rockmaster is a 5-in-1 package that comes with a strap, some cables, picks, earphones for practice and a digital tuner. The shoulder strap is made of nylon and it comes with bass ear buds for easy listening. The tuner gears are also sealed for protection.
Best Beginner Electric Guitar with a Rosewood Fingerboard
The Rogue Rocketeer has a fingerboard that is made with rosewood for durability. It comes as a set with an amp, some picks, a strap, cables and many more. It also comes with a bag for storage and is definitely a great thing to have for most beginners due to the size. The maple neck is very thin so it is comfortable to play on. The solid state amp is also durable and of quality sound.
The Competition
While others looked promising, they lacked in durability and were also too expensive and too complicated for beginners. Part of what makes a good stringed instrument ideal for newcomers is the fact that it is easy to play and not too harsh for your fingers and your hands in general.
Other Frequently Asked Questions
Q: How can beginners know if they picked the right stringed instrument for them?
A: To help you decide with the right instrument for you, here are some guidelines:
Budget and availability – Nylons are okay but they can be hard to find nowadays due to their rarity. The most common stringed instrument type around would be the steel string.
Electric vs. acoustic – If you're a person who finds it easier to learn the hard way first, go for the acoustic type. Otherwise, go with the electric type, but be wary that it can be a little more expensive all in all. People have likes and dislikes, and it's a matter of personal opinion on which is the best.
Preferred genre of music – different electric stringed instruments exist for variations of rock, such as metal, hardcore and the like, while classic stringed instruments also differ from steel string "pop" stringed instruments. Steel strings have a more defined sound than the soft, nylon strings of classic types.
Frequency of practicing or using – Stringed instruments that don't get played will have their steel string and components get corrosion over time. This is why you should also consider how often you will use it to avoid wasting money by stocking your instrument for a long time until you have time to play it. If you don't have much time, consider going for a cheap one.
Venue/recording – for an acoustic type, consider getting a pickup and amplifier for that. The same is true if you'd like to record music, and it also has to be in high quality sound so that it will not compromise the quality of your recording scheme. However, if you'd just like to practice at home then something that is not that expensive can suffice – you don't have to use a high-end instrument if you're just practicing your skills.
Dedication in learning – You need to have a lot of dedication in order to learn stringed instrument. It takes years of practice to be able to learn this kind of instrument, as compared to others.
Your passion – Passion comes from the heart, as with every kind of hobby or even profession. Passion is the most important thing when it comes down to music in general.
Size – This can also vary between brands, as a full sized one would be difficult for children to use, while those who are old enough to hold and play them may want to use them.
Q: What are the various kinds of this instrument?
A: This instrument has a variety of types, such as the following:
Classic – The usual material that is used for this kind of musical instrument is spruce for the top part and cypress for the body part. It is a great one to use for beginners since the nylon strings are very soft, as compared to the steel strings.
Steel string – The sound is a lot crisper than the classic style due to the fact that it is made with steel in its strings. It is also larger in its whole body design.
Electric – They are made for all varieties of rock and sometimes metal, and can be used for classic genres like pop, jazz, blues and the like. The sound, when amplified, depends on the design, but is usually better when amplified, ideal for leads.
Electric-acoustic – It has settings like an equalizer so that you can adjust the sound that comes out, which makes it a great choice for convenience. In addition to that, construction is similar to electric bodies.
12-string – It makes up for a missing stringed instrument players so it is a good choice if you are one-person band or you want your sounds to be thicker. These kinds of varieties are mainly used for studios as well as other purposes like live performances as well.
Arch top – The design is kind of like the steel stringed designs and are ideal for both country and jazz musicians due to the unique and profound sound that comes out from them, supplemented by the hollow body.
Resonator – Its construction is something you would imagine a loudspeaker would be made out of due to the shape, hence it is good for instant amplification. They are great for making things loud in the venue.
Bass – The neck is longer as well and the design is a little more like the electric one in terms of the body construction. There are variations that have 6 strings instead of 4, especially for advanced players and users.
Double neck – Different combinations also exist for your convenience, such as those with one bass and one regular 6-string design. They can be very heavy and are ideal for advanced users or players who need to switch in-between.
Q: What are the differences between nylon and steel strings?
A: These two stringed instrument strings are made to have different purposes, such as with the following:
| | | |
| --- | --- | --- |
| Criteria | Nylon | Steel |
| Sound produced | The sound that is produced by nylon is usually more mellow due to the fact that it has less tension. | Steel is ideal for those genres that are in need of a bright and crisp tones. |
| Construction | Nylon types are usually made with a wider neck, which can be a cruel thing for beginners who have short hands and fingers. | It is easier to make high solos and the like. They also have narrow necks, which is more beginner-friendly. |
| Strings | The nylon string is usually much more beginner-friendly in this case. | Steel is generally very painful for those who are not used to it. |
| Tuning | Because of the soft material and sensitivity to various elements, tuning nylon strings can be quite a chore. | Steel types need less re-tuning because of their tightness and their profile that is more fixed than that of nylon. |
Q: What are the parts of this instrument?
A: This instrument is made out of different parts, such as the following:
| | |
| --- | --- |
| Headstock | This is the part of the stringed instrument that holds the tuners that let you tune your stringed instrument and also holds the nuts that hold your strings. It is the topmost part of your stringed instrument, usually made out of wood material in most cases. |
| Nut | This is the part of your instrument that divides the headstock with the fingerboard or fretboard. It helps to raise the strings from the headstock pins or nuts up to the fretboard in order to get them to be playable. |
| Fret board or fingerboard | This is the important part of your instrument in which the strings are laid out vertically and in a parallel direction from the headstock up to the tailpiece. This is where you will find the frets that make up the heart of your entire instrument. |
| Frets | These are individual bars that each of the strings go through, so as to create a distinct sound such as a key or chords when pressed properly. Frets are found on the fingerboard or fretboard of your instrument. |
| Neck | The neck is the part of your instrument in which the fret board or fingerboard lies on. It is what you hold in order to position your fingers to the frets to create a chord or a specific key when you play. |
| Body | This is also an important part of the whole instrument, as it is what you hold, and what makes the sound created by the strings when you pluck or strum them. The construction of the body depends on the type of stringed instrument that you have. |
| Waist | This is the part of the body that is curved a little bit, so that you will be able to create a decent sound and also to be able to handle it perfectly. |
| Bridge | This is the part of your instrument that is mostly found on electric types and are located above the tailpiece. They work in a similar fashion as the tailpiece but is more dedicated to amplifying your sounds. |
| Pickup | In most electric types, you can find ones that have pickups that are ready to be used. The pickup is the mechanism that converts the audio signals from the vibrations of your strings into electronic signals that get passed onto your amplifier. |
| Cutaway | This one is located in most electric types, and is the defining shape or curve near the corner of the top of the stringed instrument body, giving the electric type a somewhat distinct shape, as compared to the acoustic type. |
| Pickup selector switch | This is the part of the electric type that allows you to switch between two pickups that are found in your stringed instrument system. |
| Jack socket | This is for when you want to listen to your own music without disturbing others. It allows you to connect your headphone or earphone so that you can listen to what you play privately. |
| Knobs | These can control the tone as well as the volume for your needs to tweak the whole thing, and is usually found on most amplified units. |
| Strap button | This is found on units that have a strap so that you will be able to easily attach and detach your strap whenever needed or possible. |
| Inlay | Some of the fret boards that you may encounter may also have an inlay, which can either be decorative, simple or have points that tell you the different frets. |
Q: What are the differences between bass types and stringed instruments?
A: These two types can be confusing, as they may look the same in most occasions, but here are the things that set them apart in various aspects:
| | | |
| --- | --- | --- |
| Criteria | Bass | Stringed instrument |
| Standard tuning | The standard tuning for bass is E A D G, since it only has 4 strings all in all. | The standard tuning, as most of us know, is E A D G B E, in which E is on the lower octave and the last E is on the higher octave. |
| Number of strings | The number of strings that are in this instrument amount to four (4). | The number of string that are in this instrument usually amount to six (6) or even twelve (12) in 12-string variants. |
| Usage | The main use of the bass is to add depth to any musical piece, so that the rhythm and lead do not suffer from lack of background. | The main use of this instrument is to add mid and bright tones to your music, so that it is not all drum and bass all the time. It also adds the melody and the rhythm. |
| Difficulty | Bass is usually easier because it is made out of only 4 strings, and these strings are also usually thicker so they are easier on your hands than the thinner strings. | Lead and rhythm are both difficult because you have to play around with chords and the like, unlike with the simple usage of the bass. |
| Personality of the player | Bass is typically played by people who want to be more on the low profile side, since it is more of a support position in a band. | Lead and rhythm are two positions that require you to have a more "superstar-like" personality, especially with the lead position. |
Q: How is the acoustic type different from the electric type?
A: These two types are often confused with each other, since they are of the same kind of instrument, but there are also distinct differences, such as the following:
| | | |
| --- | --- | --- |
| Criteria | Acoustic | Electric |
| Optimum genres | Acoustic is best with folk, bluegrass, country, classical and the like. They also go well with mellow pop. | This one is ideal for those who are into metal, hard rock and other rock variants. |
| Convenience | This is a lot more convenient because you do not need to bring extra cable or an amp in order to play it. | You will need to plug it into an amp in order for it to work, since it is not meant to be a standalone instrument without the amp. |
| Customization or versatility | Acoustic ones are only best for home and small venues and thus, have limited options because you can't really put in effects, unless it is an acoustic-electric type. | The amount of effects that you can put on this kind of instrument is vast, considering you can attach different amps and pedals to it as a bonus. |
Q: What is the standard tuning for stringed instruments?
A: The standard tuning for stringed instruments is E A D G B E, specifically the first E is on the lower octave while the higher E is on the higher octave. It has been used even in musical instruments with strings for the past years, specifically in classical music, and is found to the most convenient tuning setting of all, hence it became the world standard.
Q: What are the benefits of playing the stringed instrument and learning to play it?
A: Like many instruments out there, this kind of stringed musical instrument has the following benefits for your well-being, should you choose to play it or learn how to play it:
| | |
| --- | --- |
| Stress debriefing | You get relief from stress because you can play out your misery or grief or whatever has been bothering you for a long time. |
| Improves your brain | Thinking skills can be improved when you learn to play this kind of instrument. The theories and the chord shifting alone are enough to get your creative juices flowing. |
| Great for anxiety | If you've been through a series of depression or anxiety attacks, this can be a great reliever because you want to shake the bad stuff away by playing an instrument. |
| Can help alleviate heart problems | Because you can release whatever has been bothering you for a long time, your heart health also improves because you will tend to worry less. |
| It's a fun hobby | Nothing beats a fun and unique hobby such as playing any musical instrument, especially this one, which you can take to camp. |
Q: What are the benefits of playing or learning a musical instruments?
A: Musical instruments have been around for many years, yet only a few people actually get interested to playing them nowadays. Here are some good reasons as to why you may want to consider getting into any kind of musical instrument:
| | |
| --- | --- |
| Enhances your memory | It will help you to remember things easier because you definitely have to remember things like chord positions, musical theories, chord theories and the like. |
| Time management | You will be able to learn how to manage your time efficiently in order for you to practice very well for your newfound instrument. |
| Team building | Because most instruments require team effort, such as being in a band, you get to learn how to cooperate with people. |
| Organizing things | You can get things more organized if you learn how to organize your sheet music or tabs, if you have them printed out. |
| Hand and eye coordination | Children and teens as well as adults and any person of any age can learn hand and eye coordination when it comes down to learning or mastering a musical instrument. |
| Math skills | Most people believe that you can improve your number skills if you get into music, since it involves counting measures and the like. |
| Perseverance | You learn about the value of pursuing a dream or an achievement and you learn to persevere and work hard for it. |
| Comprehension and reading | You can also improve your reading and comprehension skills by reading sheet music or even chord pages. |
| Teaches responsibility | You ultimately become more responsible with your musical instrument as you take good care of it and replace parts as needed. |
| Learn about cultures | Because you get to play a musical instrument and use different pieces as practice material, you may also evidently learn different cultures from your journey. |
| Better focus | Your focusing and concentration skills are also improved, much like with thinking. This is important for students and those in an office job or any similar work. |
| A sense of achievement | Nothing beats accomplishing something unique in life, such as being able to learn or master a musical instrument. |
| Express yourself | You can show people your inner thoughts and how you want to paint a picture of yourself using music if you play something like a musical instrument. |
| Stress relief | You also get relief from stress or if you're feeling down, once you've engaged into any kind of musical instrument. |
| Learn discipline | Because you need to perfect or somehow clean up your performance, you also learn how to discipline yourself in pursuing your goals and dreams for your music career. |
| Have self-confidence | If you're low on self-esteem, you can boost that if you know a skill such as being able to play a musical instrument, which you can be eventually proud of as a person. |
| Better listening skills | It takes years of practice before you will be able to instantly identify which song is in which key or chord family. |
| Social skills | One thing you can also master with any kind of musical instrument is the ability to mingle with many people, especially if you want to be able to perform on stage. |
| Physical strength | It takes some tremendous physical strength to be able to hold almost all musical instruments, let alone play them. |
| Personal happiness | Even if you're not that good with music at first, anything can be learned if you think that's what makes you truly happy. |
Q: Instead of just playing songs on the stringed instrument, what's the benefit of also writing your own songs?
A: Songwriting is not always a thing that people get into, especially beginners in music. However, if you do really want to make your way into music production, even with just a stringed instrument, you are bound for the following interesting benefits:
| | |
| --- | --- |
| It's like writing your own story in audible form | Writing your own content means telling a story to others, whether it's about yourself, about your dog, about the Starbucks frappe you just ordered earlier, about someone's ex or even about things like climate change. Some writers also make it an effort to write a fictional story in their music, such as rappers. |
| Enhances your music theory | If you want to step up your game from just being a player to a content creator, you should also enhance your music theory because you need to be able to manipulate the chords perfectly so that none of them would sound off when you combine them. |
| You'll find your own style | Even if you think that your talent is a "been there, done that" kind of thing, don't let it stop you from pursuing your dreams (or hobby). Just do what you like, as naturally, every person in the world will have his or her own style if they play with their heart and not depend on other people's standards. |
| Enhances your creativity | The act of songwriting promotes you to think outside of the box all the time. You need to be able to express your thoughts in the most lyrical way and at the same time, find a good melody that matches it so that it will be easier to sing. |
| A good way to vent emotions | Writing a song is like writing a poem – you can pour out your entire heart and soul into your lyrics. You can write a song about a breakup, or maybe some really bad experiences of abuse or bullying. |
Q: Which popular stringed instrument types are the best for specific genres?
A: There are many popular electric stringed instruments out there that can be used for certain genres, such as the following:
Type of stringed instrument
Genre of music
Telecaster
country, indie, worship
Les Paul
jazz, hard rock, metal, pop, punk
ES
blues, jazz, indie, punk
Stratocaster
jazz, blues, pop
SG
hard rock
Fat Strat
Explorer
metal
Flying V
Note: these are just examples of different popular stringed instruments – you can freely choose which one you think might sound great for your specific genre of music.
Q: What makes some stringed instruments quite expensive?
A: The high price tag that comes with some stringed instruments may come due to the following:
Law of supply and demand
Custom made design
Signature series or limited edition
Electronics
Q: Is it okay to use acoustic type strings on electric type ones?
A: That depends on the type of string that you are using, as well as the quality and durability of your electric type body, as some of them can easily get ruined when you put them onto the electric types. However, if you have good knowledge about the mechanisms and inner workings of these instruments then there is some chance that you might make it work as well.
Q: What are the common beginner mistakes that you might potentially commit when using this kind of instrument?
A: The stringed instrument is usually a complex instrument – more complex than what it actually looks like. Here are some common beginner mistakes and problems that you might already be making:
Not holding it properly
Here's what you can do:
– Rest the curve of one side onto one of your thighs.
– Don't hold it closer to your face to avoid accidental string breakage.
Forgetting to tune
Here's how to remedy this:
– Consider downloading a tuning app on your phone.
– Practice your ears in listening to tuned music.
Strumming too hard
Here's how to remedy this:
– Remember that strumming too hard won't produce pretty results.
– Strum it gently but just enough to produce chords or tones.
Missing out on alternate picking
Here's what you can do:
– Go up and down and not just in one direction.
– Practice going up as well, even if it is difficult.
Pressure on the chords
Here's how to fix it:
– Take time to practice the right press on the chords.
– Don't press too hard or too soft onto the strings.
String choking
Here's how to fix it:
– Don't press too hard on the chords.
– Take time to practice the level of pressure.
Q: What are the most common myths about this instrument?
A: This kind of stringed instrument has a bunch of myths that people often get wrong about, such as the following:
Myth # 1: You shouldn't take off all the strings when restringing.
Fact: You can actually take them off all at once, as long as you have gradual control of the string tension.
Myth # 2: A musical instrument that may have a bad humming sound means it's not grounded.
Fact: Grounding can also be affected by the human body.
Myth # 3: Ungrounded instruments can be dangerous to play.
Fact: While they generate some electricity, it is usually not lethal or deadly – but amplifiers are.
Myth # 4: If you turn your tune-o-matic bridge backwards, you're screwed.
Fact: Not really, as there is no really right way to turn the tune-o-matic bridge.
Myth # 5: Poly finished ones are inferior to nitro finished ones.
Fact: There is no significant difference with the finish and they don't affect sound quality.
Myth # 6: Stringed instrument skills should be inborn for you to be famous or successful.
Fact: Not really! Everyone can work hard to achieve this ability. Geniuses don't get better overnight.
Myth # 7: You need to spend a lot of time for practice.
Fact: You can just practice in short periods of time but get quality coaching.
Myth # 8: Your amp needs to be at 100 watts for stage performance.
Fact: This is only applicable for large arena – not necessarily small to medium sized venues.
Myth # 9: Fat strings sound better.
Fact: Not necessarily true, as some stringed instrument legends actually use thinner strings. It's all in the technique.
Myth # 10: Brand names are superior than non-brand names.
Fact: As with all products, you don't have to buy a brand name – just pick one that you know has what you need and is still of high quality.
Q: What are the different kinds or types of this electric instrument?
A: There are many types of this instrument that can function differently from one another, such as the following:
Solid body – these are made with wood materials and can be flat. They are the most common types of this variant of the instrument.
Fender style – these are the ones that have a usual scale length of about 25 inches and are usually made with tremolo systems.
Gibson style – this one has a scale length of about 24 3/4 inches and the tones are usually warmer. Maple is the usual wood material used for it.
PRS – this one has the style that is a cross of Gibson and Fender styles, which usually have top styles that are slightly carved. The scale length is also somewhat 25 inches.
Hollow body – these are mainly used for jazz and are great for projection.  The unique thing about them is having the f-shaped holes in them.
Semi-hollow – these ones have a similar design to the hollow one but there is a wooden block present. These types are quite diverse when it comes down to genre choices.
Q: What accessories do you need  in order to use this kind of instrument?
A: There are a few accessories that you may need so that you can use this instrument properly:
Picks – for plucking your strings more comfortably.
Tuner – for tuning your strings correctly.
Extra strings – for when in case one of your strings accidentally breaks.
Strap – this helps when you don't want to tire yourself out with carrying it.
Strap locks – to keep the strap in place.
Metronome – to practice and get a sense of tempo and timing.
Music stand – great for reading notes, or especially if you read sheet music.
Capo – this device can help you with quick key changes during live performances.
Folder – so you can organize all your sheets and stuff.
Looping device – optional, but it's great for recording your stuff.
Q: Which is better: the violin or the stringed instrument?
A: Both of these two string instruments do have their pros and cons, such as the following:
Difficulty: the violin is known to be much more difficult because of the bowing method and how to control it, wherein you can easily control a stringed instrument due to its simple plucking and strumming method. Nonetheless, both are difficult instruments to learn, anyway.
Sound: the sounds are different, since violins are more for long notes while you need to get an amplified stringed instrument for you to get long notes, and they usually don't last long, either, as compared to the long notes of the violin and other similar bowed instruments.
Popularity: when it comes down to popularity, stringed instruments are much more famous because of the wide variety of genres you can use them for. Violins, on the other hand, are usually limited to serenades, classical music and sometimes modern ballads.
Size: the size of the violin makes it easier to carry as compared to the stringed instrument, although carrying the bow can also be a problem at times. Both can be traveled with great ease, however.
Q: What's the difference between rhythm and lead stringed instrument positions?
A: These two types of band positions look similar, but they're not. Here are their descriptions:
Rhythm – this one focuses mainly on chords and is usually the one that makes the whole band music thicker. Without them, there would be lack of mid tones as well as thickness. They should have good chord theories in general.
Lead – this position is mostly the one that gets all the girls, but is also one of the most challenging roles, since it is akin to a singer's position. The role is to make a stringed instrument "speak" or "sing", that is, to learn all of the things such as vibrato, tremolo and the like.
Q: What's the best age for me to learn how to play the stringed instrument?
A: Most people can learn this kind of instrument at any age, but the youngest age that you can learn is at least 4 years old, but really, there's no standard age for learning anything! If you put your mind to it, there's nothing that can stop you from learning how to play this instrument, or any instrument for that matter, with enough focus.
Wrapping It Up
In the long run, we think that the BCP Full Size is our pick for the best beginner electric guitar because of the completeness of the package, the ease of use and the decent quality of the instrument.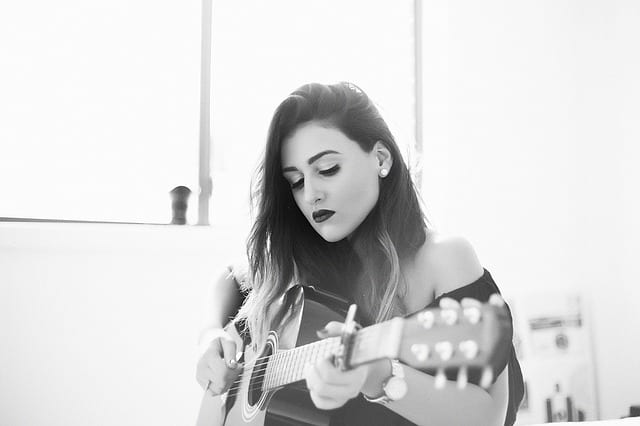 Jen is a guitarist and singer-songwriter who spends much of her time on the road and has lived in 13 cities across 4 continents. She picked up her first guitar at the age of 6 and learned to play by ear shortly after. She received her formal music education at the Berklee College of Music, and currently plays for a few bands in her free time. She has an uncanny ability to improvise creative melodies and harmonies. Her early influences include blues, jazz and rock.