The Fishman Neo-D is our pick for the best acoustic guitar pickup, which has a good balance for your strings and has a low profile as well. The design makes it bear a high impedance for quality music.
Our step-up pick is the K&K Pure and it has been pre-wired in design and requires no batteries. It has a 1/4-inch end pin jack and requires no soldering.
The budget pick is the HDE Electric Transducer and this one has a 1/4 inch mono jack as well as a 9-foot cable for more stage movement. It can be easily clipped into your sound hole.
A Little Background
An acoustic guitar is a kind of musical instrument that is most commonly found around in bands as well as in regular homes. This is one of the most beginner friendly musical instruments that people can access. While the difficulty is much more compared to that of a piano, this musical instrument can be learned if a person has the will to do so, and is also an easy to find instrument in the market due to its cheap price.
The advantage to an acoustic guitar is that you don't need electricity for it to run at all, and it can be brought with you to campsites, the wilderness and such. This kind of musical instrument is a very portable one because it does not require a lot for you to play – just your hands will do, or even a pick will do. It's also a great thing to bring when you go over to your friend's house and jam.
The only downside to this kind of guitar is that it is not that loud when it comes down to live performances. Because it is not as powerful as the electric guitar when it comes down to producing sounds, since it does not make the use of electricity to run, the musical instrument is usually not that powerful for live gigs and the like. Hence, you will need a pickup, which is a device you can connect to your instrument.
Pickups are devices that amplify the sounds of a musical instrument. It is like a small piece of metal that can be used for your musical instrument and attached to the strings in order to "pick up" the sounds of the coils, or rather, the movement of the individual coils or strings, and then convert them into electrical signals, thereby amplifying your music. These devices for your musical instrument are helpful when it comes down to sessions, live gigs, etc.
This mini device is usually small and can be attached to any musical instrument. It is super portable and they are not very expensive compared to other gadgets that you may find for your musical instrument. It is characterized by either wood or magnetic technology so that it will be able to convert the sounds from your musical instrument into electronic signals, which will then be amplified to your speaker or amplifier where you connect the end of the device.
The mini device for amplifying can be useful for small acoustic sessions, gigs and even practicing at home or recording. If you want something to use for your small concert, session or gig but you want something to properly amplify your musical instrument, this kind of device is the way to go. It is usually cheap and can be set up whenever you like – the design is usually straightforward when it comes down to attaching it to your musical instrument.
How we Picked
In choosing the best acoustic guitar pickup, here were our criteria:
Materials used: some are made with wood for the casing while some have the usage of magnetic technology for the housing. The materials that are going to be used for this kind of musical instrument device should be of great quality, regardless if it has a wood or metal casing for the transducer. Usually, the magnetic parts are made of neodymium, since this kind of element is able to produce properties like a magnet, which can transfer your electric signals.
Ease of usage: it should be simple enough to attach to your guitar so that it will be usable from the get go. While the musical instrument device usually has a simple and straightforward approach, some of these are meant for professional use or advanced people so they may not be that user-friendly. Regardless, you should pick one that only has the important things that you need, while others may pick one that has all the bells and whistles, too.
Other instruments: there are also some devices that are applicable not just for acoustic guitars but also for other instruments as well. For example, the musical instrument device can also be applicable for a violin, which most people and bands also use nowadays for musical performances, concerts and the like. Basically, any kind of stringed musical instrument can be amplified in this way, so it can usually be a multipurpose device that can go across different kinds of musical instruments.
Durability of parts: this refers to the durability of the materials that make up the entire device. The neodymium magnets for the musical instrument should be durable so that they will not compromise the sound quality. In addition, the connecting wires should also be of tough quality, especially if you will be travelling a lot from one gig to another with this kind of musical instrument device. You have to make sure that every part is of quality design.
Warranty policy: the policy for warranty should be reasonable, since it is a musical instrument device. Remember that even if it is a little cheaper, it should still be of quality material and should have a good warranty and replacement policy in case something goes wrong with it, or the musical instrument device is not functioning at all when it arrives at your doorstep and you test it out. If applicable and if you can, on-site testing is an option.
Our Pick
As our top pick, the Fishman Neo-D has a good low profile design so it is not very obtrusive during performances. It is made with a passive magnet and has a high impedance design for less noise and distortion while playing. It has been pre-wired and it does not need a battery to install, so it is convenient. The articulate sound makes it great for most performances and recording sessions.
Flaws but Not Dealbrakers
The only small con, but not a deal breaker, with the Fishman Neo-D is that it is meant for steel only, so you will need something different for nylon.
Step-up Pick
The K&K Pure is our step-up pick, which requires no batteries to run and has a high output. It is made for steel strings and has an end pin jack at 1/4 inch. It has a 3-transducer system as well. It also does not require a battery while maintaining a high output. It is meant for steel string guitars and it does not give off a harsh or percussive sound.
Budget Pick
The HDE Electric Transducer is our budget pick, which is easily clipped onto your musical instrument and it can easily convert anything for recording or playing live. It can be used with both 12-string and 6-string types. The mechanical vibrations of your instrument is picked up in a higher signal so it is great not just for performances but also for recording. It is easy to install and can be taken anywhere.
Best Acoustic Guitar Pickup also for Violins
The Yimaler Mini Piezo is a multipurpose tool or device that is also meant for other stringed instruments like violins, mandolins, ukuleles, cellos, banjos and the like. It produces a warm and crisp sound. The volume is also adjustable and it comes with an amp cable and 8 stickers. It is also easy to install near the sound hole and it is not influenced by nearby sounds.
Best Acoustic Guitar Pickup with an EQ
The Kmise 5 Band is complete with an equalizer and is only supplied with a 9-volt battery. It also comes with a microphone, some screws and other hardware. This pack is good for beginners and even experts who wants to DIY their instrument setup. It allows you to spend less time with setting the whole thing up.
Best Acoustic Guitar Pickup for Steel Strings
For steel strings, the Dealoff 12 Hole is a good choice. It comes with a foam padded clip for preventing scratches. It also has an easy to calibrate design that is ideal for beginners. It is easy to calibrate and it can amplify your acoustic guitar just fine. It produces little to no noise at all.
Best Acoustic Guitar Pickup for Beginners
The Andoer Pre-Wired is a good choice for beginners, as well as for those who have other stringed instruments. It is simple to install and has a pre-wired design. As a conveniently designed device, it has an adhesive stick-on mechanism that can also be used on various instruments out there.
Best Acoustic Guitar Pickup with Disk Elements
The Kingtoys Self-adhesive has 3 disk elements and comes with an end pin that measures 2.36 inches. It does not require soldering and battery installation as well. It uses a piezoelectric disk with various elements and it can turn any instrument into acoustic-electric.
Best Acoustic Guitar Pickup for Folk Guitars
The Andoer Red Chelonian has a sturdy ABS Material and is ideal for folk guitars. It has 2 knobs and mounting screws and comes with a sound board made of celluloid. The durability and design is good and the copper coil makes it sound better than the other brands. It can also be used for acoustic and electric ones.
Best Acoustic Guitar Pickup with Dual Coil
The ammoon Passive Magnetic has a dual coil design and is made with a quality neodymium magnet. The end pin jack is simple to install onto your instrument and has stacked coils as well. With easy installation, it takes out noise due to the stacked coils and produces a warm sound due to the neodymium magnet.
The Competition
There were others that did not make it to our list because they lacked in design quality and were also not very easy to use when it comes down to attaching and setting them up to any musical instrument.
Other Frequently Asked Questions
Q: What are the different kinds of stringed musical instruments and what are they used for?
A: There are a vast variety of stringed musical instruments that you can use for your needs, such as the following, all with different designs and purposes:
Classic – these are the ones that are mainly used for Spanish music, folk and the like. They are made with nylon strings and have a simple design, much like a regular stringed musical instrument.
Steel string – this one is made with steel strings and is mostly ideal for blues, pop, country, folk, jazz and the like. The body is slightly more curved in design as compared to the classic one and is also used for most live performances and studio recordings.
Electric stringed musical instrument – this one has a different curved body design as compared to the acoustic ones and are only usable with electricity. They won't produce as much sound as if you only used them in acoustic purposes.
Electric / acoustic – this one is a special combination that uses both the raw sounds of a stringed musical instrument and the amplification and settings of an electric stringed musical instrument. The pickup system is usually what makes this kind of stringed musical instrument much different than other musical instruments.
12-string – this kind of variety makes the use of 6 strings plus 6 more strings on each side, making it a great choice for adding more heaviness to your rhythm and chords.
Archtop – this is a kind of design that makes the use of a body that is similar to that of any of the bowed string family, such as violins, cellos, double basses and the like, due to the f-shaped holes on each side.
Resonator – this kind of stringed musical instrument is very unique when it comes down to its sound hole. It can vary depending on the design but most likely, you will encounter one with a circular plate in the middle in place of the regular sound hole.
In addition to that, they can also come in either metal or wood for the body base. The ones made from metal or steel can sometimes be confused with Hawaiian steel stringed musical instruments due to their name and their popularity as well. Either way, both of these resonator types are important types that are used for various genres of music as well, though not as popular as others.
Bass stringed musical instrument – the bass type is made out of 4 strings instead of 6, and these strings are usually very thick, since they will be used for lower notes that are much lower than that of a regular stringed musical instrument string.
Double neck – this one is another oddly shaped design when it comes down to this kind of musical instrument. There are two necks in just one stringed musical instrument and this makes it ideal for playing two different sets of tunings in just one instrument.
Q: How do I know which kind of stringed musical instrument should I pick for a beginner?
A: If you are a beginner and you don't know what kind of stringed musical instrument you should pick, here are the questions you should be asking yourself first:
What is your budget?
– First of all, stringed musical instruments are usually cheap, if you go for an acoustic type. But if you go for an electric type, then that is where the prices go up drastically, since they have electronics in them. If you have a low budget then consider going for a less expensive steel string first.
Do you want acoustic or electric ones?
– Some people are more comfortable with acoustic types but some are better with electric– it is simply just a matter of personal preferences.
What kind of genre of music do you like?
– If you like loud, rock music, then you'd best be off with an electric stringed musical instrument because of its power and defined sounds. However, if you'd simply like to tap into jazz and some soft pop, you can just go for a nice and clean steel string instead. The type of electric and acoustic can also vary depending on the music genre and style that you want, as the design/shape can also play roles with the kind of sound produced.
How often will you play?
– There's no harsher crime for most seasoned stringed musical instrument players than seeing a person leave their instrument in the dust.
Where will you use the instrument?
– Ask yourself: will I record music with the instrument? Will I use it for live gigs? Or will I just use it for home practice? Different kinds of variations exist for different purposes. Live performances and gigs need something that's a little bit louder for people to hear, and with a clear sound that makes little room for feedback, which is not only off-putting for the audience but also really annoying for the music makers themselves.
How much time are you willing to spend to learn it?
– Learning a musical instrument is never easy, and learning the stringed musical instrument proves to be very difficult for most people, especially for those who have little background in music, let alone those who started off with playing the piano first. The problem with stringed musical instruments is that unlike the keyboard or piano, chords work differently and you have to memorize the position on the fret to get the chord or key that you need, which can be a handful for people.
How passionate are you with playing or learning the instrument?
– At the end of the day, playing music as well as producing (songwriting) it is all about passion from your heart and soul. Even if you memorized all of the chords and chord theories, they all mean nothing if you're not playing from the heart. Singing and playing instruments are both correlated in a way and this is why much like with singing, you also need to give it your all when playing an instrument.
Q: What are the pros and cons of an acoustic-electric stringed musical instrument?
A: This kind of hybrid is a unique design that incorporates both the elements of acoustic ad electric stringed musical instruments. Here are their pros and cons:
Pros of the Acoustic-Electric
It's acoustic
The stringed musical instrument gives off a very natural sounding and raw feeling atmosphere when you play it.
Good sound projection
The sound projection is very good, considering that it is made with raw materials.
Customizable sound
Since it is also partly electric, you can tweak the sounds with a built-in EQ.
Great for movement in performances and gigs
Because it does not require a lot of cables, you can move around easier on the stage
Amplification
Amplifying your sounds is a great thing because it gives the audience a more mellow sound.
Not that expensive
Compared to your electric type, this one is slightly cheaper. You can use it in your next live performance without having to bring out a lot of stuff and sacrifice a lot of cash for other supplementary gadgets that are required by an electric one.
Cons of the Acoustic-Electric
May require power
Since it is partly electric, you may need to provide power.
May require additional equipment
While not all, some may still require additional equipment in order for you to use them.
Quality of electrical components
Components may eventually fail over time, so they should be taken care of, or you should go for a higher quality one.
Q: What are the good points of learning acoustic stringed musical instrument?
A: If you are on the fence when it comes down to learning to play an acoustic stringed musical instrument, here are the benefits that you can gain from it:
| | |
| --- | --- |
| You get a new life skill | There's nothing more rewarding than learning a new life skill, by which you can use your playing skills for various purposes, such as jamming out with friends. |
| You can express yourself | Music is an art form of self-expression through audible sounds, and playing an instrument is one great way to let out all the stuff inside your heart. |
| You can court people | Most societies and cultures regard serenades as a form of courtship for lovers. Go on, be cheesy as you like! |
| You can be famous | If you work hard and people eventually discover you, there's a chance you might be the next big thing on TV (or on YouTube, at least). |
| You have a new hobby | Playing an instrument can also be a hobby, even if it's not your main job or thing in life. |
Q: Are there pros to playing the acoustic stringed musical instrument?
A: This kind of musical instrument, as contrary to the electric type, is mostly the one that you will see in most instrument shops due to its popularity, cheap price and ease of use. Here are its benefits:
| | |
| --- | --- |
| No need for an amp | Because you don't need to power it up through an amp, it's hassle-free in setting it up. |
| Thicker strings means better strength | For most people, it's like learning how to drive a manual automobile first and then going through auto transmission next. Some people find it better to learn in the harder version first and then move on to the easier one. |
| Fingerpicking | This is a kind of technique in which you control how your fingers pick or pluck each string, as to either produce a loud or soft sound or timbre. |
| Tuning | The experimentation when it comes down to tuning is something more diverse and customizable when it comes down to the raw sounds of this type. |
| Capo | You can also experiment with using the capo along with a unique kind of tuning with this kind of instrument. |
| Slide | The slide technique is a great one to master and to have when you play this type, which is not seen in the electric type. |
Q: What are the pros and cons of acoustic stringed musical instruments vs. electric stringed musical instruments?
A: These two types of stringed musical instruments can be confusing at times for beginners, but it's time to settle their differences once and for all with the following pros and cons:
Acoustic stringed musical instrument
Pros
Cons
a. Learning on something hard first, such as an acoustic stringed musical instrument, is better because you can find it easier to move to electric later on.

b. There is no need to connect cables and the like when it comes down to setting it up.

c. The soothing melodies and chords for this kind of stringed musical instrument is very captivating.

d. They are generally cheaper than the electric stringed musical instrument because they are made up of less parts.

a. It is very hard to learn because of the strings that can be painful for beginners, especially with steel strings.

b. Chord playing can be tougher due to the strings being hard to play because of their sharpness and hardness.

c. String buzzing can be a problem with acoustic types.

d. The fret board is usually winder and this can be frustrating for most beginners.

e. The brittle design is what makes them generally cheaper and less durable than that of an electric stringed musical instrument.
Electric stringed musical instrument
Pros
Cons
a. Chord playing is a breeze because of the neck being narrower, which is less frustrating for beginners.

b. The softer strings are more welcoming for beginners who are not very used to such sharp strings from the steel types.

c. The lightness of the strings also make it easier for chord playing in general.

d. Because there is a slot for headphones or earphones, you can practice without waking up other people in the house.

e. You get more variety on sound because you can connect it to a different amp as you wish, or use a gadget to tweak the sounds a bit.

a. The extra cost due to the need for an amplifier is something not budget-friendly.

b. Alternatively, if you also want extra gadgets, that also costs a fortune.

c. Even if you learned something on the electric stringed musical instrument, it might not be applicable to your acoustic type because of its different design and sound requirements.

d. If you are not knowledgeable with the right amp for your stringed musical instrument then your sound might be a little odd instead of professionally sounding.
Q: What are the benefits of learning a musical instrument?
A: There are many reasons why you should go and learn and/or engage in your musical instrument, no matter what it is, such as the following:
| | |
| --- | --- |
| Physical strength | You get to become stronger when it comes down to learning an instrument because you are using a lot of muscles in order to lift or play the instrument. |
| Hand and eye coordination | Hand and eye coordination is the best thing that you can get from constantly practicing your favorite instrument. |
| Brain stimulator | Most people can actually get smarter if they engage into some manner of musical instrument activity, since their brain is constantly at work trying to position your hands for the next chord or key. |
| Improves memory | Remembering chords and musical theories can be handful, but it is a good brain exercise that can also help you to have a good memory, even as you get older. |
| Socialization | You get to socialize more if you play on gigs as well as when you simply play for friends during parties and the like. |
| Stress reliever | It's a good way to vent off some steam if you're having a bad day. Most people who get depressed tend to turn to their musical instrument to feel relieved. |
| Self-esteem | If you're lacking on the bravery department, chances are, you can be more proud of yourself once you have accomplished something in life, that being able to play a musical instrument properly. |
Q: If there are benefits to learning a musical instrument, how about songwriting?
A: Yes, there are many benefits to songwriting and making your own music. If you'd like to get in this field, you're bound for the following benefits:
| | |
| --- | --- |
| Improves your mood | Writing a song helps a lot if you are a moody person and are prone to emotional outbursts. Instead of unintentionally hurting people, you can put them in songs, as violent as you like or as mellow as you want. |
| May also improve your physical health | Some studies show that there is a link between physical health and making music. Since you get depressed less due to venting out your emotions on songwriting, you're more tuned into loving yourself by keeping your body healthy, and that's how you improve your health. |
| Better self-esteem | People who make music can actually have more self-esteem because they are doing something that they believe is an achievement in life, which it actually is. |
| Self-expression | There's nothing more rewarding than being able to make music that you love and that represents you and how you feel about yourself, the world or other people. |
| Can counter depression and anxiety | People who have been down in the dumps can get relief from writing a song, or even just a simple poem or free verse and then have someone turn it into music. Songwriting and poetry are closely related to each other, and they can be a great healer for depressive episodes. |
| Work and school inspiration | If you're a songwriter, chances are you'll get more inspired with your work or school activities because you have an expanded imagination (see below), and you could basically write about anything, from the food in the cafeteria to the breakup stories of your co-workers. |
| Socialization | You get to socialize more if you make music, because people will eventually recognize your efforts. It doesn't matter if they're only a small audience, and it doesn't matter how long you've been making music – people will eventually find their way to your stuff, since making music can also involve some manner of promotion, whether you're playing live or posting your tunes online. |
| Expanded imagination | One thing that music production enhances the most is a person's imagination. If you start making music while you're still young, chances are, you'll improve later on in life. However, you don't have to start young – anyone can write music and expand their horizons at any age bracket. |
| Making yourself happy | In the end, it all comes down to the kind of music that you want. Even if your style is not up to people's standards, even if your music already has a similar style to another artist, and even if you don't get a lot of followers for your music, what counts is that you make music that you love and that comes from your heart. The technical stuff come second, but your passion for music comes first. |
Q: What are the most common beginner problems when it comes down to playing stringed musical instrument?
A: If you are still a beginner when it comes down to this musical instrument then you may be bound for the following problems, to which we have possible solutions:
| | | |
| --- | --- | --- |
| Problem | Description | Solution |
| Chord shifting | Most beginners find it hard to shift between chords easily, let alone holding the chords for a set period of time, which can be tiring. | The best solution for this is to keep practicing your strength in order to hold down the chords properly. Secondly, you also need to work on memorizing each chord position so you can quickly lay it out in muscle memory. |
| String skipping | When plucking two strings that are not next to each other, you may tend to potentially not pluck one of the strings. | This problem can be solved by constant practice. You need to work on slower pieces first and go on a slower pace for your song until you can work on faster pieces to eliminate your string skipping problem. |
| Barre chords | Barre chords are the most common problem for many beginners because they are hard to hold onto. | The problem can be fixed with a lot of practice, especially with grip strength and precision as well as control over the barre chords, so that they don't sound off. |
| Giving up on songs because they're difficult | This is a problem that is not just with stringed musical instrument playing, but is also generally on all musical instruments, regardless of what you play. | Everything starts off difficult at first. Don't skip songs just because they're difficult – take it as a challenge and measure your skills if you think that it is really possible. Most seasoned musicians take years and there's no deadline for you to learn anything, especially since musical instruments take time to learn, anyway. |
| Lack of practice time | This kind of problem is also a common problem not just for stringed musical instrument players but also for other musical instrument players. People nowadays are busier than ever and thus may have little or no time to practice anything. | If you really love something, you will definitely save time for it. Some YouTube tutorials are short and can be around 30 minutes. You can also look for magazines with printed stringed musical instrument tabs for reference or print your own. Look for opportunities in your schedule where you could potentially slip in your stringed musical instrument practice and you'll get better. |
Q: Which is better: playing the piano or playing the stringed musical instrument?
A: These two musical instruments both differ from each other, and they have their own pros and cons, such as the following:
| | | |
| --- | --- | --- |
| Criteria | Piano | Guitar |
| Difficulty | When it comes down to difficulty, pianos are actually the easier of the two. | It is usually the harder of the two, since it involves chord shifting. |
| Ease of access | Pianos and keyboards are usually bulky to transport and some cannot be moved. | They are portable stuff that you can bring anywhere. |
| Price | Pianos are expensive, but keyboards can be cheaper, especially those for beginners. | They can vary in price, but electric ones can be very expensive as well. |
| Genres | Pianos can be used for ballads, classical music, some pop and basically a lot of styles and genres. | They are used for folk, classical, pop, rock and many others as well. |
| Live music | They are great for live music, but are less common than the stringed musical instrument. | They are more commonly used for live music compared to the piano or keyboard. |
Q: What are the things you shouldn't do when it comes down to stringed musical instrument playing?
A: If you're a beginner or an intermediate player, there are a couple of things you should not do when it comes down to playing the instrument:
Forgetting to tune your stringed musical instrument
Practicing pieces you already know or mastered
3.Not using barre chords
Getting help from too many courses or videos
Having lack of patience
Not having the timing and tempo right
Expecting fast results
Feeling shy about it
Not considering music theories
Expecting yourself to be a prodigy
Q: What are the common misconceptions that people make with this kind of instrument?
A: This kind of instrument has always been a subject of misconceptions, among of which are the following:
| | |
| --- | --- |
| Myth | Fact |
| You should start with acoustic ones rather than electric ones. | It doesn't matter which you start with – it is a matter of preference. |
| They are easy to learn and to play overall. | Stringed musical instrument playing is always hard, due to the chord shifting. |
| You should start with popular classic stringed musical instrument songs. | You should start with basic lessons first, not necessarily popular songs. |
| You don't need to change your stringed musical instrument strings that much. | Changing strings is a must because they can lose quality over time. |
| People who learn stringed musical instrument when they're younger are usually better. | While this is true, there is no age restriction for learning any musical instrument! It depends on a person's will to learn and improve. |
| Music theory is not that important. | Music theory is important in most cases, especially if you want to use it for songwriting. |
Q: What materials make up an acoustic stringed musical instrument pickup?
A: The following materials are used for this kind of musical instrument device:
Acrylic – used as a thermoplastic in the device.
ABS – used for body parts that require hard plastic and resistance to impact.
Nylons – you will find these in most common stringed musical instruments and are usually dyed.
Cellulosics – they can be formed into pickguards.
Polyethylene – can change the softness and the hardness of the sound.
Polypropylene – also a thermoplastic, it controls the stiffness of the sound as well.
Melamine – these are used for most knobs.
Epoxy – these are used for gluing the pieces together.
Q: Which is better: nylon or steel?
A: In terms of strings, there has been some debate between nylon and steel, to which we have the following differences:
| | | |
| --- | --- | --- |
| Criteria | Nylon | Steel |
| Difficulty | Nylon is very easy to play due to its soft design. | Steel is very hard to play due to the sharp design. |
| Tuning | Nylon needs to be tuned more frequently. | Steel needs to be tuned less frequently. |
| Changing | You cannot use steel for nylon stringed musical instruments. | You cannot use nylon for steel stringed musical instruments. |
| Genre | Ideal genres of music for nylon include folk and classical music, especially Spanish and Latin ones. | Ideal genres of music for steel include rock, pop and country, as well as other similar genres. |
Q: Which type of stringed musical instrument is best used with which genre?
A: The types of musical instruments that you can depend on with different genres are the following:
Nylon or acoustic – best for folk, classical and Spanish / Latin music.
Steel string – ideal for bluegrass, jazz, ragtime, blues and some folk music.
Electric stringed musical instrument – best for jazz, rock, pop and the like.
Q: Are there benefits with teaching music to kids?
A: Yes, children who get exposed to music earlier on can:
– develop better thinking skills
– improve their socialization skills
– become more expressive with their emotions
– remember things better
– enjoy while playing
Q: How does learning a musical instrument benefit children?
A: In addition to benefits of music exposure, learning a musical instrument can be beneficial for children as well, such as with the following:
It improves their hand-eye coordination.
You can teach them the values of perseverance.
They will remember things better.
They have a chance of being good at math.
It gives them a sense of responsibility.
They'll learn how to read properly.
They will also learn different cultures.
It helps them to express themselves better.
They will have better listening skills.
They can be more sociable.
Q: Can music be an antidepressant?
A: Yes, whether it's making music or simply listening to music, it can act as a therapy for depression and anxiety. So if you ever feel worried over something or you can't sleep well, try writing a poem or making a song about how you feel, and you'll instantly feel better because you've let out your emotions in the form of music. Whether producing or playing, it's the same – you're converting your inner turmoil (or happiness) into audible art form.
Q: What problems can you encounter with this kind of musical instrument device?
A: Here are some common problems that you might run into:
Missing string – be careful when playing so as not to damage the string while rewinding pickups.
Damaged coils – you can DIY repair this by splicing.
Magnet problems – this can happen if your magnet has been replaced – try to experiment.
Q: Is it possible to use a pickup for an acoustic stringed musical instrument for a violin?
A: That depends on the device itself, but most likely, you will need a separate one for a violin, since both have different numbers of strings. If you have a device that is used for bass stringed musical instruments then there is a chance that it could be used for a violin, however.
Wrapping It Up
Overall, we think that the Fishman Neo-D is our pick for the best acoustic guitar pickup due to the high impedance, low profile design and balanced construction.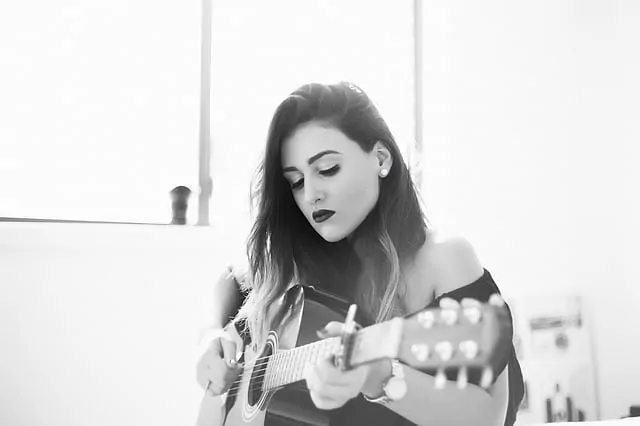 Jen is a guitarist and singer-songwriter who spends much of her time on the road and has lived in 13 cities across 4 continents. She picked up her first guitar at the age of 6 and learned to play by ear shortly after. She received her formal music education at the Berklee College of Music, and currently plays for a few bands in her free time. She has an uncanny ability to improvise creative melodies and harmonies. Her early influences include blues, jazz and rock.