It's time to check Yamaha's acoustic guitar for kids. The JR1 FG is a beginner's guitar retaining the elements every kid and parent would like. It's small, cheap, and easy to play. More importantly, it has some of the elements of Yamaha's excellent FG series, so we're not talking about a disposable instrument.
Yamaha acoustic guitars are known for adding proprietary features that make them unique. Each series has at least one in-house design choice that runs from the lowest to the highest-priced model-
The FG Junior follows the same ideas as it's a part of the FG series. However, it delivers the same levels of quality on a ¾ body. 
Keep in mind the FG JR1 comes from Yamaha, a brand that sits at the top of pianos, keyboards, bass guitars, and acoustic guitars in particular.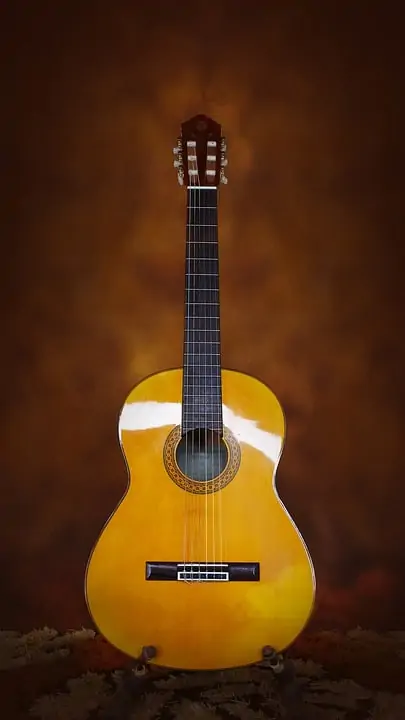 The Yamaha Junior has ¾ the size of the rest of the brand's FG series guitars. 
We've reviewed other Yamaha acoustic guitars of the FG series before. Feel free to check them out:
Yamaha FG JR1 Acoustic Guitar Review
Smaller guitars are popular items for various reasons. That's because they are not as large or as heavy as their full-sized counterparts, thus making them easier to play when you're learning. 
Smaller guitars are also handy as travel guitars, albeit you might want to check our list of best parlor guitars instead. Either way, a smaller guitar is easier to carry around. Also, it costs significantly less money, which means it will hurt you less in case you hurt the guitar on your travels. 
There're some limitations, of course. A small guitar like the Yamaha JR1 doesn't have the same acoustic prowess as a bigger model. Moreover, adult players might find it a bit uncomfortable to play.
There're other cheap guitars you might, is that what piques your interest. For now, consider the FG Junior as a great option for kids boosting quality materials of the series' proprietary X-bracing design.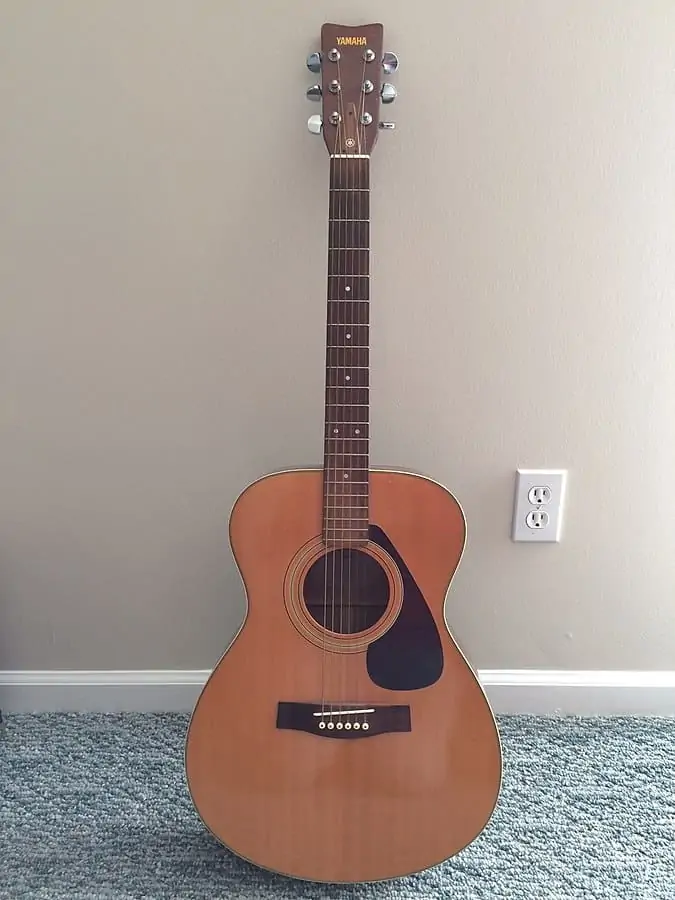 The Yamaha FG series offers consistently popular and top-value mid-level acoustic guitars. 
Overview
The FG JR1 is not a loud guitar as it's intended for practice and learning. Still, it can make a great travel guitar for adults, or just a tool to play around for hobby and inspiration. 
In essence, we're looking at a guitar with a smaller body and a shorter neck. That makes it perfect for young people and smaller hands. 
Still, it features Yamaha's solid craftsmanship with spruce top and compact constructions -nato neck, rosewood fret, and chrome hardware. Moreover, it boasts the acclaimed quality of the FG series. 
Lastly, I should say these guitars sell with a travel bag: 
Built quality
The Yamaha JR1 is a small dreadnought guitar with no cutaway. A dreadnought guitar features a larger body with a louder projection. However, it's a ¾ dreadnought FG guitar, so it's both smaller and quieter.
Still, it features the same shape and construction features, only on a lesser scale. It makes it ideal for kids, young players, and players with small hands. 
Construction
As for tonewoods, it features laminated Sitka spruce top on the body, nato on the neck, and rosewood on the fretboard. The downside is the body doesn't have solid wood but laminated. That means it won't sound as focused or loud as a solid counterpart. It also means it doesn't sustain damage from weather conditions. 
The back and sides of the guitar pack "Filipino mahogany" or "meranti, which are there to increase the richness of the sound. It's a welcomed addition, although regular mahogany is often superior to "meranti."
Then, the nato neck has an adjustable truss rod to define the height of the strings. It also hosts a rosewood fretboard with no sharp edges or details. 
I must add the guitar features a natural finish to round its simple design. Other guitars of the series feature a hand-sprayed ultra-thin gloss finish. 
Size
Yamaha designed the FG Junior 1 with the same shape as the original Yamaha's folk guitar. That ensures it hits a balance between travel guitar and children's model. That said, the Yamaha JR1 is not a toy; it's just a smaller version of one of the best acoustic series in the market. 
Its size is restrictive for players with large hands, amateurs will prefer the JR1 over a full-sized model. 
Still, I should say the model is aimed at children between 6 and 12 years old. As a first-time guitar, it's hard to get anything more professional than the Yamaha FG JR1. Moreover, a short-scale guitar is built in proportion to a kid's size, which is why it's a great option to learn how to play guitar. 
Its tonewoods of choice create a light and silly, and yet surprising guitar. Weighing about 5 pounds, the simplistic view of the JR1 is further exemplified with the black body binding on the back of the guitar. 

The Yamaha FG JR1 is simply a compact version of the FG800, the most affordable model of the FG acoustic guitar series.   
Bracing pattern
As the FG JR1 is a compact version of the FG series guitars, they carry a compact proprietary bracing pattern. 
We're talking about a scalloped X bracing pattern beneath the soundhole. These are a series of wood pieces forming an X. Created by Yamaha's R&D Division, the design choice enhances low-mid sounds and makes the highs more cutting.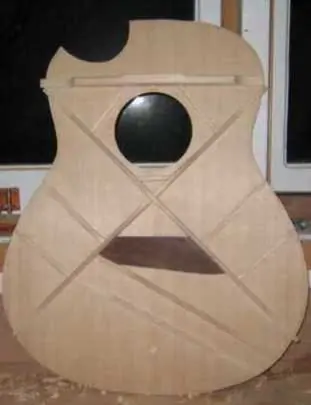 "Steel String X-bracing1" by Zanthorp / CC BY-SA 3.0. The sound of a guitar without a bracing pattern becomes unfocused and raw. 
Sound quality
The Yamaha JR1 produces nice and pretty tones with a decent punch. Compared to other travel, parlor, or small guitars, though, the FG Junior 1 is noticeably louder and clearer.
Its compact body produces crisp and punchy trebles, solid mid-ranges, and balanced lows. Overall, the sound comes out clear, bright, and a bit twangy. 
Compared to a fully-sized FG, it lacks the same levels of depth and power. It sounds nicer, brighter, softer, and a bit sillier as well. 
Lastly, it has a decent sound projection. 
Check how the Yamaha JR1 acoustic guitar sounds on the video below:
<iframe width="948″ height="533″ src="https://www.youtube.com/embed/e6brNErzQdA" frameborder="0″ allow="accelerometer; autoplay; clipboard-write; encrypted-media; gyroscope; picture-in-picture" allowfullscreen></iframe>
Hardware
As an affordable guitar, we expect to find cheap hardware on the FG JR1. It's the part where manufacturers save the most money.
That said, there's nothing amazing about the JR1's hardware. We're looking at a rosewood bridge with a synthetic bone saddle and synthetic nut. There's a truss rod, though, so the customization options are decent.
Lastly, you get a standard set of chrome tuners.
Nothing jumps out as "stage-ready." Then again, the JR1 is not a guitar you would take to play live or use to record at your home studio. 
<iframe width="948″ height="533″ src="https://www.youtube.com/embed/nZOIjaMevVY" frameborder="0″ allow="accelerometer; autoplay; clipboard-write; encrypted-media; gyroscope; picture-in-picture" allowfullscreen></iframe>
Downside & Alternatives 
For a mass-produced product, the Yamaha JR1 acoustic guitar has a surprisingly good quality and sound. Still, you could further improve the guitar with a couple of tweaks.
First, I do recommend changing the guitar strings for something better. You can wait until you need to change the strings for the first time, though, about 6 months after you get it. 
Here's a sure fine option I recommend from D'Addario -you can also check our list of the best classical guitar strings.
Once you buy a new set of strings, you can take the guitar to a luthier so he can install them. Plus, it would be wise to set a proper height for the strings, as the right-out-the-box setup is not the best. 
Variety
You can check the other FG guitars we've reviewed on the links below for fully-sized options. In the meantime, there's a JR2 option that features a hand-sprayed ultra-thin gloss finish. It also comes with a rosewood neck and frets plus mahogany back and sides. 
Overall, the Yamaha JR2 represents a slight quality increase over the JR1. 
Sale
Alternative
The best small-sized guitar we've reviewed on the site is the Gretsch Jim Dandy Parlor. More than a small, parlor guitar, the Jim Dandy packs enough quality to record guitar at home. Better yet, it sells for a similar price point. 
Yamaha FG JR1 Acoustic Guitar specs 
Design: Dreadnought  ¾  body with no cutaway
Bracing: scalloped X- bracing pattern
Body tonewood: laminated Sitka spruce top, Filipino Mahogany back and sides
Neck tonewood: Nato
Fingerboard tonewood: rosewood
Tuners: die-cast tuners
Bridge: rosewood bridge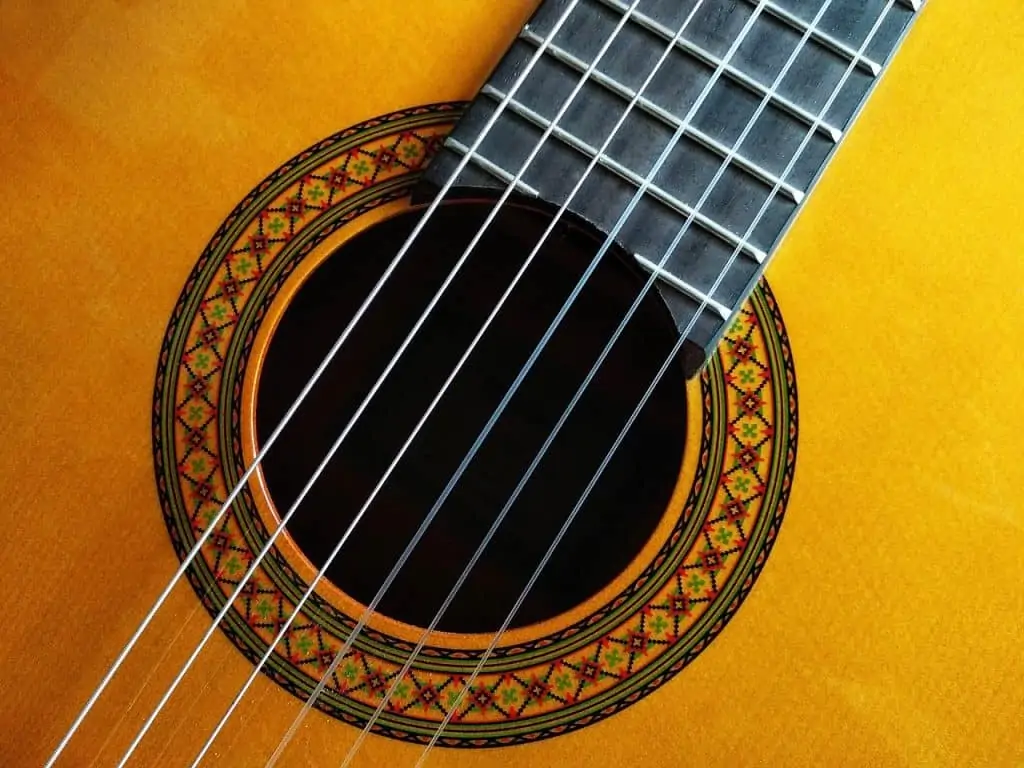 Changing the strings on your guitar would help it better harness the acoustic properties of its wood. It improves the playability, sound, and sound projection. 
In summary
Why do I like the Yamaha FG JR1?
If you're searching for a small acoustic guitar for your kids, you can't go wrong with the JR1. It hits all of the right boxes, from being affordable to delivering plenty of clarity.
The same is to say about the JR2 if you can stretch the budget a bit further.
Moreover, with its nice design and sound, you can take it as a budget-friendly hobby/travel guitar. 
Final Say
The Yamaha JR1 is a fair offer. Its affordable price and description offer exactly what it promises. And it gets better considering it includes a gig bag.
Is it the best travel guitar there is? Probably not, but I do commend it as one of the top guitars for kids you can buy right now. Searching for items below the $100 only deliver disposable items.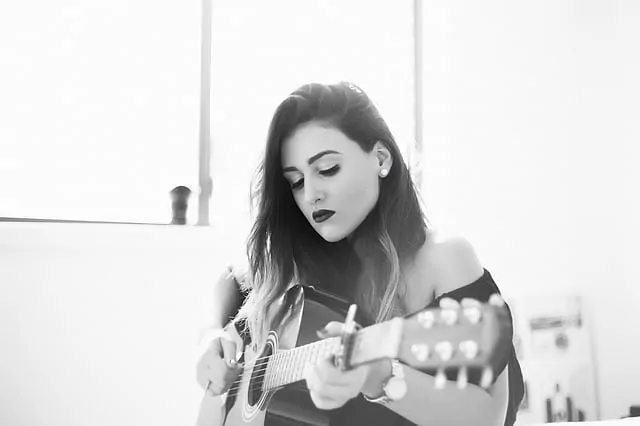 Jen is a guitarist and singer-songwriter who spends much of her time on the road and has lived in 13 cities across 4 continents. She picked up her first guitar at the age of 6 and learned to play by ear shortly after. She received her formal music education at the Berklee College of Music, and currently plays for a few bands in her free time. She has an uncanny ability to improvise creative melodies and harmonies. Her early influences include blues, jazz and rock.