ESP doesn't get the recognition it deserves. Often their guitars go unnoticed, branded as nothing more than Gibson Les Paul copies. Here we have the ESP Viper electric guitar, another member of their affordable LTD line of modified, metal-oriented "Gibson copies."
Don't be fooled, though. As per usual, the ESP LTD line offers some serious benefits to mid-level players. Also, the ESP LTD Viper is not exactly a Les Paul, rather a "Gibson SG" model. I should remind you we picked the Gibson guitar as the best possible model you can get for rock genres.
What if someone were to make it even heavier? Proceed with caution, though, as the terrain of affordable Gibson guitars is something Epiphone already mastered. The legal Gibson subsidiary sells mid-level and budget Les Pauls and SG guitars, and some of these models could be a part of any pro musician's gear.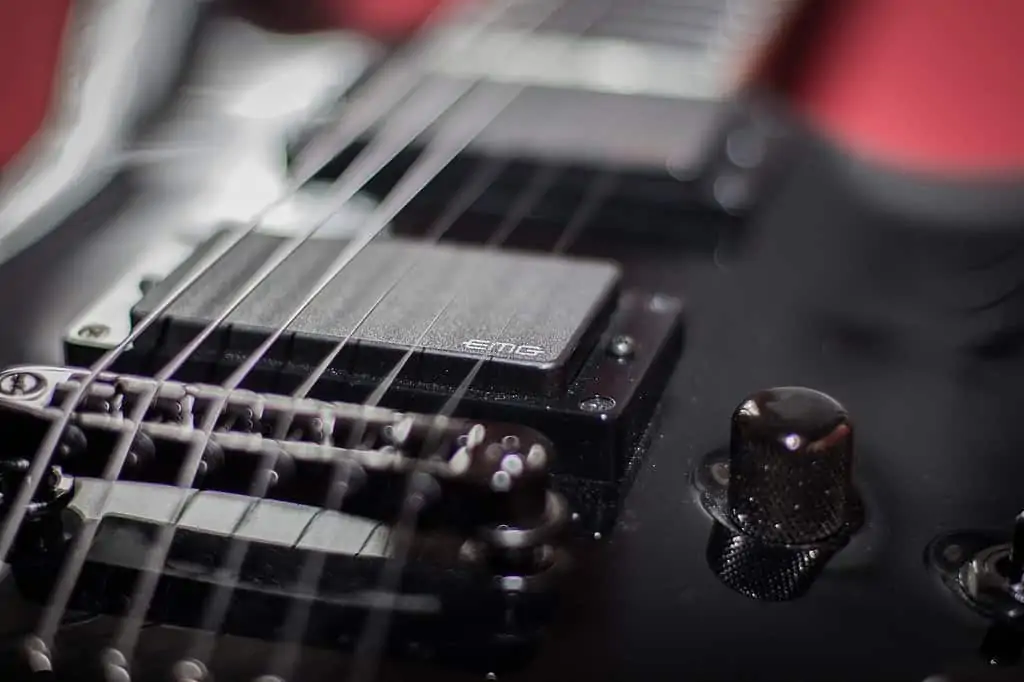 "Esp Guitar (139215595)" by Nicolas Torquet, CC BY-SA 3.0 ESP guitars commonly use high-output output ceramic or Alnico V humbuckers.
If you're looking for a heavy metal guitar, we have other options for you as well. For example, I invite you to check our prior list of the best metal guitars.
Another option would be improving your current setup with new metal-oriented pickups.
Also, we reviewed the ESP LTD EC-1000, a deluxe "Les Paul" made for the heavier genres of music.
We're covering further alternatives down below. For now, check the sound of the most expensive ESP LTD Viper:
<iframe width="1044″ height="587″ src="https://www.youtube.com/embed/YfYEvJlQDLI" frameborder="0″ allow="accelerometer; autoplay; clipboard-write; encrypted-media; gyroscope; picture-in-picture" allowfullscreen></iframe>
ESP LTD Viper-10 Electric Guitar Review
We're here to see what the ESP Viper offers above its primary competitors from Epiphone. How are they different?
I should note that there are two popular ESP LTD Viper models. There's a mid-level offering, the 256; the other one is the budget ESP LTD Viper-10. There's also the 201B model, which packs additional advanced features.
We're referring to the entry-level model in the article. However, we'll check what's different on the Downsides & Alternatives section.
So, despite looking at an electric guitar series, we're referring to the entry-level model.
About ESP
ESP opened in Tokyo, Japan, in 1975. The store started s a small luthier, but it eventually grew as a reputed manufacturer present in over 100 countries.
Their reputation is about high-quality standards and careful craftsmanship. It's not, however, about high-tech design, original features, or anything too out of the box.
Buying EPS is going for a tried-and-tested formula with a couple of twists for metal. Instead of modifying a budget Epiphone guitar, you could trust ESP to deliver exactly what you want, as the company benefits their customers with a lifetime warranty. That's useful information to have when you're purchasing.
Also, I should note the LTD series copy Gibson designs. That includes SG, Les Paul, Firebird, and the Explorer model, mostly.
LTD is also the brand's lower-tier guitar series, which allows the company to sell for better prices outside of Japan. ESP's original models are harder to find in America and Europe as export prices from Japan are quite hefty.
You could check the ESP Original series guitars, for example, which mixes elements from SuperStrats and Les Paul models.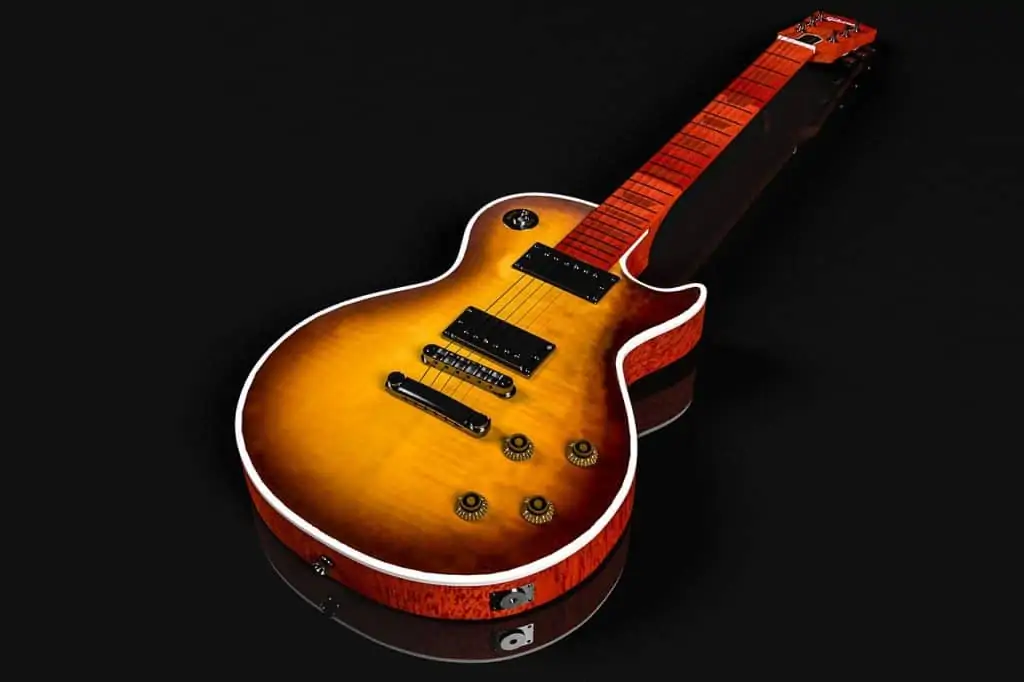 The Gibson Les Paul, as well as the Fender Stratocaster, are the most popular "guitar templates" in the world. Few manufacturers deviate from these original blueprints. 
Overview
The ESP Viper-10, like all Viper series guitars, is not an original design. In particular, the ESP-LTD line is about mass producing Gibson-inspired models for an affordable price.
That means they pack features you would not normally see on a Gibson for the same price range -or Epiphone, for that matter.
Even so, finding a good affordable electric guitar is not a very hard task nowadays. Sticking to trusted brands like Yamaha, Ibanez, Epiphone, Squier, and similar is often the right thing. There's plenty to choose from on the entry-level budget, like for example the Squier Affinity Stratocaster.
When going for specific genres, though, it might be different. Choices are fewer and, if you're looking for metal/rock gear, inconsistent.
That's where the ESP Viper-10 comes into play. ESP crafted the guitar from the brand's higher-end models. Premium LTD Viper guitars belong in the hands of Judas Priest's Glenn Tripton or Lars Frederiksen from Rancid.
An overview of the item reveals an atypical combination of woods. It has alder, oak, maple, and a custom, in-house engineered hardwood for the fretboard. That makes it distinct from the regular ESP LTD-10, where basswood dominates the design.
Its tonewoods of choice befit its purpose. It's both a starter electric guitar and a budget solution for skilled players. Besides, any player would find its included gig bag as a major plus.
Built quality
The EPS Viper-10, as well as the rest of the Viper series guitars, are SG models. Well, an SG guitar for metalheads.
Body
The LTD budget "SG" features the same curvy and asymmetrical shape with a dual cutaway. The body has alder wood at the top, oak wood on the back, and solid basswood as the base. The result is a guitar that feels comfortable, lightweight, and still powerful.
I should also note there's only an all-black version. If you're looking for other color options, then perhaps you should not be searching for metal-army guitars.
Neck & fretboard
The Viper-10 has a maple neck plus an in-house engineered rosewood fingerboard. It features an asymmetrical U-shaped neck, typical of SG series guitars, to improve all-hands rock playability.
It also features a 12'' neck radius, which, then again, serves for an all-purpose guitar playing. It's not too flat, nor too round, which means playing chords and solos can be equally easy.
Also, the guitar has a full 24.75'' scale length plus a slim neck. Lastly, the fingerboard hosts 24 extra-jumbo frets plus a 12th fret inlay marker.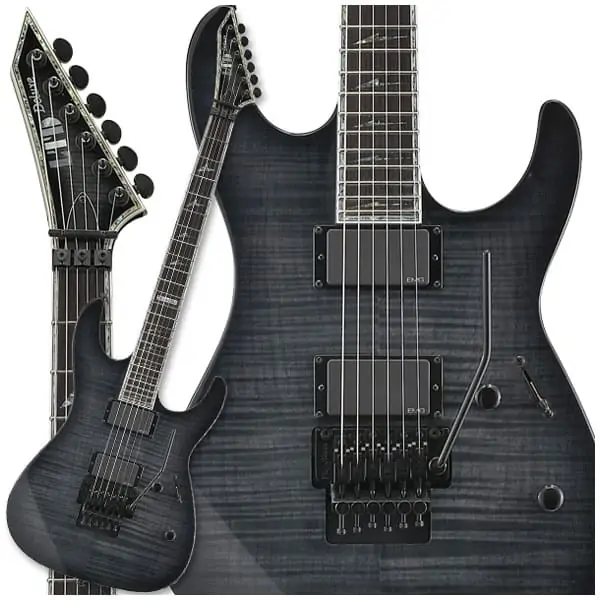 "Esp LTD M-1000" by ESPltdm1000 / CC BY-SA 3.0 Most ESP LTD guitars are all-black. Other popular colors for the LTD guitars are red and white. 
Sound quality
The Viper-10 is a metal machine, thanks to its two LH-100 humbuckers plus its basswood body.
Sure, it's not very articulate or powerful and higher-end guitars. However, it does carry plenty of distortion and a good tone for metal and rock genres. Also, its versatility is enough to play some fiery blues.
The sound reminds me of garage rock, something you would use to record Metallica's first album. It's very raw, punchy, and bright.
Power chords come out super chunky and thick, and so lead playing is quite fun and above its price range.
Then, the clean sound has a lot of sustain and ring, also reminiscent of Metallica's Ride the Lighting days.
<iframe width="948″ height="533″ src="https://www.youtube.com/embed/jV-NMpx0e3Q" frameborder="0″ allow="accelerometer; autoplay; clipboard-write; encrypted-media; gyroscope; picture-in-picture" allowfullscreen></iframe>
Electronics
Regarding electronics, there's nothing too crazy. As a hard-rock ax, it has a couple of ESP-designed LH-100 humbuckers. These are ceramic, passive pieces on the neck and bridge positions.
As for controls, you have master volume and master tone controls. There's also a three-way pickup selector switch. The versatility it delivers is not much, but it can be enough to play softer rock genres and even blues.
Overall, the sound has no problems, interferences, or hums. Plug it into a quality amplifier and it could fool anyone.
<iframe width="948″ height="533″ src="https://www.youtube.com/embed/akI8Fvu7lyw" frameborder="0″ allow="accelerometer; autoplay; clipboard-write; encrypted-media; gyroscope; picture-in-picture" allowfullscreen></iframe>
Feel Quality
With its full-scale length and soft neck, the ESP Viper-10 is an easy to play guitar. Considering its price, the quality of its neck (free of sharp edges or mistakes) is impressive.
Then, its U-shaped neck has a smooth satin finish, which makes it softer to the hand.
Lastly, the combination of its 24 extra-jumbo frets and its 12'' radius neck makes it super-friendly for beginners.
However, the size it's not appealing for younger players and kids. Also, its lack of fret inlays could make it harder to learn.
Hardware
We're also revising the hardware of the guitar and see what ESP can deliver for an entry-level budget.
First, it has sealed chrome tuners in a 3+3 configuration, which means there are three tuners on each side. They are easy to use and replace. They also feel smooth to move, hold down-tunes, and hold the tune moderately well.
On the other side, there's a fixed tune-O-Matic bridge plus tailpiece. It delivers plenty of sustain and tuning stability, although it lacks the dive-bombing features of higher-end bridges of these types.
Overall, though, I can say the hardware behaves above the price range of the guitar.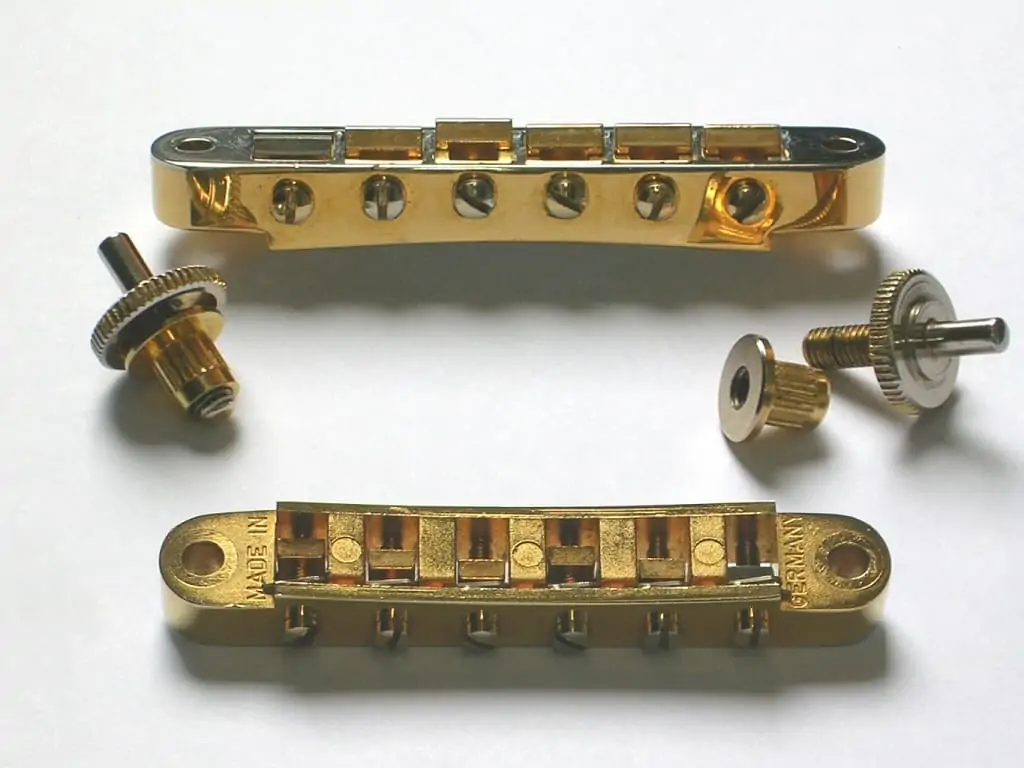 "Tune-o-Matic mod" by I, Piso17 / CC BY-SA 2.5 All Gibson guitars use tune-O-Matic bridges. History says Gibson invented that bridge design. 
Downside & Alternatives 
Unfortunately, the guitar lacks articulation, versatility, and overall quality sound. You would find that on higher-specced Viper guitars but, in the meantime, you could consider swapping its stock humbucker pickups.
I recommend a couple of Seymour Duncan Invader humbuckers:
Changing the stock pickups alone can greatly improve the quality of the guitar. As is, the tuners and bridge are solid.
However, the hardware is not solid enough for live playing. If you would like to take the ESp Viper-10 to the state, then consider swapping the bridge for another one:
As for alternatives, we've reviewed entry-level metal guitars that are also worth your time. One of those is the Jackson Dinky. The JS22 does not have much sound quality, but it excels in playability features for beginners.
There's also the Ibanez GRX20, a nice Japanese guitar with proprietary tech features:
Similarly, the Ibanez S521 offers supreme playability, a sleek design, and a rocker sound with extended versatility.
If you can stretch your budget a bit more, then I suggest you go for the Schecter Omen 6. It has everything advanced players might be looking for on a mid-level metal guitar.
Sale
Variety
You could also search for higher-end models of the Viper series.
First, there's the ESP Viper-256, a mid-level model. It has a mahogany body, mahogany neck, and rosewood fret. It also has several fret inlays plus greatly improved humbuckers (LH-150) and bridge.
Sale
The ESP LTD Viper-700 goes up with a neat finish and a quality-looking build. It's an impressive guitar packing studio and gig-ready pieces at a more convenient price.
For example, it has EMG 85/81 humbuckers, considered amongst the best metal pickups you can buy. It also has top-tier Grover tuners plus a Tom bridge.
As for tonewoods, it has a mahogany body, mahogany neck, and ebony fretboard. On top of it, there's a sweet black satin finish protecting the guitar from bumps and scratches.
ESP LTD Viper-10 specs
Design: SG guitar, asymmetrical body, dual cutaway
Body tonewood: basswood, basswood on the back and sides
Neck: asymmetrical neck
Neck joint: bolt-on neck
Neck tonewood: maple
Scale: 25.6''
Fingerboard tonewood: engineered rosewood
Fingerboard radius: 12''
Pickups: LH passive humbuckers (neck & bridge)
Controls: tone, volume, 3-way pickup selector switch
Tuners: die-cast tuners
Bridge: tune-O-Matic bridge & tailpiece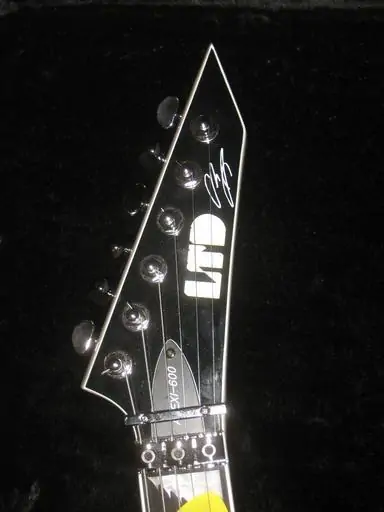 ESP LTD guitars are produced in Japan and exported to America and Europe.
In summary
Why do I like the ESP LTD Viper-100?
Overall, there's nothing too special or crazy about the ESP Viper-10. With such a small budget, it has the basics and more. Also, it looks pretty cool as a black, metal-head SG guitar.
Ultimately, the Viper-10 plays its genres well and feels moderately fine to adult beginners and intermediate players. A few modes could turn it into a stage guitar.
Final Say
All in all, the ESP Viper-10 guitar is a solid budget performer for metal genres. If you're looking for something professional, though, the Viper-700 is sure to blow your mind for much less than a Gibson.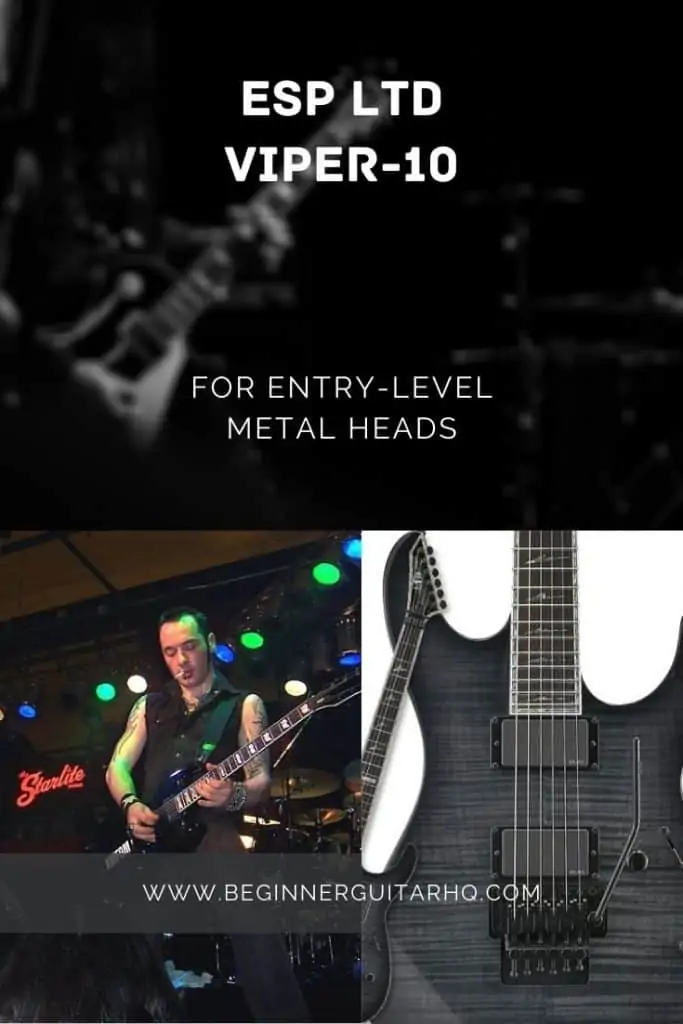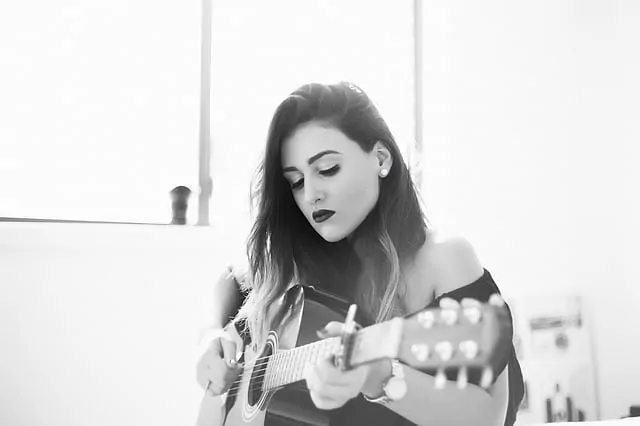 Jen is a guitarist and singer-songwriter who spends much of her time on the road and has lived in 13 cities across 4 continents. She picked up her first guitar at the age of 6 and learned to play by ear shortly after. She received her formal music education at the Berklee College of Music, and currently plays for a few bands in her free time. She has an uncanny ability to improvise creative melodies and harmonies. Her early influences include blues, jazz and rock.