The Japanese music instrument maker has a straightforward idea. "Our instruments are for playing metal," they would say, and that's precisely what the Ibanez S521 stands for.
It's not the ultimate, definitive metal guitar, though. It's not Ibanez's most premium model either.
Still, it's a testament to their core philosophy. Ibanez is the go-to brand for guitars Joe Satriani, Steve Vai, George Benson, or the late Eddie Van Halen would play.
Better yet, the S-521 "SuperStrat" balances cost, quality, and rock-oriented features.
Now I'm tempted to leave Eddie Van Halen's video playing on his famous Ibanez 1975 Destroyer. Rest in peace, rock hero.
The origins of the Superstrat rock and metal guitars revolve around Eddie Van Halen. We covered the story as part of our best rock guitars article.
That said, I should note SuperStrats are a perfect canvas for upgrades and modifications. I invite you to check our guides on metal guitar pickups, as well as our list of the best guitar humbuckers.
Ibanez S521 SuperStrat Electric Guitar Review
When Eddie Van Halen started his career, he didn't have much in terms of money. He couldn't afford a Les Paul guitar, a Stratocaster, or a Telecaster. But he liked playing rock either way.
He did his own thing, though, and created a trend that hasn't disappeared ever since. See, he had a cheap Stratocaster copy, and he modified the guitar for some hard-rock playability.
During the late '70s, Van Halen took out the single-coil pickups and replaced them with Gibson humbuckers. He also added a lock-on vibrato tremolo, lowered the strings' actions, and included some other minor tweaks for extra metal.
Soon, Ibanez picked on the idea and began producing the first "SuperStrat" guitars. These are guitars with a Stratocaster body and humbuckers, basically.
Additionally, the brand was one of the first to modify the original Stratocaster neck for faster playability. They began creating slimmer, lighter necks for easier solo playing.
Ibanez has been the king of SuperStrat guitars ever since. They created the Ibanez S521 electric guitar as a mid-range metal guitar with some extra versatility with years of expertise.
It doesn't pack a tremolo, though. But it does come with proprietary humbuckers, low action strings, and a super-fast neck profile.
Overview
The S521 guitar comes from the Ibanez S series. The "S" stands for SuperStrat, and, as I was saying, it retains the classical elements of the bracket.
Additionally, the "S" lineup showcases Ibanez's latest tech. You'll find the same technological features even on the cheapest models on the series. What changes with the price is the construction materials and aesthetic elements.
We're looking at the Ibanez S521, an example of what Ibanez can achieve on their mid-level offerings. Not only that: by the time of the article, we saw the item selling for 25% less than its original retail price. I don't know how but, during 2020, Ibanez lowered the cost of the S521.
Now, what makes the guitar special is the custom S features. First, it has Ibanez' Wizard III Maple neck, a fast-profile unit for metal and rock. Then, it has Ibanez's proprietary Quantum pickups with a 5-way pickup selector switch.
Moreover, we're looking at a mahogany guitar, a premium choice not usually found at this price range.
Built quality
Ibanez uses a slim Stratocaster body shape for the S521. It's the same body present on guitars from other Ibanez series like the GRX20.
Solid Mahogany is the tonewood of choice for the guitar's body, while maple is present for the neck. Both picks are premium and impressive at the price range.
Such a combination delivers one of the defining features of the guitar. It's light enough to be comfortable, and it's heavy enough to create sustain and resonance. Moreover, both tonewoods are durable and great looking.
We find rosewood on the fingerboard, which is more in line with affordable guitar materials. However, Ibanez lists Jatoba as the fingerboard material on the guitar's official page, although we couldn't find any model online with said hardwood.
Let me remind you that newer Ibanez S521 models come with a Jatoba neck. Jatoba is an upgrade over rosewood. It's dense and smooth, and it produces rounder and fuller sounds across the fingerboard.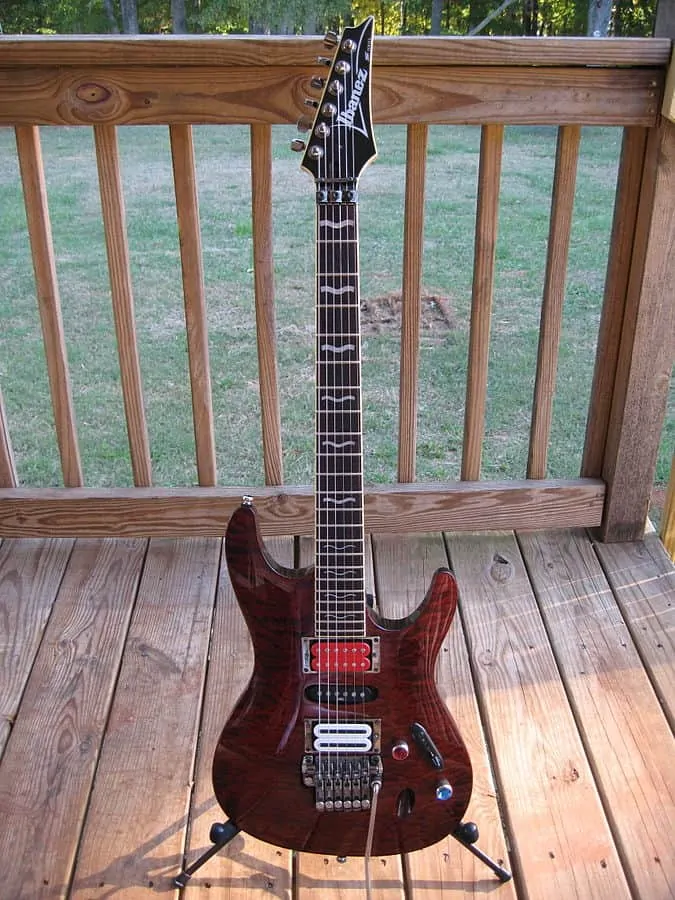 "05IbanezS470" by CantoV CantoV Yousef Abdul-Husain / CC BY 3.0 Ibanez "S" series models sell for mid-prices. They don't have entry-level offerings as much as they don't provide users with "premium" alternatives.
Wizard III Maple neck
One of the core features of the guitar is its proprietary Wizard III Maple neck. The design is thin, fast, and flat. Yet, it's both durable and sturdy.
It's worth noting the S521 is a 25.5″ large-scale guitar with a 43mm nut and a 15.7″ radius. These measures are hand-tailored for rock as they make the neck flatter and slimmer.
Furthermore, the neck has 24 jumbo frets, two full octaves for a complete tonal range.
Finish
Ibanez sells the model in two different finishes. The two options include Blackberry Sunburst, which has shades of red and black. Otherwise, you can grab the guitar on its Ocean Fade Metallic option, a blue option with a white burst finish.
Also, I should note the fretboard comes with the trademark S inlays. That means the fret dots or markets are on the fret's upper side, below the 6th string. That's a handy feature as it may allow you to position yourself on the frets faster.


"Bolt-on superstrat" / GreyCat / CC BY-SA 3.0. The Ibanez S521 comes with a bolt-on neck, a common feature at this price range. You'd see the standard four bolts on the back of the body.
Sound quality
The quality of the guitar's ceramic humbuckers translates into its sound. If I had to define the tone in a few words, I would say "rough" and "aggressive." If I had to center the sound on an era, I would say the '80s hard rock. You get the idea.
Getting into detail, I could say the Ibanez S521 offers a clear, clean, and clinical bright tone.
Without any distortion pedals, there's plenty of information to use. The mids come out powerful, the lows turn out resonant, and the highs are bright and chimney.
Overall, the guitar feels very dynamic. If you add the 5-way tone switch, you're getting one of the most versatile metal and rock guitars a mid-ranged price can muster.
That's not to say you can go and play some jazz, blues, or flamenco with the S521. As I said, we're reviewing a metal guitar. But it can play anything within the rock or metal genre, from Van Halen's music to the craziest progressive metal you can imagine.
Electronics
Ibanez uses their in-house Quantum ceramic high-output humbuckers for the S521 model. These tapers are present on many Ibanez guitars, and they can easily prove their value at almost any price point.
Then, it has two knobs -volume and tone. Seems pretty simple so far, very beginner-friendly. Yet, the 5-way pickup selector switch might scare newcomers away from the guitar for the vast amount of options it gives.
Sitting in-between the two knobs, the pickup selector switch provides the following options:
Position 1 (closer to the neck): only the neck pickup sounds
Position 2: the neck pickup runs in parallel
Position 3 (center): both humbuckers are working
Position 4: the sound comes from the neck's pickup lower coil plus the bridge's humbucker upper coil.
Position 5 (closer to the bridge): only the bridge pickup sounds.
Parallel switching is a wiring circuit that delivers cleaner, softer outputs. In particular, parallel humbuckers can provide the same output on all strings and all frets. Parallel series sound often translates into strong, mid-focused humbucking.
With all of that expression potential, the Ibanez S521 may get a bit complex to use. However, the presence of a single tone and volume knob might make things easier. Swapping the pickup selector switch often delivers a different output and "aggressiveness" levels, and you may need to play with the guitar for a while before you learn how to use them.
The multiple tweaking options bestow the guitar with ample headroom and output for distortions and metal amps.
Feel Quality
When it comes down to playability, the Ibanez S521 delivers effortless metal playing.
Its Wizard III maple neck, slim radius, and jumbo frets give plenty of room for solos and metal riffs. Playing chords -other than power chords- is a bit harder on this guitar. Yet, you can get used to playing rhythm rock and metal guitar with the S521.
Another thing I should note is the overall weight of the guitar. As I said before, It feels both light and balanced from the body to the head, which means the guitar won't tip to either side. At the same time, it makes the guitar feel comfortable when playing standing up.
Hardware
Regarding the hardware, the S521 keeps things practical and straightforward.
On the body, we'll find a fixed bridge with six adjustable saddles. Adjusting the saddles varies the action of the strings. In other words, you can tweak the distances between the strings to the fingerboard to your liking.
Bear in mind that high strings (high action) might make the guitar fret; low-action strings might create buzzing.
Elsewhere, you find a set of die-cast tuners. These are far from extravagant or gorgeous-looking. However, they are rock solid, even when down-tuning the guitar.
Overall, you get accurate tuning and tuning retention, plus the ability to tweak the string's action.
Also, the fixed bridge improves the playing experience with superb sustain.

The guitar's bridge takes care of tuning retention, sustain, and overall string stability.
Downside & Alternatives 
There are no noteworthy complaints about the guitar. Reviewers, users, and Beginner Guitar HQ praise the S521 as a mid-range marvel.
Sure, it doesn't have the best humbuckers ever, or the best locking tuning pegs out there.
Still, I wouldn't even play with the idea of swapping the humbuckers. As these come from Ibanez's laboratories, other tapers don't work very well with the S521.
If you're hard-set on trading the stock pickups, DiMarzo is your best bet. These pickups are not very expensive and feature the modern circuitry that would work with a 5-way pickup selector switch.
However, the potential of the Quantum humbuckers is pretty vast. So, before improving the pickups, consider enhancing your guitar amp and your metal pedal.
For example, using the right amplifier head might sound incredible with the Ibanez S521. I recommend the Brent Hinds tube amplifier head, as it's both easy to use and full-on metal:
As for metal distortion, I'd also go for a straightforward choice. As there are already ample tone choices on the guitar, the single-knob EarthQuaker Devices Acapulco Gold is all you need:
Sale
Now, I don't recommend changing the stock strings either. But when you do, you'd need to choose metal-oriented guitar strings.
Now, there're many guitars at this price range you could also consider, and we've reviewed some of them. The S521 is special, though: it's the sole guitar at this price range that's just perfect as it ships.
Either way, I can link you towards the Schecter Omen 6. It sells for a little less and delivers a similar performance. However, it doesn't have any defining feature as the S521. It's just a solid metal guitar.
If you're thinking about getting something premium instead, your best bet would be the ESP LTD-EC 1000. It's a Deluxe guitar that has features that don't belong at that price range. Bear with me, though, because it's still an expensive instrument…just not as much as it could be.
Sale
Otherwise, the lower you can go on a metal guitar without buying something useless is the Jackson Dinky. It's just a standard Superstrat with easy playability and beginner-level sound.
There's nothing wrong with learning how to play your first solo with a budget electric guitar.
Variety
If you're looking for other guitars of the S series, you can only go up.
I highly recommend the Ibanez S570AH. It features a dual-cutaway Ash body, HSH pickup configuration, and premium hardware. Without setting you back by much, it feels and sounds like a deluxe guitar.
If you're looking for other guitars of the S series, you can only go up.
I highly recommend the Ibanez S570AH. It features a dual-cutaway Ash body, HSH pickup configuration, and premium hardware. Without setting you back by much, it feels and sounds like a deluxe guitar.
Going above that price point is not a good idea as you'd only get the same humbuckers, over and over again. And, by that point, you'd be better off searching for an LTD metal guitar, or even a Fender Mexico Stratocaster.
Ibanez S521 Specs
Design: "S" SuperStrat
Body tonewood: Mahogany
Neck: Wizard III Maple Neck
Fingerboard tonewood: rosewood or Jatoba
Fingerboard radius: 15.7''
Pickups: Quantum neck humbucker (passive / ceramic) / Quantum bridge humbucker (passive / ceramic)
Controls: tone, volume, 5-way pickup selector switch
Tuners: die-cast tuners
Bridge: fixed bridge with six adjustable saddles
You can check the official specs over at Ibanez's official page.

"Ibanez guitar with logo" by dtnyc383 / CC BY-SA 2.0 Ibanez's popularity relies on its mid-priced offerings. Although they have professional options like the Prestige series, their fame in the high-end segment is not very strong.
In summary
Why do I like the Ibanez S521?
The Ibanez S521 is one of the newest additions to the brand's family. Once again, the Japanese maker proves their S line is among the best mid-range electric guitars in the market.
The S521 guitar hits all of the sweats pots. The cherry on top is the Quantum humbuckers, a perfect fit for the advanced 5-way pickup selector switch.
We rarely see so many features at this price range, much less a guitar that accommodates a good construction standard.
Final Say
If you can stretch your budget a bit, the Ibanez S521 is a fine rock and metal guitar. The love it receives is only an obvious result of its performance.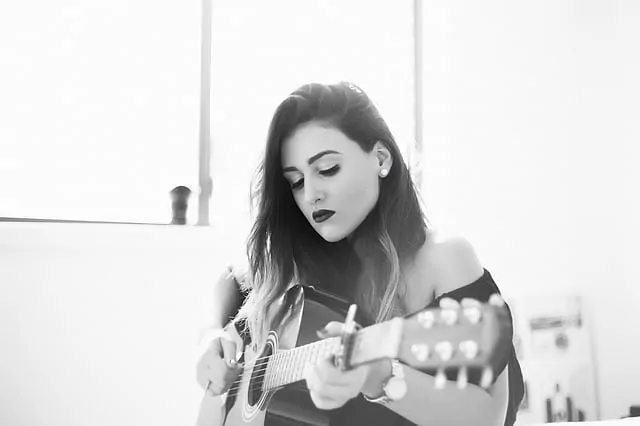 Jen is a guitarist and singer-songwriter who spends much of her time on the road and has lived in 13 cities across 4 continents. She picked up her first guitar at the age of 6 and learned to play by ear shortly after. She received her formal music education at the Berklee College of Music, and currently plays for a few bands in her free time. She has an uncanny ability to improvise creative melodies and harmonies. Her early influences include blues, jazz and rock.