Resonator guitars are not very relevant currently. They are more of a legacy, a testament to the old blues.
Still, there's no other instrument that wails and mourns as much as a resonator guitar. It's a specialized guitar made for blues, bluegrass, delta blues, and country music. They ship in a variety of tunings, bright sounds, and unique soundhole designs.
Suppose these instruments are part of your musician's calling. In that case, we're here to list the top 7 resonator guitars available in the market.
Before we begin, though, we must cover some ground.
Because we're going deep into a niche segment, maybe you should check our guide on the best guitars for each genre.
Otherwise, you can also check our guide on the types of electric guitars.
Maybe you'll find the specific info you're looking for in those guides.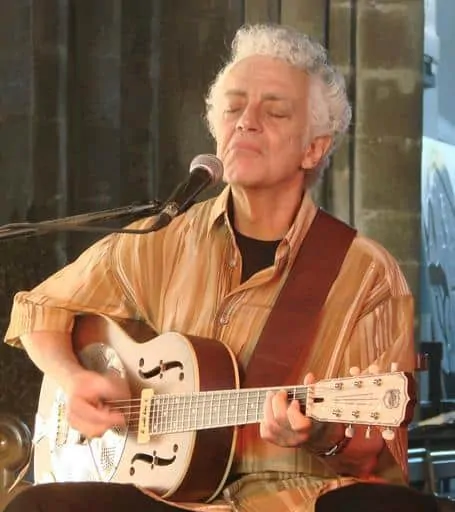 Resonator guitars are synonymous with blues music. 
What are resonator guitars?
Resonator guitars are acoustic guitars capable of producing a stronger natural output.
They produce the sound by guiding the string vibrations through the bridge via spun metal cones. These cones are what we know as "resonators."
So, instead of the acoustic hole, we got a metal cone -or cones- at the center of the body. The cones cover the inside of the body and feature small vents, so the sound comes through.
As the metal cones direct the guitar's resonance, a resonator produces a brighter, louder, and clearer tone than traditional models.
That said, the tonewoods don't heavily influence the sound of the resonator. The defining factor is, instead, the design of the inside's metal cones.
On top of the metal cones, these guitars also have one or two f-shaped holes on the body to increase sound projection.
Hollow and semi-hollow electric guitars feature the same design choice, which means resonator guitars are partially hollow on the inside. Sometimes, instead of the f-shaped vents, they feature honey-comb-like vents or mesh-looking breathing areas.
Guitar luthiers created these guitars around 1927. They were trying to make the guitar louder so it could stand on par with the rest of the band members -percussion, horns, piano, singers, etc.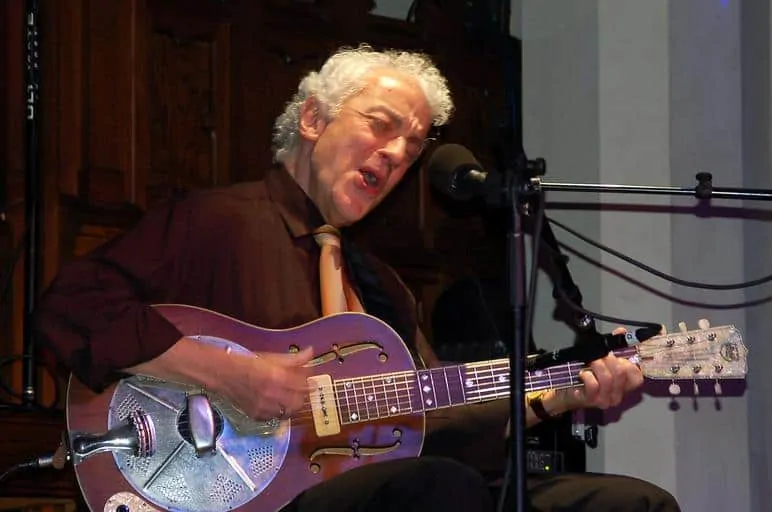 The resonator cones – what you would call "the soundhole- greatly influence the sound of the guitar.
How do resonator guitars sound?
Most people would describe the sound of these models as "nasally," "shrill," or "twangy."
The sound comes almost entirely from the resonator cones. While the materials play a role in the guitar's feel, durability, and look, most designs follow the same construction materials.
Traditionally, a resonator guitar comes with a solid wooden body -like mahogany- and a single resonator cone for a warmer sound. Otherwise, it could have a steel body for a brighter tone.
Also, resonator guitars have more sustain, increased attack, and a brighter mid-range than classical guitars or steel-string guitars.
Play a resonator with a slide, and it may sound as piercing as a banjo.
Here's a video demo:
What are the resonator types?
Resonator guitars are still present in bluegrass and blues music well after electric guitars solved the amplification problems.
That said, their designs remain mostly the same since the very beginning:
Square-necked guitars to play on the lap, sitting
Round-necked guitars to play while standing, just like a conventional guitar.
Like so, there're three common resonator designs:
The tricone has three metal cones. It's also known as National.
The single-cone or "biscuit."
The single inverted-cone alternative, also known as "spider bridge or Dobot.
There're further variations of the three main styles. For example, brands may choose wood, metal, or other materials for the body.
Also, resonator guitars typically have two sound holes on each side of the fingerboard. Single-cone models have circular, f-shaped, or symmetrical holes. However, tricone resonators have irregular soundholes, whereas "spider bridge" guitars may omit the hole altogether.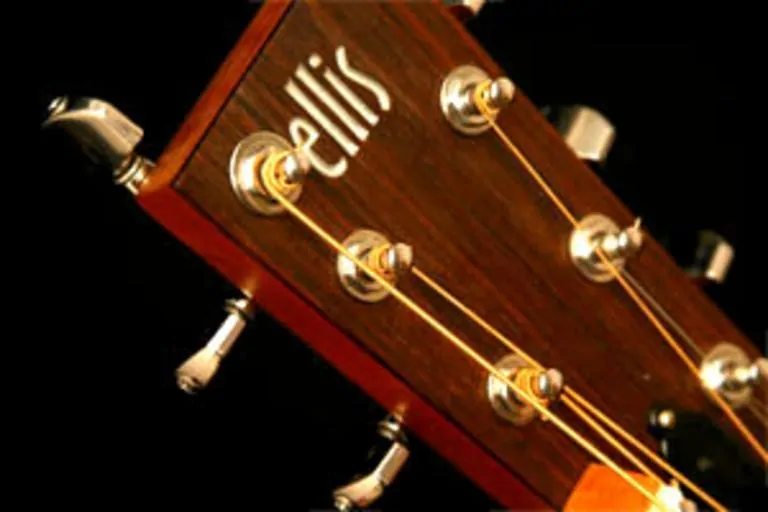 Resonator guitars have 6, 7, or 8 strings, just like their mainstream counterparts. 
Square-neck resonator guitars
Coming from an electric/acoustic background, knowing the difference between these two might be confusing.
A square-neck resonator guitar is held on the lap. The fretboard faces up, and so you need to play it with a slide or a bar. In fact, you can't play these models on the knee, like a Spanish guitar.
These resonators have a chunky and wide neck that's squared off on the edges. It's not comfortable to hold or carry, but it's perfect for the lap.
The nut is then on a higher position compared to guitars, which makes conventional fretting nearly impossible. In other words, the strings are quite separated from the frets.
Therefore, you can only play these guitars with a slide or a bar. Consider the frets as your guide, but don't use them to make a sound.
These resonators are excellent if you know how to use them. You can't merely transition from guitar to a square-neck resonator, though. And because I know it sounds confusing, here's a short demo:
Round-neck resonator guitars
Round-neck resonators are better for electric and acoustic guitar players. These feature a curved neck (C or D-shaped necks) with low-action strings -and frets- as any conventional guitar.
There's not much difference between a classical guitar and a resonator round-neck guitar. You can play these instruments with a pick, with your fingers, or with a slide. Naturally, these instruments are very versatile for blues genres.
You can even turn a round-neck resonator into a square-neck model by placing a nut extender. That's a cheap way to purchase two different instruments.
However, changing the height of the strings is not very easy. If you put too much strain on the neck, it might break or bend. Consider taking the resonator to a luthier if you're taking said measures.
Tricone
The next thing to consider is the metal cones shape, as each has its own tonal characteristics. Albeit brand-to-brand metal cones may sound different, they do share some general features.
For starters, the tricone has three small aluminum cones connected with a T-shaped bridge made of aluminum.
It's the oldest resonator design as it dates back to 1927. Its sound is beautiful, intricate, and with a long sustain and excellent projection.
The downside is its price. Three cones are definitely pricier than a single one.
Spider
Spider-bridge resonator guitars have a single cone facing downwards like a speaker. There's also an eight-legged bridge made of aluminum plugged to the cone. Lastly, the bridge has a saddle at the top.
Spiders offer a nasal tone and plenty of sustain. They are fantastic choices for bluegrass and country music.
I must note that the speaker's shape of its cone projects the sound outwards. Most guitars project the sound into the body.
Here's a video comparing spider vs. biscuit resonators:
Biscuit or single-cone
Finally, biscuit resonators are the simplest models. They use a single cone facing upward. Then, it has a wooden disc -the biscuit- at the top.
Biscuit resonators offer the typical resonator tone but with less quality, projection, and sustain. However, its straightforward tone does come with lots of bite and twang.
As you'd expect, biscuit models are the cheapest ones.
Here's a video showcasing single-cone vs. tricone resonators:
Acoustic-electric resonators
Luthiers created resonators in the 20s for guitar players wanting a louder instrument. That gave them the ability to cut through the mix and become audible during live presentations.
So, in general, resonators are much louder than acoustic guitars. If you're playing unplugged, you won't need electronics to boost the volume of the instruments.
However, if you take it to the stage, you'll still need some kind of amplification. I usually recommend going through a PA system, as the onboard electronics of a resonator are often not the best.
Still, there're some great acoustic-electric models available. These mix piezo pickups with lipstick single-coils, mostly. Even better, you can plug a resonator into an acoustic amplifier or acoustic pedal for extra controls.
Otherwise, acoustic-electric resonators have a preamp control panel. Commonly, you'd get volume, tone, and blend knobs.
If you're a beginner, though, you can forget about the electronics. By experience, I know resonators are currently more of a hobby instrument, as there are not many musicians taking these models to the stage or to the studio.
So, if you're not thinking of these applications either, consider going for a full acoustic model.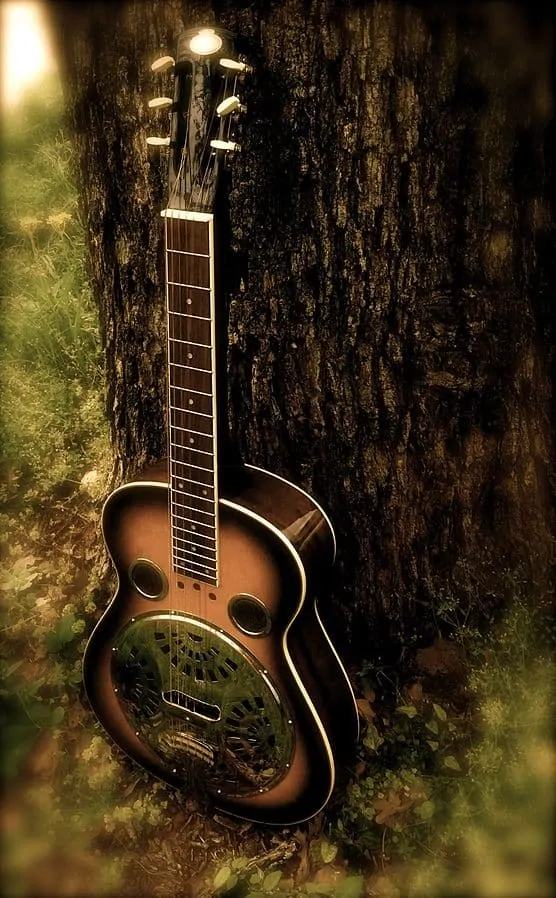 Regal_Resonator_Guitar / Nerdy Guitar / CC BY-SA 3.0 Most resonator gutiars are acoustic, although there are some acoustic-electric models as well. 
The best 10 resonator guitars reviews
Let's cut short on the guide and rely on the reviews from now on. I'm guiding you towards haunting and beautiful metallic-sounding resonators.
Experienced players will be right at home with these instruments. People new to the genre can still pick one of these and learn how to play blues on the genre's best tool.
Our guide reviews the top seven resonators in the market. We covered entry, mid, and professional budgets. We also have the right mix of biscuits, spiders, square-necks, and round-necks.
Lastly, some of the models I listed offer a different design. For example, if you liked the model but wish to see a square-neck variation, there's probably one around.

Our reviews of the best resonator guitars considered budget, cones, materials, sound, and availability. 
If you're here to play some blues, I can guide you to some of our introductory guides on the subject:
Top pick: Gretsch G9210 Boxcar Resonator (Acoustic)
The Boxcar is one of the most popular resonators in the market. Moreover, Gretsch is the most recognized resonator builder available.
A few…decades ago, musicians like Chet Atkins, Bo Diddley, and Eddie Cochran played with brand's models. Some of the users include Pete Townshend, Brian Jones, and George Harrison during more recent years.
The Boxcar carries the legacy of the best round neck resonators in the market. Yet, it's readily available, easy to find, and affordable -if you can manage a mid-level price.
We're looking at a tricone mahogany resonator guitar with mahogany on top, back, and sides. Its gorgeous mahogany aesthetics get even better with two f-shaped holes on the side.
It also has a mahogany neck with a round design, plus a rosewood fingerboard.
With a 25" size, the Boxcar houses 19 frets, although only 12 are easily accessible.
As you would expect, the Boxcat is not a light instrument, but it's manageable. It weighs about 10 pounds, which makes it suited for adult players. Also, it's quite durable.
As for sound, the Boxcat leans for blues, bluegrass, and country. The sound comes from its Amplisonic Spider bridge. The material for the cone is ebony-tipped maple.
Its volume is surprising. The fantastic sound projection comes from its classic "f" holes at the front. Alongside the mahogany tonewood, there's a lot of sustain and power. Moreover, the tone is heavy at the higher end.
As for hardware, we find die-cast Grover machine heads on the headstock. These are top-tier units, also ready to play live.
Then, we find a bone nut set to deliver the perfect action for the round neck model.
Overall, the Boxcat is a great resonator guitar for the price range.
Top pick: Gretsch G9220 Bobtail Resonator (Electro-Acoustic)
The G9220 Bobtail is about delivering the early '20s resonator sound. However, it has electronics to make it ready for the stage.
For its mid-level price point, the G9220 round-neck spider resonator is an excellent deal for musicians looking for vintage twang.
One of the best things about the Bobtail is its retro charm. Even the name suggests a no-frills old-school design.
That said,  it has a non-cutaway small body with a two-color paint job. Its aged body goes further back with its two f-shaped holes plus the Gretsch-granted Pearloid headstock.
It's a full-mahogany resonator with a V-shaped neck, a padauk fretboard, and 19 frets. However, only 12 frets are easily accessible.
I must note it has a 1.75″ nut width, which makes the space between the strings tight but perfect for slide playing. That said, the model does need some setup regarding intonation and action.
There's no problem with the sound, though.Amplified, it has a big, fat, vintage tone that can easily cut through any acoustic music mix. It also has a Fishman pickup system that delivers a natural, consistent sound through the amp. However, there's no preamp, just a volume knob.
Its natural sound is not as blues-inclined as most resonators. It's actually more versatile as it comes out subtle, subdued, and well defined. There's still a hidden growl behind is tenderness, though.
As for hardware, the highlight is its hand-spun Ampli-Sonic spider cone. It's a hand-made gear that comes from Eastern Europe and shows excellent quality.
It also has a Fishman Nashville Resophonic piezoelectric ceramic pickup. It's a piece made specifically for spider resonators. The rest of the hardware is standard for the price.
Overall, the g9220 Bobtail resonator is an excellent choice for vintage guitar players looking for a professional resonator that doesn't break the bank. It's a top value choice.
Best value: Rogue Classic Spider Resonator (Acoustic)
One of the best-seller resonators in the market is also one of the most affordable. Selling for a mid-level price, the Classic Spider round-neck resonator packs so much quality that it quickly becomes the top-value instrument of its kind.
Let's start with its construction. The first thing to notice is its beautiful finish options. In particular, the black&gold color palette looks like it came from Lady Gaga's personal studio.
So, no, it doesn't have a traditional look. Instead, it delivers elegance, a feature that comes across with the cream binding around the body.
As for materials, the Classic Spider uses laminate spruce for the top plus mahogany for the back and sides. Laminate wood pieces are not the best choices for an instrument, but they are sturdier than you'd commonly find on low-end instruments.
The Classic Spider resonator has 21 frets and mother-of-pearl diamond inlays. Overall, the construction is solid, smooth, and durable.
For an affordable resonator, the Spider has a good rounder sound. The tone is sweet, warm, and with plenty of sustain and definition. It goes excellent with country and bluegrass music. Meanwhile, it has an okay projection for a resonator, although not as loud as premium tri-cone models.
The sound comes from a 10.5" spun aluminum cone with a die-cast spider bridge. It also has a chrome-plated brass cover plate and tailpiece.
At the other end of the guitar, you'd find chrome tunes, but they don't hold the tuning very well. Aside from the tuners, though, the hardware is pretty solid for the price.
In conclusion, the Classic Spider is a great value resonator. It's the perfect choice for beginners and intermediate players alike. And it has a good construction for the price that lends itself to upgrades.
Lastly, it offers a warm, excellent sound you could even take to a home recording studio.
Beginner pick: Pyle PGA48BR Resonator (Electro-Acoustic)
Pyle is the go-to brand when looking for value budget resonators. It's not a high-end instrument and lacks premium polish. Yet, it makes up with its price-per-value offer. It even comes with electronics.
The PResophonic is an attractive resonator. It comes with a natural sunburst finish plus ABS binding on the back and the top.
It has a 24.9" full-sized body, a round-neck style, and a spider bridge.
As for materials, Pyle went for laminated spruce at the top, plus laminated mahogany at the back and sides. Moreover, it has a rosewood fretboard with 21 frets.
However, the mass-produced characteristic of the PGA48BR delivers some shady quality standards. It looks nice, but it doesn't shine on craftsmanship, and, most of all, it has some sharp fret edges and loose hardware.
Regarding its sound, it's what a beginner's option should deliver. It's okay for exploring blues, bluegrass, country, and similar styles for low money.
The sound comes from its aluminum resonator cone and spider bridge. Also, it comes with a single piezo pickup plus a 3-band EQ preamp.
On top of that, the PGA48BR comes with a bundle of accessories. Typically, you'd find the resonator shipping with a travel bag, a set of Pearloid plectrums, a string set, a cable, a strap, and a pitch pipe. It's a complete bundle for beginners.
Here's a video on some other budget resonators:
Budget pick: Savannah SR-520-CEBM Resonator (Electro-Acoustic) 
The Swamp Stomper is the best acoustic resonator you can get when searching at the lowest parts of the bucket. Yet, the Swamp Stomper offers a unique twist of the formula.
This instrument merges traditional triolian resophonic instruments with modern electric guitars. The secret sauce delivers a tone that comes straight from Louisiana.
With its 9.5" hand-spun aluminum cone, the biscuit Swamp Stomper round-neck resonator offers a lot of volume and projection.
Furthermore, its construction materials are surprising for the price range. It comes with a mahogany single-cutaway body, a maple single-cone bridge, a mahogany neck, and a rosewood fretboard.
Add to that its vintage cream binding on the body, and you get a gorgeous look for the price. Also, it comes with a black matte finish that pairs perfectly with the blues.
Now, the Swamp Stomper also comes with a single-coil pickup plus volume and tone controls. It doesn't offer a professional tone, and it's not ready for the stage. However, it's defined, twangy, and modern enough for most players to enjoy.
Most unique: Gold-Tone PBS-D Paul Beard Signature Resonator (Acoustic) 
Paul Beard is a respected luthier famous for his guitar models. The Paul Bear Signature Gold Tone Resonator is another example of his exuberant style.
It's a square-neck, spider model that uses an aluminum cone. The tone it gets is rich, harmonious, and powerful.
As for tonewoods, it follows a premium setup: maple body, maple neck, ebony fingerboard, and curly maple on the top, back, and sides. Even the soundhole is made of maple.
It gets even prettier with a Tobacco Sunburst finish. The finish is flawless and impressive. Moreover, it has flowers and hearts designed on its square-neck.
As you would expect from these kinds of models, the action of the strings is high. That is, of course, because you'd want to play the Gold-Tone PBS on your lap. You can still play the PBS standing, though, which makes this model rather unique.
The mix between the fine woods and the spider cone creates a unique wooden/metallic tone ideal for bluegrass slide play.
As for hardware, we find sealed tuners with premium Pearloid buttons on the headstock. These pieces are top-tier, ready to play live without any intonation issues. Furthermore, the resonator arrives on-tune right out of the box.
There's a 2" nut made of bone on the fret, which is a rare material, nonetheless the best one.
The Gold-Tone is a 25" scale instrument with a no cutaway body design. It houses 12 frets if you play standing; or 19 on your lap.
Lastly, PBS is heavy, sturdy, and durable. It follows a classical design, premium construction materials, and a big sound. Oh, and I failed to mention it's a hand-made guitar; therefore, the care and craftsmanship are top-tier.
Best vintage: Danelectro '59 Resonator (Electro-acoustic)
The Danelectro brand has excellent talent in crafting retro guitars. Their models often harness vintage sounds, looks, and stiles.
Their '59 Acoustic-Electric retro resonator is one of such models. It comes from Danelectro's classic '59 electric guitar.
It's a round-neck biscuit model that belongs in the most professional hands. And, because it's an acoustic-electric model, the lack of power from coming from its biscuit design is a non-issue.
Like the '59 guitar, this retro resonator features a double-cutaway Shorthorn body plus a Coke bottle headstock.
It has a 25" scale length on a Masonite body, a cheap but gorgeous-looking solid wood.
Then, the maple neck has a satin finish, 21 frets, and a rosewood fretboard. In short, the neck is slim, comfortable, and easy to play with. It also helps that the guitar is relatively easy to hold.
The acoustic sound is raw, metallic, and quiet. The magic comes after you plug the resonator on an acoustic amp.
Like many other Danelectro and Silvertone basses and guitars, it features custom Lipstick pickups -'56 models. Another custom piezo Schatten bobbin makes the pari, and the result is twangy and perfect for Delta blues, rock & roll, country, jazz, and bluegrass.
The resonator comes together with its diamond cover plate, two oversized knobs -tone and volume-, vintage tuners, and an aluminum nut.
Overall, the Danelectro '59 Acoustic-Electric is a hybrid instrument that mixes resonator design with electric guitar pickup. The result is a win: killer playability, perfect blues tone, and timeless style.
Best looking: Dean Chrome G Resonator (Electro-Acoustic)
The Chrome G is a round neck electro-acoustic resonator that draws infinite attention. It's killer aesthetics do hide some tricks as well.
With its biscuit-bridge resonator, the Chrome G offers a distinct design. For starters, its body is made of chrome. It has a decorative palm tree on top of the body and the headstock to make it even more eccentric.
There're ornate f-holes on the body, which serves to boost projection and enhance aesthetics.
Then, there's gold hardware -like a diamond cover plate, contrasting with the chrome body. It's a stunning contrast with a downside: the slightest dirt looks awful on chrome, even if it is your fingerprints.
The Chrome G resonator has a 24.75" scale with a non-cutaway design. Moreover, it follows a dreadnought guitar body.
With its slick and smooth neck plus its 19 frets, the Chrome G feels like playing standard classical guitar.
Its natural sound sounds metallic and decently loud. Its pickups, though, are just okay. It has a single piezo pickup plus a lipstick single-coil. Truth be told, the stock bobbins feel sub-par for the price, but they do sound twangy and raw.
Still, you can control the sound with three control knobs: volume, tone, and blend. It's a handy feature that gives you enough versatility.
Overall, the Chrome G is a flawed instrument. However, we choose it as one of the best resonators in the market because of its stunning looks. It's a worthy purchase if you consider a few aftermarket pickups.
Premium pick: Recording King RM-991 Resonator (Acoustic)
The RM-991 is what you would get when you're ready to take the instrument to the most professional level. There're more expensive models than this one, sure, but there're not many that are better.
Moreover, Recording King offers a lot of resonator models, most of which are popular and present all over the market.
What we've got here is a premium square-neck tricone resonator.
As for materials, we find Paduak on the 19 frets fingerboard, mahogany on the neck,  a nickel-plated brass body, and a 1.75″ nut.
On the body, it has three 6″ aluminum cones connected by a T-shaped bridge. Then, the bridge has an ebony and wood saddle under a cover plate.
The craftsmanship is perfect. The neck feels soft and smooth, and the body is comfortable to play while sitting.
As for the tones, two of them produce the bass sounds, whereas the other makes the treble. Said combo delivers plenty of volume, definition, warmth, projection, and sustain. However, you'd need to play the strings with strength and expertise to get the best sound out of this guitar. Play with subtlety, and the sound disappears.
That said, the RM-991 is not a cheap option, and it doesn't come with a bag. Still, it sounds significantly better and louder than any other resonator on the list. And it looks the part too.
Most versatile: Dean Thinbody Resonator (Electro-Acoustic)
We're closing the list with another Dean model. Their Thinbody Cutaway resonator is bold, retro, super comfortable, and versatile. It also has a hefty price tag.
The Thinbody resonator is the result of Dean's many years in the industry as a manufacturer of rock-oriented instruments. It has a 24.75" scale, a thin lower cutaway, and a familiar shape: all of the ingredients it needs to appeal to rock and metal guitar players.
The cutaway gives you access to the treble side of the last 6 fets. Other than that, the guitar carries 19 frets on its full-sized body.
As for materials, we're looking at a mahogany neck, rosewood fretboard, block inlays, and iron body. It's slim but a little heavy.
Also, the iron body comes with embossed serene desert island prints. There are even palm-trees and an ocean, beautiful!
Other than materials, the Thin resonator has a single-cone top and a round C-shaped neck. Also, it has two f-shaped holes on the body, and these have a larger size than your typical semi-hollow vents.
The sound part is where this resonator shines. It's easily the most versatile resonator guitar in the market, although I don't know if that's what you need.
It comes fitted with a lipstick single-coil plus a piezoelectric pickup. Both bobbins are custom made by Dean's subsidiary DMT.
Then, there's a blend control to adjust the mix between the two bobbins, giving you a wide range of electric and acoustic tones.
There are also individual volume knobs for each pickup. Plus, all of the knobs are covered in gold and abalone tops.
AS a result, you can go from metallic twangy to raw countryside when playing with the amplifier. Moreover, the sound is defined, smooth, and harmonious. It can sound equally good on slides, fingerplay, picks, hard strumming, or gentle sessions.
On top of the guitar, there's a set of sealed die-cast tuners. Alongside de winged Dean headstock, it gives a great look.
Overall, the Dean Thinbody resonator is an eye-catching instrument with the sound to topple its looks. Moreover, it has sick playability plus a broad palette of sounds.
That said, I think it's the best choice for electric guitar players wanting to try a resonator for the first time. Going from rock to bluegrass could be more comfortable with this item.
In Summary
I hope my guide helped you find the best resonator you can buy. If you have any questions or suggestions, please, leave your comment below!
For all else, the choice is easy: go for the one that fits your style more, just as long as you can find it and afford it. There's nothing wrong with going for cheap today, and better later.
However, you can always do some extra effort and buy a mid-priced resonator like the Boxcar and get professional quality nonetheless.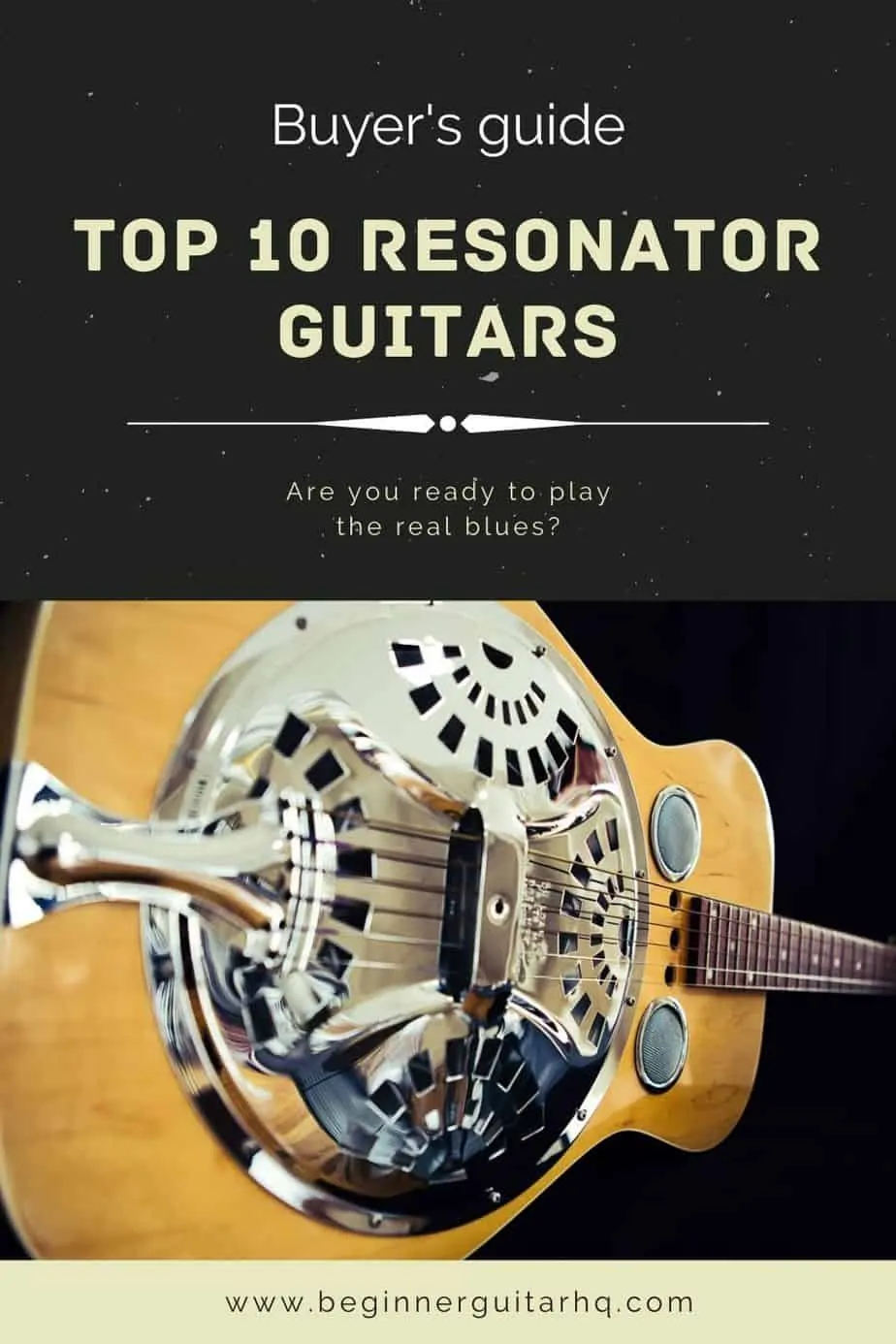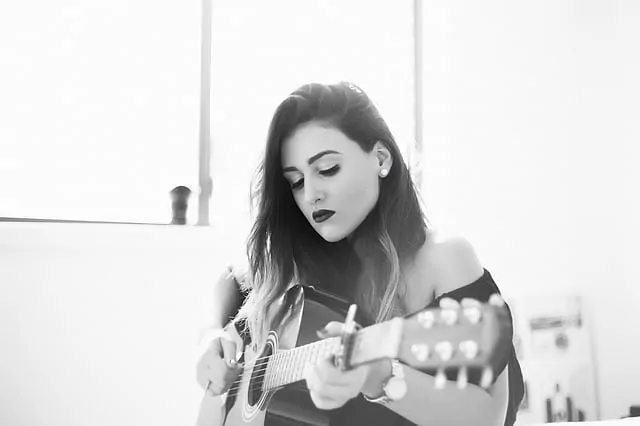 Jen is a guitarist and singer-songwriter who spends much of her time on the road and has lived in 13 cities across 4 continents. She picked up her first guitar at the age of 6 and learned to play by ear shortly after. She received her formal music education at the Berklee College of Music, and currently plays for a few bands in her free time. She has an uncanny ability to improvise creative melodies and harmonies. Her early influences include blues, jazz and rock.