As someone who has had to struggle with complex chord stretches because of short fingers, this article is going to address some tips for other players with the same problem to help you find the best guitar for small hands.
Guitarists with small hands faced challenges in finding quality instruments with smaller dimensions after the 1930s.  Smaller bodied and short scale guitars were common for centuries before World War II, but increasingly larger guitars from Martin and Gibson were needed for maximum volume projection in bigger concert halls, radio broadcast, and in conjunction with ensemble playing.
Thankfully, the last two decades has led to an increase of interest in guitar playing among women and children. Seeing this new market, manufacturers have gone on to build a greater array of choices for guitar players in all musical genres. The popularity of artists like Ed Sheeran and the rebirth of interest in parlor guitars and travel guitars has made this a golden age for guitars that are more amenable to small hands.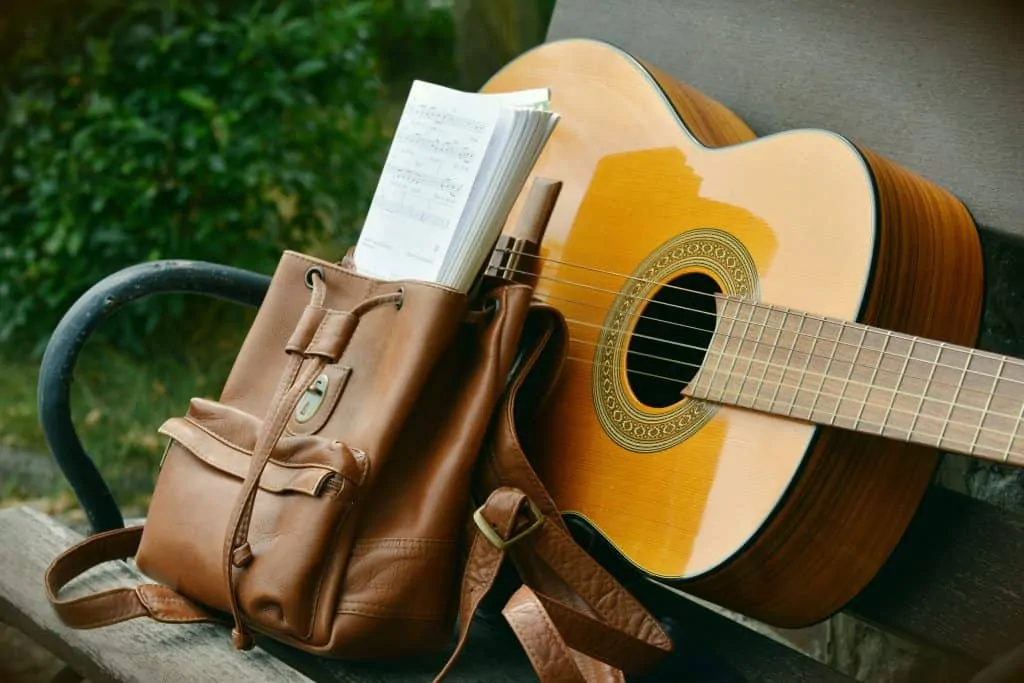 The primary variables in guitar construction of concern to the small handed are: the neck radius (how fat the back of the neck is between your thumb and fingers when held  + relative curve of the fingerboard), the scale length, and the body size.
Neck Radius – for guitarists with smaller hands, a fat neck radius is like gripping a baseball bat. Maybe good for swinging a weapon, but prohibitive for playing music. Vintage Les Pauls and Martin Dreadnaughts can be daunting for one with short fingers. Fender Telecasters often had fat necks but increased fingerboard curve.  Ideally, a somewhat flatter fingerboard radius and thin neck guitar makes for easier playing for those with smaller hands. Guitar players with small hands who want a standard scale but can handle strings that are closer together than standard spacing have another option. A narrow neck guitar with a nut smaller that 1 9/16" will often be a slim neck guitar as well – similar to a tenor guitar. Some models from Ibanez and Hofner have ultra slim necks, very flat radius and narrow string spacing.
Scale Length – this refers to the length of the string from the nut to the bridge and the resultant fingerboard spacing of the frets. Short scale length guitars result in an easier reach between frets for those guitar players with small hands. The tradeoff is softer action and less string tension, which tonally has less snap and more warmth. The 24.75" scale of most Gibson electrics contributes to their generally fatter midrange sound quality vs. the twang of the popular 25.5" Fender electrics.
Body Size – for electric guitars, body sizes can be of almost any configuration, with aesthetics and ergonomics like balance and weight playing important roles. Some shapes of electric guitars can be difficult for those with smaller hands and short arms comfortable to play and reach over when playing, especially on dreadnaughts and jumbo acoustics. However, body size is crucial for the sound of an acoustic guitar, and its design often is dictated by playing style and sound projection needs. With the current state of pickup technology, this is no longer a restriction if playing plugged in, since a small travel guitar can sound huge when amplified.
That said, there is probably the widest range of choices especially designed to be the best electric guitar for small hands.  Here are a few examples:
For those on an unlimited budget:
The Gibson Byrdland – created by 1950s country and jazz guitar ace Hank Garland with Billy Byrd, this 23.5" scale thinline hollow bodied guitar runs easily over $3500 and higher for vintage models. Surprisingly versatile, it is the guitar of choice of rock and roll wildman Ted Nugent, but has also been used by Prince and jazz fusion pioneer John McLaughlin.
Best Guitar For Small Hands (Pro Budgets)
Fender Johnny Marr Jaguar – The original model was a commercial flop due to noise and hardware reliability issues that affected tuning. Former Smiths guitarist Johnny Marr collaborated with Fender to revive this 60's model with upgraded electronics and hardware, making this a joy to play.  It can be heard on all of his solo recordings.
Ernie Ball St. Vincent – designed by alternative art rocker St. Vincent (Annie Clark), the St. Vincent is an ergonomic marvel.  Its art deco shape is surprisingly comfortable to play, especially for women, given it's only 7.5 lbs. The scale length is an astonishingly standard 25.5" but is hardly noticeable, as the neck carve shape and radius is superb for guitar players with small hands. The Firebird mini humbucking pickups shred and purr with equal aplomb.
Fender Mustang – originally Fender's student model, the short scale Mustang became a favorite among diverse players, such as Kurt Cobain, Johnny Winter, Todd Rundgren, and Adrian Belew. Fender has reissued it at various times and it is presently in their 2018 catalog.
The Jaguar, the Mustang, and the St. Vincent are available as imported models from Squier (Fender) and Sterling (Ernie Ball), respectively, for humbler budgets. As far as the best ¾ size electric guitar goes, students and children have a number of choices between Squier, Epiphone and Ibanez, with mini versions of each of their popular Stratocaster, Les Paul and RG models, respectively.
Best Steel String Acoustic Guitar for Small Hands
Next largest menu would be for the best steel string acoustic guitar for small hands. Superstar singer songwriter Ed Sheeran has entertained stadiums playing his Martin LX-1E signature model, and is responsible for popularizing the travel sized acoustic guitar worldwide.  All of the major brands, such as Martin, Taylor, Guild, Yamaha, Breedlove, and others now include a Junior or travel sized model in their catalogs, which are less expensive than the full size version. Most of them are bright in the higher midrange and not surprisingly weaker in the bass, although this can be altered with EQ when plugged in.
Martin – with its 185th anniversary in 2018, Martin is America's oldest existing guitar manufacturer. Many Martin vintage models have been used on countless recordings and even been showcased at the Metropolitan Museum of Art in NYC. They have a selection of ¾ sized Little Martin models at different price points, from the Sheeran signature down to their first travel model, the Backpacker.
Taylor – Taylor offers their ¾ sized Baby Taylors (dreadnaught shape), and GS mini (grand symphony shape) in different tonewoods and with electronics. They also make a GS mini bass. The ⅞ sized Big Baby is for small handed players that seek the sound quality of a full size dreadnaught but may have difficulty reaching comfortably over the wider lower bout.
Yamaha – Yamaha's FG Jr. is probably one of the most affordable quality ¾ sized acoustic guitars on the market. Made from laminated spruce and meranti, it offers decent sound and playability for child students and adults with smaller hands who want inexpensive and durable acoustic guitars for small hands for the beach or camping trips.
Sale
Given the need for longer strings to reproduce low notes (there's a reason for the shape of a grand piano), there are somewhat fewer options for the bass guitar for the small hands.  The standard Fender bass guitar has a scale of 34". However, some famous models from the classic rock era are still available at 30" scale, ideal for small handed players.
Hofner 500-1 Violin "Beatle" Bass – popularized by Paul McCartney with the Beatles, the Hofner Violin bass is probably the most well known non Fender shaped bass in the world.
Epiphone EB-3 – most notably associated with Jack Bruce and Cream, the EB-3 is a 30.5" scaled bass shaped like their SG guitar. It's tonally sought for its "mudbucker oomph" compared to the articulation of a Fender bass.
Another classic from the 1960s is the semi hollow Guild Starfire bass. Combining the warm woodiness of an upright bass with electronics for playing rock, the Starfire was responsible for the driving bass sounds of Jack Casady with the Jefferson Airplane, Phil Lesh with the Grateful Dead, and Chris Hillman of the Byrds, whose signature model has been reissued by Guild.
¾ sized basses can also be found. For example, Ibanez offers their Mikro Bass model, and then there is the aforementioned Taylor GS mini bass.
Best Classical Guitar for Small Hands
Ironically, the classical guitar, which is the oldest model, is a standardized design. Therefore,  the choices for the best classical guitar for small hands are rarely outside of the ½ size, ¾ size and ⅞ size configuration.  As classical guitar is often taught in schools, the market for classical guitars for small hands in each of these sizes is large enough to warrant offerings from most mass market manufacturers.
Cordoba – specializing in nylon string classical and flamenco guitars, Cordoba has top notch offerings for children and small handed adults with choices of laminated or solid tonewoods and also have models with electronics installed for amplified playing.
Yamaha – Yamaha has a footprint in practically every music instrument and equipment market category. They make pianos for Elton John, basses for John Patitucci, rack mounted digital delay processing units for U2, and classical guitars, ranging from student  to world concert hall quality models. With a long history in the acoustic guitar market, Yamaha has built an outstanding value reputation.
Ibanez – as Japan's biggest guitar brand rival to US companies in the electric guitar market, Ibanez has established a reputation for steel string and classical acoustics as well. They also offer nylon string models for small hands by utilizing easier to play electric guitar style necks and string spacing. For traditional players, Ibanez carries ½ and ¾ sized models.
As we are in a golden age for guitars made for small handed players, you should check to see what new and innovative offerings may be available not cited here from other brands.  With all of the latest choices, there is no longer a need to compromise on personal preferences for woods, electronics or aesthetics solely due to lack of options.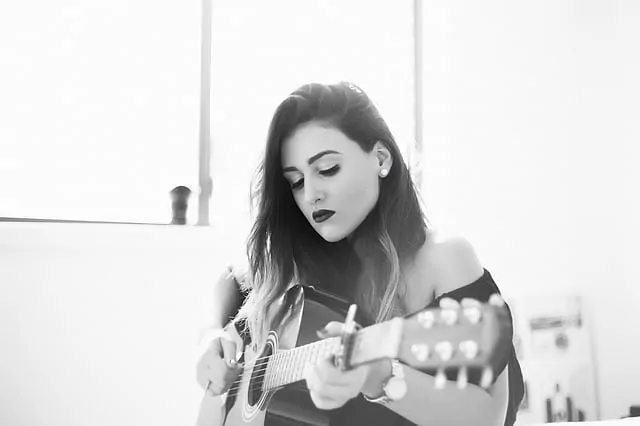 Jen is a guitarist and singer-songwriter who spends much of her time on the road and has lived in 13 cities across 4 continents. She picked up her first guitar at the age of 6 and learned to play by ear shortly after. She received her formal music education at the Berklee College of Music, and currently plays for a few bands in her free time. She has an uncanny ability to improvise creative melodies and harmonies. Her early influences include blues, jazz and rock.