When you're feeling amped, you want the music to match. There's nothing like having that smile on your face and doing a happy dance to happy music. Or bobbing your head. Whatever. You just feel good, and the music keeps it going. If you're down in the dumps, putting on feel good music might be the last thing you want to play. While there's a time to feel down and mope, goodness knows I can throw a great pity party, you can't stay there forever. Cue the happy music!
Here are some of the best feel good songs in various genres along with tabs and chords so you can jam along.
The Best Feel Good Songs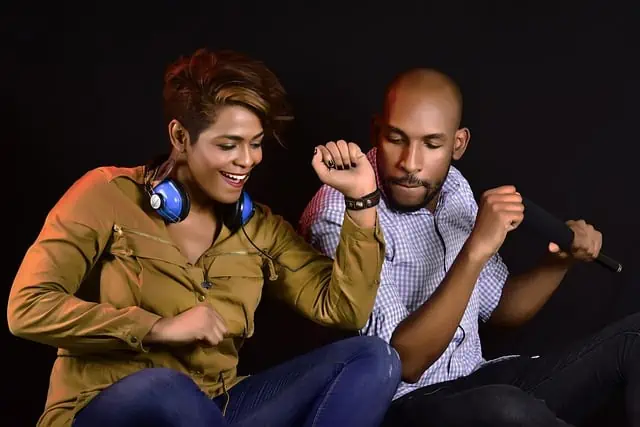 This is by no means an exhaustive list, but there are plenty here to build your playlist with. These songs span many genres, so there's something for everyone. If you're like me and enjoy a bunch of different genres when you're in a good mood, you'll have a great playlist.
Don't Stop Me Now- Queen
This is one of my favorites. Queen is an iconic band and for those into their music, this is one of the best feel good songs to play. It speaks of being on a high, hopefully naturally, and not letting anyone drag your mood down. All you want to do is have a good time and be free to enjoy it and have others around you join in.
Here are the tabs.
Here are the chords.
Play it fingerstyle.
Happy- Pharrell Williams
This song may seem like a cliché, but it doesn't change the fact that it's a good song to play when you're, well, happy. It's especially good if you like clapping along to songs, it tells you to do just that in the chorus. This song speaks about being so happy that nothing can bring you down. Bad news can come, stress can come, but you're so happy, it's like water off the proverbial duck's back.
Here are the tabs.
Here are the chords.
Best Day of My Life- American Authors
Are you having the best day of your life? Sing about it! This song is about having a dream and an epiphany that today is going to be the best day of your life. When you're having an amazing dream, you don't want to wake up. But things can be amazing in real life too. Sometimes it's as simple as deciding that today is going to be the best day of your life. After all, attitude is largely what determines whether you're happy or not. Why not wake up and decide that every day is going to be the best day of your life, even if it's mundane.
Here are the tabs.
Here are the chords.
Here With Me- d4vd
Despite being released as recently as 2022, this song has a very nostalgic feel. While the music at times has a minor feel to it, or even discordant feel, it mainly has this lazy mellow feel full of memories. It speaks of memories, mostly happy, that you have with someone you love. Be it a friend, family member, or partner. It has the promise of happy memories to come as well as those gone by. "As long as I'm with you, I've got a smile on my face."
Here are the tabs.
Here are the chords.
Mr. Saxobeat- Alexandra Stan
This is a groovy song and if you're in the mood to dance, and sing about it, well hey. The saxophone in the beginning is fun and while it may be harder to really jam this on the guitar, you can make it your own. Play that riff on the guitar. It's simple, but if you're feeling it and grooving along, it's all good.
Here are the tabs.
Here are the chords.
More Than a Feeling- Hit the Lights
Boston did the original, and I love that version. But I seriously love the Hit the Lights version. True, this song is talking about missing someone you broke up with, but it also talks about putting on some good music, drifting away, dreaming of happy times. On good speakers, this song sounds amazing.
Here are the Boston version's tabs.
Here are the Boston version's chords.
Feeling Good- Michael Bublé
If you're into more mellow, jazzier songs when you're feeling good, pun intended, here you go. This song speaks about when you feel like it's a new day and life is good and full of possibilities. For people who love nature, this song is full of comparing feelings to nature. It's got that classic feel that makes you swag around the room or get all dramatic and theatrical. Channel your inner James Bond.
Here are the tabs.
Here are the chords.
Amazing- Rex Orange County
That feeling when you meet someone and fall for them, that's what this song is about. Telling that person that they're amazing and how you can't ignore them. It's a mellow groovy song that fits that happy loved up feeling that makes you feel like you're drifting on a happy cloud.
This song is so new that there aren't tabs yet. It's a good time to practice working out tabs by ear.
Here are the chords.
Feel Invincible- Skillet
Everyone has struggles in life, and sometimes those struggles are people. But rising above that, conquering those problems, can leave you feeling invincible. If you're feeling beat down and you need a pick me up, and need to feel stronger, here you go. This is a song for those who like it a little heavier. It speaks of someone supporting you and making you feel invincible.
Here are the tabs.
Here are the chords.
Flashlight- Parliament
If you're into funk, this song is a fun one. Need the funk? Sing about it. This song will have you shaking your booty, bopping your head and swinging your hips from side to side. The funk will find you. It's a great song when you're having a good time.
Here are the chords and tabs.
Good Golly Miss Molly- Little Richard
I love me some good ol' rock 'n roll. If you do too, this one is a classic that will have you dancing a jig. Who doesn't like to jam a good 12 bar blues type song? While the piano really shines in this one, you can have plenty of fun on the guitar too. This song speaks of a girl who likes to party, and you want to marry her. Even if that doesn't apply to you, it's still a good song.
Here are the tabs to the Credence Clearwater Revival version.
Here are the chords to the Little Richard version.
Shake It Off- Taylor Swift
People saying negative things about you, shake it off! That's what this song is about. That, and carrying on. And you can't help but to shake it to this song, or at least tap your foot.
Here are the tabs.
Here are the chords.
One Love- Bob Marley and the Wailers
When you listen to the words of the verses, this song may sound like a sad one. After all it's a prayer for mankind with all its problems and sins and an appeal to people to come together. But the chorus says, "Let's get together and feel alright." One love, one heart, isn't unity and goodness and kindness what most of us want? Along with that bopping reggae rhythm, this song is certainly a feel good one.
Here are the tabs.
Here are the chords.
On Top of the World- Imagine Dragons
Have you finally achieved that goal? It may have been long years of study or working your way up, or getting first place in a match or exhibition. Whatever it is, you've worked hard and now you feel on top of the world. That's what this song is about, that and making the most of the time you have on earth for not only your dreams, but the people in your life.
Here are the tabs.
Here are the chords.
Don't Rain On My Parade- Barbara Streisand
This is another song essentially saying suck it to people who want to bring you down. For those who like theatrical music, here you go. This one is a classic and totally deserves a place on this list. Bring out your inner diva and be happy.
I wasn't able to find tabs, and to be fair, it would have been quite an undertaking to arrange it for guitar. Maybe you'll be the one to do it?
Here are the chords.
I'm Gay- Bowling for Soup
While I'm not one to post songs with profanity, this song is just too good. And with the way the world is going, who knows how people will take it. But if you take it for the spirit it's meant in, you'll find a very funny song. Basically, it's telling people who are sad and angry and who want to make others feel that way too, not to hate you for being happy. Be proud, and say, I'm gay, as in happy. It puts a smile on my face every time.
Here are the tabs.
Here are the chords.
Bubbly- Colbie Caillat
For those who want to feel good in slower, calmer way, this song will do just that. It speaks of that tingly, bubbly feeling you get when you're cuddling with the one you love. You can just be, happy, comfortable, the world going on outside, but inside, you're cozy, warm, and loved.
Here are the tabs.
Here are the chords.
Good Vibrations- The Beach Boys
Another song about how good that girl makes you feel when she's near, this is a fun one. Released in the 60s, this vintage track has that toe tapping, finger snapping, body moving vibe. Even if you aren't in love, you can enjoy this one, just for how upbeat it sounds.
Here are the tabs.
Here are the chords.
All Star- Smashmouth
This song is about enjoying the journey of life and doing it your own way rather than society's rules. It's also encouraging and motivating, which guitarist doesn't like getting called a rockstar… well, those not into rock I guess. All star then? For sure.
Here are the tabs.
Here are the chords.
I'm A Believer- The Monkees
Whether you like the Shrek version (Weezer), or the original by The Monkees, this song is definitely one that gets you smiling and moving. It's about not believing in love, feeling it's not meant for you, but then you see her, and now you're a believer.
Here are the tabs.
Here are the chords.
Odds Are- Bare Naked Ladies
If you're a little paranoid and need to know everything's going to be okay and boost your mood to happy levels at the same time, this one is for you. Odds Are goes through the various likelihoods of bad things happening being very small compared to the odds that we're going to be alright. It even says that the odds are far greater that someone will fall in love by the end of the song. Nothing like an upbeat song telling you that you're going to be alright to put your mind at ease.
I couldn't find the tabs to this song, but this is such a fun song to strum anyway. The chords will do you just fine.
Here are the chords.
Defying Gravity- Idina Menzel
Another one for the theater buffs, this one is about no one bringing you down. You've changed in a good way, you're going to reach your potential. You're going to try defying gravity.
There are so many versions of this song, all are good. The tabs from Idina Menzel's version are restricted. But here are:
The tabs from the Kerry Ellis version if you want to rock out.
The chords from the Glee version.
Let's Go Crazy- Prince
We know that we're going to die one day. It's something we all need to make peace with. But you're alive right now, so enjoy your life. Go crazy, go nuts! In a good way. That's what this song is about. This funky song will get you moving and having fun!
Here are the tabs.
Here are the chords.
Celebration- Kool & The Gang
This song is about celebrating good times. Have parties, laugh, have fun, and celebrate. It also has its attempt at uniting the world in celebrating the good times too. Things would be better if we stop fighting and just have a good time together.
Here are the tabs.
Here are the chords.
What A Wonderful World- Luis Armstrong
For those who want a calmer feel good song, here's What A Wonderful World. It takes a look at all that is good and beautiful in this world and celebrates them in a calm, quiet way. When you're having a bad day, just look around you. The world is full of beauty and things to be thankful for.
Here are the tabs.
Here are the chords.
Forever- Chris Brown
This song is talking about dancing and having fun with your girl on the dance floor. It also refers to breaking the rules and going all out for just that night with said girl. And, it even throws in a line about showing off dance moves. It's a fun song that gets me dancing every time.
Here are the tabs.
Here are the chords.
Unbreakable- Fireflight
Another one for those who like it a little heavier. Whether you're religious or not, you can appreciate the meaning of this song. Not letting fear rule you. You can dream, live your life, reach your potential, no one can stop you. This song always gives me my fight back when I've been throwing a massive pity party.
Here are the tabs.
Here are the chords for the acoustic version.
Shake Your Booty- KC and the Sunshine Band
Do you want to shake your booty? Well, this song is all about that. Literally. "Shake, shake, shake, shake your booty." Most of the lyrics involve the word shake. And it's a song full of that disco goodness, so you know it's not hard to comply.
I wasn't able to find tabs, but:
Here are the chords.
Tubthumping- Chumbawamba
This song is one of those guilty pleasure type songs. But still, if you need a pick me up or just want to have a good time, this is a good song for that. "I get knocked down, but I get up again, you are never going to keep me down." This is the gist of the song. While I never promote getting drunk (the guy in the song drinks many drinks), if you are legal to drink, enjoying a drink and singing songs about the better times is a nice way to pass time.
Here are the tabs.
Here are the chords.
Here Comes The Sun- The Beatles
For when you're in a good mood, but feel a little calmer, here's a classic. Taken literally, the song is about the sun coming out after a long winter. That in my book is enough cause for celebration. But, winter could be any rough time you've had. As you come out of that time into a better season of life, the sun is out.
Here are the tabs.
Here are the chords.
Girls Just Wanna Have Fun- Cyndi Lauper
As a girl, I know this to be true. We just want to have fun when the working day is done. Whether your idea of fun is chilling or dancing or listening to this song, you deserve to have fun after working or studying hard. That doesn't just go for girls, but for everyone.
Here are the tabs.
Here are the chords.
The Light- Disturbed
I love this song. When you're feeling down or your hope is gone, put this song on. It doesn't ignore that life has a lot of things that can bring us down. But it sings of hope and of good coming out of the bad. It's a truly encouraging song that always makes me feel better. If you like heavier music (although this song is one of their tamer songs), it should uplift you too.
Here are the tabs.
Here are the chords.
A Simple Song- The Shins
A song about love, this song is sure to warm your heart and get you swaying, or at least make you tap a foot. The lyrics speak of destiny in a way, but mostly of sharing love with someone and the joy that it brings. A simple song it may be, but it speaks of something that can be complex, but so worth it when you find the right person.
Here are the tabs.
Here are the chords.
Soak Up The Sun- Sheryl Crow
You may have a crummy job and things are expensive. But hey, the sun is free, so soak it up. This catchy tune speaks about just that and telling everyone to lighten up. Life's serious enough, so enjoy what you can. And unless there's a crazy heat wave, you can bet I'm smiling while the sun is shining!
Here are the tabs.
Here are the chords.
Singin' In The Rain- Gene Kelly
For those who love old films, this is a classic. It might be raining, the clouds are dark, people are scattering, but you're happy, you have the sun in your heart. It could be because of love, but we've all been so happy about something that going out in the rain was a wonderful thing. Whether you like the original or the Glee version, or any other version, it's a fun song.
Here are the tabs.
Here are the chords.
Rise- State of Mine
If victory is imminent, or you've just achieved it, this song fits so well. No matter if people tell you that you can't, people don't believe in you, you'll rise. Whether it's change, reaching a goal, or winning that competition, you've got this.
I couldn't find the tabs, why not make tabbing this out your goal?
Here are the chords.
Breakaway- Kelly Clarkson
If you're still dreaming of where you want to be or looking forward to the exciting journey that is life, this song is the perfect accompaniment. You can sway along as you sing with gusto. It's not exactly an upbeat song, but if you let your inner diva out, you'll find this song as uplifting as an upbeat song.
Here are the tabs.
Here are the chords.
Fight Song- Rachel Platten
If you've been dancing to someone else's tune instead of living the life you're meant to, here's your fight song. It's about taking back your life, feeling alright, and it doesn't matter if no one else believes in you. You can do this!
Here are the tabs.
Here are the chords.
Shut Up and Dance- Walk the Moon
This feel good song has a catchy beat that will make you do just that, shut up and dance. R sing along very loudly, it could go either way really. It's a song about destiny, meeting that girl and feeling like you were born to be together. That and dancing the night away with them as the music takes over.
Here are the tabs.
Here are the chords.
Dynamite- BTS
Something for the K-pop fans. Feeling like dynamite? Just dance, have fun. Be the life of the party and enjoy life. Help others do the same. What could put you in a better mood than that. Unless you're a wallflower. If you're a little shy, let go and just have fun. Otherwise, there is no shame in dancing and singing to this in your room by yourself. Have at it!
Here are the tabs.
Here are the chords.
We Built This City- Starship a.k.a Jefferson Starship
This song has been put onto the list of the worst songs more than once. But I don't care. I sing along every time I hear it. File it under guilty pleasure songs if you have to. While the lyrics are likely about live performance going down, we can all be grateful that that isn't quite the case. We can celebrate that fact and enjoy this song. It's not for everyone, but I love that classic 80s sound.
Here are the tabs.
Here are the chords.
Watermelon Sugar- Harry Styles
This song sounds delicious! But it's really about that feeling when you're into someone. It's catchy and fun with tasty summery imagery. It's bound to put you in a good mood.
Here are the tabs.
Here are the chords.
Beautiful Day- U2
If you need a song to help you focus on what's good in life, here you go. Not only does this song have a nice vibe to it, but the lyrics really show how even when you feel stuck or things are tough, there are beautiful things all around us. Even when you've experienced your worst day, you can generally find that if you look around, you can indeed say, it's a beautiful day.
Here are the chords and tabs.
Three Little Birds- Bob Marley & the Wailers
"Don't worry about a thing, because every little thing is gonna be alright". This is the basic premise of this song. The three little birds come in when the lyrics describe those mornings when the sun rises and the birds sing. It's beautiful, even us night owls can admit that. And yes, everything is going to be alright.
Here are the tabs.
Here are the chords.
Firework- Katy Perry
If you're feeling down about yourself, it's time to put this song on. You have so much potential and who you are is awesome. Often the people around you can see it, it's just you that's blind to that. But, "Baby, you're a firework"! So unleash all that is you. Believe in yourself and let your colors burst.
Here are the tabs.
Here are the chords.
Put Your Records On- Corinne Bailey Rae
This song is directed at girls. But, everyone can appreciate the sentiment. We try so hard in life, we have to deal with change (good and bad), we make mistakes, we get stressed. But come on, let your hair down. Listen to your favorite song and just relax.
Here are the tabs.
Here are the chords.
Party in the USA- Miley Cyrus
We've all been there. You go somewhere and you don't quite fit in, you don't know anyone, and you're awkward as all heck. But what can bind everyone together instantly, is music. Before you know it, if you're lucky, music comes on and you're all into it and just having a good time. If this hasn't happened to you yet, the part where your favorite song comes on and everyone loves it and you all party… well, nothing wrong with it happening in your imagination.
Here are the tabs.
Here are the chords.
Let's Hear It For The Boy- Deniece Williams
Finally, one about being in love with a guy. He's not perfect, maybe he doesn't dress well and he sings out of key, but he makes your heart skip a beat. You feel all warm and fuzzy. That's what this song is about. Celebrating this guy you're in love with. Also, you won't struggle to dance to this one.
Here are the tabs.
Here are the chords.
Dog Days Are Over- Florence + The Machine
As soon as a season of horrible things ends, this is the song to sing. I don't know what they have against dogs, I'm a cat person and even I think dogs are pretty awesome. But hey, the terrible days are over. It's time for happiness. You can't really stop the happiness either. It just comes for you. Best to just enjoy it.
Here are the tabs.
Here are the chords.
Would You Be Happier- The Corrs
This upbeat song speaks of thinking you'll be happier only once certain conditions are met, but the reality being that you're going to be just fine, so don't worry. We can all relate to this song at some point in our lives. We feel it's too late, or we've made mistakes, and there are a thousand if only's. But when it comes down to it, we're going to be just fine.
Here are the tabs.
Here are the chords.
Life Is Beautiful- Sixx:AM
There is a lot going on in the world, it's true. But if you take your eyes off all the ugly, and look around, you'll see the beauty in life. And all that ugly, well, there's nothing like the bad times and struggles to make you realize when you have it good in the beautiful moments. This is the theme of this song.
Here are the tabs.
Here are the chords.
Burn- Ellie Goulding
This song is basically about having a good time and burning bright. Sure, you can take it to mean you're going to light it up and party so hard that no one can put it out. But you can also take it metaphorically to be that we as humans burn bright, we can accomplish amazing things, and so many of us are passionate. So much so, that nothing can put out the fire that's burning within us.
Here are the tabs and chords.
We are the Brave- Veridia
You may have a friend stabbing you in the back. You may have trials that feel like a storm and you're swaying like a tree in a gale. But you won't break. You are the brave. So stand strong. Reach out to those who truly love and support you. Together you can make it, and together, you are all the brave. How can you not feel good about that!
Here are the tabs.
Here are the chords.
One Less Day (Dying Young)- Rob Thomas
This one will probably be more for those who are getting to the age or have even passed the age, that as teenagers, they thought of as old. It can be scary, responsibilities ramp up and adulting is hard. You might not know who you are in this new season of your life and have to find yourself all over again. But every day that you wake up is a blessing.
If you've had friends or family go at a young age, you know that life is crazy. But, each day you go to bed, is a day you survived. So don't be afraid of getting older. You're one less day from dying young as the song says. Celebrate that fact!
I couldn't find the tabs, but here are the chords.
Carry On My Wayward Son- Kansas
Life can be full of searching. For answers, for God, for purpose, for happiness, the list goes on. We all have that thing we search for at some point. But know that in the end it will work out. You can rise above the noise and confusion and just take a moment to breathe. Those who seek, will find as the saying goes. And things have a way of working themselves out provided you at least make one or two good decisions along the way.
Here are the tabs.
Here are the chords.
There She Goes- The La's
This song describes what being in love is like. She's racing through your brain, she's running through your veins, it feels like only she can take away your pain. Even if you're not in love with a woman, or aren't in love at all, this song is still fun to sing along to, jam, and/or dance to!
Here are the tabs.
Here are the chords.
Conclusion
So, it's quite a stretch to say I covered all the genres of the world. For example, there's no death metal… which unless you're really into it, just doesn't sound happy. But there is something that everyone can appreciate on this list. Whether you only pick a few to add to your playlist, or you take them all, have a great day! And happy jamming!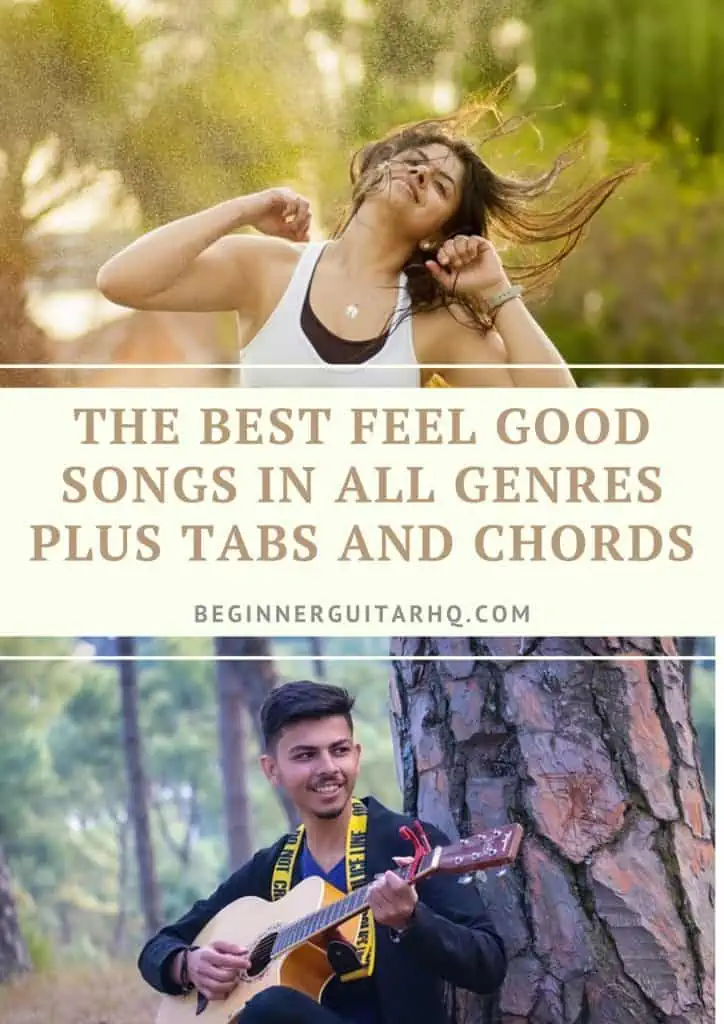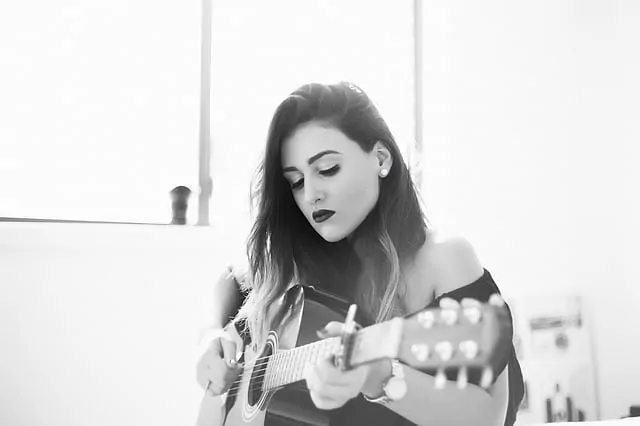 Jen is a guitarist and singer-songwriter who spends much of her time on the road and has lived in 13 cities across 4 continents. She picked up her first guitar at the age of 6 and learned to play by ear shortly after. She received her formal music education at the Berklee College of Music, and currently plays for a few bands in her free time. She has an uncanny ability to improvise creative melodies and harmonies. Her early influences include blues, jazz and rock.