The D'Addario NS is our pick for the best guitar tuner, which is a clip-on type and has a visual metronome feature as well. It can be used for various instruments as well.
Our step-up pick is the Snark SN-8 and it provides super tight tuning capabilities and has a good pitch calibration method.
The budget pick is the MIBOW Clip-on and this one can have different tuning modes, can support different instruments and is easy to use.
A Little Background
A guitar tuner is a kind of device that depends upon your strings. The purpose of the tuner is to tune your strings accordingly. The device is connected to your guitar so that it will detect the current tune or keys of your guitar so that you will be able to make adjustments to it as precisely as possible.
It is always unpleasant to hear an off tune guitar, so you should make it a habit to tune your instrument before every performance or even practice. Many musicians, both seasoned and intermediate, will irk at the sound of an off tune instrument. Consider always tuning your guitar to avoid embarrassment on stage. Even the most trained ears cannot hope to easily convert/tune their strings during a very loud concert or in a venue with so much background noise.
Tuning your guitar as quickly as possible is important because it will help save up on setup time. This applies not just to battle of the bands but also for playing live in general. Too long a setup time will get the audience bored eventually.
The standard tuning of a guitar is E A D G B E. There are also different tunings, such as Drop D, but that is mostly used by hardcore genres. Beginners are recommended to start with the standard tuning with their instrument before they can move on to other tunings. This is because some of them lack the middle string, which can sound less thicker, but are okay when considering power chord genres.
How we Picked
In choosing the best guitar tuner, you need to consider the following factors:
Ease of navigation and controls: the controls of the tuning device should be simple enough so that you can quickly set up that out of tune guitar lying on the corner right before your turn on the stage. Navigation and the screen brightness and clarity is important because you will find it easier to see in the dark with brighter text and lights.
Durability: consider a durable housing and body material so that it will not compromise your performance and can possibly last many gigs as much as possible. This is a must-have feature if you are a traveling or touring musician, or your band mates and fellow bands just cannot be trusted.
Tuning ability: the ability to tune precisely is what makes it stand out. You should test it out at home first or in a studio if ever, or in a real venue, so that your guitar will really have the right tuning.
Style: the style can vary depending on whether it is a clamp on type of device or one that is made for a gadget circuit such as a pedal board. Clip on ones are much easier to use because they are convenient, but some may also want something that can be a pedal effect as well.
Other instruments: some of these devices can also tune other stringed instruments, such as mandolins, banjos, violins and many more.
Other effects: other effects that it may have or purpose it may give you is probably as a metronome, so you can have a tuner and a metronome in just one effect pedal or clip on device.
Our Pick
As our top pick the D'Addario NS is a precise and quality clip-on style tuning device which also has a visual metronome. The ratchet mechanism can be adjusted as needed. It has a reversible screen so you can definitely use it in any way that you want without having to turn it constantly. The discrete design also adds to its value.
Flaws but Not Dealbrakers
The only con but not a deal breaker with the D'Addario NS is that it might not work well with bass guitars, but that may depend on the type of guitar you have, so you should test it first.
Step-up Pick
The Snark SN-8 is our step-up pick, which has an easy to read display, a metronome for tempo and an easy to use pitch calibration method. It gives a tight tuning so you can definitely count on it for recording and for live performances. It also rotates up to 360 degrees for effortless playing and tuning for your instrument. There is also a tap tempo feature.
Budget Pick
The MIBOW Clip-on is our budget pick, which you can use for a variety of instruments. It can be used with a 360-degree rotation and has an automatic off for power saving. It also comes with a pack of guitar picks made of celluloid as a bonus. You can use it with less experience due to the intuitive LCD screen and the clip-on design.
Best Guitar Tuner for Professional Use
The NEUMA Professional has a clear LCD screen and it is very easy to pitch. It can be used for a wide variety of instruments as well, such as a mandolin, banjo, violin, ukulele or bass. It has an automatic A4 tuning setting and it has a colorful screen. It is backed by 18 months for warranty.
Best Guitar Tuner for Pedals
Sale
The Donner Dt-1 is a pedal effect that can be connected to a pedal board. It has an automatic tuning method and has a clear LCD screen. The range can be from A0 up to C8 so it has a wide range of tuning. The display is also intuitive and clear so you can use it even in the darkest of venues. There is also a true bypass feature to prevent signal and tune loss.
Best Guitar Tuner that is a Pitch Pipe
As a pitch pipe, the Alice A003AP PC-C is a great choice for musical teaching as well as for musical groups. It is made with chrome plating so it is durable. For traditionalists, you can count on this kind of tuning device. It can be used not just for instruments, but also for acapella singing, so it is a multipurpose designed product.
Best Guitar Tuner with a Metronome
The Korg TM50BK has a built-in metronome and even has 15 variations for the rhythms. It can detect pitches from C1 to C8. If you want to shape up your tempo and your tone, you can just do it with just one device like this. The tempo range is from 30 BPM up to 252 BPM. You can also use it for a wide range of instruments – even brass ones.
Best Guitar Tuner that is a Clip-on
Sale
The Snark SN-2 is a clip-on type and also has a tap tempo metronome. The sensor for vibration is pretty good with sensitivity and the display can rotate up to 360 degrees. You can also use it for a wide range of instruments, especially stringed ones. It also has a full color display and a pitch calibration of 415 up to 466 Hz.
Best Guitar Tuner with 360-degree Rotation
The Hantwin Chromatic 360 is a rotatable device that can be used on various instruments. The backlit display makes it easy to use in dark events and venues. The accuracy of +/- 1 cent makes it very good for those with sensitive ears. It has a good angle adjustment capability and it has a tap tempo mode as well.
Best Guitar Tuner for Chromatic Tuning
For chromatic tuning, we have the Korg CA40, which can be set from A0 to C8 in its range. It has a simple sound out function and an easy calibration method. There is an easy sound out function and it has a great function even for brass instruments. There are also easy controls such as and up and down button for the calibration, note selection and an easy on and off button.
The Competition
Others were not in our list because they were too complicated to use and to navigate through. It is important that it will be easy to use because you will need to set up your guitar quicker to avoid technicalities with too much setup time.
Other Frequently Asked Questions
Q: What are the different stringed musical instrument tunings you can use?
A: Many tunings can go beyond your E A D G B E standard tuning, and you can use them for a variety of purposes. Here are some of the most popular stringed musical instrument tunings:
Open – this makes use of the ability to play barre chords even with just one finger.
Instrumental – this makes use of different instruments like the mandolin.
Regular – these tunings can be used for learning other tunings as well.
Special – these ones are popularized by musicians, in which comes are favored by hardcore/metal.
Type of tuning
Name of tuning
String setup
Open
Open G minor
D G D G A# D
Open D
D A D F# A D
Open D minor
D A D F A D
Open G
D G D G B D
Open A
E A C# E A E
Open C
C G C G C E
Modal G
D G D G C D
Modal D
D A D G A D
Instrumental
Pentatonic
A C D E G A
Overtone
C E G A# C D
Lefty
E B G D A E
Dobro
G B D G B D
Cittern # 1
C F C G C D
Cittern # 2
C G C G C G
Balalaika
E A D E E A
Charango
X G C E A E
Regular
Major 3rd
C E G# C E G#
Minor 3rd
C D# F# A C D#
Major 6th
C A F# D# C A
Minor 6th
C G# E C G# E
All 4ths
E A D G C F
Augmented 4ths
C F# C F# C F#
Mando stringed musical instrument
C G D A E B
Special
Drop D
D A D G B E
Buzzard
C F C G A# F
Admiral
C G D G B C
Layover
D A C G C E
4 and twenty
D A D D A D
Face
C G D G A D
Hot type
A B E F# A D
Pelican
D A D E A D
Magic Farmer
C F C G A E
Slow Motion
D G D F C D
Processional
D G D F A A#
Spirit
C# A C# G# A E
Triqueen
D G D F# A B
Toulouse
E C D F A D
Tarbolton
C A# C F A# F
Q: What are the common mistakes when playing stringed musical instrument?
A: Playing stringed musical instrument is not as simple as you think. When you think you're getting better, you are actually missing some of the big pictures. Here are common mistakes that you might be making during your learning process:
You value speed over precision. There's no point in playing something fast and then getting too many errors in them.
You see music as a competition. Sure, it's okay to train, but don't see it as a competition. Music is all about self-expression and just like art, even if your song feels like a drawn stickman, it doesn't mean you don't deserve to play. Everyone deserves a shot.
You think only geniuses can do it. To be quite honest, it doesn't matter if you have a line of music in your family – just work hard.
You travel with it without protection. Things can get out of hand in the airplane. Therefore, you should think of ways on how to travel with your stringed musical instrument more properly.
You don't consider vibrato. Adding life to any stringed musical instrument tune is the vibrato (mistakenly called the tremolo because of the tremolo bar). It is like making the stringed musical instrument sing something like a natural human voice, and it can be a great thing to add to your music, so as not to sound flat.
You lack timing and tempo. These are two important aspects of playing music live (even EDM producers and DJs need to time their Launchpad buttons properly).
You lack muscle memory with the fretboard. Like typing without looking, you also need to develop some muscle memory for your fretboard so that you can focus more on knowing the key.
You focus more on remembering the chord rather than the key. Most people worry with the positions of the chords but can't remember what key it is. Learn to associate the keys with your ears first before you actually memorize the positions. Even if you're able to execute a key properly, if it is not the right key that's needed for your song then there can be problems.
You're not working hard enough. Signs of this include procrastinating with your mixing or not practicing enough. If you want to be successful someday, make sure you are working hard enough with making your skills better as well as getting tips from other musicians.
You fret over your mistakes too much (pun intended). Being a musician is as with every profession or field – mistakes happen all the time. Magic happens when you focus on the rest of your performance rather than one single mistake.
Q: What is the importance of tuning your stringed musical instrument?
A: Tuning your stringed musical instrument is a kind of thing that you should do because:
It makes your live performances less of a disaster.
It shows that you care for your stringed musical instruments.
It will not annoy seasoned musicians.
Q: What are the different kinds of tuning devices?
A: The tuning device can have different variations, such as the following:
Tuning fork – this one is simply a tuning fork that is used to emulate the A key. It is the most basic kind of tuning device that you can find, and has been used for ages, other than depending on your ears.
Pitch pipe – this one is round shaped and also work traditionally much like the tuning fork. It can still be found in some stores today.
3.Electronic tuning devices – these are modern tuning devices that can either be clipped onto your stringed musical instrument or be used in a stringed musical instrument pedal effect board. They are easy to use and are electronic so you don't have to worry about accuracy that much.
Q: What should you consider when choosing a band name?
A: Having a band name is the first step to being famous, and that is why you should choose a name that is not only catch and fun, but also something that you and your band mates completely enjoy and agree upon on. Here are some tips:
| | |
| --- | --- |
| Avoid copyrighted names | Companies will sue you if you used their name, or even used it in the wrong way to degrade their product names. |
| Don't use derogatory names | Definitely don't use racist names or sexist names because no one might sponsor you in that case. |
| Avoid conspiracy and crime-related names | If you do choose a name then don't choose names of criminals or gangs and the like. |
| Don't use names that sound too generic | At the same time, don't go for really boring bands that sound too generic. Think of something outside of the box. |
| "(your name)'s band" sounds too narcissistic | Unless you are basically paying your "band mates" to play for you, this is a pretty stupid way to name your band. |
| Consider a common interest | Know what makes your friendship in the band bloom. Is it the latest installment of Star Wars? Whatever it is, you guys should talk it over to come up with a better band name. |
| Combine random words or syllables | You can also put together different words that you are interested in and then combine them. |
| Relate it to your visual and musical story | If you are working on a band or side project that will emphasize some sort of musical experience, such as a story about robots, you might name your band something like "Dawn of Artificial Intelligence" or anything similar. |
| Ask, but don't follow everything | You can ask your friends and family of a good band name, but in the end, it all comes down to what you think sounds good. |
Q: What are the common misconceptions with musical stardom?
A: Most people think that you can be a star online today with some cool gadget and some talent, but it's not going to work. Here are some misconceptions with musical stardom:
You only need to be talented to be famous. That's not true – even if you do have talent, if you don't go outside and play for others, your music won't reach anyone. It's all about building an audience.
You only need ambition to be famous. That's not true as well – you need a balance of talent, ambition and hard work in order to succeed. Being famous takes time, and for some, it may take forever.
You need to be in a big agency to be famous. This applies not only to bands, but also on pop groups. One good example is the south Korean boy band BTS, in which their company is neither of the big three (JYP, SME or YG) but they made it to America even before any of the members of those companies ever did (except PSY who is from YG). Don't expect to be famous just because of your agency.
Q: Does brand name have an impact for which genre of music you play?
A: While it is true that most stringed musical instruments of any brand can be good for any genre, there are certain musical instrument companies that do have good expertise on a certain genre, such as the following:
Stratocaster / Fender – it can be used for punk, blues and basically a lot of genres. It is also great for some blues. This one is great for acoustic and some electric stringed musical instruments.
Taylor – it can be used for adding the telecaster twang to your music.
Jazzmaster – it is best for a lot of genres, much like the Strat.
Martin – this one is best for genres with acoustic music due to the full sound. They can also be used by people with finger picking styles
Telecaster – also known as the tele, this one is used for country music, as well as other genres like jazz, folk, indie, rock, funk, progressive, punk, blues and many more.
Ibanez – this brand is great for some jazz music. It can also be used in some metal and genres that require hard strumming.
Danelectros – they are great for some genres of heavy rock and also for blues.
Moreover, here is a short chart of different genres and common brand names great for them:
| | |
| --- | --- |
| Classic rock | Fender, Gibson, Gretsch, Rickenbacker |
| Indie music | Gibson, PRS, Fender, Harmony |
| Metal | Ibanez Schecter, Dean, ESP, LTD, PRS, Gibson |
| Punk, post-hardcore, pop punk | Fender, Gibson, PRS |
Q: What exactly do you need to become a successful musician in the industry?
A: Most people think that getting famous today is easier due to the internet age. However, some things never change, such as getting attention from music companies and fans, need to be done in the right way. If you think you've got what it takes and want to pursue a music career, here's what you can do:
| | |
| --- | --- |
| Be sociable | Talking to different people can help you market your music better and also get them to notice you. |
| Take risks | Being famous involves taking risks. It involves betting your Saturday night plans into a song that you've never done before, in the hopes that in your next gig, maybe some talent agency might actually notice you. |
| Play outside your home | For bands, it is definitely important to play outside of your home. By home, we mean hometown. |
| Redefine genres | Be like that one guy named Rainbowdragoneyes, who fused together chiptune and scream/hardcore music. |
| Experiment | You can experiment on different tunes and music genres, or even record sounds from your kitchen and backyard to make new and innovative music. |
| Make concrete plans and carry them out right away | You know that idea that pops into your head before you sleep at night? Who knows, that idea might take your band to stardom. |
Q: What are the benefits of learning musical instruments?
A: Musical instruments of any kind can have a lasting effect on people, especially in a positive way, such as with the following:
Listening skills – you have to be a good listener in order to learn a musical instrument. You would have to know which key is which and you also need to listen attentively to your teacher.
Creativity – you have to be creative in terms of improvising your music piece as well as creating a few chords or melodies.
Natural curiosity – you become naturally curious about your surroundings and you'll likely want to try this and that. Part of what makes a great artist is natural curiosity about things.
Brain stimulation – you will get better brain stimulation if you work on a musical instrument because it requires a lot of brain power and processing.
Hand and eye coordination – you will also get better hand and eye coordination in the process due to handling the instrument.
Focus in school activity – you can focus more on school activities because the same focusing technique is used when playing a musical instrument.
Emotional encouragement – you can get better at expressing your emotions and you'll definitely get some relief from anxiety and depression.
Self-discipline – kids, teens, adults and seniors of all ages can learn how to have discipline amongst themselves when learning a musical instrument.
Expression of thoughts and feelings – they will be able to share their thoughts and their stories with musical instruments.
Know about other cultures – because you are learning music and different instruments, it can take you through different time periods to know about a certain culture, such as the renaissance era.
Q: If you are in a band or a songwriter, how do you properly manage your time when touring?
A: Most bands have already made it to the spotlight and are busy touring. Here are ways for you to consider your time management properly:
| | |
| --- | --- |
| Plan ahead | Make sure you make a plan many days ahead so that you won't cram later on. Don't take things that you absolutely can't commit to. |
| Make priorities | Prioritize which goes first and which goes last. For instance, prioritize which e-mails should be replied first and which tracks should be mixed first. |
| Complete tasks before moving to the next one | Don't multitask while wasting time. Dedicate one single slot in your day to reading e-mails or mixing tracks to avoid wasting time. |
| Use automatic posting technologies | You can use social media automation to post whatever is on your YouTube channel to Facebook, Tumblr, Twitter and other sites. It is a great time saver. |
| As much as possible, don't procrastinate | Procrastination leads to nowhere – and we can all be guilty of that. You have to keep yourself committed to what you want to do. |
Q: How do stringed musical instrument players get calluses?
A: Calluses may sound like a scary thing, but it is actually helpful if you want to stick to a finger plucking style of playing. Here are ways on how to get them:
| | |
| --- | --- |
| Practice often, even in shorter sessions each | This allows you to have a constant practice flow so your fingers get stronger. |
| Get used to the acoustic steel string stringed musical instrument | Steel strings can help develop calluses faster than nylon strings. |
| Go for a thicker gauge string | It pays to have a stronger gauge so that you can have stronger fingers. |
| Trim your fingernails properly | This allows you to use your fingers instead of relying on your fingernails. |
| Use topical pain creams | When your fingers get sore, don't forget to treat them with topical medicine. |
| Practice with other sharp objects | This includes credit cards, rock climbing or even your kitchen knife's top edge (not the cutting edge, of course!). |
| Use rubbing alcohol | This can dry out your skin and make calluses faster than you think. |
| Use glue | When you desperately need a fake callus like how  some women need a fake eyelash, consider glue. |
Q: What are the signs that your personality is well-prepared for the music industry?
A: Some people end up in the music industry, some try and try and could never make it. Others are just contented by being in the shadows, but never stop making music. Whichever you are, if you have any of the following traits, you'll probably be meant for the music world:
Curiosity – if you are naturally curious about the world around you then you're probably going to be in the arts, which is also where music making is.
Determination – if you are determined to keep making music even when you've been rejected by companies and lost many contests, then that means you have a never-quit attitude as a musician.
Making your own standards – if you like setting standards for your own things (e.g. going to a Zumba class but only drinking juice after) then you are likely to develop your own style with music.
Passion – regardless of how badly your music initially sounded, it doesn't go to your head that much. Sure, you may rant about it endlessly through the day, but the next day, you'll probably be back at the studio to make things right. That's passion – that's how musicians grow and become successful.
Empathy – if you have empathy or you feel emotions of other people, and like to share those emotions, you're probably headed for songwriting and making music. Part of what makes the greatest composers is the ability to relate to other people's problems and experiences.
Teamwork and leadership – you have to be a team player, or at least have some leadership skills, in order to actually be successful in the music world.
Love for nature – if you absolutely love nature and animals (not to explicitly say that vegans have a better chance in music), then that can help in getting new content, since nature is one of the best inspirational sources for writing music.
Love for the supernatural or extraordinary – if you love E.T., H.P. Lovecraft, Harry Potter, the exoplanets or the idea of space travel, you're gonna be a great composer someday because you'll be awesome with imagery and story writing.
Organization and building – chances are, the kid who kept a bucket of Lego and grew up playing Minecraft will eventually be a sound engineer or a custom stringed musical instrument builder someday.
Positivity – even with all of the bad stuff going on in the news, you try to make things happy and energetic by switching to Comedy Central or blasting Skrillex from their phone. That kind of attitude is enough to draw a crowd to your band or group.
Q: If I'm in a low profile band, how do I get noticed by media companies?
A: Some bands and artists do want to get noticed by label companies, and here are things that might help them out:
| | |
| --- | --- |
| Work on your band description | Make your description clear and concise. For example, "we are a 6-member jazz and fusion band, and we love writing about food". |
| Know your target audience | Will your lyrics captivate angsty teens? Will your music reach out to those with anxiety disorder or depression? It's up to you on what your audience would be. |
| Be active and smart on social media | Post actively and reply, but don't spam people with posts in succession (nobody wants a cesspool of your stuff on their feed, unless it's pictures from a live event). Wait for at least a few hours to 1 day to give people time to respond to your last post. |
| Join local and international sites and communities for indie musicians | There are many sites out there that allow indie musicians to market their stuff. |
Q: What common mistakes do bands and songwriters make when in their career?
A: Whether you are starting out or have been in the industry for 10 years or so but still not near mainstream level, there are common mistakes that can happen but here's how you can correct them:
Haters gonna hate. Listen to people you think are credible and don't believe people who don't even know how to play the instrument. Listening to haters is just a waste of energy.
Free shows can give you exposure. Just because it's free doesn't mean it's not going to be in your musical resume. It just means that you care more about sending your thoughts and music to people rather than getting cash.
Personalize your promotion. Don't be that one band who just randomly gives physical CDs to people after the event – add a touch of personalization, such as a warm hearted handwritten note with words like "thank you for coming to our show! We really appreciate every single one who listened to our music! Please do follow us on social media so we can jam out together!".
Music and passion come first before "professional PR". While PR is definitely needed, most PR is actually common sense (mentioned above).
Q: How do you train your ears to detect keys easily?
A: Ultimately training your ears can take years of experience, but it is doable with the following steps:
Try to sing in tune with a key.
Learn to listen to pitch bends.
Try different instruments, such as a keyboard or piano.
Keep listening to different songs.
Look for the chords of a song and match them with different songs.
Q: How do you make the most of practice time?
A: Most people do not have enough time to practice their stringed musical instrument or other instrument, but it can be done with a right structure, so that you will not fall short with lack of time and technique:
| | |
| --- | --- |
| Write what you're going to practice for the day | Write down the songs you want to practice, the different styles you want to play, and any drills, if necessary, so you won't forget about it. |
| Plan short but fruitful practices instead of long ones | Just like HIIT (high intensity interval training), short practices bear better results than long ones if you choose your pieces carefully. |
| Don't make deadlines you can't commit to | Having an unreasonable deadline to practice a song is unhealthy. Commit to things that you know you can achieve. |
| Record your band rehearsal | This is done so that you can point out your mistakes and the mistakes of each member, you can record it using any smartphone or video camera. |
Q: Which is better in tuning: your ears, a fork or an electronic tuning device?
A: Each of these tuning tools have advantages and disadvantages, such as the following:
Using your ears
Pros
Cons
a. It's free! No spending required.

b. You can use it almost anytime and anywhere, instantaneously.

c. You don't have to rely on any external gadget.

a. It takes years to develop pitch sensitivity.

b. It's not ideal for loud clubs and venues.
Using a tuning fork
Pros
Cons
a. It's great for beginners.

b. It uses no electricity.

a. It might not be accurate all the time because it is mechanical.

b. You'd still have to buy one from the music store (or antique store, for that matter).
Using an electronic tuning device
Pros
Cons
a. It's perfect for beginners who have zero knowledge of keys.

b. It's handy for loud venues where you can't trust your ears.

c. Controls can be user-friendly.

a. It can be expensive.

b. Electronics will fail over time if you don't take care of it.

c. Some shops don't have the electronic tuning device.
Q: If I want to record my stringed musical instrument skills at home, how do I efficiently set up a home studio?
A: Setting up a home studio may get a person thinking in $$$ in terms of value and investment, since most gear are really expensive, after all. However, here are some things that might save you both money and frustration in the long run, should you want to record your original song or a Megadeth cover you've been itching to post online:
Consider microphones that can do different jobs. For example, your recording microphone can also be used to microphone your stringed musical instrument, drums and other instruments. This saves a lot of cash later on.
Don't be afraid to use VSTs and digital whatever. Gone are the days when you have to borrow your grandpa's tube amp just to be a bedroom producer. You can definitely buy or download VSTs in your digital audio workstation. They may not sound as quality as traditional ones, but they are super cheap and so convenient. Plus, no one wants to hear a tube amp in the middle of the night.
Measure your home space before buying too much gear. For instance, if you do have a nice Zoom G5, if your room is already full of amps and monitors and you don't have much space for others then it can be hard to play. Consider a smaller but functional (and cheaper) effect pedal instead.
Q: What challenges do stringed musical instrument players and bands face and what can they do to get over the hurdles?
A: Indie musicians will always face something so bad that they might want to quit music eventually. But the truth is, if music is in your heart, you'll never learn to quit. You might get mad and smash your stringed musical instrument but eventually, you'll buy another one and come back to the stage. Here are some common indie music challenges that the no-name bands face:
Getting a small audience turnout, despite efforts in promotion and practice. It happens to everyone, not just you or your band. Don't get discouraged – even if you only have a few listeners, as long as you sing and play from the heart, that's going to be a great experience.
Planning an album release on a certain date, but physical copies are delayed. Because DIY musicians can't always afford (or know how to) digital downloads, especially for bands, releasing an album is mostly on a DIY basis, which can get delayed for several reasons. For this problem, you need to plan ahead next time so that you don't end up having nada to give to fans in an album launch.
Venues, sponsors and promoters potentially ripping you off. This happens to people – this is why some people ultimately quit music. There are, however, some good promoters out there who do care for their acts just like their own children.
Having to cancel an event due to personal problems and emergencies. Imagine how it would feel if one of your band members was rushed to the hospital. Musicians are people, and we're sure that your fans will definitely understand why you had to cancel this and that tour to cope up with personal problems, if you explain it to them properly.
Some dudes stealing your gear, or worse, ending up in flames. It is definitely heartbreaking, but remember – even cheapest stringed musical instruments can be handled properly and still sound good.
People leaving a negative review of your music. Let's face it – there will be haters everywhere. There's a big difference between "your music sucks" and "your sweep picking needs a little more practice".
Wanting to play music but you're financially unstable. There are ways to save up on money. Remember, you don't have to use expensive gear to sound good.
You've been making music for decades and you're still stuck in a small fanbase. You've promoted your songs for 10 years straight. You've gotten some good comments on YouTube. You've joined and won some small-scale contests. The problem is that, no matter how much experience or skill you have, people just don't like your music, because it sounds "alien" to them. You've explored many genres and came up with your own style, people are still not noticing you enough.
Remember this: even if you do end up having a small fanbase until you're in your 50s, that doesn't mean you failed to reach your dreams. Success and fame are two different things – what matters is that you keep on making music regardless of your YouTube subscribers, or the number of people who come to your gigs. It doesn't matter if younger people become ahead of you in stardom – what matters is your passion for music never fades.
Wrapping It Up
As a whole, we think that the D'Addario NS is our pick for the best guitar tuner due to the ease of use as a clip-on style tuning device that works for different instruments, plus bearing a metronome feature.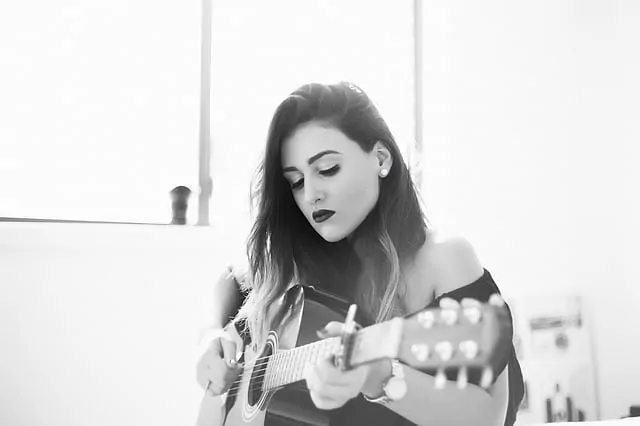 Jen is a guitarist and singer-songwriter who spends much of her time on the road and has lived in 13 cities across 4 continents. She picked up her first guitar at the age of 6 and learned to play by ear shortly after. She received her formal music education at the Berklee College of Music, and currently plays for a few bands in her free time. She has an uncanny ability to improvise creative melodies and harmonies. Her early influences include blues, jazz and rock.