The ukulele word is fun and often surprising. While there are not as many options as you'd see on the acoustic guitar market, there's still plenty to try out. For that reason, we're here to share the best baritone ukuleles we could find right now.
We already created a guide showcasing the best ukuleles. This time around we're referring to models we left behind. Most importantly, we're referring to baritone ukuleles, which are far from being the most popular size.
That said, there aren't many baritone ukelele options out there, so it might be tricky to find the one model that suits your needs.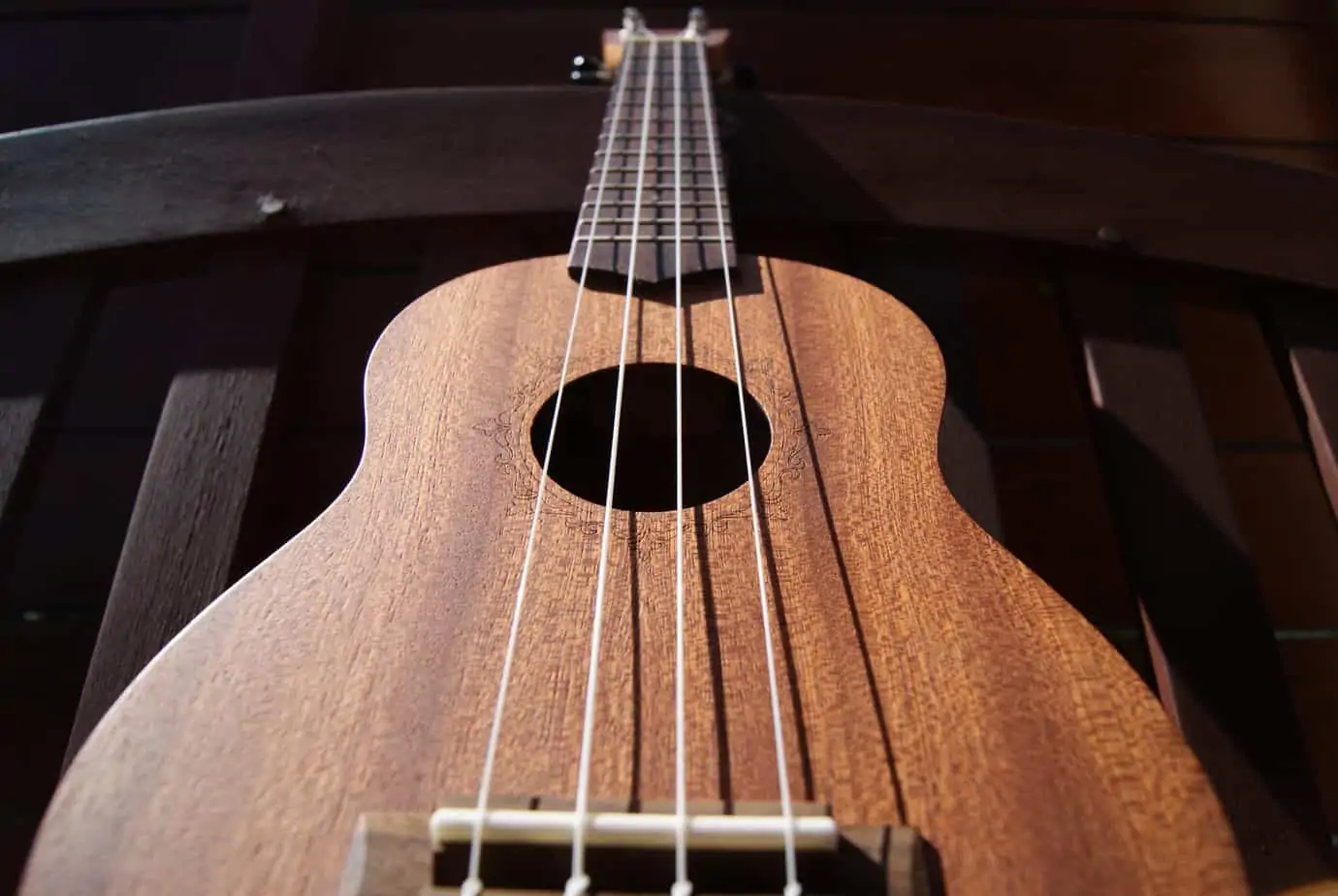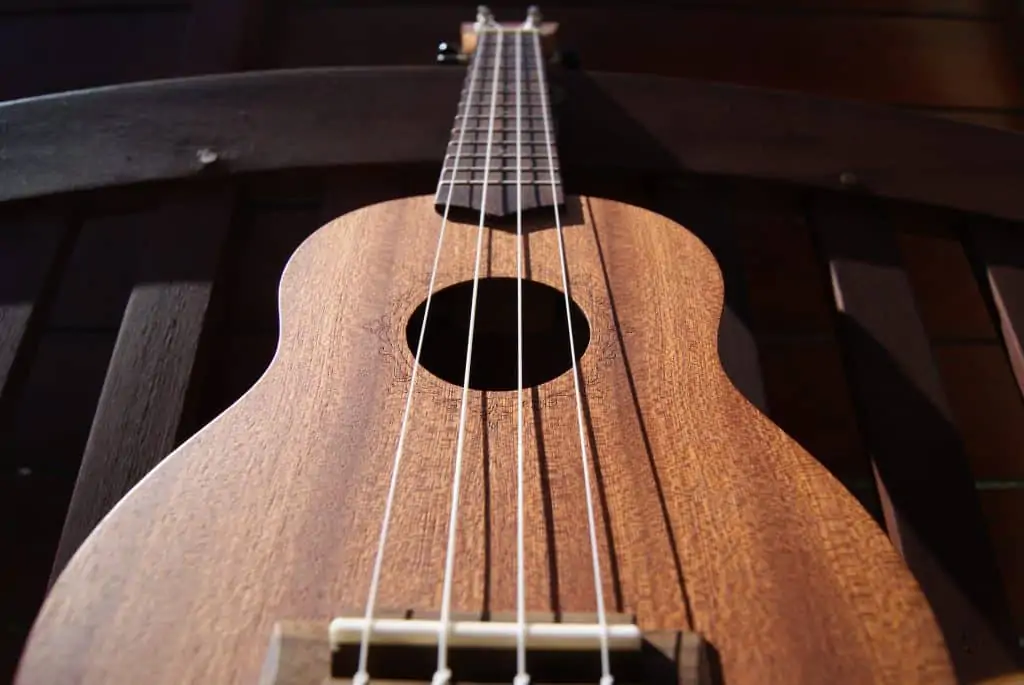 Even though the instrument comes from Hawaii, Ukuleles are popular and even predominant in Latin pop music.
If you're interested in all ukulele matters, here're additional resources you could enjoy:
What's a Baritone Ukulele?
Ukuleles are great starter instruments. They are small, light, and have fewer frets than a guitar, thus they are pretty beginner-friendly.
There're various ukulele sizes, though, and they exist to give various degrees of projection and sound quality:
Sopranino ukuleles: 28cm scale lengh / 11"

Soprano ukuleles: 35cm scale lengh / 13"

Concert ukuleles: 38.5cm scale lengh / 15.75"

Tenor ukulele: 43cm scale lengh / 17"

Baritone ukulele: 51.5cm scale lenght / 20.2"
Tenor and Concert sizes are the most common categories, and so most of the instructional materials refer to these models.
Baritone ukuleles, on the other part, are closer to guitars. You would think that defeats the purpose of the instrument, but there're still reasons to get one.
Baritone ukuleles tone signature
First off, baritone ukuleles sound different. The tone signature is more serious and endearing, so it leaves behind the sweetness and brightness of the smaller brother. If you don't like bright tones, that's a positive point.
That's because baritone ukes produce lower, warmer, darker, and more mellow tones thanks to their constructions. The tunning is also DGBE instead of the standard ukulele tuning, which is GCEA.
With that unconventional tuning, baritone ukuleles are appealing to blues, jazz, and rock musicians. At the same time, the tone responds well to fingerpicking.
Ease of use
Despite its size, baritone ukuleles are still smaller and lighter than acoustic guitars. At the same time, they are not too far off to feel foreign on experienced hands.
Also, because smaller ukes have tighter fret spacing, they ironically become harder to play for adults or people with bigger hands. It becomes a common mistake to place the fingers on the wrong frets and strings.
With the extra string and fret spacing, players get more room to play and practice.
Similarity to a guitar
Lastly, guitar players can easily transition towards and ukulele because of the size and the tunning. A DGBE tunning means it behaves like a guitar without the 5th and the 6th string.
This is why baritone ukuleles are more popular for guitar players. They tend to be instruments for songwriting, traveling, and simply playing around.
Likewise, it's easy to transition from baritone ukuleles to acoustic guitars. After all, these ukuleles are pretty close to the size of traveling or a parlor guitar.
Here's a demo showcasing the sound of a baritone ukulele
Top 7 best baritone ukuleles reviews
In your best interest, we're keeping the reviews short and sweet. We're simply overviewing the construction materials and quality, the electronics (if there're electronics), the sound quality, and the playability.
You must check the YouTube demos of each item as the sound is probably the critical factor to consider before purchase.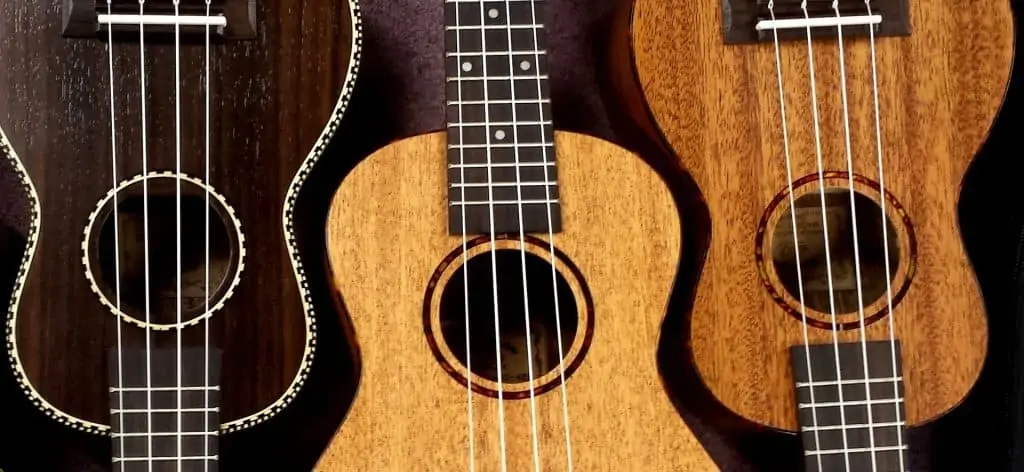 Most people don't consider ukuleles as professional instruments. Instead, musicians consider these as hobby instruments.
Luna Guitars Luna Uke Vintage Mahogany Baritone
This acoustic baritone ukulele has mahogany on the back and sides, a black walnut fretboard, and a mahogany neck.
It's a sub $200 model featuring a rich sound plus a sleek red satin finish that plays along the wood grain for a darkened, elegant look.
Then, both the fretboard and the bridge use walnut, which is also a dark color to match the rest of the ukulele.
On the other side of the ukulele, it has chrome open-gear tuners. They do a great job in keeping the intonation steady, as well as adding some sustain and clarity to the instrument's tone.
Next, it has a flat top body plus a C-shaped set neck. That delivers a solid construction and increases the sustain and projection. The neck shape and flatness also make it feel very similar to a guitar.
Add Aquila Super Nylgut strings to complete a proper setup and a bass-rich sound.
Overall, the Luna VMB RDS is super-easy to play and features a warm and powerful sound. There's nothing to lose, and we consider it as one of the best baritone ukuleles you can find.
Kala Ka-B Mahogany Baritone Ukulele
Kala is the most popular ukulele manufacturer in the world, and their baritone model is part of their Satin Mahogany Series.
The series delivers mid-range ukuleles with zero fancy stuff. They are a bit bland, but they are also quite affordable and beginner-friendly.
For tonewoods, it has laminated mahogany on the body with the aforementioned satin finish. It gives the body nice white edges.
The neck is also a mahogany piece, and it packs a walnut fingerboard with 18 frets and a 30'' scale lenght. That makes for a comfortable neck to play, featuring a nice low action for smooth finger playing.
Also, the string spacing is bigger than most baritone ukuleles, thus suiting guitar players more easily.
So, albeit this is not a stunning instrument, it's quite solid. Likewise, it has solid hardware, capable of doing the job during practice and jamming sessions. The hardware consists of die-cast chrome runners plus a walnut bridge. Also, it has a synthetic bone GraphTech saddle, which is a surprising quality choice.
Lastly, the Mahogany Baritone by Kala is a mellow-sounding ukulele. The performance is probably better than you imagine.
Kmise KMU30B
The Kmise KMU30B is one of the cheapest baritone ukuleles you can buy. Not only that: it's also one of the only instruments of its kind you can trust on the sub-$100 price bracket.
Its low price includes a lot of extras as well, such as a traveling bag, a tuner, and a strap. If you're looking for a ukulele to have fun, or maybe as a gift, this is a great option.
As for construction, the Kmise model has a mahogany body with a satin finish playing with the natural wood grain.
Elsewhere, it has a smooth walnut fretboard atop the mahogany neck, plus a proprietary neck shape for extra comfort, low action strings, and less buzzing sounds.
On the headstock, the KMU30B packs 18:1 quality tuners. May I remind you 18:1 is the gear ratio most mid-lñevel electric guitars pack, so they can certainly hold the tunning. That means you won't need to constantly stop playing to adjust the string tension.
The strings are not Aquila, though, which is known as the best ukulele brand string. However, it still packs metal and nylon strings delivering an awesome warm sound.
If that's not enough, the Kmise model packs an adjustable truss rod, which means you can adjust the string action with an Allen key.
There's much to like here, and there's less to lose for its budget price. All in all, the Kmise KMU30B is a steal.
Alvarez Ru22b Regent Series Ukulele
Also featuring as one of the best budget baritone ukuleles, the Alvarez Ru22b it's impressive for everything it offers at an affordable price.
The body has laminated mahogany as its tonewood choice, and it boasts the same kind of satin finish. Likewise, it has a nice decoration around the soundhole, plus an edge binding that looks nice enough.
Then, it packs a mahogany neck, 18 frets, and 14 easily-accessible frets on the rosewood board. There's also the addition of dot markers to help you out, plus a standard bolt-on joint.
The Alvarez Ru22b is very comfortable to play with because of the smooth feel of the neck. It helps that it has good workmanship plus a few extra surprises.
For example, it has a quality bone saddle and nut, great additions at this price point. Similarly, it has a solid rosewood bridge, which I consider to be an upgrade over the prior entries.
On the headstock, it has closed gear tuners with nice black buttons. They look good and perform decently.
Lastly, the ukulele packs nylon strings for an overall warm and nice sound. It's not as resonant as the pricier baritone ukulele, but it can certainly fill the room with a nice and fun sound. Overall, it's a good starter instrument.
Caramel CB103
The Caramel CB103 is an acoustic-electric baritone ukulele featuring a 3-band EQ, a built-in chromatic tuner with an LCD, and a low battery indicator.
As an electro-acoustic model, this ukulele produces the warm tones of baritone ukuleles plus the projection of electric instruments. You can plug it into an acoustic guitar amplifier, and even use acoustic guitar pedals, and have fun experimenting.
The sound it produces is great, either plugged or unplugged. That means you can use it on any occasion, even in professional scenarios or home recording.
This is a premium instrument. It has a zebrawood body with a hand-polished glossy finish. Then, it has a walnut fretboard and bridge, both pretty durable. Next-up comes the nut and the saddle, both made of buffalo bone for top-tier quality, plus chrome tuners offering both style and perfect stability.
The instrument has a 30'' scale length with its 20'' fingerboard and 18 well-spaced frets.
Back on the body, it brings delicate Aquila strings. They produce defined mellow, and gorgeous tones.
Another handy feature is the presence of an adjustable truss rod. With an Allen wrench, you can adjust the height of the strings easily.
A great option if you're looking for serious baritone ukuleles.
Kala MK-B
Presenting itself as a top-value beginner baritone ukulele, the Kala MK-B offers a lot of bang for the back.
Its affordable price offers a durable mahogany body, a smooth sating finish, and a natural wood grain aesthetic.
Other materials include walnut for the bridge and the fingerboard; and plastic for the nut, saddle, and brass frets.
Back on the body, it has a light and beginner-friendly Aquila Super Nylgut strings. Experienced ukulele players might need to upgrade them for a more powerful sound, though.
As baritone ukuleles go, the Kala MK-B offers a softer sound, but it's also quite balanced and warm.
The model has a 30.5'' scale length and 18 frets. Overall, the size, the weight, and the sound deliver an okay experience for first-timers, but there's not much else to it.
Oscar Schmidt OU52-A
With mahogany laminated pieces at the top, back, and side, plus an engineered "tech wood" for the neck and the fingerboard, the OU52 is the lightest baritone ukulele you can buy. That makes it perfect for travels, barbecues, campfires, vacations, and overall quality time with your friends and family.
It's also quite affordable, albeit the price does accommodate for decent built quality.
For example, atop the mahogany body, there's a smooth satin finish that looks good and protects the ukulele from scratches.
Also, the mahogany wood gives you a full and rich sound. It features warm lows, crisp highs, and a fair projection.
Back on the body, it has abalone bindings and a rosette to accentuate the ukulele's color. On the other side, it has durable but unstable chrome tuners, so don't expect much out of them. You should consider changing the tuning pegs if you expect live performing, even casual live playing.
The last thing I have to mention is the tech wood it has. While it doesn't seem surprising, it allows the company to ship the OU52 to places where certain tonewoods are banned.
Overall, I find the Oscar Schmidt as a super easy ukulele that could do better. Still, because it's a widely available model, this could be your best option.
In Summary
Baritone ukuleles are interesting little instruments. They are easy to learn for a guitar player, they are easy to carry, and they are affordable.
While ukuleles might not deliver the most powerful and engaging sound, they are fun.
What's not to like about them? Well, the lack of seriousness, maybe. Aside from a campus sing-a-long, there's not much use for ukuleles in music (other than Latin pop).
But if you're here, on our page, learning how to play guitar, you probably don't like Latin pop music much. Other well-known artists have used ukuleles on records, though. Paul McCartney's Ram is an example.
So, they may not be an important part of today's music industry, they are great instruments to have. Better yet, baritone ukuleles are amazing presents for beginner guitar players.
Either way, be sure to choose one of the items we reviewed! If you have some extra recommendations, please leave them in the comments below.
If you ask me, I'd go for the Kala MK-B ukulele. It has a great sound, a quality bit, and some handy extras.
Remember to check our previous ukulele buyer's guide for everything you need to know before your purchase.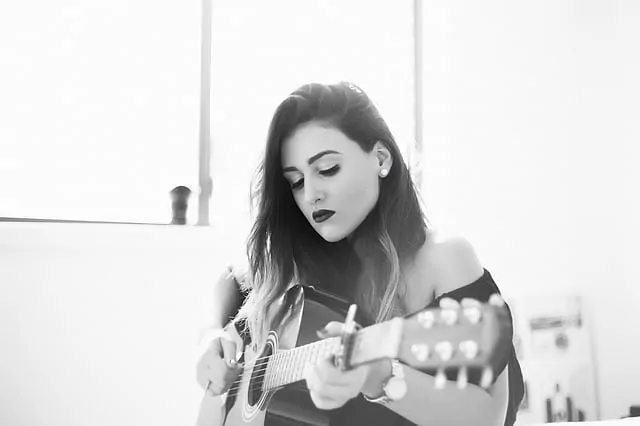 Jen is a guitarist and singer-songwriter who spends much of her time on the road and has lived in 13 cities across 4 continents. She picked up her first guitar at the age of 6 and learned to play by ear shortly after. She received her formal music education at the Berklee College of Music, and currently plays for a few bands in her free time. She has an uncanny ability to improvise creative melodies and harmonies. Her early influences include blues, jazz and rock.