In this detailed guide, I'll show you 20 easy ukulele songs you can learn as a beginner ukulele player.
At BeginnerGuitarHQ, we mainly aim to teach you everything we can about guitars. However, sometimes we branch out into the world of similar instruments. The bass, the mandolin, and in this case, the ukulele. The brilliant thing about the ukulele is that it is so easy to learn; small, portable and cheap, its often chosen before a guitar just to get a feel for fretted instruments.
Did you know that many popular ukulele songs only really use four chords? The four most common ukulele chords are C, F, G and A Minor.
These beginner ukulele songs are easy to learn and you can master them by learning a few basic ukulele chords and strumming patterns.
>> TIP: If you are looking for a comprehensive ukulele course that can take you from beginner to pro quickly, we highly recommend Uke Like the Pros (20% discount with our link)
If you're looking to learn ukulele, then look no further…
Getting Started with Easy Ukulele Songs
The main thing to remember about a ukulele, is that it really is quite easy. As they're so small, you can get a grasp of the frets pretty quickly, and they're easy to hold and strum, plus you don't need to learn how to play with a pick.
However, they're certainly more restrictive than a full guitar. It's much rarer to play lead lines and solos on a ukulele, so you might find yourself restricted to accompanying your voice with chords. If that's your thing, then go for it!
There are a lot of songs that can be translated to the ukulele, lending themselves well to playing in that bouncy, bright way all ukulele players love. I've combined some famous bangers with lesser known tunes, while also trying to give you a mixture of more plucked/fingerpicked pieces and strummed, chordal pieces.
Before you get started on these easy ukulele songs for beginners, make sure to check out our guide on how to transfer your guitar skill to the ukulele.
The Beatles- Let It Be


Let It Be chords
The Beatles might well be the most famous band of all time. Their unique blend of simplicity with unfathomably catchy melodies and mesmeric arrangements have teleported their music to the forefront of human musical achievement. Taking all of what makes The Beatles down to its very core shows them at their most exposed, with most of their catalogue delivering incredible poignancy.
Ukulele covers of Beatles tracks are obviously very common, with 'Let It Be' seeming to have become one of the favourites. The simple repetitive chorus melody combined with incredibly easy chords make it a great one for beginner ukulele players to have a crack at.
All you need for this one is your C major, G major, A minor and F major ukulele chords. Consult our guide for ideas on how to actually play these chords, and then go ahead and give it a go. I've attached a little score that will help you out when you get to the chorus, so pay attention to exactly where I've put each chord in relation to the lyrics, and then you'll know when to change chord too.
If you'd like to explore this track more, take a look here.
Jason Mraz- I'm Yours
'I'm Yours' by Jason Mraz is an interesting track for the beginner ukulele player, as it overcomes the main issue ukulele playing brings. Typically, you'll hear a thick textured, well-arranged track played by a whole band and note how powerful and big it sounds. The ukulele takes away from this, and leaves you with a much less satisfying sound, even if seems more playful and easy. 'I'm Yours' was written for ukulele anyway, so these chords will immediately provide you with the perfect sound to play the song.
If you want to play this in the key of the original Jason Mraz track, then place your capo up on the 4th fret. The chorus of the track (the bit that everyone should recognise) is made up of just four simple chords: G, D, Em, C. It's an easy pattern to learn, because each chorus simply corresponds to one bar of music. On the word 'I', play the G, on the '-tate' part of the word 'hesitate', move to D, and so on.
If you'd like to explore this Jason Mraz track more, take a look here.
Vance Joy- Riptide
This upbeat track is another fun one to play, because it works really well with that bouncy, simple ukulele tone, plus the rhythms and strumming patterns are really easy to get a hang of.
As soon as you've placed your capo on the first fret, you can sit back and exclusively use the simplest chord sequence in all of music. Other than two uses of F major, this track is exclusively built on A minor, G major and C major, three of the easiest ukulele chord shapes and arguably the most common chord sequence in pop music.
The chord changes are quite intuitive, so it shouldn't take you long to figure out when to change to a different chord. However, the biggest tip I can provide if you're looking to replicate this song with accuracy, is to really emphasise the 2nd and 4th beat of each bar. That bouncing accent is what keeps the track sounding so funky and upbeat throughout, and you really want that sound to punch through in your ukulele cover as well.
If you'd like to explore this track more, take a look here.
Train- Hey Soul Sister
This is another example of a track where you already have a nice advantage in making your cover sound great. 'Hey Soul Sister' might well be the most famous song played on ukulele. That opening four chord strum is probably the most iconic moment of the song, so I'll talk you through that and leave you to discover the rest of the song for yourself.
Much like the track above, only the simplest chords playable on ukulele are found here: C, G, Am, F. These are the four chords Axis Of Awesome use in their 'Four Chord Song'. That's how common the sequence is. Of course, use out guide again if you need reminding how to form these chords.
The strumming pattern is what gives this introduction its unique sound. Make sure you really hit that opening C chord hard on the first beat of the bar, before keeping the syncopation of the strumming and the emphasis of each chord change at the top of your priorities list.
If you'd like to explore this track more, take a look here.
Justin Beiber- Love Yourself
A much more modern example comes from Justin Beiber himself. Beiber might not be known for his ukulele heavy tracks, but writer of this particular track, Ed Sheeran, is certainly known for a tendency towards folk composition. Make sure to capo the 4th fret, and then prepare for the most chordal complexity than we've seen so far in this guide.
While C and Am are still present in this sequence, the tune also throws in a D minor. To form this, you're going to want to use your 2nd finger to hold down the 1st fret of the 1st string, and your 3rd finger to hold down the 2nd fret of the 4th string. It also uses a G/B chord, which is basically the G shape (which you're already familiar with) but with the B note as the lowest note in the chord.
Depending on how you play the chord, make sure the lowest note in your shape is a B natural, that way you achieve the clear descending scale that Sheeran intended to create in this track.
If you'd like to explore this track more, take a look here.
Adele- Someone Like You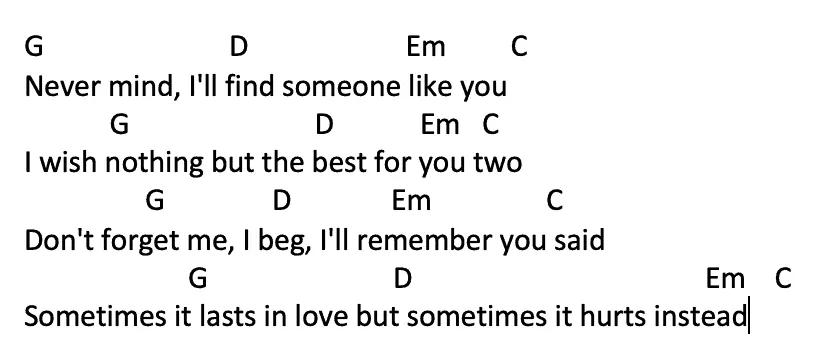 Someone Like You Ukulele Chords
The slow, soulful performance of Adele doesn't really work when taken to the ukulele. The high frequency response of ukulele strings takes the all-important depth out of the track, and its lower quality timbre reduces the seriousness behind all of Adele's tracks. This is why I encourage you to put your own spin on 'Someone Like You' when you play it.
As the picture attached shows, Adele uses G, D, Em and C in the chorus. These are all easy chords, with Em arguably being the easiest to replicate on ukulele because it is technically exactly the same shape as a guitar Em.
Anyway, use this simplicity to your advantage. Maybe play the track quickly, with a syncopated strumming pattern that completely changes its tone. Maybe give is a staccato, off-beat reggae vibe. Just avoid playing it with the seriousness of the original, because trust me, it just doesn't work.
If you'd like to explore this track more, take a look here.
James Blunt- You're Beautiful
James Blunt hasn't exactly had a hit for a while. Back in the day, 'You're Beautiful' and 'Wisemen' were receiving radio airplay daily, but he seems to have fallen off a little in recent years. That doesn't stop 'You're Beautiful' from being a great ukulele-ready track.
Luckily for you, we've returned immediately to four chord simplicity. F, G, C and Am are all you need for this one, and you can even chuck on a capo if you need to.
In terms of strumming patterns, something strangely effective for 'You're Beautiful' is a simple single strum on each chord. For example, in those opening moments, strum your C chord once, then go straight into the line "my life is brilliant". Then when the word "brilliant" is over, hit that G chord and sing "my love is pure". It works the whole way through the song, though you might want to build the texture up a little towards the end.
If you'd like to explore this track more, take a look here.
Israel Kamakawiwo'ole- Over The Rainbow
Israel Kamakawiwo'ole (try saying that five times faster) was one of the first to bring the ukulele to the forefront of his music. The Hawaiian man died in 1997, but not before releasing a few albums of beautiful Hawaiian, ukulele-led music. Any of his tracks are worth having a go at, but his cover of 'Over The Rainbow/What A Wonderful World' is what has seen him go down in history. He recorded the track in one clean, raw take and gave us an incredible piece to cover.
In order to play the incredibly catchy chorus, you'll need C major, E minor and F major. Strum the C during the entirety of the word "somewhere", before moving to E minor for "over the rainbow". Hit your F major as soon as you sing the word "way" and then the C once more when you move to the word "high". Carry on like that and you'll be able to grasp the whole song in no time!
If you'd like to explore this track more, take a look here.
Bob Marley- One Love
Finally we've reached a song that allows you to break out some brilliant reggae style ukulele strumming. Because this song is so uplifting and summery, the ukulele tone actually matches its happy, feel good vibe really well, so you don't need to worry about the instrument not being full enough.
The only chords you need throughout this track are: A, E, D and F#m. They also happen to be strummed in one of the easiest ways possible without a single change. Simply give a firm upstroke on the 2nd and 4th beat of every bar, changing chord where necessary.
If you'd like to explore this track more, take a look here.
Ed Sheeran- The A Team
One of Ed Sheeran's earliest famous tracks, 'The A Team', also works really well on the ukulele. Having said that, you're going to need to expand your harmonic repertoire a little. Amongst the simple G, Em and C chords littered throughout, you're also going to have to leave Cadd9, A7sus4 and Am7.
For Cadd9, leave the 2nd and 4th strings completely open, then place your 4th finger on the 3rd fret of the 1st string, and your 2nd finger on the 2nd fret of the 3rd string. For A7sus4, you're going to need a lot more dexterity. Place your 2nd finger on the 2nd fret of the 4th string, your 4th finger on the 4th fret of the 3rd string, your 3rd finger on the 3rd fret of the 2nd string and your 5th finger on the 5th fret of the 1st string. Finally, Am7 requires you to place your 2nd finger on the 2nd fret of the 4th string, your 4th finger on the 4th fret of the 3rd string, and then barre the 3rd fret of strings 1 and 2 using your 3rd finger.
If you'd like to explore this track more, take a look here.
10 More Easy Ukulele Songs
We just covered the first 10 easy ukulele songs. After you are done with them, here are another 10 easy ukulele songs for you.
Sam Smith- Stay With Me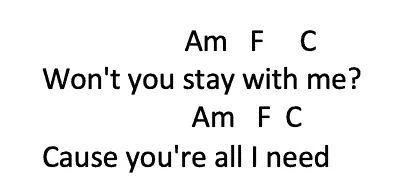 Stay With Me chords
As the attached image shows, Sam Smith's 'Stay With Me' is quite an easy track to pick up. While it has got those pesky Am7 chords we just learned throughout its verse, it is mostly just built on F, C and G.
This is another one that might be a little too emotionally charged to resonate particularly well on the ukulele, so maybe shake things up a little and add some speed or interesting strumming patterns to give it life and allowing the amusing sound of the ukulele to actually transform this song into something amusing.
If you'd like to explore this track more, take a look here.
Of Monsters And Men- Little Talks
This slow, simple track is a great tune to learn if you're craving forming a duet. There are two lead vocal parts that can be shared, and because the chords are so simple throughout, you can easily both play the ukulele accompaniment at the same time with no real issues with staying in time or performing anything that requires complex unity.
The key of this piece is Bb, so in order to replicate it as accurately as possible, you'll want to use a capo on the first fret in order to use the chords I'll be explaining to you. Making things nice and easy, this is yet another song that uses just Am, G, F and C chords.
The opening verse is built on single chordal strums that will take almost no practice to get a hang of. Simply hit the Am chord as soon as you sing the "I don't mind…" lyric, then the F as soon as you sing the word "walking" and the C on the word "old". Making things even easier, you can hold this C chord for two bars, so you don't even have to change chord until the next phrase.
If you'd like to explore this track more, take a look here.
Bob Dylan- Blowing In The Wind
This is the third and final song on this list that doesn't really work if you trying replicate it with accuracy on the ukulele. It is a poignant, emotive and classic track which has endured through generations since one of the greatest songwriters of all time first released it all the way back in 1963.
Maybe give it an edge with some of the reggae-style strumming patterns we looked at earlier, or if you're looking to take your ukulele playing to the next level, you could even try adding some chordal extensions in order to give a jazzy feel to your rendition. The opening line ("how many roads must a man walk down before you call him a man") is probably the most famous part of the song, so that is the specific piece of the song we'll touch on here before you look at it in more detail.
The pattern this opening section follows is a simple G-C-D, G-C-G. The rhythm of this is particularly easy to pick up on, so it should be a case of simply listening to the track and placing your chord changes well. One tip when approaching this is to really get used to that change between C and D major. It'll come naturally eventually, but for a total beginner, getting this fast movement to sound natural, smooth and slick is often a challenge.
If you'd like to explore this track more, take a look here.
Mumford And Sons- I Will Wait
As this song is a bouncy, upbeat piece of folk-pop by nature, not a lot needs to change in order to keep the tone of the track consistent. The main thing you need to remember when giving this one a try is to keep your strumming pattern fast, upbeat and in-time, so that the power of the chorus remains just as strong as on the original recording.
The chorus is very simple and easily to get a hold of. For the entire line "I will wait I will wait for you", you can just keep that C major chord ticking over. The change to Em and G that comes after both happen when there are no lyrics being sung. This makes this track particularly good for those who may struggle with changing chord while they're trying to sing at the same time.
If you'd like to explore this track more, take a look here.
Jeff Buckley- Hallelujah


Hallelujah chords
The Jeff Buckley version of the Leonard Cohen classic has made it to this list simply because it is slower and thinner in texture, therefore allowing translation to ukulele to make a little more sense.
While each of the chords present in this track are pretty simple to get used to playing, the biggest challenge you face here is that of memory. The verses don't really stick to one simple, repeating chord sequence. The first two lines alternate quite easily between C and A minor, but line three moves to F major, before changing between G and C twice.
A key feature of this chord sequence is the word painting: we're playing in C major (in this example), so the fourth interval of the scale is F, and the fifth is G. When these words are sung ("it goes like this, the fourth, the fifth") make sure to move to the correct chords when the words are sung. Similarly, the "minor fall" moves to the A minor chord, and the "major lift" returns to the major chord of F. The final line of the verse introduces an E7 in the middle of a G and Am, so make sure you become familiar with how to make that chord.
If you'd like to explore this track more, take a look here.
Van Morrison- Brown Eyed Girl
'Brown Eyed Girl' is probably the biggest hit from the moody old blues rocker, Van Morrison. Annoyingly, its most recognisable part is quite difficult to replicate on the ukulele, so you'll have to rely on your singing and ability to hit the right chords and the right time.
The chord sequence during the "sha la la la" section of the chorus is a simple one: G, C, G, D. The syncopated rhythms mean that you'll have already hit the G major chord before the "la" begins, so just give the track a listen in order to work out where the changes happen.
One more thing; there is a D7 chord right at the start of the chorus. To play this chord, you're going to want to make your standard D major chord (2nd finger on the 2nd fret of the 4th string and 4th finger on the 2nd fret of the 1st string) and move your 4th finger up a string. This will leave that 1st string open (adding the C to the D major chord).
If you'd like to explore this track more, take a look here.
Coldplay- Clocks
Coldplay are known for their sad, emotionally resonant tracks. 'Clocks' is no different. It might work quite well for you to use this particular track as a way to practice your fingerpicking technique.
The chords for the chorus aren't too hard: D, Am and Em, so use it as a way to practice an important ukulele chordal technique. Form the chords exactly as you would if you were strumming them, and then choose your approach. You could simply form a pattern that takes you from the lowest note of the chord and works its way up, or you could form your own alberti bass type sequence, which alternates the lowest note with the highest note, and the middle note of a triadic chord. Playing any of these patterns slowly and smoothly will give you a great, convincing accompaniment for your rendition of the track.
If you'd like to explore this track more, take a look here.
The Cranberries- Zombie
The Cranberries' classic track 'Zombie' was recently recreated by American metal band Bad Wolves, so whichever track you want to use as your inspiration is up to you. Adding the power of the metal version might be an interesting challenge to pull off on ukulele but it's up to you.
The chorus is built on a sequence of Em, C, G, D/F#. It is simply to get a hang of where the chords change, so your biggest challenge here is to get the hang of keeping that F# at the bottom of your D major chord. This way, the descent from G major, to D/F#, to E minor is really clear and makes the choice of chords work exactly as they should.
If you'd like to explore this track more, take a look here.
Bruno Mars- Lazy Song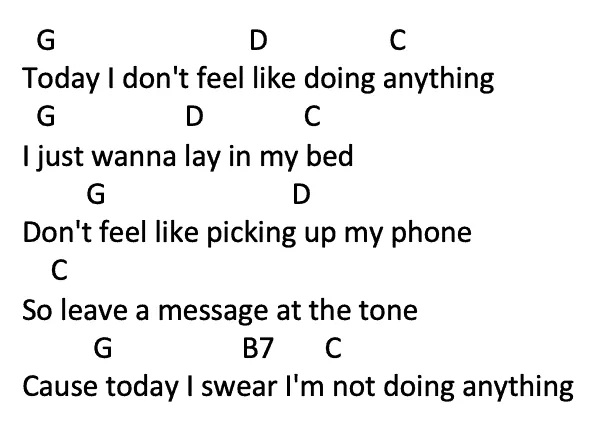 Lazy Song chords
As our chordal guide above shows, 'Lazy Song' is a simple track to translate to ukulele. Acting as one of Bruno Mars' breakout hits, the tune is upbeat and uplifting, and matches the high frequency, playful tone of the ukulele exactly as it should.
As in the original Bruno Mars track, the chords should be played with a funky, off-beat reggae style. So for example, in that opening chorus, you'll want to hit an up-stroke on the word "I", and as such emphasising the second beat of the bar. The same emphasis should be felt on beat four of the bar, which in this first line falls on the word "don't".
As a whole, this is another really simple track to get the hang of. You don't really need anything more than your G, D, C and Am chords. The only chords you might want to take a look at are the Bm chord which appears during the pre-chorus, and the B7 that shows up in the final line of each chorus.
If you'd like to explore this Bruno Mars track more, take a look here.
The Beatles- While My Guitar Gently Weeps
I left this one until last as it has a very different vibe to everything else on this list. Rather than simple chords for beginners, the ukulele version of one of The Beatles' most melodically brilliant tracks is as perfect and beautiful as it is incredibly difficult.
Jake Shimabukuro's version of the song is available to view here, and if that isn't enough to inspire you to pick up a ukulele and give it a try then I don't know what will.
The introduction can be learnt fairly easily, and will give you a very satisfying piece of fingerpicked ukulele to show off with, but as this tab shows, the playing at the end is exceptionally difficult and is only playable by those at the absolute top of the ukulele game. Maybe that'll be you one day…
Easy Ukulele Songs in 20 Hours
Need some convincing that you can master these easy ukulele songs? Watch this Ted Talk by Josh Kaufman to see how he learned most of these easy ukulele songs for beginners in 20 hours:
Mastered the Easy Ukulele Songs for Beginners?
If you have already mastered these beginner ukulele songs and are looking to challenge yourself further, consider a comprehensive ukulele course that can take you from beginner to pro quickly. We highly recommend Uke Like the Pros (20% discount with our link).
In Conclusion
The ukulele is a good choice for a beginner. If you'd found yourself picking up these easy ukulele songs for beginners quickly, then maybe try and take your skills further? Learn some more difficult ukulele songs and impress people by mastering an instrument that is normally used until a guitar replaces it.
Having said that, if you found these easy ukulele songs for beginners too simple and were looking for a challenge that can be played on guitar (thus creating a much more satisfying timbre) then maybe you should look to moving your newly formed skills over to an actual guitar.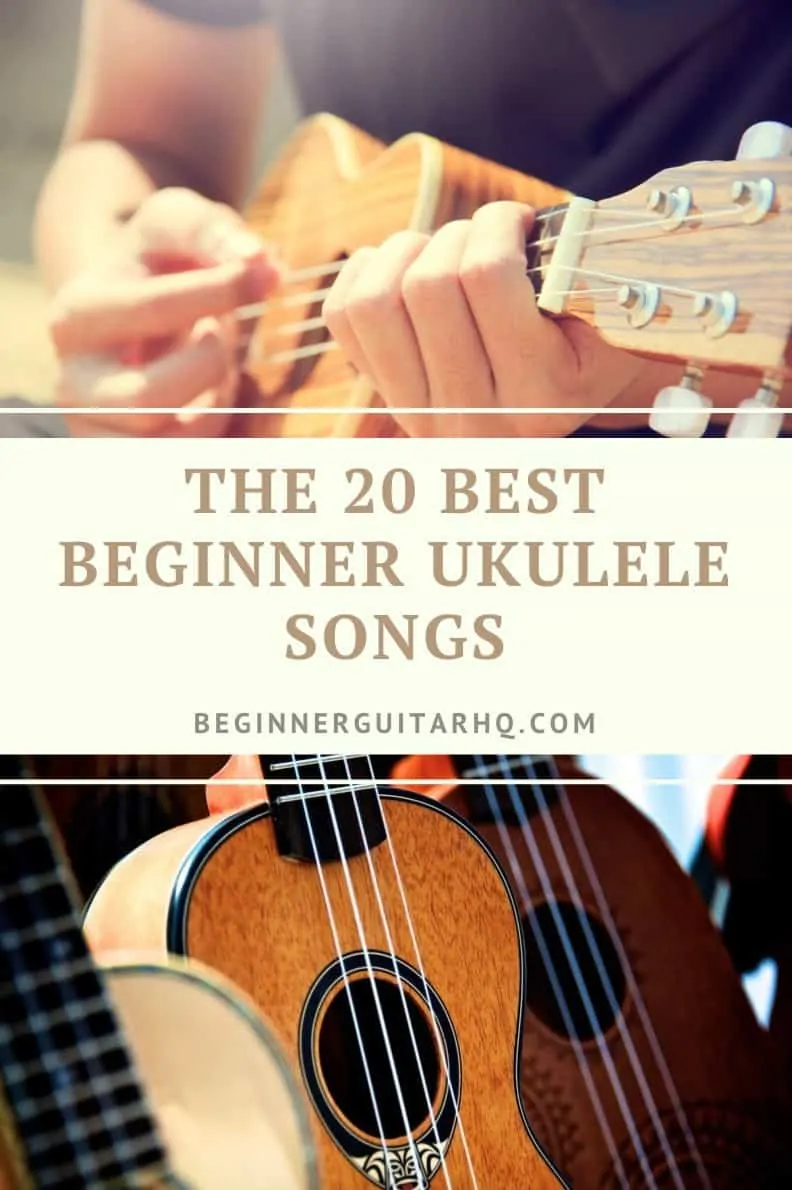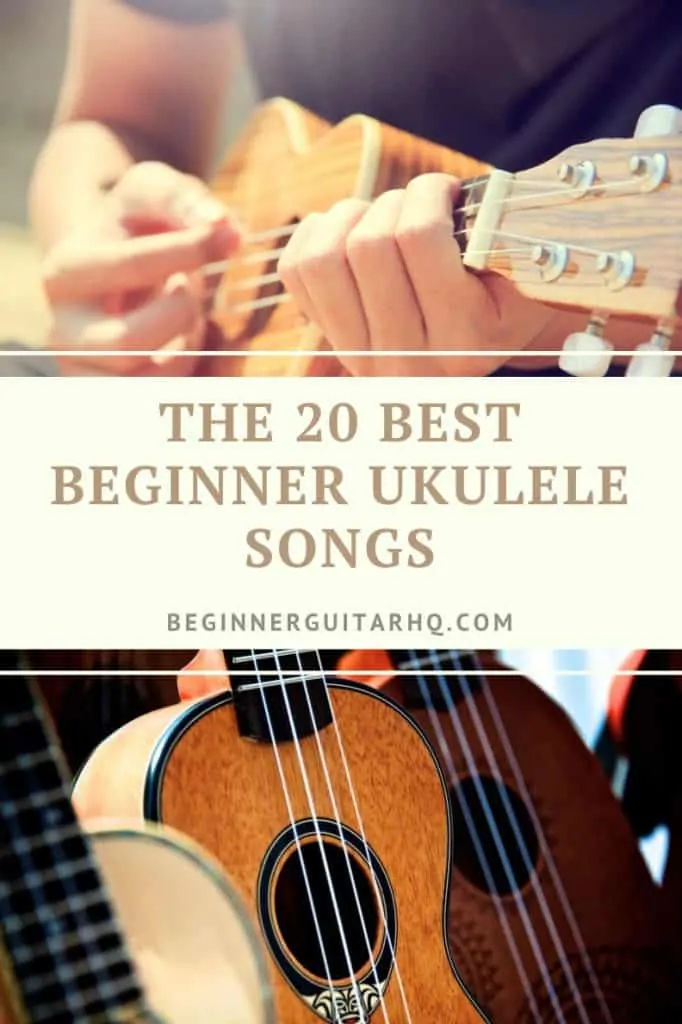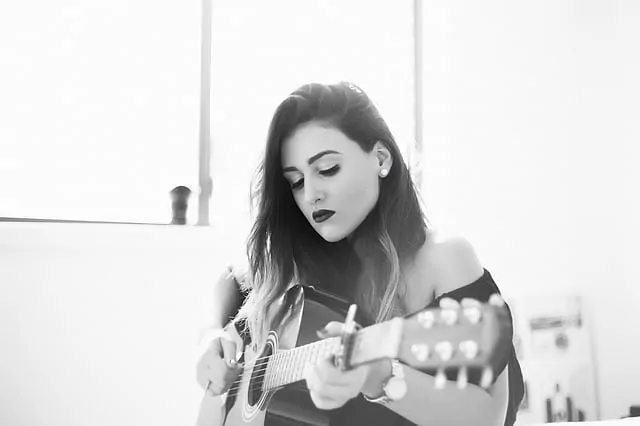 Jen is a guitarist and singer-songwriter who spends much of her time on the road and has lived in 13 cities across 4 continents. She picked up her first guitar at the age of 6 and learned to play by ear shortly after. She received her formal music education at the Berklee College of Music, and currently plays for a few bands in her free time. She has an uncanny ability to improvise creative melodies and harmonies. Her early influences include blues, jazz and rock.