Today's article is doing something different than we normally do. We're reviewing the OU5 Ukulele by Oscar Schmidt.
In terms of ukulele prices, I'd say the OU5 is a mid-range model. Coming from a brand that specializes in hollow, semi-hollow, and acoustic guitars, we expect fair results.
Also, the Oscar Schmidt OU5 ukulele is quite a popular model. I wouldn't say it's a best-seller, but it's still a safe buy at a certain budget.
We didn't list it on our best ukulele selection, though, and there's a reason: there are better options.
Still, Oscar Schmidt has enough history in country, bluegrass, and blues music to deliver great results. Their origins date back to the 1800s when they started as door-to-door sellers to reach areas of the United States where there was no local music store. Amazon was about two centuries early.
Nowadays, the brand constructs banjos, guitars, autoharps, ukuleles, and cithers. They also have some experience with resonators.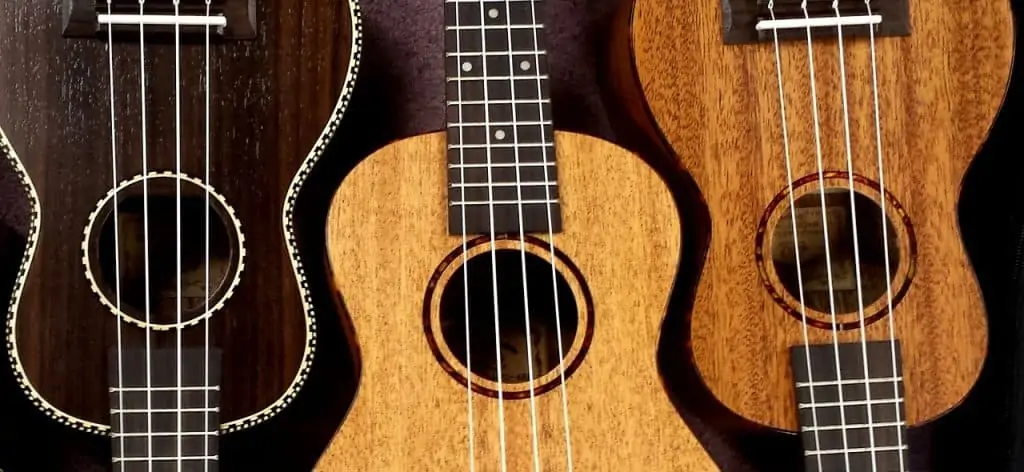 Ukuleles are popular as a hobby, travel, and campfire instrument. They are also present in mainstream music genres, which include Latin pop, reggaeton, dance hall, party, and similar.
Oscar Schmidt OU5 Koa Concert Ukulele Review
Most Oscar Schmidt ukuleles are made of koa or mahogany. They come with mid-range price tags, which equals a budget acoustic-electric guitar.
Following the brand's ideas, the UO5 is a standard alternative. There's nothing flashy and nothing crazy on the instrument. Instead, it focuses on tried-and-true ideas to present a sober package.


"Ukulele Oscar Schmidt OU5" by Massimo Barbieri / CC BY-SA 3. The OU5 is one of the most popular ukulele models you can buy right now.
I need to mention Oscar Schmidt is a Washburn offspring. As Washburn is already a budget brand, Oscar Schmidt couldn't be any different.
That's why you can expect to find a lot of bang for the bug when going or an Oscar Schmidt ukulele. Something like the OU5 also has the reputation to back it up.
However, the "bang for the buck" is not 100% true with the OU5. The title might read this as a Koa instrument but, in reality, it's laminated Koa. That's not a strange selection for ukuleles, but it would be nicer to find a solid instrument at this price range.
A laminated wood would mean a thin layer of the material on top of a cheaper, unbranded wood underneath.
That said, the sound it produces is still very good. More importantly, the performance is quite friendly for all experience levels.
I need to add Oscar Schmidt ukuleles gained plenty of exposure when Jason Castro played the OU5 model on American Idol about 12 years ago:
Overview
The OU5 is a hand-crafted laminated Koa ukulele. It follows the classic "Hawaiian" aesthetic and sound, complete with its abalone rosette and binding.
Notably, it has quality Grover tuners, which ensures tuning stability during long playing sessions.
Lastly, the ukulele sells with a hard case, a tuner, a polishing close, and a DVD with ukulele lessons.
Let's take a closer look.
Built quality
The build quality alone puts the OU5 at the top of any chart, even if we didn't pick it before this review.
For beginners, the design of the OU5 brings one of the best playabilities available for instruments of its kind. The reason is the OU5 is consistent, light, and smooth.
If you're not too excited about spending over $100 on a ukulele, consider it will yield a longer lifespan than an entry-level model. And because of its construction, this uke will sound better as the years go on.
The laminated Koa on the wood ages, and as it ages, the sound becomes richer and clearer.
That said, this is a Concert-sized ukulele. These have a larger body than most, which means a stronger output, a fuller sound, and extra versatility.
It also has a 22' scale length, 17 frets, and a flat 15'' neck radius.
For tonewoods, it has a Hawaiian Koa top, sides, and back. Koa wood is the authentic material for these instruments.
Then, it has a nato neck plus a smooth and easy rosewood fingerboard.
Back on the body, you'll find a seamless abalone binding plus an elegant abalone rosette to accentuate the design.
Overall, the OU5 looks great. It's not the best or most premium ukulele in the market, but its perfect craftsmanship and tonewood combination can still impress anyone.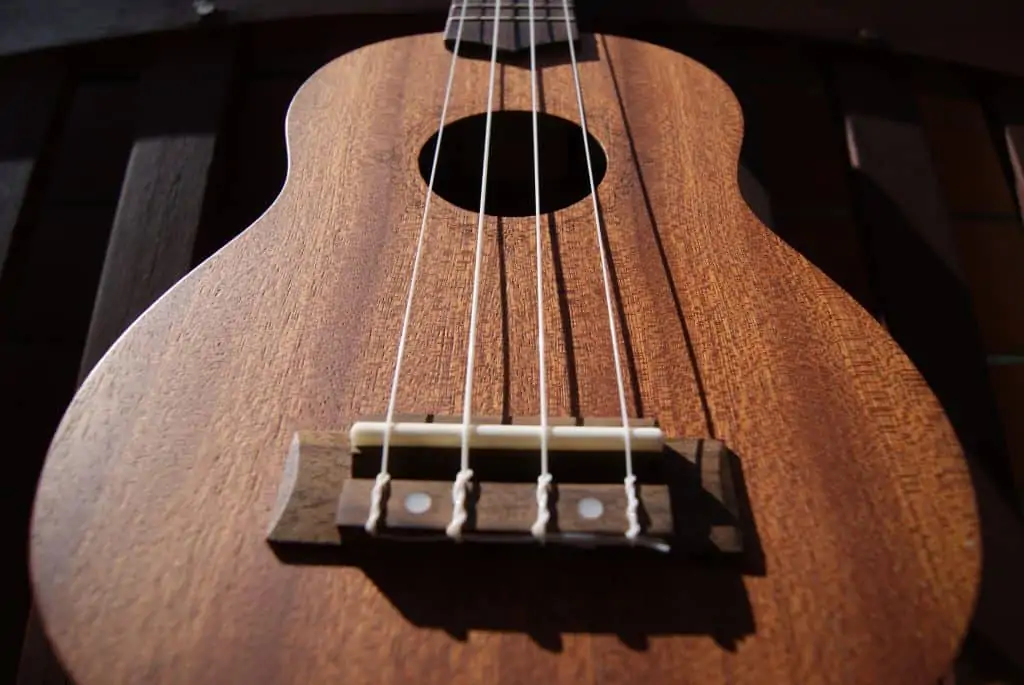 Koa is a Hawaiian native wood. It delivers bright, pretty, and charming tones, everything you'd expect from a ukulele.
Sound quality
Oftentimes, people can't tell the difference between the sound of entry-level and budget-line ukuleles. And, honestly, there's not much difference.
When browsing online, perhaps the most important quality of the ukulele is the brand. A name like Oscar Schmidt delivers enough safety to trust in the item.
Moreover, there's not much difference in design aside from the size of the ukulele itself. Even so, most ukuleles are Concert models, so this is not the differentiating factor either.
Once you pick up and try the OU5, you'll realize what comes with the extra fee compared to budget models.
The sound is mellow, sweet, rich, and with fair projection. It has all of the positive characteristics of the Koa, even if it's a laminated Koa model.
Because of its concert size, it also enjoys a bigger sound than most ukuleles. That means it's ready to play live if you so choose to use a PA system.
Bear in mind the ukulele won't sound or feel too good out of the box. Such is the problem of ukuleles: you need to go through a break-in period while the strings gain proper tension and the wood ages a bit.
After a while, though, you will get a great-sounding ukulele. Still, other mid-ranged models might feel and sound better out of the box.
I do recommend its sound and feel for a first-timer adult ukulele player.
Feel Quality
As I just said, this ukulele is better suited for adults or players with big hands. Its concert size makes it about ¾ of a guitar, which also makes it feel like a mini-guitar.
That said, kids, young players, and people with small hands can also find comfort on the OU5.
Moreover, the action of the strings, as well as the overall feel of the neck, makes for a rather smooth and easy-on-the-fingers instrument.
The only issue you may find is the weight of the headstock, which is a bit heavier than the rest of the body. Hence, the instrument might tip to the headstock as you play standing.
Hardware
The feeling quality comes mostly from the solid hardware of the OU5. It all makes for a beginner-friendly model which is also a good option for experienced players.
In essence, the OU5 packs top-tier Grover tuners, which can sustain the intonation for long periods. These are geared tuners, which are easier to turn for beginners as they have zero fraction or resistance.
Nearby, you'll find an ABS nut, which ensures the cleanness of the open sounds.
On the body, there's a rosewood bridge with a single ABS saddle, which further helps retain the intonation.
Overall, you'd find no trouble with the tuning. The ukulele might even be ready to play, right out of the box. Consider cheaper ukuleles need a lot of tunning.
Also, I note the ABS synthetic material is not the best for the job, but it does contribute to the overall sound quality of a ukulele.
However, ukuleles around the $200 price mark are better off with a better quality nut and saddle, like for example ABD or synthetic bone.
In Summary
There're more affordable ukuleles, but you can't know how much they could last.
You could also find better ukuleles, but perhaps you wouldn't tell the difference in terms of sound quality. After all, most ukuleles carry a Koa construction.
Having said that, the Oscar Schmidt OU5 is pretty enough to catch your interest. It's also solid, great-sounding, and easy on the fingers.
More importantly, five years from now, it will sound even better.
Final Say
The OU5 ukulele is the kind of instrument you'll want to play all the time. It's pretty, it sounds sweet, and it's super friendly to play. You wouldn't be losing anything, and if you have some budget to buy a reliable ukulele you could use for recording a song, the OU5 is a great option.
Lastly, I note the OU5 is widely available either online or in local music stores.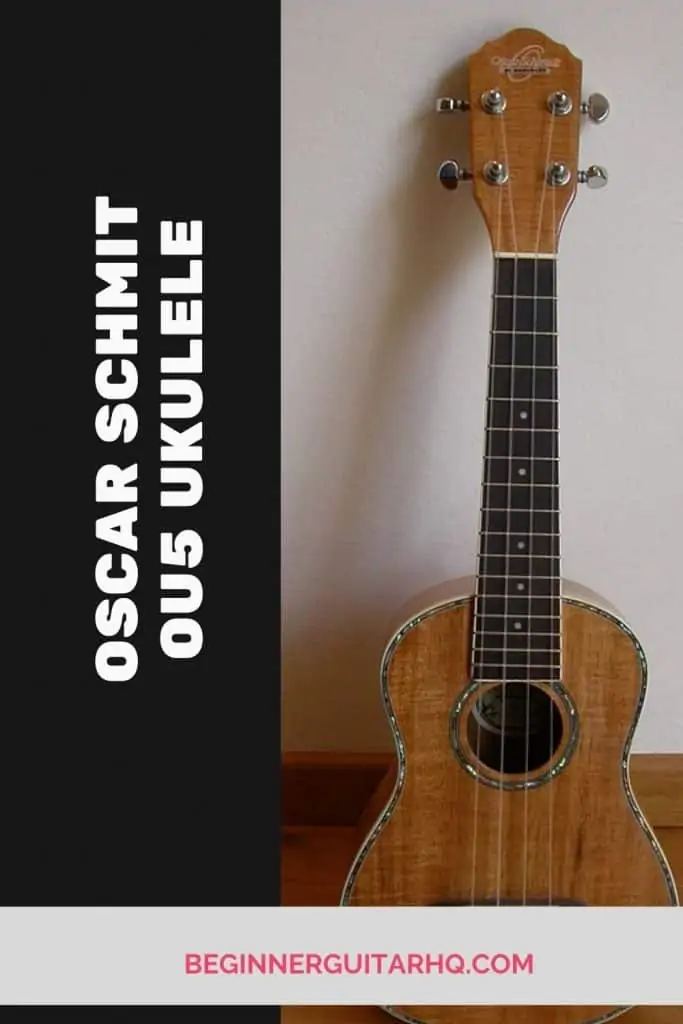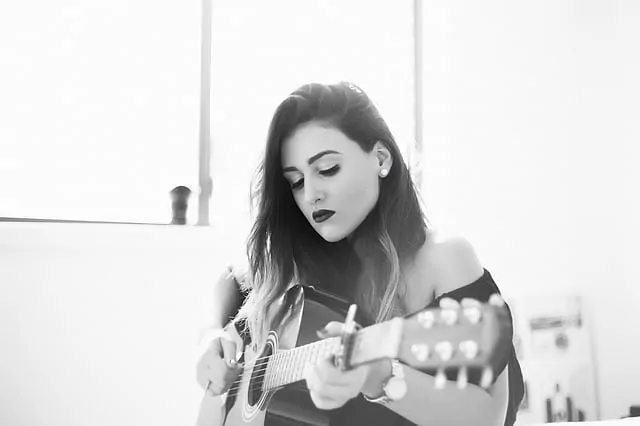 Jen is a guitarist and singer-songwriter who spends much of her time on the road and has lived in 13 cities across 4 continents. She picked up her first guitar at the age of 6 and learned to play by ear shortly after. She received her formal music education at the Berklee College of Music, and currently plays for a few bands in her free time. She has an uncanny ability to improvise creative melodies and harmonies. Her early influences include blues, jazz and rock.