Avenged Sevenfold is working on a new studio album as we speak. The metal band says it's "70 percent done." While we wait for their next head-banger, we take the opportunity to talk about Synyster Gates' guitar gear.
On an Instagram Live video, the Huntington Beach band showcased their drummer, Brooks Wackerman, recording a song on an electric drum. There's also some conversation between the different band members, as well as a short snippet of a new song.
Here's the preview:
Synyster Gates, as A7X's lead guitar player, ranks number 9 best metal guitar player of all times according to Guitar World magazine.
Synyster Gates guitar gear guide
We're not here to see how he plays guitar, but if you need to know, he mostly uses the Lydian mode. Instead, we're here to see how you could emulate Gates' sound at different price points. That includes an electric guitar, guitar pedals, and amplification (either a combo or a head & cabinet setup).
By different price points, I mean we're checking expensive guitars, premium rock guitars, mid-level options, and budget models as well.
Notably, we're also checking the metal pickups he uses, as you could install Gates' preferred pickups on your current guitar for a similar sound.
Additionally, we're checking valve tube amplifiers, combo amps, solid-state amps, modeling amps, head, and cabinets to find the best options. In the meantime, you could also check our article on the best metal amplifiers for extra options.
Lastly, we're checking the best guitar pedals you can buy to imitate Synyster Gates' guitar sound. This includes, mostly, distortion pedals and metal effects.
Overall, we're delivering three price points: premium, mid-level, and budget.
In the meantime, here's a tasty riff:
Synyster Gates guitar choices
The legendary guitar player has been a Schecter Guitar Research ambassador since 2004, and so he mostly plays Schecter signature Avenger models.
Notably, we're also checking the pickup he uses, as you could install Gates' preferred pickups on your current guitar for a similar sound.
Choosing a similar gear is then easier, as Synyster Gates rarely changes guitar onstage or offstage. His preferred ax is the Schecter Synyster Gates Signature Custom S model.
This Custom guitar is a monster and offers top-tier performance for its professional fee. Made in Schecter USA, it packs a Sustainiac neck pickup plus a control system to dial the amount and type of sustain of the pickup. Then, at the bridge, it packs a Synyster Gates Custom humbucker.

"Avenged Sevenfold (32468376016)" by Giada Conti from Pisa, Italy / CC BY 2.0 Synyster Gates has said he owns a collection of Schecter custom models.
For construction, it packs a mahogany body, a set-neck made of three mahogany pieces, a Floyd Rose tremolo & locking not, plus Carbon fiber neck reinforcement rods.
Lastly, it uses top-of-the-line Grover tuning pegs for maximum performance.
If that's a high price point for you, there's a slightly cheaper Synister Gates signature model:
The Standard model packs a couple of Synyster Gates custom humbuckers plus a black & white aggressive look.
He pairs the guitar with a Seymour Duncan SH-8 Invader humbucker at the bridge, but he leaves the Schecter Sustainiac neck pickup at the bridge. This is important, as most Schecter guitars come with either EMG or custom Schecter pickups.
Guitar alternatives
As an alternative, we recently reviewed the Schecter Hellraiser C-1. It's a mean guitar for metalheads selling with premium features to shine at the stage and the studio.
The Hellraiser C-1 is a SuperStrat type of guitar packing a fast neck, glued-in neck, premium tonewoods, and EMG81/89 pickups.
A similar option is the Schecter S-1. While Synyster Gates swapes its custom pickups for the models I'm listing below, it already packs a couple of Seymour Duncan tapers. You could rest easy that it will sound as A7X as its price point could pay.
If you're thinking of a mid-level alternative, you could check the Schecter Omen Extreme 6. It has a couple of Schecter Diamond Plus Pickups, a Tom bridge with a String-Thru piece, and Schecter Custom tuners.
Overall, it packs a great deal of bang for the buck, and you could always improve it by changing the stock pickups.
And if you're looking for a budget version, look no further than the Schecter Omen. You can go even lower, though.
In terms of top-value budget Schecter alternatives, I recommend the Schecter C-6, a similar guitar packing a basswood body and a Tune-O-Matic bridge.
That's as low as I would go on the Schecter brand. Other heavy SuperStrats, at entry-level prices, come from either Ibanez or Yamaha.
In this particular branch, I recommend the budget Ibanez GRX70. It packs a poplar body with a maple top, a maple neck, and a rosewood fingerboard.
For pickups, it has three proprietary Ibanez Infinity R humbuckers. More importantly, it packs a 5-way pickup selector switch for an amazing palette of tones. The GRX is hard-to-beat, even by mid-level priced guitars. It sounds great and it feels amazing.
Speaking of Ibanez, Synyster Gates has also used the Ibanez Prestige RG. This guitar packs an African Mahogany Body with neat color finishes, a proprietary neck profile, and Dual Bare Knuckle Brute Force pickups. It's as premium as you could get:
Pickup alternatives
The Seymour Duncan Invader set is Synyster Gates go-to choice:
Alternatively, he's also used the Seymour Duncan JB humbucker at the neck, plus an Invader at the bridge.
The JB is one of the most popular humbuckers you can buy right now. It's aggressive, harmonic, and offers plenty of sustain, warmth, and distortion.
Synyster Gates guitar pedals
We're not going into much detail on the pedals section, as the guitar is the most important element of the gear.
According to Equipboard, Synyster Gates mostly uses a Boss CS-3 Compression Sustainer.
He also prioritizes Cry Baby effects, analog delays, and volume boost.
For Cry Baby, you can buy either the Ibanez Tube Screamer or a Dunlop Cry Baby, which is Gates' preference.
The most affordable option would be the Tube Screamer Mini. Alternatively, you could also use a whammy pedal.
He uses a premium option from Digitech. That means you could search other multi-effect pedals that carry an onboard pedal as well.
For solos, he also uses a boost. In particular, he mostly employs an MXR Driver.
Other important elements of his pedalboard are the fuzz and the distortion pedal. For Fuzz, he uses the hefty Big Muff Pi, but you can opt for a cheaper version with the Nano Big Muff.
Then he uses the premium Ibanez Tube Screamer Pro, but you could also go for the popular and affordable Rat2 distortion.
Lastly, you can add delays, phase shifters, and flangers to the signal chain. But if your budget is tight and you need some quick results, you could choose the Boss CS-3, the Nano Big Muff, and the Tube Screamer.
Obviously, Gates uses other boutique pedals we couldn't find online. Some of the brands he prefers are Krank, ISP, and Ebtech.
Signal chain
I should also clarify where to put these pedals on your signal chain, in case you're building up for this kind of sound.
The first pedal on your

pedalboard

needs to be the compressor, either the Boss CS-3 or any other model you have. The compressor is also your top priority here.

Next up comes your driver or volume booster. It's an ideal pedal if you're intending to play many solos. Just engage the boost while you solo to enhance your guitar's presence.

Then, you have to place the Cry Baby. This is also a priority for the Synyster Gates sound.

Next comes the whammy pedal, but you could choose not to use one. The Cry Baby could give you a similar result.

Then comes overdrive, fuzz, and distortion, in that order. If you can only afford one of the three, I'd recommend going for a Big Muff pedal, as you can still rely on the overdrive/distortion channel of a quality amplifier.

Lastly, you can play the modulation effects. They can be after the clipping effects, or they can come out of the amp's effects loop output if it has one.
So, let's say you have a tight budget for pedals. Then I'd suggest going for the Boss CS-3, a Mini Tube Screamer, a Mini Big Muff, and the Rat distortion.
Then, you can rely on the onboard effects of your metal amp for modulation. On my guide about the best metal amplifiers, I highlighted various models you can check. Notably, the Boss Katana, as the best digital amp, is the top value alternative.
<iframe width="900″ height="506″ src="https://www.youtube.com/embed/ixOc9e140bk" frameborder="0″ allow="accelerometer; autoplay; clipboard-write; encrypted-media; gyroscope; picture-in-picture" allowfullscreen></iframe>
Synyster Gates amplifiers
Last but not least, let's check which amplifiers you could use to imitate Synyster Gates' guitar sound.
Avenged Sevenfold's lead guitar player uses a wide selection of guitar amplifiers, according to Equipboard. However, we're here to pin down the best options for you.
Gates' main amplifying options are expensive. He pairs the Marshall JVM M-JVM205H valve-tubes guitar amp head with a 240-watts Schecter guitar cabinet. In particular, the JVM is one of the most popular choices for professional heavy metal musicians, including Metallica, Slipknot, or Slash.
Another model he uses is the Marshall JCM800 valve tube head, which is rare, hard to find, and expensive.
Amplifier alternatives
Certainly, not everyone can aim for these price points.
If I had to pinpoint a more affordable but yet professional option, I could list the Bugera Trirec 100-watts valve tube head.
Otherwise, you could always go for smaller Marshall amplifiers, something you could store at your place instead of the gigging plane. After all, Synyster Gates has publicly endorsed Marshall a couple of times.
As he has used various Marshall combos, I can safely recommend the Marshall Code, a 50-watt modeling combo amplifier. It's the brand's best-seller, with various amp voices, a 3-band EQ, onboard FXs, 100 presets, the ability to use 5 effects at the same time, and a USB output you can use for home recording.
Overall, it's a state-of-the-art amplifier delivering authentic tubular voices. It can even imitate those famous Marshall valve tube heads we discussed.
If you're looking for a premium sound for home recording, you could check the Marshall DSLR5, a 5-watts valve tube amplifier with onboard reverb and top-tier sound.
For a similar price, you could also buy a 20-watt valve-tubes Marshall amp, the Origin model. It's an expressive model with a gorgeous clean, a powerful drive, and two distinct amp voices.
In particular, the clean channel works as a gorgeous blank slate for your pedals. It creates rich, clear, and harmonic tones, ideal for players willing to experiment with their sound. It's a great option for both the studio and the stage.
Alternatively, the Marshall 40-watts DSL model offers the best mid-level performance you can expect out of a valve tube amplifier.
Finally, the lowest you can go is with the MG15CFX, a small solid-state combo amplifier packing Marshall's classical looks and sounds.
In Summary
Following the gear of famous guitar players helps you better mix and match your guitar gear. Like with everything in life, taking the example of those who've done it before us with great success it's always the best idea.
Speaking of which, imitating Synyster Gates' guitar sound can be as cheap or as expensive as you'd wish.
I believe the most important factor is getting a Schecter guitar. Then, you can pair it with an Ibanez Tube Screamer, a Boss Compressor Sustainer, and a Marshall amplifier.
For anything else, please leave your questions and recommendations below!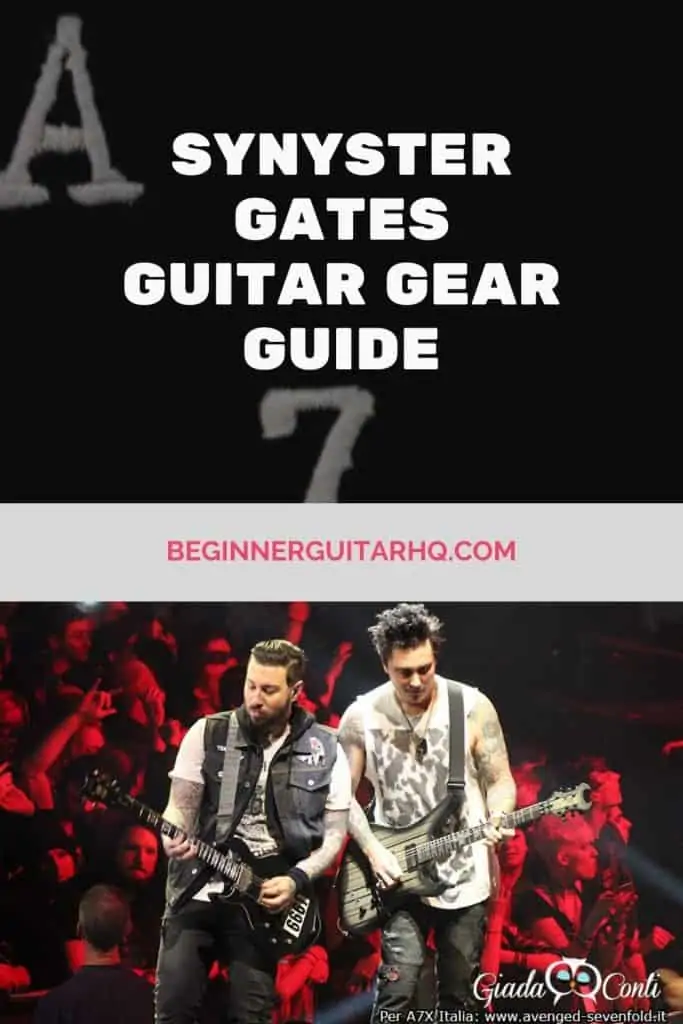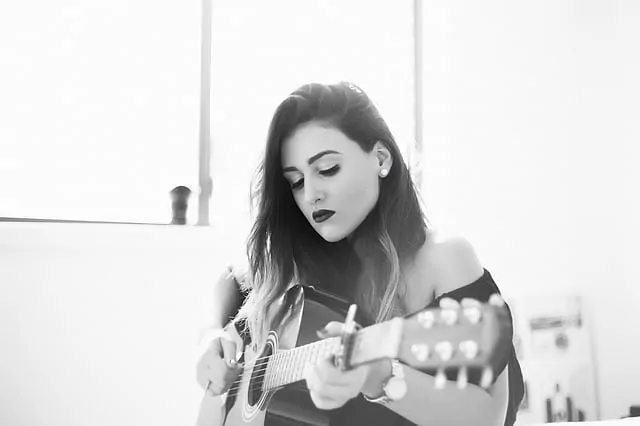 Jen is a guitarist and singer-songwriter who spends much of her time on the road and has lived in 13 cities across 4 continents. She picked up her first guitar at the age of 6 and learned to play by ear shortly after. She received her formal music education at the Berklee College of Music, and currently plays for a few bands in her free time. She has an uncanny ability to improvise creative melodies and harmonies. Her early influences include blues, jazz and rock.