The sense of hearing, though present in almost everyone, does not guarantee the ability to listen. Listening is the ability that helps you to hear sounds and, your ability to listen can often go a long way to determine how well you can reproduce sounds, especially when you play the guitar.
Advancement in technology has provided us with tools to aid our listening abilities, and one such tool is the Bluetooth headphone.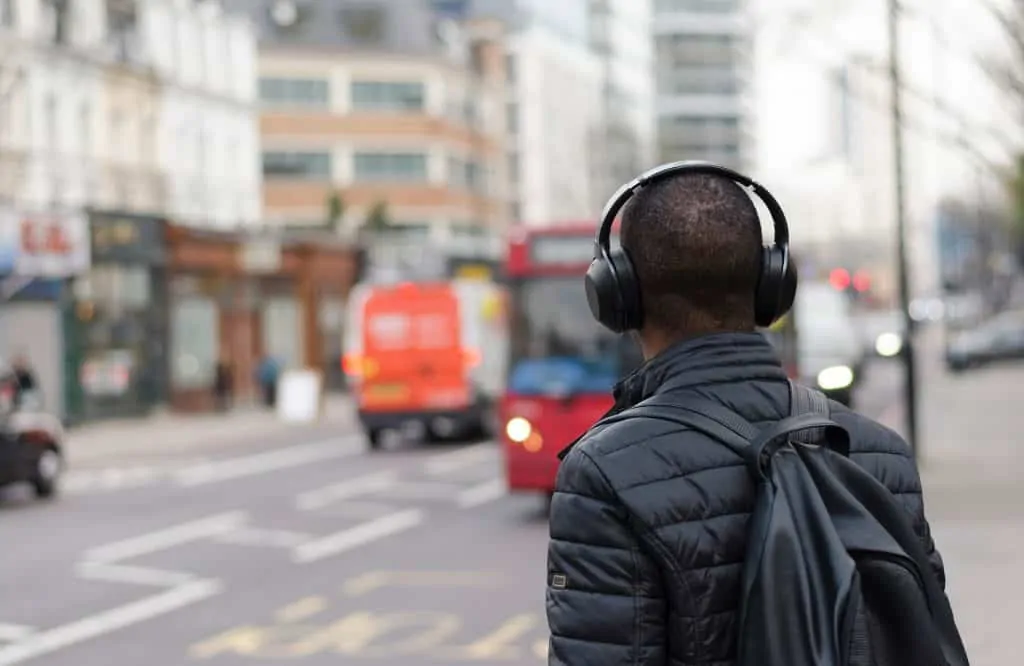 The freedom and the power to maximize the listening ability no matter the location is one of the perks of a Bluetooth Headphone. 
There are various brands and options of Bluetooth headphones out there, ranging in the extremes of prices, and design options. In this review, however, I will be considering the best of the budget range Bluetooth headphones, helping you choose which one will fit your present needs.
Without any further ado, let's check them out!
Mpow 059 Bluetooth Headphones 
MPOW is one of the best headphone manufacturers today, and they have a nice Bluetooth headphone in Mpow 059 over-ear Bluetooth headphones that has one of the best sound quality at an affordable price range.
The Mpow 059 Bluetooth headphone is an over-the-ear headphone designed with highly durable material to withstand excessive rough handling without giving-in. Although this headphone exists in the lower price range, it still gives other higher-priced Bluetooth headphones a run for their money in terms of ruggedness and durability.
Also, the well-padded ear cup gives the sound a full-bodied feel while the headband incorporates reinforced steel sliders to ensure that it fits well when worn over the head, with both matching each other in comfort and aesthetics.
The technology used to deliver the plush sound has  wide aperture diaphragms for the neodymium drivers, which allows for a robust sound, as well as, quality bass sounds with its low-frequency optimization. The sound produced with this technology combination is well balanced for both the low-end and high-end frequencies.
The intuitiveness designed into this Bluetooth headphone makes for convenient use as the controls are placed on the ear-cups for easy reach.  Though the Bluetooth technology has been around for a while now, and other Bluetooth headphones have adopted more recent Bluetooth technologies, the Mpow 059 still connects with other Bluetooth devices quite easily.
It also comes with the option to connect directly through the use of an added cable for versatility, while the battery can make sure you have a quality sound on the go for up to twenty hours.
Pros
Very affordable
Balanced sound (both high-end and low-end frequencies)
Optimized bass
Padded cushion for comfort
Durable steel sliders
Cons 
A bit bulky
Cheap plastic material
The Mpow 059 is both extremely stylish and decked with some powerful sounds to complement it. 
Skullcandy Grind Bluetooth On-Ear Headphones
This on-ear Bluetooth headphone from Skullcandy is made to be functional as well as pleasant to the eyes with its Grind model design. This is one of the most rugged, budget-friendly, Bluetooth headphones that you can find in the market today. The materials used in its manufacture takes into account the misuse and abuse of headphones by users with a strong and durable metal headband to reduce the impact of these abuses.
The high comfort built into this headphone features a machine-woven leather headband, which increases its coziness and keeps you relaxed with enough allowance for breadth and to reduce sweating.
You can call this a luxurious headphone in some aspects seeing that it has ear-cups that are different from the usual sponge cups with its generous extra padding, which gives it a grand feel.
It further features 40mm drivers that make the sound quality similar to the ones from the over-ear headphones, however, it is subtle as it is an on-ear set. It also features Skullcandy's trademark 'supreme sound' for processing wave signals produced.
A significant advantage of this on-ear set is its efficiency with its power supply as it has a rechargeable battery that can be fully charged in two and a half hours while taking twelve hours of use to discharge the fully charged battery. Pairing your devices with this headphone is devoid of any difficulties, and it also has a linking cable for connecting your devices physically for times when you're away from a charging point while the battery is out.
Pros
Comfortable design
Proprietary wave signal processor
Sizeable sound drivers
Option for on-ear
Solid build
Cons 
It is non-foldable
Control buttons feels cheap to the touch
Not water-resistant
This is a comfortable on-the-go music machine with a touch of luxury at an affordable price tag. 
Skullcandy Smokin' Buds 2 In-Ear Bluetooth Earbuds 
For an in-ear Bluetooth headphone option that is budget-friendly, the Skullcandy Smokin' Buds 2 stands out among other in-ear headphones. This well-manufactured Bluetooth headphone from Skullcandy offers users the ability to cancel out unwanted surrounding noises. The Smokin' Bud 2 Bluetooth wireless earphone uses  Skullcandy's patented sound technology for signal processing to deliver improved sound quality with its onboard wave recognition software.
One of the features which make this headphone amazing is the extraordinary response of the drivers, which creates a stable audio quality across both high and low-end frequencies as well as being responsible for its awesome sound quality.
The material for manufacture is another plus for these earbuds. The earbuds are made of ear-friendly materials that can also withstand aggressive usage without cracking for a long time. The design is also ergonomic, which puts the comfort of the user first while ensuring that it fits the ear properly with its custom, flexible, neck collar.
The Smokin' Bud 2 Bluetooth headphone is armed with noise-canceling chips for proper separation of external sounds from the main sounds and, it has a remote-operated microphone, which is incorporated with the earbuds to allow for a fully hands-free function.
Pairing devices and this headphone with its Bluetooth technology are as easy as a breeze. At the same time, its durability is further ensured with a flattened linking cord, which discourages any form of entanglement of the cable. It is also fast-charging with up to six hours of use for a fully charged battery.
Pros 
Ergonomic design
Noise-cancellation chip
Durable
Non-tangling flattened cord
Quality sound
Detachable neck collar
Cons 
Lacks the AptX Bluetooth technology
A highly intuitive and functional in-ear option for wirelessly playing your songs while you move. 
AUPAI Sports Wireless Earbuds
In the relatively inexpensive Bluetooth headphones category is this sports wireless earbuds from AUPAI. This Bluetooth headphone is one of the most affordable in this segment, and even though they might be produced in large quantities, they still have offerings that are great for a budget Bluetooth headphone.
It has ear hooks that are full and ensure firm ear grip, with a very balanced and comprehensive stereo sound quality for its price range. Its response is also pretty decent within extreme frequency ranges of highs and lows.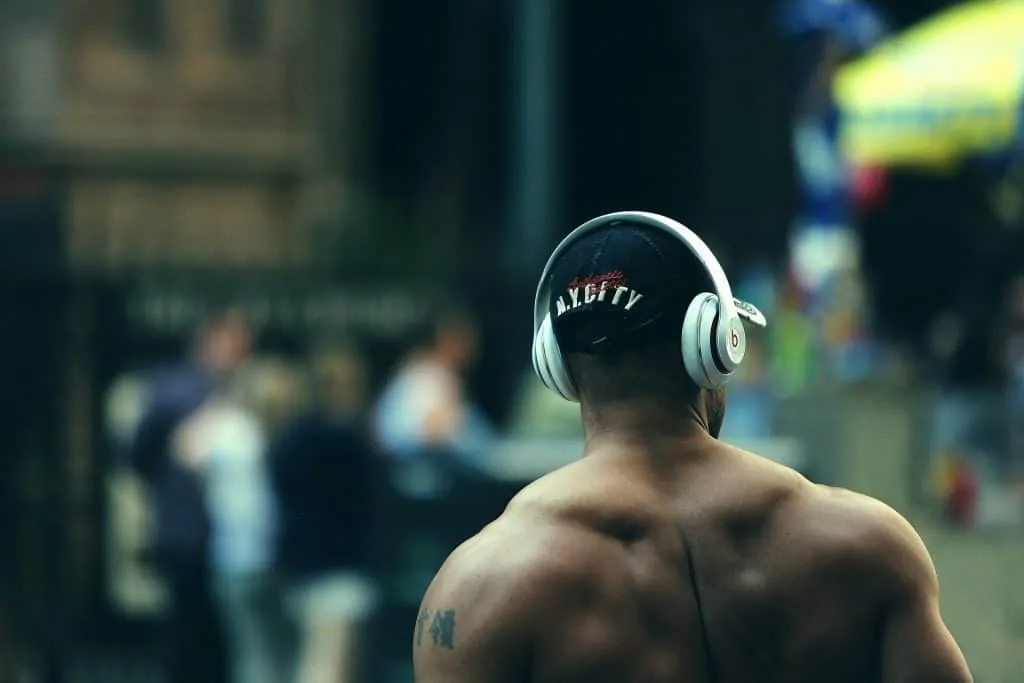 A great plus with a sports Bluetooth Headphone is the outdoor advantage it offers especially during high intense workouts
The durability of the material of manufacture is nice with a consideration for fairly aggressive usage. The use of neodymium drivers, which converts electric impulses to sound power, guarantees that it has a good bass sound and a better overall audio quality.
The design also infuses ergonomics and comfort for the skin while ensuring its flexibility though it remains secure while in use. The Bluetooth technology of the AUPAI sports wireless earbuds can connect with devices within relatively distant spaces.
There is an included mic for a comprehensive hands-free functionality and can cancel external disturbances with its onboard Current-Voltage Characteristic (CVC) chips for mic sound effects. Some controls have been built into the earbuds for easy function navigation.
With an IPX7 waterproof rating, means that the headphone can last for a total of thirty minutes when immersed in water up to a depth of one meter. It also takes one and a half hours to fully charge the battery, which is pretty fast for a battery that can supply power for up to eight hours of use for a fully charged battery. This Bluetooth headphone is also equipped with the capability for canceling intrusive external noise from affecting the main audio.
Pros 
Relatively inexpensive
Fast charging
Noise-cancelling technology
Firm over-ear fitting
Waterproof
compact
Cons 
Well-detailed sounds from an accurately-designed Bluetooth headphone, the Aupai wireless Bluetooth headphone is one amazing headphone. 
Anker Wireless Headphones Spirit X 
Sometimes, having an energetic regime makes it difficult to keep headphones in place, especially for stage performers like rock guitarists and sports individuals. The Anker Spirit X wireless headphone is designed to meet these needs.
The Anker Spirit X is a product of many years in marine research that has yielded a sturdy, robust, and durable wireless headphone. It boasts of high-grade manufacturing material that delivers very comfortable feels for the users with its acoustic functional design. The earbuds are both rugged and user-specific with its different sizes for different users as well as being fit for each individual's ears with its full ear hooks.
The sound drivers used in its manufacture is a 10mm expansive driver to convey a remarkable range of audio frequencies from very low to high frequencies.
The controls designed into it also make navigation around functions pretty intuitive, with an accompanying mic that guarantees a hands-free experience. There is a 5.0 Bluetooth technology that enables wireless connectivity at a reasonable distance from the devices while also ensuring that the stability of the connection is maintained.
To spare you from worrying about how to care for the components of this Bluetooth headphone from elements like dust and water, it is designed with an IPX-7 rating. With a waterproof rating of IPX-7, even a swimmer can wear it while swimming at a depth of one meter for up to thirty minutes without any worries of water intrusion.
This will be an excellent fit for the highly energetic outdoor individual who wants quality audio while performing their routine.
Pros
Rugged and tough
High waterproof rating of IPX-7
Reasonably-priced
Very comfortable with ergonomic design
Flexible but holds firm in place
Good bass and overall sound quality
Cons 
The sound drivers are a bit small
Well-packaged, compact, tastefully-designed Bluetooth headphone that is made to withstand some fairly harsh conditions including water in the rain. 
Avantree ANC031 Bluetooth Headphone
This over the ear Bluetooth headphones from Avantree is well-suited for people who like to use Bluetooth headsets for long hours during the day.
The Avantree ANC031 is made from lightweight materials and components, which makes them less stressful for the ears after long hours of wearing them.
This lightweight Bluetooth headphone is easy to pack after use as it folds nicely without any difficulty. Its sound quality is equally top-notch considering other Bluetooth headphones in its price category, with its neodymium sound drivers that makes sure that it sounds great. The Avantree ANC031 also fits well on the ears as it has been designed with extraordinary consideration for comfort either you sit on a chair or while standing.
Though it seems not to be at par with other models in terms of noise cancellation despite its closed ear-cup back, it makes up for this in terms of its fast streaming abilities. Avantree ANC031 has no sound delays when streaming recordings, syncing the visuals properly with the audio with no time gap between the two, which is a demonstration of its strong Bluetooth technology, which can adequately accommodate up to two devices.
It has a battery capacity of up to twenty hours of quality audio time, while its included mic gives a total hands-free capability to the user.
In all, the Avantree HS063 is favorably-suited for long-hour headphone users within the home, who have a need to connect audio devices wirelessly as the HS063 is not heavy on the ears and doesn't have much resistance to external noise.
Pros 
Quality audio
Ultra-lightweight
Easily packaged
Long battery life
Reasonably-priced
Lag-less audio streaming
Connects two devices
Cons 
The intrusion of environmental noise
Ineffective noise cancellation
Not designed for aggressive use
Having a high Active Noise Cancelling index, with extensive battery life are just two of the best features built into this awesome Bluetooth headphone. 
Besign SH03 Bluetooth 4.1 Headphones 
Another Bluetooth headphone designed with the athletic individual in mind is this Besign SH03 Bluetooth headphone. This sports Bluetooth headphone comes as an on-ear design that is easily folded and packaged when not in use.
Besign SH03 Bluetooth headphones are very durable and made to withstand some of the most aggressive use during workouts and high-energy activities. It also holds firmly on the ears as it has external components like the sturdy neck and ear frames, which help to maintain it in place during use, giving other design options like the in-ear option a run for their money.
The connectivity technology runs on the 4.1 Bluetooth technology, which is a bit older than the more recent version. Nonetheless, it easily maintains stable connectivity over a reasonable distance from the connected device.
Being a sizeable on-ear headphone gives the Besign SH03 Bluetooth headphones the advantage of using bigger internal components, which can increase the quality of sound produced. A full diaphragm, for instance, gives more vibrant sound quality and can match the sound quality of an over-ear headphone.
It has a battery that lasts more than a whole day of use when fully charged. With up to twenty-five hours of music playtime and thirty hours of hands-free talk time, this Bluetooth headphone is simply awesome. It also features a noise-canceling technology that ensures that environmental noises, especially when outdoors, do not intrude on your listening pleasure.
Another added feature is a mic built-in to ensure a full hands-free activity with a battery that has a total of six hundred hours of standby time.
In all, the Besign SH03 Bluetooth headphone, even though it belongs to the budget class, still stands out for its impressive features, which are majorly designed with the performer in mind.
Pros
Great battery life
Strong, durable material
High-quality audio
Reasonably-priced
Folds easily
Cons
Quite sizeable
Clarity of sound at maximum volume can be a problem
Besign SH03 is one of the most budget-friendly Bluetooth headphones in the budget class that you'll find today but it doesn't disappoint with great sound quality. 
COWIN E7 ANC Bluetooth Headphones
One of the most fabulous selections of Bluetooth headphones in the budget-friendly category is this COWIN E7 Active Noise Cancelling (ANC) Headphone. The noise-canceling technology makes it one of the favorites in its class as it relies on an advanced technology to block out intrusive external noises to practically zero noise. It comes in a very durable body, which is another of its selling points along with its effortlessly-foldable design.
The COWIN E7 Bluetooth Headphone is also constructed using drivers – more like the Amps, with large apertures to enhance the quality of the sound produced, with cross-frequency balancing between the bass and the high-pitched ranges.
This Bluetooth headphone is no pushover when it comes to its connection abilities. Despite its price, its Bluetooth technology is adequate to maintain a consistent connection with a pretty fast pairing capacity. The complementing mic also adds more versatility to users' hands-free activity with good sound attributes.

Having a Bluetooth Headphone that  can easily pair with different devices across multiple platforms is an excellent feature to have. 
The battery potentials of this headphone are one of the best available in the market with a 600mAh capacity, and it can last for up to thirty hours of use when fully charged.
With durability that is backed by solid materials engineering, the COWIN E7 has one of the most robust designs when compared with its counterparts. It has a well-built metal reinforced headband and ear-cups, which are very comfortable and fit well with a 90-degree rotational motion. The comfort level is further enhanced with well-sewn protein leather that cushions the ears with enough coziness.
Pros
Durable
Cozy and comfortable
Reasonably-priced
Good battery life
Fantastic ANC (Active Noise Control)
Cons
The comfort level offered by this Bluetooth headphone is well above average, with a 90-degree rotational design and a long-lasting battery to match. 
TBI Pro Bluetooth Headphones 
The TBI Pro Bluetooth Headphones is a unique combination of both the in-ear and the on-ear design option, adding a versatile character to the wireless headphone. Equipped with an upgraded 4.1 Bluetooth technology that promises a faster pairing and more stable connection than the previous 4.0 version, this headphone can connect devices across different platforms, including Android and iOS Apps or platforms.
Its Apt-X and CSR8645 technology backs the improved connectivity and clarity of voice signals, as well as the enhanced stereo sound quality with drastically reduced interference. It also has robust drivers that separate frequency signals very easily to give a balanced and well-rounded audio dynamics.
This Bluetooth headphone is designed to give sports individuals and active persons one less thing to worry about as it has an over-ear hook that is well-integrated into the earbud design. It also comes with various sizes of tips to choose from, which ergonomically fits into different ear types.
With particle intrusion rating of IPX-7, its resistance to water intrusion is very high, and it means outdoor use, including in rainy conditions, is not a problem. The noise cancellation chip ensures that external noises are kept to the barest minimum, while the battery power ensures that you get up to twelve hours of talk time for a fully charged battery.
Pros 
Waterproof
Durable
Firm design
Comfortable
Reasonably-priced
Cons 
Relatively low battery life
Listening to your music outdoors on this TBI Pro Bluetooth headphones puts your mind at rest even when the rain threatens to strike. 
TaoTronics Active Noise Canceling Bluetooth Headphones
This very affordable Bluetooth headphone made by TaoTronics is well-recognized for its very deep noise reduction abilities. With its strong adjustable headband designed to secure it firmly to the ears while still delivering high levels of comfort. The leather-covered ear cups have been magnanimously padded to soothe the ears during usage and no matter the angle you choose to wear them, the 90 degree rotational movement designed into the headphone makes it stress-free to adjust and fit accordingly.
The TaoTronics Bluetooth headphone is also furnished with external components that make it compact and effortless when packing it for storage.
The internal sound components like drivers have large 40mm apertures which are responsible for producing high quality sound including a great bass quality sound.
With a nice ambient noise cancellation and a Bluetooth technology that ensures a seamless and fast wireless connection, the TaoTronics Bluetooth headphone poses the opportunity to have a fun time listening to great sounds over wireless connection.
The battery life of this headphone is also one of the longest in the market for a single charge, with as long as thirty hours of listening time for a fully charged battery.

Whatever the option of Bluetooth headphones you choose, it is always better to find one with a good battery life and fast charging
In all, the TaoTronics Bluetooth headphone is well-designed to give both comfort and functionality without forgetting the importance of great sound quality while excluding external noises from the mix.
Pros 
Very durable and strong
Easily packaged
Quality bass and overall sound
Great battery life
Fast charging
Reasonably-priced
Very comfortable
Active Noise Cancellation (ANC)
Cons 
Not waterproof
A bit bulky
With a handsome aesthetic design, a generous battery power, and a potent Active Noise Cancellation to match, this TaoTronics Bluetooth Headphone is a sheer delight to listen to. 
Final Take 
Every Bluetooth headphone adds value to your listening pleasure. However, what determines the best Bluetooth headphone for you will be based on what your design preference is and what function(s) you require.
Furthermore, durability will come in handy for any Bluetooth headphone that you choose. Hence, the material used in the manufacture of this headphone is also critical. Nonetheless, the circuitry technology and the driver components employed will also go a long way to enhance your audio experience. Still, the numerous options available within your budget ceiling are also to be considered as there are enough varieties to confuse you.
In all, the review of the best budget Bluetooth enumerated above should serve to inform your decision in choosing from the best that the market has to offer.
Cheers!!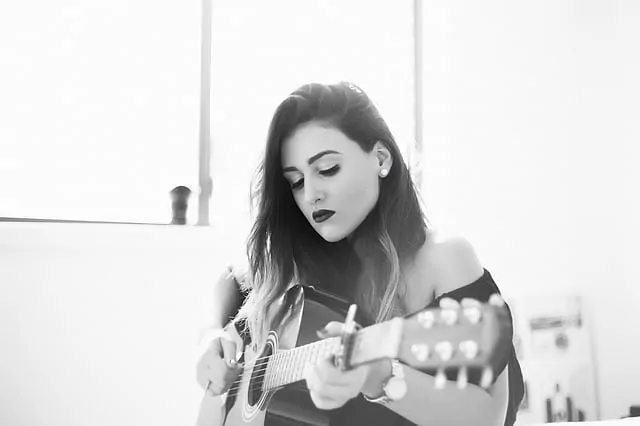 Jen is a guitarist and singer-songwriter who spends much of her time on the road and has lived in 13 cities across 4 continents. She picked up her first guitar at the age of 6 and learned to play by ear shortly after. She received her formal music education at the Berklee College of Music, and currently plays for a few bands in her free time. She has an uncanny ability to improvise creative melodies and harmonies. Her early influences include blues, jazz and rock.