The right chair can make all the difference in your practice sessions. If all you have is a dining room chair, your tookus will not be happy. Even if you have a chair or stool that you think may work, it may not be the best option for playing guitar. 
So in this post, we'd like to cover how you can choose the right guitar chair for your practice sessions. 
Do I Even Need A Guitar Chair?
We all have a bed or a couch, so why invest in a guitar chair or stool? Well, the wrong kind of seating can mess with your posture and your playing technique. 
If you experience back, neck, or rear-end pain during and after your practice sessions, it's probably time for a new chair. 
But first, you should ask yourself: for what am I practicing? The answer to that question will help you decide if you need a chair or not. Because you should always practice in a context that's as close as possible to the situation for which you're practicing. 
Are you practicing to perform live? If so, will you be sitting or standing on stage? Many performers prefer to stand during concerts, but some sit.
Are you practicing so you can get better at recording guitar in the studio? If so, most of your job is done in a chair. 
Or are you practicing just to get better? Maybe you want to play guitar faster, learn extended chords, or you just want to fix your sloppy guitar playing. 
Practice how you'll be performing, recording, or whatever you'll be doing. 
What Makes A Chair Good For Practicing Guitar?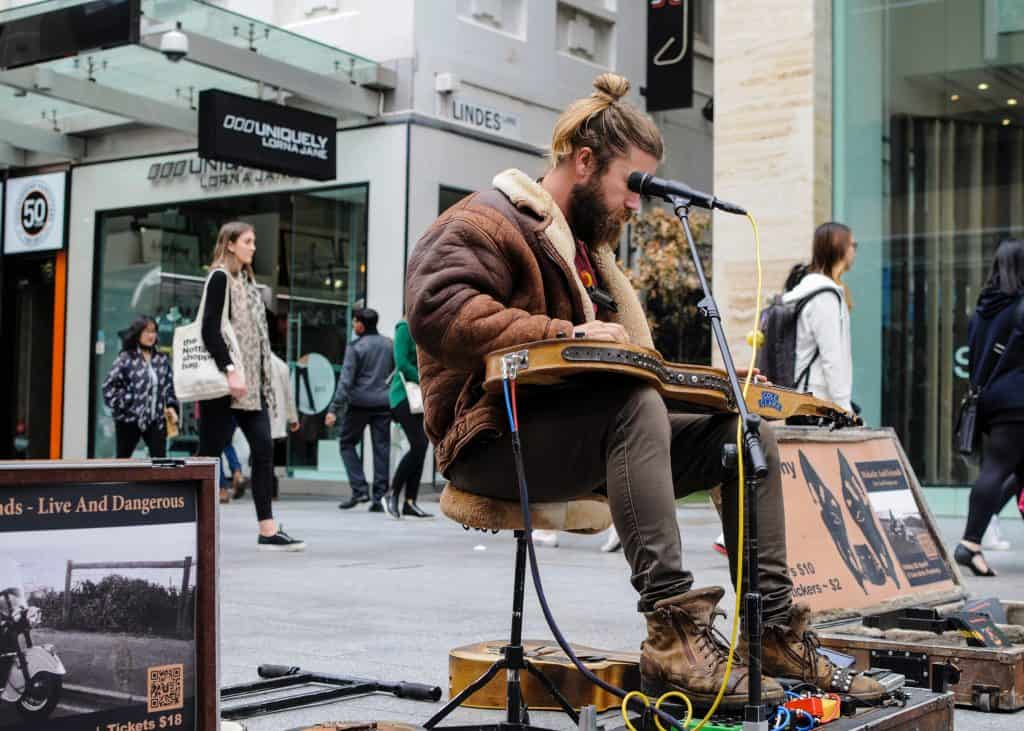 Different guitarists need different chairs for different situations
It really comes down to your preferred position when practicing the guitar. But basically, here's what you'll want to decide before you get a new stool or chair:
Do you want a stool or regular sized chair? Which is better for your height/weight?
Do you need a backrest? How much of a backrest?
Does it have arms? It shouldn't have arms as they will get in the way of the guitar.
Do you want the seat to have an indent that conforms to you?
Should the seat have padding or can it be wooden or metal?
Does the chair or stool have strong chassis? It needs to support you and your instrument and last for a long time.
How portable is the chair or stool?
Do you like the look of it? 
The 8 Best Guitar Chairs And Stools
As you can see, there's quite a bit of thought that you'll need to put into getting a new practice chair. And we'd like to help. 
So here are the 8 best guitar chairs and stools on the market. 
Fender 30 Guitar Barstool
Fender thinks of everything for guitarists. Their 30-inch-tall stool is just the right height for most players and it's cushioned, meaning you can sit for long periods of time and be alright. 
It has one rung at the exact height where your feet can rest while still allowing you to have a lap for your guitar. This barstool was definitely created by guitarists.
Gibraltar 9608MB Cordura Guitar Stool with Backrest
This "throne" is technically listed as a drummer's seat, but it's perfect for guitarists. The vinyl seat conforms to you and backrest helps you avoid back pain. 
It doesn't have a rung for your feet, but it doesn't need one. It's adjustable to fit any guitarists, so you can set it to a memory-locked height that allows your feet to comfortably rest on the ground. And its durable rubber feet ensure it doesn't move around while you're practicing.
The big downside is its high price, although you're paying top dollar for high quality.
K&M Guitar Performance Stool
K&M's guitar stool has an ergonomic leather seat with a spring-loaded build, so the back support and comfort are top-notch. It also has foot pegs to make holding your guitar as comfortable as possible. And the foldable steel frame is both sturdy and easily portable. 
The big downside is the price, especially considering it doesn't even have a backrest. 
On-Stage DT8500 Guitar Stool
The DT8500 is highly adjustable, both its height and its backrest. The vinyl cushioned seat seems a bit small, but it is soft. And the footrests seem a bit high for most guitarists. Fortunately, it comes at an affordable price. 
Quik Lok DX749 Deluxe Guitarist Seat
The Quik Lok guitar chair is great for guitarists who like to lean back a bit when playing. It has a cushioned backrest and seat, so you can get really comfortable in this chair. And pretty much everything is adjustable on this stool — the footrests, the backrest, and the height. You should be able to customize it to the best position for practicing guitar. 
Rockville RDS40 Portable Guitar Padded Stool
This Rockville guitar chair is also marketed as good for DJs, drummers, and keyboards, but it's perfect for guitarists. It's both sturdy and lightweight (holds up to 300 pounds), making it reliable and easily portable. The backrest is removable, but the padded seat is only 12 inches around, which seems a little small. 
Stagg GIST-300 Foldable Guitar Stool With Built-In Guitar Stand
This Stagg chair is a nifty little thing — it's a stool and a guitar holder that fits any guitar. On one side of the chair down at floor level are a couple of hooks that act as a guitar stand. 
However, there's no backrest and the seat doesn't look very padded, but if often find yourself needing somewhere to put your guitar — whether on stage or in the studio — this might be a good fit for you.
Torin Big Red Swivel Guitar Stool
This guitar chair is great for a studio setting because it swivels. If you're practicing guitar and want to quickly record a song idea, you can swivel over to your microphone. The 14.5-inch-wide seat is thick and cushioned with foam so you can be comfortable. The frame, which has a rung for your feet the whole way around, is made of durable, tough steel. Plus, this may be the most affordable seat on this list.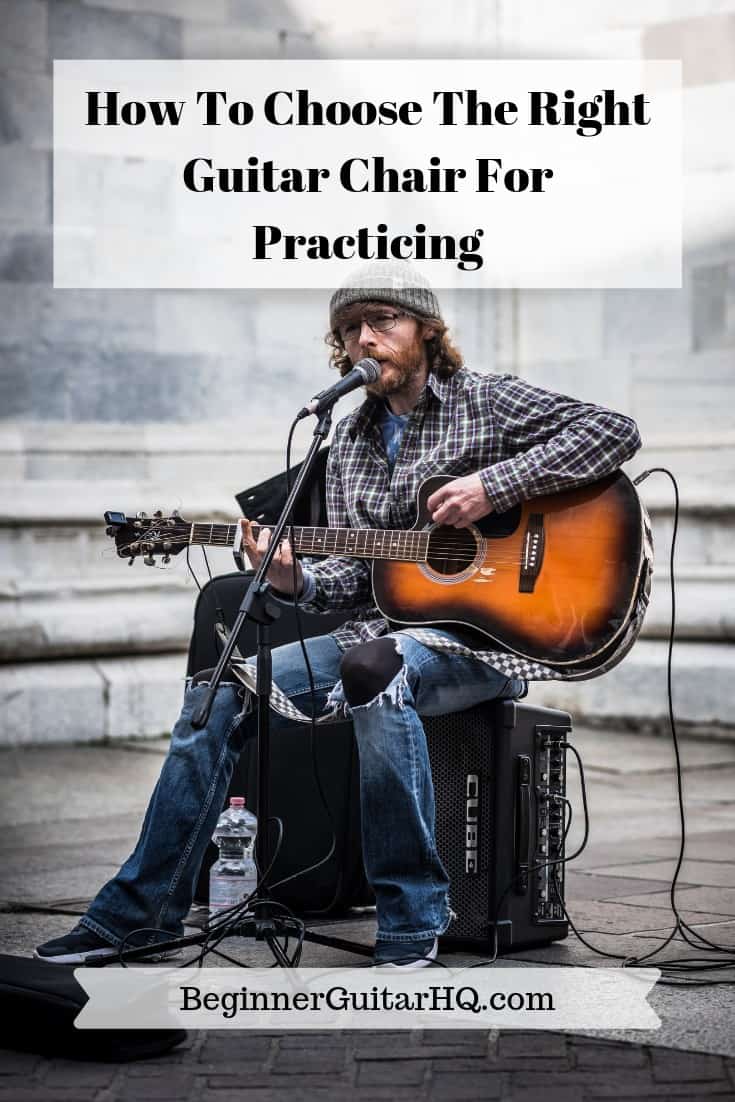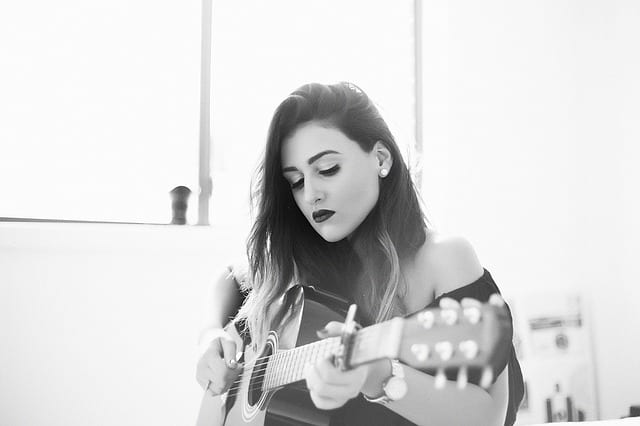 Jen is a guitarist and singer-songwriter who spends much of her time on the road and has lived in 13 cities across 4 continents. She picked up her first guitar at the age of 6 and learned to play by ear shortly after. She received her formal music education at the Berklee College of Music, and currently plays for a few bands in her free time. She has an uncanny ability to improvise creative melodies and harmonies. Her early influences include blues, jazz and rock.