At BeginnerGuitarHQ, we aim to help you learn to become a great guitarist. When learning this valuable skill, you need the equipment to go with it, so we put together helpful reviews that'll give you a head start in deciding what's right for you!
In this important guide, I'll talk you through the Yamaha Pacifica PAC112V.
If you need to know whether a Yamaha Pacifica PAC112V is right for you, then look no further…
A Bit About The Yamaha Pacifica PAC112V
The Yamaha Pacifica is a series of guitars produced since the 1990s, with many variants designed to replicate famous guitar brands. They have two basis body shapes, modelled either on a single cutaway Telecaster-like shape, or a double cutaway Stratocaster-like shape.
They're known for their use as an entry level, budget guitar series that still retains quality. Their most affordable guitar is the PAC012, which has an Agathis body and Sonokeling fingerboard, making it cheaper to produce but gives it a slightly cheaper feel and worse sound. All of the other versions currently in producer use a Rosewood fingerboard and Alder body, including the one we'll be focusing on today, the PAC112V.
Look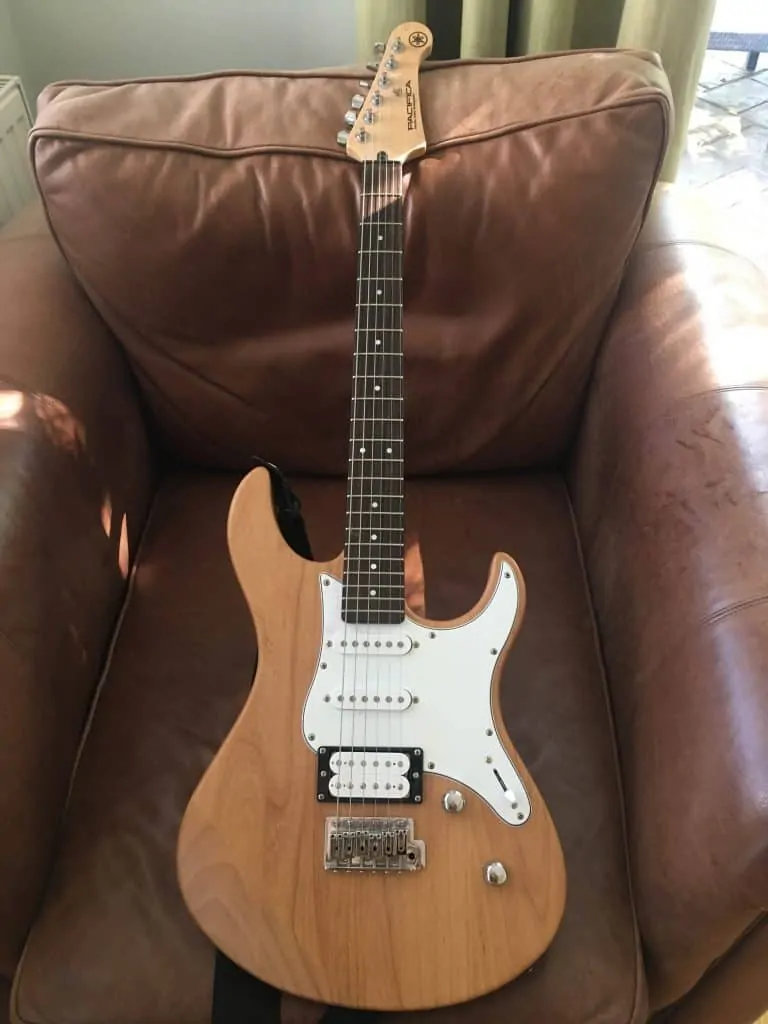 Obviously, you can get a Yamaha Pacifica PAC112V in a variety of colours. The one shown in this picture is a beautiful wooden finish that shows off the swirling wooden textures within its brownish, orangeish, goldish colour. The brown of the neck compliments the body, though the plasticy white looks slightly more kitchen-top than guitar-top. The silver knobs are nice to look at and their design is modern and aesthetically pleasing, but the lack of numbering on these tone wheels make it a little hard to know which way you should be moving.
In terms of the guitars shape, it is clearly modelled from a standard Fender Stratocaster body, which makes it a direct competition with their own budget alternative, the Squire Stratocaster. Personally, I think this one is much better looking than any Squire Strat. The body is smooth and sleek, and the little chunk taken out if it allows your strumming arm to rest while you play. The Rosewood fretboard is delicate and the headstock puts all 6 tuning pegs on the same side, which I always prefer.
One problem I find is that the input for your lead is on the side of the guitar, not sliding in to the body itself. This certainly looks less sleek, and in my experience, makes for a less sturdy connection.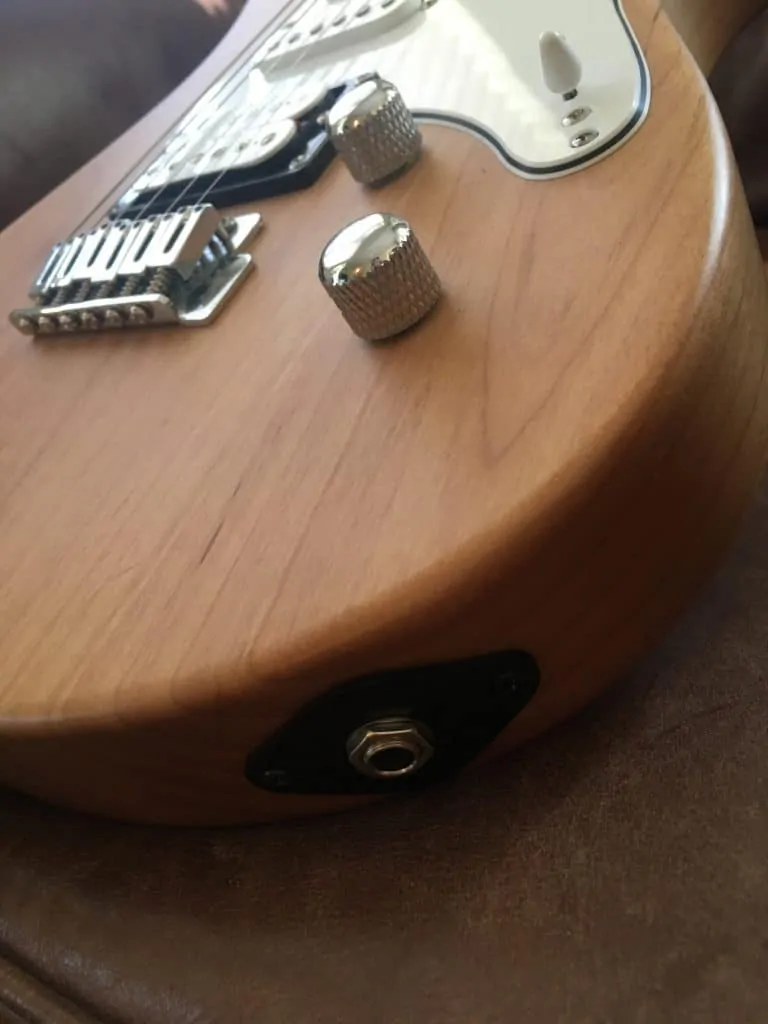 Tone
As a budget guitar, you can't expect some sort of world-beating professional tone from this model. However, you can be pleasantly surprised when you hear it being played. With Alnico-V pickups, you can be guaranteed a delightful sound that places this guitar above its factory pickup cousins.
This guitar can deliver quality sound no matter which pickup is selected. Its coil tap means you can swap from single coil to humbucker immediately, while its tone wheel allows you to customise the sound you're producing down to some intricate details. Thanks to the custom-wound pickups in action, the sound you'll hear is clear and warm in every setting, yet you can move from a thick and hearty sound to a thin and fragile one should you desire.
The most impressive part of this instrument is its ability to handle both clean and overdriven sounds. When playing clean, you'll hear ever note in detail with a good dynamic control and a fairly impressive sustain. The warmth of the guitar means both your lead playing and chords will sound equally good- there is no favoritism here. Similarly, if you're playing harsh overdriven lead lines or some crunchy power chords, the guitar can handle this aggressive tone just as well. This means a crunchy, angry sound is just as possible as a sweet, clean sound. It is rare that a guitar can handle both with such precision.
Specifications
The PAC112V uses single coil pickups in the middle and neck positions, and humbucker at the bridge. These are Alnico-V pickups, which provide a delightful upgrade in sound quality from the factory pickups the two versions below this are equipped with. With a 5-position switch, you can move between a variety of tones from a more trebly lead tone, to thick bassy riff-based tones, to a delicate setting that will allow your chords to wash their way through the texture of any band.
The neck is C-shape and the fingerboard is Rosewood, allowing for a responsive and easy to get used to playing style. The neck in particular is easy to wrap your hand around to create complex or simple chords, while the fretboard is smooth enough to slide around to your hearts content, while its responsive nature makes tapping a dream.
The tremolo bridge makes it easy to stay in tune, and you can attach a tremolo arm if you desire, though the guitar doesn't come with one as standard.
As a lightweight, nicely shaped guitar which can have a strap fitted easily, this one works very well for live performance and practice alike, though as I mentioned above, I'm not too keen on the positioning of the input.
Price
As I've mentioned above, this is a budget guitar. You won't have the break the bank paying the thousands you'd need for a legitimate Fender Strat. Getting one of these new will set you back a very small amount of money considering the quality you're getting, though if you need to dial back the price even further, then the PAC012 reduces its quality while reducing its price. Have a look at the guitar on Amazon here and make your own mind up.
In Conclusion…
This is a guitar I highly recommend. It looks great, it feels great to play and it sounds fantastic, while remaining on a budget that allows you to buy it without breaking the bank or leave you some leftovers to spend on a brilliant amp or some equipment.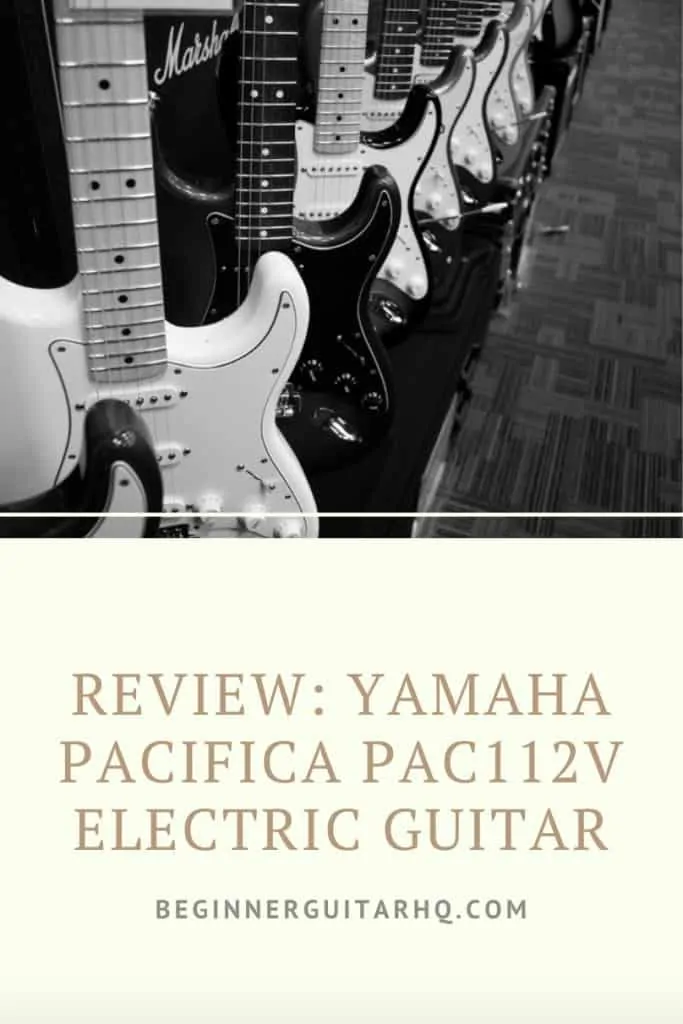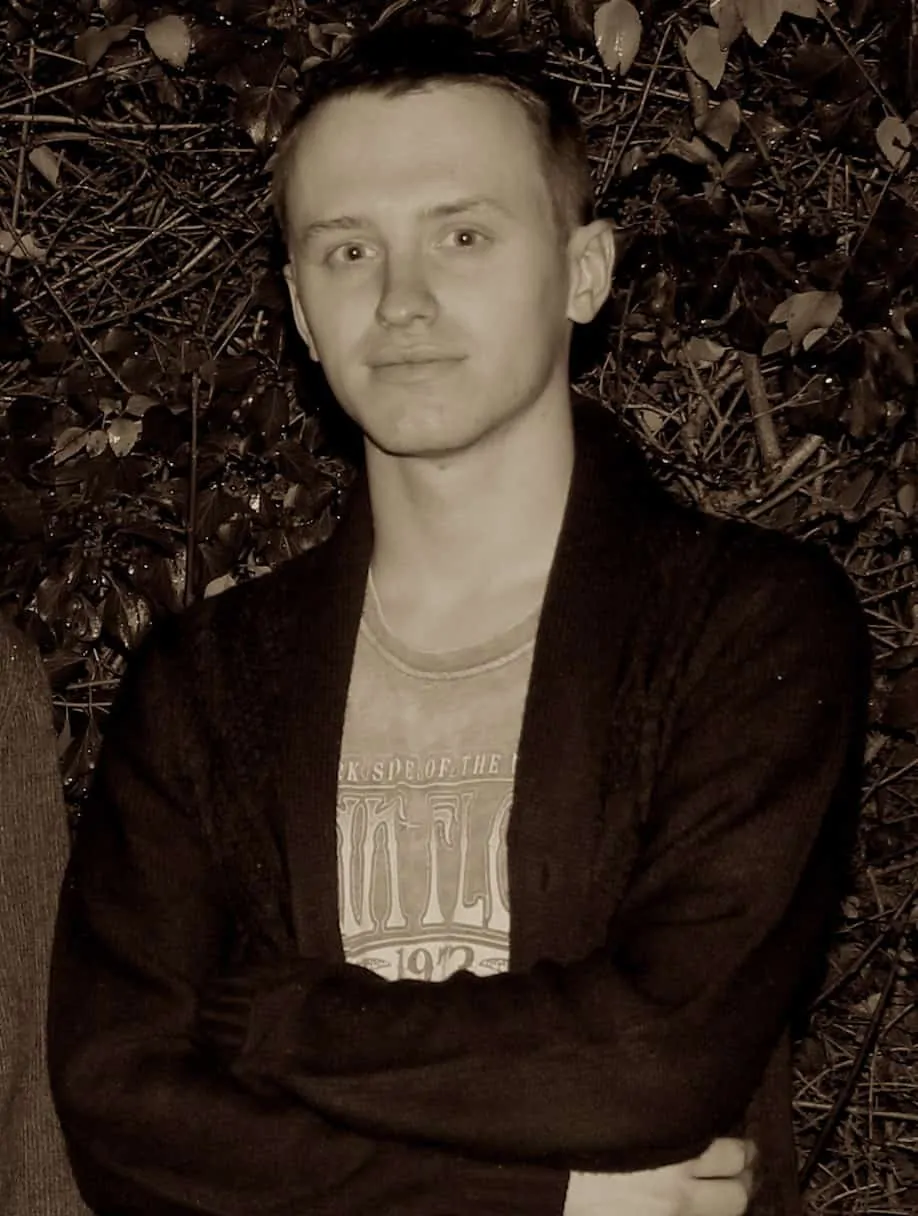 Dan is a music tutor and writer. He has played piano since he was 4, and guitar and drum kit since he was 11.
He plays a Guild acoustic and a Pacifica electric. He has been sent to many festivals and gigs (ranging from pop to extreme metal) as both a photographer and reviewer, with his proudest achievement so far being an interview he has with Steve Hackett (ex-Genesis guitarist).
He ranks among his favourite ever guitarists, alongside Guthrie Govan, Jimmy Page, Jimi Hendrix, David Gilmour and Robert Fripp. His favourite genre of music is progressive rock, which he likes to use as a reference point in my teaching, thanks to its huge complexity in structure, rhythm and harmony. However, he is also into a lot of other genres including jazz, 90's hip-hop, death metal and 20th century classical music.