Antonio Hermosa is a fairly unknown guitar brand. Even us, here at Beginner Guitar HQ, rarely feature their models. Today, we're changing the trend to highlight the Antonio Hermosa AH-50, an electro-acoustic guitar.
The brand's guitars come from China, which is why they don't have higher popularity. However, you should know the company bases its guitars on traditional 19th-century acoustic guitars. That means their collection brings classical warmth, balanced tones, and elegant aesthetics.
They also offer a variety of models for modern players. That includes acoustic-electric guitars with lower cutaways, flamenco guitars, and traditional offerings.
Now, the Chinese Made AH-50 is a budget electro-acoustic guitar with nylon strings, a decent sound, and a functional pickup system. Aside from the quality, it delivers at its price range, the surprising factor about the Antonio Hermosa AH-50 is its design.
And, friend, said design makes the Antonio Hermosa AH-50 unique and rare. At the same time, it's a budget guitar. What's to lose here?

The Antonio Hermosa Ah-50 doesn't enjoy much popularity. Is it still any good?
The Antonio Hermosa AH-50 is a special kind of acoustic-electric guitar. To avoid confusion, I'd advise you to check our guide on types of acoustic guitars as well.
Antonio Hermosa AH-50 Acoustic-Electric Guitar Review
The Antonio Hermosa AH-50 is made like a classical, and yet peculiar model. It packs a chambered body, much like a semi-hollow guitar. That means it has a hollow chamber on the inside, and it also means it has no soundhole on the body.
For acoustics, the guitar relies on a small breathing hole right where the neck meets the body.
As a result, the inner sound has greater resonance, which highlights the natural acoustics of the tones, thus making the guitar sound louder via an acoustic amplifier.
Moreover, the chambered design makes the guitar compatible with electric guitar amplifiers as well. You could even plug the Antonio Hermosa AH-50 into a valve tube amp and get a classic rock sound.
Lastly, the guitar is rather light and portable.
Overview
The Antonio Hermosa AH-50 offers quality tonewoods, a unique chambered body, a piezoelectric pickup, and a functional EQ plus a built-in tuner. Its feature list delivers plenty of bang for the buck.
This classical Acoustic/electric guitar is made for the amplified tone first and foremost. Its solid spruce top body doesn't have a soundhole, there's not much projection or output unplugged.
That said, this is not a typical acoustic guitar packing a pickup system. It features a unique design, and thus we're here to see how such design translates into performance and sound.
Bear in mind the Antonio Hermosa AH-50 features a hard-to-beat-price.
Built quality
The body of the guitar is made of a body spruce top with mahogany on the back and sides. The body is chambered, but the thickness of the wood itself is about 2".
There's not much in terms of aesthetics aside from a small piping hole known as the "neck pocket." It has a natural finish and delivers a sturdy and compact structure.
Then, it has a mahogany neck with a rosewood fingerboard. The board hosts 22 frets, a 1.85′ nut with, a thin neck profile, and a 25.5" scale. That's the same scale length as a Stratocaster guitar.
Lastly, the guitar has a matte finish all over the body and n3eck to retain a traditional look.

Hollow and semi-hollow guitars use chambered bodies, but they also typically feature f-shaped sound holes on the body.
Sound quality
The sound quality delivers a unique tone signature. More so, it can easily compete with acoustic-electric guitars selling at much bigger price ranges.
It doesn't offer much unplugged, and by that I mean it sounds tiny. But once you plug it into an acoustic amp, it sounds as classical as it gets. It mixes the sound of a flamenco guitar with a mellow and harmonious, warm sound.
Its sound is well suited for beginners, but intermediate and experienced players will probably get more juice out of the AH-50 model.
And for the price it sells, it delivers a solid stage performance when amplified.
You could amplify it through a PA system and still enjoy the onboard 3-band EQ to tweak your sound. Honestly, though, you'd be better off with the extra options of an acoustic amp and, especially, a built-in reverb effect or a reverb pedal.
Combine its sound with its awesome looks and you'll understand the Antonio Hermosa AH-50 is a top-tier budget performer.
Not only that, but the AH-50 model also delivers enough quality to use at your home studio.
Electronics
What is the guitar missing, then? Well, the electronics side is not where Antonio Hermosa saved money.
You see, it doesn't have the average components most acoustic-electric guitars have just to be "electric." Instead, the instrument uses a high-quality piezo pickup system.
There's a piezo-electric pickup linked to a 3-band EQ (low, mid, and bass), a volume knob, and a tuner. The 3-band EQ further brings life and versatility to your sound.
Here's the sound of the guitar unplugged. As you see, the sound is quite different.
Feel Quality
Overall, the neck design allows intuitive fingerpicking for intermediate and advanced players. Also, it feels more like an electric guitar than an acoustic model.
Then, the action and intonation of the guitar are smooth and sublime. Its general stability and lightweight bring a lot of comfort to your hands.
Lastly, the thin neck can feel very comfortable for electric guitar players. However, players looking for a typical nylon-string guitar experience might feel disappointed.
Hardware
In the hardware department, the Antonio Hermosa AH-50 has a fair quality level.
The guitar packs a rosewood bridge, budget 3-in-1 gold-plated tuning pegs, and D'Addario strings.
Here's where the guitar could use a bump-up -on the intonation section.
However, it's still decent enough to play live. After all, it has an onboard tuner. Moreover, the D'Addario strings are mostly in check because of the hardware.
Downside & Alternatives
If you've come this far, you've probably realized the Antonio Hermosa AH-50 doesn't have a downside. As a budget classical acoustic-electric guitar, it's simply astonishing.
There's something I haven't mention because it depends on luck. It seems some of the models ship with finish imperfections, sharp edges, and uneven neck joints. If that's the case for you, though, then I'd advise you to return it and order another model.
That said, quality control appears to be the main issue with the guitar. For example, the cable routing in the electronics department is somehow sloppy. Even so, that won't influence the resulting performance.
There's also a couple of things you could do to improve its performance, though. First, I'd advise you to swap the tuning pegs:
I wouldn't mess with anything else, though. Instead, I can refer you to other acoustic-electric guitars.
The first one I recommend is the Yamaha FGX700C. It's part of the Yamaha FG series, which packs a proprietary bracing beneath the soundhole to increase projection, sustain, and stability.
If you can't find the entry-level FGX700C available, you can go for the FGX820C instead. It packs Yamahga's System 66 pickup system, which is an improvement over the 700's 55T solution.
We can also look at Fender for the CD60CE option, an affordable Fender acoustic-guitar packing solid performance and sound. It's nothing special, though, just a fair dreadnought guitar with a clear sound and friendly playability.
Antonio Hermosa AH-50 Specs
Design:

classical guitar body with the chambered interior, with a neck picket instead of a soundhole

Body tonewood

: Solid Spruce Top with mahogany on the back and sides

Neck

: thin neck

Neck joint:

bolt-on
Fingerboard tonewood

: rosewood
Tuners:

3-in-1 gold-plated tuning pegs

Bridge:

rosewood bridge with six individual saddles
In summary
Why do I like the Antonio Hermosa AH-50?
The AH-50 is a great option for learning how to play guitar. More than that, its unique sound and looks offer a different experience for intermediate and professional players as well.
If you're set on the electric-acoustic route, the AH-50 is not your cookie-cutter model. Instead, it brings up a classical sound, a subtle reverb, and a melody & a harmonious tone through the amplifier.
Also, I should note the guitar is extremely portable, albeit different from guitars with a soundhole. Ultimately, it's not for better or worse, as it all comes down to personal preference.
Final Say
The Antonio Hermosa AH-50 is a unique guitar with a stage-ready performance at an entry-level price. It's a classical-sounding acoustic-electric guitar that may or may not present quality-control issues. Other than that, the only thing that is missing is reputation, as it packs a lot of value for the money.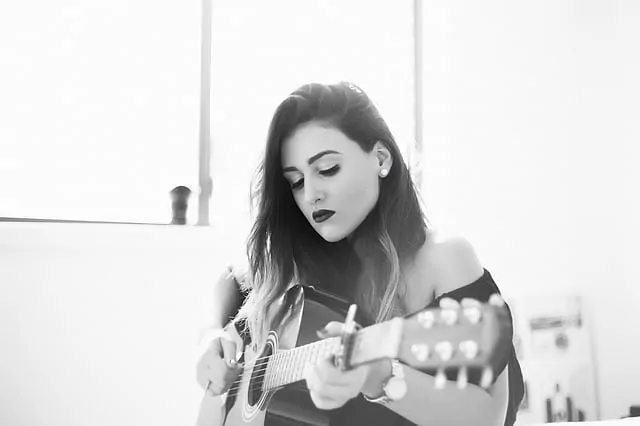 Jen is a guitarist and singer-songwriter who spends much of her time on the road and has lived in 13 cities across 4 continents. She picked up her first guitar at the age of 6 and learned to play by ear shortly after. She received her formal music education at the Berklee College of Music, and currently plays for a few bands in her free time. She has an uncanny ability to improvise creative melodies and harmonies. Her early influences include blues, jazz and rock.