Guitars mounted on the walls look great. It's both practical and visual art. Whether you're looking to display your guitar/s, create more space in the room, or have kids, clumsy adults, or pets that put your guitar in certain danger, using a guitar wall mount is how you make this happen.
But you don't want just any guitar wall hanger holding your precious instrument/s up, you want to know they can do the job well. I don't know about you, but those people who willingly destroy their instruments with wild abandon… I have a visceral reaction to any time an instrument falls, gets scratched, gets crushed, thrown, smacked, etc.
My guitar falling from a height because of a failing hanger or because someone bumped it… just no.
You want your guitar/s safe and happy up on that wall and the only time they come down is when you purposely take them down. And no one wants a guitar wall hanger that damages their guitar or the wall. So here's a look at the best guitar wall mounts.
Best Auto-Lock Guitar Hanger- Hercules Auto-Swivel Yoke Hanger GSP38WB PLUS
Although you will see the "acoustic wall mount" in some of the titles on various retail sites, Hercules themselves make it clear that the Hercules GSP38WB PLUS accommodates electric and acoustic guitars. The weight limit is 15.4 lbs. It's even adjustable to hang thin-necked stringed instruments like banjos and accommodates asymmetric guitar headstocks too.
This guitar mount is great for if you're hanging your guitar in a busy environment where it may get knocked or if you have little fingers that can reach.
The beauty is that when you hang your guitar you trigger the mechanism, arms quickly swivel up and lock in place to prevent your guitar from falling out. Simply place your guitar in the mount and hold it steady until the swivel lock kicks in.
To get your guitar out of the hanger, you first need to lift it up to release the arms. So if you've got a very expensive guitar, or just like the peace of mind that someone simply knocking your guitar from side to side isn't going to make your guitar fall, this is the one you want. There's also a good amount of distance between your guitar and the wall, so you don't have to stress about that either.
There's rubber on all the parts that come in contact with your guitar but there have been no reports of damage to nitrocellulose lacquered guitars (certain types of rubber and foam eat into the lacquer). If you are still concerned, just put some cotton cloth between your guitar and the mount. Just make sure the rubber isn't wearing away after some time.
Another plus, if you like wood is the wooden back panel which looks nice and neat.
There aren't anchors for drywall, so you'll need to purchase those separately. You may also need to get some stronger wall inserts and screws than the ones they provide, no matter what type of walls you have. The screws are a bit too short and aren't the greatest quality.
Pros:
Automatic swivel lock (responsive)
Suitable for electric and acoustic guitars
15.4 lbs weight limit
Rubber padding for grip and protection
Adjustable to fit thin-necked stringed instruments too
Cons:
Doesn't come with anchors for drywall
The screws can be too short and of inferior quality
Best Cradle Guitar Hanger- String Swing CC01K
If you don't like swivel locks, the String Swing CC01K is a good alternative. The yoke has a deep bend along each arm to cradle the headstock securely. In order to get your guitar out of this hanger, you'll need to lift it before bringing it forward. This means it's a lot harder for the guitar to get knocked out of the hanger. The security is further aided by the padded tips at the end of the yoke.
The weight limit is 15 lbs, so it's suitable for most acoustic and electric guitars, and the yoke rotates so it fits different types of headstocks. There is a warning that the yoke may be a little too narrow for some bass guitars and classical guitars that have wider necks. The distance between the two arms is 1.875 inches.
The yoke is covered in high-density rubber to protect the finish on your guitar, and as stated by String Swing USA, their hangers are safe for nitrocellulose lacquer.
All the backboards are hardwood. You can choose from black walnut, cherry, ash, or oak. Just bear in mind that lighting, and the wood itself, can cause the product you get to be a slightly different shade than the images. The simple design will go well with most home and studio decor.
I would recommend getting better mounting hardware, although this hanger does come with all the necessary hardware. The screws and wall inserts often aren't the right size, so check yours first. They supply anchors for both concrete and drywall installation. Get a good quality stud if you have drywall to make sure the hanger can take the weight.
Pros:
The yoke provides enough cradle for a secure mount
Suitable for most electric and steel-string acoustic guitars
The yoke rotates to fit asymmetrical headstocks
The weight limit is 15 lbs
High-density rubber padding is safe for lacquered guitars
Provides installation hardware for drywall and concrete
Choose from black walnut, cherry, ash, or oak hardwood
Cons:
Most classical guitars and some bass guitars may not fit
The screws and anchors often aren't the correct size
The color of the wood sometimes differs from the images
The Best Budget Guitar Hanger- Ohuhu Guitar Wall Mount 2-Pack
If you have more than one guitar to hang and prefer separate hooks, these budget-friendly Ohuhu Guitar Wall Mounts will do the trick.
Although the yoke isn't curved as deeply, there are stoppers on the ends of the arms to keep your guitars secure. The stoppers are also adjustable to accommodate wider and narrower stringed instruments. It also holds your guitar about 4 inches away from the wall, so you can rest assured that it won't knock into the wall. The yoke rotates to securely hold uneven headstock shapes too.
The yoke is covered in rubber that provides protection and padding. It also provides extra grip to prevent the instrument from slipping. Unfortunately, I was unable to get information about the type of rubber used, but users with lacquered guitars found that their instruments didn't get damaged even after months of use.
The weight limit is 13 lbs which is suitable for most guitars and basses. The key is to get good-quality anchors that are appropriate for the type of wall you have. They do supply anchors and screws with the hangers but they may not be strong enough to hold heavier guitars. Overall, the construction of these mounts are good and with good quality mounting hardware, you can rest easy.
While this isn't a common occurrence, I feel I should mention that a few people found that the rubber shifted down to expose the metal part of the yoke. Naturally, no one wants their guitar supported by metal arms. Just be aware and either return the hangers if this happens to yours or do a DIY fix with some cotton padding.
The wood comes in a darker or lighter shade. The color may vary a bit since they don't always use a specific type of wood.
While I've put the 2-pack on here, these hangers also come in a 4-pack.
Pros:
The yoke has stoppers on the end for security
The rubber provides protection for your guitar's finish and some extra grip
The yoke is adjustable to accommodate wider and narrower instruments and rotates for asymmetrical headstocks
It can take a maximum weight of 13 lbs
Leaves around 4 inches between your guitar and the wall
The wood comes in dark (walnut) or a lighter wood
Budget-friendly
2-pack for multiple guitars
Cons:
The anchors aren't always the best quality
Rarely, the rubber slipped down the arms to expose the metal of the yoke
The Best Budget Auto Swivel Lock Guitar Hanger- Rock Jam Guitar Hanger Wall Mount
The Rock Jam Guitar Hanger doesn't completely cover the front of your guitar, but it still prevents it from falling off when pulled forward. As with other auto swivel locks, the lock is triggered by the weight of the guitar settling into the mount.
According to Rock Jam and their description, the hanger can hold acoustic guitars, electric guitars, and bass guitars. I do strongly recommend stronger anchors and screws, however. The ones that come with this hanger aren't going to support heavier guitars.
Some people have said that when hanging heavier guitars, the mount tips forward at the yoke. That may be due to defective mounts, but to be safe, stick to hanging light to medium-weight guitars. Instruments with wider necks may also find the yoke a bit too narrow, and that isn't adjustable, unfortunately.
The guitar will hang safely away from the wall to prevent damage and the yoke can rotate to accommodate asymmetrical headstocks. While the mount is nicely padded, it's not safe for nitrocellulose lacquered guitars. This can be remedied by placing a cloth over the foam or creating your own cotton tubes and backing.
If you're looking for something budget-friendly, and prefer automatic swivel locks, I'd recommend this hanger for light and medium-weight guitars.
Pros:
Auto swivel lock
Works well for hanging light and medium-weight guitars
The yoke accommodates uneven headstock shapes
Well padded
Puts distance between the guitar and the wall
Cons:
The supplied anchors and screws are poor quality
This hanger may not be suitable for wide-necked instruments or heavier instruments
Not safe for nitrocellulose lacquered guitars
Best Budget Metal Guitar Hanger- Sound Harbor Guitar Wall Mount Hanger 2-Pack
If you prefer all-metal guitar hangers, these Sound Harbor Guitar Mounts will do just fine. You also get four picks along with a pick holder. So whether you're getting them for yourself or as a gift for someone else, that's pretty nifty.
The yoke rotates so you can also hang guitars with asymmetrical headstocks. You can hang acoustic and electric guitars, bass guitars, ukuleles, and mandolins. The majority of people with heavy guitars find these hangers can handle their guitars.
That said, there were a few complaints about the yoke breaking off or the metal warping from the weight. These occurrences are rare so these may have been defective units. Always test the yoke before hanging your instruments.
The yoke is well-padded, but I was unable to see whether it's safe for lacquered guitars or not. No complaints about that from anyone about damage though, which is a pretty good sign. To be safe, you can use a cotton cloth to protect your guitar.
The U-shape of the yoke cradles your guitar safely. You would need to lift your instrument slightly to remove it which is always a plus in my books.
If you have a thicker acoustic guitar, be aware that there will only be about 3 inches between the guitar and the wall, so these may not work for your guitar.
As with all these guitar hangers, I am going to recommend that you get your own high-quality installation hardware. The design of the hanger is good and will support heavier guitars, but the anchors and screws leave much to be desired.
Pros:
All-metal design
The U-shaped arms cradle your instruments securely
The yokes swivel to hang different guitars
You can hang guitars (electric and acoustic), bass guitars, mandolins, and ukuleles
Comes with four picks and a pick holder
Budget-friendly
2-pack
Cons:
You likely need to buy better quality anchors and screws
A few people said the yoke was not strong enough for heavier guitars
May not be suitable for thicker acoustic guitars
The Best Hanging Guitar Rail- String Swing Multi-Guitar Wall Rack
String Swing makes their second appearance on this list with their Multi-Guitar Wall Rack. It comes with 5 hangers that you can slide along the rail to create the distance you want between your guitars. This design makes this hanger great for shops, studios, or anyone who believes you can never have too many guitars.
Each hanger can handle 15 lbs and each stud can handle 50 lbs. You can hang acoustic guitars, electric guitars, bass guitars, or even other stringed instruments. Just note that the space will be tight if you hang thicker acoustic guitars on it. The slat wall is a standard 3 inches, so if you have other hangers that will fit this measurement, they can work with this rail.
As with the single guitar hanger, the yokes have a deep cradle which will require you to lift your guitars up a little first to get them off the hanger. There is nitrocellulose-safe padding to protect the finish of your guitars. The yokes rotate to accommodate different headstocks. All your guitars will have ample space between them and the wall for your peace of mind.
The guitars are beautifully displayed at angles so it looks good too. You can pivot the hangers 180 degrees to your desired angles. You can choose from a black, silver, copper, white, or walnut print rail to suit your decor.
I would recommend that you get some heavy-duty anchors, studs, and possibly good quality screws too just for that extra security.
As with many guitar hangers, you will need to drill the holes yourself, just bear in mind that for a long rail like this, it obviously requires more effort and you need to be precise so as not to end up with a skew rail.
Pros:
Hangs up to five guitars (electric and acoustic), basses, and banjos
Each hanger can take a maximum of 15 lbs and each stud 50 lbs
The deep cradle in each yoke provides extra security
The yokes can rotate to hang asymmetrical headstocks
The hangers pivot 180 degrees for adjustable angles
Shift the hangers along the rail to adjust the distance between the guitars
Available in black, silver, copper, white, and walnut print
Cons:
Some people may find drilling many holes tedious
You may need higher quality installation hardware
You need to be precise to prevent the rail from hanging skew
Best Aesthetic Guitar Hanger- Keebofly Guitar Wall Hanger 2-Pack
These Keebofly Guitar Wall Hangers look beautiful, especially when used as decorative pieces. The awesome thing about them is that you can use them to store your picks, tuners, capos, etc, on top, or you can put lightweight picture frames, plants, or ornaments on them. With your guitars hanging down from them, the result is eye-catching rustic art.
Although the wooden rods that hold the guitar are straight, usually, a no-no for my paranoid self, they have end caps that stop the guitars from falling off. I still think, in this regard, it's best not to install them where people could knock the guitars.
The maximum weight capacity is 11 lbs. So while it can hold acoustic and electric guitars, basses, mandolins, and ukuleles, steer clear of putting any heavy guitars in these hangers and keep the weight limit in mind when putting decorative items on the shelves. Wider-necked instruments may not fit as the distance between the rods is only around 2 inches.
If you have doubts about the anchors and screws, go get better-quality hardware. In some cases, people received these without the hardware which is meant to be included.
The rods are made of pine as is the rest of the mount. They are smoothed so as to prevent scratches. If you feel the need to provide some padding for your guitar, you can do a little DIY (which is needed anyway as you need to assemble the mount) and put some safe foam or cotton padding around the rods.
Pros:
These guitar hangers look beautiful up on the wall
Made from hardwood (pine)
11 lbs weight capacity
Allows you to store your guitar accessories or lightweight decorative items on the shelf
If you like DIY projects, these are fun to assemble
The wooden rods have stoppers on the end
Can hold acoustic and electric guitars, basses, ukuleles, and mandolins
2-pack
Cons:
May not work for wider-necked instruments
You may need to get high-quality mounting hardware
Better suited to lighter guitars
If you don't like DIY, this hanger isn't for you
Best Guitar Hanger With a Shelf and Hooks- Bikoney Guitar Holder Wall Mount
Talk about multifunctional. There's place for your picks, capo, guitar slide, lead, and guitar strap. And if you want to hang your keys on this Bikoney Guitar Holder Wall Mount for convenience, we all want to get that last bit of playing in before rushing out the door, you won't get any judgment from me. You can also put some lightweight decorative items on the shelf. There are 3 hooks, 1 guitar hanger, a shelf, and a pick rail.
The manufacturer states that it's made from solid wood to provide extra strength, although a few people have said that the wood feels flimsy. Overall, people have good things to say and have hung electric guitars from it without any issues.
It's designed to be able to hold guitars, basses, mandolins, and banjos. The hangers might be too narrow for instruments, like classic guitars, that have a wider neck. The hanger is curved for extra security.
According to the maker, there is lint covering the wood of the hanger to protect the guitar's finish. But there have been a few complaints, however rare, that the hanger did damage the finish. Most people don't experience this though. To be safe you can use a cotton cloth or make some DIY padding.
You can choose from a black, weathered gray, weathered walnut, carbonized black, gray, or white hanger to suit your decor.
As with all these hangers, getting good studs, anchors, and screws are a must along with proper installation. This will make sure that it can support the weight of a guitar. There is no maximum weight limit given, so always test that it can handle the weight before hanging your pride and joy on it. I would recommend, that if you are worried at all, to rather find a more robust hanger and keep this one for lighter guitars.
Pros:
This hanger is multifunctional (hangs your guitar, stores accessories, hooks for lightweight items)
Curved hanger for extra security
It can hold guitars, basses, mandolins, and banjos
Pick from black, gray, white, weathered gray, weathered walnut, or carbonized black
Cons:
Some people feel uncomfortable with hanging heavy guitars from the hanger
You will need to buy better quality studs, anchors, and screws
You may need to add some padding or a cotton cloth to protect your guitar while hanging
The hanger is too narrow for wide-necked instruments (1.5 inches/ 4cm)
Best Horizontal Guitar Hanger- String Swing Horizontal Guitar Holder
And making their third appearance here is the String Swing Horizontal Guitar Holder. All the other guitar hangers on this list hang the guitars vertically. This is true of the vast majority of guitar mounts. This one however is anchored to the wall at your chosen angle and supports the guitar in two places to hang it at said angle.
Gotta admit, it looks pretty cool. This is a more expensive mount because horizontal hangers are more complicated than vertical ones, which is probably the reason that they're not as popular. And unlike a few neat holes in your wall nice and close together, this mount requires holes in two different places that make absolutely no sense unless you've got it attached to the wall.
But if you would love to display your guitar like this, don't let that hold you back. Sadly, if you have an acoustic, this mount isn't for you, but if you have an electric guitar or bass, you're in business. The weight limit for drywall is 15 lbs, but when securely mounted with a stud in a more resilient wall, it can hold more than that.
Because of how the actual holders are shaped, it doesn't matter how wide the neck of your guitar is. The bottom holder also adjusts in angle to adjust to the shape of your guitar. Unlike with normal hangers, your guitar is held by 3 contact points with the soft padding that's on all the String Swing mounts. The bottom holders support your guitar at just the right points so that it won't slip out.
It's made from powder-coated steel to make sure that it lasts a long time. There are some downsides aesthetically, however. The bar is only partially hidden by the guitar and I'm not a fan of the brown padded holders either. But your guitar will still look pretty great up there.
As with all the mounts, purchase your own anchors, studs, and screws if need be or if you need peace of mind.
Pros:
Displays your guitar or bass at an angle
It's sturdy thanks to 3 contact points on the guitar
The padding protects the finish on your instrument (safe for nitrocellulose lacquered guitars)
The weight limit is 15 lbs for drywall, but with good quality studs in a robust wall, that goes up
Cons:
You can see the hanger which ruins the aesthetic a little
Not suitable for acoustic guitars or any top-heavy instruments
You may need better quality installation hardware than is provided
FAQs
Can I trust a guitar wall mount over a guitar stand?
Both have their pros and cons. No, you don't have to worry about your guitar falling from a height with a guitar stand, but they can still be knocked over by people walking past, or miniature humans and four-legged family members.
A wall hanger, provided it's of good quality and you've used high-quality installation hardware and installed it properly, such as using drywall anchors for drywall, your guitar mount can hang your guitar from the wall for years without any problems. Choosing one with a deep enough yoke or a swivel lock is even more secure.
Won't the force of hanging down damage my guitar?
Nope. The strings exert far more force onto your guitar than the weight of your guitar itself hanging vertically. You're looking at between 34 lbs and 45 lbs vs 15 lbs depending on your guitar and its weight of course. Many guitarists hang their guitars for years without any issues. There are even guitar stands that have the guitars hang instead supporting them at the bottom like most other guitar stands which is the same thing.
Will a guitar mount damage the finish on my guitar?
You will need to make sure with the manufacturer of your chosen mount in that regard. Some are pretty open about what kind of foam or rubber they use and will state on the packaging "safe for nitrocellulose lacquered guitars", or not safe. For some, you need to go onto the website. Others, you will need to rely on reviews.
But here are a few tips:
Never hang your guitar on something with sharp unprotected edges.
If in doubt, cover the holder with a cotton cloth or find some lacquer-safe foam to DIY your own padding or make your own cotton padding.
Make sure that the mount hangs your guitar far away enough from the wall that your guitar won't touch the wall if someone knocks it.
Install your mount properly (and test it first) to prevent more than just your finish being damaged.
You mention getting better installation hardware, what do I buy?
Your best bet is to take your mount to a hardware store, let them know what type of wall you have and get them to give you the right stuff. Otherwise, if you know someone who's handy, get them to help. They will also be able to advise you on the correct drill bit size to use.
Do I have to drill holes to mount the guitar hanger?
There are some where you may be able to get away with not doing that. But most walls, because of what they're made out of, don't let you just stick a hole in them. You will find your installation is far more secure if you can drill the holes and then put the correct anchors and/or studs in before screwing your guitar mount in.
If you don't want to buy a drill and drill bit just for this one time use, there are places where you can hire power tools if you can't borrow one from a friend or family member.
Conclusion
There you have it. Nine of the best guitar wall hangers to display your instrument beautifully and conveniently. The extra floor space, the fact that they're out of reach of our miniature and/or four-legged family members (although I wouldn't put it past a cat to try to get up there), and that your instrument is right there and easy to play and then store, makes these worth the effort of installing.
Have fun exploring the various options and enjoy the view once you get your guitar hanging securely from the wall!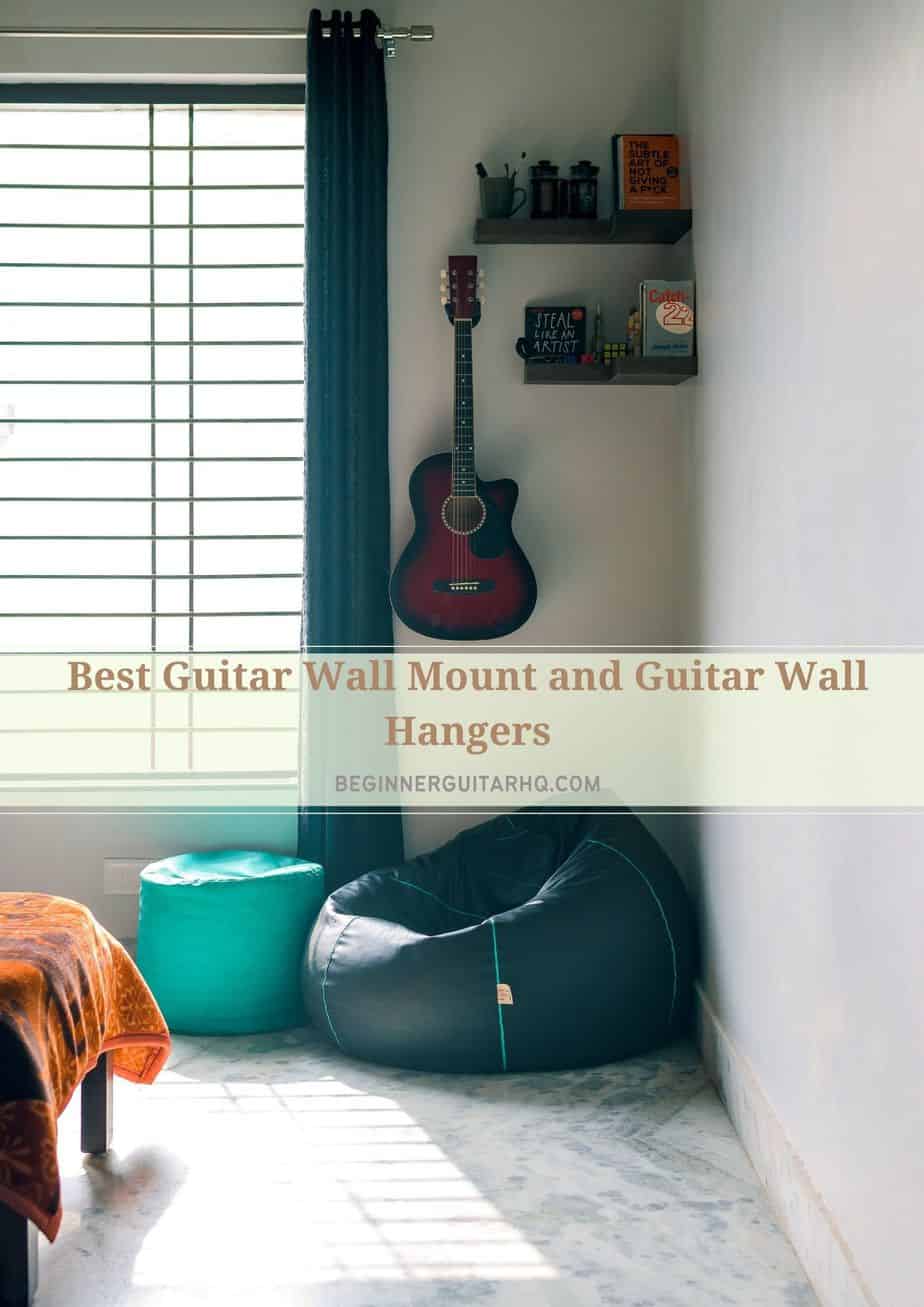 Cheanné Lombard lives in the home of one of the new Seven World Wonders, Cape Town, South Africa. She can't go a day without listening to or making music.
Her love of music started when her grandparents gave her a guitar. It was a smaller version of the full-sized guitars fit for her little hands. Later came a keyboard and a few years after that, a beautiful dreadnought guitar and a violin too. While she is self-taught when it comes to the guitar, she had piano lessons as a child and is now taking violin lessons as an adult.
She has been playing guitar for over 15 years and enjoys a good jam session with her husband, also an avid guitarist. In fact, the way he played those jazzy, bluesy numbers that kindled the fire in her punk rock heart. Now she explores a variety of genres and plays in the church worship group too and with whoever else is up for a jam session.