One of our goals at BeginnerGuitarHQ.com is to give expert reviews on some of the most modern music devices and to give quality advice on what you should look out for when shopping for these devices.
Here, we are considering karaoke machines, and I've highlighted 10 of the best karaoke machines based on criteria like ease of connection with your devices, display screen, portability, added functionality, and accessories, etc. I picked the ones here, however, generally based on how they meet the karaoke needs of different categories of people like kids, adults, tweens, beginners, as well as professionals.
Without wasting your time, let's dive in!
Choosing a Karaoke Machine  
We'll generally be considering some key things you should watch out for when selecting a home karaoke machine. The list can be almost endless from design quality to power output and sound quality. But they all fall under the following three categories
Who will be using it? 
The ability to navigate the functions of the karaoke machine can be the first put-off if the wrong karaoke machine is purchased. Considering if kids or adults will be using the device is crucial as you do not want to buy a karaoke machine with complicated functionalities for kids.
Ease of Movement
Portability is essential since you'll want a karaoke machine that you can easily carry within and outside the home, up and down the stairs, or in the trunk of your car while going on a family vacation.
Connectivity and Display 
How big is your stage as a karaoke singer? Do you want to use your karaoke machine in your sitting or town hall? The answer to these questions will help you figure out which functions you hold dear. Features like TV display connection, CD loader, Bluetooth connection for external music devices, will be decided based on these questions.
The SML385BTBK Singing Machine 
Where some karaoke machines are best suited for specific purposes like for singers, kids entertainment, or for smart TVs, the SML385 Singing Machine offers a balanced approach to karaoke entertainment.
From its high-quality design, to how effortless it is to set up, the SML385BTBK turns a karaoke machine into a box of fun. There are brilliant, multicolored disco lights (with 54 LEDs) that enhances the ambiance once powered, as well as RCA port and cable to view your songs on your TV.
The Bluetooth feature, and a 3.5mm jack line-in ensures that you don't run out of connection options for songs on your phones, tabs, or other smart mp3 devices. The SML385 also supports CD and CD+G (graphic-enabled CD) formats that display your songs' lyrics on a connected display device.
There is a volume control for reducing the lead vocalists voice as much as you want, with an added reverb effect for your voice. The speakers are okay considering its price but could be better. The included microphone will need an extra one for singing duets.
The auto-voice cut is a cool feature that automatically cuts off the vocalist on the karaoke track once it detects your voice from the connected mic.
Overall the SML385BTBK Singing Machine gives good entertainment value to karaoke parties with fun for everyone.
Pros
Portable
Disco LED lights for added ambiance
Family-friendly entertainment
Cons
Speaker sound power could be better
No personalized display screen
The iKaraoke KS303W-BT
This karaoke machine is where you should start if you're planning to join, or you've recently joined the world of karaoke. iKaraoke KS303W-BT offers features that are good for "testing the waters" at affordable pricing yet entertaining.
With a single mic included with this tabletop karaoke machine, you'll be having personalized singalong time till you decide it's enough. However, a port for a second mic connection is available should you want to share your stage in a duet.
Other features include TV connections with audiovisual cables, Bluetooth connection for your smart devices, a docking platform to hold smart devices, and a disc loader for CD+G when displaying lyrics.
The sound coming from its inbuilt speakers is not the best in the market but is reasonable to serve the basic needs of a beginner karaoke singer. The light effect around the speakers is also decent and able to set the right mood.
Overall, the iKaraoke KS303W-BT will not drain your pockets, but the quality is not at par with the high-end karaoke machines. Nonetheless, a beginner in karaoke singing will still find it very valuable.
Pros
Very affordable
Nice aesthetic design with lights
The included mic is good quality
Cons
The sound quality is not too good
Singtrix SGTX2 Party Bundle
If you're the professional karaoke singer, who is very particular about how your voice projects, or the number of vocal effects available to you during your performance, then, Singtrix SGTX2 Party Bundle may serve your needs.
Its design comprises a mic stand, an adjustable boom hand, a good quality mic, a music device holder, a portable speaker and woofer in one piece with a great sound. This karaoke machine is seriousness and fun all packed in one bundle.
But that's not all.
The abilities of this karaoke machine cum mini music studio come alive with its effects. These effects are numerous but ranges from auto-tuning to instant harmony, to voice cancellation – which is for reducing the volume of vocals on your singalong tracks. All these effects are preset and number over 300 of them, all available with a single click.
Adding other musical instruments like the guitar and keyboard is a breeze, hence its ability to serve as a live recording studio on the fly. The karaoke singing feature is just one of many features that the Singtrix SGTX2 Party Bundle offers.
So, if you require something more than a karaoke machine and want to also perform with a live band, or do a live recording session, Singtrix SGTX2 Party Bundle is highly recommended.
Pros
Quality design with a custom made mic and stand
Very quality sound
Quality speakers
Plenty (over 400) effects
Cons
CD loader is absent
A bit pricey
No Bluetooth connection for devices
<iframe width="560″ height="315″ src="https://www.youtube.com/embed/OkmBmMR633Q" frameborder="0″ allow="accelerometer; autoplay; encrypted-media; gyroscope; picture-in-picture" allowfullscreen></iframe>
With over 400 effects preset, the Singtrix SGTX2 Party Bundle has plenty options for singing and fun
Bonaok Wireless Bluetooth Karaoke Microphone
Considering that kids are very involved in karaoke singing at parties, and even at home, finding a karaoke machine that helps them have the best singing experience isn't hard anymore. The Bonaok's Wireless Bluetooth Karaoke Microphone with its friendly metallic color options, good portability, and ease of use, meets kids' demands for karaoke entertainment.
Its features include an in-built speaker with a sound quality suitable for a small audience, a cable and USB for connecting external devices, as well as for charging the mic, and Bluetooth feature to connect wirelessly to smart music devices. There is also the option of loading tracks from an SD card directly onto the karaoke mic for a more personalized performance.
The karaoke mic comes with a case for keeping everything tidy and well packaged, for easy transportation.
The Bonaok's Karaoke Microphone may help kids quickly get the hang of singing with a karaoke machine, and having fun at the same time without spending so much money.
Pros
Relatively affordable
Nice color variants
Very portable
Children-friendly design
Bluetooth connection option
Cons
Sound quality isn't too good
Singsation Burst Deluxe Portable Karaoke Machine
For a karaoke machine that ensures every member of the family – both young and old, is carried along in the fun of singing, Singsation Burst Deluxe Portable Karaoke  can be equal to the task.
With a design that includes easy setup, a handle for portability, and 14 different LED lighting colors for added ambiance, this karaoke machine is certainly family-oriented.
The lights are centered on the machine, giving it a pronounced effect for the observing eyes. It is also battery-powered to provide extra mobility and freedom from the clutter of cables and wires.
Though it doesn't have a CD loader, there are other connection options available to play songs from your music devices, including a wireless connection, and a wired line-in connection.  You have one mic included when purchased, but there is also, a port for adding another mic, while the in-built voice effects add more fun to the singing.
Overall, a family who is looking to have fun with a karaoke machine that can be carried anywhere within and outside the home might find Singsation Burst Deluxe Portable Karaoke Machine worthy.
Pros
Very portable
Aesthetically pleasing design
Battery-powered for extra freedom from cables and cords
Nice audio effects
Increased ambiance with LED Lights
Cons
No CD loader
A display screen is absent
Low sound power
iKaraoke KS780-BT
This karaoke machine is also best suited for children, particularly kids in their tweenage (age 10 to 14) years. The iKaraoke KS780-BT has a pretty design with multicolored lights glowing on the front panel, which can give kids the atmosphere for singing with fun.
It also features connection options including Bluetooth for wireless connectivity and an auxiliary port for connecting external music devices. It also has a personalized screen for displaying lyrics without the need to connect to a TV – even though you can do that too with the RCA cables provided.
With its docking platform, you can hold your tab or smartphone in place to view lyrics while you singalong.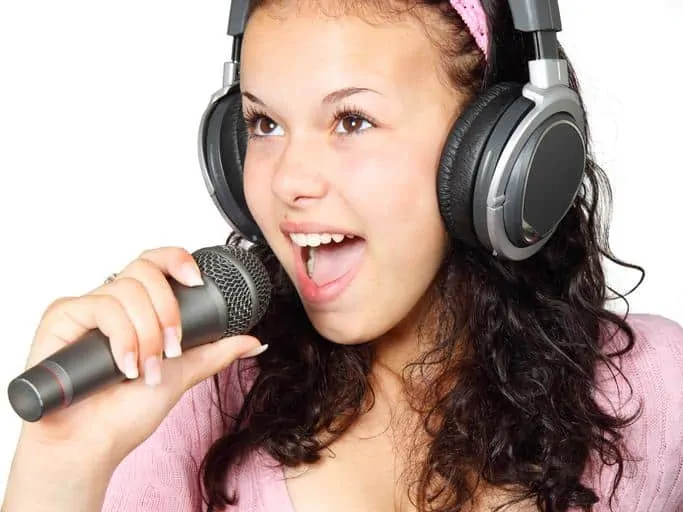 Tweens get excited when holding the karaoke mic to sing 
Other features include a CD loader, sound controls for volume and playback as well as voice effect controls for echo, balance and automatic voice controls. There is a USB connection option for recording and playback, while the single mic provided amplifies the singer's voice through 2 small speakers of 3 Watts each.
Overall, the iKaraoke KS780-BT has everything to engage your tween in a fun game of karaoke, and it's affordable too.
Pros
Multiple connection options including Bluetooth and USB
Has CD loader
7 inch colored Display Screen
Dock for holding external devices like smartphones and tabs
Cons 
Singing Machine SML385UW
Singing Machine SML385UW is one karaoke machine that has stepped up its connectivity to meet the various connection options for smart devices.
With its Bluetooth capabilities, this karaoke machine connects effortlessly with your smartphones or tabs so that you can play your songs from YouTube or other karaoke Apps. The RCA cord is also available for TV connections, while the included single mic amplifies your voice. You can get an extra mic for those unexpected duet situations which you can plug into the additional mic port on the machine.
The shimmering LED disco lights are beautiful against the white color background of the karaoke machine. There are controls for volume, balance, and playback as well as effect controls for regulating echo.
Generally, the SML385UW is a home entertainment karaoke machine that affords better connectivity, portability and singing fun times at very affordable costs.
Pros
High connection options with TV and other smart devices
Cool disco lights for aesthetics
Affordable
Very portable
Cons
KaraoKing Karaoke Machine 
Sometimes, adults seem exempted from fun karaoke moments, but, with the KaraoKing Karaoke Machine that may soon be a thing of the past. This karaoke machine puts more emphasis on adults with its design than on the kids, though, the kids can also tag along.
Its features include Bluetooth for a wireless connection, USB and auxiliary line-in for wired connection, and an SD card port for internal music playing. It also features FM radio to listen to your favorite karaoke shows when you are not singing.
The LED lights quickly set the mood for a karaoke party, with its sizeable reflective disco ball. This device is one of two karaoke machines featured in this review that comes with two mics for those duet moments. It also has two speakers with excellent sound projection. It has a remote for those times you wish to control your device while singing off its screen at a distance.
Controls for volume, effects, and channel for sound equalizing are other features included.
In all, the KaraoKing Karaoke Machine may be overwhelming for kids to control, but adults can enjoy it, and with handles and tires fitted to the speakers, portability becomes easy.
Pros
Aesthetically pleasing LED disco lights
Great sound quality
Portable
Two cordless mics
Powerful speakers
Cons 
Does not have CD loader
An In-built display screen is absent
Singsation Performer Deluxe All-in-One Karaoke System  
The Singsation Performer Deluxe All-in-One Karaoke System is a stand performance karaoke machine that is designed to optimize your accessibility to YouTube karaoke songs.
With this karaoke machine, you get an adjustable mic stand to suit your height, a power 10 feet cord mic, Bluetooth for wireless connection to your smart music device, and platform for holding your device in place.
Disco LED lights with 16 different colors, dazzling from wall to ceiling, set the ambiance for a fun performance. It also has the option to connect to a bigger screen or TV for the audience to see the lyrics.
For voice effects, you can access the ten vocal effects to add color to your singing, while the speaker can be enhanced by connecting external speakers to the deluxe performer.
The Singsation Performer Deluxe All-in-One Karaoke System was designed to meet the specific needs of YouTube karaoke singers, and it seems to be doing well.
Pros
Bluetooth for wireless connection to a music device
Disco lights for ambiance setting
Interesting sound effects
Cons 
Karaoke USA GF842 Singing Karaoke Machine  
The USA GF842 Singing Karaoke Machine has some fun functionalities that make it attractive to kids and adults alike.
The first feature that immediately draws your attention is the disco LED lights which have a unique way of flashing in sync with the beat of the song. It also has a 7-inch color display screen built-in so you can see the lyrics from a distance, though there is also the option to connect it to a bigger TV screen. Other music devices can be connected wirelessly via Bluetooth, or by using the auxiliary line-in with a 3.5mm jack cable, while its docking platform holds your device in place and even charges it.
The sound is pretty powerful for a karaoke machine with its 35 Watts speaker and two high-quality mics, partying with this karaoke machine should be fun. You can play your songs with the CD loader for CD+G or DVD, as well as from an SD card.
Recording your singing for playback is also very smooth with just a button, along with other controls for volume, balance, and echo conveniently placed for access. Included also, is a remote control for ease of adjusting output at a distance.
Overall, the Karaoke USA GF842 Singing Karaoke Machine may be right for you if what you want in a karaoke machine is a powerful sound that is befitting of a karaoke yard party.
Pros
Great sound from its 35 Watts speakers
Good quality mics
Beautiful disco lights in sync with beats
Nice in-built display screen
Two mics included
Cons
Final Take 
I hope you've been able to decide on your choice of karaoke machine from this top 10 list. Remember to consider who will use it, and it's portability as these are very important. Also, remember to have fun singing with your karaoke machine.
Cheers!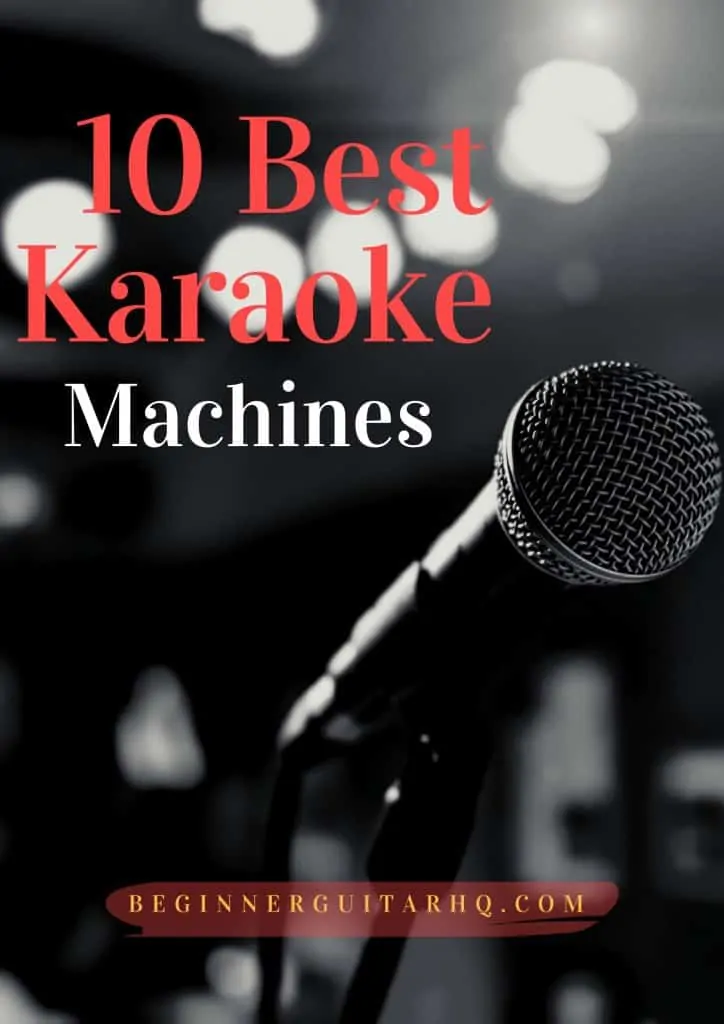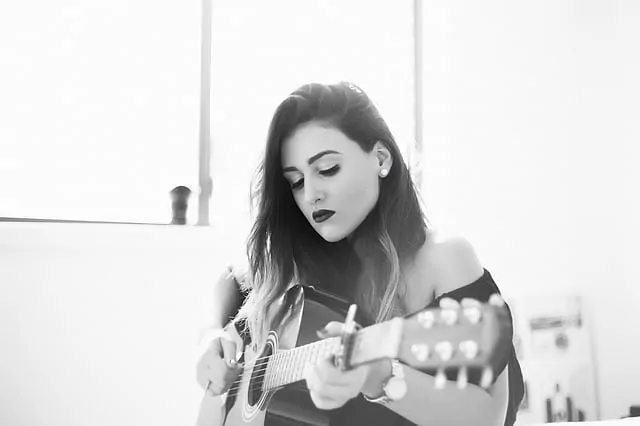 Jen is a guitarist and singer-songwriter who spends much of her time on the road and has lived in 13 cities across 4 continents. She picked up her first guitar at the age of 6 and learned to play by ear shortly after. She received her formal music education at the Berklee College of Music, and currently plays for a few bands in her free time. She has an uncanny ability to improvise creative melodies and harmonies. Her early influences include blues, jazz and rock.